Best Snakeskin Shoes & Heels Reviewed
In a Hurry? Editors choice: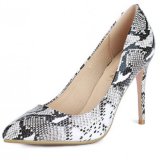 Test Winner: IDIFU INF Classic

Have you ever caught yourself gazing through a storefront window, eyes fixated on a pair of snakeskin pumps? Maybe you've seen more celebrities wearing python-patterned footwear these days and you're just dying to try a pair on for size?! Whatever your reasoning, if you're considering a pair of these don't wait, just go for it! A whole new world of excitement and mystery will unfold before you once you slip into a stunning pair of reptilian shoes.

Snakeskin has long been regarded as a luxe material and is synonymous with female sexuality. Women will often turn to this pattern for a devilish night on the town, while men can usually be found in a pair of scaly penny loafers.

Standout Picks
Criteria Used for Evaluation
Color
Snakeskins come in many different colors including red, yellow, blue, pink, and green which is the most common. This is a handy feature that makes styling a snap because you're able to match your footwear with almost any outfit with little effort. This pattern will also often have an iridescent sheen to it that mirrors the natural look that some darker snakes have. This effect is quite beautiful and adds an air of glamour to this style. Iridescent looks are also common in western styles with many reptilian cowboy boots appearing to have a light glimmer.
This pattern comes in many variations which mimic the natural look of various species. Some of the variations include stripes, bands, and solid hues, many have a more spotted appearance, while others have patterns completely unique. It's important that the pattern be a high-quality print that looks as natural as possible. The products on this page were selected in part, for their quality of the pattern. It's also important to consider how well your chosen pair will match with the other items in your outfit and that you don't mix and match too many bold patterns or colors together. Doing so can make for a messy look that isn't very pleasant to look at.
Comfort
Ensuring that your shoes are comfortable no matter what style they are is very important. When it comes to this kind of footwear it's even more imperative because we're talking about high heels which can be very uncomfortable. There are many aspects to consider including the heel height, shape, and design. If a heel is too high it will impede your ability to walk properly and can lead to hip, knee, and back pain, not to mention walking in a pair can kill your feet! Consider options with a four-inch or lower heel. This will allow for easier striding and will lessen the pressure put on the delicate arch area. A flat platform is another aspect to consider because a raised one makes it even more difficult to walk.
Heels come in all sorts of shapes and sizes. Some of the more popular are stilettos, kittens, and wedges. Stilettos are long and thin and are usually over three-inches high. Kittens are usually quite low and are thicker than a stiletto and thinner than a wedge. Wedges are very easy to walk in thanks to their wide structure that allows for a more natural stride. Another important aspect is the kind of footbed a pair has. Its vital that a heel has some kind of-of extra cushion in order to prevent undue strain on the delicate underside of the foot. This will prevent foot pain and fatigue at the end of the day and can lessen the instances of arch trouble. The pairs on this page were chosen, in part, for their padded and comforting insoles. The outsole is also important because it can prevent slips and falls by providing solid traction on slippery surfaces. Rubber is one of the best choices for an outsole because it provides a grippy texture on any kind of terrain including wet flooring materials. When you're walking in a pair of pumps the last thing you need to be worrying about is sliding and possibly injuring yourself.
Fit
While genuine snakeskin shoes are going to have a very different fit and feel from these synthetic products, the overall fit of the shoes is still something that needs to be considered. The fit of a shoe depends on a wide range of factors, such as the materials, the design of the shoe, and how the sizes run.
The materials used in throughout the shoe will impact how they fit, and determine how long it takes to break the shoes in. Some materials such as leather will take longer to break in, while canvas and open styles such as sandals will be easier.
The overall design of the shoe refers to the shape of it. Some of the more formal shoes on this list feature a pointed toe section, which can take longer to break in than the rounded style on some of the casual shoes.
Ever try on two pairs of jeans- both the same size, but two different brands- and found that one of them fits very different than the other? This can happen with shoes as well. While most sizes are fairly standard, no two designs are alike and there's bound to be some variation happening. Consumer reviews are a good way to figure out what sort of variations are going on with a specific shoe, so you can adjust accordingly by ordering a different size or style.
Style
Comfort: Comfort shoes are those designed for leisurely wear. They usually consist of flats, moccasins, sneakers, and clogs. These kinds of shoes are perfect for lounging, gardening, shopping, and strolling. Though these kinds of shoes aren't necessarily 'fashionable' they can still be very pleasing to the eye. People often mistake comfort shoes for being unflattering when in reality they can be equally as flashy as any blinged-out pair on the outside. Comfort shoes are all about what's on the inside.
Professional: Professional footwear is intended for wearing while you're at work, usually in an office environment. These kinds of shoes range from heels to mules and are intended to be work-approved. Snakeskin is a tricky pattern when it comes to workwear as some consider it to be more casual and not as appropriate for professional settings./If you're dying to wear a pair while you work consider choosing ones with a barely visible pattern. Many choices have just a slight scaled appearance but are still a traditionally accepted color for work clothing. Think browns, greys, and black, they're always the safest choice for a professional setting.
Dress: Dressy footwear is designed for parties and other celebratory occasions. this kind of shoe usually consists of high heels, flats, pumps, loafers, and mules. You will often find these pairs with some kind of embellishment or glittery detailing.
Value
Pairs which are made with quality craftsmanship are by far the best option. Some people think that in order for a shoe to be well made it's going to have to cost quite a bit of money. This isn't the case! The pairs featured on this page were manufactured by reputable brands and offer excellent design features. The high-quality choices will be able to withstand the wear and tear we put them through without falling apart in a month like some of the lesser quality options. In the long run, wearing items which are made by trusted names in the fashion industry will benefit you in every way. Quality craftsmanship can prevent discomfort, blisters, and other painful problems. It can also mean the difference between looking 'just okay' to looking fabulous! Brands that have been around for years and are highly rated among users will likely be a safe decision and will be a good option to consider. When you're reading user reviews it's always smart to look for 'verified' customers because this lets you know that the reviewer has actually purchased and worn the item that they're writing about. Actual customers are far more likely to leave relevant reviews that can benefit you by providing a factual opinion on the product. Whereas, a fake review is merely someone who has no valuable input on the topic and reading these reviews can be misleading.
Top 10 Picks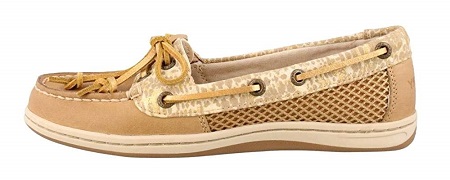 Sperry is well-known for the Top-Sider line of boating shoes, adding a new twist to the beloved loafer. The Firefish is a redesign of their Angelfish design, which has been refined into a softer and more feminine overall design. The snakeskin print is available in either grey or a yellow-beige referred to as "Python."
Dri-Lex Lining
While they are now popular for their comfortable design, boat shoes were originally built with moisture wicking and breathability in mind. A buildup of moisture in a shoe can be uncomfortable and cause irritation, so it's important to keep that under control. The Dri-Lex lining in the Firefin is a unique moisture-wicking material that uses a proprietary process to more efficiently keep your feel cool.
Wave-Siping Outsole
Given that these are boat shoes, they were initially designed with traction in mind. Water can make slippery work of any ground or flooring material, so it's important to add features that enhance traction on wet ground. The way this works is through both small and large wavy grooves in the outsole that work to channel water away from the bottom of the shoe.
Cost and Value
As always, prices will vary based on your size and color choices. The Firefin is priced similarly to other products on this list, though they are mostly under the $100 mark. Sperry focuses heavily on the quality of a shoe, and the Firefin is no exception.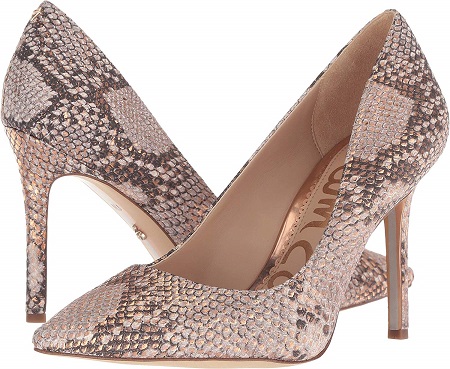 We've featured the Sam Edelman Hazel pumps on a few other buying guides, though this time we're focusing on the snakeskin offerings. The Hazel actually comes in a few snakeskin designs, Including pink and yellow. Most snakeskin shoes are offered in either neutral colors or in some cases metallic, so it's nice to see a designer coming to the table with a wider range of options to fit different styles.
Cushioned Interior
While heels are aesthetically pleasing and one of the most common types of formal shoes for women, they aren't inherently comfortable. Think about it; heeled shoes hold your foot in an unnatural position, and put the majority of your weight on your toes. This can change your center of gravity enough to cause difficulties with pain or even trouble walking. While this discomfort isn't something that can necessarily be avoided (unless you never wear heels again), the negative impact it has can be mitigated through the use of cushioning. The cushioned interior on the Hazel means you get the style of a heel without them being overly painful.
Wide Range Of Sizes
We love seeing a good pair of shoes come in a variety of sizes. While size availability will depend on which color you choose, the Hazel ranges from a size 5 to 11, including half sizes and some wider options. This makes the shoes more accessible for a wider range of people, allowing more people to express their style in a way t Hat best suits them.
Cost and Value
Like other Sam Edelman designs, the Hazel does come with a somewhat hefty price tag. However, we feel that this cost is justified by the breadth of size options, cushioned interior, and the overall style of the shoe. They even feature a small charm on the back counter.



Nine West has translated the youthful, fun, and flirty feel of the seasons hottest runway looks into this gorgeous design. The Bellermo features a chunky heel that's easy to walk in and a leather upper unit for a sumptuous look. Its shiny snake print is superb under every lighting and is sure to captivate any onlookers.
Color Variations
This pair comes in four colors: medium blue, red, black, and light gold. Each color has a scaled snake-like appearance and a soft iridescence to it that illuminates the gorgeous detailing. This makes for a natural look that is sure to turn heads.
Design Features
Nine West has outdone themselves with this attractive piece! Its wraparound ankle strap and shimmering back rope ties make this a dainty choice for ladies who enjoy looking pretty. Its open-upper concept and peep toe structure keep your feet cool and comfortable when the weather outside is warmer and lets you show off your stunning new pedicure! Go ahead and cruise the after-hours hot spots or head out for a casual dinner with friends because no matter the occasion the Bellermo will have you looking lavish.
Cost and Value
This is a very accessible pair of shoes that were designed for the fashion-diva at heart. Anyone who enjoys wearing appealing footwear will love these hot-to-trot heels! They're easy to walk in and provide the perfect option for dressy or casual events and can put an outfit together in a snap.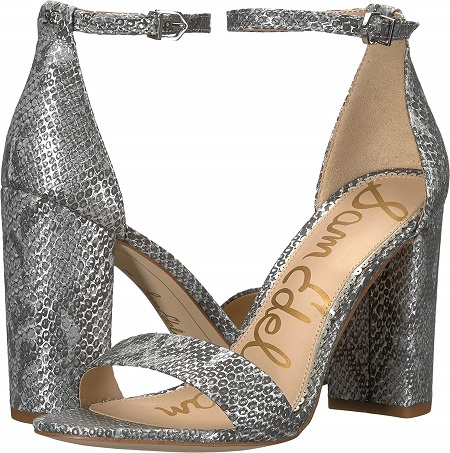 This chunky sandal is a Sam Edelman classic in a fresh snakeskin print. The Yaro features a 4" block heel for a retro style with stable footing and is available in a surprising range of sizes. The rounded toe section also makes these shoes suitable for wide feet, in addition to the size options available.
Block Heel
Heels are a type of shoe that will never go out of style, however, they can be uncomfortable for those not used to them. This is especially true for heels that are high, thin, or both. While the 4" heel on the Yaro may be daunting for some, it is a block heel rather than a more slender design. A block heel means more surface area on the bottom of the shoe, making them more comfortable and easier to walk in without feeling like you're going to lose balance.
Wide Range Of Sizes
We love when a shoe is available in a variety of sizes. This allows the shoe to appeal to a wider audience and makes size variations less of an issue. The Yaro sandals range from a size 4 all the way up to a size 13, including half sizes and some additional width options. The shoes also run mostly true to size, making finding the perfect pair a little easier.
Cost and Value
As always prices will vary depending on the size, and these sandals definitely fall on the higher end of things. This is expected of Sam Edelman shoes, however, as they are considered a designer brand. These stand out thanks to their stable block heel and the wide range of size and width options.

5

. Marc Joseph New York Cyprus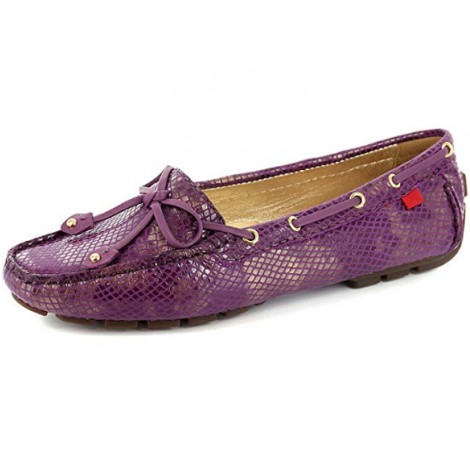 Cyprus from Marc Joseph New York is a stunning pair of flats. Featuring a cool leather upper unit and comfortable non-slip outsole, this pair of footwear is made for walking! It's handcrafted by Brazilian designers and boasts an attractive snakeskin pattern. Available in over twenty color variations, it's so versatile you'll have no problem finding a pair to match with any outfit.
Comfortable
Marc Josephs' Cyprus includes a gel heel insert that protects and cushions the sensitive heel area of your foot. Its plush padded insole is designed to offer complete comfort for your entire foot. It supports and cradles the delicate underside of the arch area while hugging every contour in an enjoyable environment.
Materials
This Marc Joseph shoe Is made from high-quality nubuck leather that keeps your feet cool and dry even after hours of wear. Its soft structure makes it ideal for walking, driving, or casual shopping trips, while its low half-inch heel allows for easy strides and won't limit your natural range of motion. A non-slip rubber outsole keeps you steady on your feet even when the weather outside is wet and slippery,
Cost and Value
This is an affordable shoe that's made from quality materials and offers a comforting foot feel. It's soft structure and non-slip rubber outsole keep you safe and secure on your feet so that you enjoy every second spent wearing them. They're available in a wide range of colors and feature a subtle snakeskin pattern that's both unique and eye-catching.



This snakeskin pump offers a timeless look that never goes out of style. Ladies love the elegant silhouette this shoe delivers and the leg-lengthening effect it has. It's a comforting pair that won't kill your feet at the end of the day and its slip-resistant sole keeps you safe while you're walking. Made from high-quality materials and boasting an impressive four-inch slender heel, this pair aims to please and delivers every time.
Microfiber Lining
These heels are made with a comfortable microfiber lining material and feature added memory foam for additional enjoyment. Microfiber has an incredible knack for wicking excess moisture away from the skin to prevent a build-up of sweat and odor-causing bacteria. It's breathable and long-lasting for the perfect combination of foot-friendly features.
Non-Slip Sole
These sultry stilettos have an anti-skid rubber outsole that prevents any accidental slips or falls while ensuring that you arrive safely at your destination. Go ahead and dance the night away in a pair of these and forget worrying unnecessarily about the possibility of accidental tumbles because these shoes have you covered!
Cost and Value
This is another prime example of stylish footwear that's available for an accessible price! These pumps were made for life in the fast lane and they deliver an undeniable style. If you're searching for a comforting yet racy design then look no further!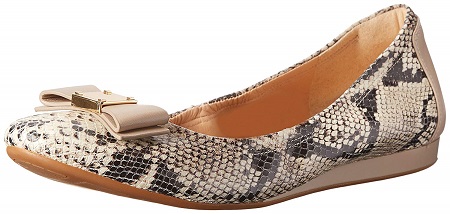 Ballet flats are a comfortable and minimal shoe that has become very popular for formal events and warmer weather. Their simple design allows them to be used in a wide range of styles, including snakeskin. These Cole Haan flats feature leather lining, a padded insole, and a large bow on the front of the shoe.
Micro Wedge
While the Tali are considered to be flats, They do actually have a small wedge to them. This half-inch wedge gives you a little extra height and an appealing design without the discomfort and difficulty of heels or higher wedges.
Grand.OS Technology
This is a technology that is exclusive to Cole Haan. While it is prominent in their Zerogrand series, the Tali is outfitted with this as well. Grand.OS is designed to properly cushion your feet while providing the flexibility you need to move freely. This cushioning is also very thin and lightweight as to not impact the overall weight of the shoe.
Cost and Value
Prices vary wildly depending on the size you're looking for, but these are right around mid-range for this type of shoe. They are less expensive than the Sam Edelman shoes on our list, but can still cost a premium. With this premium, you're getting a classic design with a modern twist and advanced cushioning.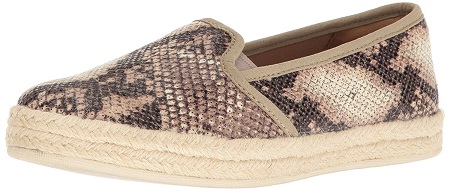 A comfortable loafer with a snakeskin print and a slight heel for some lift? Count us in! Featuring an ortholite insole and 100% suede upper, the Theoni from Clarks is made with both comfort and style in mind. In a world where snakeskin shoes are often prohibitively expensive or feature uncomfortable designs, the Theoni is a breath of fresh air.
Ortholite Insole
Here on NicerShoes, we talk about insoles a lot, and for a good reason. The insole of a shoe plays a big role in comfort and support. Insoles can come in a wide range of materials from memory foam to EVA foams, though the Theoni features an insole made from Ortholite. Ortholite is derived from EVA so it has the same support and cushioning abilities with the added benefit of longevity. Ortholite insoles often have a compression rate of under 5%, meaning they will last longer than other insoles.
Suede Upper
Suede is a type of leather designed to be both soft and malleable, making it easier to work with when designing shoes. Leather is a very common material in shoes because of its durability and versatility. In fact, leather has been in use in making shoes for thousands of years. While the Theoni likely won't last you a few millennia, the suede construction does make them more durable than some other styles.
Cost and Value
As we mentioned above, these shoes are on the less expensive side of things, though they do still fetch a bit of a premium. Not only do these shoes come with the Clarks name- a company that has been around for almost 200 years- they also come with a comfortable fit and durable construction.



Sam Edelman's Hampton is a stunning pair of heels! It features gem embellished details and a luxe snakeskin pattern. These heels were designed for ladies looking to dazzle and they're gorgeous silhouette does just that. A flat platform and medium heel-height allow for more natural strides despite there slender point. This pair looks great with almost anything and can be worn for almost any occasion including parties, weddings, birthdays, and more.
Materials
This stunning heel is made from high-quality leather that keeps your feet cool and comfortable for hours on end. Leather pulls excess moisture away from the skin for a comforting experience. When excess moisture collects inside of a shoe it makes the perfect environment for odor-causing bacteria to grow. Once your shoes start to smell it can easily ruin your favorite pair and it's nearly impossible to fix.
Design
This hot heel boasts emerald cut crystals and a stunning snakeskin pattern that adds an alluring sensation. It will keep you coming back for more every time you're in need of a shoe that's as bold as you are! Its rear zipper closure allows for easy on-off wear, while a non-slip synthetic sole keeps you steady on your feet preventing any accidental slips or false.
Cost and Value
While this option is more expensive than others on the list it's certainly a worthwhile investment. You can't put a price on style and this pair delivers an extremely gorgeous design that women everywhere adore. It's crystal embellishments and snakeskin print material makes this a must-have pair for ladies who enjoy looking their best.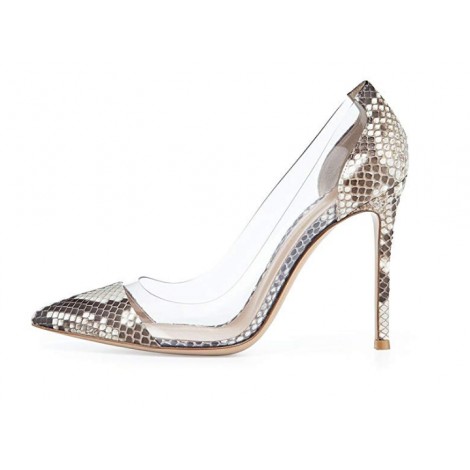 This Sammitop heel has an individual design thanks to its transparent upper. The toe and heel are enclosed and feature an appealing serpent pattern for a seductive flair. These pumps have a feminine pointed toe and boast an impressive four-inch slender heel. They're a comforting and enjoyable option that looks good with almost any style.
Versatility
This pair comes in nearly twenty color variations including a stunning snakeskin print. These pumps can be matched with almost any outfit whether it's for a professional or casual occasion. Their unique transparent upper makes for an interesting switch from the normal look and is guaranteed to attract all the right kind of attention!
Hot Look
Sammitop has really nailed the season's sizzling vibe thanks to this transparent pairs stunning details. A see through middle shoe adds an alluring and mysterious feel that shows just enough, but never too much. You'll find it hard to resist wearing these pumps to nearly every occasion and will benefit from their comforting frame.
Cost and Value
Sammitop's footwear is fairly accessible in its pricing. You won't find a better deal than this shoe that delivers an exquisite appearance and overall comfortable wear. Women everywhere can't get enough and once you try these on for a change you won't want to wear any other pair of pumps again!

Subscribe to our Newsletter