Best Pearl Heels and Shoes Reviewed
In a Hurry? Editors choice: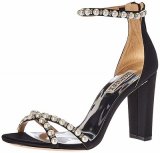 Test Winner: Badgley Mischka Hooper

A single white pearl, enchanting in its iridescence, is a symbol of wealth, rarity, and prestige. It is a gemstone associated with aristocracy, with luxury that is not easily attainable - something that reminds us of just how dedicated and just how beautiful mother nature can be. So why not invest in a pair of heels with pearl embellishments that you'll be able to wear on special occasions? Pearl heels are fashionable, undeniably elegant, and the good thing is that they won't break your bank.

Today, pearly accents are much more accessible than they have been in the past, and so all you need to do is scroll down our list and pick out the most eye-catching model of pearl heels for yourself.
Standout Picks
Criteria Used for Evaluation
Style
As you can see, class is not reserved only for the most formal of events. Now you can enjoy a touch of noble white wherever you go, be it at a fun day at the park with the kids, on a casual stroll along the beach, or even on a lengthy shopping trip with your friends.
Pearls are undeniably classy, as they have always been a symbol of nobility, dignity, and opulence, and footwear with these embellishments carries a certain dose of gracefulness not found in other designs.
However, not every pair of pearl heels is appropriate for every event. Even decked out in beads, sneakers are not suitable for weddings and proms, the same way slide sandals belong by the pool or on casual summer walks around the neighborhood. It would also be frustratingly difficult to enjoy a picnic at the park in bedazzled high heels.
This is why we have decided to sort the pearl heels from our list in different categories according to class, so to speak. There is a shoe out there for every occasion, you just have to choose the most suitable one for you.
Casual Shoes
By casual pearl heels, we mean every day. We mean footwear that is the most comfortable, the one you reach for most often - your go-to footwear for running errands, for meeting friends and family, for a relaxed day outside. Casual shoes are comfortable enough to be worn for as long as you want without worrying about pain or blisters and are the first you pack when you're traveling somewhere.
 
Semi-formal
In between casual and formal, we have the type of pearl heels which can lean towards one side or the other, depending on the design.
 
Formal
When you're expected to put your best foot forward, figuratively and literally, in a black-tie event, you can't go wrong with a pair of stunning pearl heels. They are not the most comfortable of footwear types, but they are unparalleled in elegance, and do wonders for your figure, elongating your legs and visually slimming down your waistline.
When choosing pearl heels, consider carefully whether comfort is important to you. If the answer is yes - if you're expected to be on your feet for prolonged periods of time - then look for lower heels, no higher than three inches, blocky or chunky in shape. Wedges are particularly comfortable, as they help reduce pressure in the ball of your foot, and cushioned footbeds help as well.
However, if you will stay seated for most of the event, or are more interested in aesthetics than comfort - then don't hold anything back. Be bold, go for high stilettos, maximum glam, and pearls galore!
Brand
While you don't always have to purchase products from the same manufacturers, when looking for something of value, it's a good idea to go with a brand that you're either familiar with, or that has a good reputation. Pearl heels, in particular, need to be carefully considered before making a purchase, especially if the pearls are real, or if there's any other type of attachment on the shoe that may fall off.
There are several things you can expect from a trusted brand. First and foremost, there's quality control. Regardless of whether they're a large company producing thousands of shoes a day, or a family owned business who make unique, hand made pearl heels that go for much larger sums, you want to invest your hard earned money in a product you can be sure won't arrive with defects.
The second most important thing you get from choosing a good brand is customer service. Unfortunately, mishaps always happen, and you never know when something may go wrong - be it the result of an oversight or the consequence of misuse, you should try to go with a pair of pearl heels you know you'll be able to replace or repair should any problems arise. Some companies have built their entire business around being there for their customers, which is a huge plus in case of the problems mentioned above.
Last but not least, chances are that you already have your favorite shoe companies. If that's the case, you know what to expect when you buy from them - not just in terms of size, but also in terms of material quality, break in periods, possible fit or quality issues, as well as durability. If you're going to spend a three figure sum on a pair of fancy pearl heels, these are definitely factors you need to consider.
Comfort
As with any other type of footwear, you will want your pearl heels to fit you well and comfortably, allowing you to wear them for as long as you need to. Whether you go with sneakers, sandals or heels, all of these will need to provide you with certain things in order to make them wearable, even if just for a couple of hours.
To ensure the best possible wearing experience, you can look at certain aspects of a pair of pearl heels before buying. Here are some things you should look out for:
Support - a good pair of pearl heels will have at least a little bit of support to them. This may not always mean pronounced arch support such as that found in motion control running shoes, but a bit of a curve underneath the foot, a stable heel, and a secure fit can go a long way in preventing injuries and discomfort.
Cushioning - whether you're going with heels or sneakers, you'll want some cushioning in your shoes. Provided by the sole of the shoe, cushioning can absorb shock that happens during walking, and can stop it from traveling up your legs which often leads to fatigue and joint pain. A padded footbed is always a good option, and for a higher level of softness, you can even opt for pearl heels that allow you to add your own inserts.
Size - this should go without saying, but we'll say it nonetheless: Never, ever wear shoes that are too small or too big. The same goes for width. A correctly fitting pair of pearl heels will not only feel better and more secure. It will also help prevent blisters, hot spots, corns, calluses, as well as other unwanted foot issues.
Closure System - buckles, laces, zippers - all of these can be great, as long as they allow for good fit management. You may want to go with adjustable pearl heels, especially if you have a slightly wider or more narrow foot than normal.
Materials
Before spending hundreds of dollars on a pair of pearl heels, it would be a good idea to consider the materials used in the manufacturing process. While they can give you an idea of the cost of making the shoe (and thus letting you know whether it's really worth the asking price), they can also give you a clue about what to expect.
Whenever you can, we would suggest going with high quality options. Although leather and suede are popular options, synthetics can also be a good alternative, especially in terms of performance. For example, memory foam will be a better cushioning system than leather, while a synthetic outsole will do better in terms of traction and durability.
Whichever you go with - synthetic or natural - it's best to stay away from cheap options. These will often lack flexibility and breathability, both of which will greatly affect how your shoes feel on your feet. Ideally, you want your pearl heels to allow you to move naturally, as well as to prevent moisture build up that would lead to bad odors or bacterial and fungal overgrowth.
Overall Fit
While numbers and size charts are incredibly helpful, they also only tell you so much about a shoe. The overall fit of a pair of pearl heels is much more than just its number size and has a big impact on overall comfort. A shoe that doesn't fit properly isn't going to see much use, and the most heinous offenders often end up relegated to the back of our closets. This lack of use can also significantly reduce the value of a shoe. There's a lot that goes into the overall fit, but for the sake of brevity, we're going to focus on aspects such as width and size variations.
Some pearl heels will offer varying width options in addition to their normal run of size options. Everyone's feet are different, and some are wider or narrower than others. A heel that is too wide will likely fit loosely, running the risk of stability difficulties. A shoe that is too narrow will feel tight and uncomfortable, especially in the case of heels.
Similar to how size conventions in women's jeans can be inconsistent, sometimes shoe sizes can vary as well. A size 8 in one model may fit differently than another shoe of the same size, even within the same brand! Customer reviews are a great way to get a general idea of how these size variations affect the overall fit of a pair of pearl heels.
Top 10 Pearl Heels
1

. Stuart Weitzman Morepearls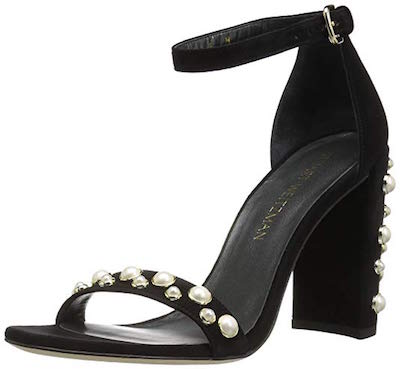 The ultimate elegant sandal, the Stuart Weitzman Morepearls is something you'd expect to see on the red carpet during Oscar season. Made in Spain, you can expect top quality from this pair of pearl heels, and thanks to the simple color choices, they can even be dressed down with a pair of jeans for a sophisticated casual look.
The upper on these pearl heels is made with suede that looks great and requires no breaking in, while the lining and outsole are leather, so you can expect a great feel underfoot, seeing that it'll offer both support and protection while retaining a classy feel.
High heels are amazing when it comes to looks, but they're less than perfect in terms of comfort and stability. The 3.5" block heel on the Morepearls is a welcome deviation from that tradition, seeing that it's more chunky, which gives your foot more surface to lean on, as well as more grip of the terrain you'll be walking on.

2

. Badgley Mischka Hooper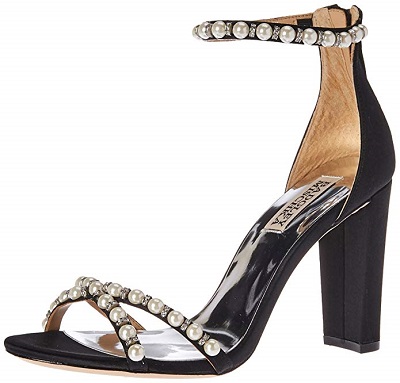 Whether you go for the bridal-style ivory or the classically elegant black, you can be sure that the Badgley Mischka Hooper will bring nothing but utmost gracefulness to any look. This is a pair of pearl heels with a four-inch column heel, two crisscross straps over the toes and an ankle strap decorated with beads and sparkling crystals. The Hooper is also outfitted with a cushioned insole, a zipper in the back for an easy way in and out of the sandal, as well as a buckle at the side of the ankle.
When you have a four-inch heel, every little bit of comfort counts. Badgley Mischka was smart to put in padding in the insole of the Hooper, as added cushioning helps relieve pressure off of the ball of the foot, and enables you to be on your feet for longer periods of time.
Instead of fiddling with dainty buckles and trying to get the fit right, the Badgley Mischka Hooper comes with an elegant zipper in the back. Simply undo it, slide your foot it, zip it back up and voila! Wearing the most elegant pair of pearl heels in the blink of an eye!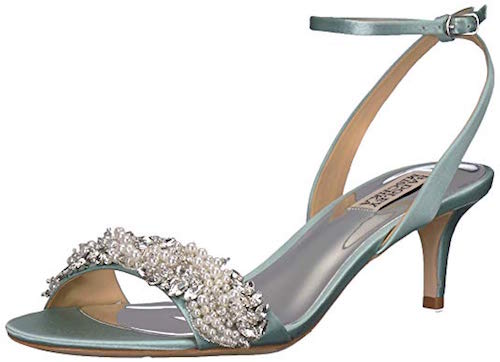 The Fiona by Badgley Mischka is a pair of pearl heels ideal for formal evening events. The toe strap on these sandals is generously embellished with both crystals and pearls for a shiny getup that doesn't go over the top, and that's sure to complete the most elegant outfits. It can be purchased in three color options - ivory, radiance blue and soft blush.
The upper on this pair of pearl heels is made with a satin material, lined with leather. The open design allows for a good amount of airflow, and you'll find that the materials used are soft to the touch. The ankle strap features a buckle that allows for adjustments, and a more secure wearing experience.
The footbed features some light padding for a greater level of shock absorption, and the two inch heel looks classy and elegant, without putting too much pressure on the ball of the foot. This is what makes these pearl heels a great choice for events that are expected to last. The outsole is made with leather, which means it will require some extra care, but on the whole, you'll be getting a comfortable, quality package with this model. Compared to other pearl heels listed, the Fiona does cost more than average, but that's to be expected from designer items made with genuine leather and embellished with crystals and pearls.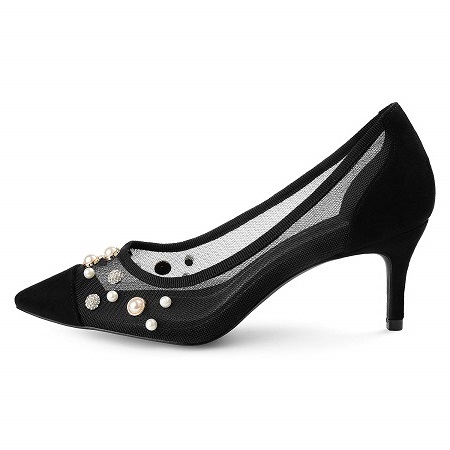 Made of faux suede and mesh, these Brinley Co. pearl heels have an intriguing style with added breathability. The 2.5" heel and 0.4" platform gives you extra height without compromising on stability and is offered in a modest range of sizes. Four different color options mean there's a pump for every occasion, and the rhinestone and faux pearl embellishments give them an expensive look without the price tag to match.
Breathability isn't something that is typically considered with pearl heels, but we feel it's a good idea to discuss it with the Braxlie simply because they feature mesh sections. This contrasts with the faux suede used in the rest of the shoe to give them an elegant look while keeping your feet cool all day.
Everyone needs a little color in their life. The Braxlie is available in four colorways, from classic black to stunning rose gold. This makes these pearl heels versatile, and they pair well with almost any outfit for almost any occasion, from office parties to weddings.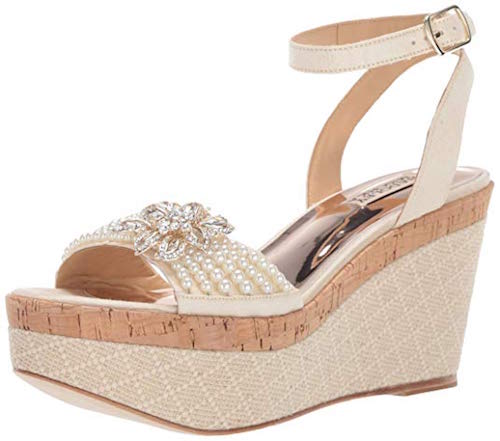 Anyone looking at purchasing a great pair of pearl heels should look into models made by Badgley Mischka. These pairs of footwear are the ideal choice for anyone who has a slightly more generous budget, and is looking for a quality product that'll be comfortable, and that will look great on a variety of occasions. The Leane is a wedge sandal ideal for summer formal events, and it will look truly great with a flowy dress.
This pair of pearl heels by Badgley Mischka comes in two color options: ivory and silver, making it a favorite choice among brides as well as wedding guests. It uses satin in the upper for a luxe appearance. Lined with leather, this material will provide the sturdy support you require, while allowing the foot to breathe even in scorching temperatures.
The footbed of these pearl heels is lightly padded for increased comfort, and the 1 ½ inch platform and 3 ½ inch heel mean that the elevation with these actually isn't that bad. Not only will you remain comfortable for longer, but you'll also find that the full ground contact provides a higher level of stability, as well as grip on all types of surfaces. The adjustable ankle strap ensures a secure fit, while the open toe means that you won't have to worry as much about sizing. As far as Badgley Mischka pearl heels go, the Leane is actually quite affordable, making it a great choice for most people.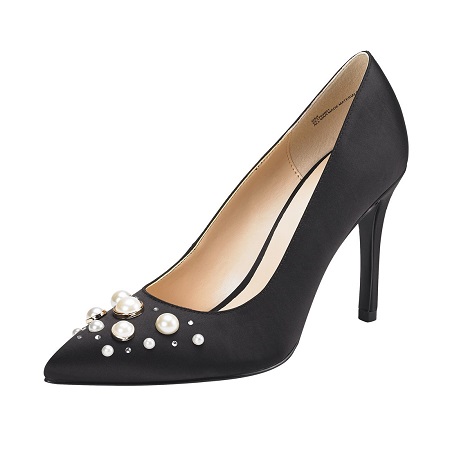 4" heel? Check. A wide range of colors? Check. Pearl embellishments? Check. These Jenn Ardor pearl heels have it all. The pointed toe section gives them a vintage vibe, while the 4" stiletto heel gives them an extra lift, making your legs look longer. A vegan-friendly design tops it off, making these a purchase you can feel good about.
The manmade, fully synthetic design of these pearl heels is vegan-friendly, meaning no animals were harmed in the making of them. They are also eco-friendly, which is becoming a bigger topic of interest as discussions about climate change have become more prominent in the public sphere. Not only do they look good, but they're a purchase you can feel good about.
Let's be real for a second; pearl heels can be uncomfortable, especially those at or above 4". Heels hold your feet in an unnatural position and shift the majority of your weight onto your toes, making comfort a very important factor to consider. This slip-on design features a cushioned interior, making them comfortable enough for all-day wear.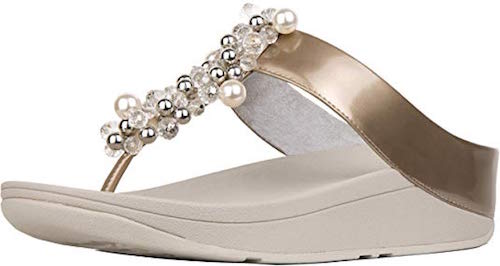 Another wedge on this list of the best pearl heels, this time, one that's suitable for casual outings and beach wear. FitFlops are known for providing users with reliable flip flops that are not only stylish, but also good for the wearer's foot health. In that light, the heel on the Deco is minimal, making it the perfect choice for long days on your feet, walking, and other occasions when you want to look your best, but still remain comfortable.
The upper of these pearl heels is made with a synthetic leather material which is suitable for those concerned about animal welfare. Lined with textile, the open design will surely allow for plenty of breathability, making your feet dry and fresh all day.
What makes the Deco so much different than any of the other pearl heels listed is the footbed. With a design that carries the APMA seal of acceptance for promoting foot health, you can rest assured that this is a great purchase. The midsole uses FitFlop's Microwobbleboard technology which disperses shock and disperses pressure on the bottom part of the foot. Coupled with a good amount of arch support, it makes the Deco a great choice for everyone. On the bottom, you get a slip resistant rubber sole, making this an overall versatile option. In terms of price, this model costs less than most of the pearl heels listed in our guide.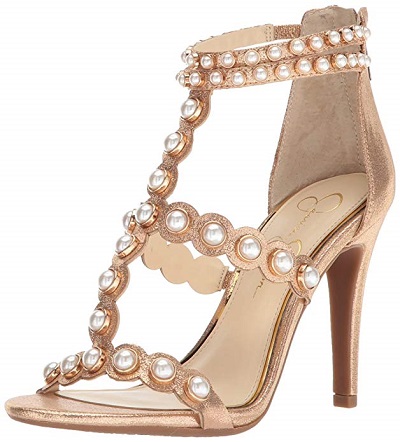 At the crossroads between sexy and elegant stands the Jessica Simpson Eleia. This party sandal comes with a T-strap leather upper lined with faux pearls in metal casings. It has a zipper closure in the back and a gore insert for adjusted fit, as well as a memory foam insole. The outsole of these pearl heels is made out of rubber, and the sandal comes with a 4.25-inch stiletto heel. It is the ultimate clubbing sandal, but the Eleia is also tasteful in its extravagance, making it perfect for any formal event as well.
All of the straps are strategically placed so that they keep the foot in place within the sandal. The T-strap ensures that your foot won't slide forward in the shoe, or that the toe strap won't painfully cut into your skin. The two ankle straps come with elastic inserts at the ends. These stretch out to accommodate the width of your ankle. You don't have to worry if your ankle is too thick, because the Eleia sandal is there to ensure that perfect fit.
The Jessica Simpson Eleia is a reasonably priced pair of pearl heels. Granted, it's not meant for everyday wear - its high heel and embellishments make it more of a special occasion design - but even if you wear it only once in a while, we feel that its sultry elegance is worth the cost.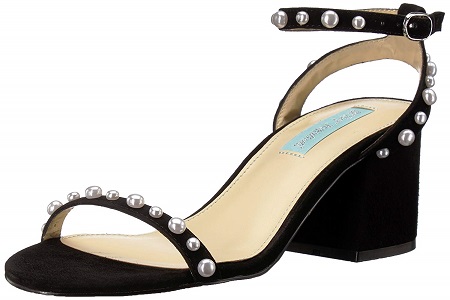 Whether you go with elegant and classic black, or want to stand out more with the metallic silver, the Milli from Betsey Johnson is a versatile and comfortable pair of pearl heels. The low block heel gives you a little extra height without discomfort or unstable footing. Pearls along the toe section and ankle straps give them a shiny and elegant style.
While higher heels are often preferred for their aesthetics, lower block heels are still popular. Block heels offer a retro look, while the additional surface area gives you more stable footing and makes you less likely to stumble or fall.
We talk about leather a lot, as it is used in a wide range of shoes. These pearl heels use the material to provide the wearer with a durable yet comfortable experience. Additionally, leather breaks in easily, and provides you with a highly customized fit, so you'll likely find yourself reaching for these pearl heels more often than you'd think.

10

. Jessica Simpson Rusley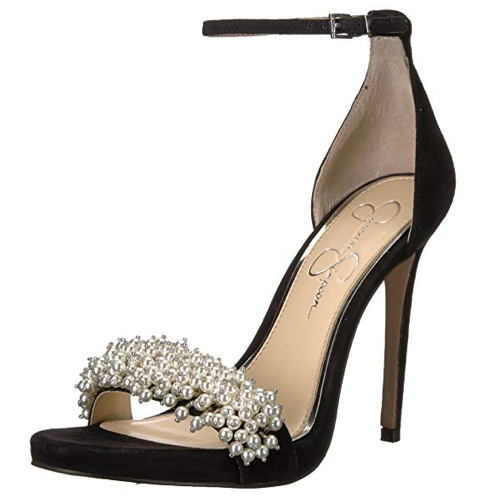 If you want a pair of pearl heels with a sky high heel, then look no further than the Jessica Simpson Rusley. These sandals are the perfect choice for both formal events and night on the town, and you'll find that the color options allow for easy pairing with a huge number of outfits. The Rusley comes in three color choices - black suede, warm stone and nude blush, all neutral choices that will look great with anything you already own.
These pearl heels combine natural and synthetic materials in order to provide wearers with the highest possible level of comfort (that you can expect from a 4 inch stiletto heel). The upper is made with suede that's soft and easy to break in, and the ankle strap features a metal buckle for adjustability.
The best part about these heels has to be the footbed which is padded with memory foam. Not only does this material feel heavenly under your foot, but it also aids the 1 inch platform in absorbing shock and protecting the ball of your foot from the pain that usually comes with high heels. This pair of pearl heels is a great choice for anyone who is on a budget, seeing that some color options can be purchased at a price that's well below average.

Subscribe to our Newsletter