Best Rose Gold Shoes & Sneakers Reviewed
In a Hurry? Editors choice:
Test Winner: Forever Link Remy

The beginnings of rose gold date back to 19th century Russia, earning the title of 'Russian Gold.' Carl Faberge, a jeweler to the Czars, used rose
gold
in many of his ornate decorative eggs, including the celebrated 'Moscow Kremlin' egg, which is now on display at the Kremlin Armory Museum. A symbol of romance, warm sunsets, and blushy cheeks rose gold has been increasingly popular in recent years, both as a precious metal and as a color. It is romantic and sweet, reminding us of shy smiles and blooming flowers, and nowadays we can find it almost anywhere we turn.
Standout Picks
Criteria Used for Evaluation
Style
Rose gold, while extravagant and eye-catching, doesn't have to be reserved only for special occasions. This metallic color fits well with every style, every type of outfit, and there is no need for you to hold back from incorporating it into your everyday wear. A striking pair of rose gold shoes will bring confidence to your step, as well as many compliments from those around you.
We have tried hard to make a versatile list of rose gold shoes to make it easier for you to find a pair that is just right for your way of life!
Use
Let's face it – when we're not work-bound, most of us go for a casual look. We run errands, do grocery shopping, hang out with friends, take our kids to the park, splash around in the nearest public pool… For all those we want comfortable, fashionable clothes as well as comfortable and fashionable footwear.
We want to be able to endure the entire day on our feet if need be, but we also want to express our own personal style and keep up with the current fashion trends – which is why casual shoes in rose gold are a perfect choice.
Sneakers
The ultimate casual shoes. The sneaker is truly a champion in versatility, and there hasn't been a style, an event or even a fashion era which didn't feature it, ever since this shoe type first rose in popularity at the turn of the 20th century.
With its flat sole, flexible upper and a wide array of comfort technologies that sports equipment brands are coming up with on a yearly basis, the sneaker is a synonym of comfort, relaxation, and easy-going style.
Sneakers go well with all outfits, from jeans and shorts to skirts and dresses, and they have even found their way onto red carpets, effectively paired with suits and ties for a more boyish, rebellious vibe.
They come in all shapes and sizes, and from countless of fashion labels, but we thought we could single out the two models which are featured in this guide that don't fall into the classic, regular lace-up sneaker archetype.
High tops
Aside from being fashionably cool, high top sneakers also have the added benefit that they support your ankle. Depending on how tight you lace them up – though you should never go so tight as to cut off blood flow – they will keep your ankle secure and stable, and prevent sprains and other types of injuries, even if you feel like running, jumping or dancing in your sneakers.
Slip-on
Sometimes we just get tired of laces and zippers and buckles. Sometimes, we just want an easy shoe, which we can simply slip into and be on our way. Slip-on sneakers are just that type of footwear – all the breeze and cushioning of a regular sneaker, but without the added stress of complicated closures.
Loafers
Speaking of uncomplicated closures – enter the loafer. These are shoes that you slide into without effort and that usually have at least one gore panel in their construction for a better fit. This elastic panel stretches to accommodate your foot, and thus you don't have to worry if you have wider feet or a high instep. Loafers are lightweight, flexible and a universal vacation shoe; however, there are also refined versions of this design, made out of high-quality leather or suede that can complement a smart business outfit as well.
Sandals
The go-to type of footwear for summer, sandals in casual wear are supposed to be fun, comfortable for long walks by the beach or pool, and able to withstand water, sand, and hot asphalt. This type of shoe keeps most of the foot exposed and lets it breathe, keeps it sweat-free and thus reduces the risk of infections, such as athlete's foot.
Metallic, rose gold sandals, in particular, are cute for summer and are sure to match any type of swimsuit you're picking out for the beach.
Terrain
An elegant setting, where a certain dose of sophistication and poise is required, is where rose gold shoes positively shine. Rose gold is a touch of romantic luxury, a gold which represents love and devotion, and its metallic iridescence certainly attracts attention.
In the context of formal wear, heels are the obvious choice. While flats can be considered suitable for some formal occasions – specially decorated with rhinestones or otherwise embellished – heels are a symbol of prestige and gracefulness, and there are really only two types of heels you can consider for the rose gold addition to your wardrobe.
Pumps
Completely enclosed on all sides – or perhaps with a peep toe, which we will still consider a pump – pumps are clean and timeless. Their design and feminine lines never go out of style, and thus you can never go wrong with a pair of rose gold pumps.
Depending on the intensity of the color and the height of the heel, they may not be suited for a workplace, but they will certainly elevate your evening look or make you party-ready before the big night.
Sandals
For a garden party or an outside wedding – or any event where it is appropriate to wear open toe shoes – high heeled sandals are a perfect choice. Their straps can be quite creative in design and follow the lines of your leg in a flattering way, giving you that long and lean, model silhouette. When choosing these, try to look for sandals with natural, soft materials that won't cut into your skin, and solid, chunky heels if you're expected to walk on soft terrains, such as in a garden.
Outsole
The outsole, or more simply, the sole of the shoe, makes direct contact with the ground and therefore supports the entire foot and body when in motion. Needless to say, a poorly-constructed outsole will lead to discomfort, slipping, and foot or other bodily injury. For this reason, many manufacturers use materials that are water-, weather-, heat-, and impact-resistant.
Depending on the type of footwear, one will often see outsoles made from natural or synthetic materials, such as PVC, EVA, rubber, and leather. Each of these has their advantages, depending on the shoe's purpose; however, as a general rule, they each are resistant to the aforementioned factors. They are also flexible enough to support a proper foot cycle when in motion, but they are not so flexible that they feel like a pair of socks.
Midsole
The midsole is designed to provide cushioning and shock absorption to the shoe, nestling the foot in comfort. Whereas running shoes tend to have thick midsoles, flats and thinner shoes not designed for high-impact activities often have thinner midsoles.
The reason for this is simple: you need more shock absorption and vibration dampening during high-intensity movements or activities to maintain comfort and prevent foot injury than you otherwise would with a regular shoe, flat or sandal. Midsoles are often made from EVA (ethyl vinyl acetate), a synthetic plastic also used to make insertable orthotics. A firmer type of EVA for the midsole will make the shoe heavier, but more durable; whereas a softer type of EVA, like those found in running shoes, improve shock absorption, but wear much quickly.
Podiatrists tend to prefer firmer midsoles for those suffering with orthopedic conditions, such as plantar fasciitis. A higher score on the "midsole" criteria means that the midsole is firmer. Whether or not this is beneficial for you depends on your foot type and orthopedic issues!
10 Best Rose Gold Shoes
1

. Blue by Betsey Johnson Stela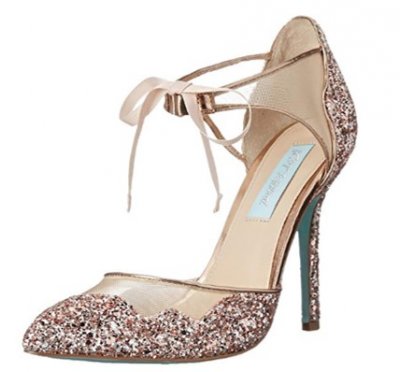 In search of something jaw-dropping for your next formal gathering? The Blue by Betsey Johnson Stela is an elegant design, and detailed high heel, with plenty of rose gold sparkly and shine to make your evening amazing. Get ready to put on your best little black dress, and sparkle the evening away with the Stela!
This adorable 4-inch heel will not only bring a stunning look to your ensemble; it holds a variety of textures to keep things interesting. Rose gold throughout sparkle and mesh uppers, the Stela catches the light for sparkling dazzle, and also keeps things a bit sexy with a see-through mesh. Tied together at the front of the ankle with a delicate ribbon, this pair screams sophistication combined with sexy elegance.
The Blue line of footwear by Betsey Johnson has a unique appeal and look with its blue soles, creating a classic pair of 'must have' heels. With a closed heel that wraps up around the back of the ankle slightly, it accentuates the shape of the foot, creating a pleasing aesthetic. Step out to your next formal event in this pair, and you're sure to get loads of compliments! The Blue by Betsey Johnson Stela is a heel that has a unique look, coveted by onlookers, and amazing sparkle and texture, all in one fabulous pair of shoes. Delicate tie closure and mesh uppers give it an allure unlike any other. If you're in search of a show-stopping pair of heels, look no further!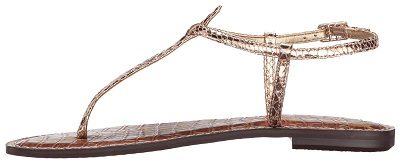 Sam Edelman, the brand, is relatively young compared to most others, having been founded in 2004. However, it has defined laid-back luxury and timeless American style, drawing inspiration from places all over the world. The Sam Edelman Gigi is a minimalistic thong sandal - a warm-weather must. It has an adjustable ankle strap and a padded sock for all-day comfortable wear, and its classic thong style and chic rose gold sheen go well with everything, from white jeans to a printed sundress. Get ready to embrace summer in these gorgeous sandals!
The benefit of having most of your foot exposed during hot summer days is that it is allowed to breathe. In the Sam Edelman Gigi your foot won't sweat, your toes won't feel cramped, and you won't accidentally develop a microbial infection from keeping your feet enclosed in high temperatures.
Most thong sandals have little to no cushioning in the footbed, as they are mostly designed for short-term use. However, the Sam Edelman Gigi has a padded footbed which ensures your comfort no matter how long you decide to wear this sandal for! We know that Sam Edelman is a big name in the fashion industry, but we were still taken aback at the price of this sandal. For how little material goes into its construction, it is surprisingly costly. It is a great sandal that you will be able to wear wherever you like and still be chic and stylish, and yet we can't help but feel that there are other options out there which are similar in design and yet more affordable.

3

. Skechers BOBS Luxe-Chunky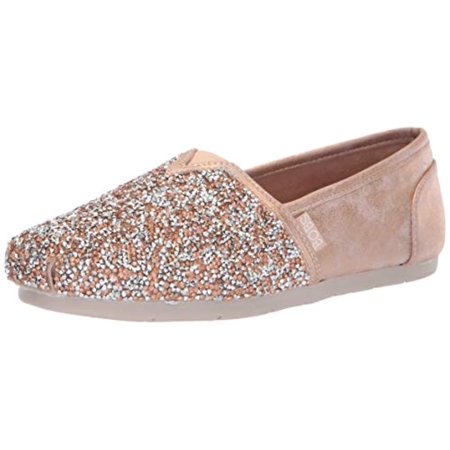 The Skechers BOBs have a classic one-piece ballet flat silhouette, a simple synthetic upper with rhinestone toe detail, and an elastic V-panel for an easy fit. The interior of the loafer comes with memory foam cushioning in the footbed and a textile lining. They are comfortable, minimalistic and a must-have for every summer season.
The Skechers BOBs comes with a molded memory foam cushioned footbed which provides you with comfort and much-needed arch support. Not only that, it has a cotton twill sock liner that has antimicrobial properties, meaning that it prevents bacterial infections and conditions.
The gore panel at the top of the Skechers BOBs is there to accommodate wider feet or those with a high instep. It also allows you to slip the loafer on and off at a moment's notice, which is especially handy if you're always in a rush!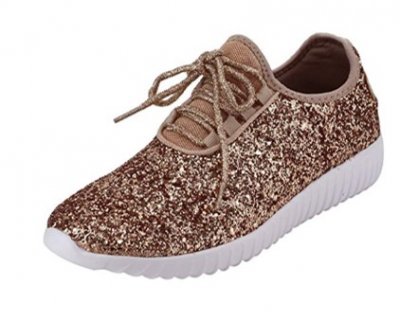 Rose gold needn't be just for formal occasions or the office. Donning a pair of fashionable sneakers can spruce up a casual outfit for a night on the town! The Forever Link Remy is a sneaker with plenty of pizzazz and sparkle, and can easily be paired with jeans and leggings for dancing at your favorite place. With its thick and cushioned sole, you can hit the ground running in fashionable flair with this pair!
Who says you can't have fun sneakers that function for comfort? The Forever Link Remy is made from breathable uppers, with padded collar to prevent any blistering, and a padded insole for cushioning and comfort. A synthetic sole provides superior cushion for your steps and gives plenty of traction for when you feel like dancing all night long. Perfect for dressing up any casual outfit!
Rose gold sparkle gives the Remi amazingly luxe and fancy appeal, and matching colored laces help to give the perfect fit for you. The heel has a shiny cross accent design for some shimmer, and the white sole compliments the brightness of the sneaker. With a slight one-inch platform, you can get carried away in comfort while being the shinning center of attention! Relatively budget friendly, the Forever Link Remi is a great rose gold sparkly sneaker, ready for adding some fun to any casual outfit you put on. With great breathable and comfortable design, the glitz and glamour are not forgotten in this pair and is well worth considering if you are looking for a sneaker with appeal.

5

. Blowfish Bungalow Wedge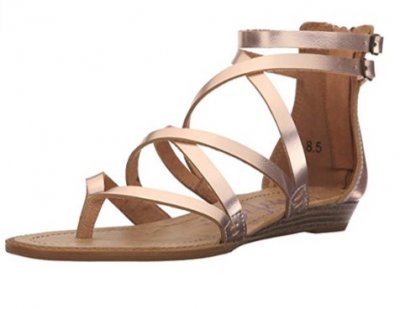 If you're a fan of boho style fashion, the Blowfish Bungalow Wedge will give flowing skirts and slacks a complimentary and posh accessory to your outfits. With a strappy sandal design and closed heel, rose gold shines across the foot and up the ankle, giving a beautiful metallic sheen to your foot. Slight wedge gives them a bit of edge for formal wear as well, so you can be the goddess you desire!
Strappy sandals are always in style, and the Bungalow won't disappoint you if you're a fan of that style. Criss cross straps envelop the foot in rose gold beauty, with a thong toe and double ankle strap buckle closure. Ankle buckle closures allow for an adjustable fit so you can feel comfortable, and shine through whatever event you're attending, even just a casual evening with friends.
At the back of the Bungalow is a full closed heel that wraps up the ankle, with a zipper closure, making this pair easy to get on and off. A short wedge heel makes them comfortable for all-day wear and balanced for walking. A lightly cushioned footbed provides padding for each step. If you're a fan of open toed, comfortable and breathable footwear, this pair is for you! For a sandal, it's slightly more expensive than some, but its rose gold glimmer and strappy style makes it versatile for many pieces in your wardrobe. The boho-inspired design makes it great for pairing with flowing skirts and slacks, while zipper heel makes them a cinch to get on and off. Well worth the price if you're in search of a new pair of sandals.

6

. Christian Siriano Habit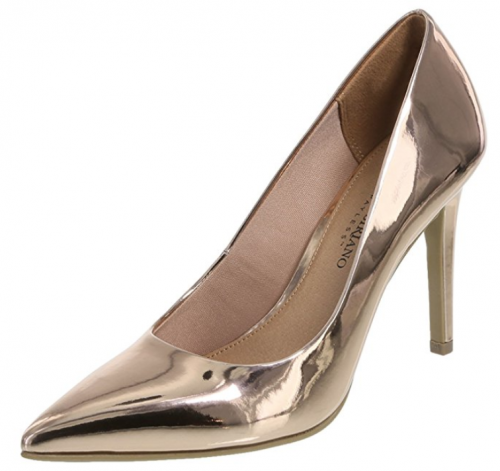 Christian Siriano has been dubbed 'the new king of old-school glamour' by Elle magazine, and his designs have appeared on the world's biggest stars and most prestigious red carpets. What is most impressive, however, is that he also designs seasonal collections of affordable shoes and handbags for Payless ShoeSource. This is where the Habit pump comes in, with its clean, elegant lines and timeless style. The rose gold polish of the upper is nothing short of enchanting, and its three-inch heel, padded insole, and smooth lining ensure maximum comfort.
The Christian Siriano Payless Habit comes with a three-inch heel, which is a classic heel height. It refines your look, elongates your legs, but at the same time, it is very comfortable to wear and to spend the whole day or night in, if necessary.
You wouldn't think that sophisticated high heels need a sturdy outsole, but the truth is that it is a great feature to have. You can forget about slipping, sliding, or otherwise stumbling in these, as the outsole provides superior stability to your steps. We were shocked at the ridiculously low price of the Christian Siriano Payless Habit. It is the least expensive shoe on our list, and yet you would never be able to tell from its glamorous, refined appeal and comfort features. Christian Siriano has truly outdone himself in the design of this pump, and for its price, it is an absolute steal.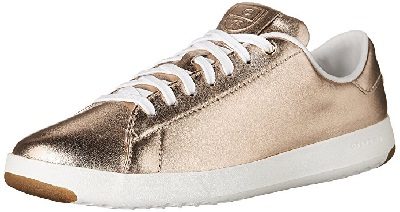 Cole Haan is a footwear label with an 80-year long history. It epitomized artisan quality and impeccable craftsmanship during a time when style was everything, and even today they proudly follow in their traditional footsteps, while also investing in new technologies at the same time. The Cole Haan Grandpro is the ultimate court shoe, a shockingly light sneaker you have to feel to believe. It comes with a smooth leather upper in eye-catching rose gold, with a textile-covered footbed, rubber pods and, inevitably, with Cole Haan's trademark Grand.OS comfort technology.
Cole Haan's signature technology is based on three core principles: lightweight, flexibility and cushioning. The Cole Haan Grandpro has elements which move with the contours of the human foot and responsive soles which reduce fatigue and improve underfoot comfort. If you are planning on running or playing a game of tennis in these sneakers, then you don't have to worry about slipping or skidding on flat terrain. The Cole Haan Grandpro is outfitted with rubber pods in the heel and forefoot, ensuring maximum traction for your every move.
While Cole Haan shoes, in general, are known to be a bit pricey, the Grandpro sneaker is actually not. For a reasonable cost, you get a shoe with outstanding comfort and quality, which is also exquisitely fashionable and will complement your every casual outfit.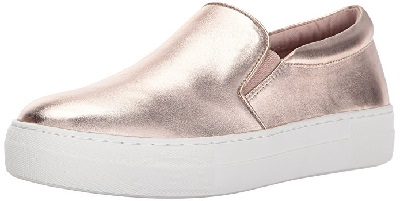 Steve Madden founded his company in 1990 when he started making trend-advancing shoes one pair at a time. His focus on the 'now-ness' earned him rave reviews from young female fans for the funky, chic and yet competitively priced footwear. The Steve Madden Gills is definitely funky and chic, with its round toe silhouette, a platform sole of 1.25 inches, smooth rose gold upper and dual gore panels in the sides. It is simple and casual and yet elevated thanks to its metallic color and platform.
The elastic panels in the upper of the Steve Madden Gills allow for a quick and easy slide in and out of the shoe. No need to fuss over complicated lacings or zippers which might get stuck - in a blink of an eye, you are ready to be out the door!
The Steve Madden Gills is a sneaker, but it also has a thick sole, which gives you a boost in height. Not only that, the added platform and the padded footbed absorb impact while you walk, and reduce the strain on the joints, muscles, and tendons in your legs. As far as the price goes, the Steve Madden Gills are in the middle range. It is not the cheapest, but also not expensive either. When it comes to style, we can hardly think of a more trendy sneaker, which you will be able to wear every day and in a variety of occasions, and which also comes with solid comfort and quality levels. Overall, a good deal for a good price!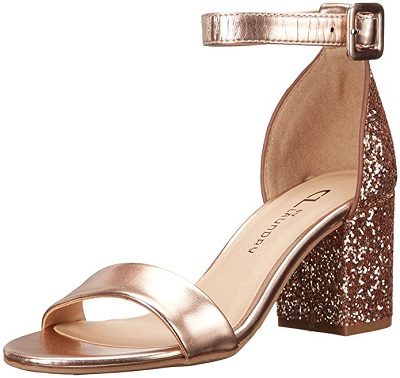 The Jody sandal belongs to the CL by Chinese Laundry collection, which appeals to the customer who's unabashedly edgy and young in spirit. Their footwear represents a great way to take risks without straining your budget. While the Chinese Laundry Jody may not be risky per se, it is certainly a striking shoe, with its rose gold toe and ankle straps, and a blocky heel bedazzled in rose gold glitter. This sandal is glam and comfort in one; it draws attention, it leaves people breathless, and it will do wonders for your confidence!
The shape of the Chinese Laundry Jody's heel is square and blocky, which provides a wider base and stability to your foot as you walk. Furthermore, it is only 2.75 inches in height, meaning that you won't feel even the slightest pressure in the ball of your foot as you parade these beauties around. While adding a feminine touch to the design, the ankle strap of the Chinese Laundry Jody also serves a purpose - it is there to prevent your foot from sliding forward in the shoe, and its buckle strap also enables you to adjust the fit however you'd like.
The Chinese Laundry represents luxury and glittery magic, but it is also quite affordable. This sandal is comfortable, dazzling, and you will have no trouble pairing it up with a party look, or even an elegant formal wear outfit. Definitely worth the price!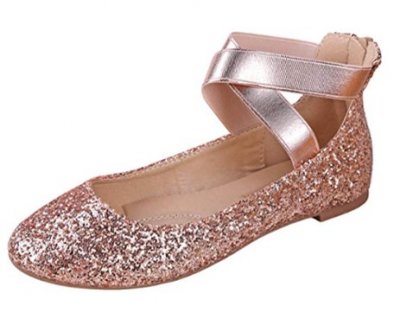 Anna Dana's Ballerina flats will steal the show with their glittering rose gold hue, strappy design, and wrap around ankle straps. Comfortable for wear, they're lined with soft felt, and the heel zips up the back for closure. These will dazzle with their sparkle and rose gold coloring and can be worn to the office with slacks, or more formal occasions. A wonderful option if you're in search of a flat with some pizzazz!
Rose gold footwear can come in any kind of style and design, but if you're looking for something with a bit more than canvas or subtle shine, the Anna Dana Ballerina flat will sparkle and shimmer its way into your heart. Light-catching rose gold will dazzle admirers with each step you take. Color is maintained throughout the shoe and into the elastic ankle straps, which have a more subtle shine to them.
Flat, textured soles let you step comfortably with light padding, and maintain traction on slippery floors and surface. A zipper is found on the heel for easy access in and out of the Anna Dana Ballerina, while the ankle elastic straps help provide a secure fit without restriction. Rounded toe makes these roomy and ready for all-day wear, and a lightly cushioned footbed helps provide additional comfort. One of the most budget-friendly items on our list, the Anna Dana Ballerina flat is a positively wonderful buy. Sparkling rose gold color will shine and dazzle onlookers with every step, while comfortable fit and grip is kept with heel zipper access and textured sole. Great for those looking to dazzle their steps in rose gold hues!

Subscribe to our Newsletter