Best Badgley Mischka Shoes Reviewed & Rated
In a Hurry? Editors choice: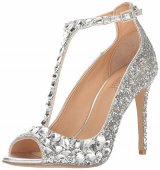 Test Winner: Conroy

The Badgley Mischka brand is the epitome of elegance and effortless sophistication. A fashion label that is an all-time favorite among celebrities, on the red carpets, and on the runways, it is no wonder that it is hailed for its easy gracefulness, for a style which simply radiates high class and luxury.

Badgley Mischka shoes are created out of only the finest materials, utilizing only superior craftsmanship. They carry an element of extraordinary, whether it be the shape or a fine detail.

We have carefully put together this list of best Badgley Mischka available on the market today. We hope that you will enjoy scrolling through it and that in the end, you will be able to pick out a pair of fashionable Badgley Mischka shoes for yourself without a problem.
Standout Picks
Criteria Used for Evaluation
Style
Whether you are choosing footwear for a formal event or for casual wear should be the first question. While Badgley Mischka shoes are designed with old Hollywood elegance in mind and are famous for their breathtaking beauty and formal appeal, that is not to say they don't have some beautiful casual choices as well.
In our list, we have more than a few examples of footwear which is perfect for everyday errands, or even for walks by the beach or pool.
So let's see your options for both formal and casual wear.
Formal
This is where the brand shines. Formal footwear is synonymous with heels, and Badgley Mischka makes the art of designing gorgeous high heels seem like a breeze. They offer a wide variety of heels, including different heel heights, heel types, colors and embellishments, and, of course, different styles, which we will take a look at first:
Closed Toe
Closed-toe heels are most commonly known as pumps. They are appropriate for all events, from weddings and parties, over galas and luncheons, all the way to business meetings and the workplace. Closed-toe Badgley Mischka shoes are especially useful in keeping your feet dry and warm when the weather outside is not favorable, or for hiding unseemly sights if you haven't had time for a pedicure.
Closed-toe heels come in different shapes for the toe area: round-toe pumps, almond-toe pumps, and pointy-toe pumps. Choosing between these is mostly a matter of personal preference. However, it is important to mention that round and almond-toe heels are usually more comfortable than pointy-toe ones, and pointy-toe heels can lead to painful cramping of the toes and some issues, such as corns and bunions.
Open-Toe
Open-toe heels are essentially sandals with high heels. These types of heels are especially comfortable when the temperature is hot, as they keep most of your foot exposed and help it breathe better. This is not only beneficial for keeping your feet sweat-free, but also for reducing the risks of bacterial and fungi infections since these microorganisms simply love hot and damp places. Bear in mind, however, that open-toe Badgley Mischka shoes are not always appropriate. Especially in a business setting, or any event of a more serious nature, open toes may be considered indecorous.
Casual
If you are looking for footwear to complete your everyday looks, such as a pair of sneakers or summer sandals for walking around town or maybe even indulging in some sightseeing, then casual is your go-to style. We should mention, however, that Badgley Mischka shoes never quite reach the relaxed, sporty looks of say, Nike, Adidas, TOMS or any other more casual label, but they do have models which can be considered casual in style.
Sandal
When we talk casual wear, we mean flat sandals, those which are easy to wear by the pool or along sandy beaches. Flat sandals are designed with the intention of making them as comfortable as possible, and - as heeled sandals - they also have the benefit of promoting a healthy climate for our feet and protecting us from infections such as athlete's foot.
Flats
At the borderline between formal and casual, we have to mention flats. Ballerina flats are usually not considered formal footwear; however, an exception has to be made for Badgley Mischka flats! Their clean, refined lines and tastefully glimmering embellishments are a great addition to any formal outfit if you are not feeling like putting your feet through the pain of wearing high heels.
Badgley Mischka shoes without a heel are also versatile, in that you can dress them down with jeans and a flowy blouse, or pair them up with a dress and sparkly jewelry for a more elegant look.
Heel
Stiletto
Stilettos have always been an example of sophistication and class. However, stilettos, especially high stilettos, are not the most comfortable. They don't offer a good base and can lead to issues with stability.
If you are out of practice or new to wearing heels, your ankle may wobble a bit, and it can even result in a sprain or some other form of injury. So do be careful when you're slipping these Badgley Mischka shoes on - it may be best to first walk a few laps around the house before you step outside in them.
Wedge
While stilettos are considered the most uncomfortable type of heels, wedges are exactly the opposite. This type of heel supports the entire length of your foot and provides an excellent foundation for your steps. It distributes your weight evenly in the shoe, and thus takes excess pressure off of the ball of your foot, minimizing pain and discomfort. If you are unsteady in heels but don't want to give them up, a pair of wedge Badgley Mischka shoes is an excellent choice to add more stability to your walk.
Chunky
Thick, blocky heels are almost as comfortable as wedges. They also provide a wide base and ensure that there are no unnecessary movements in the ankle. With a chunky heel, you will feel confident and won't run the risk of stumbling or otherwise hurting yourself.
When it comes to heel heights, there are also some differences you should keep in mind:
Kitten Heels
Kitten heels are around two inches in height. They are comfortable to wear, not that different than flat Badgley Mischka shoes, and you can be sure you will enjoy them throughout the day, even into the night if need be.
Classic Heels
Three inches is a classic heel height, and it is similar to the kitten heel when it comes to comfort. You can expect to walk in three-inch heels for hours without feeling a hint of discomfort, and yet they are high enough to boost your height and add poise to your posture.
Four Inches and Up
Unfortunately, while being the most elegant out of all heel types, heels that are four inches or higher are not so comfortable. After an hour or two of wearing these - regardless of the overall comfort level and construction quality of the shoe - you are bound to start feeling pain.
This is mostly due to the unnatural position your foot is locked in, and there is very little you can do - if anything - to fix it. So if you fell in love with Badgley Mischka shoes this high, it is best to wear them to an event where you will be sitting for longer periods, or otherwise be prepared to simply grin and bear it. Beauty comes at a price!
Overall Fit
The overall fit of a pair of Badgley Mischka shoes is critical in feeling secure, supported and comfortable for the duration you wear it. An inch too large or too small can make all the difference between a great night with your friends on the dance floor, or a night full of irritation and irritability.
When looking for a good overall fit, consider not only the length and width of the shoe, but also additional features that will ensure a perfect fit, such as removable insoles, straps or laces and the type of leggings or socks you will be wearing.
All Badgley Mischka shoes on our list were evaluated for fit based on customer reviews from across the internet marketplace. If there was a major recurring problem with the fit of the shoe, it didn't make our list. Although you may still have to check sizing reviews for your favorite pair, each design on this list should fit reasonably well for your particular length and width.
Comfort
Comfort is king when it comes to shoes, and although heels are not comfortable by their very nature, there are features and designs in each of the Badgley Mischka shoes on this list that make them a favorite of ours.
A cushioned insole is critical to providing the flex and support needed to stay comfortable throughout the day or night. Nothing is worse than a pair of hoes that feel like rocks on the soles of your feet. A good cushion helps support natural gait and proper form, preventing injury.
The type of heel is also a critical factor to your level of comfort, as we already mentioned in our Heel section. Stiletto or high-heels, with their thin and long design that we all love, are often the least comfortable of the bunch. If you have feet that are prone to duress, a wedge or kitten heel might be a better option for you. Wedge Badgley Mischka shoes, with their wider base, allow you to move easier and more naturally. Kitten heels are much lower to the ground, so there is less stress on certain parts of your feet to maintain balance while walking.
We also assessed the gripping material on the bottom of each pair of Badgley Mischka shoes. Ensuring you have a material, like leather or rubber, that is durable and allows for good traction while walking, adds to the comfort of the design.
Versatility
When you are investing in a pair of Badgley Mischka shoes or heels, you'll want to assess whether or not your new pair can follow you from the boardroom to the dance hall and back again. Although you might feel it's worth splurging on shoes you'll only wear on one type of occasion, often we like to buy footwear that is suitable for different environments.
If you wish to maximize the versatility of your Badgley Mischka shoes, then look for the following:
Less Bling - The less eye-catching the embellishments on your shoes are, the more likely it is you will be able to wear them outside of a celebration event. Too much sparkles and glimmer is inappropriate for the workplace, so if you want to make the most out of your fancy shoes, try going for a subdued look.
Lower Heel - The concept is simple: the lower the heel, the more comfortable you'll feel and there are more places you'll want to show off your new Badgley Mischka shoes in. A low heel also makes the design suitable for everyday wear, not only for special occasions.
Neutral Colors - As much as a teal blue or a deep purple are enchanting and suitable for that one outfit you had in mind, the fact is that you may not be able to pair these colors with much else in your wardrobe. Thus opt for neutral colors, such as nude, beige, black, tan, brown, and even metallics, such as gold, silver or rose gold. These go well with pretty much any other color combination and you will get more use out of your neutral-colored Badgley Mischka shoes.
A shoe that can be worn multiple times with ease will reduce the cost-per-wear of the product, and can help you unlock greater value with your purchase. You may just find that a $200 pair of heels that can be worn many places is a better investment than a $100 pair that can only be worn once or twice.
Our Favorites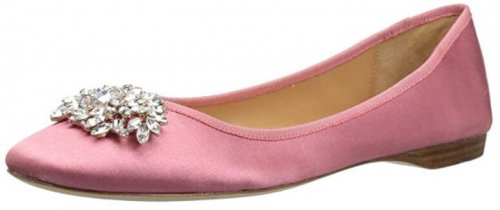 We're adding another ballet flat to our arsenal, this time in the form of the wonderfully versatile Pippa. The Pippa flat is an option you can easily wear pretty much anywhere you want to look put-together but don't feel like wearing heels: the workplace, a lunch date with friends, even a more elegant date night out with your significant other! These Badgley Mischka shoes can be dressed up or dressed down for a variety of looks.
The upper of the Pippa is made either from satin or from metallic suede, depending on the color you choose. It has a large rhinestone embellishment on the front, which draws the eye and amps up the elegance factor of the flat. The round toe of the Pippa is comfy and spacious enough so that you don't feel cramped, and there is a micro heel in the back for a sole that is not entirely flat.
The Pippa is a type of a design that everyone needs in their wardrobe. You can style these Badgley Mischka shoes with a cute skirt and a blouse, or a silky shirt and a pair of boyfriend jeans for casual chic. There is nothing this cute flat can't pull off!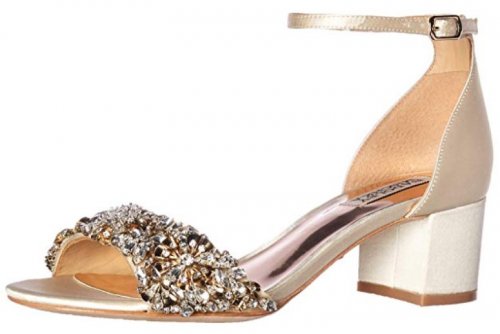 If for any reason you're not a fan of high heels - if you find them too uncomfortable and unstable to wear - then you'd be pleased to know that Badgley Mischka has a wide selection of low, comfy heels that you can wear without any discomfort! One of them is the Vega, which is every bit as elegant and extravagant as any other pair of Badgley Mischka shoes on this list, but it comes with a 2-inch block heel that you can wear to your heart's desire.
The Vega has two color choices - the black and the ivory - that are classic and suitable for practically any event. It has dazzling crystal decorations on the toe strap for a drop of glam and a delicate strap around the ankle. This strap comes with a buckle closure that you can adjust to the width that fits you. As we mentioned before, the Vega comes with a type of heel that is easy to wear for as long as you'd like without fear of any type of pain or numbness in the toes.

This pair of Badgley Mischka shoes is perfect both for formal events, but also for a fancy date night out with your significant other. It is elegant and embellished, but not too over the top, and we love the fact that it is comfortable to go from day to night without any trouble! You won't regret investing in the gorgeous Vega sandal!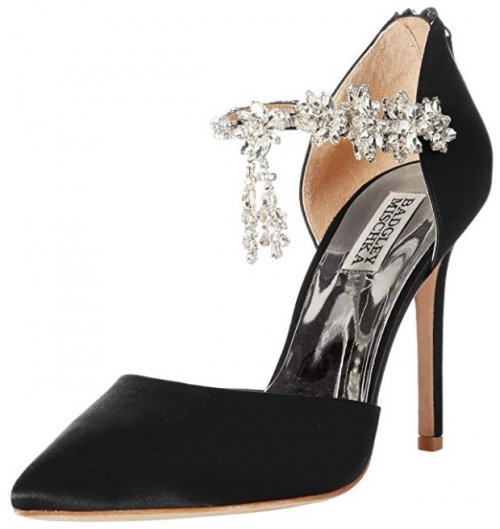 With the name that reminds us of the Marvel anti-hero, the Venom pump is every bit as fierce and dangerous. It is a d'Orsay design with a pointy toe silhouette, and a strap adorned with crystals and a dangling crystal decoration. This pair of regal Badgley Mischka shoes comes with a heel that is not difficult to wear for a longer period of time, as well as a zipper in the back for an easy way in and out of the pump.
As most Badgley Mischka shoes, the Venom is also made from a satin upper for that glam sheen. It comes in a few different color combinations, meaning that you will have no problems selecting the one that works for you. We're in love not only with the simple yet beautiful design of this pump, but also with the cushioned comfort its insole provides, the quality of its leather outsole, and the ease of entry thanks to the back zipper closure. The heel of the Venom is 3.75 inches high, which may require some getting used to, but which is ultimately perfectly comfortable.

If you're looking for something out of the norm, something fresh and yet no less eye-catching, then the Venom pump is perfect for you. Its original design, sparkling decorations, and bold confidence will leave everyone around you absolutely speechless.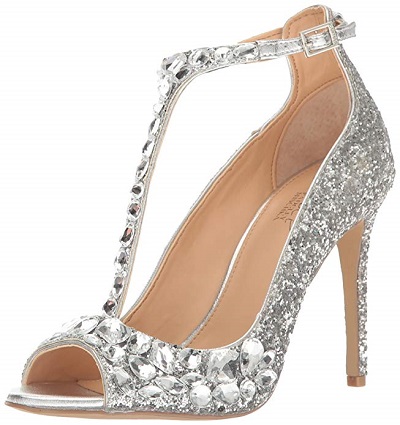 Step into the world of princesses and royal balls with the Conroy. It is hard not to fall in love at first sight with this peep-toe pump that is entirely decked out in glitter and rhinestone embellishments. It has a bejeweled T-strap with a buckle closure at the ankle, and its heel is at almost four inches in height. In regards to comfort, these Badgley Mischka shoes are constructed out of leather and have a cushioned footbed. We cannot take our eyes off of this unforgettably dazzling pump, and it is surely going to be the star of any event!
Apart from being a stunning accent on the Conroy, the T-strap also serves the purpose of keeping your foot in place and preventing it from sliding forward in the pump. Furthermore, the buckle closure at the ankle allows you to adjust the fit however you'd like. There is nothing better than a genuine, natural material such as leather. The upper of the Conroy will gently hug your foot for that easy, breathable comfort, and you won't have any problems wearing this model for a long time to come.
The Conroy is a pump to marvel at, exquisitely ornamental and sufficiently comfortable as well, and we honestly can't believe the low number on its price tag. If you are looking for show-stopping Badgley Mischka shoes, then look no further, because the Conroy is it.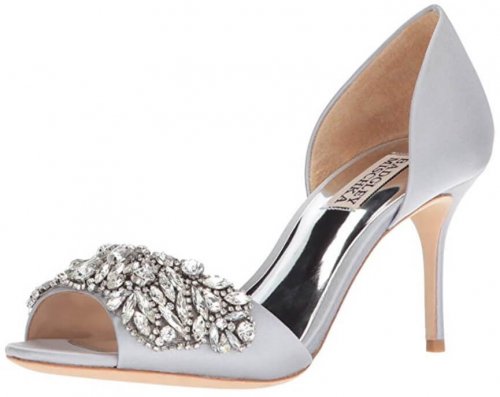 The Hansen is a standard d'Orsay peep-toe silhouette that we've seen many times over, both within this guide and from other brands. However, thanks to the rich, glamorous decoration on the front of the design, these Badgley Mischka shoes stand out from the rest. The Hansen is elegant, classic, and yet just embellished enough that it tickles the senses.
The upper of this pump is made from satin, and you will love the way the soft material feels against your skin. The heel is stiletto, but only three inches in height. This means that you will be able to wear the Hansen for hours on end, whether you are walking, standing, dancing or even twirling on the dance floor.
This easy, simple pair of Badgley Mischka shoes come in several color options, all of which are neutral enough so that you can pair them with any type of outfit you want. Whether you're going to the club or to a summer wedding, the Hansen is definitely a choice you shouldn't overlook.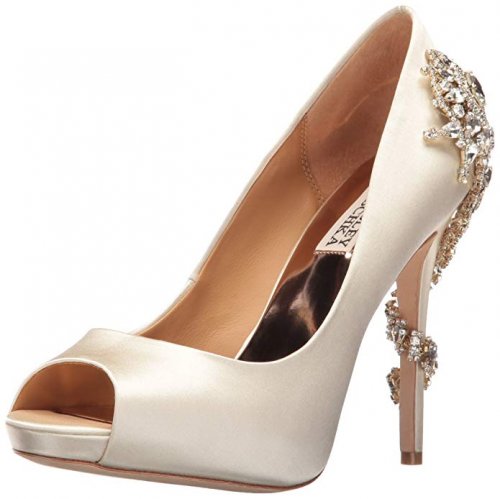 If you are looking to make a statement at a bridal shower, wedding or another celebratory event, search no further than the Royal dress pump. Adorned in decorative stones that hug the heel, these Badgley Mischka shoes are stylish and surprisingly comfortable. With an open-toe front, you might even look better than the bride herself. Don't say we didn't warn you!
With a 4-inch heel like the one found on the Royal, you'll demonstrate style and poise when you enter the room. Decorated with jewels that curve the heel in a serpentine fashion, the Royal pump will make you feel truly royal. A 100% fabric upper means you will be cool, dry and comfortable throughout the entire evening. Available in multiple colors, from ivory to iris blue, you'll be able to pair these Badgley Mischka shoes with almost any fancy dress in your wardrobe.
Definitely on the higher end of the price-points on this list, the Royal comes with a royal price tag; but, for the exquisite design and feel of the shoe and the attention to detail placed on the jeweled adornments, this is a sure bet if you are looking to splurge.




Whoever says that flats can't be classy or appropriate for formal events has never seen the Gigi. This streamlined pointy-toe flat represents the peak of elegance with its light-reflecting crystals and a heel counter with a scalloped topline. Its upper and lining are made of textile and mesh and it features a leather sole for that superior comfort. If you don't feel like putting your feet through the pain of high heels, the Gigi flat is a worthy alternative for any event where you need to look stylish and sophisticated.
The benefit of footwear with a leather sole is that the more you wear it, the more comfortable it will be. After a short break-in period, the Gigi flat molds to the shape of your foot and becomes irreplaceable in terms of comfort. What we love the most about these Badgley Mischka shoes is that you don't have to sacrifice style for comfort. This ballet flat is easy to wear for longer periods of time, and at the same time, it is as elegant and as dazzling as most heels.
This is a ballet flat like no other, unparalleled in its beauty and refinement, and if you are looking for that perfect pair of Badgley Mischka shoes which won't kill your feet, we can think of no better option than the Gigi.




Slide sandals are the new fashion craze this summer, and the Sofie is a stunning, crystal-encrusted addition to the trend. It is captivatingly beautiful with its interwoven straps decorated with tiny sparkling embellishments, bound to make your walk by the beach an unexpectedly glamorous affair. These Badgley Mischka shoes have a lightly padded footbed, a textile upper, a leather sole, and a barely-there, quarter of an inch heel. Additionally, it comes in a selection of colors, from gold, black, silver, to this positively regal berry hue in our picture.
Slide sandals are the perfect choice of footwear for the summer. The Sofie slide is ridiculously easy to get in and out of, and it keeps most of your foot exposed, allowing it to stay cool and sweat-free, as well as preventing bad odors and possible infections. High comfort levels of the Sofie are the result of its padded footbed, which cushions your footsteps and eases your ride, and the slight heel which provides just enough elevation to not make it completely flat and dangerous for your arches.
Even after taking the brand name into account as well as all the effortless summer elegance they offer, these Badgley Mischka shoes are still high in price. It is undeniably beautiful, but we have seen many similar models from other brand names which have the same features for a lower cost, and we can't help but feel that the Sofie is a bit overpriced.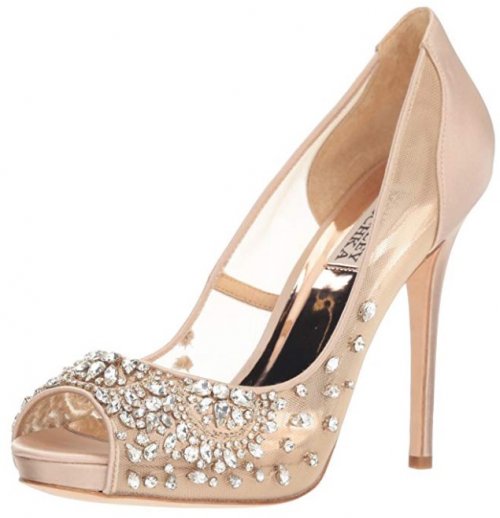 Now here is something a little different, a little unexpected. The Pepper pump comes with that standard peep-toe silhouette, only it has a surprise in the form of mesh materials. The heel counter of the pump is made from satin, but the rest of the upper is constructed out of sheer mesh and embellished with crystals and rhinestones elegantly scattered over the front. These Badgley Mischka shoes offer class and elegance, but also a hint of va-va-voom with their enticing transparent sides.
The mesh parts are not only there for the aesthetic, however. They also serve a purpose, as the mesh is a porous material, and it allows air to freely flow in and out of the design for maximum breathability. This pump has a cushioned insole for padded comfort and a 3.74-inch stiletto heel. Fear not, however, as the Pepper also has added height in the front, and this platform allows you to move around as easily as though you were in only 3-inch heels.

The Pepper is a great way to spice up your formal collection. It is classic in many ways, but it also offers something new and surprising with its sheer inserts. If you're someone who loves to experiment and to switch it up every once in a while, then these Badgley Mischka shoes are a great way to play around with your style!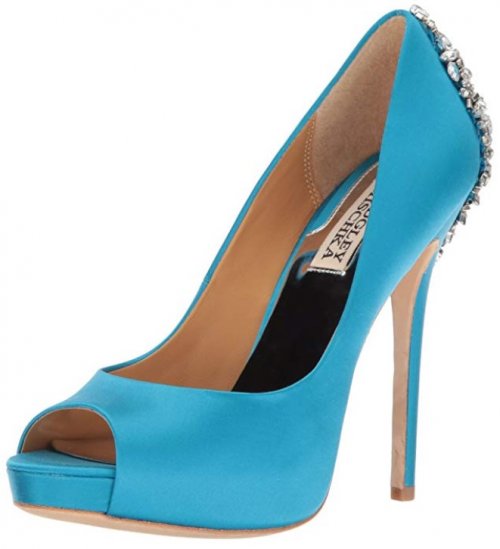 Similar to the Royal, the Kiara is a classic peep-toe design that suits any type of formal event, be it a wedding - someone else's or even your own - a prom, or a gala. It comes in a variety of color options, from the classic ivory, white, silver and blush pink, to more outrageous options such as hot pink, purple and this striking surf teal that catches everyone's attention. The sparkling rhinestone embellishment in the back adds a touch of glam and elevates the look of these Badgley Mischka shoes to a whole other level.
The Kiara has an upper made from textile, or satin to be more precise. It has a peep-toe front for comfort and breathability, and its decoration at the back is inspired by vintage brooches. The heel of the Kiara is almost 5 inches high and stiletto in shape, which might seem like too much at first glance. However, you will also notice that this pump has a platform in the front, 1 inch high, which takes the pressure off of the front of your foot and helps you stay on your feet for longer.

This design is nothing short of glamorous. Of course, that is true for most - if not all - of the Badgley Mischka shoes on our list, but the Kiara is especially classy, and especially versatile in that it can be worn with both an evening gown and a flirty mini dress for an equally show-stopping effect. If vintage is your style, don't hesitate to treat yourself with this pump!

Subscribe to our Newsletter