Best Shoes With Bows Reviewed and Rated
In a Hurry? Editors choice: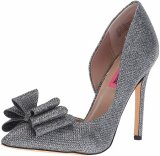 Test Winner: Betsey Johnson Prince d'Orsay Pump

The bow was a favorite in the court of King Louis but, the invention of buckles and gem-encrusted adornments eventually replaced the simple elegance of a bow. The multi-looped "Fenelon" bow showed up in the 1860s with a whirl of ribbons on the toes of ladies shoes. We find them still around a toddler's pigtails but, until just recently, bows were not part of the fashion conversation. Right now there are a variety of bow styles from which to choose on every kind of shoe you can imagine. From frivolous to refined, big and bold, or neat and discreet, we've gathered a variety of shoes with bows that are great buys and
beautiful footwear
for you to enjoy.
Standout Picks
Criteria Used for Evaluation
Accessories
Fashion put bows back on our heads in 2017 and this year you'll be wearing them on your feet. Simple vamps without adornments are the norm. Our pumps, flats, boots, and sneakers have been without complication for many years and we have to give some thought to wearing a bow, buckle, flower, or troll doll on the front of our shoes.
For one thing, it's important never to follow a trend just to be fashionable. Shoes are meant to keep our feet safe, warm, and comfortable first and foremost. You really have to make sure they're up to the task. The same is true of any shoe with or without a bow. Having made that choice, we can select a shoe that makes our feet and legs look their best, a shoe that brings a little something to our posture, too. If a shoe does all that besides making you feel good, if it makes you happy to look down and see it on your foot, that's a shoe you just can't pass up. But, if the shoe isn't right for you, you'll never wear it no matter how cute it is, no matter how much you paid for it.
Make choices that you can live with
Choose shoes you want to see every day or at least once a week. They're a lot like good friends and you like to see your friends looking good not stuck in a fashion trend that ended months ago.
Consider for how long you might find that bow interesting
A wild rainbow or thin ribbon bows are going to be great fun this summer but will you like them next year? Ask yourself some tough questions about the bows before you buy the shoe and, if you feel like this will last more than a season, if they won't fall apart in the rain or fade in the sun, then these are the bows on the right shoes for you.
The good news is that there is no doubt that you can find the right shoe with the right bit of bow to suit your style, to fit your foot and articulate the statement you want to make. It's out there.
Brand
A product is a promise made, but a brand is a promise kept. A brand name is often a signal of quality and consistency in construction and durability from product to product. Although there are always exceptions to this rule, quite often brands that perform continue to perform. Brand names on our list tend to score higher in the brand score.
With a legacy and history of quality product, brand names tend to use better materials, create and incorporate innovative technologies into their products, and provide the buyer with excellent performance. A brand name will usually be more durable, as well, bringing down the overall cost of the item over the lifetime use of the product.
A higher score in the "brand" criterion means that online reviewers and buyers judge the name to be of high quality and is effective, stylish, supportive and durable.
Materials
Yellow, pink, blue, rainbow, and tie-dyed there are no limits. Plastic, silk, and straw are all fair game for bows on shoes. But something you really want to consider when choosing a shoe with bows is just how well that bow will hold up over time. Some of that will be a matter of fabrication. There are bows and there are bows. Each fabrication presents a challenge:
Silk and Cotton: Silk and cotton are beautiful choices but they'll need some maintenance now and then. These more fragile materials may wear quickly leading you to the need of different shoes with bows.
Velvet: Velvet bows are a great but really traditional and require brushing to stay smooth. If left uncared for they will start to look matted and dingy.
Plastic or Synthetics: Plastic works well if the shoe, itself is plastic but it can also work on a tennis shoe. The problem with plastic is that, if it tears it can't really be repaired, only removed. The same goes for other synthetic blends. While they are easy to care for they are not very durable.
Leather and Suede: The use of Leather for bows is great but may need spot cleaning or weather protection to maintain its overall look and appeal. The same goes for Suede Leather. While they use different types of cleaning methods, they do require more care than most other bows. When looking for a product that will last, Leather is exceptionally durable and will endure for years if well cared for.
Satin: Satin needs to be stored to prevent fading and wrinkling. It seems that satin is more difficult to care for and stains easily. It adds amazing elegance to an outfit but may not be for everyday use.
Straw: Straw is cute but not very durable depending on the type that is used. If you are looking for a pair of shoes with bows for a specific event that you want straw it can look great and make your outfit really stand out. Know that during the test of time straw is not going to hold up as well as many other materials.
There aren't really any rules about what will make a good bow. If it suits your purpose and makes the shoe look better or just more interesting that should be good enough without any rules. You can wear bows on your toes, your ankle, or heels as long as you like how it looks that is the most important piece. There aren't any rules here except this: if the shoe makes you happy, you'll wear it happily.
Size
The perfect bow is going to add something to the shoe it adorns. There is nothing wrong with a tidy, discreet, or petite bow to add just a touch of class on a sophisticated mule or a flat or even a flip-flop. It can make an enormous statement in the right setting for an appropriate occasion and it knows exactly how to make a peek-a-boo appearance from under a long skirt or business trousers. We love them peeking out under a longer jean cuff, too but sometimes you want to make a louder comment. A giant, cotton polka dot bow or a long, floppy swath of burlap with spiky beading is just right for some days and events. The trick is to make sure the size of the bow is going to work with the outfit you have in mind. And, let's face it, the more clothes you can wear them with and the more situations where they will be suitable makes your choice a smart one.
The right bow size is the one that doesn't get in the way, doesn't make the shoe disappear entirely and doesn't get in the way of what you're trying to do.
Tennis shoes: 1"-4" bows on toes or vamp, tiny bows only on heels
Loafers, Kitten heels, Pumps: 1"-2.5" bows on toes or vamp, not heels
Boots: 1"-4" bow could easily cover the toe or vamp, smaller on the heel and should never touch the floor
Mules, Clogs: 1"-4" bows on toes or vamp
Stilettos: tiny to HUGE, there are no rules except to make sure you won't trip on the bow.
If you opt for a 4-inch bow on a pair of super tall heels then you are very likely limited to wearing them to specifical events. That's fine if you've got a budget that allows for a little excess. Otherwise, you want to make sure your weekend wear can walk off the beach and into a store or a casual lunch. Your most reliable business shoes are even better if they can do from the boardroom or courtroom into a club or restaurant. And the bows they are sporting will play a big part in where they belong.
Versatility
Shoes make the outfit and you want the outfit to make sense. As with any shoe adornment, a bow has to work well with the kind of clothes you'll be wearing. A giant, structural bow under a full-length business trouser is probably going to be more of a curiosity than a nice touch with your work attire. If you ever find yourself trying to adjust the pants so the bow doesn't show then you are definitely wearing the wrong shoes.
Some types of shoes typically go well with certain clothing and it is likely that, even with a bow, these will continue to pair nicely.
Tennis shoes: jeans, shorts, sportswear, athleisure wear, casual wear
Loafers: business suits, jeans, skirts, casual wear
Boots: business suits, skirts, jeans, evening, casual wear
Mules: business suits, skirts, jeans, evening, casual wear, shorts
Kitten heels: business suits, jeans, evening, skirts, casual wear, special occasion
Pumps: business suits, jeans, skirts, casual wear, evening
Stilettos: Evening, special occasion, jeans (for fun if you dare)
Clogs: business suits, skirts, jeans, evening, casual wear
You want footwear that makes the right statement without constantly requiring attention to make it work. A sparkly, rhinestone encrusted bow is great for a prom, wedding, or evening out but the gems are likely to snag the hem of your pants at work. Perhaps worse than that, the eye-catching sparkle may have your boss wondering why you're wearing a Saturday Night Shoe on a Monday Morning rather than thinking about what a great job you're doing. The right shoe for the right place deserves the right bow for the occasion.
10 Best Shoes With Bows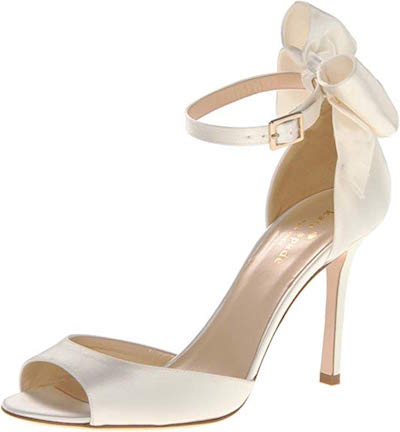 Although advertised as bridal shoes, the Izzie heels by Kate Spade are actually a pair of charming heels you'll fall in love with, if you're a fan of bows. You can wear these with your favorite swing skirt, dress, or even with a pair of skinny jeans that will allow for a simple but loud detail. The open toe makes the Izzie a fun and casual shoe, one you'll definitely wear more than just once.
As you'd expect from a pair of designer heels, these are made with the best materials. This includes the leather upper that's just the right combination of soft and supportive. Also made out of leather are the lining, footbed, and outsole - giving you a high-end pair of footwear that'll feel absolutely amazing when wearing.
With a thin ankle strap that secures these shoes to your feet, allowing you to spend the day dancing, the buckle closure gives both an added subtle detail, as well as the ability to make these fit you just perfectly. It's adjustable, meaning that even if you find that you need additional space after some serious dancing, you can easily adjust your shoes.

2

. Jeffrey Campbell Charlin


With a beautiful, knotted bow gracefully draped across the cutout vamp, this suede mule is, at once, elegant and understated. The very low stacked heel has a comfortably padded insole and a synthetic outer sole. Since 2000 Jeffrey Campbell has been serving up the most unique new designs and wonderful vintage influenced footwear. Very nearly the opposite of The Wedge King's early designs, these pointy toe mules are no less delightful.
In blush, black, or mustard, this goatskin mule is a sophisticated accompaniment for suits, skirts and can add a touch of class for casual wear. The cutout vamp is a unique twist on the pointy toe style and would work perfectly with a linen shorts suit with a jacket.
The soft goatskin leather has great flexibility for comfort, they are tight enough to hold the shoe on your foot but wide enough to allow the foot to move naturally. Whether you have narrow or wide feet, the lightly padded synthetic insole provides a cushion and the barely there, low, stacked heel gives the leg just a touch of shaping.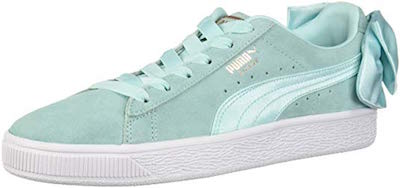 Adding an original and feminine touch to the Puma Suede Classic, the Bow version is a fun, girly way to show off your style. Choose one of the varsity colors, or go with a more subtle powder ping, and you're sure to turn heads. You can pair these sneakers with anything you like, and they'll be just the right combination of sporty and elegant thanks to the satin bow at the back of the heel.
With the original being a sports pair of shoes, the Suede Bow gives you the advantage of the same features. Having a rubber midsole and outsole allows these shoes to give you a good amount of traction and cushioning, allowing you to wear them comfortably for long periods at a time.
There are few materials that feel as good on your feet as suede. Not only does it look luxurious, it's also soft to the touch, breathable, and adapts easily, giving you space where you need it, but firmly supporting your foot elsewhere. Just note that it should not be worn in wet conditions to ensure these sneakers hold up to the test of time.

4

. Betsey Johnson Prince d'Orsay Pump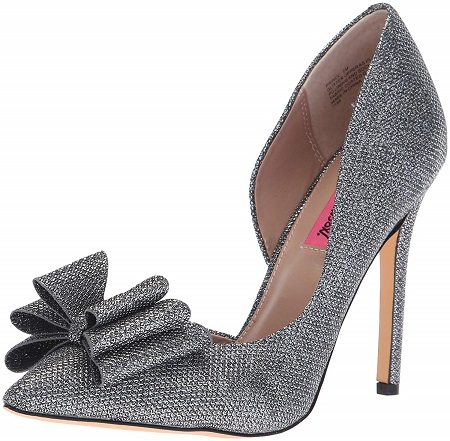 Available in two color options, the Prince d'Orsay from Betsey Johnson features a pointed toe section with an oversized bow to match. This 4" pump is great for special occasions, while the neutral colorways mean they'll go with almost anything in your closet, even jeans and a blouse.
Betsey Johnson has been prominent in the fashion world since the 1960s and is well-known for her innovative and sometimes over-the-top designs. The Prince d'Orsay is a more subtle execution of this; the pointed toe and classic style give these shoes a retro feel, with the oversized bow and glittery colorways adding a more modern touch. They are also available in a wide range of sizes, including half sizes. As their name implies, these shoes almost look like something out of a fairytale.
Versatility is important when it comes to shoes. The ability for a shoe to seamlessly blend into a range of fashion styles and environments is a major point for consumers, as it means they can get more use out of them, therefore impact the overall value in a positive way. Pumps are an iconic and classic shoe style that is known for their versatility, especially when they come in more neutral colorways.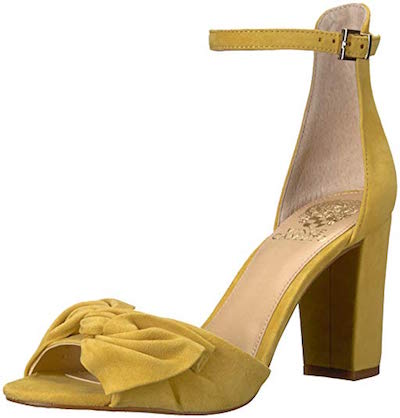 If your idea of a pair of bow shoes includes fun, style and a pop of happy colors, then the Vince Camuto Carrelen is the perfect choice for you. These high heeled sandals are made for nights on the town, parties, or even everyday wear. They'll look awesome paired with a number of outfits, but we suggest using them as that extra pop of color when you need to brighten up a dull day.
Walking in high heels is no easy feat, and it's made especially hard when the heel itself is a thin stiletto that offers little support and stability. Luckily, the Carrelen features a thick heel that'll keep you supported throughout the day, easing the pressure from the ball of your foot, and overall making the wearing experience more pleasurable.
While the upper of this sandal is made out of suede, on the bottom of your feet you can expect a manmade material that'll prove to work great on any surface. Its main advantage is that it won't show signs of wear to easily, and won't be as easily damaged should you step in something wet.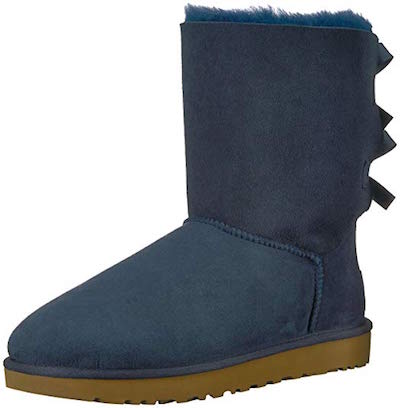 Though boots with bows on them are not easy to find, The Bailey Bow by UGG is an excellent pair of cold weather footwear that's both warm, protective and cute. Available in a variety of colors, these will work great for all occasions, and are an excellent choice for school, weekends or casual outings. The 7.5" shaft is just the right height for winter, as it will keep the calves warm, without being too high.
The sheepskin upper on these UGGs has been pretreated to repel water and stains, which means your favorite boots will remain looking new for a longer time. It will also mean that you can wear these in snowy conditions without having to worry about your feet getting soaked.
The outsole on the Bailey Bow II is made with a material called Treadlite that is a great option for all types of surfaces for two reasons. One, it gives a good amount of grip, so you don't have to worry about slipping. The second is that it's quite lightweight, so your boots won't have you exhausted by the end of the day.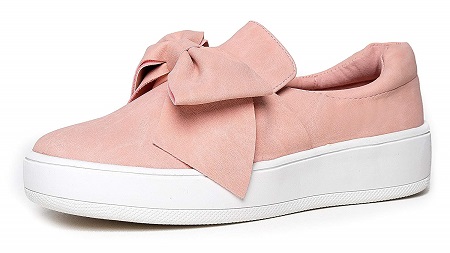 Featuring 2" of lift, three adorable colorways, and an oversized bow, these platform kicks from J. Adams are right at the intersection of cute and sporty. These shoes are designed to go with anything, from classic blue jeans to bright sundresses. The modest platform adds some extra height without compromising on balance or style, while the cushioned foam footbed will keep your feet comfortable and well-supported as you go about your day.
When it comes to choosing the right shoe, comfort is paramount. An uncomfortable shoe can cause fatigue or even injury, and just all around ruins your day. This is why these shoes feature a cushioned foam footbed that's designed to gently support your feet, similar to how memory foam works. This allows for comfort you need to go about your day without problems. Who says cute platforms can't be comfortable too?
As climate change becomes a larger topic of interest in the public sphere, consumers have been looking for ways to reduce their environmental footprint, from going vegan to ditching single-use plastics. J. Adams saw this as an opportunity and created these shoes with 100% and synthetic vegan-friendly materials.




While boat shoes may not come to mind when someone mentions bows, the Angelfish by Sperry is a great mixture of feminine and practical, wrapped up in a classic look that's become a staple among those who value simple style. This boat shoe is packed with features that make it an appropriate choice for all day and all night wear, and it's made with high quality materials that will surely last for quite some time.
The Angelfish has two notable features that make it so comfortable to wear. The first is the razor-cut outsole that gives a great amount of traction on both dry and wet surfaces, while the other is the molded EVA midsole that supports the foot, providing it with a good amount of cushioning for less impact on the muscles and joints.
The genuine leather these shoes are made of is selected so as to provide you with a level of durability that'll allow years of wear. Hand-sewn, the Angelfish features a padded tongue for a higher level of comfort, while the 360° adjustable lacing system provides for a customized and secure fit.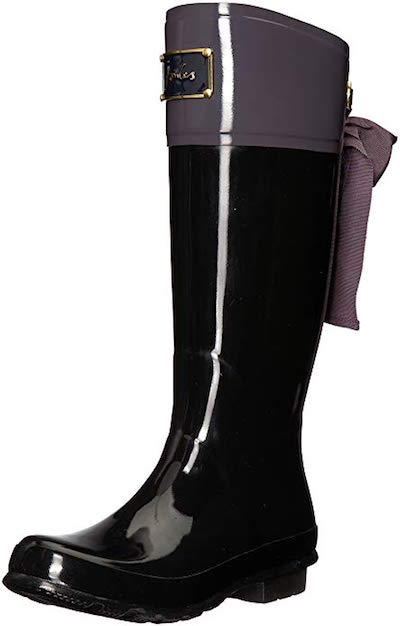 You know what's a pair of shoes everyone needs? A good pair of Wellies. When the weather turns for the worse - be it the regular spring showers, an unexpected summer storm, or just fall, a pair of rubber boots will keep you dry, warm and ready to go out. But, if you'd rather stay away from those regular, single color boots, or if prints aren't your thing, you can go with something a bit more premium such as the Joules Evedon.
With a boot height that'll cover your full calf, you won't have to worry accidental splashes or puddles ruining your pants. Nonetheless, you will still look elegant thanks to the shiny rubber upper that comes in premium colors such as black, burgundy, French navy, and slate grey.
Thanks to the rubber outsole with lugs, you'll have secure footing with every step, no matter the surface you plan on walking on. Be it pavement, tile, marble or hardwood, the Joules Evedon gives a good amount of grip so that you don't have to worry about slipping when it's wet outside.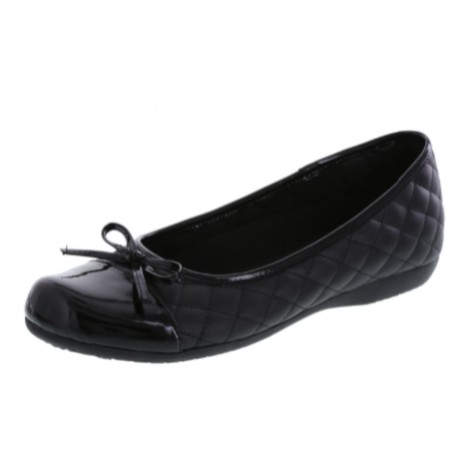 With a faux patent leather toe and quilted body, the Sasha Flat is topped with a dainty bow for a feminine, youthful looking alternative to a clog. The adorable design belies its utilitarian nature. A perfect shoe for environments that just aren't shoe friendly, this is no-nonsense footwear with a cute design. It's a lightweight ballet style shoe with a reinforced heel that can really take a beating.
Great for working in wet areas with slick floors like kitchens or outdoors, the Sasha has a mesh lining and padded insoles making it incredibly comfortable for active, on-your-feet-all-day jobs, too. The materials are all manmade including the oil and slip-resistant outsole that makes it safe in tricky spaces.
The Sasha Quilt bow flat gives a nod to simple school girl shoes with these shiny faux patent leather toes and the quilted body. The look nearly begs for knee socks and a plaid skirt but these are serious shoes for women who work hard and need footwear that can keep up with them.

Subscribe to our Newsletter