Most Comfortable Wedge Shoes Reviewed & Rated
In a Hurry? Editors choice: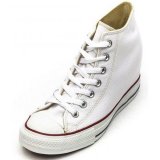 Test Winner: Converse Chuck Taylor

High heels may increase your height but walking in them can be a challenge. If you want the height of heels but the stability of flats then wedge shoes are for you. Working hard in the office or dancing at a club, we assure you there is one for you. We have compiled a list of ten of our favorites that were designed to help enhance your outfit, including short boots, sandals and even sneakers that will keep you be both comfortable and in style. It's 2019 now which means it's time to give yourself only the best options and quality care that you deserve. We all work hard for our money, and it's important to feel fulfilled when spending it on items we desire. In honor of this, we've created a list with only the best models available so you can look great!
Standout Picks
Criteria Used for Evaluation
Heel
If you love the look a pair of high heels add to an outfit but are not willing to sacrifice comfort all night; wedges are the perfect shoe for you. From sandals to booties or pumps; these heels can be found on a large selection of shoes and are as versatile as can be.
They have a joined heel and sole and are made of one solid material – often cork or wood. Cork is preferred in sandals as it is durable but lightweight and does not feel heavy on your feet during the summer months. When it comes to booties, the cork or wood base is usually wrapped in another material to give the appearance of a sleeker look – typically the same material as the rest of the shoe.
More comfortable to walk in than most other heels, yet they can still be challenging depending on how high it is. Deciding which design and style best suits you depends solely on your lifestyle and how you plan on wearing them. Neutral colors go seamlessly with any outfit, and although look nice, do not necessarily draw attention to your feet. Whereas bright, colorful heels or funky patterns can make your shoes the focal point, and that is not always wanted.
They are an excellent choice for outdoor events, especially ones that will be taking place on grass, like a wedding, for instance. There is nothing more frustrating than having to walk through a grass field and have your beautiful stilettos continuously go through the grass and get dirty. A low heeled, sleek pair of open-toed sandals can be the perfect alternative and look just as classy and elegant while leaving you comfortable and worry-free.
They can be made from a wide variety of materials from leather, cork and everything in between, knowing how the shoe will be worn and to where will help you decide what material will be the best fit. If you plan on wearing them mostly outdoors, to the beach, for example, look for a sturdier heel, especially one that has grip on the sole. Indoor ones that you plan on wearing strictly to work or indoor venues can be slightly less durable and be made with cork or rope. If you plan on investing in a pair, whether for indoor or outdoor use, consider the material and how it will hold up over time.
Lower heeled ones have a flat sole and then gradually get higher as the wedge grows. This creates a smooth transition into the heel, offers the foot arch support, and creates an overall soft and comfortable surface area for your foot throughout the day. When the heel of your sandal or shoe is over around 3" a platform comes in; this adds quite a bit of thickness to the sole and ball of your foot giving you an extra boost, and with higher heels offers most support and creates a more comfortable surface to walk on.
Comfort
The reason most people opt for a heel like this is to optimize comfort, because of the thickness of the heel and platform at the front of the shoe, the entire foot is supported, mainly the middle part which ensures a sense of comfort that a pair of stilettos never will. Walking in a pair of heels for longer than a few hours can be daunting, but when it comes to wedges you can be on your feet all day, doing numerous activities either indoor or out and not have to think twice about the comfort of your feet.
They are very foot-friendly and thus have become more and more popular amongst those who want the look of a heel, but the comfort of a shoe. They are an especially excellent option when traveling, especially abroad. If it isn't a trip where you can get away with strictly wearing sneakers, wedges will give you the appearance of a dressy shoe while remaining comfortable. Not only do they cut down on the number of shoes you need to pack because they will double as your casual day shoes and going out shoes, but they also are great for walking on various terrains.
You are bound to walk on grass, gravel, cobblestone, and other terrains when out and about, and have you ever tried walking on any of those in high heeled shoes? It's not an easy nor fun task. When flats are not an option, and you dread the thought of having to walk or even stand around in heels all day, wedges will change the game.
Fit and comfort go hand in hand, therefore taking the time to accurately assess what shoe fits you best is essential. If you have smaller ankles strappy sandals that don't look and feel loose are hard to find. Look for ones that have thicker buckles and straps and are easily adjustable. You don't want to tighten the fastener to the tightest hole or have to puncture an additional hole to make them even tighter, and shouldn't have to.
Created decades ago, this kind of heel continued to resurface due to it's easy to style ways and immense comfort. They have time and time again been a staple in closets worldwide and are a shoe everyone should have at least one pair of. Stop having to pick between style and comfort and have both. Offering more support than any other heel on the market and great for improving posture, it makes being on your feet smooth, and comfortable regardless of what life or your day throws at you.
Support
Just like any shoe, especially one that has a heel on it, you want to make sure it is secure on your foot. Slip-on ones may look cute, but after an hour or so of walking in them, you will begin feeling discomfort due to your toe having to grip the front of the shoe to keep them on. Proper closures that fit and stay in place can not only add a stylish look to the shoe but will also have you feeling comfortable all day.
Depending on the style of shoe the types of closures they have will vary, although they all offer different levels of support, some are more secure than others and if given the option should be chosen over others. Consider the amount of support you need and how shoes often fit you. Most heels cause your feet to slide to the front of the shoe; this can damage your toes and irritate. The fit will vary depending on style, so deciding on a style, and then taking the time to find the perfect fit is essential.
When it comes to this type of sandals, the most common type of closure is around the ankle, in either an ankle strap with buckles or just an elastic back. Although the elastic back can sometimes look sleeker and takes little to no time to just slip on, it is not the most practical option; from sliding down your heel throughout the day to stretching out over time, or just not being the right fit and tightness, to begin with. Having a closure that is adjustable and therefore can be fitted to your foot correctly is ideal.
Commonly seen on sandals or booties, zippers are a great way to secure a shoe however they are also not always the most secure. When it comes to booties, zippers are there to close the shoe easily. However, details like laces are usually added on as well to secure the bootie. Sandals, generally just have a zipper that will run the length of the back of the shoe and although it is an easy way to take them on and off, it doesn't add much support other than closing the shoe.
If there is any straps or designs going around your ankle a buckle is the best way to ensure the perfect fit, especially if you struggle with shoes correctly fitting your ankles, and should be what you look for when purchasing a new pair. Struggling to find the right fit with any shoe can be challenging, but when heels are involved not having your foot adequately secured and supported in your shoe can lead to injuries.
Style
Simple, stylish and versatile. However, there are a time and place for wedges, and although easy to style, they are not always the best choice for specific events. It is important to know how to style them and where they are best suited. Regardless of the type of heel, some are much more casual than others.
These sandals, for instance, can be a summer staple and are great to wear with most outfits. They are perfect when you want to be comfortable in a cute summer dress, but wish to add a little something extra to your outfit, and desire that added height. They come in any style imaginable, as well as color and design, however, if you are looking to invest in a pair that will last and be wearable with most of your wardrobe, opt for a neutral colored pair of pumps and sandals.
Although typically classified as a "casual shoe", these shoes are becoming more fashionable, and are transitioning into a more formal style. So how do you wear them and what looks best with them? If the heel is under 3" consider these daytime heels and pair them with skinny jeans, summer dresses, and shorts. If you are going for a fancier more nighttime look add a little more height and go for a pump or sandal that is over 3".
Value
There is a significant difference between trendy shoes and classic, timeless shoes. These can lean a lot towards the stylish side of things, so when choosing a pair, you need to decide whether or not these will be carried on into other seasons, and will blend into your wardrobe or if they are a trendy summer item. Colorful, espadrille type shoes and sandals are only great for summer and are a style that changes each season, so it is crucial to not invest in these trends because by next year they won't be popular.
That is not to say that you should not buy fun, trendy ones each summer, but it is important to know what shoes are worth spending a good amount of money on and which aren't. Invest in a good quality pair of wedge pumps, ones that fit your feet like a glove and that will become your go-to shoe when you want to look professional around the office, at weddings, or any event, where not only style is important but comfort as well. Do not invest in models made of rope, like espadrilles, or cork. These are cute but will only last one season before they start to look worn, especially if you plan on wearing them frequently.
10 Best Wedges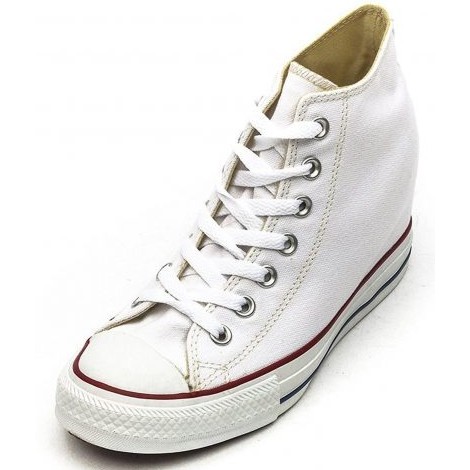 A new twist on the classic Chuck Taylor style ! These high top sneakers completely disguise the wedge that provides an extra 2 inches in height. Lace-up front helps to secure the foot in place while adding to the normal sneaker look. Perfect for casual and everyday wear, these shoes go great with jeans, shorts, and dresses. Coming in a variety of colors, you'll be sure to find a pair that fits your style.
Keep your style a comfortable secret; with these shoes, no one will know you're even wearing heels. This great style keeps the same classic look with the newly added benefits of 2" in height. The style of the heel provides support to the arch and foot, giving extra stability during use. This style is perfect for adding a little sporty flair to your outfits. High-top lining covers over the ankle and can either be laced up or worn loosely with the lip out. Either way, the high top style is a great choice for an everyday, casual type of shoe.
Averaging in the same price range as all other Converse shoes, the cost at first may seem a little high, but the long-term reliability makes them a great investment. Not to mention, the hidden heel is a complete bonus you won't find anywhere else.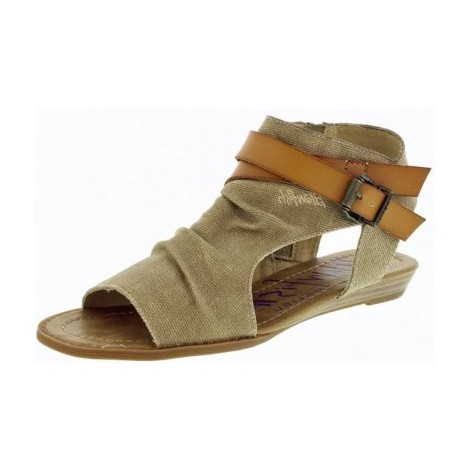 These Balla sandals are not only adorable and very on trend, they also feel great on, and are one of the most comfortable wedges. If you're worried about the fit around your ankle being too big or tight, the buckle helps you easily adjust that, ensuring the perfect fit.
These slightly distressed and worn-in looking sandals are the perfect addition to your wardrobe. Easy to pair with just about any outfit, and extremely on trend, pair these with your favorite jeans, or shorts and dresses in the summer for an effortlessly cool look.
The micro heel on these sandals gives you the perfect amount of height to add a little something to your outfit, while still being comfortable enough to wear all day. If you are ever torn between wanting to be comfy but also have a pair of heels on these are perfect for you. An excellent value, these sandals can easily transition from day to night and have the perfect sized heel to be worn without any discomfort. Very affordable considering their versatility, and how highly sought after they are.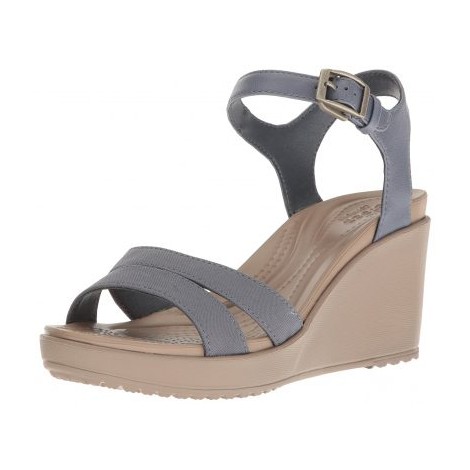 These wedge shoescreate a youthful, lightweight appearance great for all ages. The cushioning foam footbed and shock-absorbing soles combine to provide complete comfort during a long day on your feet. Double toe and adjustable ankle straps help to secure in your foot while the feminine shape draws positive attention to foot curves. These 3 1/4" sandals are a great companion for a variety of occasions including work, a night out or an afternoon picnic.
Using innovative technology, their ankle straps were created to adjust from the buckle but actually attach underneath to avoid constant bending of material during removal of the shoe. This double feature aids in comfort and helps to avoid the straps from rubbing against the ankles.
I mean, you can already see the thick cushioned footbed from here; this foam lining was created for nothing but pure comfort! Added arch support and shock absorbing soles create the perfect combination for ease of movement. Pricing is higher with this model. Nailing fashion and function, these shoes will not disappoint and are made for long-term reliability. The versatile style and cushioned soles make for a great purchase.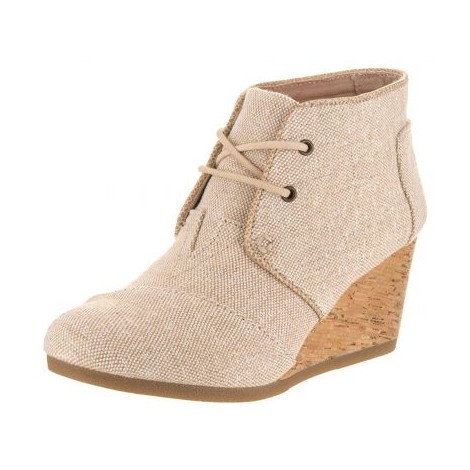 A fantastic company, dedicated to giving back to those in need for every item purchased with their 'One for One' program. TOMS shoes are made from high-quality materials, making them great for long-term reliability. Featuring a 2 3/4" heel and short laces, these booties are extremely versatile and can be worn for a variety of occasions. Coming in over 30+ colors/patterns, this is a fashionable and comfortable pair of footwear; a must-have in every closet.
The style of the boot is very minimal and attractive. This simple style allows for versatile wear in an array of occasions ranging from everyday use, parties, special occasions, or simply going for a walk. The short laces towards the upper-front of the shoe also add a little more excitement and security to the design. The height is enough to make you taller, yet still short enough to comfortably move around in. In-shoe arch support helps to relieve tension and stress from the foot during wear. This is a perfect choice for those who move around on their feet often and are still looking to stay in style.
These shoes priced on the higher side; however, due to their amazing charity work and brand reputation, a purchase from TOMS is more than just buying another pair of shoes. I've had one pair last over three years before, so I truly believe the investment is worth the cost. It's a pair of shoes you can feel good about buying and wearing.

5

. Teva Mush Mandalyn Ola 2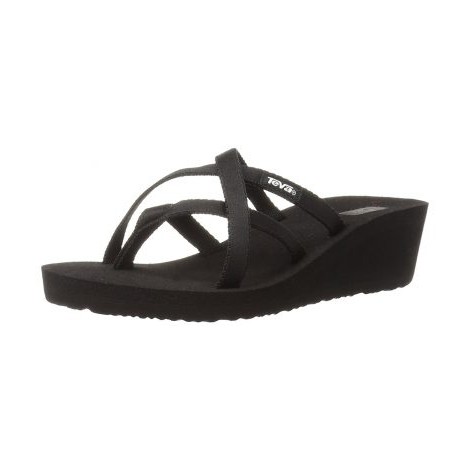 This simply styled sandal is perfect for everyday wear or wet trips to the beach. The overlapping criss-cross straps help to keep the foot in place during movement while also adding a little extra style. Comfortable arch and foam soles form to your foot for added comfort. The minimal 1 3/4" heel is great for beginners or those who are looking to add a smaller amount of height to their appeal.
These solid yet plush foam soles allow your foot to sink slightly into the shoe, forming the soles to the shape of your foot. The cushioning is resilient and durable, providing long-term support. Coming in solid colors with minimal design, these make for a simple style perfect for a variety of aesthetics. With the overlapping straps being the focal point of the shoe, the rest of the basic design allows for a glowing focus on the bare-foot.
Perfectly priced for their value, you'll feel like you're getting your money worth with these shoes. This reliable brand creates shoes for long-term use and simple comfort.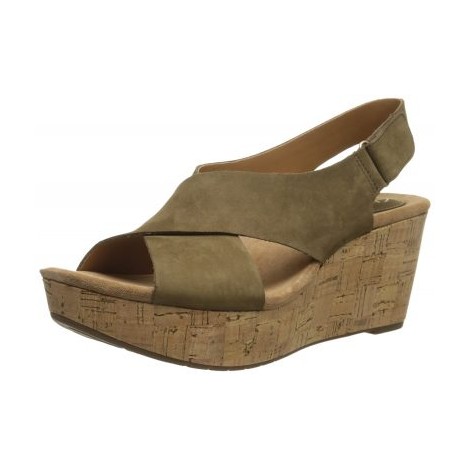 Featuring a minimal yet tropical boho style, these 3 1/4" sandals make a great choice for a fun night out or a warm summer day. Making for a bold way to add height, the platform, cork-styled heels add contrast and texture while the suede cross-over straps add a soft, smooth finish. Ortholite insoles and an adjustable closure help to make them even more comfortable.
This breathable, lightweight insole cushioning is the secret key to ultimate foot comfort. The long-term material helps to manage moisture, keep the foot cool and allow for better air circulation. Located towards the back-side of the ankle, the suede shoe straps come with an adjustable closure to help fit the shoe better around your foot. Since all feet are different shapes and sizes, it's important to have these adjustable features to maximize comfort.
A fair priced pair of footwear for all the extra added benefits of reliability. These heels will last a long time and provide complete comfort during use. Clarks is a reliable fashion brand that won't disappoint.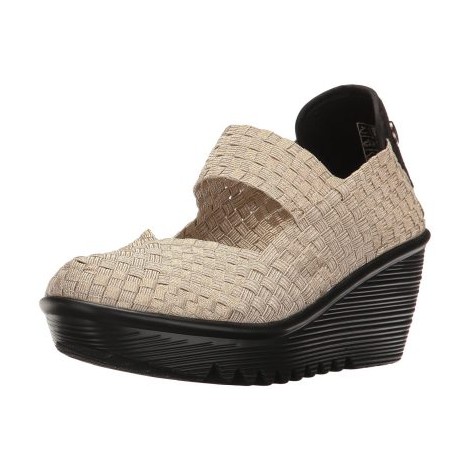 This funky, retro-styled shoe is created with woven fabric technology for extreme breathability and air circulation. The flexible fabric forms to your foot and provides a snug, comfortable fit. This 2 1/4" platform heel is created with rubber featuring textured ridges on the sides for added style. With over 40+ colors and patterns to choose from, you'll be sure to find a pair that fits your style.
A highly unique style that can't be found by any other brand, this woven checkered pattern makes for a down-to-Earth appeal. Providing breathability and flexible fitting, these are perfect for people who move around often or like to spend time in the outdoors but still like to look trendy.
The front strap and the flexible woven material combine to form grip and support that would normally be provided with laces or adjustable closures. Because of these functional features, they are quick to slip on and off, making them a very convenient pair of shoes. The cost is on the higher side with this model. The unique woven material is intricate and the shoes ability to form perfectly to your foot make them a quality-value buy worth the price.

8

. Chinese Laundry Wedge Pump Sandal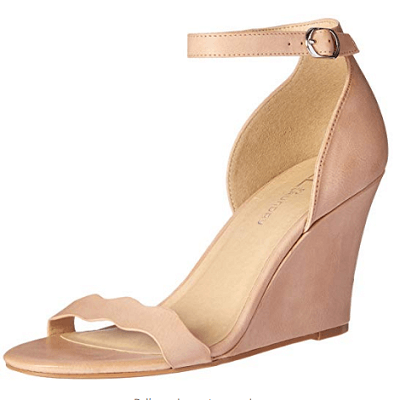 When you want to show up and be seen, these four-inch heels are the perfect shoe for that friend's wedding, or that formal get together where you want to dress to impress. For the person with unique tastes that refuses to compromise, these are the shoes for you.
The cushioned footbed is perfect for giving the right support you need for that long night on the town or dancing the night away. The construction of this shoe is a synthetic material that requires little to no maintenance. It also is designed to be chic and match many different outfits and styles.
The terrain can change as the evening progresses, and having a rubber sole shoe really helps you walk forward without any hesitation, free to enjoy stability.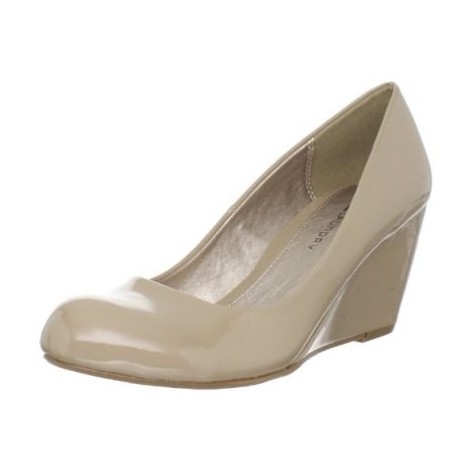 The perfect pump to wear from the office to dinner without skipping a beat. Effortlessly stylish and chic, this is the model you didn't know you were missing! Fitting true to size and made with a soft, smooth faux suede fabric, these will quickly become your go-to for a classy business look.
Not always having the chance to try on shoes before buying them can be stressful, you want to ensure the perfect fit, but trusting size guides can be difficult. Having a brand that confirms their shoes are true to size is a huge plus, and can be a lifesaver when it comes to purchasing new shoes.
The simple, fun colored faux suede material used to make these is soft and easy to clean, so whether you are wearing them to work or a night out with the girls, don't worry about stepping in something or an accidental spill, these can easily be wiped clean. Even more so if a protectant spray has been used beforehand. Not the most affordable pair on this list, however, they are a staple piece most women should have in their closet, and therefore spending a little bit of extra money on something you know you will get a lot of wear out of is always worth it.

10

. STEVEN by Steve Madden Charly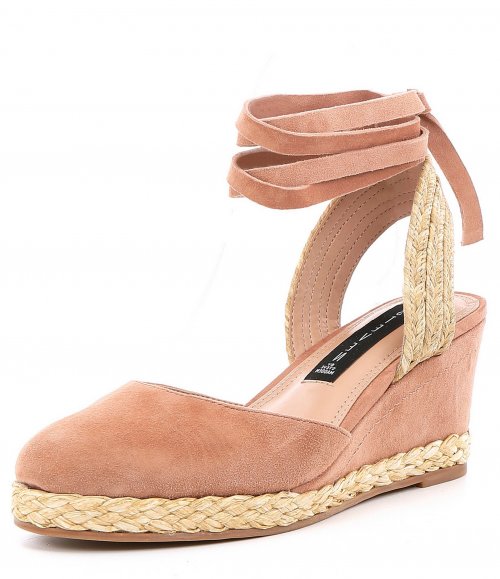 This modern sandal creates a classy boho vibe with its woven jute material. The 2 1/2" heel features a closed, round toe and wide ankle strap for a minimal style aesthetic. Flexible material allows for the shoe to form around the foot and avoid discomfort. Making a great casual pair of platforms, these shoes work well with a variety of clothing and occasions.
Wrapped in jute and woven into the heels, the heels add a more natural and lighter style. Appearing to look more down-to-Earth, no matter what time of year you wear them, you'll always carry a sense of warm comfort.
Unlike most other shoes which have a buckle as their adjustable strap, these wide flexible ankle straps are made from elastic, made to stretch and form to your foot shape. No longer do you have to worry about the discomfort of a buckle rubbing against your ankles. Depending on the size and color, the cost can be a bit higher. On average though, this is on the higher end for pricing no matter what due to the brand name reputation.

Subscribe to our Newsletter