Best Boho Sandals & Bohemian Shoes Reviewed
In a Hurry? Editors choice: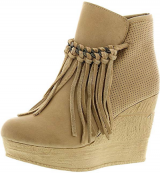 Test Winner: Sbicca Zepp

Does your sense of style draw on the
hippy
looks of the 70's? If so, then bohemian footwear is a must! Boho chic looks are an ever-popular fashion trend that surfaced in the early 90's and hasn't shown any signs of cooling off since.
It's a way to live life in an unconventional sense and a means of being fashionable without fitting into the traditional mainstream cliches. By nature, bohemians are a whimsical breed that
seeks adventure
. They live free from the bindings of modern society and its social hierarchy. A true bohemian is regarded as having an uncanny ability to respect beauty on a deeper level.
Here, you will find the top 10 bohemian-inspired pairs of footwear currently available for purchase.
Standout Picks
Criteria Used for Evaluation
Style
There are tons of different styles of this footwear, though there are a few that are the most popular. Sandals, wedges, and boots are by far the most coveted. Sandals are the original boho look and come in a wide range of designs. The great thing about these summer shoes is that they're casual, hassle-free, and oh-so-cute! They're usually adorned with beads, tassels, or gemstones, though some of the most classic looks are simply plain materials. The color scheme for these designs usually consists of neutral earthy tones which makes them super easy to match with practically any outfit. You'll see a lot of brown, tan, beige, white, and black options.
Though the detailing is usually more colorful it's generally blues, yellows, and whites which are still a total breeze to match with most clothing, no matter its color or pattern. When it comes to boots, ankle booties are very popular! They deliver a laid-back yet super in-style option of footwear that is versatile and can carry your feet anywhere they need to go. Many of the boots have a western flare to them and are reminiscent of cowgirl style footwear. Jessica Simpson's Caterina is a prime example of the western flare sometimes seen with these options, though it's subtle enough to distinguish the two styles. These boots look amazing with a pair of jeans or a flowing dress and are the most carefree and easy-wearing option you could imagine.
Wedge heels and sandals are another big design with the bohemian style of footwear. They usually have a minimal upper that's adorned with a few subtle studs or some tasteful beadwork. The Oahu from Chinese Laundry is a prime example of just how awesome these laid-back wedges can be and how effortless this look really is. The pairs on this page were chosen, in part, for the popularity of their designs, as well as, the ease of wear that they offer, Each choice is comforting and enjoyable to wear and will keep your feet feeling their best for hours on end.
Accents and Details
These designs are big on accents and detailing! You'll most likely find pairs that are adorned with gemstones, beadwork, or rhinestones, and will often see tassels flowing effortlessly from them. This gives an air of distinction to this kind of footwear that sets it apart from the traditional looks we commonly see today. The hippie influence that shadows these styles is the reasoning behind the creative detailing and is why they're usually so unique in their looks. The beadwork is often colorful and usually includes blues, yellows, or whites, which are easy colors to match with nearly every brand of the color wheel. Rhinestones and studs are commonly found in neutral tones like silver, black, bronze, or gold, which adds to the rustic vibe that these designs strive for. The tassels are a great way to add so bounce to every step and can certainly give a shoe some additional flare. They also look super cute when you walk thanks to the way they shimmy with every step.
Comfort
A great thing about this kind of footwear is that it's usually very comfortable to wear. The designs are usually quite open-concept and offer a relaxed fit for all-day comfort. The thing to watch out for is that you're getting proper arch support because some of these types are flat and won't properly protect the delicate underside of the foot. If the arch isn't supported it can lead to collapse or can worsen the painful effects of plantar fasciitis, an inflammatory condition that affects the connective tissues of the foot. In order for adequate support to be provided a shoe should have a supple insole that's still firm enough.
The pairs on this page have excellent insoles and offer beneficial features like memory foam padding which contours to the structure of the foot and provides a customized fit every time you wear it. It's also important to take into consideration the height of a pairs heel because ones that are too high can make it difficult to walk. If you're shopping for sandals consider the materials used for the toe post because the wrong ones can cause all sorts of discomfort, a soft material like suede or leather will be much less likely to rub and won't result in blisters from the friction.
Airflow is another concern because a hot shoe will cause your feet to sweat and your shoes will start to stink. The best material to prevent overheating is leather because it allows for proper airflow inside of the shoe which is key for controlling odors. Options with a cutout upper design also a good idea because of the openings made by the pattern. In colder weather, it's important to consider waterproofing as well as non-slip materials that will keep you stable on your feet in the wet condition. Rubber is one of the best materials for this because it provides a solid grip on any surface including wet and slippery ones.
Support
When shopping for sandals, regardless of whether you intend to wear them because they look cute, or because you're after something that'll be functional in the hot summer months, you need to consider the level of support they'll provide. Because most fashion-oriented models have a flat sole, you may have a bit of trouble finding the perfect pair (especially if you have flat feet, high arches, or suffer from a foot pain as a result of standing and walking).
There are several parts of a summer shoe that can provide you with the necessary support:
Arch: First and foremost, you will want to look for a pair of footwear that hugs your arches from below, ensuring that the tendon that connects your heel with the front of the foot is properly supported and doesn't have to work overtime as you walk. While with closed models, you can usually add inserts to fix this, with sandals it may be slightly more difficult, so choose carefully.
Heel: A deep heel cup can stabilize your stride and ensure proper alignment. This will result in less ankle, knee, hip and back pain, as your weight will be equally distributed over the entire foot. Several manufacturers make models with deeper heel cups, but your best bet would be to choose something that's slightly more athletic in its orientation.
Toe: Last but not least, you shouldn't forget about the toes when buying new footwear. Because most sandals are open, they often leave room for slipping and sliding inside the shoe, which makes walking that much harder. Some models, such as Birkenstocks, have a toe grip at the front of the footbed that helps with the walking motions, preventing your muscles from working overtime.
Outsole
A lot of summer activities take place in nature - regardless of whether you're going hiking, if you're on your way to the beach, if you're at the park, or just taking a longer stroll than usual to cool off at the end of the day. Add to all this the fact that you may want to wear your newly purchased shoes inside as well (office, home or while running errands), and you come to the conclusion that you need a sole that'll put up to all of these situations.
The best way to ensure your outsole is up to the task of protecting you from slips is to choose a rubber version, ideally with at least some lugs that will ensure a better grip of the surface underfoot. If you're going to be walking on wet surfaces, rubber definitely is non-negotiable, and you may even want to look for deeper lugs or a razor siped construction.
Note that some materials won't perform very well in wet circumstances, and shouldn't be worn to the pool or beach. These include various foam materials such as EVA, that may pick up moisture and lose their beneficial features. Leather too, is a bad choice for such occasions as it won't provide traction, and will start to disintegrate due to the moisture.
Upper
One of the things to pay attention to when you're searching for a good sandal is the upper and how it fits. Because a number of the models available are made with thin straps, you should ensure that they're made with either soft, comfortable materials, or that they're lined and padded with something you'll be able to wear without socks.
Another thing that's very important is that it's adjustable in key areas so that you get a secure fit that won't slip off at the worst possible moment. Most fashion-oriented styles will feature an adjustable ankle strap, but some may find that they need slightly more than that. The people who will benefit the most out of a fully adjustable sandal are those with a foot that's either narrow or wide. This feature can also come in quite handy if you find that your feet tend to swell from standing.
Last but not least, make sure that the upper of your sandal is up to the type of wear you want to put it through - suede and leather should not be gotten wet, certain types of synthetic (such as that which is used for making Crocs) don't stand up to high temperatures well, and other materials may soak up water, making them not just uncomfortable and heavy, but they may even increase the chance of giving you blisters.
Top 10 Boho Sandals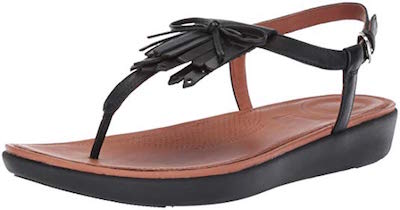 An absolute must have at festivals and summer outings, the Tia by FitFlop is one of those no-fuss pairs of shoes that look amazing, but are also easy to put on, plus give you a huge amount of comfort so you can wear it day and night, without experiencing any discomfort. A small fringe at the top of the forefoot gives it that boho look you love, but it's still pretty minimal, with thin straps, making it easy to pair with any outfit.
Duocomfort Technology
This sandal takes cushioning seriously, and gives you a double layer midsole, with a shock absorbing upper layer, and a contoured, anatomically correct one, ensuring you receive all the support you need for all day-wear.
Leather
Even though the straps are really thin, you won't have that feeling that they're cutting into your feet, thanks to the fact that they're lined with soft, breathable leather. You can adjust the upper to give you a secure fit, while the shoe won't need any breaking in.
Cost and Value
This is one of the most expensive items on our list, which is mainly due to the fact that it's made with quality leather, a hi-tech cushioned sole, as well as a lightweight outsole. These are an excellent choice for all summer events, including concerts - you'll look amazing, but won't have to suffer with uncomfortable footwear.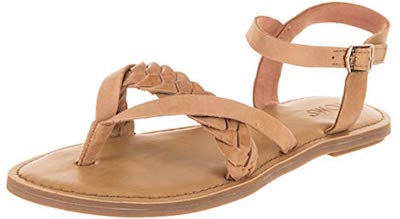 This flat style by TOMS is the perfect footwear choice for hot summer days and nights, and is one of our favorites thanks to the beautiful design combined with that recognizable TOMS comfort. Available in suede, leather or textile, as well as a huge variety of color options, this is a shoe that will surely appeal to anyone - choose between a woven, perforated, or even beaded strap for a look that will easily go from day to evening.
All-day Comfort
The Lexie features an insole that's cushioned, making it a great choice for days when you expect to be on your feet for longer periods of time. A rubber outsole takes care of the safety of your steps, protecting you from slips.
Supportive Upper
The upper of this model features an adjustable buckle at the ankle, a toe post, as well as a strap over the top of the foot, what this ensures is a great deal of stability and support, and most importantly, a secure fit.
Cost and Value
Being a leather sandal, the Lexie has a price that's to be expected - around average when compared to the other items on this list. It's a great pair of summer footwear to invest in, and if you're after something that will combine a laid-back look with the ability to update it to something more chic, it's an excellent option.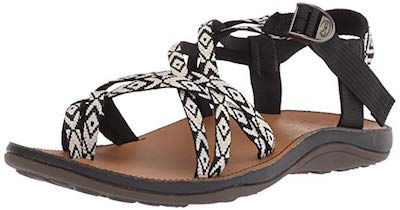 If you're after something that's somewhat sporty and can serve you as well on the trail as it can around the house, the Chaco Diana is a great option. With a woven polyester upper in a variety of color combinations, this sandal will perform well in any situation - from a Saturday morning hike to casual Friday at the office, to Sunday brunch. It's even great for travel, thanks to the various comfort and support features.
LUVSEAT PU Sole
The midsole on these sandals was developed with women in mind, ensuring the proper amount and type of support that's required for good alignment and a cushioned feeling that doesn't allow you to get fatigued or experience joint pain.
Recycled Rubber
The lugged outsole is made with 25% recycled rubber, making it better for the environment than those cheap plastic sandals you'd get at the convenience store. Additionally, the entire sandal is water friendly, and will dry very quickly, making it a good option for beach visits.
Cost and Value
The price of the Diana is slightly above average, but that's to be expected considering that it's a more athletic sandal made with quality materials. Nonetheless, it doesn't sacrifice style, and the strappy, colorful design is sure to draw attention. Though it doesn't feature fringe suede uppers, it's still a pair that'll look amazing with your favorite maxi dress.

4

. Volcom Backstage Gladiator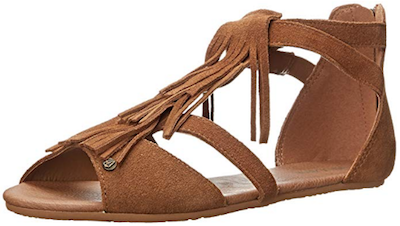 The Backstage from Volcom is a gladiator inspired summer shoe that boasts a comforting suede upper for all-day wearability. Its man-made outsole is comfortable and cooling against bare skin while also providing the kind of foot protection needed to navigate beaches and city streets. Their fringe trim is perfect for this kind of footwear and a faux leather lining will keep you cool and comfortable throughout the day.
Rear Zipper
This easy-wearing sandal features rear zipper entry for effortless on-off wearability. This makes for a secure and stable wear and prevents your shoes from slipping off during strenuous activities. This design makes for an enjoyable experience and is perfect for a getup and go kind of lady.
Elasticized Straps
This summer shoe was made with comforting wraparound ankle straps that feature elasticized inserts to keep them perfectly in place. The elastic material won't pull too tight against your skin but will provide just the right kind of stable grip to keep your sandals exactly where you want them.
Cost and value
This option is considerably affordable and offers a great style for its price. Their minimalistic design, fringe accent, and crisscross strap structure is ideal for stylish ladies who aren't looking to spend a fortune on their footwear.

5

. Alpineswiss Studded Fringe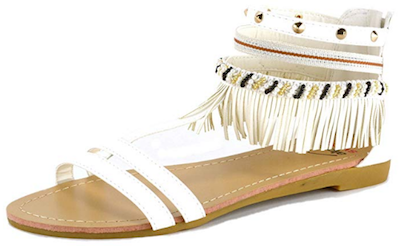 This fringe flat from Alpine Swiss features a beaded silhouette that's gorgeous and oh-so-chic. Its fringe accents are super cute while you're on the move and shimmy with every step. This pairs rubber sole keeps you steady on your feet and prevents accidental slips or falls, while its half-inch heel allows for natural striding and won't restrict your movements. This pair has got it all including rhinestone studs along the upper strap for an edgy vibe that's always in style.
Color Selection
You'll have no problem matching these with your favorite outfits thanks to the wide variety of colors available. Choose from white, blue, gray, black, or tan. With so many choices you'll be able to find something to go with any outfit and will love how easy it is to get ready!
Detailed Accents
This pair boasts not only fringe trim but also a beaded strap and rhinestone studs for an all inspiring design. Their bold, edgy, and beautiful, all-in-one making this the ideal choice for ladies looking to impress. Go ahead and match these with your favorite jeans, skirts, dresses, or shorts for an effort list look but smooth and stylish.
Cost and Value
This option is incredibly low cost and you'll be amazed to find the comfort and value it delivers. The sheer wearability and effortless design these boasts is an incredible value, especially for such a low price.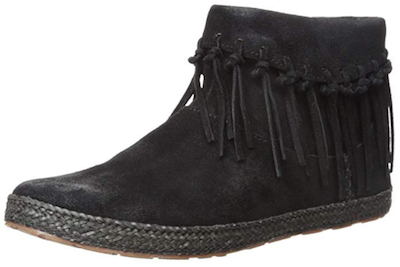 The UGG Shenendoah is the perfect boho style for colder weather. Its suede upper is soft against your skin and keeps your foot cool and comfortable, while also providing warmth when the weather outside is chilly. Its rubber outsole keeps your feet dry and comfortable during wet and damp conditions, making this the perfect choice for fall and winter months. This cute bootie has tassel detailing and a classic bohemian style that's laid-back and effortless.
Knotted Tassel Detailing
The Shenandoah bootie features cute knotted fringe detailing that gives it a unique design. Its side zipper makes for effortless on-off wearability so you can simply slip it on and go. No more hassles while trying to tie your shoes thanks to this easy wearing and effortless pair.
Leather Lining
The Shenandoah's leather lining wicks moisture away from the skin preventing a buildup of sweat and odor-causing bacteria. The leather is an excellent material for keeping your feet dry and comfortable while also ensuring that they're fresh even after hours of wear.
Cost and Value
While this option is one of the more expensive on the list, it's certainly a worthwhile investment. Designed for wear during any season, these booties will fast become your go-to favorite. Their solid structure and incredibly well-crafted design make them a long-lasting choice that will keep you coming back for more.

7

. Skechers BOBS Luxe Fashion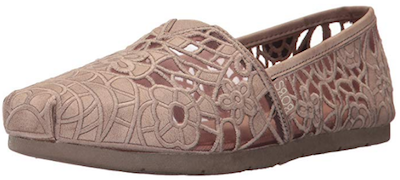 The Luxe Fashion slip-on from Skechers BOBS is totally boho chic thanks to its laid-back silhouette and natural earth-toned upper. These comfy slip-on flats feature a leather upper that's breathable and lightweight, keeping you cool and comfortable for hours on end. A rubber outsole will ensure that you're steady on your feet so you can ease the transition from casual times spent sitting on the hillside to strolling the city streets. Forget about unnecessary frills while wearing a pair of these carefree flats.
Slip-On
It doesn't get any easier than this pair thanks to their laceless slip-on design. You'll love the ease of getting ready to go thanks to the Luxe Fashions' easy on-off wearability. No more time spent wasted tying shoelaces thanks to this get-up-and-go design.
Rounded Toe
A rounded toe is ideal for all foot structures from narrow to wide. It prevents any unnecessary trips that may occur from wearing a square or pointed toe thanks to its shortened length. A cutout upper design allows for the perfect amount of airflow around your foot keeping you cool and comfortable while preventing odors from occurring. This makes the Luxe a perfect choice for outdoorsy activities and for the adventurer at heart.
Cost and Value
This shoe is as casually priced as it is comfy and laid-back. You'll enjoy the sheer affordability that these slip-on flats deliver, along with their natural earthly vibe that speaks to the boho-girl in all of us.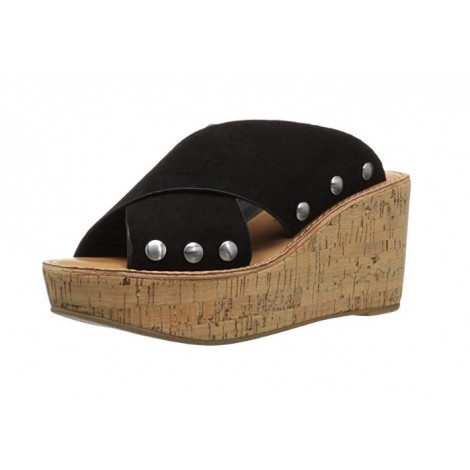 The Oahu from Chinese Laundry is the perfect pair of wedges for any boho-girl. Its cork-covered sole offers a stunning flare while it's crisscrossed black straps are highlighted by silver studded detailing. Forget about spending time tying your shoes thanks to the Oahu's no fuss slip-on design that makes for easy get up and go wearability. Its 3-inch wedge and 1 1/2-inch platform give some serious lift while still allowing for hassle-free striding and natural movements.
Cork Wedge
Cork is all the rage in the world of fashion and is a casual no-frills material that's perfect for the hippie lifestyle. Its long-lasting and durable construction make for the perfect shoe to spend your days frolicking about in the warm sunshine and the six color variations make it super easy to match with any outfit. You can choose from basil, black, camel, rose, white, or nutmeg, making this an effortless pair that will blend with anything in your closets.
Stud Detailing
This unique pair has gorgeous stud accents along the straps which make for a stunning delivery of style. You'll enjoy how cute this shoe looks with a flowing dress or a pair of blue jeans and all of the positive attention it's sure to attract. The 3-inch wedge heel adds some serious lift to every step while still allowing for a natural walking experience that won't cause you any unnecessary strain.
Cost and Value
You would expect a pair this uniquely stunning would cost a whole lot more than it actually does! These Chinese Laundry wedge sandals are the ideal option for ladies looking to save a buck, or two, without having to sacrifice looking stylish. Anyone who loves casual yet trendy designs will find this pair fast becomes their go-to favorite.

9

. Jessica Simpson Caderian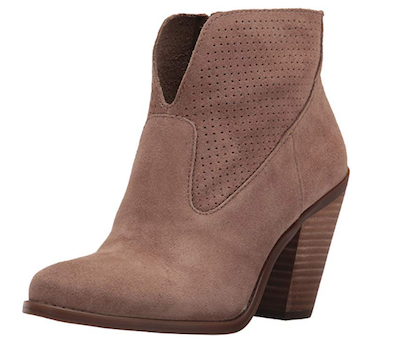 The Caderian is a gorgeous ankle bootie! Its suede upper is soft against your skin while its laid-back structure perfects the Boho look. These casual boots have a 3 ¼-inch heel and a ¼ -inch platform to give you some added lift while still allowing for natural strides. You'll love the comfort you get from wearing this pair thanks to its memory foam insole that provides a customized fit every time you put them on.
Memory Foam
This material has an amazing knack for molding to the shape of your foot and retaining its imprint. The first time you wear your shoes the memory foam will take an impression of your structure and will retain that shape for the remainder of its lifespan. This makes for a one-of-a-kind fit that' perfectly hugs every contour of your foot and is the ultimately enjoyable experience.
Casual Design
These booties put the 'bo' in 'boho' thanks to their laid-back and carefree design. Its available in three colors: warm taupe, Camille brown, and black. This means you'll have no trouble matching them with any style and they're perfect for every occasion. Look and feel like a bohemian princess while wearing a pair of these super cute Jessica Simpson ankle boots.
Cost and Value
This pair comes with a reasonable price tag to match its laid-back design. It's an affordable option that's accessible to consumers from all walks of life and won't break your bank owning a pair. They deliver the perfect hippie-like structure and are reminiscent of the 70's time era.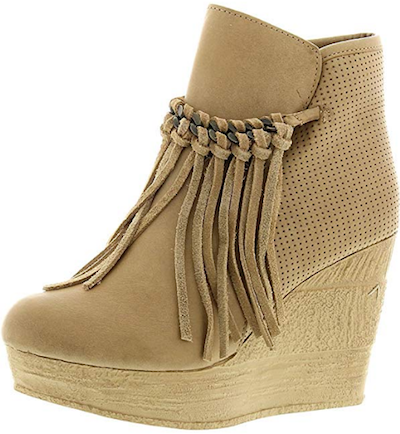 The Sbicca Zepp is a no-limits wedge bootie! It dazzles thanks to its chain-link accent and hippie-like fringe detailing that makes for a unique design. Its side zipper entry allows for effortless on-off wearability, while its four-inch wedge heel gives you the added lift you're looking for. This pair is made from synthetic materials that are airy and lightweight allowing for all day enjoyment
Sbicca Brand
Frank and Ernesta Sbicca first founded the brand during the 1920's in Philadelphia. The business has stayed in the family for five generations, since 1943 when they begin making footwear in California and is well-known for manufacturing comforting footwear that fits well with the free-caring lifestyle.
Variations
These booties come in seven colors: bone, tan, brown, natural, black, and wine. This means you can easily match them with nearly anything in your closet with no problems at all. These cool shoes deliver the ultimate in relaxing footwear and continue to please time after time. Go ahead and wear them for a seaside stroll, or simply for an afternoon cruise through the downtown strip. No matter your destination these will feel amazing.
Cost and Value
This shoe is very affordable and offers an original design and whole foot comfort. Getting ready will be a snap thanks to its no-fuss structure that looks good with practically anything in your wardrobe and you'll love the positive attention they attract.

Subscribe to our Newsletter