Best Blue Shoes Reviewed & Rated
In a Hurry? Editors choice: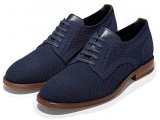 Test Winner: Cole Haan Feathercraft Stitchlite

Shades of blue were largely absent from human history until recently and, aside from Egyptians, there were no other ancient cultures with the ability to create blue dyes; nor did a word for blue exist in any other ancient languages.

That's why, in conjunction with this history lesson, we've compiled for you the best blue shoes currently available. Whether you prefer fancy blue shoes, or bright blue flats or sneakers, we're sure you'll find something on our list below that suits your fancy.
Standout Picks
Criteria Used for Evaluation
Color
Choose the shade of blue that appeals to you the most.
Throughout this guide, we've showcased several shades of blue. Despite some of the variations, all of those hues are recognized as blue. In this section, we'll go over how the designs we chose for this list came to be.
Sky
'Sky blue' is a shade that specifically resembles (and references!) the color of a high noon sky. It is considered a tone of azure, the color of the sky on a clear day. Sometimes, 'sky blue' is referred to as 'celeste,' which is Italian in origin. There are also French and Spanish versions of the 'sky blue' hue — meaning, perhaps, that the sky isn't the same blue everywhere in the world.
Navy
The color of 'navy blue' is derived from the dark blue worn by officers in the British Royal Navy since 1748. Other navies of the world have adopted this dark blue color for their uniforms, so at one point 'navy blue' was known instead as 'marine blue.' Also, according to some military forces, 'navy blue' is a shade of black.
Turquoise
Named for a gemstone of the same color, turquoise is a vivid and bright blue that is sometimes likened to 'sky blue.' On the color wheel, turquoise is considered to be a 70/30 split of blue and green. Turquoise is one of the blue hues that can also be considered green. Also, a fun fact: 'turquoise blue' is a different shade than turquoise — it's bluer.
Denim
'Denim blue' isn't a color either. Denim is just a type of fabric. Instead, the color of denim is indigo, one of the first natural dyes and also one of the first dyes to be synthesized. Used throughout all of human history, there are garments dating back 6,000 years that have been dyed with indigo. Synthetic indigo, on the other hand, only came about in the late 19th century.
Slate
'Slate blue' is a hue of blue that can be described as greyish-blue. It's considered restful and calming. 'Slate blue' entered the English lexicon in the 18th century and is also considered a basic HTML web color. It has also become a popular shade in home decor. Slate itself is a bluish-grey (or greenish-grey) rock often used for roofing tiles.
Style
Personal aesthetic, purpose, and season are key factors in deciding which style will work for you the best.
The category of blue shoes is very broad in itself. Many different footwear styles can fit into it, from sneakers and boots to dress shoes and sandals and heels. Which style you will go for depends on your personal preference, on the occasion you want to wear the footwear in, as well as on the time of year it is. Let's consider these aspects a little more closely.
Personal Aesthetic
You want to choose a style that fits your own personal aesthetic. Think about what type of outfits you wear the most and what type of shoe would likely go with them. If you're someone who prefers chic, sophisticated designs, then go for something with pointy toes and a slim heel. If you prefer sporty looks, then grab a pair of sneakers.
What is important here is that you have fun! Play around with shapes and the vibrancy of color. If you're tired of wearing the same things over and over again, then don't be afraid to experiment. Branch out, get a pair of heels if you're not in the habit of wearing them, or even an oxford if you wish to play up that menswear-inspired style. There are no limits when it comes to your taste.
Occasion
If you want to wear your blue shoes to work, then make sure to choose a more subdued hue. Keep in mind the dress code of your workplace and choose a low, comfy heel and closed toes. If, however, you're attending a formal event, don't pass over that regal-looking pair of heels with rhinestone embellishments. If all you really want is a pair of casual sneakers to pair with your jeans, then go for the designs made by Adidas or PUMA from our guide.
Season
Finally, don't forget the time of year you're shopping for. If it's cold and/or rainy and/or snowy outside, you would do well with a pair of boots. Summer and warm weather are a lot easier to endure when you're wearing sandals or another type of footwear that improves breathability. That way you will prevent overheating, sweating, and will feel easy- breezy throughout!
Comfort
A cushioned footbed, the right fit, light weight, and a low, comfy heel are what improves the comfort levels of a design.
Having a pair of stylish blue shoes is a great start. However, in order for them to serve their purpose, they need to be comfortable at the same time. Comfort is one of the most important criteria when it comes to any type of footwear because truly no one enjoys walking around in shoes that cause them pain. In order to prevent blisters, rubbing, pinching or any other type of unpleasantries, there are a few things to keep in mind.
Footbed: The footbed of a design should be sufficiently cushioned to provide you with shock-absorption as you walk. This is the part of a shoe that comes in direct contact with your foot sole, and thus it should be just the right amount of firm and soft. If possible, a footbed should also have support in it, most commonly in the form of arch support, so that your feet don't feel too tired at the end of the day.
Fit: The fit of your shoes should be in between too tight and too loose. Tight footwear can cause rubbing or pinching or even blisters, while loose footwear will lead to your foot sliding around inside it and possibly slipping off. Make sure that your toes can spread out easily inside the design and that you're not feeling constricted while you walk.
Weight: Try to choose designs which are light in weight. These won't drag you down or cause your leg and foot muscles to overwork. Lightweight footwear is essential if you're standing or walking for long periods of time, especially in summer.
Heel: If you're going for a pair of heels, the most comfortable heel shape and height would be thick, chunky heels under four inches high. These are steady and easy to wear for longer periods. While we can't always avoid those sensual sky-high stilettos (sometimes they're even preferred!), it's important to know what to look for if you plan on wearing heels for most of the day.
Brand
Look at designs from known, reliable brands, if you wish to buy a quality pair of shoes.
You may not think that a brand name is so important when shopping for a pair of blue shoes, but we are here to advise you to reconsider. As we mentioned before, this category of footwear is quite a broad one, and one can easily get lost in all the different manufacturers and brand names. While a famous brand is not a synonym for quality, it is likely that you will be getting your money's worth with a reliable name than that of a generic footwear company.
In our guide, we strived to include only those brands which are known for the high standards of their craftsmanship and the quality of their materials. While it is true that there are hundreds, if not thousands of labels that offer footwear of this color, we felt that it was important to include only those that consumers love and come back to time and time again.
For a pair of sneakers, turn to Adidas or PUMA (or Nike, for that matter). For dress shoes or formal styles, check out Badgley Mischka, Cole Haan, Clarks, Sam Edelman and more. If you're more interested in rugged, outdoor-type boots, take a look at Hunter or Timberland.
It is important to stress that, if you find a pair of shoes that catch your eye and that is not from a famous brand, you don't necessarily have to let go of it! Just make sure that it is made from quality materials (such as genuine leather or suede) and that it has all the comfort features that you need, and you should be all set!
Value
Value is not just about the price tag, but rather about the durability and wearability of a design as well.
The value of a design is dependant on several different factors. These include its cost, the quality of its construction, the types of material used, its durability, wearability, and more. Value is important because it answers the question of whether or not your purchase was worth it; whether or not you have invested money in a good pair of shoes that you will enjoy wearing for quite some time.
So let's analyze some of these factors.
Durability: How long a design lasts is directly related to its quality. If the construction methods used are tried and true and lead to a sturdy, strong build, and if the materials are in themselves durable (such as genuine leather), then the overall design will also be durable. Look for leather, suede, for durable canvas and textiles. Try to stay clear of synthetics and thin, mesh materials, as these don't last too long.
Wearability: Some criteria we already talked about, such as comfort and style, go into deciding whether or not an option is wearable. The logic is simple: if you like a design, you will wear it. If it is comfortable, you will wear it. If you wear it often and are happy with it, then it is definitely money well spent!
Cost: The price tag of a pair of shoes is another aspect you should consider. Weight it against the type of materials utilized in the construction, as well as against the brand name and how often you expect to wear the shoes. If you find an option that is affordable, that will last longer and be a joy to wear, then you have struck gold!
10 Best Blue Shoes Reviewed
1

. Cole Haan Feathercraft Stitchlite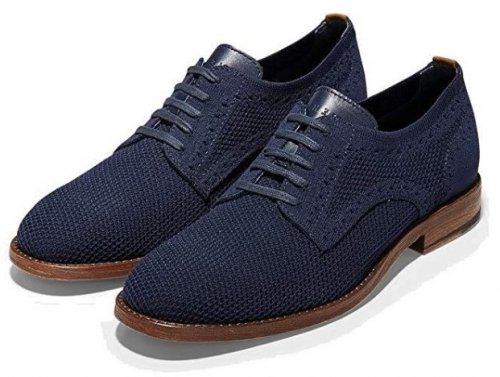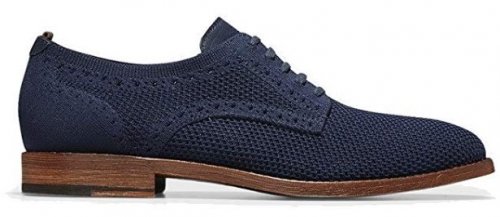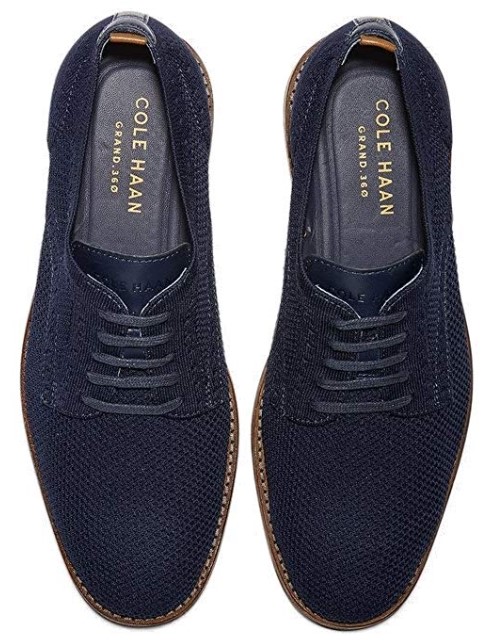 Cole Haan is a brand renowned for its impeccable craftsmanship and attention to detail. The Feathercraft Stitchlite is a sharp oxford with a twist in the form of a knit upper. It features brogue accents and a silhouette that you don't often see in this type of footwear. Thanks to the brand's Grand.OS technology and a molded sock liner, you get to enjoy the comfort of a sneaker with the look of a dress shoe in the Feathercraft!
The upper of the Feathercraft is made using Stitchlite, which is Cole Haan's signature knit material. It is breathable and moves along with your foot, and with the lace-up closure, you will have no problems finding the right fit for yourself. There is a Grand Flex pattern in the front for increased flexibility, and the Grand.OS technology provides lightweight cushioning that will make you feel as though you're walking on clouds.
In case you find yourself on slippery floors, the Feathercraft has your back with its TPU pods on the bottom for improved traction.
In this fashionable, elegant pair of oxfords, you will be ready for anything your day throws at you. You can dress them up with a suit or dress them down with a pair of jeans and a button-up for a more relaxed event where you still want to look put together. There will be no other pair of dress shoes as addictingly comfortable as the Cole Haan Feathercraft!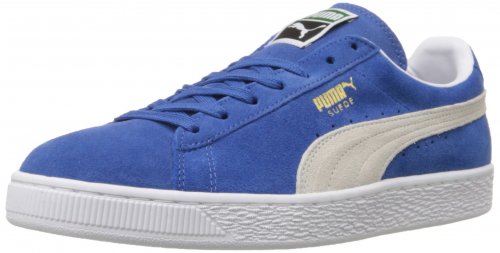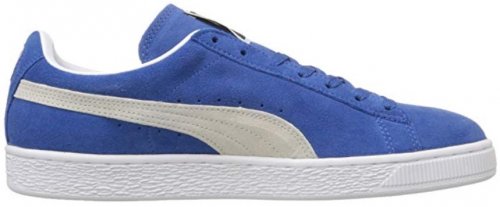 The PUMA Suede Classic is a classic style sneaker and an easy choice when you need a blue design. It features a lightly padded insole, a textured and sturdy outsole, and traditional lacing for a customized fit. They also come with the classic PUMA styling that is sophisticated yet casual.
Look no further for a perfect casual season blue sneaker. The PUMA Suede Classic has a suede blue upper, decorated with the iconic white stripe. Along with a padded collar and tongue, you will have a very comfortable fit.
The PUMA Suede Classic is a blue design that can be worn with just about anything — jeans, leggings, slacks or even skirts. The soft textile lining means that the Classic can be worn without socks if desired and with no compromise in comfort. Transitioning from day to night in these kicks should be no problem either.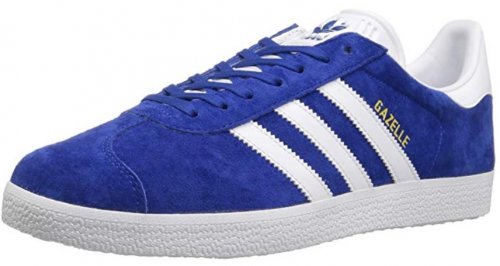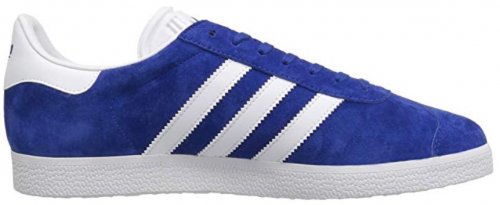 The Adidas Originals Gazelles are your typical Adidas sneakers. Though the Gazelle's design is inspired by the classic Adidas shoes, the vibrant blue upper gives just the right amount of modernity and enhances the appeal of these blue trainers. The white-trimmed outsole pops against the rest of the monochromatic navy blue upper, which includes the shoelaces and eyelets.
Light footbed padding and a padded collar come standard on the Adidas Gazelle and increase the overall comfort. For better shock absorption, the Gazelle features a thick and flexible rubber sole. Extended lacing from the top of the shoe to the ankle provides an easily customizable fit. Plus, the Gazelle sneakers are an all-weather design — they'll even keep you warm in the winter. Not many sneakers can make such a claim.
Adidas shoes are known for their quality construction, a traditional high-heat method of assembly. The Gazelle sneaker is no exception. These sneakers also feature reinforced toecaps to withstand repeated activity and are durable enough to be machine washable.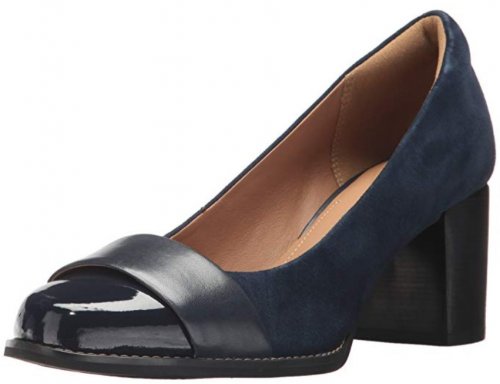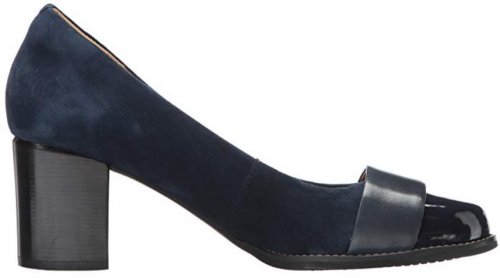 If done right, the color blue is perfect for a smart, office setting. You can see that clearly in the Tarah Brae from Clarks, a sophisticated, business-like heel that will complete all of your work outfits. It has a capped leather toe, a suede overall construction, and it comes with a comfy block heel that you can wear all day long. We also can't forget the Ortholite footbed and the Clarks Cushion Plus technology that make these absolutely heavenly to walk in.
The Tarah Brae is made from premium materials such as suede with a plush finish and leather over the toe area. These mold to your foot shape over time and deliver a type of comfort you won't be able to get enough of. The Ortholite footbed and the Cushion Plus technology provide cushioning and comfort that we don't often find in heels. Speaking of, the heel of the Tarah Brae is 2.5 inches high and amazingly steady thanks to its blocky shape.
There is hardly an outfit that won't go well with these pumps. Whether you're wearing a pencil skirt and a blouse or a pantsuit, your elegance and sense of business style will definitely shine through with the Tarah Brae. Throw them on each morning and walk into the office with confidence, ready to conquer another work day!

5

. Badgley Mischka Vanessa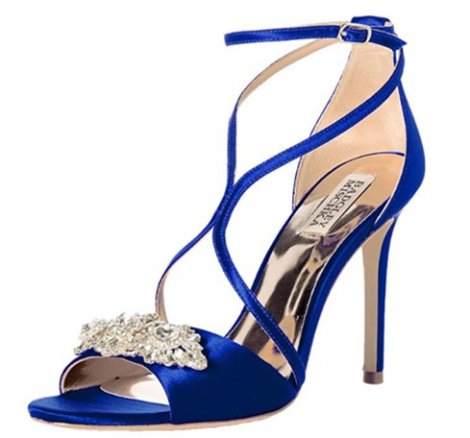 This sparkly fantastically designed pair from Badgley Mischka will give your footwear collection a bright makeover and a boost in appeal. With a bright satin upper in a cobalt hue, this pair will sparkle and shine the evening away with its rhinestone toe embellishments. Definitely a heel suited for more formal occasions, it's not one you'd want to wear or walk in all day at work, but it will wow the crowd at special events!
The stiletto heel on the Vanessa rises just under 4 inches, giving legs added length and accentuation to calves. The peep-toe style has a single wide toe strap with rhinestones that sit atop the band, sparkling and shining their way through the evening. A strappy forefoot lays across the top and sides of the foot, giving a simplistic, sexy style to the foot. Cobalt gives this blue shoe a wow factor in color and can be paired with other bright or some neutral colors.
A lightly cushioned insole provides some comfort to your steps, and a leather sole helps with traction and durability of the Vanessa. The heel is enclosed, and an ankle strap with a buckle closure helps provides a little adjustability for fit. This is one satin blue design that is sure to be turning heads with its dainty strappy look and bright bling!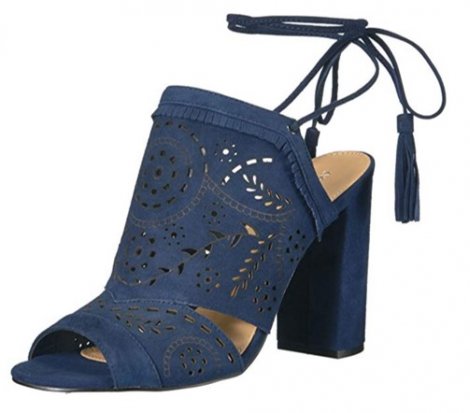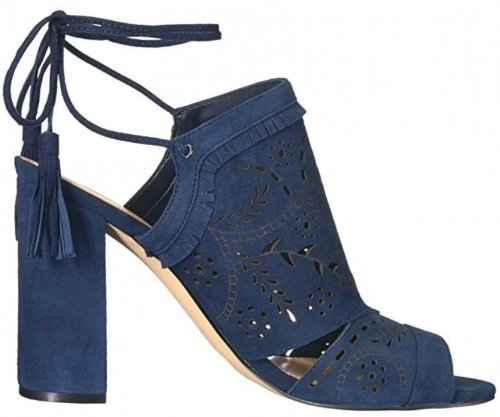 This adorable unique style from Ivanka Trump has some interesting style elements to create a posh looking pump with open heel. The leather uppers have cut-out detail that creates a soft and elegant look, and its open toe and heel style create a bit of breathability. If you're in search of something suitable for work or formal occasions, the Karah can definitely be the right choice for your needs. You can even dress up a pair of jeans or shorts with this option and not look over the top!
The uppers of this blue shoe have an open toe style, with cut-out detail which covers the top of the foot and the toe box. The leather is soft and creates a unique, sophisticated look and feel. An open heel allows less blistering than from tight styled shoes, and your foot can be strapped into this design with a leather ankle tie closure. The tie closure creates a delicate feel as well.
Inside the Karah is memory foam cushioning to add some comfort to your steps, while synthetic soles help keep you stable on slippery surfaces. A chunkier heel adds a 4-inch raise in height, but also creates some stability for walking and standing at work. A rounded toe gives some room for toes, and this design has a nice deep blue hue that can pair with several brighter colors or neutral tones. It's a solid blue option for both work and casual occasions.

7

. Polo Ralph Lauren Ranger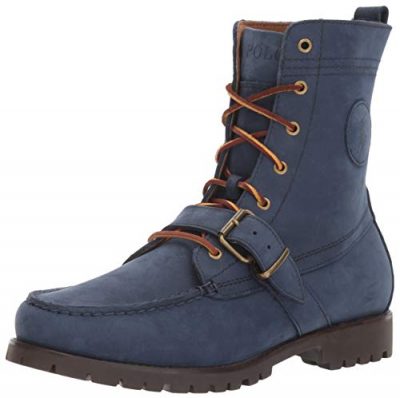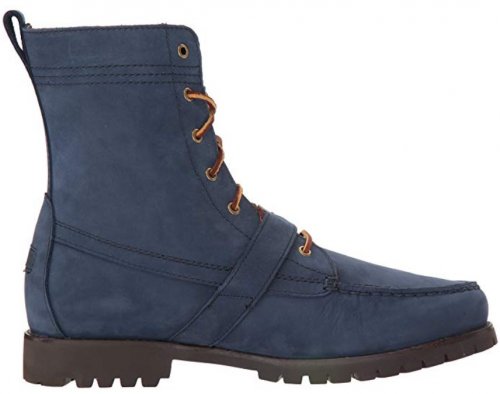 Ralph Lauren is one of many brands that are nearly synonymous with luxury and luxury is exactly what Ralph Lauren brings to the Ranger. The hue of the Ralph Lauren Ranger is listed as 'Newport Navy,' but it's closer to slate blue. Also, unlike many of the other options in this guide, the color of these boots is smooth and matte yet somewhat weathered.
Since it's both a casual boot and a hiking one, the Ralph Lauren Ranger is a versatile design to own. To its casual ends, the Ranger has moccasin toe stitching, an adjustable vamp strap, and rawhide leather lacing through bronze metal eyelets. The supple leather upper is water-resistant but not waterproof. Also, the Ralph Lauren logo detailing is prominently displayed across the shaft of the boot.
The Ralph Lauren Ranger is still a hiking boot despite its contemporary styling. This is most evident in the thick, rugged rubber sole which contributes to the stability and improved traction. True leather welting keeps the upper and sole together and, like many quality shoes, the Ranger is handsewn. And with a leather lining and padded insole and collar, this design has comfort in spades.






The Felicia from Sam Edelman is the kind of flat that is fancy despite being low on embellishments. Simply, the Felicia has an embroidered Sam Edelman logo near the heel and a small logo charm at the toe. That's it. And among its many, many color options, the Felicia comes in several blue versions that you are bound to love and want to take home.
There's more to the Sam Edelman Felicia than just the soft genuine suede upper that's especially appreciable without socks. Primarily the Felicia has a thickly padded insole — exactly 4mm worth of cushion! — for the utmost comfort. Also, the Felicia has an abrasion-resistant insole and lining, which helps minimize premature flattening of the footbed padding.
The Sam Edelman Felicia flat is a dreamy flat to wear. First, the uppers are a richly silky suede and lined with soft leather. The elasticized collar makes these easy to slip on and off, while the round-toe silhouette emits a classically tasteful vibe. Finally, these flats feature an adorable mini stacked heel.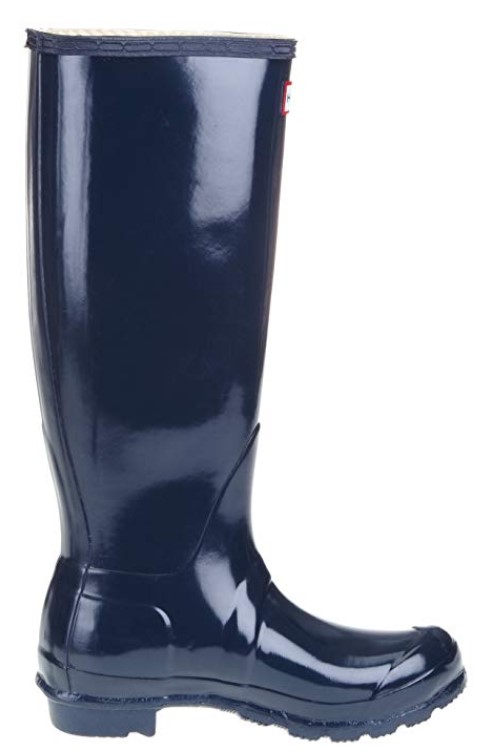 Just because it is raining and/or snowing outside, doesn't mean that you have to give up on wearing your favorite color. The Hunter Original Tall boot is a design that is a wet-weather staple. It is made from rubber with a polyester lining and is completely waterproof. In this high-gloss navy version, the Original Tall is bound to become a staple in your wardrobe, as you can easily pair it with skirts and pants for any casual occasion.
The Original Tall is handmade out of 28 rubber parts which take three days to assemble. The entire construction is then vulcanized to give it more durability and resistance to abrasion and the elements. The interior lining is from polyester for a comfy feel, and there is a special tread pattern on the outsole to prevent slipping and skidding. The Original Tall is 100% waterproof, so you can take it out in any type of wet conditions without worrying that your feet will get wet.
The Hunter Original Tall is not only cool and trend-defying, but it is also certified vegan! So you can feel good about protecting the environment while at the same time having dry, cozy feet as you traverse through puddles. Meet your new rainy day savior in the form of this outstanding, long-lasting boot!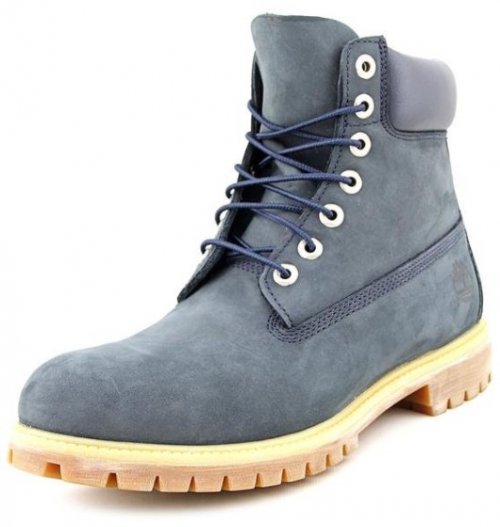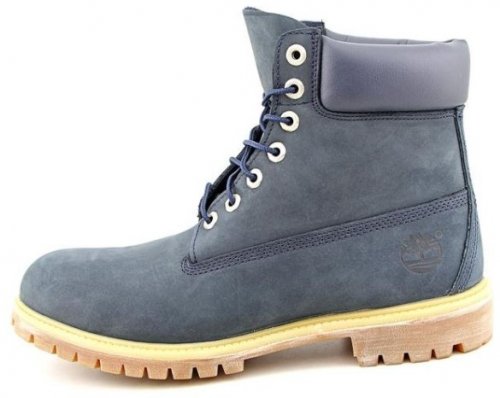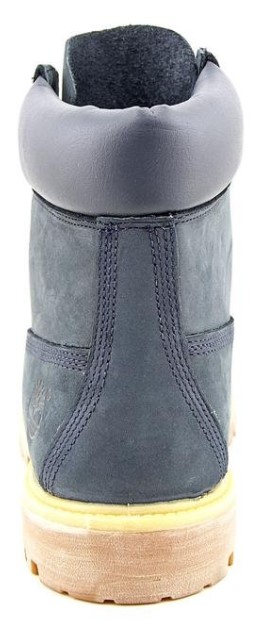 Now for a blue boot that is also waterproof, see the Timberland Heritage. The Heritage is a work boot first, fashion boot second. Made of treated waterbuck leather, these are subtle in hue, almost pastel blue. Waterbuck, by the way, is a type of antelope found in the savannahs of sub-Saharan Africa.
Part of what makes the Timberland Heritage an excellent design is the built-in anti-fatigue technology in every pair. The midsole and footbed of the Heritage use an inverted, geometric cone-shaped support for extra shock absorption and long-standing relief. Further still, the shock absorption of the Timberland Heritage is increased by the thick, genuine rubber sole.
Components of comfort are found all over the Heritage work boot. Starting with a standard padded collar, these also feature lacing for a customizable fit. Inside of the Heritage is a naturally moisture-wicking leather lining and a thickly padded footbed. As a matter of fact, there have 400 grams of padding in the insole — almost a pound!

Subscribe to our Newsletter