Best Turquoise Shoes Reviewed & Rated
In a Hurry? Editors choice:

Test Winner: Clarks Breeze Sea

Life should be lived in full color. To most, this means doing the things you love and are passionate about or going out of your comfort zone to take risks and experience new things. However, this saying can also be taken more literally. Though some people feel uneasy dressing boldly or wearing bright and eye-catching colors because it tends to attract attention, we say "go for it!". And amongst all the colors in the rainbow, this beautiful blue-green is a great color that is often underappreciated.

On our list is ten of the best turquoise shoes, their styles ranging from moccasins to flip-sandals to rain boots, so that you can find yourself the perfect pair for any occasion!
Standout Picks
Criteria Used for Evaluation
Top 10 Turquoise Shoes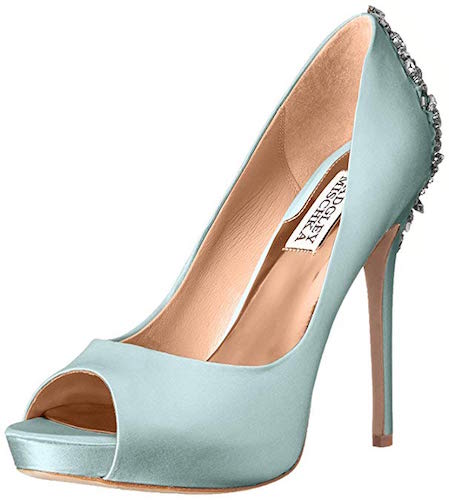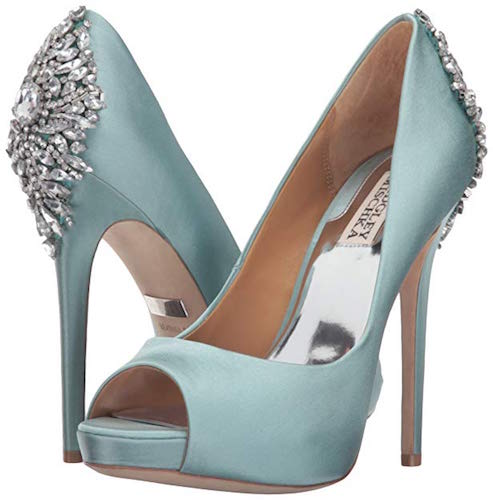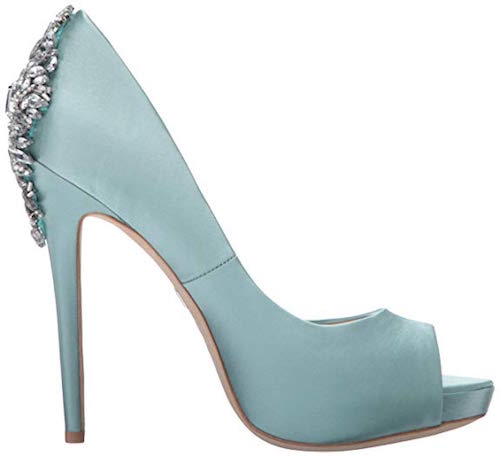 This pair of evening shoes is made for those who want to look absolutely stunning. The Kiara will look best with cute cocktail dresses or full-length gowns, while also being a great choice for brides to be. It comes in several color options, including darker hues such as purple and navy, but today we'd like to focus on the very light shade of turquoise called Blue Radiance.
The upper of the Badgley Mischka Kiara is made out of satin for a lush, elegant look that is sure to make you stand out. These feminine peep-toe pumps have a beautifully embellished heel that features hand-placed Swarovsky crystals that catch the light and make these shoes look like a million dollars.
Of course, with a brand such as Badgley Mischka, you can expect a high level of quality, so you'll be happy to hear that these pumps are lined with genuine leather and that the footbed is padded in order to offer cushioning that you'll love, especially if you like to dance a lot. The outsole is leather for a luxe feel, and the 4 ¾ inch heel paired with the 1-inch platform work wonders to elongate the legs, offering a slimming effect.
As for cost association, the Badgley Mischka Kiara is one of the more expensive models listed in this guide, but considering that it's a pair of shoes meant to be worn on special occasions, it's well worth the splurge.






Number one on our turquoise shoe list is a great pair of sporty flip-flops. The shape of the footbed and insole are designed to provide optimal comfort when walking so that the foot fatigue and strain usually caused by flip-flops is minimized. Their construction renders them nice and lightweight, making them perfect for bringing on vacation or to the pool. In addition, their bright strap complements the tan color of the insole and its silver floral design to give it a great look in a turquoise shoe.
The upper, lining, outsole, and insole are all made of synthetic materials. This way, the shoe is kept light, durable, and completely waterproof, rendering them practical for a day out at the beach or the pool. Unlike the typical flip-flops, this turquoise shoe has straps that are adjustable and adhesive. You can ensure that the strap isn't too tight that it causes discomfort and friction, but also not too roomy that it forces your feet to flex with every step to prevent them from slipping off.
Their price falls somewhere in the middle of our price range on our list. They may appear quite expensive for flip-flops, but keep in mind that these will provide comfort and practicality that those in dollar stores just can't provide.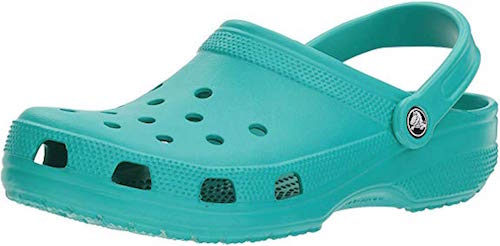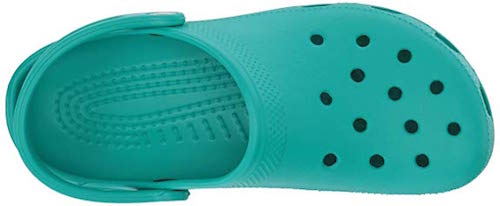 This ubiquitous summer sandal is one of the most comfortable pairs of footwear you will ever wear. And while it's not the most stylish fashion choice, it's a great pair to own for around-the-house, beach, or outdoor wear. Crocs come in a huge variety of colors and styles, and you'll easily find the exact shade of turquoise you need, including lighter and darker shades of teal as well.
The entire Crocs Classic Clog is made from a synthetic material called Croslite. This is a compound that resembles a mixture of foam and rubber, and it has several properties that make it a huge success. First and foremost, Croslite is shock-absorbing but firm enough to offer plenty of support in the arch, heel and toe areas. It's also non-marking and slip-resistant, so you can wear your trusted pair of Crocs to the pool, or even while you work away in a kitchen.
These clogs have perforations in the upper to encourage moisture management and breathability, and the lightly massaging footbed provides an added layer of comfort while wearing. You'll also be happy to hear that these are 100% water-friendly, they're easy to clean, and are odor-resistant so you won't have to worry about stinky shoes.
Another great thing about the Crocs Classic Clog is the fact that it's quite affordable, and is an excellent choice for almost anyone, including those with wide feet, pronation or other health issues.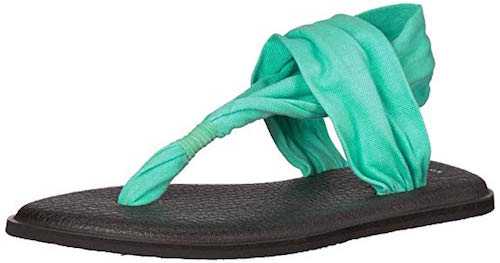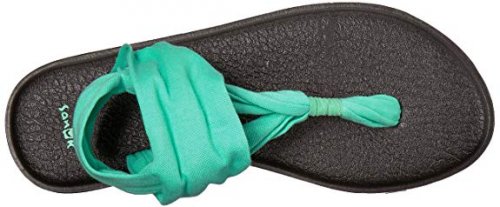 Our next turquoise shoe is a pair of sandals like no other. The footbed is made from a unique material that is sure to pique your interest and provides you with maximum comfort. In addition, their upper is nice and flexible, and their color compliments the black sole and can add a touch of summer style to your outfit - not only can you stay comfortable, but also stylish in this turquoise shoe at the same time. There's only one minor issue: many reviewers claim that the back strap is quite loose, but that can easily be fixed by ordering a size or so down.
Unlike your typical sandals, these have footbeds that are made from a real yoga mat. It will mold itself to the contours of your foot with every step, giving a squishy and comfortable feel as well as providing cushioning. If you're not a big fan of sandals because you feel as though the straps are uncomfortable and stiff on your feet, then this turquoise shoe is for you. With their two-way stretch knit fabric upper, there will be minimal friction against the top of your foot.
As the least expensive pair on our turquoise shoe list, they are definitely a great bargain. And with over three thousand five-star reviews from satisfied customers, it's apparent that they're a smart purchase.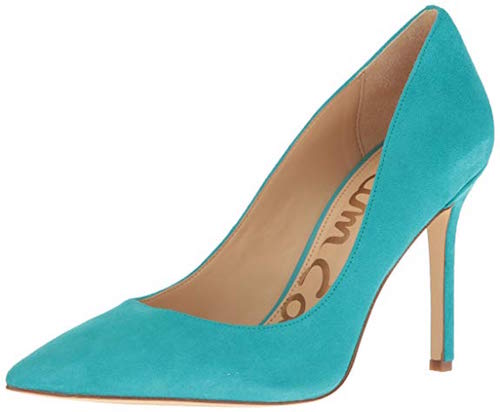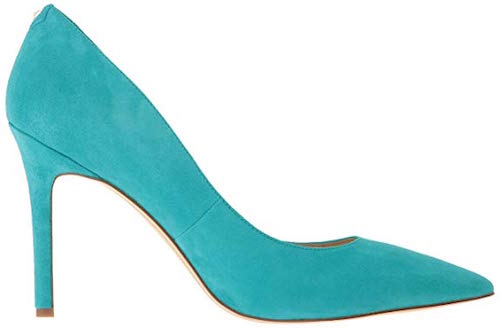 These classic pumps are a great choice for those looking for an elegant pair of footwear that will go from casual to formal, to professional without a hitch. The Sam Edelman Hazel is one of those shoes that come in a huge variety of colors, upper materials, and prints, so if you're looking for something unique and colorful, or plain and simple, it's always a good idea to check this brand. The Hazel features a classic pointed toe and a stiletto heel.
The upper of the Sam Edelman Hazel in gulf blue is made out of natural suede, which means that this is a pair of pups you will love wearing. Not only is this material great looking, but it's also very comfortable thanks to its softness and breathability. It won't take too much time to break-in, and you'll find that with a little bit of care, it will last you for years to come.
The footbed of the Sam Edelman Hazel is lightly padded in order to disperse shock and protect the ball of the foot. The synthetic outsole won't wear down as easily as leather. Another great thing about these pumps is that they come in three width options - narrow, medium and wide, so everyone can easily find the ideal fit.
As for cost, this pair of stiletto heels ranks average compared to other models listed, making it a good investment, especially considering the fact that they can be worn almost anywhere.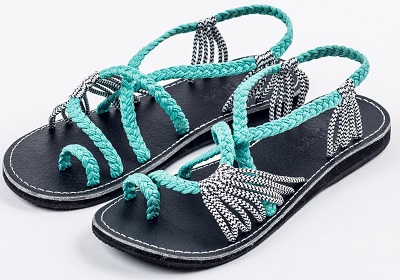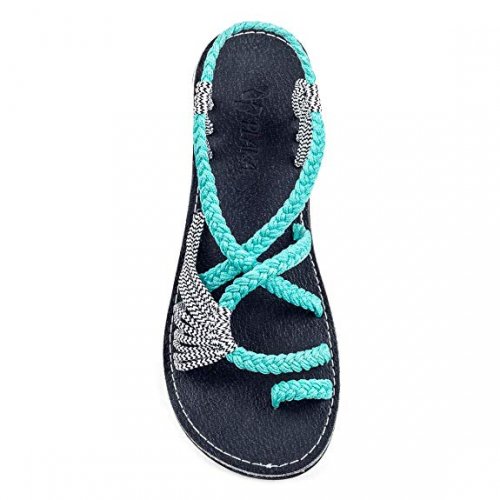 Practical, comfortable, and stylish, these turquoise sandals are the perfect pick for summer. Their bright straps contrast with the black insole and will add a pop of color to your outfit. In addition, they are made of soft nylon that creates minimal friction against the foot and ensures a snug fit. The ring around the toe also gives them a more modern look. Overall, these shoes are light and easy to carry around, making them a must-have for summer vacation. However, there is a minor downside - many reviewers claim they have quite a strong smell when coming out of the box, so be aware of that if you plan to purchase a pair.
Perhaps the most remarkable and unique thing about these shoes is that they are actually handmade. The braided ropes were made with care to ensure maximum quality and satisfaction for you. Going to the beach, out kayaking, or just worried that it might rain? It's no problem with these sandals. Made of high-quality nylon, they are water-resistant, and getting them wet will not ruin them or change their quality.
These sandals are very affordable. They cost the same amount as the typical sandal but have tons of great features that render them versatile, practical, and comfortable. Overall, they're a great bargain in a turquoise shoe!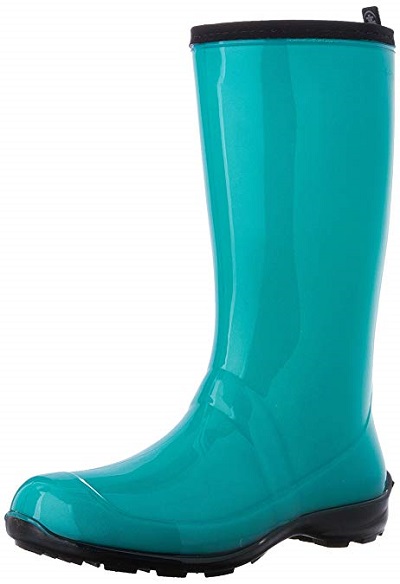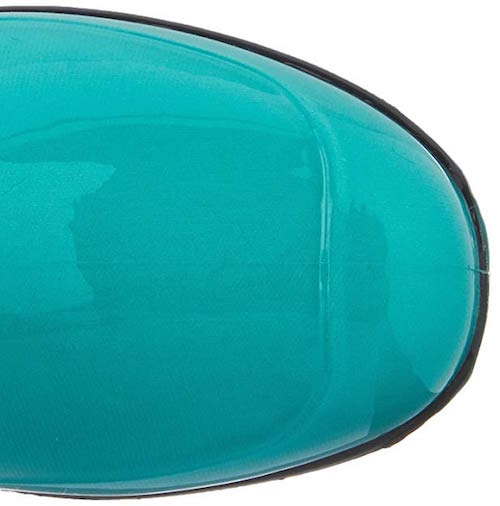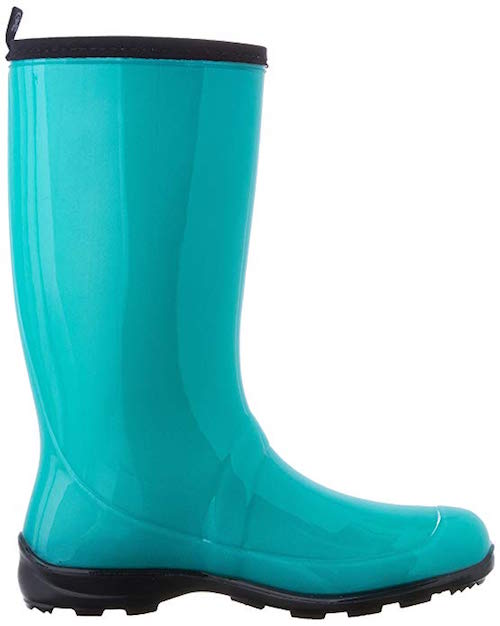 The spring and autumn seasons are bound to be filled with rainy days - but with these Canadian-made rain boots, you can stay comfortable and look lively in a pair of turquoise boots despite the grim weather. With a shaft measuring around 11 inches from the arch, they will protect the feet and calves from getting wet, meaning you can splash and wade into puddles as much as you'd like with no problem. Their fit is on the narrow side, however, so they are most suitable for those with small or medium-sized calves. In addition, they feature a high definition printed lining and a removable EVA insole for comfort and cushioning. It only goes without saying that they have a great look in a turquoise shoe that and can be paired with leggings or skinny jeans for a laid-back look on a wet day.
What's great about this brand is that all of their domestically made rubber boots are entirely recyclable. At the end of their lifespan, your boots will not become toxic waste but can rather be made into other products. It's always important to stay safe, especially during the nighttime. With the NiteRays reflective binding and patches on this turquoise shoe, you can ensure you are seen by other cars and people when walking late at night.
These boots sit on the cheaper end of our price range. They are quite a bargain compared to many other high-quality rain boots, and their classic design renders them super practical as well as stylish.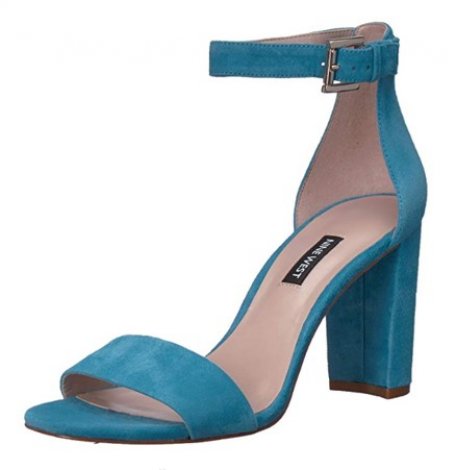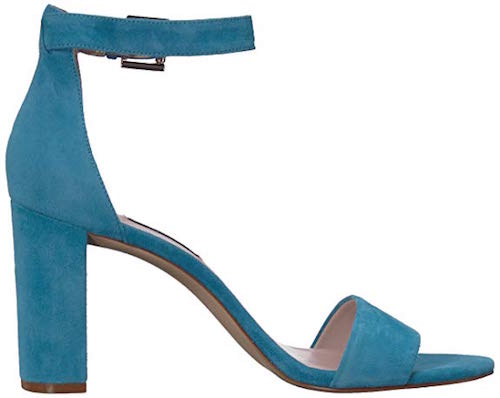 This practical turquoise shoe packs a bit of a punch in style and versatility. With a chunky block heel that will have you strutting your stuff all day long in comfort, to it's strappier design, it's a great work and formal shoe. Nine West is no stranger to making stylish and comfortable footwear as well, so rest assured this chunky heel will be able to go as long as you do during your daily routine. With soft suede uppers, this turquoise shoe will ignite your fashionista style.
Uppers of the Nora are a darker shade for a turquoise shoe, but pleasantly soft being made from suede. A lightly padded footbed provides cushioned comfort when walking and standing, and it's open toe and sandal design allow for maximal ventilation and breathability. Chunky heel helps keep you stable and balance, and with a modest 3.5-inch raise in height, it's a comfortable turquoise shoe for walking during the day.
The sole of this turquoise shoe is synthetic with a textured sole to help provide traction on slippery floors and surfaces. A solid block heel has an ankle strap that runs through the top of the heel, with buckle closure for an adjustable yet snug fit. A thicker strap runs across the toe box of this turquoise shoe, helping to add more contact against the foot for a secure fit.

9

. Minnetonka Kilty Suede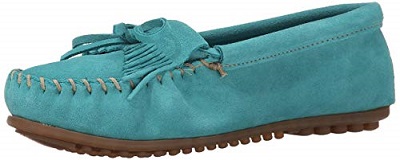 Moccasins are the perfect type of shoes for semi-formal occasions as well as at-home or casual wear. This particular model of turquoise shoe is Minnetonka's most popular design. Cute, comfortable, and practical, they are a pair you just can't miss out on. Their lack of straps and laces means you can slip them on and be good to go. Thanks to their suede material and overall construction, they're also very flexible and soft. They are of a darker shade than most of the other turquoise shoes on our list, so they make for a great low-key finishing touch to an outfit. Minnetonka advises you to order half a size to a size smaller than what you would usually wear, as the shoe runs large in size and the material will also stretch through time.
Moccasins have a cute and somewhat rugged look. They can also add a bit of a laid-back and boho vibe to your outfit. This particular turquoise shoe features a fringe and bow at the top of the shoe, as well as a seam that runs along the toe. The suede material gives their shade a nice, rich look.
The sole is made of rubber, which not only provides grip but also keeps the shoe nice and light. In addition, this turquoise shoe has uppers of suede leather that is supple and flexible, reducing the risk of foot discomfort and fatigue and rendering them perfect for all-day wear.

10

. Propet Travelwalker II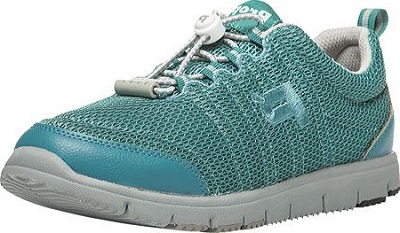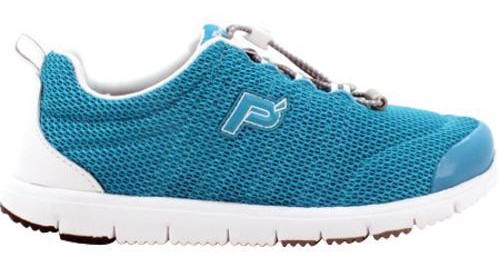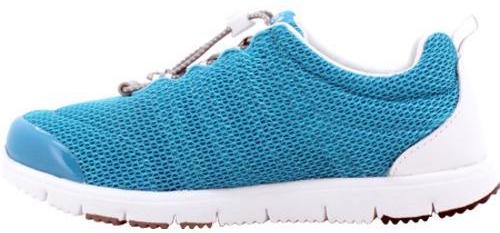 If you need something more sporty, then consider the Travelwalker II women's shoe. These are great for year-round wear and are especially suitable for those who tend to have sweaty feet. Their design allows your feet to stay cool and fresh no matter how much you're sweating in the warm weather. The midsole is made of lightweight EVA to provide cushioning at every step, and the rubber inserts offer traction. They are also offered in many other colors, both neutral and bright, such as red, peach, white, and tan. This way, if you like your pair of turquoise sneakers, you can purchase a second in a different color to switch up your look.
These shoes were truly designed with comfort as the main priority. The padded collar will keep the ankle nice and snug, while the mesh upper allows for breathability, preventing the accumulation of sweat and odor. This way, you can stay fresh and comfortable at all times.
With their abrasion-resistant toe cap, these are prepared for serious wear. Combined with their tough rubber sole, you can wear them as often as you'd like with no problem. For sports shoes, these are of a pretty good value. Combined with their durability and versatility, just one pair is sure to serve you well for a long time.

Subscribe to our Newsletter