Best Burgundy Heels Reviewed & Rated
In a Hurry? Editors choice: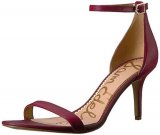 Test Winner: Sam Edelman Patti

Finding the perfect pair of heels, whether for a special occasion or everyday wear is never easy. Chances are, you already have the basic blacks and nudes, and are looking for something that will breathe new life into your wardrobe, without going overboard, which is where burgundy heels come into play.

This rich, purplish shade of red is not only fun and bold, but is also an elegant choice that won't look tacky. From classic court shoes to sandals, boots, wedges and Mary Janes, we've comprised a list of the highest quality, most comfortable footwear in this trendy shade. All you have to do is decide which model to go with.
Standout Picks
Criteria Used for Evaluation
Advanced Features
While purchasing a pair of high heeled shoes may sound like a simple task, there are definitely a lot of factors you need to consider in order to get a product you'll be happy with in the long run. In addition to the basic features you need to pay attention to - style, materials, comfort, and others, there are also a number of advanced features easily found in footwear nowadays. Most of these were developed to increase functionality, durability and comfort, and are simple solutions to issues most commonly found in footwear.
One of these is the closure system used on your newly purchased footwear. Even though most heels have a simple slip on style without any closures, there are also those that have straps you can adjust to ensure a better, more secure fit. These will often feature a buckle, but some brands opt for hook and loop closures which are easier to handle, and allow a greater level of adjustability.
If you happen to decide on a pair of boots, make sure that the on and off process is easy. Either go with a model with a wide opening, or opt for one with a zipper closure that'll allow for a form-fitting look without being a pain to put on.
Another aspect you should consider before making a purchase are any possible embellishments. If you want a look that isn't 100% simple, but is elevated by the addition of bows, buckles or crystals, you should make sure that they are secured with quality glues or stitching, to avoid accidents that may ruin the look of your shoes. Furthermore, keep in mind that certain glamorous looks may be too much for everyday wear.
Materials
As with any pair of footwear, the materials used to construct your heels is crucial in determining not just the quality and durability, but also the functionality. There is a number of materials used in the products listed above, and each has its benefits, as well as its flaws. This is why, before making a purchase, you need to consider what will work best for you.
Leather: the traditional material to use when making footwear, leather is a great choice. One, it is durable, easy to maintain and offers a great level of comfort through breathability and ease of breaking in. Secondly, it is a versatile choice that will look just a s good for formal and casual settings, and that can be worn in most weather conditions.
Suede: another type of leather, suede is treated to make the upper surface a soft material with a plush look and feel. Suede is highly breathable, and preferred by many due to the fact that it's flexible and requires even less breaking in than traditional leathers. It is, however, unsuitable for wear in wet conditions, as it is easily damaged by moisture.
Satin: evening shoes are often made with this textile which is shiny in appearance, giving a luxurious feel to any pair of footwear. Satin, however, may not be suitable for everyday wear for two reasons. One, it looks too formal for casual occasions, and two, it requires special care and cleaning techniques which are often complicated and time consuming.
Synthetic: a common, cheaper alternative to leather, synthetic materials can often look and perform great, and are a good option for those who want to keep their spending to a minimum. This type of material is durable as well, and should stand the test of time, with one important drawback, which is the lack of breathability.
Rubber: mainly used for the outsole portion of high heels, rubber is a good choice because it has a simple reason behind its application. It is lightweight, flexible and slip resistant, which results in footwear that is more comfortable for walking in, and that performs better on a variety of surfaces.
Outsole
The outsole portion of your high heels is an important thing to keep in mind when shopping, mainly for safety and comfort reasons. On the whole, there are three common options, all of which have their advantages.
High-end models mainly use leather outsoles which are comfortable, shock absorbing, and look luxe. However, leather has two downsides which are worth considering before spending a lot of money. One, a leather outsole should not be worn on wet or slippery surfaces, and secondly, it won't stand up to abrasion too well. If you plan on walking a lot, it is best to forego this type of footwear.
Synthetics can be a great choice, as long as they have a traction pattern on the bottom. They're lightweight and cheap, but without the tractioned outsole, they won't keep you on your feet, especially if you're going to be walking on polished wood, tile or marble floors.
Last but not least, there is rubber, which has already been mentioned, which is the ideal material to look for in your outsole. Not only will it perform well, it is also a durable choice that will ensure you get the versatility you need out of your favorite heels.
Comfort
High heels may not be the first thing that comes to mind when you think about comfortable footwear, but that doesn't mean they have to be painful. Nowadays, you will find that many of the models available have advanced features that increase the comfortability of the shoes, making them not just beautiful, but also a pleasure to wear, even for long hours.
There is a number of features you can look for in your footwear, but here are the ones that will have the biggest impact on how it will feel on your feet:
Padded footbed: A high heel will shift your weight to the ball of your foot, which can be quite painful if you plan on standing and walking a lot. To protect the metatarsal area, look for padded footbeds that help absorb shock and provide a softer surface to walk on.
Heel height: Overall, the height of your heel with influence the comfort levels. The higher it is, the more painful it will be. If you're going to be spending a lot of time in this pair of footwear, it is a good idea to go with a model with a heel lower than 3 inches, and that has a block heel that supports your weight more efficiently.
Memory foam: A number of the models listed above feature memory foam insoles which mold to the foot and provide a customized level of support and cushioning. This is a great feature for those shoes you plan on wearing to work.
Toe shape: While pointy toes look elegant, they can cause a lot of discomfort, especially in the long run. For the highest level of comfort, it is advisable to opt for a model with a rounded or almond forefoot that will allow the toes to splay and distribute weight naturally.
Breathability: Your feet will inevitably sweat in your footwear, so going with a pair that allows fresh, cool air in is always a good choice. Not only will this aid the moisture wicking process, preventing bad odors, but it will also help with temperature control, preventing your feet from swelling.
Style
The products listed above all have one thing in common, which is their color. But, if you're after a pair of burgundy heels, you should know that there's a huge variety of styles available, all of which look great, and can be worn on a number of occasions:
Pumps: the classic choice, you can't go wrong with a pair of these. Go with a stiletto heel, and you'll have yourself a style ideal for special occasions and nights on the town, while a lower or chunky model looks great at work as well.
Sandals: perfect for hot weather, a great pair of sandals can be worn with anything - from dresses to jeans. In addition to being breathable, these will also help you show off your pedicure, bringing your look to the next level.
Mary Jane: a classic look that is functional in addition to being pretty. Mary Jane shoes are ideal for work and casual wear, thanks to the strap over the instep that provides a secure, supported fit you can walk in.
Boots: burgundy is a color perfect for autumn wear, so why not invest in a pair of boots in the shade? Not only will they keep you warm on cold days, protecting you from the elements, but they'll also be a welcome change from the usual blacks and browns worn in the colder months.
Top 10 Burgundy Heels
1

. Badgley Mischka Vanity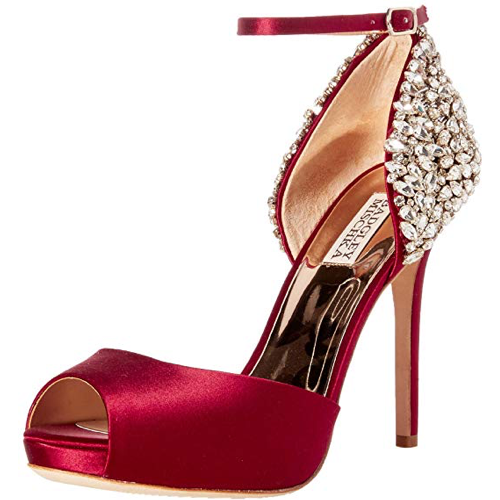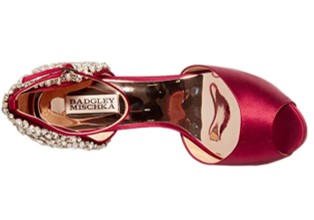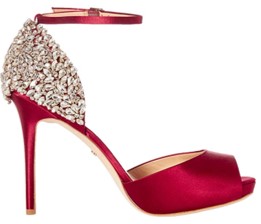 Those after an elegant evening shoe will definitely appreciate the glamourous looks of the Badgley Mischka Vanity, a D'orsay peep toe pump. Ideal for special occasions, this model combines luxury with quality and comfort for a pair of footwear you'll definitely love wearing. In addition to the traditional black and ivory versions, it also comes in a beautiful cabernet shade that's ideal for refreshing any outfit.
The upper of the Vanity is made with a satin material that looks and feels luxurious. Additionally, it is breathable, while the leather linings add to the durability and overall comfort. The heel section is embellished with crystals which add just the right amount of spark. An ankle strap ensures a safe fit, increasing stability that is often the issue with such high heels.
Despite boasting a 4 ½ inch stiletto heel, the Vanity is surprisingly comfortable. This is mostly due to two factors. On one hand, the ½ inch platform adds elevation all the while reducing the heel to toe difference. On the other, the generously padded footbed absorbs shock and protects the ball of the foot from impact while walking and dancing. The leather sole is another nice classic touch to this great pump. As for cost association, this product is an investment, but one you'll definitely enjoy on several occasions.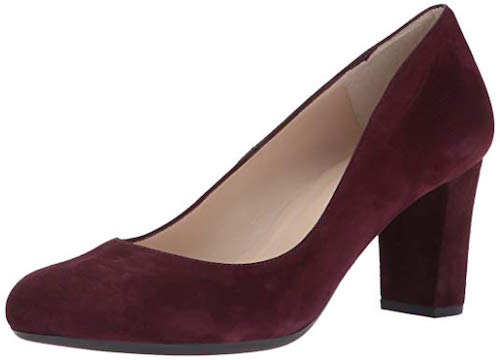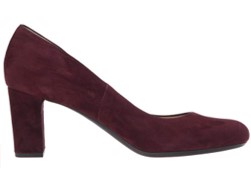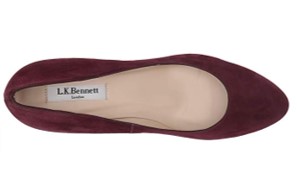 This classic pump is the perfect choice for autumn wear, mainly thanks to two aspects: first and foremost, the Oxblood color option that perfectly suits the season. Secondly, the Sersha is a quality pair of footwear that will look great both on formal and casual occasions. Pair this shoe with trousers, jeans, skirt or a dress, and you've got yourself a go-to pair of footwear you can wear anywhere, and never look out of place.
The materials used to make the Sersha are of high quality, as you'd expect from this brand. The upper is suede which has a number of benefits, the biggest one being that it's soft and flexible, and breaks in easily. The inner is lined with leather which is a standard when it comes to well-made formal footwear.
The outsole of the Sersha uses rubber that works well on all types of surfaces, and is, on the whole, more durable than leather. The 2 ½ inch heel is wide and stable, which makes it suitable for all day wear. Do note, however, that the suede materials used in this model tend to be less resilient than full grain leather, so the Sersha should not be worn in wet weather. Despite the high price, it's worth the investment, especially for those who want a pump that will last, and will always be in style.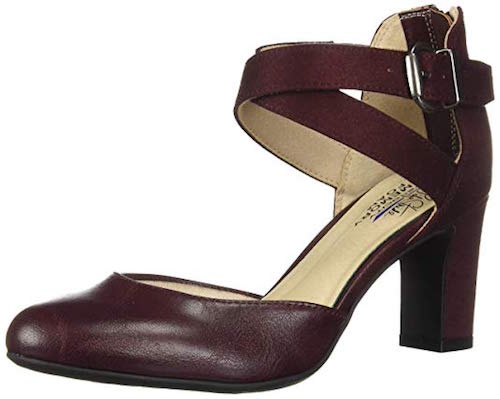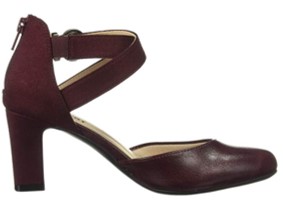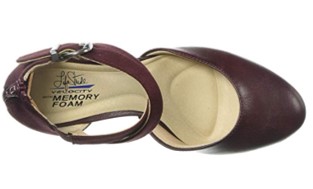 A simple Mary Jane is all you need sometimes, and if this is the type of shoe you're after, then why not go with a pair that's extremely comfortable? The Marlene is one of those pairs of footwear that was made for all day wear, without looking chunky or out of place. It can be worn with dresses, trousers and jeans alike, and it's sure to serve you well if you happen to be after a great shoe for work. As it is made by LifeStride, you can rest assured that it contains all the comfort features you need for a happy wearing experience.
The upper of the Marlene is made with faux leather and microsuede. The faux leather is durable, and contributes to a polished look, while the microsuede contributes to the moisture wicking abilities of the pump, keeping your feet well ventilated. The closure system includes a buckle strap with an elastic portion for a better fit, as well as a zipper at the back that allows easy on and off, even when you're in a hurry.
The best things about the Marlene, however, come in the sole portion. The footbed is padded with memory foam which molds perfectly to the shape of your foot. The flexible outsole is tractioned to keep you slip free, but also flexible to allow you to walk without being held back. When it comes to the heel, it's a 2 ¾ inch chunky block that is stable but still looks amazing. The price point of this product falls below average compared to the other items listed, making it an excellent investment for anyone.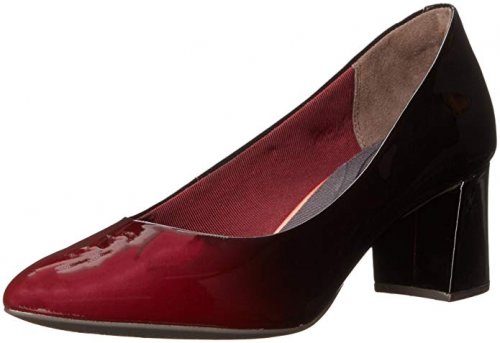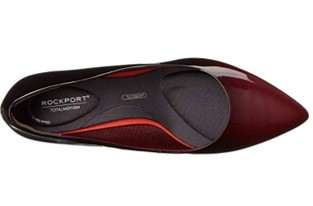 The Rockport Salima is a sensible, practical pump which is perfect for the workplace. What sets it apart from others of its type is the fact that it comes with Rockport trademark technology named Total Motion. This includes a lightweight comfort system, premium materials such as smooth leather for the upper, a full-length stability plate, as well as an extra padded footbed.
The special stability plate that stretches from the toe area all the way back offers extra stability, making your footsteps more secure, while at the same time it provides flexibility in the front, as the Salima moves along with your foot. This is then paired with The lightweight support system we mentioned earlier comes under the name of truTECH. It provides shock-absorption at the back, preventing the pounding effect at the heel which can lead to pain and medical problems, but it also offers rebound at the forefoot, for superior comfort.
Rockport makes sure their quality shoes are up to par for each customer to ensure satisfaction with each purchase. Rubber outsoles will keep you grounded and you will be pleasantly surprised by how comfortable these crimson heels are. Many have compared them to higher end heels and those plastered with names of celebrities saying they are just as or more comfortable. They are worth every cent, especially with the bonus that the colors match well to the photos (although not exact).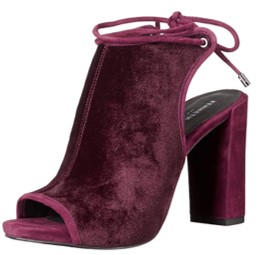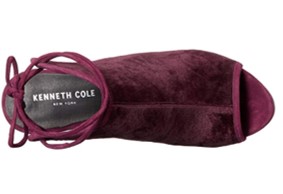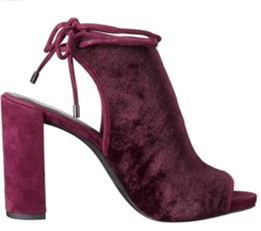 Looking for something with a softer, rich feel to it in a stylish sandal? The Kenneth Cole Darla may just fit the bill! With uppers of rich, soft velvet that cover the entire foot, peep toe silhouette, and a 4 inch heel and open back, it's one pair that has a style all it's own. Deep burgundy hue suits this pair for evening occasions, and even some business dress styles. A chunkier heel helps keep this pair stable, so it's suitable for walking without feeling wobbly.
At the base of the Darla is a synthetic sole, with a textured pattern on the heel to help with stability and traction. Its chunkier heel is wrapped in soft velvet and raises a solid 4 inches in height. It also won't leave any marks along the floors with a non-marking outsole and will help keep you stable when walking. Open peep toes give some breathability inside the shoe, allowing you to stay cool under pressure.
The uppers are the star of this pair, with soft, rich looking velvet that wraps the entire upper foot in luxury up to the ankle. An open heel helps give even further breathability to the shoe, while a feminine lace closure wraps the ankle and secures the foot inside. Lightly padded footbeds give a cushioned aspect to this pair, allowing you to step out in style and comfort. It's ideal for those looking for an evening shoe or business dress shoe!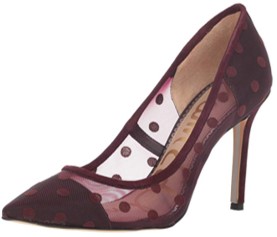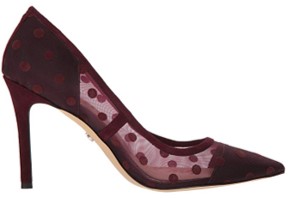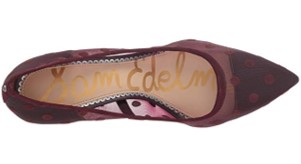 This funky cute pump from Sam Edelman boasts of a deep burgundy hue with dotted mesh style uppers, giving it a retro yet sophisticated look and appeal. The mesh uppers also bring a breathability aspect to the Hazel, making it quite comfortable for wear in warmer weather to keep feet cool. With a stiletto heel that raises 3.75 inches in height, it gives that boost in confidence and leg lengthening look. Reinforced arch support along the bottom help support you while standing, and it's style makes it appropriate for many different occasions.
What we love most about the Hazel are the rich looking uppers! A breathable mesh upper has polka dot design throughout, which give it a retro kind of flair. The deep burgundy coloring creates a rich look, and can be worn with several styles of dress. Pointed toes add to the sophisticated silhouette, while leather soles help bring durability to the shoe. Inside is a padded sock liner which brings some cushion and comfort for a great on-foot feel.
The heel on the Hazel boosts you 3.75 inches, giving confidence and length to the legs. The stiletto is also reinforced with arch support on the sole, helping make it durable and giving you added stability. Ideal for warmer weather with it's mesh uppers, it's can be paired with jeans for a casual boost in sophistication for summer evenings. Pair it with slacks or dresses for a more formal look or business attire, and you have one pair that is versatile for anything in your closet!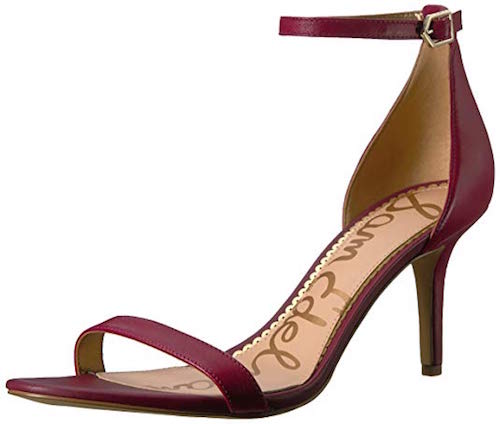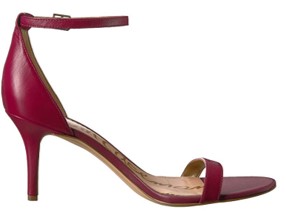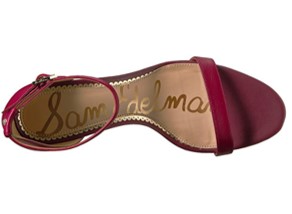 A simple sandal that is suitable for both casual and formal occasions, the Patti by Sam Edelman is an excellent choice for most. As we've all come to expect from the brand, this pair of footwear is comfortable, well made, and most importantly, affordable. The cranberry leather upper will look great with a cocktail dress, but will also compliment your favorite pair of skinny jeans.
The kid suede leather used in making this model is a great choice for two reasons. First and foremost, it's durable and easy to maintain, so you will have a pair of sandals that will last a lifetime. Secondly, it is flexible enough to allow easy breaking in, so you won't have to worry about blisters and rubbing. Other benefits of this pair include a high level of breathability, mainly due to the open design.
The ankle strap on the Patti is fully adjustable with a buckle closure, and it serves two purposes. Firstly, it will increase your comfort levels, and secondly, it will increase the stability of the shoe, keeping you on your feet. The footbed is lightly padded for long-time wear, and the synthetic sole won't be damaged by abrasive or damp surfaces. The 3 ¼ inch heel is high, but not uncomfortably so. In terms of price, this is one of the more affordable pairs listed, making it an excellent choice for anyone.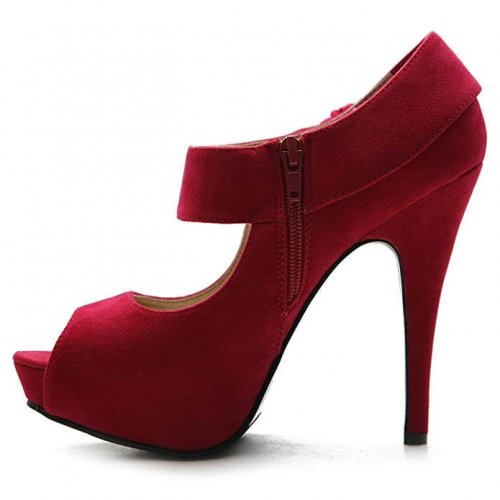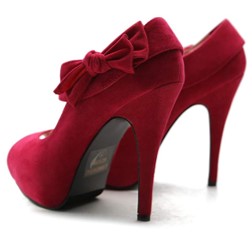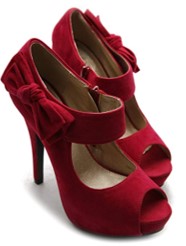 There are times you are looking for a heel that is simple but still has a little bit of "extra" to it and if you take a look at these pumps by Ollio you'll fall in love with the basic style and added ribbon design. The uniformity of the crimson suede will not only keep your outfit sleek but will also prevent any possible clashing of style and color.
These pumps have a rubber sole that grips the floor to keep you on your feet. The material used for the outsole also lasts a very long time and can withstand all kinds of abuse. Whether it's the way you walk (dragging feet) or deciding to avoid the sidewalk (wet, muddy grass) you can rest easy that the bottoms of your burgundy pumps will stand to the test of time.
Yes, using natural materials is popular for many reasons but manmade materials is a better choice. It's easier on the environment and lasts longer too, meaning less waste down the road. Manmade can also be recycled and repurposed into something else once you've worn them out so that the shoes don't end up in landfills. Another great plus for this model is the affordable price which makes it a good choice for anyone.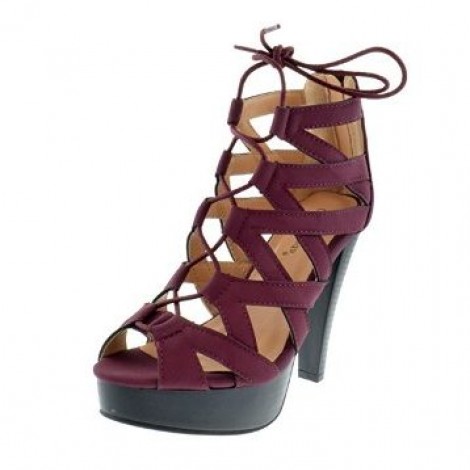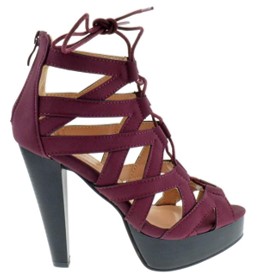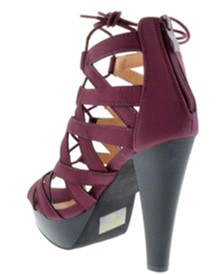 Gladiator sandals have been the fashion for several years now but sometimes you wish your pair had a bit of height to them. Well, now you can buy a pair that looks like gladiator sandals while being a pair of high heels. Even better that you can get them in crimson (although they are listed as "wine")! The front gives more foot room thanks to the adjustability but have some common sense and remember that they aren't a pair of sneakers!
These strappy pumps have a zipper on the rear to give that comfort fit and ease of wear. You can pull them on just as easily as you can take them off which is something we all can't wait to do at the end of a long day.
The platform used on this model isn't nearly as high as you would imagine it to be (it is still tall though) and pairs well with the high heel, giving a good balance between comfort and looks. Additionally, this is one of the cheapest models listed, which makes it a great investment for those on a budget, or those who are only purchasing for a single occasion.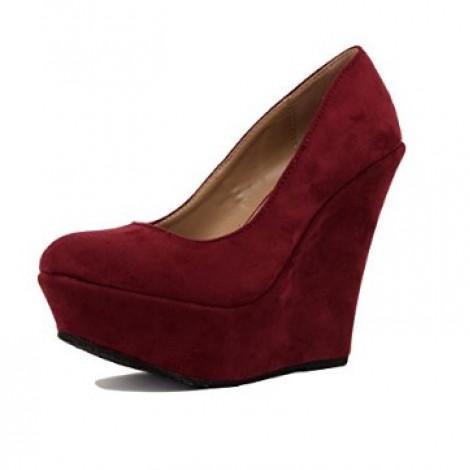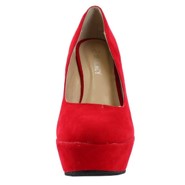 Wedge platform pumpsare great if you're not that into stilettos and prefer wedges. A gorgeous synthetic suede with a closed, round toe and lifted toe box gives you the unique style you've been hoping for. They look soft and plush without seeming cheaply made.
It's pretty safe to assume that there are people who absolutely hate pointed toe shoes. Especially those who have a little wider set toes. Delicacy made their Trendy heels with a rounded toe to cater to those customers, allowing them to enjoy the comfort and style.
This model is a vegan friendly one, meaning it uses materials that don't require any animals to be harmed in the production process. They're also quite durable, easy to maintain, and can be purchased at a great price point.

Subscribe to our Newsletter