10 Best Shoes To Wear With Leggings Reviewed & Rated
In a Hurry? Editors choice: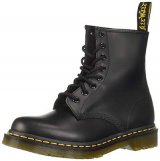 Test Winner: Dr. Martens 1460

Okay just admit it…There's
a pair of leggings
(or two) hiding somewhere in your closet! They have this miraculous way of looking good with anything you wear. What is it about them that's just so darn fascinating?! Perhaps it's how they enhance every curve or hug every contour… Maybe it's how they look good with practically any outfit? Whatever the reason, the world just can't seem to get enough!
We carefully researched the hottest kinds of shoes to match these slim-fitted pants and created a guide to the top ten. Keep reading for a detailed description of the ten
best shoes to wear with leggings
, as well as, a breakdown of the criteria used to evaluate each one. We've even included answers to some of the most frequently asked questions on the topic to bring you the most complete guide possible.
Standout Picks
Criteria Used for Evaluation
Style
High-Top: High top pairs are great to match with them because they sit higher on the ankle. Leggings are traditionally made with a skinny ankle fit which can enlarge the appearance of the foot if you're not careful. With a high top, it conceals the skinny ankle and diminishes the overall size of the foot for a more sleek look.
Ankle Boots: Ankle boots look good with just about anything, but are especially cute with a pair of skinnies. The skinny ankle can make your feet look too prominent but with an ankle boot covering that area, it makes your feet look smaller. It's best to opt for an ankle boot that sits higher than the top of the foot and is slightly above the ankle bone itself.
Knee High: Knee-high pairs look great with this style of pant because they really accentuate how tight they are to your thighs. This look is very reminiscent of an equestrian style and is super sexy.
Thigh High: Thigh highs are similar to the knee-high pairs but amp up the sexiness a notch, or two. Wearing thigh high boots with a pair will really give off a sultry vibe that's perfect for matching with a satin blouse or sleeveless shirt.
Pumps: High heels look great with them because it makes for a very sexy yet almost professional vibe. This look is chic and put together making it ideal for office ladies enjoying a day off who still want to look the part. Try matching a pair of stilettos with some black leg huggers and see how good it looks!
Sandals: Sandals look great with these form-fitting pants! Gladiator styles are especially hot! Flip-flops or thongs are the perfect low key pair to match perfectly with this style of pant and will look effortlessly chic.
Flats: Flats always look cool and sleek with this style of clothing. They're perfect for classy ladies who are looking for a day off from the office attire. This look is great for a semi-casual lunch meeting, or simply for an afternoon outing with friends or family.
Sneakers: We certainly can't leave out sneakers from the list of styles that look great with leggings! Sneakers offer the perfect athletic pairing and make for an effortless vibe that's perfect for outdoor activities, or just for hanging out with friends.
Materials
One of the first things you should look at before purchasing a pair of footwear is the type of materials used for construction. More than just determining the type of use the shoes will be appropriate for, the material can tell you a lot about what you can expect in terms of comfort, durability, maintenance, etc. There's a huge variety of materials used to manufacture shoes nowadays - from traditional natural materials, to newly developed synthetics and knits that have high-tech features that will help you feel better.
Leather: Traditionally used in all types of footwear, leather is always a good choice if you're after something that'll be durable and protective, and that will look professional and put-together on both casual and formal occasions.
Suede: Another form of leather, suede is a softer material that's easier to break in. However, it won't provide the same amount of protection as genuine full grain leather, and is less likely to keep you dry in wet conditions.
Canvas: A great material for casual and athletic footwear, canvas is lightweight and breathable, and allows a great deal of flexibility, which is why it's so popular among those who lead more active lifestyles.
Mesh: Most often found in running and athletic footwear, mesh can make up both the upper of your shoes, as well as the lining. It's the most breathable material you'll find, making it ideal for summer. It will also dry quickly should it get wet.
Rubber: Most often found in the outsole portion of footwear, rubber offers a great combination of flexibility and protection from slipping and impact.
Foam: Most likely to be found in athletic footwear, foam is popular because it absorbs shock, and can be a great source of support without creating excess weight.
Comfort
More than the looks, what determines a good pair of shoes to wear with leggings (or anything, really), is how it feels on your feet. Because everyone's foot shape and size is unique, it's best to keep in mind that what works for one person may be uncomfortable for another. Nonetheless, there are a few points which we all should consider before making a purchase.
Cushioning: One of the first things you should consider before shopping for athletic footwear is the shock absorption it provides. If you plan on walking, standing or running, you will want something that will protect your joints and muscles from impact. Whether you go with simple EVA foam, GEL inserts, memory foam or even tech such as Mizuno's Wave Plates, make sure you've got the right amount - too little cushioning can leave you with back or joint pain, but too much may cause fatigue as well.
Support: While this is most likely to be sought out by those with flat feet or high arches, people who don't have pronation issues can benefit from a properly supportive shoe. Arch support can prevent the overworking of the tendon at the bottom of your foot, while a deep heel cup can properly align your entire body, ensuring that your knees or hips don't have to do all the work.
Breathability: There's nothing worse than feeling like your feet are boiling while you're walking around during the summer months. The best possible footwear will provide the right amount of breathability, keeping you at a comfortable temperature, and allowing for moisture to move away from the foot (preventing smelly shoes). Even for winter footwear, breathability is important, as a healthy foot requires sufficient airflow in order to stay dry.
Flexibility: A pair of footwear that restricts your motion is not just uncomfortable to walk in, it can also cause health issues down the road. Still, models that are too flimsy aren't the right thing either. It is best to opt for something that's sturdy and protective, but still lets you walk with ease. Note that physical activity may require a higher or lower level of flexibility, depending on the sport you're partaking in.
Adjustability: Last but not least, shoes that don't allow you to tighten or loosen the fit to ensure a comfortable time wearing them aren't exactly the best option. Whether you plan on going with a classic lace-up, a slip on, or even a strappy mode, make sure there's a feature that will ensure a secure fit that won't fall off, but that won't cut off your circulation either.
Value
The price tag associated with a pair of footwear can often be the deciding factor when it comes to the question whether we're going to be taking them home at the end of the day. While everyone has a different budget, what's the same is that all of us want to get the most bang for our buck. For some this may mean the latest designer fashion that'll make them stand out, while for others, it's an affordable pair of shoes they can easily wear on a variety of occasions.
If you're looking for something that'll be worth the investment, here are a few simple rules to follow while shopping:
Use: Determine the type of use the pair of footwear was intended for. If you're after something that you can run in, it's better to opt for an athletic style that'll provide you with the protection you require. If you want something for work, go with something that will be both comfy and look professional.
Versatility: The best thing you can get out of any pair of shoes is versatility. Classic styles such as Oxfords can be dressed up or down and look appropriate in a variety of occasions. The same can't be said for flip flops or Crocs (no matter how comfy they are).
Durability: We will often be tempted by low prices, but it's always a good idea to consider how long an item will actually last. If you only get to wear them a few times before they fall apart, they don't really offer that much value.
Features
Tassels: Leg-huggers look great with footwear that has some flare to it. Accessories are a great way to distract from the size of your feet and to accentuate the gorgeous shape of your legs. This type of clothing is very form-fitting and has a miraculous way of making a woman look super-sexy. Tassels are a great addition to your shoe because they add a little motion to every step. As you stride, they stride with you, which draws even more attention to the lower half of your physique which looks, 'too hot to hold,' in those tight little pants. There are different lengths of tassels to choose from ranging from very short to quite long. There is also an option which isn't fully covered with tassels but simply have a tasseled accessory hanging from them. Keep in mind that longer ones will tend to make a 'swoosh' sound while you walk, which some people don't like. So consider opting for a mid-length, or a shorter length altogether.
Fur Trim: Furry winter boots are oh so cute! They also allow for tucking in of your leggings and totally make you look even hotter in them! Furry(faux only please) boots are one way to look more youthful and lively while wearing your leggings and add a little more bounce to every step. You have to try wearing them together to truly understand how rocking this combination is!
Gem Embellishments: Gemstones and rhinestones are another way to draw attention away from the structure of the foot itself and direct it towards the footwear. Gemstones add a new kind of shine and glisten to your shoes that looks radiant in any lighting and is a real statement-making feature. Glitter is also a great way to add some beauty to your shoes!
Top 10 Shoes to Wear With Leggings
1

. Thursday Boot Company Captain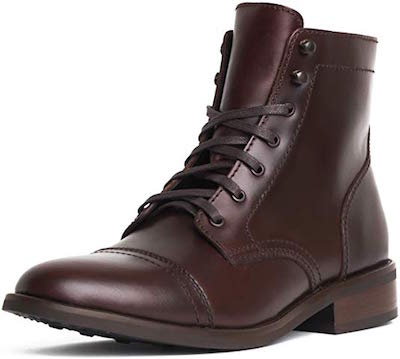 To be honest, this isn't a boot that's only good to wear with leggings - it's questionably the best boot you will ever own. Made by a reputable brand, the Captain is a classic style that goes with anything, from skinny jeans to leggings, to skirts and dresses, this will look just at place at the office, or during Sunday brunch with your friends. Available in a number of colors, as well as a leather and suede option, you can get the version that matches your wardrobe best, and enjoy a style you'll be wearing for years. Check out other details below about these shoes to wear with leggings.
Cushioned
The sole of this boot features shock absorbing cushioning that'll beat fatigue even when you're standing or walking for several hours. It also features an antimicrobial insole that won't develop odors, making these the perfect fall boots.
Genuine Leather
The upper of the Captain is made with Chrome Leather, while the inside is lined with full glove interior lining, allowing you to get the perfect fit after just a short break in period. Being made with natural materials, this model will also allow a good amount of airflow to the feet.
Cost and Value
Though slightly higher in price than the average boot, this model is a great investment for those who want something that both looks stylish and is comfortable for daily wear. It's quite easy to keep clean, and has been handcrafted, so you can rest assured you're getting a premium product.

2

. Timberland Earthkeepers Glancy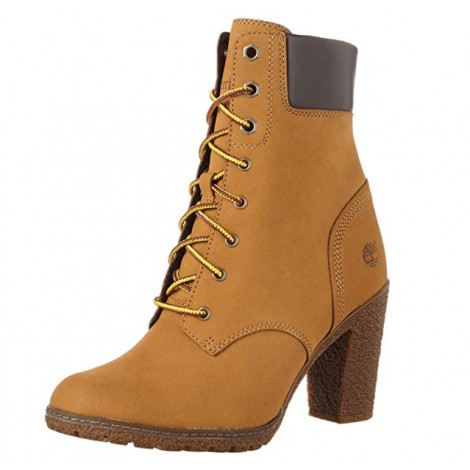 Timberlands Glancy is a gorgeous pair of shoes to wear with leggings. They offer a full-grain leather upper and a lightweight synthetic outsole for complete, whole-foot comfort. It's six-inch shaft and padded collar make for an enjoyable ride that will keep you coming back for more. A chunky three-inch heel adds some serious lift while still allowing for a natural stride. These boots are perfect to wear with stretch pants and are sure to fast become your favorite go-to pair.
Textured Rubber Heel
Timberlands' Glancy features a textured rubber heel and sole that is extra durable and can withstand tough wear and tear. The rubber is made from 15% recycled material for an eco-friendly option. It's 5.5-inch shaft and three-inch heel height are comfortable for walking in and make these a great pair of boots for any season.
OrthoLite Footbed
An OrthoLite footbed offers the ideal amount of cushioned support for a comfortable all day experience. Ortholite provides an ideal level of cushion that's supple enough to protect the delicate underside of the foot while still offering a firm structure that supports and cradles the arch of the foot. Wearing a pair with inadequate support puts you at risk of arch collapse and other painful conditions which is why proper supportive footwear is so important.
Cost and Value
These boots Are a bit more costly than some of the options on the list but they're certainly a worthwhile investment. Their oh-so-stylish design and comforting structure are perfect for busy ladies on the go who want to look their best while they're on the move. You'll enjoy matching these with your go-to pair of legwear and will look super-hot doing so.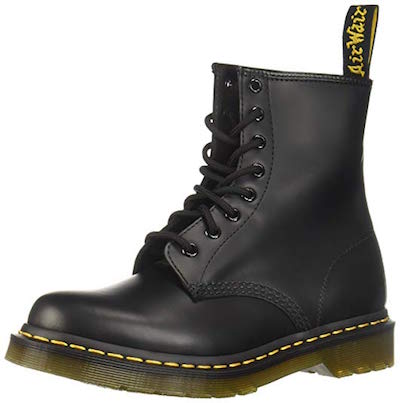 The iconic book that was originally designed for workers who needed heavyweight, protective footwear that would be comfortable enough for all day wear, and durable so that it would provide good value has become a staple in almost anyone's closet. Not only is it popular in mainstream fashion, it's been appropriated by a number of subcultures, and has come to be available in such a huge variety of color options that you can safely pair it with anything, and look amazing and unique.
Outsole
The best part of the 1460 is the air cushioned rubber outsole that's oil, slip and abrasion resistant, and has that iconic yellow color that'll definitely draw attention to your footwear - in a good way. Made with a Goodyear welt, it'll keep its integrity through the years and even protect you from rain.
Upper
As mentioned, the 1460 comes in a variety of uppers, so you really can choose the perfect version (or versions) for yourself. From black leather, to vegan materials, to glittery textile and flowery prints - anything's an option with these boots.
Cost and Value
This is probably the best investment out of all of the models on this list. While the price is slightly higher than average, this is a product that'll serve you for years, while taking care of it should be relatively easy. Furthermore, it'll protect you from slips and falls, and shouldn't soak through in rainy conditions, which are great features for all year wear.

4

. Converse All Star High Top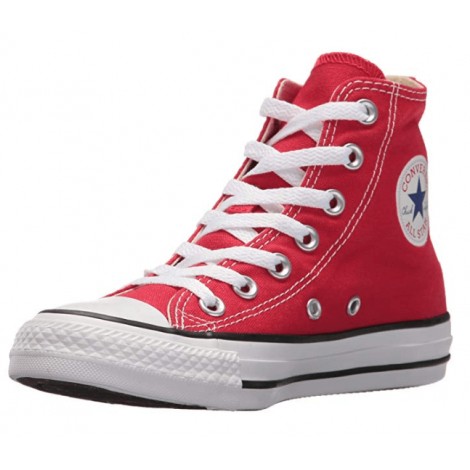 The Chuck Taylor All Star from Converse high top sneaker that's as Ledic by Design. It features a breathable canvas upper unit and metal eyelet lacing system for a secure and stay-put wear. This pair has been a favorite among wearers for decades and with good reason! Anyone searching for a low-key and casual option to match with their form-fitting legwear will absolutely love these comfortable kicks!
Unisex
These sneakers are made for everyone to enjoy! They are unisex by design which means guys and gals can share in the love. These athletic Converse sneakers are super-cute and look great with a skinny ankle pair of pants thanks to their high-top structure that distracts from the size of the foot and looks sporty and laid-back.
Breathable
This pair of footwear is made for comfort and features a breathable canvas upper unit that allows for adequate airflow around the foot. When you're feet don't have proper airflow they sweat excessively which leads to a build-up of odor-causing bacteria. This is why having a pair that keeps you cool and dry is so important.
Cost and Value
These shoes to wear with leggings cost a little more than some on the list, but they're certainly worth it! Converse has been a trusted name in fashion footwear for decades and delivers quality options time after time. Go ahead and let your athletic side run wild while wearing these comforting and performance-geared kicks.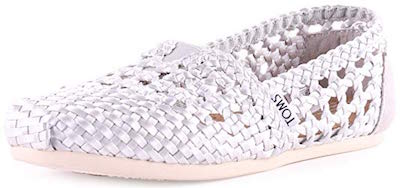 The go to shoe for millions of people, the Classic by TOMS is a slip on that feels like a slipper but provides all the benefits of athletic footwear. Having become famous in the past decade, this is one of those styles that comes in a huge variety of colors and prints, from down-to-Earth navy or black, to fun prints inspired by Disney, to lacy designs that are pretty enough to wear as your wedding shoes.
Perfect Fit
When you first purchase a pair of TOMS, you'll notice that they fit a bit snug, but that will quickly change. Made from canvas, these shoes will mold perfectly to the shape of your foot, allowing easy on and off through the elastic gore at the top. They're the perfect shoe to put on while you're in a hurry.
Lightweight
Being made with canvas and a sole that is a compound of rubber and EVA foam, the TOMS Classics is an incredibly lightweight pair of footwear you can easily pack for a trip abroad. It's also suitable for long walks, not just because it's cushioned, but also because it won't weigh you down or cause fatigue.
Cost and Value
With a price that's average, this is the perfect shoe for almost all budgets. You get a number of style options, and can even forego the suede insole for a vegan version in case that's something you're concerned with. Do note, however, that this is mainly a summer shoe and won't work well in wet conditions.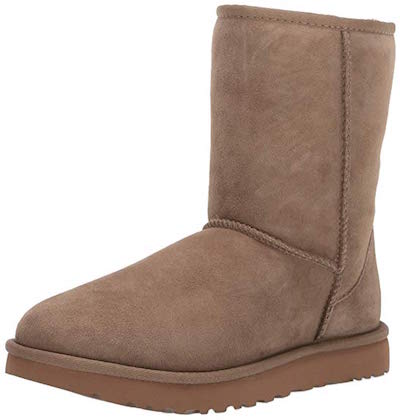 There's hardly a pair of footwear more comfortable than UGGs. Whether you wear them around the house, to school, on casual outings or while running errands, you've probably fallen head over heels with them thanks to the soft materials, perfectly cut upper and warm wool lining. Add to that the 8 different color options, and you've got a winner style for a no fuss look.
Improved Upper
The twinface sheepskin and suede upper received an update with the second version of this boot, and can now repel water and stains, making these easier to take care of, and able to stay looking brand new for longer.
Insulation
These are ideal in cold weather, but won't have you overheating in spring or fall either - the natural wool used is a breathable material that lets moisture escape while keeping you at a comfortable temperature throughout the year.
Cost and Value
UGGs cost a pretty penny, but considering the materials used, the fact that they're incredibly comfy and cushioned, as well as the fact that they've become a style staple makes them a great choice of casual footwear. Add to this the fact that they come in a variety of colors, and you've got yourself the perfect pair of boots to put on while you're on the way to the yoga studio.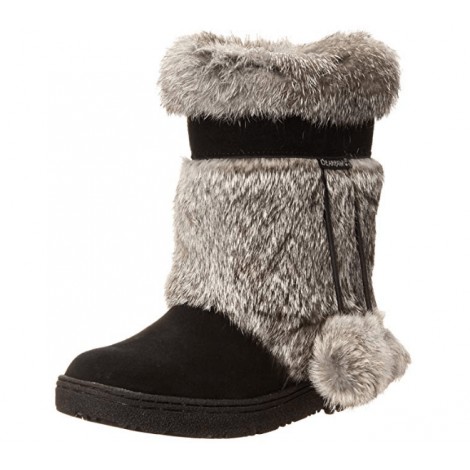 This comforting pair is lined with Sheepskin for an extra warm experience! Their gorgeous and fluffy exterior is the perfect match for leg-hugging clothes and is sure to demand attention when you walk past. The Tama has a nine-inch shaft that extends up the calf for a snug and stylish design that's ideal for those chilly Fall and Winter nights.
Sheepskin Lining
Sheepskin is incredibly soft against your skin and provides an extremely comforting environment for your feet. Snow and freezing air will be no match for these winter-ready boots that look as good as they feel. This pair was made to wear with legwear and offers the most awe-inspiring style.
Suede Banded Trim
The Tama features suede banded trim that helps this pair stay perfectly in place all throughout the day. It boasts cord ties that allow for an adjustable wear and super-cute pompom accents! These fluffy pom poms bounce with every step for an unbeatable and original style.
Cost and Value
While they cost a bit more than most of the pairs on this list, they're certainly worth it! This boot is the ideal choice for fall and winter, while there's no pair that would look better with skin-tight legwear!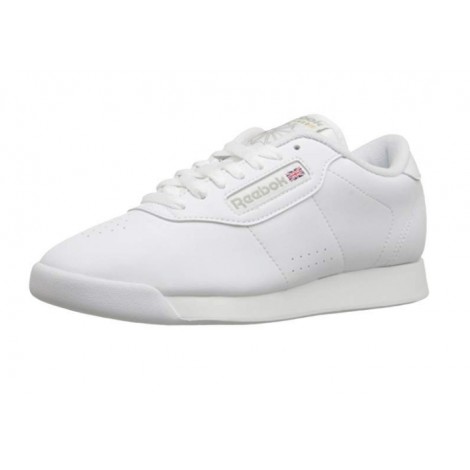 This super cute and classic sneaker is the perfect pair to match with your favorite leggings. It's made from synthetic leather and features a non-slip rubber outsole to keep you steady on your feet. The Princess has a die-cut EVA insole and padded foam sockliner for a completely comfortable wear. Its lace-up design allows for a secure fit, while perforated accents and a side inset logo make this a totally stylish option.
Lightweight Cushioning
The Reebok Princess boasts a super lightweight insole that keeps you walking comfortably for hours on end. Its padded foam sockliner provides an additional layer of padding for superior comfort, while the sockliner also works to absorb excess moisture. This prevents a buildup of sweat and odor-causing bacteria to keep your feet cool and dry for an enjoyable wear.
Rubber Outsole
This pair features a high abrasion rubber outsole that's perfect for walking on any surface. No matter if the weather outside is wet and slippery you'll be secure on your feet thanks to this solid shoe that's made to help you maneuver with ease.
Cost and Value
These Reeboks are very affordable and offer great value for their price. Anyone who's looking for a super cute sneaker to match with their favorite skin-hugging pants will enjoy the Princesses design. Walk in style and total comfort thanks to this classic and all-inspiring Reebok shoe.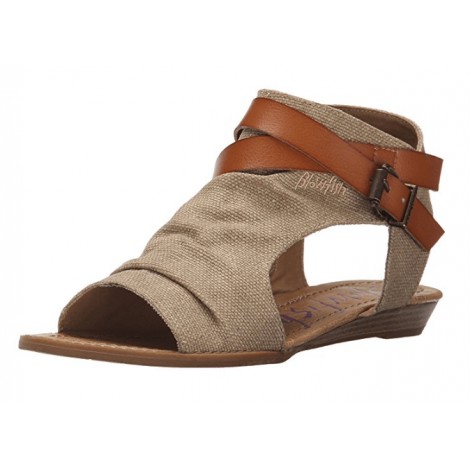 This pair of wedge sandals is super cute and will look great with a pair of leggings. It's available in over twenty color variations so you'll have no problem matching them with your favorite outfits. They feature a cute gladiator-styled design and open upper concept to keep you cool and comfortable during the warmer weather. An adjustable buckle closure ensures this sandal stays securely in place for non-slip wear even after hours spent on the move.
Security
This sandal offers criss-cross faux leather straps and an adjustable buckle closure for a secure and customized fit. Its side zipper allows for easy on-off wear and makes for a no-fuss design. These sandals are designed with a non-slip outsole and soft fabric insole that feels great against your skin.
Appearance
This pair of Blowfish sandals have a stacked wedge heel that's less than two-inches high so it still allows for easy walking. Its open toe design is very cute and lets you show off your sparkling new pedicure. You'll enjoy the sheer versatility that this pair offers and the multitude of colors there are to choose from.
Cost and Value
These summer sandals are very reasonably priced and are the perfect accessory for any pair of legwear. Go ahead and roam wherever you choose thanks to its comforting footbed and airy upper design that will ensure your feet feel great all day long.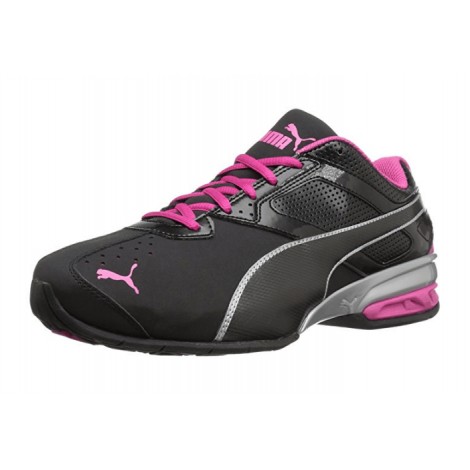 The Tazon 6 is a streamlined pair of athletic sneakers that is the perfect match for those skintight leggings! It features a gorgeous synthetic leather upper and non-slip rubber outsole for secure footing on any surface. This stylish pair sports the Puma logo on the tongue as well as along the toes and has statement tonal laces that offset its solid backdrop.
EcoOrthoLite Sockliner
This sockliner provides the ideal mix of comfort and performance enhancement! It 's an environmentally friendly and bio-based technology that's also a renewable resource. EcoOrthoLite products naturally provide the perfect level of cushion and support to the delicate underside of the foot, while wicking excess moisture away from the skin.
Midfoot Saddle
This pair of footwear offers a TPU stability shank that helps to cradle and support the delicate underside of the foot. Its mid-foot saddle offers the most comforting wear imaginable while also providing the perfect fit. It's EVA heel counter absorbs the waves of shock which travel through the foot and up the leg with every step you take.
Cost and Value
These shoes offer an incredible value and are jam-packed with top-of-the-line features. They're designed for a completely comfortable wear that's perfect for those who are on the go from dawn until dusk. Best of all, these sneakers present the ultimate in stylish appearances and will look great with a sleek pair of pants.

Subscribe to our Newsletter