Best Studded Ankle Boots Reviewed & Rated
In a Hurry? Editors choice: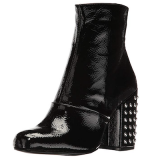 Test Winner: Steve Madden Galley

With the emergence of punk culture during the 1970s, a new era of studded clothing and footwear was born. Studs were first seen centuries ago and were even used by Samurai, Celts, and
Roman
soldiers as a way of adorning their armor before going into battle. Today, studs come in a wide variety of colors, shapes, and styles, ranging from miniature metallic polka dots all the way through to stainless steel cones. Used to adorn clothing, footwear, handbags, cell phone cases, wallets, and even fingernails, it seems only too fitting that the ever popular ankle boot would be included in the stud trend.
Standout Picks
Criteria Used for Evaluation
Style
Ankle boots come in several different styles with each offering its own unique benefits, as well as, disadvantages in comparison with one another. The most commonly seen variations of ankle boots are:
Wedge: Wedge heels are thick and have no gap between the platform and the heel itself. These types of ankle boots are usually higher in height than the kitten but are also easy to walk because of their sturdy design.
Kitten Heel: Kitten heel ankle boots usually have a thin heel that's two-inches or less in height. Despite the Kittens thin heel, they're still quite well-balanced due to their low profile which is a benefit of this style.
Block Heel: A chunky, or block heel is a thicker heel that is usually one-inch or more in height. Chunky heels are the easiest to walk in thanks to the added layer of security the wider tip of the heel provides.
Open Toe: Open toed ankle boots hold the same desirable style as traditional booties but leave an open window at the tip of the toe, allowing for a visual of your toenails. This is a great option for those who love showing off their gorgeous toe polish and are an ideal choice for warmer weather.
Flat: Flat footwear is always the most comfortable choice and is the most practical for daily wear. Flat boots have no heel or platform but do have a thin outsole to protect the underside of the foot. This type of boot is best for walking, dancing, or any other form of physical activity and is the safest choice by far.
Another consideration when it comes to the style of an ankle boot is the height of the shaft. An ankle boot can range from sitting right along the foot line all the way up to the mid-calf. Generally, ankle boots are broken into three categories of height low, medium, and high. Low ankle boots skin along the top of the foot or along the ankle bone and medium ones sit just above it. High ankle boots rise up the calf to roughly the mid-way point but never past it.
Features
The type of closure system any pair of shoes has makes a big difference in how well the shoe fits and its overall comfort. If a shoe isn't properly secured to your foot it won't fit well and can flop up and down, or can be too tight which causes all sorts of problems. Loose fitting shoes are often the cause of blisters because of the friction from the shoe flopping and rubbing against the same area for long periods of time, while tight shoes can cut-off circulation and cause your feet to become swollen and painful. The right type of closure system will allow the wearer room for adjustment to meet their own personal needs which will prevent future discomfort. Some of the most commonly used closure systems are:
Buckles/Straps: Buckles are a fashionable and super-cute form of closure that also offers a good level of adjustability. Buckles typically attach to a single, or occasionally, double strap and can be tightened at varying levels by poking a small bar through pre-notched holes along the strap. The downside to this type of closure is that a buckle will come loose every now and then which puts you at risk of injury. Another type of strap that provides a secure and customized fit is a hook-and-loop with the most well-known hook-and-loop closure being Velcro.
Zippers: While zipper closures are usually quite secure the problem lies with how little customization they offer. The fit a zipper offers is only based on the way the shoe was tailored and however wide, or narrow, the manufacturer designed the neck of the boot. A zipper works by sliding along tiny teeth that run the length of the zippers track and have little room for flexibility.
Laces: Traditional lace closure systems are one of the best styles for a secure fit that you can adjust to best suit your own foot. Laces can be tightened to the desired level and then tied to securely hold your shoe in place. The only downside to traditional shoelaces is the chance of them untying that could potentially pose a risk of tripping and falling which is why double-knotting is a good idea.
Comfort
Wearing a pair of studded ankle boots that are comfortable is paramount to preventing foot and leg pain, as well as, problems with your arch. In order for a boot to provide adequate comfort, there are vital elements which must be present, including a supportive footbed, moisture-wicking materials, proper airflow, and a cushioned insole that absorbs the waves of shock that travel through the feet and up the legs with every step. Having a shoe with these properties will lessen any discomfort associated with walking or standing for a long period of time. The shoes on this list were chosen, in part, for their comfort enhancing benefits.
Brand
When we think about some of the hottest and most luxurious brands in the fashion industry, ones like Prada, Gucci, Louis Vuitton, and Jimmy Choo might come to mind. A product is a promise made, but a brand is a promise kept; generation after generation. A brand and its label are a statement of quality, craftsmanship, and service found in each of its products.
When assessing the products on our list for "brand," we took into account the quality of its products, its attention to detail and style, its reputation within the fashion industry, its commitment to customer service and its perceived luxuriousness and exclusiveness, to create an overall score for brand equity. Brand equity can loosely be defined as the pricing power a brand has in the marketplace due to each of the aforementioned factors.
So, while a product that scores high on this list may be gorgeous and exclusive, you can also bet it will much pricier, as well. After all, if everyone could afford it, it wouldn't be exclusive or luxurious, would it? Be prepared to look amazing, but feel the pain at the bank, if a product scores high on this metric!
Breathability
A shoe that breathes is critical to providing the wearer a comfortable and healthy experience when sporting a pair of shoes, sandals or boots. A lack of breathability will create a wet and humid foot, leading to discomfort and possible fungal or bacterial infections that are painful and difficult to cure.
How does a manufacturer ensure their product will allow maximum airflow? There are several ways to achieve this, including using special fabrics in the upper of the product, lining the midsole with moisture-wicking technologies and finally, the good old use of perforations of holes throughout the product.
If a product scores high on this metric, the buyer can rest assured that the manufacturer has used some or all of the above techniques to ensure the wearer a comfortable and dry wearing experience.
10 Bst Studded Ankle Boots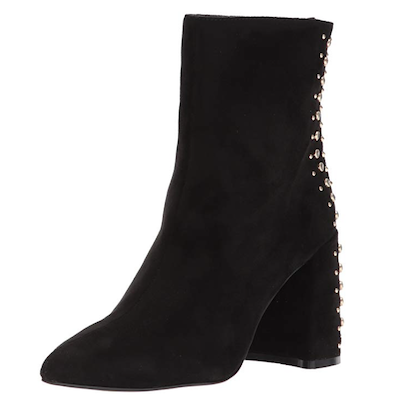 The Kensie Tadyn is the perfect pairing of untamed sophistication thanks to its metallic detailing and studded heel. An all-around sleek pair of ankle boots, the Tadyns' pointed-toe and 3.5-inch heel make for a stunning look, while its breathable and lightweight materials will keep you walking comfortably for hours on end.
The Tadyn is made with man-made upper and outsole materials that are lightweight and allow air to flow freely around the foot preventing sweat and odors from occurring. Its rubber non-slip outsole lets you walk with ease and a chunky heel allows for a worry-free and stable stride.
An almond-toe and back zipper bring these boots to a sleek finish, while studded heel embellishments add an edgy feel to these gorgeous booties. The Tadyn has a 3.5-inch block heel that allows for natural movement and a smooth finish for a professional appearance. These stunning studded ankle boots are an unbelievable deal. They're well-made and fashion-forward while providing a comfortable and multi-purpose wear, making these shoes a solid investment for stylish ladies on the go.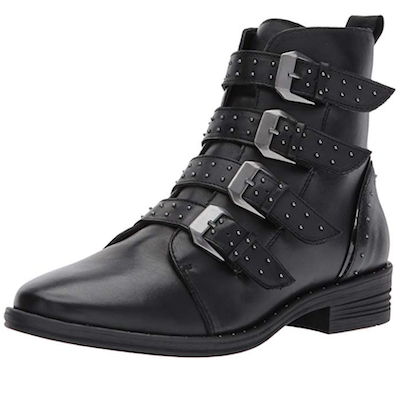 The Pursue by Steve Madden is an updated twist on the moto style of footwear and adds an edgy vibe to the booties demur. Feel empowered while wearing these four-buckle riding-inspired ankle boots and feel free to follow the road wherever it should lead you.
The Pursue has a water-resistant leather upper and an anti-slip man-made rubber outsole so you can walk with a sure foot and forget about accidental slips or falls. Their rounded toe and side-zipper closure allow for a natural and comfy foot feel so your feet will stay securely in place all throughout the day.
The Pursue boasts four studded straps with buckle attributes across the shaft and even more studs that run along the welt. A low half-inch platform adds a slight lift while still maintaining versatility and ease of wear so you can ride the way you born to without restrictive footwear to slow you down. These Steve Madden moto-inspired boots are very reasonably priced and offer a quality pair of footwear that is made to outlast the rest. A leather upper and man-made non-slip outsole is the perfect materials to keep you comfortable and secure while on the go and provide good value for your money.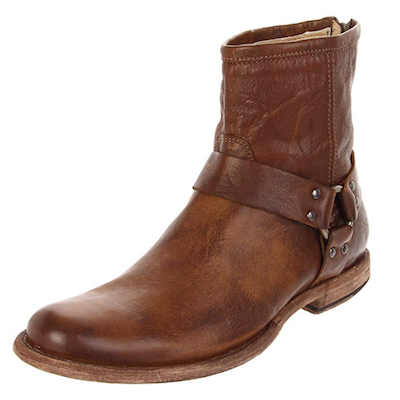 The Phillip by Frye is a high-quality pair of ankle boots that are as refined as they are edgy and are crafted from Italian leather for a gorgeous finish. These high-class boots will have you walking in elegance and are sure to be the envy of many, look and feel your best in a pair of Frye's Phillip ankle boots.
The Phillip is made from Italian leather and features antique-style metal hardware. Its leather-lined footbed is ultra-comfortable and wicks moisture away from the foot preventing sweat and odors. The Phillip has a low one-inch heel for easy walking and a leather outsole that's water-resistant and non-slip for a secure underfoot feel.
These Frye ankle boots have an equestrian harness that's embellished with studded accents and a riveted strap. Their back-closure zipper is sleek and minimalistic, while their sleek silhouette adds an allure of mystery to these high-class studded ankle boots. The Phillip is one of the more costly boots to make this list but its unparalleled construction and highest-quality materials set this boot a step above the rest. Walk in total elegance while wearing a pair of Frye Phillip boot.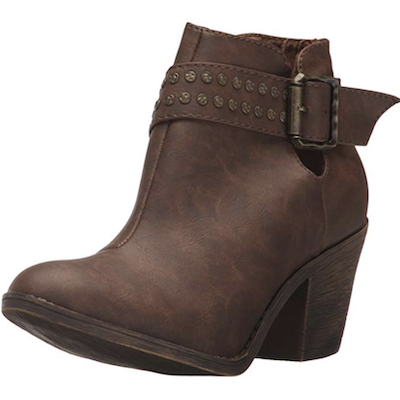 The Blowfish Super is a low-rise ankle boot that's perfect for casual nights out or for walking the fashion strip in style. These fresh and modern shoes are as comfy as they are trend-setting and you're sure to fall in love with them after the very first wear.
The Blowfish Super is made from man-made materials that are lightweight and airy so your feet will stay cool and dry even in warmer weather. Their synthetic outsole is non-slip for a secure wear and their low-rise shaft measures only 5-inches from the arch. The Blowfish Super is open at the side for a unique appearance and features an edgy studded strap that meets with a buckle closure for the perfect fit. A chunky heel and an almond toe make these a versatile pair of shoes that will look perfect with a pair of jeans or underneath your favorite slacks.
A budget-friendly pair of booties, the Blowfish Super is surprisingly low-cost. These are a great value for your money and offer an original design and comfortable wear that will make you glad that you purchased a pair (or two).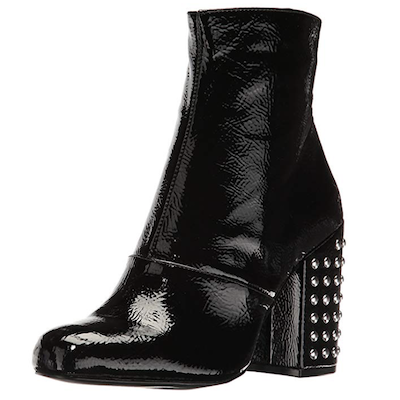 The Steve Madden Galley Boot is for the rebel at heart and offers an amped-up take on the traditional faux-leather rocker boot. These slim shaped studded ankle boots have a chunky heel for an easy wear and studded accents along the rear side for a seriously glammed-up backside view.
A side zipper closure keeps the Galley right where it should be and prevents the shaft from slouching inwards. Its synthetic upper unit, lining, and outsole make for a water-resistant and long-lasting pair of boots, while a medium-sized 3.5-inch heel adds the lift you're looking for.
Look like a rocker girl in these bad-to-the-bone faux leather booties that have silver studs and a sleek physique. The Galleys' 4.5-inch shaft offsets the 3.5-inch heel creating a devilish design that women everywhere are dying to get their hands on. While costing a little more than most other options on the list, the Galley doesn't feel like your average pair of low-priced ankle boots. Made durable to outlast the rest, while also providing a comfortable and in-style look, these boots are well-suited for women from all walks of life.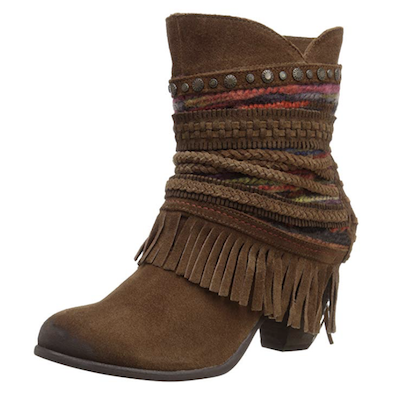 The Poncho by Naughty Monkey is the perfect ankle boot for casual occasions. Its laid-back vibe and slip-on style make the Poncho a relaxed yet stylish choice of footwear that can easily be paired with almost any outfit. Try wearing these with a pair of light wash skinny jeans or a flowing skirt for a super-cute and no-fuss look.
The Poncho is made with a synthetic leather upper unit and a man-made anti-slip rubber outsole for a secure walking experience. It is a medium-width slip-on boot that has a low 2.5-inch heel that's chunky for more stability. These boots are inspired by the Poncho, a classic Navaho clothing item which has gained popularity in the mainstream fashion world more recently. The Poncho has unique studs that run along the collar and a fringe skirt that hangs over the heel.
Naughty Monkeys' Poncho does cost a bit more than several of the other boots featured but is well worth it. These boots deliver a unique style and casual comfort that's one-of-a-kind and is an invaluable piece of footwear.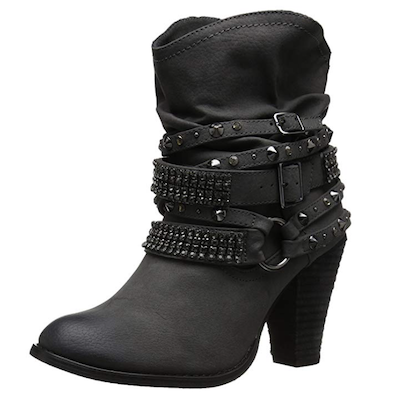 The Not Rated Swanky Boot is a powerful pair of footwear that is sure to leave a lasting impression. These super-chic pull-on boots are available in three colors: grey, creme, and black, so you won't have trouble matching them with any outfit. Perfect for nights out on the town or for casual everyday wear with an edge, these are a versatile and bold pair of ankle boots.
The Swanky boasts a man-man upper that's breathable and lightweight, along with a stacked heel that makes it easy to stride naturally thanks to its wider design. A synthetic footbed provides additional support and cushioning while allowing for adequate airflow to help prevent sweating and odors.
The Swanky is one edgy pair of ankle boots that have a stacked heel and decorative straps with studded embellishments. Featuring a medium-height 3.5-inch heel and weighing only one-pound, these boots will carry you wherever you need to goThe Not Rated Swanky Boot is a reasonably priced pair of ankle boots that are a fashionable investment. Their modern and slouchy pull-on design makes for an easy wear while studded embellishments add an allure of danger which is why these boots are a must-have.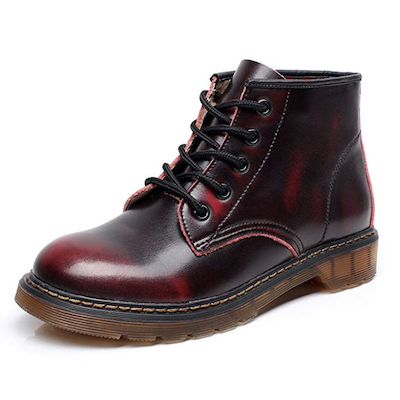 The Shenn Punk Military Boots is a versatile all-terrain ankle boot that includes skull stitching at the back and silver studs along the collar. These boots are as bad as they are good and will keep you comfortable for hours at a time.
Made with vegan split-leather, the Shenn Punk Military is a combat styled boot that boasts a slip-resistant rubber outsole for easy wear on any terrain. They feature a traditional lace closure system for a customized fit every time, along with durable construction that will keep them in top-shape even with heavy wear.
A rugged combat styled boot, the Shenn Military Punk is an edgy and utilitarian pair of studded ankle boots that won't let you down when the going gets tough. Icy sidewalks and slippery floors are no match for the Military Punks non-slip outsole that offsets rear skull embroidered stitching. These Shenns' come at an affordable price and deliver a solid mix of style and functionality. Walking or working on tough terrains is no match for the Military Punks' efficient non-slip rubber outsole and water-resistant upper.



The TRENDSup Mid Heel is an elegant and on-pointe pair of booties that will have you walking in style no matter the occasion. It's an easy-wearing pair of footwear that allows for a natural foot feel and agile stride despite a 3.5-inch heel height. A zip closure system and statement stud detailing makes these boots a must-have pair of footwear.
The zip closure system allows for a customized fit every time, while a non-slip rubber outsole protects you from any accidental slips or falls and is resistant to abrasions. The upper unit is made from synthetic materials that allow for proper airflow to the foot preventing a build-up of odor-causing bacteria from having sweaty feet.
These are one good-looking pair of studded ankle boots! They have a 3.5-inch heel and a shaft which measures 4.7-inches from the arch. Statement studded accents add an alluring vibe while their simple yet original design makes these booties irresistible.

10

. Minnetonka Double Fringe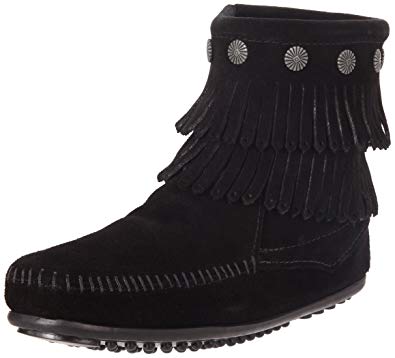 The Minnteonka Double Fringe Moccasin offers a different spin on the traditional and is a down-to-earth pair of studded ankle boots. These booties will look good with almost anything but pair particularly well will blue jeans or an above-the-knee-skirt. The Fringe comes in five colors: black, tan, grey, fuchsia, and coffee, which means there's a pair to match with any outfit.
The Fringe is made with a 100% leather upper and features a cute studded collar. Its relaxed design and low-rise structure is ultra-casual and provides a pleasant wear. A side-zipper closure system adds an extra level of security so you won't have to worry about your booties sliding down or flopping on your feet.
These Western-inspired fringe boots are a cute pair of versatile footwear. The collar boasts four unique studs which sit atop a fringe skirt that moves with you as you stride. The Fringe has a rounded toe that gives the illusion of smaller feet and keeps you looking dainty and oh-so-cute.

Subscribe to our Newsletter