Best Yellow Shoes Reviewed & Rated
In a Hurry? Editors choice: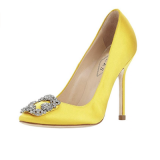 Test Winner: EKS Satin Pumps

When it comes to
yellow shoes
, there are plenty to choose from. The color manages to stand out in a crowd and let others know much about the wearer's personality. When people see that someone was bold enough to wear yellow shoes, it tells them that you're a confident individual who's not afraid to stand out in a crowd. It's a color that naturally makes others smile and, like the sun, it just warms you up! When the shoes say "yellow," it becomes a simple task for an
individual to be read
; which isn't always a bad thing.
Standout Picks
Criteria Used for Evaluation
Style
For many, the style or cut of the shoe is what can make or break it's designed. From the versatility to price ratio to the overall fashionability of the shoe's design, it completely matters. On that same token, for each model of shoe, it differs. For flats, the price to versatility ratio may be a bit different simply because the shoe itself is one that is usually incredibly inexpensive and will provide wearers with what they'd need to be considered a fashionable easily be considered a fashionable individual. Read below for an understanding of the price to versatility ratio as well as for the different shoes that make up this list.
Flats
Flats are a pretty straightforward type of shoe. For many, they can be considered a go-to choice and for a good reason. They have an incredibly simple method of entry as well as of removal. They typically come in base colors, which also makes pairing them with other clothing items an easy task. With that, their price to versatility ratio is relatively high, seeing as they are inexpensive and can be worn with almost anything.
Lifestyle shoes
A few of the shoes on this list, such as the Yeezy, are what people consider to be lifestyle shoe models. They have an incredibly high level of cushioning as well as a versatility that goes through the roof. They are made to provide wearer's with the utmost level of comfort as well as ensure that they are in a state of constant stylishness. They can also be used for various sports if you don't mind damaging a pair of expensive shoes!
Heels
The thing about heels is that they can make a classy addition to any person's wardrobe. They can be worn to office events as well as with a pair of jeans. On top of that, they typically are found for a price that is well below that of most other shoe types.
Running shoes
Running shoes come in a variety of shapes and sizes. They come with inherent features that make them extremely comfortable for anyone who wears them. The look of a running shoe is one that makes them incredibly versatile and imbues them with usability in a variety of situations. They can be worn by those who just want something to walk in or for a very specific athletic reason, it depends.
Breathability
One of the biggest complaints that individuals give about their shoes is the lack of air circulation that they provide; this complaint is completely well-founded. Many shoes do not have the material designs that allow them to be worn in various environments (and to regulate the temperature of the foot while in those environments) The material that a shoe upper is designed from tells an individual a lot about the ventilation that the shoe's design has.
Leather
Leather is a material that is known for a being a bit "thicker" than many others. Shoes with an upper designed from this material typically result in a foot that is drenched in sweat after a long day of work or activity. This is because of the dense nature of the material and the lack of perforations that a shoe typically has.
Mesh
Mesh is a material that will constantly provide wearers with constant airflow. It is of the sewn variety and so, has various perforations throughout which allow air to consistently flow throughout its design. On that same token, although the shoe may have a high level of perforations, the airflow may be compromised due to excess cushioning being a part of a shoe's design.
Canvas
Canvas is just one of those materials that will constantly provide individuals with air flow. Shoes designed from canvas are typically a bit thinner than that which is average and manage to provide wearer's with ample airflow during their use.
Materials
No one likes to purchase a shoe and then see that it isn't fit to take a step outside in. The materials that make up a shoe's design as well as the care that went into its creation play a huge role in the level of quality that the shoe itself will have.
Materials
As mentioned, the materials that make up the design of a shoe directly influence the level of quality that one will experience with its purchase. That isn't to say that all "Premium" material shoes will last for a decent length of time either. Rather, that shoes with quality tend to be made from materials that are known for imbuing wearers with ample wear-time.
Stitching
The stitching of a shoe has a direct effect on the length of time that a shoe will probably be worn. For instance, shoes with loose stitching tend to be less durable and as a result, manage to fall apart much faster than quality stitched shoes do.
Comfort
No matter what kind of shoe that one has on their feet, the level of comfort that it delivers to the wearer is extremely important. It dictates how long one will be able to wear the shoe as well as in what capacity that the shoe will be worn in. The shoes on this list each have their own characteristics that make them as comfortable as possible for their individual wearers.
Support
A shoe with ample support is a shoe that will be worn for excessive lengths of time. The way that the foam in the midsole conforms to the curves of the foot, as well as the upper, secures the ankles dictates how long a shoe will be worn.
Padding
If you've ever worn a shoe without cushioning, you'll know that it is somewhat nightmarish. The padding in a shoe upper keeps the wearer from completely feeling the activity that they are partaking in on a given day. It can also be the difference between a blister and a perfectly healthy foot.
Midsole cushioning
The midsole, for many, is the most important factor when choosing a shoe. The way that the material conforms to the wearer's foot. The level of energy return that the shoe manages to give the wearer while the shoe is in use; all of these things play an incredibly important part in how a shoe will feel when on foot and in the shoe purchase.
Fit
We all know how hard it can be sometimes to find the perfect pair of shoes that we not only love, but that also fit snugly and comfortably. With so many styles, brands, colors and models, how can one compare hundreds of supposed "size 10s"?
To assess for trueness-to-size, we considered the opinions of thousands of wearers from across the globe to find out the answer to the ultimate question: do these 10s fit like a 10? While some things can give you a hint as to whether they will fit true, small or large; like brand name, shoe type and year of make; we believe that the opinion of buyers cannot be wrong. If they say the shoe doesn't fit the way it's supposed to, then you won't find it in our 10-best list.
You will find that a pair of shoes or boots or sandals that score high on this metric tend to experience a trueness-to-size that was verified by our large community of sampled buyers. Just don't forget to take into account the factors above to also make sure your favorite pair will fit you perfectly.
10 Best Yellow Shoes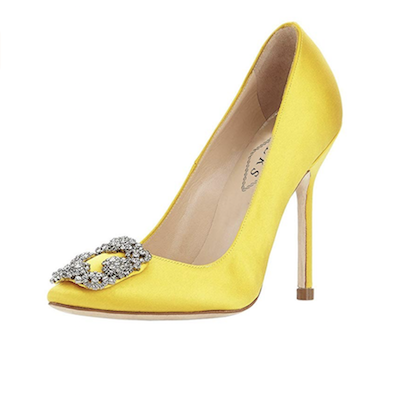 Another wonderful addition to this list is the Satin pumps by EKS. These shoes have that style that will automatically enhance the look of anyone's wardrobe. The synthetic diamond rose that is featured on the toe area of these shoes make them stand out from the crowd. They also have an elongated heel (obviously, right) that makes the look of these shoes something that all will be forced to pay attention to as soon as a step is taken outside.
The forefoot on this shoe holds a decoration that is actually quite unique, in its own way. The flower decoration that is featured on the toe of this shoe is designed from synthetic diamonds but shine much like a genuine diamond would. The addition of this feature into the shoe's design makes this shoe stand out at every event that it's worn at. In a way, the diamond on the toe box compliments the naturally bright colors that the shoe is already designed in.
Every single thing about this shoe says fashion, including the heel-length. The heel of this shoe measures in at approximately 10 cm which is roughly 3 in converted; keep in mind that any shoe with a heel length over 2 is something that anyone is going to pay attention.

2

. Adidas Yeezy Boost 350 V2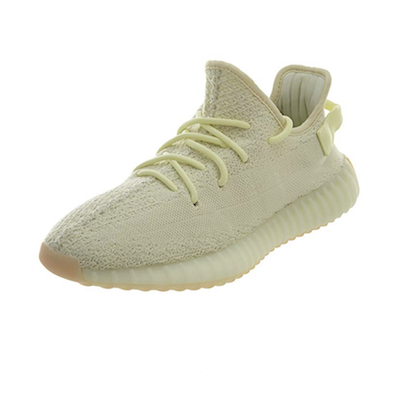 The Adidas Yeezy V2 is a shoe whose first release had people rushing to stores to "pick" them up. These shoes have a style that doesn't go unnoticed and a level of comfort to boot. These shoes feature an incredibly complex graphic design on it's upper as well as a blend of material throughout the rest of it' design.
The upper on the 350 Boost V2 is a blend of textures, literally. The shoe features a sewn mesh upper with a blend of colors to make each individual layer really stand out. The best thing about this color variation is that it really stands out with the inclusion of the yellow into the mix. The majority of yellow fabric pops against the black threads that are thrown here and there in the shoe design.
If you know Adidas, then you know about the boost that just so happens to be featured in each and every one of their midsoles. This material manages to give wearer's an incredibly comfortable time and, if worn for the actual running excursions, will feel like an actual cloud. The Boost material compresses yet, continuously manages to make the underfoot feel as if it's stepping on an actual cloud.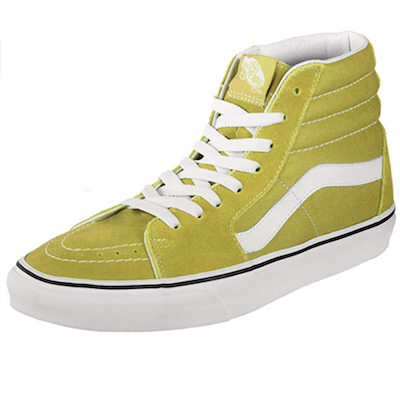 Vans has been killing the game with their signature shoe designs for quite some time; nothing has changed with the release of this high-top version of the Sk8-hi classic. This shoe has a decent level of support for those who can't help but be daring when out doing ollies or another sort of skating trick. The inside of this model is also incredibly padded and enhances the level of comfort that is already delivered by the extended upper of the shoe.
Something that all shoes need to be designed with (at least in my opinion) is an upper with sufficient padding. The upper of this Vans High-top is designed with enough padding that the wearer doesn't have to constantly think about the shoe being on their foot or dread the moment that they are placed on. In addition to this, the padding helps the shoe perform better for those who like to live their lives by the board. The lip of this shoe is extended so as to give the wearer all that they'd need in order to enjoy their tricks or any other low-intensity activity a bit more. A shoe with an upper like this high-tops makes the foot feel incredibly secure and provides an amazing feel for the wearer.
The best thing about the design of this shoe is that it can be purchased for an almost insignificant price. Yes, this shoe is priced so low that its purchase can be viewed as nothing short of a steal by those who would consider it. With that in mind, one would literally get a shoe with an immense level of style for an amount that wouldn't hurt their pocketbooks or wallets in any way.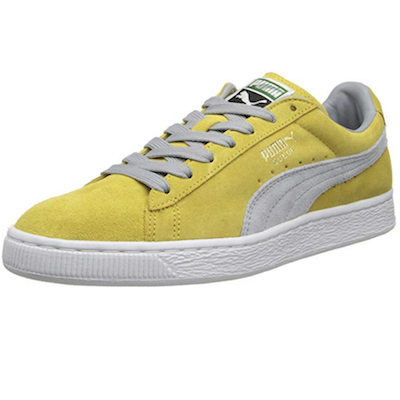 You know what beats buying a classic Puma sneaker? Buying a classic Puma sneaker in yellow. This Puma suede model is one of those shoes that make matching an outfit a breeze. With the breathable upper, one doesn't have to stress over constant smell accumulation after a short period of wear. The low cut and flexible design allow this shoe to put the lifestyle in lifestyle shoes.
The upper on this shoe, as the name suggests, is designed from a suede material. This allows the shoe to be completely breathable as well as introduces a few stylistic elements to its design. The texture of the material brings out the coloring that it has as; yellow has a hard time not standing out in brightly textured shoes. The suede also introduces other comforting elements such as flexibility in the shoe design.
The Puma classic is a shoe that once could've been used for various sports activities but, due to the increasing incorporation of technology into the shoe game, has resigned to be a lifestyle shoe. This is definitely not a bad thing considering that the design of the shoe makes an easy thing of getting comfortable or relaxing. It can be worn anywhere and with virtually anything as well because of the slim cut that it features.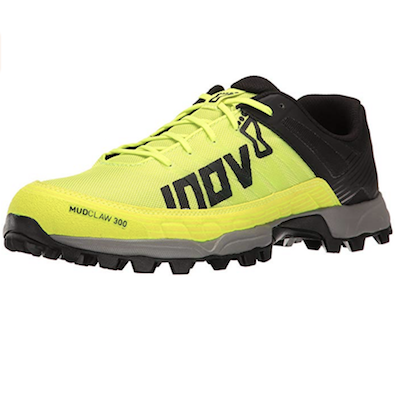 We all know that Inov-8 is known for making incredibly high-quality shoes. Each and every one of them is made to fulfill a single purpose and that hasn't seemed to overlook this model at all. The Inov-8 Mudclaw 300 is a shoe that was primarily designed as a fell and trail running shoe; it handles those terrains wonderfully. The outsole on this bad-boy generates insane amounts of friction and, when coupled with the design of the upper, makes this shoe something to pay attention to.
As is typical in trail shoes, the Inov-8 Mudclaw 300 Trail Runner has an outsole with insane levels of grip. The shoe is designed from a highly abrasive rubber material that makes running in loose material like mud a breeze. The rubber is also formed into spikes to give the shoe that extra bit of grip when it really needs to dig into a surface.
EVA cushioning is known for one thing, for its responsiveness. The midsole on the Mudclaw 300 is designed from this material and delivers a responsive feel that one simply can't go without on a trail terrain. It manages to conform to the wearer's underfoot and give them what they'd need in order to really be able to comfortably and safely travel over a trail.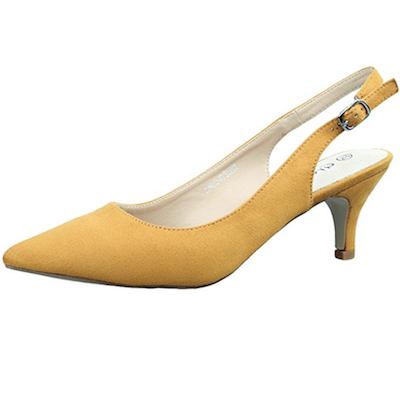 Now, to add a shoe that has a bit of class and makes for a rather versatile partner with several outfit types. The Greatonu Slingback is a shoe that manages to add a bit of flair to one's outfit without going too over the top with it. The shoe features a comfortable footbed, a heel strap, and has the perfect heel height for anyone who wants to walk for decent lengths of time without excessive problems; this shoe is right for most.
As is the case with many heels nowadays, the footbed is designed to improve the comfort that the wearers feel when they slip their feet inside. This model of the shoe has added cushioning which allows it to imbue the wearer a bit more control over the feeling that their feet get when they slip their foot inside. The quality of the footbed is something that can completely make or break any heel; which is why it was a good idea that this one was designed for those who require prolonged use.
Another great thing about this shoe design is the fact that it is essentially backless. Literally, the slingback has no heel to keep the back of the wearer's foot locked into place. Instead, Greatonu gave the shoe a heel strap that acts in the heel sections place. The heel strap on this shoe allows it to give wearers an extra bit of freedom than that of a heeled shoe; it opens the wearer's foot up to the elements and allows for a greater level of movement.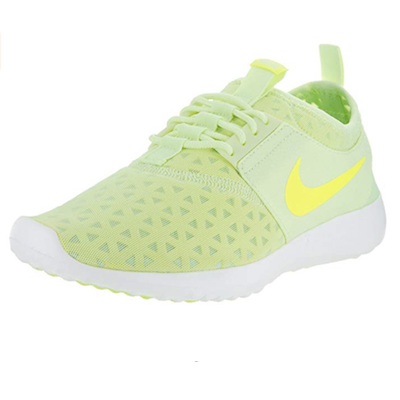 The upper on this shoe is meant to give wearer's all that they'd need in order to enjoy either long runs or shoes on a muggy day. The design of this shoe's upper features a mesh exterior with ample cushioning in place throughout the core design and on the sides. This cushioning keeps the wearer's foot comfortable almost making it feel as if they have no shoe on at all. The toe box features geometric "holes" in the mesh which result in the shoe being incredibly breathable while in use.
The sole unit is designed from an incredibly cushioned EVA foam. This material slightly compresses under the wearer's weight and aids in the comforting effect of its design. Another great thing about a foam material being used in the sole unit of this shoe's design is that it makes running somewhat of a breeze. Wearer's get a decent level of energy return when these shoes are in use; this makes jogs a simple thing.
Overall, this pair makes for a solid trainer to support and perform, all while having that great yellow hue to brighten up your workouts.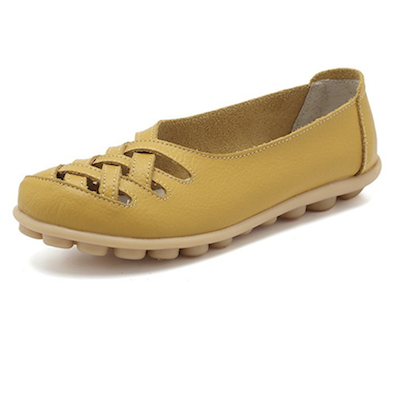 Shoes typically don't get as minimal as the Keesky slip-ons. The design of these shoes is one that makes their wear, as well as removal, a relatively simple task. On top of that, these shoes are meant to provide optimal levels of comfort as soon as one decides to "slip" their feet inside. Which is why they were chosen for this list, they have the features (and the price) that makes their purchase well worth it.
How often does one find a shoe with a price tag (that will be mentioned later) like this one as well as a leather upper; not very often. The Keesky Slip-on is an entirely yellow shoe with an upper designed from a premium leather material. The use of this material ensures that one gets to and from their place of choice with ease as well as their shoes. The best thing about the leather in these uppers is that it doesn't peel quite as easily as that of the materials that one typically sees.
This shoe is honestly breaking all of the rules. When one sees "leather upper" they automatically assume that the shoe is going to make their feet boil; that isn't the case with this shoe. The upper is exaggeratingly perforated in that when the shoe is placed on the foot, one can literally see their own feet. This makes taking a regular walk in these shoes something of a breeze, literally.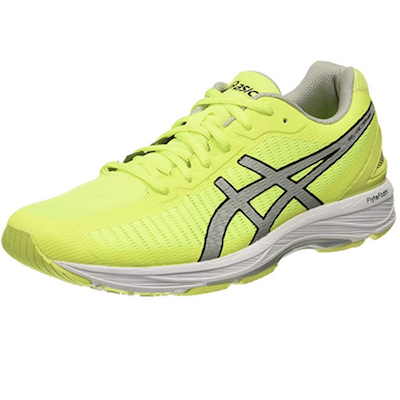 The Asics Gel-Ds Trainer 23 is a shoe that not only meets all of the requirements for a functional yellow shoe but also has a few "extra" components placed within. For a shoe designed by Asics( not a bad thing), the ASICS Gel-DS Trainer 23 makes sure to provide wearer's with over the top levels of comfort as well transitions when they decide to rough their terrain of choice. This is because of the technologies that are in place throughout the shoe's design.
This shoe is a trainer before all else can be considered. This is why Asics made sure to fit the design with ample cushioning throughout; to make sure that wearers could fully enjoy any of their runs. The Dynamic Duomax cushioning conforms to the wearer's foot and much like the second criteria adapts to the wearer's movements. This quality alone would make this shoe a great choice for anyone seeking a shoe to go either running in or do any other sort of high-speed activity.
The mesh upper is the other feature on this shoe that makes it the great model that it is. It comes in several colorways, the best of them being yellow (obviously, right). The thing about the Adapt Mesh in the upper is that it is incredibly responsive and provides wearer's with a bit more in the way of flexibility when they are out and enjoying a brisk-paced job or doing deadlifts.

10

. Block Heel by J. Adams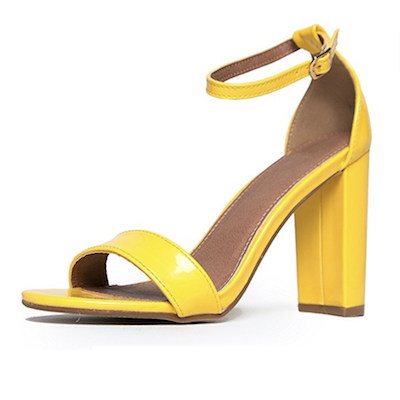 Here's a shoe that you don't see every day, the Block Heel by J. Adams. This heel is meant to provide wearers with comfort and style beyond that which they typically achieve from other models. They are designed from a biodegradable material that increases the fashionable aspect of these shoes almost tenfold.
First things first, the upper on these heels is designed from a 100 percent biodegradable material. This basically means that the wearer doesn't have to worry about the impact that they'll be making on the environment with its purchase because there won't be any. Also, the texture of this material makes them pop.
Nothing says "class" like a heel with an ankle strap. The design of this shoe makes use of a single-textured ankle strap that works to enhance the fit and make the shoe a bit more comfortable at the same time. This means that the wearer doesn't have to worry about a shoe incidentally slipping off of their foot when in use because the ankle strap helps keep you firmly in place.
Great news, these shoes sell for a price that is incredibly inexpensive. These incredible-looking J. Adams heels won't be the most long-lived but, one can be sure that they'll have a shoe model that gives them a bit of style while it lasts. The value of this pair comes from the inherently fashionable look that it has; it's a classy style with a bright pop of color to make a statement!

Subscribe to our Newsletter