Best d'Orsay Flats & Pumps Reviewed for Their Chic Style
In a Hurry? Editors choice: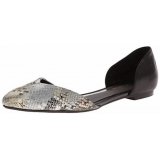 Test Winner: Cole Haan Crissy

D'Orsay shoes are worn by mostly women, and they come in all shapes and sizes – as flats or as pumps, with open toes, closed toes,
peep toes
, with various straps and buckles. There are even those which have only one side of the vamp cut away – a half d'Orsay if you will.
What makes this design special is that it flatters most feet. The exposed skin of the arch visually elongates the leg and slims down the figure, especially in a high heel. This is why the design is particularly attractive when paired with short skirts and eveningwear, and even as a bridal shoe.
Standout Picks
Criteria Used for Evaluation
Style
Since the topic of this guide is the d'Orsay design, it stands to reason that all of the items listed here are going to be that, whether they come with a heel or not.

It's hard to imagine, given how elegant and inherently sexy d'Orsay footwear is today, but it was first conceived as military footwear. The shoes were created by Alfred Guillaume Gabriel, otherwise known as Count d'Orsay, in the 19th century. The idea was to provide military men who had wider feet with more space and enable them to move around more comfortably by cutting off the sides of the shoe.

The silhouette quickly caught on in aristocratic circles and became popular not only among men but also among women of all ages. There was something alluring, bold and borderline scandalous about exposing the arch of the foot for everyone to see, and many thrived on that feeling of rebelliousness.

For your convenience, we can categorize all of the designs on our list into three groups: the everyday, the party and the formal.

The everyday designs are those such as the Toms Jutti, the Cole Haan Crissy, the Calvin Klein Ghitta. They are meant to be worn, as the name of the group suggests, every day, and in almost any occasion. They're easy and comfortable to wear for hours on end, they are wonderfully versatile, and in them, you can seamlessly blend in at the office, at the shopping mall, and even at a relaxed cocktail affair.

Party options are those like the Jessica Simpson Claudette, the Rebecca Minkoff Brie, even the Jessica Simpson Leasia 2. They are meant to be vibrant in color, sexy in design and dazzling in the club, and in them, you should feel like you're on top of the world. Of course, a party design doesn't have to be a heel, as the Steve Madden Roughly also perfectly fits this category.

It is a fine line between party and formal footwear. The former should be vivacious and daring, while the later should be more elegant, and perhaps more subdued, in a way, like the Badgley Mischka Seneca II, the Calvin Klein Gella, and the Anne Klein Fabulist.

That being said, no one can or should stop you from wearing a fierce design to a formal event, or a more modest one to a party, if you so desire. Style is extremely subjective, and all that is important when you are choosing a stylish option is that it looks good to you.
Heel
The two basic shoe types we have considered in this list are heels and flats. We like to diversify as much as we can in our selections, and the topic of a d'Orsay design is not limited to only one or the other. Both of these have their advantages and disadvantages in terms of appearance and ease of wearing, as well as their comfort levels, so we are going to explore that more here and in the following, Comfort, section.

Originally popular among both men and women, today heels are mostly worn by women. They add elegance to an outfit, a poise and confidence that one might not achieve by wearing flat soled shoes. They are the ultimate special occasion footwear, though that is not to say there aren't casual heel styles as well.

The downside to heels is that they are usually not comfortable to wear. This is arguable, of course, as different designs offer different levels of comfort, however, the consensus in the fashion industry is that heels hurt, and beauty is pain. That doesn't always have to be the case, and make sure to read on what makes a heel comfortable in our next section.

Compared to heels, the beauty of flats is that they are an endlessly versatile design. Unlike heels, which have some limitations as to where they can be worn, flats are suitable for practically any event. A picnic out with your family? Check. A shopping trip with friends? Check. Sightseeing in a foreign country? A wedding reception? A sports game? Check, check, check.

Flats come in so many shapes and sizes that you can easily find a pair which fits your personal style and goes well with what you have in your wardrobe.

We ranked the designs in our list according to their heel heights and wearability, so that you can find an option which works for you best. If you are not a fan of heels, then choose from the top, from the several different flats that we have. On the other hand, if you are looking for something elevating, check the bottom for the highest designs in our selection.
Comfort
Since we are talking about two different footwear types here, we will divide this comfort part into two: heels and flats, and we'll discuss what makes each of them comfortable.

Let's start with heels.

There is a straightforward rule when it comes to heel height and comfort – the lower the heel, the more comfortable it is. Heels that are around two inches in height – kitten heels – and three inches in height – classic heels – provide that all-day wearability. They might still require some practice for an absolute heel-wearing beginner, but once you get used to them, nothing can stop you from spending as long as you want in your favorite heels.

Those which are four inches and higher, however, are not as easy to wear. No matter the overall construction of the shoe, the quality of its materials or cushioning it might have – after a couple of hours in heels this high, your feet will start to hurt. If you don't mind it, for a short period of time it won't cause any bigger issues than pain and discomfort. However, wearing extremely high heels day after day is not a good idea, as this causes a myriad of health problems, such as hammer toes, bunions, corns and similar. Best save these heels for special occasions, particularly when you know that you won't be spending much time on your feet.

When you're walking on elevated soles and heels, you need all the stability you can get. This is why chunky, solid heels with a wide base are the most comfortable of choices. Think wedges, think blocky-shaped heels if you are looking for footwear you can walk around in without any problems. Wedges, in particular, evenly distribute your weight across the footbed of the shoe, taking pressure off of the ball of your foot and preventing pain in that area, as well as in the ankle and the knee.

Stiletto heels, on the other hand, while effortlessly stylish and fierce, are not so comfortable to walk on. Stability is a concern here, as well as the fact that all of your weight is pushed forward to the front of your foot. This can cause pain very quickly, and as a result, you won't be able to spend much time in footwear like these.

While the heel height and its type are the key factors of comfort, it is important to mention padding as well. Every bit of cushioning counts, as it softens the impact of your steps, and reduces the strain on your feet and ankles. In case you're taken by a heel which has no cushioning, however, don't despair! There are separate gel inserts and pads you can buy and fit into your shoe for an extra dose of comfort.

In comparison to heels, flats are infinitely more comfortable. Of course, they would be, as your foot is in a more or less natural position, with no additional pressure placed on any one part of it.

However, in terms of comfort, there is one thing we need to mention – the arch support. It is not unusual for flats to have no arch support, sometimes not even cushioning in their footbeds. This doesn't pose a big problem per se, as they are still fairly comfortable to wear, but it does mean that you shouldn't wear them for extended periods of time. Footwear which lacks arch support is not good for our feet, as it can lead to many foot-related ailments, such as flatfoot, or even plantar fasciitis.

If you are looking for that perfect ballerina flat to wear all day long, look for a contoured footbed, and especially for an arch cookie which sits well under your foot, providing you with all the support that you need.
Materials
While style and comfort are undoubtedly important, we also have to take a quick look at the materials a design is made from. The materials are what determine many properties of a shoe, such as its breathability, durability, flexibility, slip- and skid-resistance, as well as resistance to wear and tear and so on and so forth.

Footwear made from high quality materials is always a better choice, since it performs better in almost every aspect. So what are these high quality materials, exactly?

Precisely speaking, these are genuine leather and suede. Fortunately for everyone, most of the options on our list are made from these. Genuine leathers promote a healthy foot climate inside a design and allow for good ventilation, they are durable, and they also have that wonderful ability to change shape over time, and conform to the outline of your foot, providing unparalleled comfort.

The only downsides to genuine leathers are that they are expensive - more so than the synthetic options - and they are, clearly, not animal-friendly.

If you are looking for a low cost option, or for a vegan design, then something made from faux leather, such as the Steve Madden Roughly or the Rebecca Minkoff Brie (though the low cost part is debatable on the latter one), are the go-to styles.

Keep in mind, however, that synthetic leathers are not nearly as good as natural ones. They are not as breathable, and tend to be stiff and rigid, meaning that they are likely to cause you blisters. They are also not as durable.

In the end, which option you go for doesn't have to be based solely on the quality of its materials. Of course that this is useful information to know, and it might help you make a better decision, but you shouldn't worry about it too much. If the design looks good to you and is comfortable to wear - that's what really matters!
Durability
A final factor that you should take into account before settling on an option is its durability. How long will it last? Will it be worth the cost? How much can you wear it before it gets damaged beyond repair and you have to buy a new pair of shoes?

All of these questions have one simple answer: it depends. It depends on the quality of the materials, the quality of the construction, how often you wear the design and in what conditions, how well you maintain it and similar.

We have already mentioned how genuine leathers are exceptional in quality, and the same is true for their durability as well. Especially if they are layered thickly, they can even outlive a rubber design!

In contrast, synthetic leather is not so long-lasting, and tends to flake and crease and ultimately fall apart sooner rather than later. There is nothing you can do about that, we're afraid, as it is the nature of the material.

It is also important to emphasize that the designs which you wear only occasionally will clearly outlive the ones you wear often, or even every day. No matter how high in quality, a shoe will start showing signs of wear and tear eventually, and it will happen relatively quickly if it is often used.

Now, this isn't us saying that you should wear your new fancy footwear less often. Quite the contrary, this is just us reminding you of this fact, so that when you do wear your shoes everywhere you like, you're not surprised that they get a scuff mark here and there.

We are always in favor of wearing the heck out of your favorite shoes and being happy and confident in them, than letting them collect dust in your wardrobe out of some arbitrary fear that something will happen to them. Shoes are meant to be worn, and something will happen to them, but you will also get seasons and seasons of being stylish and comfy before that happens!
Our Favorites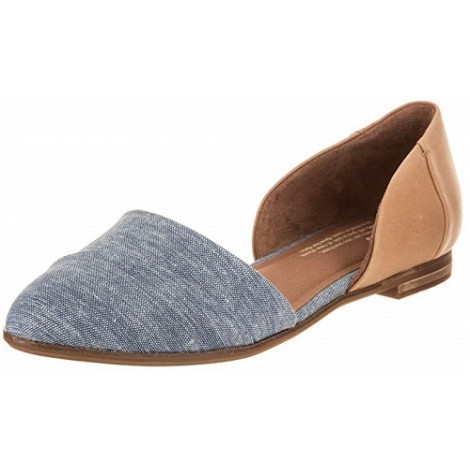 Toms is a special company, in that for every pair of Toms footwear purchased, they will give a new pair of shoes to a child in need. Therefore, buying Toms also has the benefit of being involved with a great charity organization! The Toms Jutti is a design which leans more towards the casual. It is inspired by India, with its honey leather and chambray upper and the sides cut away for breathability. There is a deco stitch detailing on the leather-wrapped flat heel, cotton twill antimicrobial lining, and the outsole is rubber, custom made in Germany.
The benefit of a cotton lining is that it is breathable, and reduces the risk of sweaty feet. Not only that, the Jutti lining is treated with an antimicrobial agent, meaning that it prevents bacterial and fungi infections, and all the itchiness and bad odors which accompany them.

The Toms Jutti is that perfect everyday shoe. It goes well with skinny jeans, high-waisted shorts, but also with flowy skirts and sundresses. Its soft materials, light cushioning and abrasion-free lining make it a great option for daytime walking around the city.

The Toms Jutti is a simple yet fashionable design that will capture the hearts of many, and it will go well with any outfit you envision for spring, summer and even fall. Easy, lightweight and affordable, what more could one possibly want!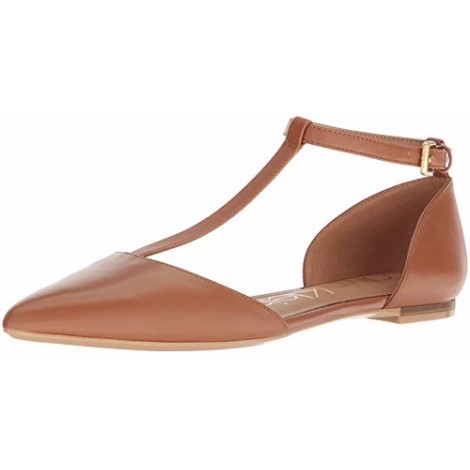 From the designer who is known as "the supreme master of minimalism" comes a refreshingly minimalistic flat. The Calvin Klein Ghita is that perfect shoe that we can wear everywhere - at the office, at a lunch meeting with friends, or even for a date night out. It has a pointy toe shape and a lovely T-strap with a buckle closure at the ankle. The upper is constructed out of smooth Nappa leather, and there are gel pod inserts for comfort. The Ghita is a design for the modern woman who doesn't want anything too flashy but still wants to look stylish and polished.
As the d'Orsay design has sides that are cut off, sometimes it can be difficult to keep the shoe in place as we walk. In the Calvin Klein Ghita, this isn't an issue, as the T-strap across the vamp keeps your foot secure inside the design, and prevents it from slipping out.

With the Calvin Klein Ghita, it doesn't matter if your ankles are thin or thick. This shoe comes with a buckle closure on the side which you can easily adjust. With only a few quick moves you can loosen up the strap so that it doesn't dig into your skin, or tighten it more so that it keeps you secure.

The Ghita is a design of a world-renowned brand, made out of exquisite natural materials, and specially constructed to keep you comfortable. You will definitely not regret getting yourself this versatile shoe!

3

. Jessica Simpson Claudette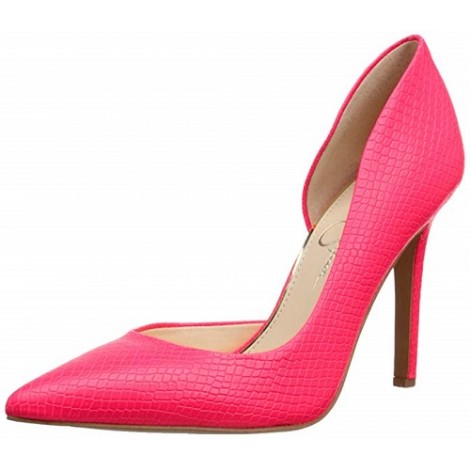 If you are looking for a classic, timeless pump that you can wear with any outfit, then you have come to the right place. Jessica Simpson is a designer with a fun, sexy, feminine style, and the Claudette is all of that and more. This is a half d'Orsay design, with a four-inch heel and a leather upper in a variety of colors - from nude, over cognac and ivory, to this stunningly hot pink. It has a pointy toe silhouette and a memory foam midsole for bonus comfort. The Jessica Simpson Claudette is that shoe that you can match with practically anything to instantly elevate your look.
When you're wearing high heels such as these, and are maybe even expected to spend an extended period of time in them - every bit of comfort counts. The Jessica Simpson Claudette provides the ultimate support in the form of a memory foam midsole which will keep you cozy and cushioned all day long.

The Jessica Simpson Claudette is not your average party shoe - it is sexy, but in an elegant sort of way, as it lengthens your silhouette and flatters your figure. If you go for a more striking color, you will find that it is exceptionally vivid and bright, and you are sure to get countless compliments on your choice of footwear.

A design made out of genuine leather that looks this breathtaking and is that comfortable should be outrageously expensive, and yet. The Claudette is not. We don't know what you're waiting for, treat yourself to these gorgeous heels right away!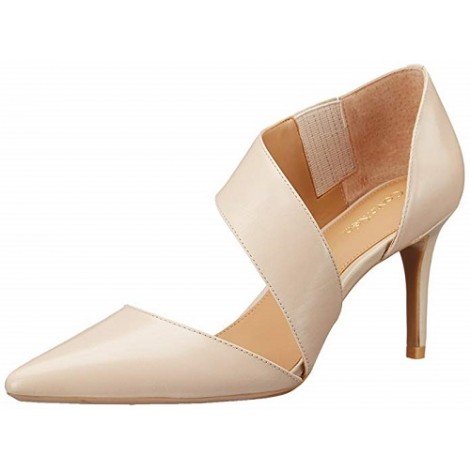 What stunning originality! What a refreshing design! We are in awe of the Calvin Klein Gella, a d'Orsay pump that is unlike any other. The reason for this is the innovative construction which involves a strap winding from the top outer side, across the arch, and to the inner side, creating one long, elegant line over the foot. This leather shoe has a pointy toe silhouette, gel pods for comfort in the sole, and a hidden goring panel in the medial side for an elastic fit. With its three-inch heel, Calvin Klein Gella will take you from a business meeting to a cocktail party without any problems.
What we love about the Calvin Klein Gella is that it is designed to accommodate any foot size. There is a gore panel in the side that stretches out for an adjusted fit, and even those who have wider feet or higher insteps can enjoy this gorgeously creative shoe.

Even though its heel is at a comfortable three inches in height, the Gella amps up its support levels with gel pods in the sole. These provide cushioning and impact absorption as you walk, giving you a smooth, pain-free ride.

All things considered - the brand name, the natural leather materials, the unique design, and unprecedented elegance - the Calvin Klein Gella is not expensive at all. It is a shoe which will draw attention in the best of ways and mark you as the ultimate fashionista in your circles.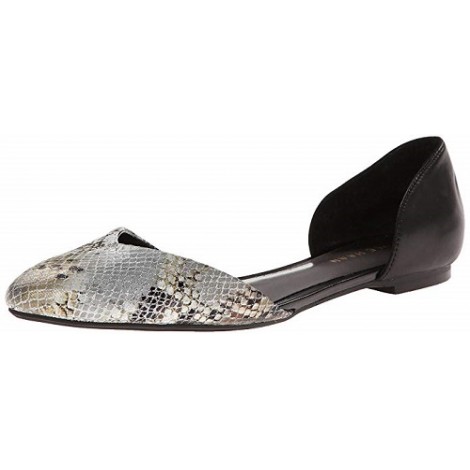 Cole Haan is a company with a long-standing tradition of impeccable craftsmanship, going back to 1928. For 90 years, this brand has been producing footwear of excellent quality and timeless style, and the Cole Haan Crissy is a reflection of that. This is a flat d'Orsay design with a genuine leather upper. It has a moderately pointy toe and a V-shape instep for extra elegance. There are no straps or embellishments, aside from the modern snake pattern in the front, and this shoe is effortlessly easy to wear. It is versatile and will go well with any outfit you decide to throw on!
We love that the Cole Haan Crissy is so simplistic in design. If you are in a rush - thinking about a million little things while getting ready for the day, trying to find your purse and your phone and your wallet - then having uncomplicated, slip-on shoes like these is a real time saver. Just slide them on, and you're off!

With the Cole Haan Crissy, you don't have to worry about any pain or blisters. However long you wish to wear these for, they will support you every step of the way, not least because of their quality leather upper. They are versatile as well, and suitable for any setting - the workplace, a garden party, a shopping trip - anywhere you want to wear them!

The Cole Haan Crissy is well-made and effortlessly refined, and its brand name guarantees its durability and level of craftsmanship. It may not be the most affordable of choices out there, but it is definitely worth the purchase.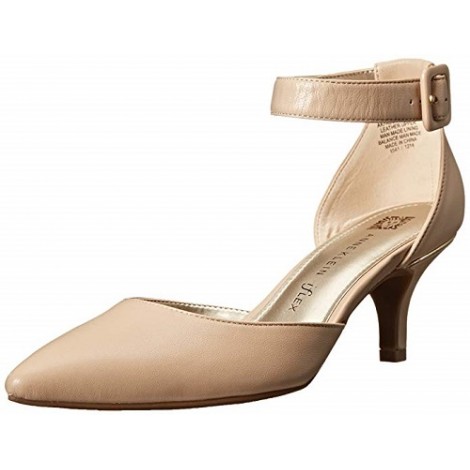 Anne Klein - unrelated to Calvin Klein - creates collections for the modern, everyday woman at an affordable price. The Fabulist heel is a perfect blend of practicality, sensibility and yet obvious class. It is a design with a leather upper, an ankle strap with a buckle closure at the side, and a heel a little over two inches in height. What sets this pump apart from the others is the iFlex technology which is characteristic for most Anne Klein footwear, as well as gel padding in the footbed for ultimate support. Get this two-piece, closed toe design to complement all of your smart casual outfits.
Despite sounding like something produced by Apple Inc., iFlex technology is actually an innovation unique to Anne Klein designs. It guarantees exceptional flexibility, with the shoes having the ability to bend as far as 90 degrees!

The low heel and the cushioning in the footbed ensures that the Anne Klein Fabulist is a design that you can wear for as long as you want. Its comfort levels are unparalleled, and we are sure that you will enjoy every second of your time in these great shoes.

We mentioned before how Anne Klein makes her footwear affordable, and that is certainly the case with the Fabulist heel. This design is amazingly flexible and versatile, unbelievably comfortable, and made out of high-quality genuine leather. For its low cost, it is an absolute steal!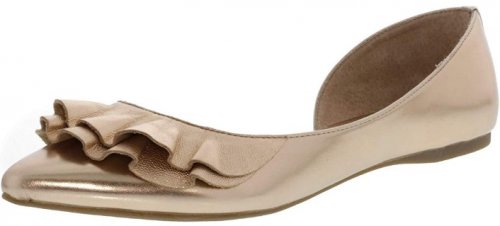 We are positive that you have yet to see a cuter flat than this. The Steve Madden Roughly is romantic, feminine, and nothing short of dazzling with its rose gold color. It is a design that is mostly simple, a half-d'Orsay in silhouette, but that also has a touch of interest in the form of two pleats delicately wrapped around the upper. The Roughly's name is a play on these ruffles, and we love the cheekiness here. Wear this design with some skinny jeans or a flirty dress, and you will feel absolutely fabulous!
The Roughly is made from synthetic leather, which means that it is animal-friendly and largely inexpensive. It has that metallic sheen that we love to spice up our style and a pointed toe for elegance. Compared to most other pointed toe designs out there, the Roughly is quite comfortable.

Thanks to its slip-on construction, you can put these on and take them off in a blink of an eye, and you won't have to worry about any complex closures.

The Steve Madden Roughly is a lovely design that will seamlessly fit into your wardrobe. Its silhouette goes well with any outfit, and the color is exactly what you need to show off your sassy, sexy side! Conquer the world in the beauty that is the Roughly!

8

. Jessica Simpson Leasia 2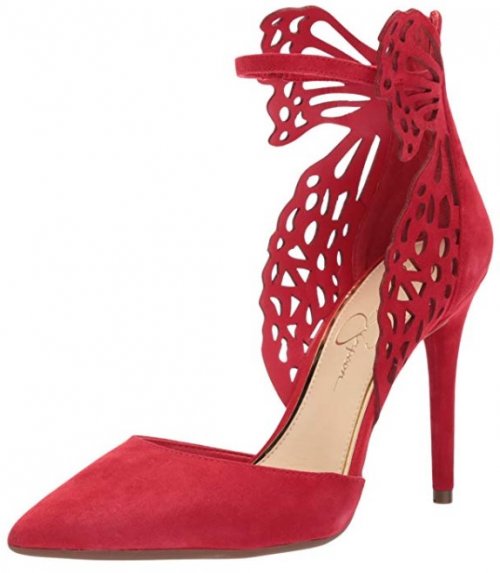 We all know that Jessica Simpson's designs simply radiate vivaciousness and flirty-fun, and the Leasia 2 is no different. The most striking, eye-catching detail of the entire design is its silhouette, the way the heel area mimics the wings of a butterfly, gently hugging your foot. It is unusual and impressive, but not too over the top, and we love the play on shape and dimension here. Laser cutouts in the wings also add texture for a formal or a party look that is unlike any you have encountered before.
The Leasia 2 is made entirely out of genuine suede, which is amazing for its plush luxury feel, for its comfort levels, breathability, and durability. It molds to the form of your foot, and elevates the quality of this design to unprecedented heights! Additionally, there is a memory foam midsole, which delivers much-needed cushioned comfort.

In case you were wondering how in the world you would get into this design - don't worry. The Leasia 2 comes with a neat zipper in the back that you can use for a quick way in and out. The thin strap around the ankle serves to keep your foot in place in these four-inch high stilettos so that you feel stable and secure enough to walk for as long as you'd like.

The Jessica Simpson Leasia 2 definitely brings something new to the table. We applaud the originality and elegance delivered in a completely different way than what we're used to. If you are looking for a head-turner, you have come to the right place.

9

. Badgley Mischka Seneca II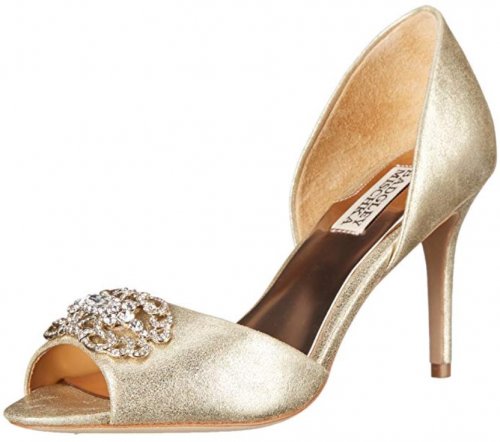 Take your time staring at the picture, we'll wait. We had the same problem, after all - being unable to look away from the stunning elegance that is the Badgley Mischka Seneca II. From a designer duo which has been hailed by Vogue as one of the "Top 10 American Designers" comes this effortlessly metallic princess-like pump. The Seneca has a three and a half inch heel and an upper made either out of textile or out of suede, depending on your color preference. Its sole is made out of genuine leather. The final touch is the rhinestone ornament in the front, making this peep-toe pump one of the most gorgeous ones we've ever seen.
If you choose to go the leather/suede route, you are in for a treat. As a natural material, leather has multiple benefits. It is breathable, meaning that your feet won't get sweaty and smelly no matter how high the temperatures outside get, and it is also durable, able to outlast all synthetic materials. Finally, leather has the unique ability to conform to the shape of your foot, providing you with that addictive, customized comfort.

Honestly, the Badgley Mischka Seneca II takes our breath away. We have to think long and hard to come up with a design which is just as sophisticated and just as mind-numbingly beautiful. You can take these shoes with you to any formal event, and be certain that they will be the center of attention.

Given the brand name it carries, as well as the high-quality materials it is made of and the level of comfort it guarantees, we are not surprised that the Seneca is high in price. However, we deem it 100% worth it, as it is one of the most luxurious designs we have in this guide.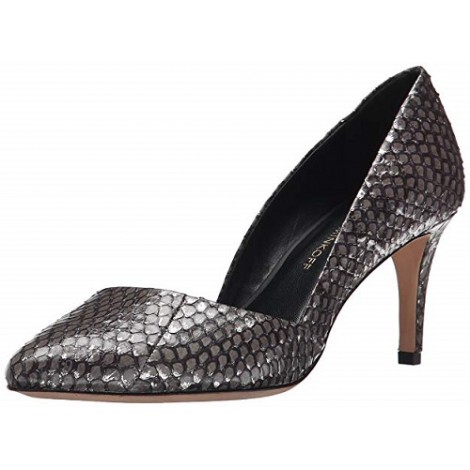 In the Rebecca Minkoff Brie, you will be party ready in a blink of an eye! This is a half d'Orsay - meaning that only one side of the shoe, the inner one, is cut away - with a seductive gunmetal metallic snake pattern. It has an almond toe shape and a sculpted three-inch heel. The entirety of the shoe, from the upper to the sole, is constructed out of synthetic materials, making it environmentally friendly. This is a simple, yet undeniably eye-catching design that will complement many a stylish look, and we couldn't be more charmed by it!
The heel of the Rebecca Minkoff Brie is only three inches in height. This means that it is incredibly comfortable; you can expect to go from a daytime wedding ceremony to a nighttime wedding celebration in these metallic beauties without a hint of pain.

An almond toe is a perfect compromise between a round toe and a pointy toe silhouette. It is still elevated and sophisticated, but it doesn't come with the same problems as a pointed toe would. In the Brie, your toes will have more than enough space to wiggle and breathe while you dance the night away.

The Rebecca Minkoff Brie is that perfect option when you want to look poised and mature, but fashionable at the same time. It fits all kinds of semi-formal and formal occasions, and you will love showing off its snake pattern to everyone!

Subscribe to our Newsletter