A complete review to the best Anne Klein Shoes
In a Hurry? Editors choice: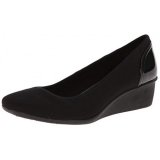 Test Winner: Wisher Wedge Pump

How many times have you struggled to find the perfect shoe: one that combines both fashion and
comfort
? You know the drill – you walk into the store, find the prettiest, most perfect shoes for that event you have coming up. The color is great, the heels are just right, and the price is more than good. Oh, but what tragedy has struck you! When trying to walk, it's as if someone is trying to puncture your heel, or you stepped in fire and your forefoot was burning! Well, one woman managed to combine both fashion and comfort, while also making you feel like you own the world, and her name was Anne Klein.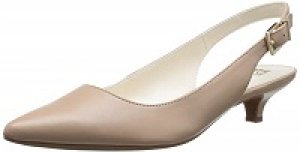 Expert Dress Pump
Iflex Technology
Price: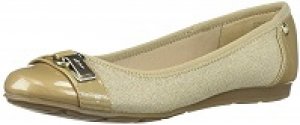 Fabric Ballet Flat
Leather
Price: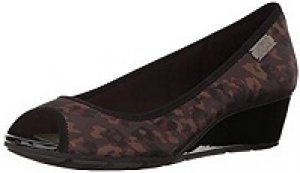 Camrynne Wedge Pump
Textile
Price:
Standout Picks
Criteria Used for Evaluation
Comfort
Your feet will not thank you for wearing uncomfortable shoes! High heels, pointy toes, insoles without cushioning – these, and many more, are reasons why our feet suffer. We have such a high demand for fashion, that we do not stop to think whether or not our feet, muscles, posture, and even our mental health, suffer as a consequence. But you may wonder, why is comfort such a big deal, going beyond just ridding us of pain? Here are a few issues you may experience if you do decide to suffer for good looks:
Corns
Calluses
Nail problems
Bunions
Blisters
Joint pain
Back pain
Collapsed arches
Unsightly gait
A pair of Anne Klein shoes will help prevent these issues!
Style
A nod to the past, a glance into the future, the block heel has it all. Comfort, style, versatility. Here we will explore why are block heels essential for everyone's closet. First of all, they are versatile, made to be worn with just anything you dare to imagine. The office hours, that date you have been preparing for so much, your sisters wedding – they have it covered. Secondly, they are much more comfortable than your average heel is. We just went over why comfort is important, and block heels are the answer! And lastly, they are good for posture, because they distribute your weight evenly, instead of it being distributed on just one, wobbly sharp point. Goodbye, sprained ankles and achy knees!
Ballet flats
These shoes are a good option if you are looking for the comfort of a sneaker combined with the elegance of a dress pump. In colder months, they may offer more protection than the average sandal or slipper. And, they are usually plain and simple, for those days when you don't want to blind everyone with your dazzling shoes!
Support
Besides being unsightly, corns can also cause a great deal of pain. They are formed on pressure points – for an example, if you wear high heels that create constant pressure on the ball of your foot, you will develop corns. If you decide to wear an ill-fitting shoe for a prolonged period, the corn will embed itself deeper into your soft tissue, making them so much harder to treat. If you do opt out for high heels, make sure they have proper cushioning. Loose shoes can also be a problem – if the toe box is wide, your foot will slide around, creating pressure points on the side of your feet.
In addition, A lot of people suffer from back pain, yet rarely anyone considers changing out their pairs! Maybe because you will firstly suspect your office job, or maybe the comfort of your bed. But before that, make sure to eliminate a common cause: a bad fit for your feet! Finding the right pair can do wonders.
You may think, how can the shoes I wear affect the pain I experience in my back? Well, it's called a kinetic chain, or in other words, the way you move one part of your body can, and will, affect other body parts. When your gait is not right, your back suffers – the way you walk stresses the muscles in your back, and in turn, you get that all familiar ache. Also, make sure your shoes always have a properly sized heel; flats and flip-flops have no support and in turn cause ankle, knee and back pain, yet the other extreme, high heels, can alter the way you walk and thus stress out your back. This is why shoes made by Anne Klein can help you out: the heels are not too high or too low, and it has a lot of cushioning in there so you have no troubles at all!
Anne Klein shoes are designed to support you and prevent these very issues from occurring. We judged each pair of Anne Kleins on our list and ranked them according to their ability to prevent foot injuries.
Heel
Opting out for a shoe with a small heel instead of no heel at all can be a very rewarding decision. When your feet lay flat on the ground, your calf muscles and your Achilles tendon tighten while you walk. In return, this causes strain on the ligaments that support the arch. If this happens for a long while, those tissues may experience damage, and you may end up with low arches. If you do suffer from low arches, you really need support for your body. Having shoes without a heel offers no support at all, so it's better for you to choose shoes with a minimum heel!
Having seen what kind of problems zero comfort shoes can cause, you now do realize why is it so, so important. Anne Klein knew that, so she did everything that she could to save your feet from any future problems!
Versatility
After going through this list, you will notice that Anne Klein also created a shoe that is versatile, one that can complement any kind of idea you may have. Instead of filling up your dresser with a pile of shoes, you may need just a few pairs to spruce up your style. But, how do you choose a versatile shoe? There are a few things you may consider.
Durability
When choosing a shoe you will wear almost all the time, it is very important to consider just how many steps it can handle. Choosing shoes that are made from adequate materials, like leather, will provide just that. Also, you may look under your shoe; rubber soles are unmatched. They provide the durability and traction every shoe should have.
Color
Going through all the possible colorations for your versatile shoe, you may decide to go for a black, or brown shoe. And that can be right, black goes with everything, but why not go for something a bit bolder? If you prefer solid clothing, choose a shoe that has a colorful design. That touch of color will give your outfit the pop it needs. But, if you do like to wear a lot of colors or different patterns, you should choose a more neutral color, one that complements your style, but does not give it the appearance like you took the first thing that came into your hands and put it on.
Top 10 Picks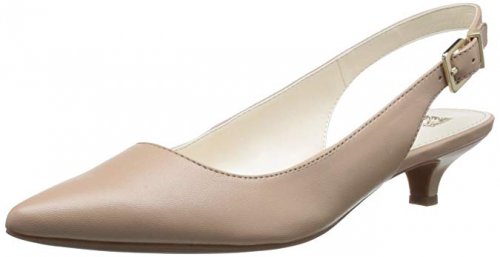 Combining elegance with comfort, this classic pair is perfect for your everyday office job. It offers everything you need for maximum comfort - they are made from leather, and the heels measure approximately 1.75 inches. The heel counter is exposed, just right for when you don't want your toes to wriggle free, but you do need a breath of fresh air. The buckle is adjustable, making sure your foot doesn't slip, or that unnecessary traction is created. Pointed toes give them just the right amount of elegance. This expert dress pump comes in a variety of colors, making sure you can choose just the right fit for you.
Iflex Technology
To show just how serious they are with comfort, they added this gem - iflex technologies. It provides that needed support when you really crave it in your busy, modern, everyday life.
Wide toe area
They may look pointy and give you the impression of being tight, but fear not! They have a perfect toe area, wide enough for the most troubled of feet.
Cost and Value
It is said that valuable things are expensive, but it doesn't need to be that way. In fact, with all the comfort and the good looks they have, we are delighted that they aren't costly at all. Although, we wouldn't mind chipping in a few extra for everything they offer!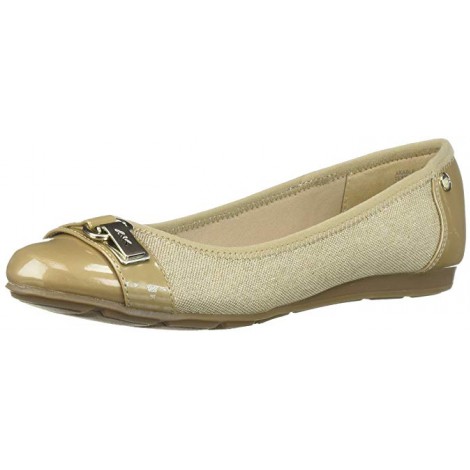 This sporty shoe goes along with just anything you have in your closet! With a textile side, they offer just the right amount of breathability. They are an amazing fit, can be worn right out of the box! You can spend hours on your feet in these and they will not give you any trouble, and that micro heel offers just the right amount of elegance!
Micro wedge heel
Just right for tall folks as well! We know the fears of towering over others, so these are great when you don't want to wear high heels, but still want that dash of flirt. Sporty, yet chic, it's perfect for when your feet feel tired, and in need for a little bit of style.
Textile side
Don't fret if you wear these all day! The textile side gives your feet their much needed air, and leaves you worry free when you take them off after a long day, or after you've been walking in the heat for ages.
Cost and Value
These can run a bit on the higher end of the cost scale, but you shouldn't worry about that. It is much better to invest in a shoe that you can truly wear whenever you need it, or with whichever item you like, than to buy more pairs of poorly made shoes!



This charismatic pair should be in everyone's closet - very light, classic and, of course, cosy. The material difference gives it just the right amount of contrast - combining sport with style. The wedge heel gives just the right amount of support, and the rubber traction outsole makes sure you don't end up like Cinderella!
Padded sport insole
Ensuring you never slow down, the padded sport insole gives the modern woman confidence. Cushioning your every step, be sure that this sporty wedge pump will provide your foot it's much needed rest after our modern, busy days.
Rubber traction outsole
You know how it feels when your beautiful pair, after a little bit of drizzle outside, decides to give up trying to hold you, and you end up trying not to fall off your feet. Well, these are made for even the most slippery weather! The rubber traction helps guide your way to the top, holding your back and never allowing you to fall down.
Cost and Value
The wisher wedge pump is very reasonably priced - light, sporty, and elegant, it provides confidence for every kind of activity you may be thinking of doing, especially the outdoor kind!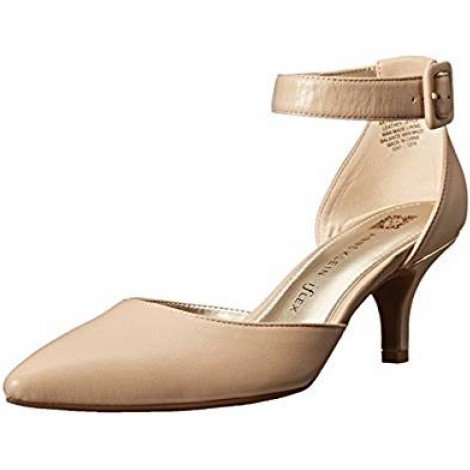 Be fabulous! This closed-toe pair is an expert dress shoe - coming with iFlex, it offers the perfect amount of comfort, that can bend up to 90 degrees! It has a closed toe and heel area, but open sides - for when your toes and heels are battered and tired, but you still want to show off some skin. The heel measures 2.25 inches, not too short to feel like a flat or sneaker, and not too high to give you troubles. It also comes with gel technology on the footbed of the sole - supreme comfort!
Adjustable buckle closure
Providing security with style, the buckle closure makes sure your foot stays where it's supposed to be. And it's adjustable, so you never have to worry about your feet swelling up and the buckle feeling too tight, or you having, as some would say flamingo legs, and the buckle feeling loose.
Gel Technology
Comfort, comfort, comfort! We're crazy about comfort, and gel technology does just that - makes you feel like you are walking on clouds. Rest easy, the ball of your foot will never ache with this invention!
Cost and Value
This shoe falls at mid range, and given all the technology that went into it, we are relieved it does! It is both affordable and exemplary, giving the opportunity for everyone to try this marvel.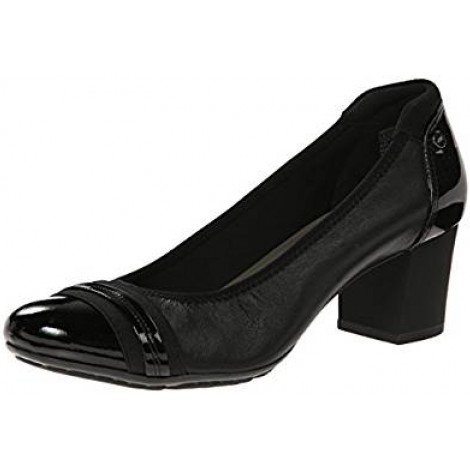 We all know block heels are the sturdiest around! The heel is not even high - measuring at 2 inches. The material is leather, while the toes are high-shine for that extra detail. The collar is padded, and the topline is elasticized, protecting your foot from rubbing on the material. You know you can trust them to look good with just about anything you have in your closet!
Block heel
Your body will feel grateful for these! They provide perfect arch support, back support, and are comfier than most flats. Pointed heels may look more appealing, but how appealing is it when you can actually walk in your heels instead of just struggling to even stand?
Elasticized topline
How much better is it when you don't have to struggle to push your foot into your new pair, or when you don't limp because your beloved pair is giving you blisters around your arch? Well, these pumps hold the answer! The elasticized topline is perfect for people with high arches, and overall more sensitive feet.
Cost and Value
These are mid-range as well; some of you may not appreciate the block heel look, which is why they may be so affordable, and believe us they are worth it. You never have to carry that extra pair of flats to your cousins weddings, these will not fail you!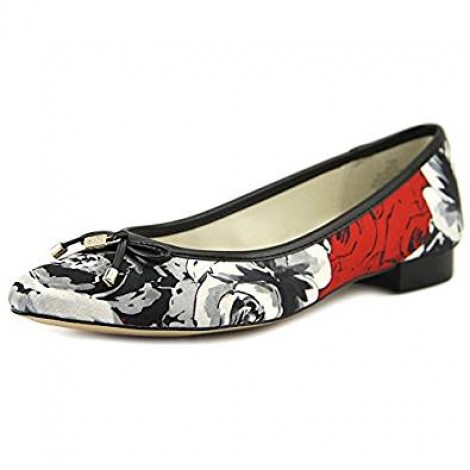 This pointed-toe ballet flat is sure to make everyone feel cheeky! The material is leather, coming in a big variety of colors, including floral patterns, so there's a lot to choose from. The tiny, 0.5 inch box heel provides just enough arch and posture support. Of course, it is fitted with iFlex technology, for maximum comfort and the 90 degrees bend. And the little ribbon on top will bring out that frisky side in everyone!
Slip-on wear
Sometimes we can be so lazy, that even bending down to tie our shoelaces is tiresome. Well these flats are here to relieve you of those troubles. With the easy slip-on wear, putting on these shoes requires the same effort as putting on slippers!
Bow detail
Sometimes we all want to feel flirty, and a bit like a child. The bow detail is sure to do just that! Combine it with the beautiful floral pattern these come in, and you have the perfect flat for any occasion, both formal and casual!
Cost and Value
These fall somewhere on the higher end of prices, but they make up for it for having the right combination of grace and cheekiness. With lightly padded footbeds and the iflex technology you are sure to buy a very durable and comfortable shoe, and the cherry on top, they look so bubbly!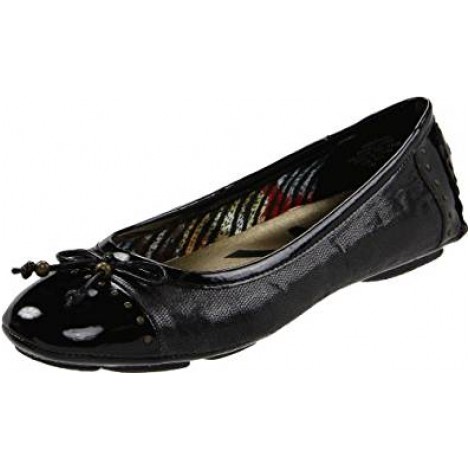 These will bring out that inner punk rock side of everyone! Featuring glossy heel and toe caps, a shoelace bow, and mini stud accents, it's the perfect everyday accessory. Equipped with iflex technology, and a 90 degree bend, they will surely spare your feet the stress of our busy lives. The ideal go-to shoe for just about any occasion!
Mini stud accents
The on-trend detail gives you the perfect shoe for work and for after-hours! You never have to worry about being late to evening events; with these splendid gals there's no need to run home to switch out your wardrobe or just your shoes!
Sporty driver heel
These flats are two goods combined - they don't make you feel like you stand out with your height, but they do give you that little thump when you walk and that buzz in your step!
Cost and Value
These come with a higher price for flats, but that extra comfort and all the added details are worth it! Finding a shoe that combines trend with everyday life is difficult, so be sure to give these a try!



This sporty pair comes with a wedge and open toes! Great when you want to give your feet some sunshine rays and a breath of fresh air. The padded sport insole will trick you into thinking you have sneakers on all day instead of a wedge! The shoe lining is soft, and patterned, and the colors come in a wide range. The sole is non-slippery, you could even go trekking with these and feel right at home.
Open toes
The weather is getting warmer and your feet beg for some much needed air! The open toes ensure they get just that. Also, they give this sporty pair a breath of sophistication.
Soft patterned shoe lining
The soft lining delivers your feet from traction and the dreaded blisters, while also having a beautiful trendy pattern to contrast the sporty feel they give.
Cost and Value
With everything this wedge pump provides, we are surprised that it has the lowest price on this list! The low cost does not mean it's a poorly made shoe, in fact, be sure they are marvelous!

9

. Leather Slip-On Loafer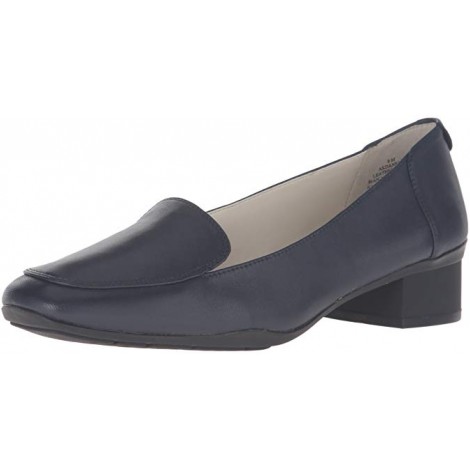 Have you ever wondered, what kind of shoe would fit you best for travel? Well look no further! Loafers are the best for long walks around foreign cities, especially these since they are leather! The heel is shorter, measuring at 1 inch. And it's a slip on, so no need to waste time tying shoe laces!
Leather material
It takes the least amount of time to break in leather shoes! The leather molds to the shape of your feet, allowing a snug fit. It's breathable so no need to worry about bad odors. And it's an ideal combination with loafers - the durability of leather and the comfort of loafers will cover any kind of long distance walking you imagined!
Heel height
The short block heel offers much more support than a flat, and it's not too high, so your toes will never feel cramped. It's quintessential for any kind of activity you have planned - be it walking, dancing, or just your regular day activities.
Cost and Value
It is no surprise that this item is one of the cheapest on this list - it does not offer as much as the other pairs do, but give these loafers the benefit of the doubt! We are sure this versatile pair will repay you!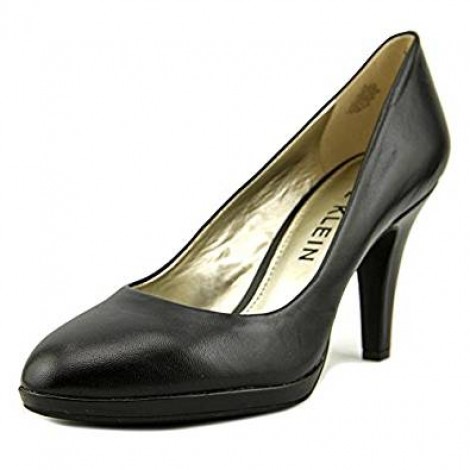 This classic round toe pump is a must in your closet! They are made from leather, and the heel measures approximately 3.25 inches. It has that well known iflex technology - allowing a flexible fit. The soles are gel infused, and there's extra cushioning for comfort!
Complements powerful looks
Everyone wants to feel mighty, to have a sense of ruling the world, of being able to do achieve anything you wish for, and these pumps are here to support your every step. Put on your best clothes, throw these on and you're fit to be a leader!
Extra cushioning
The importance of cushioning for knee and joint health cannot be stressed enough, which is why Anne Klein made sure these shoes provide enough padding to save you the trouble of joint aches later. You will never back down with these by your side!
Cost and Value
These platform pumps are medium cost, which is dazzling given how much they have to offer! All the technology that went into crafting this graceful yet powerful pair is astonishing, which is why you should make sure you don't let them slip through your fingers!

Subscribe to our Newsletter