Best Party Shoes Reviewed & Rated
In a
Hurry? Editors choice: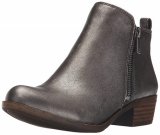 Test Winner: Lucky Brand Basel

It's the summer, the time of year when all people from all backgrounds of life come out to play and have fun. The elevated temperatures during this time ensure people dress down to only the essentials, so clunky winter coats, boots, and other coverings can be left at the door! This is the time of the year when people put on the best events, and when you break out your party shoes. From brunches to day parties, to dinners, to cocktail events and more; these styles of party shoes have you covered! Having the right style for these occasions is so incredibly crucial. When you're rocking a pair of these party shoes, you'll never fade into the background.
Standout Picks
Criteria Used for Evaluation
Style
When you're out on the town, you want to be the center of attention in your party shoes. Maybe not the exact center of attention for the more introverted readers among us, but you want to look good and be complimented. Everyone wants to feel appreciated and loved. You'll fade right into monotony if you wear plain heels to a nightclub where it's dark and loud. You need a pair of footwear that is louder than the music, which will make people say 'Wow.'
Intricate, tiny stitching might wow someone in your office at 10:00 in the morning, but it won't wow the cute guy or girl across the room. Instead of tiny stitching, these need to have very large and obvious parts and sections, like oversized buckles and flashy ribbons. But then again, they do not have to have oversized parts to have a wow factor. There are plenty of pairs of party sheos that can sparkle bright or have rhinestones or other material that look like actual diamonds or precious stones.
This is another reason why these designs often have sky-high heels, because who's going to strike up a conversation about your skills moving around in 3-inch heels? You are not going to get compliments on a normal ankle strap that wraps around your ankle, but you will attract eyes with 'ankle' straps that wrap up to your knees. But then again, these shoes do not have to have oversized parts to have a "Wow!" factor, but they will have to be obvious though. There are styles that sparkle bright or have rhinestones or other material that look like actual diamonds or precious stones.
The wow factor is all about vanity, and the designs that we picked will make the night all about you. Whether the event is in the morning, noon, evening, or even after dark, these pairs of party footwear will impress the people around you without emptying your pockets.
Materials
You can't have wow party shoe without having great design. There are times where these products can have a simple design and look great, but when it comes to a striking look, there is no beauty in simplicity. Great design doesn't only refer to how a looks, but also how it fits and functions as well. You can have the prettiest pair in the world, but it's not designed to fit your entire foot as comfortably as possible, then it doesn't make sense to wear.
First of all, the colors are very important. Designs in this vein do not have to have floral arrangements, or have polka dots, or be in loud colors to fit the bill. They can be black and still be well-designed. It all depends on the event that you are attending. If you're looking to stand out at night time, you will either have to wear colorful party shoes or perhaps a pair that features bright highlights.
Always ensure that when picking your partying footwear that you do not skimp on comfort, or you'll surely face misery throughout the event. As said earlier, how comfortable the design happens to be is as important as how they look. We made sure that the models that we picked to review are comfortable, but everyone's feet are different. Some feet are not suitable for high heels. You should know what your needs are, and you should shop with all those things in mind.
Versatility
When we talk about mobility, we mean how much you can move in the pair that you pick. We talked about how design is important in the way the pair of party shoes feels around your feet. If you are not able to move around in your footwear, then it's probably designed poorly, or the design is simply not meant for you.
High heels are notorious for wobbling. This happens when a person wearing high heels do not have their feet, especially their ankles, properly secured, which causes balancing problems on the heel. We made sure that the styles we picked will have your feet well secured to walk around and dance just like everyone else. What's the sense of having good looking party footwear if you're going to be sitting all through the event?
They must also have a good seat for your soles and must anchor your heels as well. This prevents embarrassing situations of not only wobbling but also slippage. The pair that you buy must be the right fit as well.
Comfort
Heels are a style staple when it comes to flashy evening designs of party shoes. Of course, we have also featured flat models. You won't always want a tall heel to balance on after having one too many, after all, and sometimes it's nice to have a pair to switch into. Heels are generally more popular, though, so that's truly our focus. It's difficult picking the right heels when shopping online, so there are a few things that you should keep in mind. When wearing high heels, the part of your feet that will most likely suffer the most are your toes. Usually, pumps will have pointy toe spaces, so if you know you're going to have a problem with this, try picking footwear that either has open toe spaces or ones that have square toe spaces or round ones. But even if you are used to decreasing toe spaces, wearing styles with small toe spaces will give you a higher risk of developing corns, bunions, and even arthritis.
As mentioned before, high heels, especially those with small platforms, will make your legs more prone to wobbling when you're walking. They also put more strain on your lower back and knees, so these are the things you must keep in mind when wearing heels over 3 inches. Your posture is extremely important when wearing high heels, to prevent health issues down the road. A good practice is to walk in your heels at home before taking them out, to get a good feel in your party shoes and to ensure you can walk in them.
Value
The price of a party shoe can sometimes be a deal breaker. That's part of the reason why footwear manufacturers invest time and energy into creating cost-effective technologies to incorporate into their shoes to make them durable, long-lived, versatile, and inexpensive.
Durability & Longevity
Footwear, usually, lasts more than a few months, because shoes that are going to fall apart after a few months of use aren't worth the investment of more than a few dollars. Leather and synthetic overlays can be used to make the shoes more durable without sacrificing flexibility. Firm leather or synthetic uppers provide durability and support.
Versatility
Great footwear can be used for more than one activity. Walking and running shoes, for example, can be used in some casual sports. Stylish athletic footwear could be used in informal work environments. Sandals can be used in casual and semi-formal settings. The more situations you can use the party shoe in, the more value it offers for the price.
Maintenance
Good footwear is easy to maintain and clean. They don't require a lot of expensive shoe treatments or time-consuming upkeep. Shoes that need a lot of effort, time and money to maintain, don't sell as well as shoes which are easier and cost less to keep.
Removable inserts
As mentioned earlier, removable inserts in footwear make it customizable, but that's not the only bonus to removable inserts. Removable inserts increase the longevity of the party shoe, which is why some come with removable inserts.
Cost
A hefty price tag can be a deal-breaker for people on a budget. That's why many can be found in the low-to-middle price range. They're affordable, and if they are priced a little higher than others, then they offer many features to make the party shoe worth the extra investment.
10 Best Party Shoes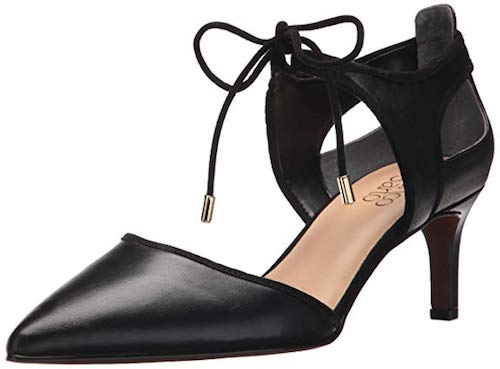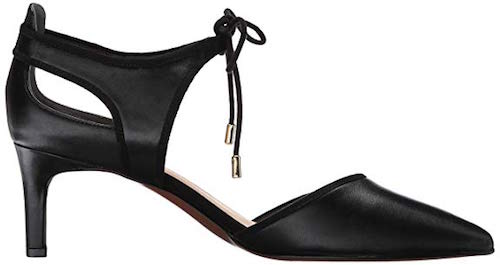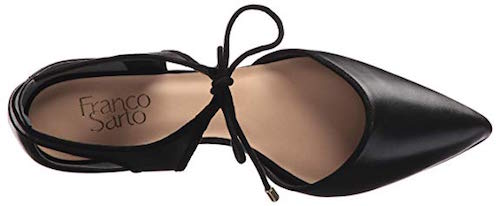 The Franco Sarto Darlis Dress Pump is unique in that instead of an ankle strap; it has laces that tie up in a bow. These shoes have a unique design that is bound to look great on your feet. You can get these in either leather or velvet, and they come in a variety of colors. This style covers the heels and back of your feet, and also your toes, leaving the middle of your feet exposed. They would go nicely with most things, just as long as the clothing ends a bit over your ankle, like crop pants or capris.
You can get these shoes in a wide variety of colors, including beige, green, purple, taupe, mauve and ivory. There are also some very interesting variations like Navy which is very dark blue and has white floral patterns all over it.
They may be one of the most comfortable heels, let alone a party shoe you'll ever try on. The footbed is padded and paired with synthetic soles. The heels are only 2.5 inches, so they are not high enough to cause any sort of discomfort. The only thing that might be a concern is the laces, which may rub on your ankles.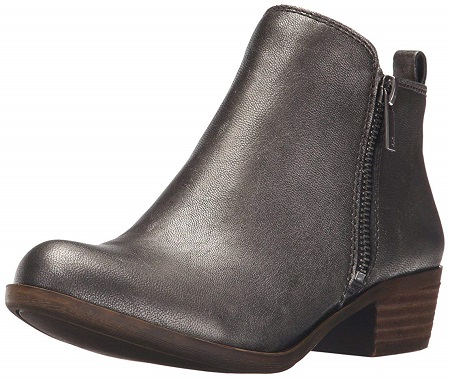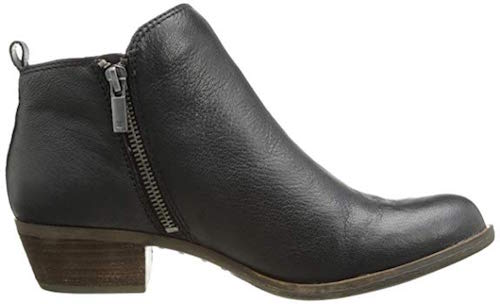 Everyone could use a little extra luck in their life, and what better way than from an apparel brand called Lucky? The Basel ankle boots are a great party shoe made with a stylish and comfortable stacked block heel, a wide range of size and color options, and a dual zipper design. You'll have a spring in your step with this party shoe, and feel like Lady Luck is on your side.
While stilettos and other skinny heels are aesthetically appealing (and according to some folks, make your legs look longer), they are not inherently comfortable. They hold your foot in an unnatural shape which can be painful if you're wearing them for a few hours or standing for a while, and the heel's small surface area can make it difficult to balance on them, especially when dealing with stairs or uneven ground. While the heel on the Lucky Basel only measures 1.5", the stacked block style has a larger surface area to balance on, making them more comfortable for all-day wear, and reducing the chance of a painful (and probably embarrassing) stumble.
The Lucky Brand Basel are offered in over thirty different color options, ranging from basic black and grey to bright yellow and everything in between. They are even offered in some patterns, such as camo, leopard print, and a classic floral damask print. This makes it easy to find the perfect pair of ankle boots to match your outfit. Though with their relatively affordable price, you'll want to grab multiple pairs in different colors!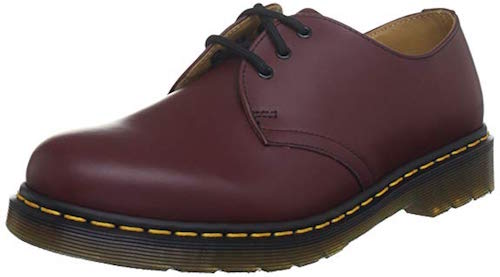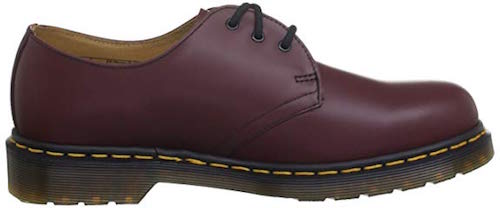 The thing about these classic Derby shoes by Dr. Martens is that they're one of the most versatile pairs of footwear available for purchase. It is exactly this versatility which makes them such a good investment, seeing that you'll be able to wear them to parties, outings, work, school, or on any other occasion. The brand offers a huge variety of prints and upper materials, so you can choose a look you'll be most happy with - from classic leather to textile, to sequins, or embroidery or even metallic choices, there are no limits with the 1461.
The upper of the Dr. Martens 1461 comes in a number of materials. If you decide to go with leather, you'll find that it's a durable choice that's of high quality, that protects you against the elements and will mold to your foot with wear. The lining allows for airflow, and you'll surely appreciate the Goodyear welted construction that means these shoes are completely resoleable as well as weather resistant.
As for the sole, the Dr. Martens 1461 uses a classic Air-cushioned outsole that is made with high-quality, abrasion, slip and oil-resistant rubber. It helps absorb shock, all the while ensuring a good amount of flexibility and support.
You'll find that these shoes are quite easy to care for, and with a bit of love, they can last you for decades. As for price, it's slightly higher than average, but considering the versatility and quality you'll be getting, the Dr. Martens 1461 is quite a good investment.

4

. Gentle Souls Lily Moon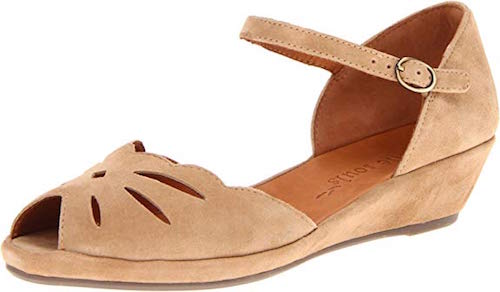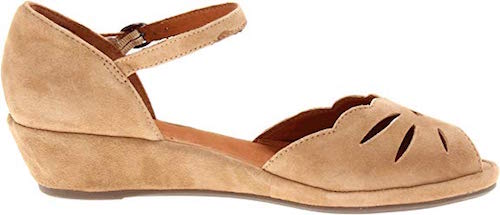 World-renowned fashion designer Kenneth Cole brings you Gentle Souls, a product line that is all about bringing some 'Zen' to your feet. The materials they use in this party shoe are patented and are made to provide the utmost comfort to your feet, all while being durable and strong. Not only are these comfortable, but they also look great too. The Gentle Souls Wedge Pump is a comfortable pair to wear, and they are gorgeous too. They are wedge pumps, but they could be thought of as flats, with heels only rising to 1.5". If you are in the market for some stunning style but can't wear heels, the Gentle Souls Wedge Pump may just be the party shoe for you.
The toe space on these are narrow, but they're peep-toe as well, meaning your toes will have room to breathe. The section that covers the majority of the foot has a design that makes it look like a shell. This design adds to the comforting mantra that Gentle Souls is all about. In true d'Orsay fashion, the sides are cut away revealing the arch of your foot, so there is an ankle strap to probably balance that out, so your feet don't feel like they are falling out.
These wedges are only available in a limited set of colors such as black, gold, black, gold leather and graphite. The gold leather is different than the others because it's regular genuine leather, not suede like the rest. The graphite looks like you're wearing dark gems on your feet.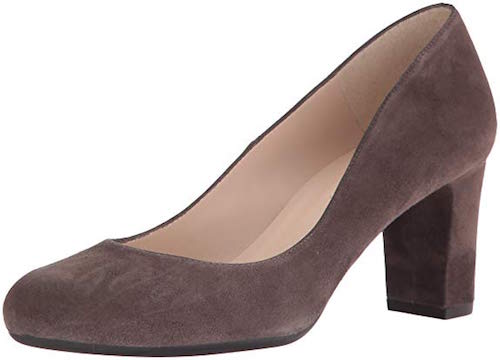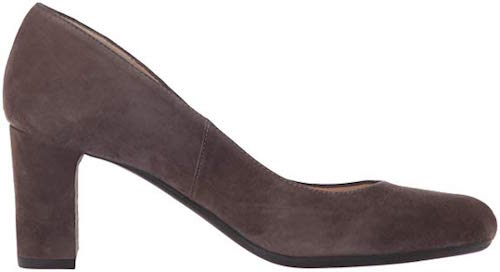 These suede court shoes can quickly become your go-to pair of footwear. Made with a simple, timeless silhouette, these will look amazing with any of your favorite outfits - from jeans to skirts, to cocktail dresses or even gowns, these pumps will go with anything. Plus, you can choose from a number of colors so you can match them to your outfit and accessories perfectly.
The Sersha is made with an almond toe and chunky heel, which works great for events where you'll be expected to spend a lot of time on your feet. The forefoot is wide enough to allow your toes to splay naturally, while the thicker heel means a greater surface to put your weight on, thus preventing ball of foot pain or calf strain. You'll also find that the 2.5" heel height works well for any occasion, and you may even decide to wear these to work, where higher heels might not offer the necessary comfort.
The upper of the Sersha is made out of genuine suede which is soft to the touch and highly breathable. It's easy to break-in, and the leather lining increases comfortability. The sole is made from synthetics, so you won't have to worry about keeping these away from rough or slippery surfaces. Furthermore, the synthetic outsole keeps the weight of these pumps down, so you don't become fatigued throughout the day.
In terms of cost association, L. K. Bennett footwear tends to be expensive, but you may be lucky enough to find the Sersha on sale, making it a great investment for both work and play.

6

. Badgley Mischka Royal Dress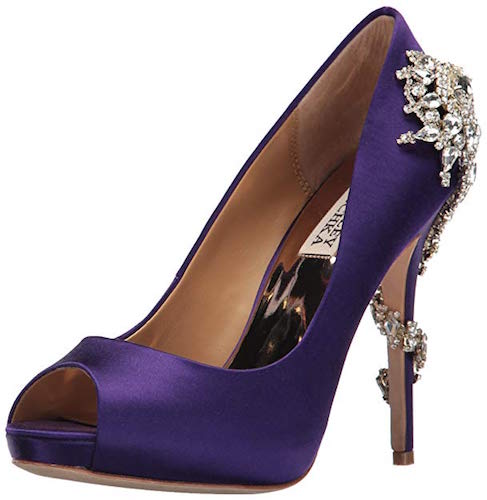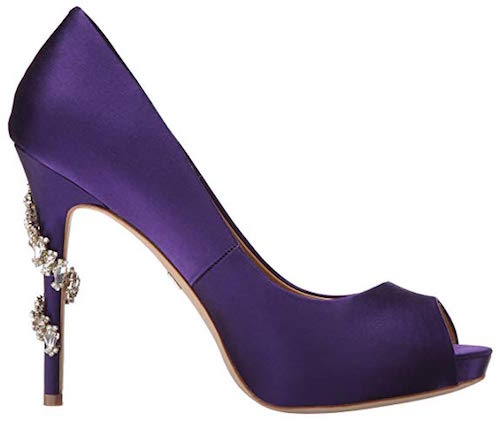 How about a pair of pumps that the celebrities are wearing? Not necessarily saying we saved the best for last, but these are designed for the red carpet. Designed by a couple of stylists hailed by Vogue as two of the "Top 10 American Designers", the Badgley Mischka Royal Dress Pump will have you feeling like Madonna, Rihanna or Julia Roberts, all who have had outfits designed by the duo. Even without knowing the background, these party shoes just look like royalty. They have a nice velvet look, peep-toe and interesting design on the heel. These are great for more sophisticated events, such as galas, formal dinners, and weddings.
Starting at the back, each is an embroidered brooch-like object filled with shiny stones in a flower shape, and from that is a long trail of more shiny stones that wrap around the heel. It's such a nice touch and looks like there's a vine wrapped around your heel. The Badgley Mischka Royal Dress Pump has its heel measuring at 4 inches, and they come in a satisfactory variety of colors such as white, nude, black, blue and African violet. What makes these even better are they are peep-toe, which eases the pressure on the toes without having to make the toe space round.
These pumps are a mix of velvet and leather. The velvet gives them a soft, glam glow. The soles are leather, which means they will mold well to your feet. That's good news for those who will have to stand for a long time, like for example a new bride on her wedding day.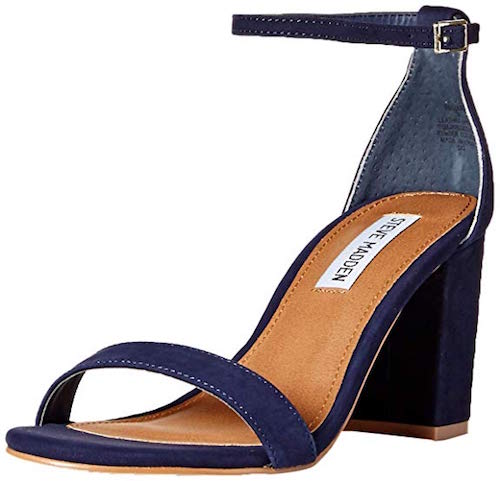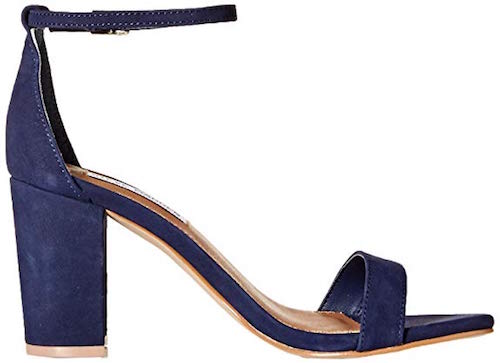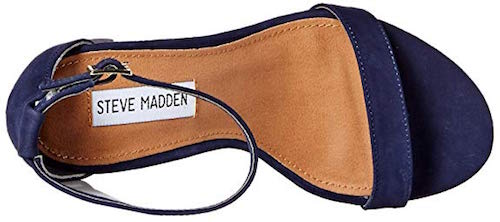 Steve Madden is a great brand that loves to give stylish footwear, including party shoes, to its customers are great prices. They try to make their brand look as luxurious as possible, from their logo to each model design, but doing it at affordable prices. The Steve Madden Declair Sandal continues in this great tradition, by making pumps that show off most of your feet including the toes but also making them comfortable to wear for a long time. These sandals have just two straps, one across the ankle, and one across the top of the base of your toes. These pumps also come in a variety of colors.
These shoes are 100% leather with a rubber sole. To make the footwear more comfortable, Steve Madden added a cushion for your feet. One strap surrounds your ankles to prevent wobbling, and the other just anchors the top of your feet enough to expose those newly pedicured toes. The heels are high, 3.25 inches to be exact, but not too high to quickly cause discomfort.
The colors that these sandals are available in is probably the most interesting thing about them, They are available in black, blue, grey, gold, teal, and red, and each color has a variation that you can choose from. You are spoiled for choice with these shoes.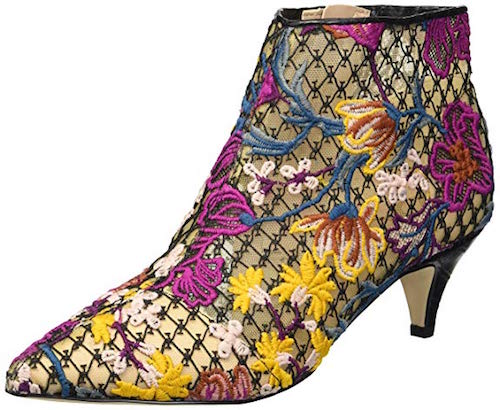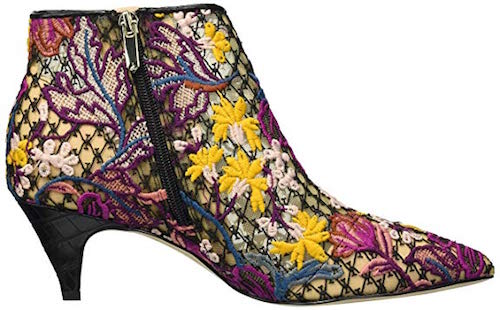 Talk about fashion boots! This party shoe from Sam Edelman not only will keep a clean sleek look to your outfit, but with all the patterns, colors, and styles this pair comes in, you may end up with more than one pair to your footwear collection. The Kinzey is an ankle boot with pointed toe, super clean lines, and a statement making party shoe at the very least. Between the leopard print, red leather, and jacquard print, we aren't sure what our favorite is just yet!
This party shoe keeps a low kitten heel so you can be comfortable when going out on the town, walking block to block. Synthetic soles help provide some traction upon varied surfaces, though we wouldn't take this pair of party boots out in bad weather. An inside zip closure provides easy access into and out of the Kinzey. And while there is little collar that's padded on this boot, the opening measures 11 inches in diameter, so you will have plenty of room for ankles to move.
The lines of this shoe have been kept sleek, simple, and clean, giving it a polished feel and appeal. A pointed toe adds a bit of glamour, but what we absolutely love about it is the plethora of options in which the uppers are available. From floral laces and jacquards, to animal prints, leopard spots, and plush suede colors, it's got a style to suit anyone's taste. Red leather would be a heart stopper in this pair of ankle booties!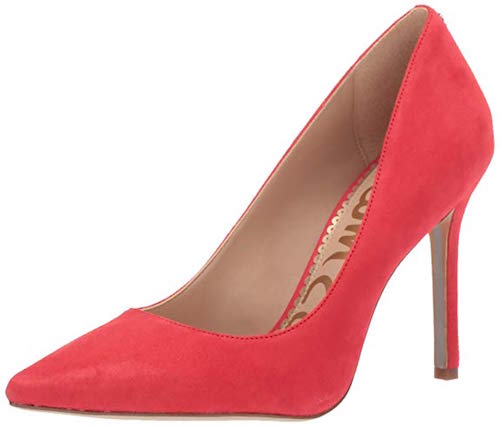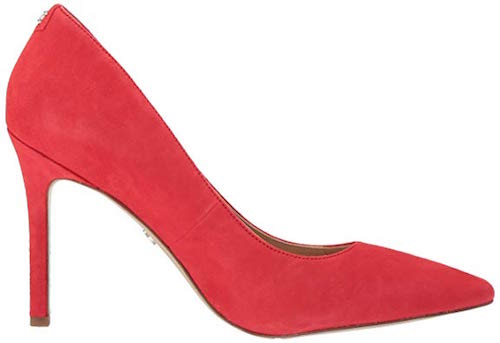 Sam Edelman has been in the industry for a good while now and has become a standard-bearer in the fashion industry. This brand has a real eye for great silhouettes, and that is seen in the Sam Edelman Hazel Dress Pump. This party shoe is guaranteed to look gorgeous on your feet. Not many brands can pull high heels off, but these get every single curve just right. They follow the contours of the side of your feet and seem to curve nicely at the lining of the shaft. This party shoe is available in a variety of colors for you to choose from.
The Sam Edelman Hazel Dress Pump comes in a wide variety of interesting colors and patterns. Some interesting patterns you'd want to check out are a grey leopard, woven stripes, and Sahara leopard. To pull off each color, they are most likely made of a different material, such as leather, suede, Jacquard, liquid metallic and Brahma hair. The gold shoes, for example, are made up of the liquid metallic material, and they look so much better than they would in leather.
The heels of this party shoe are standing on 4 inches of heel, which are pretty thin but pretty steady. They are high but not at the height where you are most likely to have your ankles wobble a lot. The soles are synthetic which means they are slightly more flexible and breathable than they would be if they were leather. The toe space is pointed so you'd have to keep this in mind when buying this party shoe. To ensure you don't have a torrid time wearing them because of the toe space, they made sure to add 4mm of cushioning.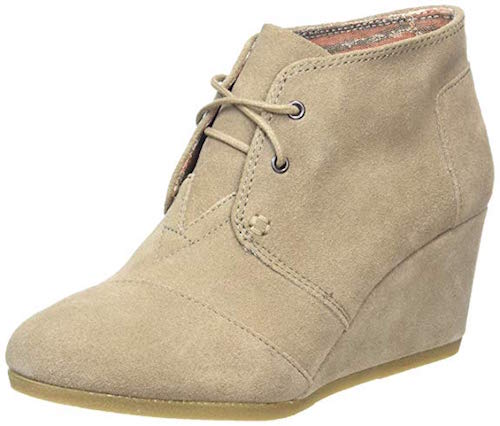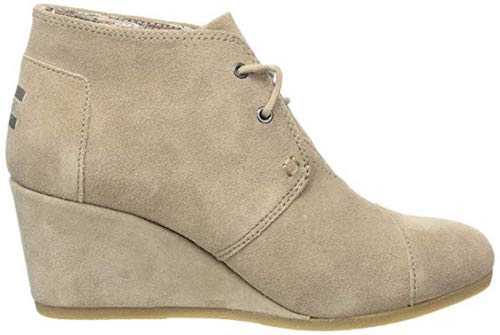 TOMS has become a very popular brand over the years and is a staple of college campuses across the country. While their classic textile flats are their most iconic design, they also offer more formal designs such as boots and wedges, which are perfect party footwear! The Desert Wedge is one such design, coming in a wide range of color and fabric options.
The TOMS Desert Wedge are offered in over thirty different color options, from basic black and beige to light blue and a few patterned options. They also come in different fabric options, such as suede, canvas, and burlap. Sizes range from 5-12 US and 35-43 EU, with some US sizes coming in different width options. This ensures that you will be able to find a pair of booties that is not only comfortable but visually appealing as well.
Originally starting with donating shoes to children in need the One For One Initiative has blossomed into multiple areas of service around the world. TOMS partners up with organizations around the world to assist in proper pediatric and maternal care, as well as nutrition programs and working to make advancements in treating blindness caused by malnutrition. All of this is done neutrally, meaning that neither TOMS nor any of their partners have political or religious affiliations. For every purchase made, TOMS cannot only provide shoes for those in need but thanks to their partners, can work towards improving the quality of life of people around the world.

Subscribe to our Newsletter