Best Evening Shoes Reviewed & Rated
In a Hurry? Editors choice: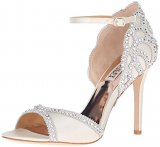 Test Winner: Badgley Mischka Roxy

As the sun sets and nightfall descends upon us, the cities come alive. The moonlit sky sets the perfect backdrop for fancy parties, dressy galas, and formal occasions. These gatherings call for evening shoes that dazzle like stars in the midnight hours.

Both men and women can look their best at closing time with a little help from the most fashionable designs available, ranging from sultry kitten heels to polished oxfords to towering stilettos. Take a look at our list of top evening shoes currently on the market, and complete your outfit without any effort at all! Enjoy!
Standout Picks
Criteria Used for Evaluation
Style
Evening shoes come in many shapes and styles. There are looks for both men and women, ranging from a fairytale ballet flat to a sultry stiletto or masculine monks to handsome oxfords. No matter your tastes or personal style, there is an option to match with any outfit.
Men:
Yes, men need evening shoes too! Luckily there is a huge assortment of styles available that are totally ready for sundown. Whether you're heading out for a beer with the boys or for a sizzling date night with your significant other, there's a pair that's perfect for any occasion. Five of the most popular choices are:
Oxfords: Oxfords are made for classy events and offer a formal appearance that's dressy by nature. Oxfords are available in almost any color, with neutrals like black or brown being the most popular. This type of evening shoes is best matched with dress pants but should be avoided when you're wearing denim.
Loafers: Loafers are a slip-on style that's comfortable, versatile, and stylish all at the same time. The sleeker in design a loafer is the more dressy it's considered and they come in every color under the sun.
Monk Straps: No, this isn't the footwear of monks! A monk strap is actually a dress shoe that has a buckled strap in place of shoelaces. They're usually made from leather and are available with one to three straps.
Dress Boots: Dress boots are a professional look that's sleek in design. Feel free to wear them with jeans, slacks, or even suits and enjoy choosing from the tons of colors available.
Wingtips: Wingtips are considered to be one of the classier men's dress styles. A "wingtip" is designed with a toe cap that looks like wings outstretched across the front.
Women:
Women love their footwear and, when it comes to a night out, looking your best is a must! As with any kind of apparel for ladies, there are tons of variations available. So if you're headed out for cocktails with the girls or for a romantic dinner with your significant other, try one of the styles described below:
High Heels: Heels come in a multitude of variations, from low kittens to towering stilettos. They are a staple in the women's fashion industry and are widely regarded as being one of the sexiest choices of evening shoes for females.
Flats: When it comes to flats for wearing after dusk, it's all about solid colors or metallics. Some options have glitter or rhinestone accents, which makes them appear more dressy. If you're going to a professional gathering, opt for a solid neutral tone.
Boots: Ladies' boots are a great choice for dusky outings! Ankle or knee-high lengths are usually preferred and can be paired with pants, dresses, and skirts.
No matter if you're shopping for men's or women's, evening shoes should be classy and stylish. Looking your best when the sun goes down is as easy as finding the perfect pair that can enhance your look in all the right ways. Keep in mind, however, that clubbing requires a very different choice of footwear than you would wear to a classy black-tie event.
Features
When the sun goes down it's time to turn up the dazzle when it comes to your evening shoes. Many styles are made using glitter or rhinestone accents that dazzle under dimmer lighting. Depending on where you're headed, this look may or may not be desirable. Professional get-togethers are usually more suited to neutral solid tones, whereas casual outings are the perfect place for some added sparkle.
Glitter: Glitter is popular for special occasions or holiday events, but it can also be great for clubbing with friends. Heels or flats are a good style for glittering, though you may want to opt for a pair that's not fully glittered. There are different sizes of glitter, ranging from dust to three millimeters in diameter and each size presents a unique effect. Small glitter flecks are brilliant when viewed from farther away as they are reflective to light.
Rhinestones: Another popular method of enhancing evening shoes is adding rhinestones to the mix. Rhinestones come in many shapes, colors, and sizes, making them a versatile detail. Pumps look great with a rhinestone accent heel, while flats are super cute too. Men's styles are less likely to feature rhinestones, though there are a few options that totally rock the colorful stone look.
Closures: Evening shoes come with all kinds of styles of closure. Depending on personal preference and style, you may have a favorite or find that there's one that's more comfortable than another. The variations are:
Zippers
Buckles
Laces
Slip-on
Zippers are popular for their ease of wear and for their stylish appearance but they don't allow for much customizing in tightness. Buckles are adjustable to preference, which is a selling point for many. Traditional laces are very popular but less so for dressy footwear, and slip-on styles are a favorite among men.
Colors: Colors are important when it comes to evening shoes. Pale pastels, dusky dark hues, and solids are always a good choice, whereas neons and bright yellows or oranges are best avoided. Reds can be quite nice, though it's best to opt for a darker shade to tone down the brightness. Blacks, blues, greys, and pastel pinks are a safe choice and will look good with most outfits.
Comfort
The comfort of a pair of evening shoes depends on many things: how well it's made, the kind of cushion it has, and how supportive it is, to name a few.
If you're shopping for heels, keep in mind that their height affects how comfy they are to walk in. Higher heels are much more difficult and put more strain on the arch of the foot. Lower options, like kitten heels, are easier on the feet and back, causing fewer problems overall.
It's important that the materials be breathable and lightweight to prevent sweat and odors from occurring which can become very uncomfortable. When feet sweat, odor-causing bacteria begin to grow and once this happens it won't be long before the inside of your shoe starts to stink. It will be very hard to get the smell out and it can totally ruin your evening shoes for good.
If you feel uncomfortable walking in higher heels, then opt for a kitten style or for a flat. This will prevent a world of discomfort later in the night and will keep you quick on your toes all through the eve. For those with wider feet, it's good to opt for a rounded toe which offers more room than a square or pointed. Don't try to squeeze into something that doesn't fit properly because this will lead to blisters and can make it impossible to walk for the rest of the night.
Cushioning is a big contributor to your comfort. Inadequate padding puts more pressure on the sensitive sole of the foot, which can cause pain in the arch and heel. The cushion also acts as a shock absorber, preventing waves of impact from traveling through the foot and up the leg.
Durability
It would be quite embarrassing to be out with some friends, on a date or performing at a fashion show and, all of a sudden, your evening shoes snap/break from underneath you. This is why one of the most important aspects of choosing the best evening shoes for yourself has to be their durability.
Durability is determined by many factors, namely the quality of the materials that go into the design, the type of construction it underwent, how you use the shoes, how often you wear them etc.
In terms of materials, evening shoes made from genuine leather and suede are definitely the most durable. These natural materials can withstand wear and tear, and with a little bit of care, they will last you years to come. Thinner materials, such as textiles and satin and mesh, are less durable and will thin out or fray over time.
Synthetic leathers, while being animal-friendly and less expensive than natural ones, are also not as long-lasting. They tend to crack, flake and show signs of wear much sooner than expected.
So in terms of durability, if you wish for a truly great pair of evening shoes to wear year after year, then invest in genuine leathers.
We must emphasize here that, in general, evening shoes tend to last longer than casual or everyday footwear. The reason is simple: you wear your evening shoes much less than you wear your casual sneakers or flats. This is why, overall, you shouldn't limit yourself too much in terms of durability. You are buying footwear for special occasions, and even if it's not made of the most premium materials available, it will still last you at least a few seasons.
Value
When it comes to value, it is important to understand that it is not only about the price tag. Yes, the cost of a pair of evening shoes factors into their value, but there are other things as well, such as the quality of their make, their visual appeal, longevity, even versatility.
A value of a design answers the question of whether or not it is worth purchasing; whether or not its cost reflects its quality.
That is not to say that the more expensive the design is, the more value it has. We looked for a good balance between the two, where a pair of evening shoes isn't too expensive, but where its quality, construction, and design speak far more about its value.
So if you want to be able to find valuable evening shoes by yourself, consider the following: the type of material the design is made of, how long you expect it to last, whether or not it is fashionable or meeting your aesthetic standards, if you'll be able to wear it to other events, not just the special one you're attending... and whether or not all of that is worth the price it carries.
When you answer all of these questions, you will find yourself with a pair of stylish evening shoes of good value that you are bound to enjoy for quite a long time to come.
Our Favorites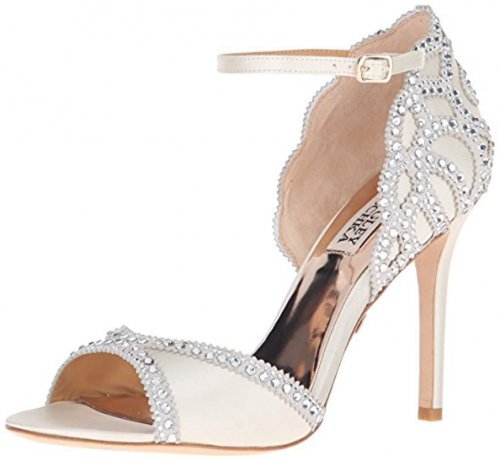 This list wouldn't be complete without a Badgley Mischka design, and the Roxy is a stand-out piece in every way. This glamorous d'Orsay heel has crystal embellishments lining the toe strap, as well as the heel counter. It comes in several different color options, from ivory to black to navy blue, and you are bound to find an option that you like. No one makes evening shoes quite like Badgley Mischka, and thus you should grab them while you still can!
The Roxy is made with dazzling four-prong setting rhinestones for a shimmer effect. Their medium heel height makes for a more natural stride, while still elongating your legs. These heels won't slide on your feet thanks to a secure-fitting heel strap that keeps them right where they should be.
Badgley Mischka uses only high-quality materials and never compromises quality for low prices. They use only carefully sourced long-lasting material and sell their items at an affordable price. These evening shoes have beautiful sparkling rhinestones and are made from comfy synthetic materials. Their leather outsole provides an elegant finish so you can walk with ease.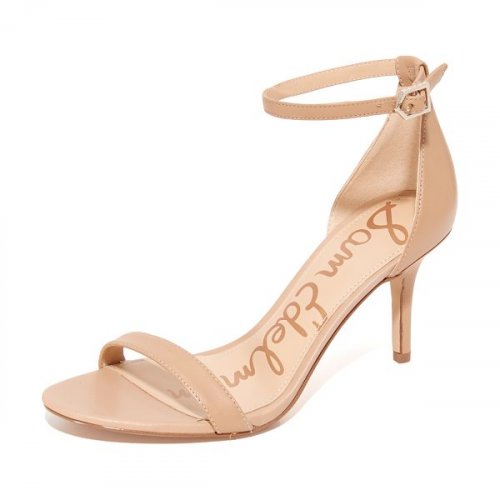 These stunning low-rise heels from Sam Edelman ensure total comfort with every step. They boast an open toe silhouette and are made from synthetic or genuine leather, depending on your preference. The Patti has exposed sides and features an ankle strap with a secure buckle closure. If you're searching for a pair of evening shoes to prowl in after dark then these chic sandals have got you covered.
This Sam Edelman sandal comes with a 3-inch heel and an adjustable buckle closure. Your feet won't slip or slide while you move and their non-slip outsole will keep you steady on the dancefloor. Their heel height is the ideal mix of comfort and allure which will make see these your go-to pair of evening shoes.
These heels are wonderfully affordable. They are super-svelte and sundown-approved thanks to their open toe and sultry ankle strap design. Don't feel left out of the crowd at closing; instead, take center stage thanks to these vivacious summer sandals.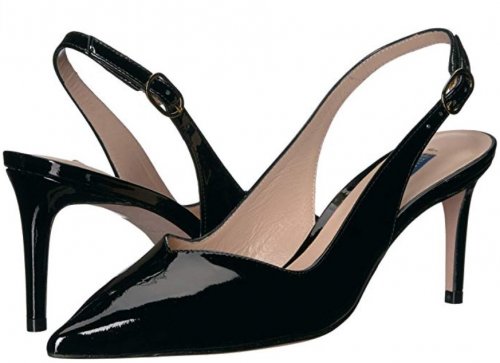 Representing the more high-end designer brands on this list is the Edith from Stuart Weitzman. These sophisticated slingbacks are effortlessly sharp with their pointy toe front and gleaming leather upper. The Edith is wonderfully high in quality, easy to walk in thanks to its low heel, and versatile in terms of its color choices (black, nude and fiery red). These evening shoes can take you from day to night without a single problem!
The Edith is made from genuine leather of the highest quality. The strap in the back is adjustable thanks to its buckle closure, and the vamp is cut in a sweetheart style for a touch of femininity. The insole of the Edith is made from leather as well, making them perfectly tailored for your feet in just a couple of wears. The heel is around 3.25 inches high, giving this pump that all-day - or all-night - wearability that we all need.
The Stuart Weitzman Edith is certainly an investment due to its brand name and the quality of its materials. However, if you wish for a truly outstanding pair of evening shoes that you can wear for years in the future and that you can pair with practically any outfit - even less formal ones! - then take this beauty into consideration.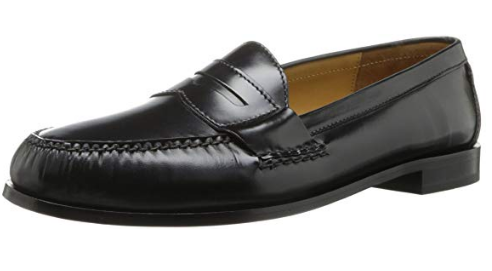 The Howland from Cole Haan offers a calfskin upper and gorgeous penny slot details that make for a classic look. These evening shoes go well with everything from casual wear to dress attire. They have a leather sock liner that's soft and breathable so you could even go without socks. The Howland's low-stacked heel adds extra stability and its hand-stitched construction makes for durable wear.
The Howland has an injected thermoplastic urethane outsole that provides solid comfort with every step. Made for long-lasting wear, this outsole is ideal for guys on the go. Whether you're hitting the dance floor or maneuvering the office afterparty, you'll look good doing it thanks to the streamlined vibe of this pair of evening shoes.
These slip-on penny loafers retail for a fair price. They offer incredible craftsmanship and detailing unique to Cole Haan footwear. If you're in the mood to look your smoothest, then this is the best choice for you. They look good with almost anything and easily transition from dawn to dusk.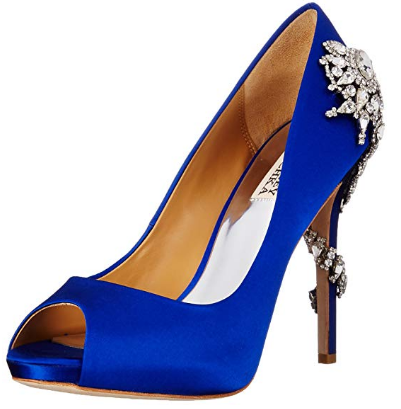 The Royal from Badgley Mischka is an elegant heel that adds glamour to any outfit. It offers a stable ½-inch platform for an easy walking experience and a 4⅜-inch heel that has gem embellished accenting. These are the ideal evening shoes that will take you from dusk until dawn with ease.
The Royal features a cute peep-toe design that is fun and flirty. Peep-toe heels are super-versatile and let you show off your new pedicure. Matching your favorite toe polish with your outfit and throwing on a pair of Badgley Mischka Royal high heels is all it takes to rock the night away.
The Royal has a glammed-up satin heel and boasts an impressive display of rhinestone gems along the backside. These trendy evening shoes have a soft lining material that's breathable to prevent a build-up of sweat. They also have a non-slip outsole that keeps you secure on any surface.
Badgley Mischka's Royal is a high-end pair of heels and they come with a higher price tag too. Despite costing more than other options on the list, the Royal is a worthwhile investment in style and you're sure to love the sheer beauty and comfort they have to offer.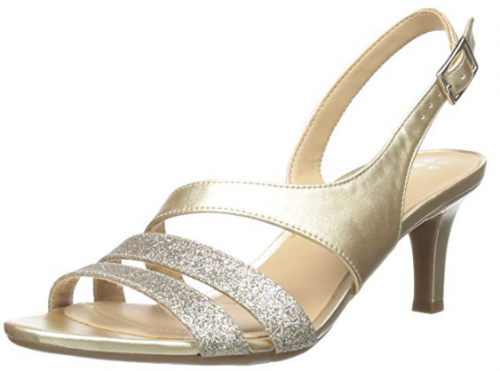 The Taimi from Naturalizer isn't just an ordinary pair of heels. These are made with an advanced cushioning system and ultra-lightweight materials. Naturalizer has found the perfect balance between comfort and style in the Taimi. This is the ideal pair of evening shoes for ladies who enjoy looking their best but don't want to sacrifice comfort to achieve it.
The Taimi is ripe with features designed to promote better foot health. They come with advanced cushioning, a flexible outsole for a natural foot feel, and perfected heel-to-toe balancing. These heels have an airy lining material that allows for adequate airflow around the foot, preventing sweat.
The Taimi isn't just a beautiful-looking heel, but its price tag is pretty appealing too. These evening shoes are sold for a completely reasonable price and offer excellent value. They are ultra-comfy and super-cute so you get the best of both worlds all in one.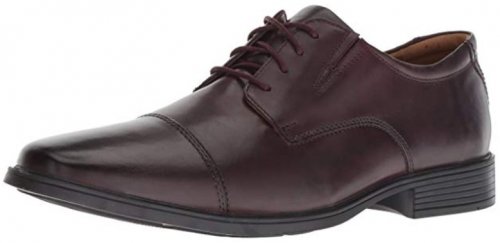 There is very little that speaks of class and refinement as a polished cap toe oxford does. The Tilden Cap from Clarks is a sleek pair of evening shoes that come with special comfort features, an elastic fit, and a number of colors to choose from. For our picture, we landed on this gorgeous wine leather, but you can easily go for black, brown or dark tan, depending on your needs and preferences.
The upper of the Tilden Cap is made from genuine leather for comfort, breathability and durability. There is an elastic insert to provide a stretchy, accommodating fit no matter your foot shape. The Tilden Cap has an OrthoLite footbed which is shock-absorbing and cushioning, as well as moisture-wicking for a sweat-free ride. The sole of this design is made from synthetic materials to ensure that you don't slip or skid across any type of surface.

The Tilden Cap is a pair of evening shoes that you can wear not only to an evening event but also to your next business meeting. They go well with a suit of any kind, though you can also dress up your more casual jeans and button-up combo with these elegant oxfords.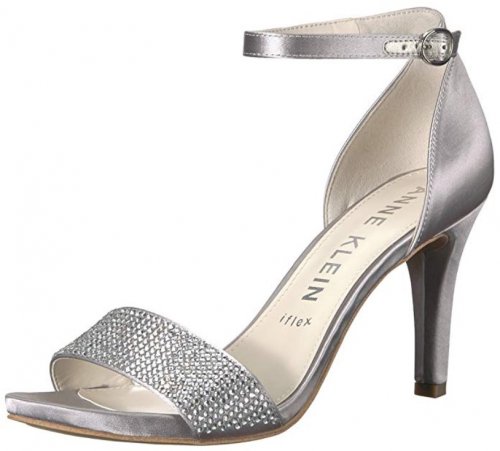 Even though she is of no relation to Calvin Klein, Anne Klein is a designer in her own right who carved out a spot for herself in the fashion industry with her refined and amazingly wearable designs. The Odree is a part of her evening shoes collection, a design that wows and impresses with its glimmering detailing and satin shimmer in the upper. If you're looking for that perfectly glamorous option, you definitely found it!
The Odree bears a classic heeled sandal silhouette with a toe and an ankle strap. The toe strap is bejeweled with glimmering crystals for a pop, and the ankle strap is adjustable to the width you need. The upper of the Odree is made from satin for a soft, easy wear. As most Anne Klein footwear, Odree also features the iFlex technology, which means that this heel is incredibly flexible and that it moves along with your foot, keeping you light and carefree as you dance the night away.
The Odree is that pair of evening shoes that you can combine with a sultry mini dress for a night out at a club, or with a floor-length gown for a more formal event such as a wedding. It is cute and flirty, and it will definitely make you the star of any event!

9

. Cole Haan Pinch Tassel



Given Cole Haan's reputation for crafting only the finest, most impeccable footwear - formal and casual alike - we're not surprised that the brand has two items on our list. This is another loafer, a little different than the Howland, a little more dandy and a little more playful. The Pinch Tassel is a pair of evening shoes that you wear to impress with your preppy but humorous style, and you are bound to turn many heads while wearing them.
This loafer has a hand-sewn construction, made from leather which has been hand-antiqued. The main feature definitely is the tassel detailing in the front which moves with every step you take, providing you with a touch of whimsy in your outfit. The Pinch Tassel is lined with leather for comfort and a healthy foot climate, and the sole and the heel are also made from leather, for maximum elegance.
We can't find a single flaw in the Pinch Tassel. The style of these evening shoes may not be for everyone, but if you feel like baring your ankles and putting a twist on a classic look, definitely don't pass these lovely loafers up.

10

. Mio Marino Deevor's Perforated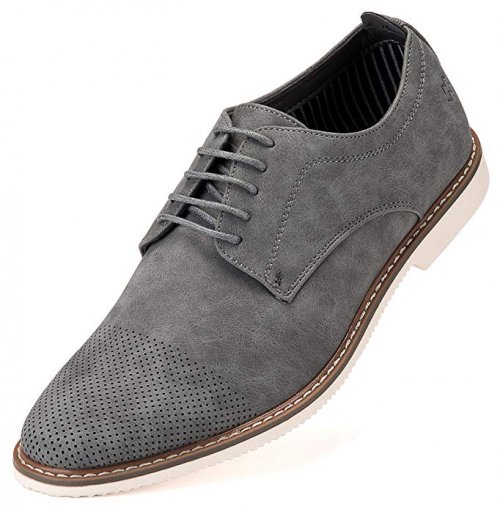 The Mio Marino Deevor's Perforated is an oxford made from smooth suede and has matching laces for added style. This pair of evening shoes will have you stand out from the rest thanks to their unique look. They are a totally comfortable option that is available in three colors: Aztec gold, royal blue, and shale.
The Mio Marino oxfords are made with a two-tone rubber outsole that provides solid traction on any surface. They have a perforated toe that's rounded and a breathable textile lining for additional comfort. If you're looking for a stylish pair to wear then these are the ones for you. They have a unique look and feel to them that's offset by their suede upper and lace-up style. They include classy textile lining and are a welcome change to the usual look of an oxford.
This is a prime example of a reasonably priced pair of evening shoes. They're perfect for nights out on the town and come in soft color tones that are great for twilight times. You'll love the classic comfort and unique style that these oxfords bring to the table.

Subscribe to our Newsletter