Best Glitter Shoes for a Radiant Look Reviewed
In a Hurry? Editors choice: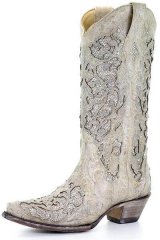 Test Winner: Corral Boots Martina

What comes to mind when you think of glitter shoes? Not too long ago they were reserved for Las Vegas and glamorous New Year's Eve parties in Times Square, but gone are the days of glittery footwear being something reserved for parties. The thought of mixing a casual pair of sneakers, flats, boots, or even sandals, with shimmering stones, an inherently dressy element, has captured the attention of consumers worldwide.

Pair glitter shoes with your favorite ripped jeans or even match with a sultry mini dress for Friday night cocktails with the girls. Whatever the occasion, we have the perfect list with a pair for every event.
Standout Picks
Criteria Used for Evaluation
Style
Choose a footwear style that matches your personal aesthetic and the purpose you're buying the design for.
Glitter shoes come in all sorts of shapes and sizes, everything from ballet flats to sky-high stilettos and offer a myriad of design features. The most commonly worn styles include:
Ankle Boots
Knee-high Boots
Flats
Pumps
Stilettos
Sneakers
Ankle and knee-high boots have become increasingly popular over the last decade and are an excellent choice to match with a pair of jeans or a minidress. Come colder weather, you'll want something to protect you from the elements, to an extent, but also something fashionable that you can take out and still be effortlessly glam. Sparkling boots are a great way to achieve this.
Flats are always a go-to choice of comfortable and versatile footwear that you can match with almost any outfit. Sneakers belong in this category as well, as they are flat and casual in aesthetic. The only difference is that flats - especially if more elegant in appearance - are office appropriate, while it's best to leave your sneakers at home when you go to work.
As for pumps and stilettos, shimmering options look great with a dress or skirt and are the perfect accessory for parties, events, and social gatherings. Whether you're attending a wedding or going for a night out with the girls, sparkling heels are there to make you feel sexy and playful and to help you have the time of your life.
Which style you go for ultimately depends on you and your personal tastes. Keep in mind the type of aesthetic you prefer, the type of outfits you wear and match accordingly. There should be no problems in choosing the right style for yourself!
Features
Among the features to consider in your new footwear are the closures and straps, as well as the height of the heel.
The features a design has to offer are the enhancements that increase the overall comfort and performance it provides. There are a couple of different areas included in the features, like closures and straps, which help with adjusting the fit and sliding into the shoe, and heel height, which determines its wearability.
Closures/Straps:
The type of closure footwear has sets the stage for how well it will fit and if it will stay properly in place without flopping or wiggling. There are three main styles of closures: traditional laces, buckle, and hook-and-loop.
Laces are a good choice for a more secure fit because you have total control over how tight you wish to lace them. The downside to laces is that there is always the chance that they will come untied, leaving you more vulnerable to tripping and subsequently becoming injured.
Buckle closures are a favorite for women among high-heels and flats because they're dainty and can add an extra layer of style to your footwear. Buckles are usually attached to the strap of a shoe and also allow for a customized tightness, which makes them a safe choice.
Hook-and-loop closures probably offer the most customized and secure fit of all three styles. These are commonly known as Velcro, and allow the wearer complete control over how tight the shoe will be fastened. They rarely come undone or loosen from the shoe.
Heel Height:
The height of the heel affects how well you're able to walk, as well as if you're going to experience leg and arch pain from straining to walk in an unnatural way. The ideal height for a heel would be below four inches, though it depends on your personal experience and foot structure.
Support
For maximum support, choose a contoured footbed, a comfort technology and/or a flat-soled design.
The amount of cushioning a design provides determines how good your feet are going to feel at the end of the day. Poorly cushioned footwear can lead to tired and achy feet because they do not properly absorb the shock waves which travel through the foot and up the legs on every step.
Proper padding that's both supple yet firm enough to provide support to the underfoot arch area will absorb excess shock and prevent foot pain.
To make sure your footwear provides the best type of support, look for the following:
Contours: A contoured or molded footbed is great for those who spend long hours on their feet, and who suffer from arch problems. A footbed like this will provide the necessary support to the trouble areas while reducing the onset of foot fatigue at the same time.
Comfort Technologies: Many brands create their own complex systems to maintain comfort. These include shock-absorbing midsoles, special arch cookies, gel/foam cushioning and many more. These combinations are carefully engineered to ensure the most support to the average foot, and a design which has a comfort technology in place is not a bad choice.
Stability: We briefly touched upon this in our previous section when we talked about heel height, but stability during walking is essential. It goes without saying that the higher your heel is, the less stable you will be. If you're not keen on walking in heels, choose flat-soled footwear which keeps you close to the ground and reduces the risk of injury.
Materials
Highest-quality footwear is made from genuine leather, regardless of its type.
The materials used to construct each design were taken into consideration in part for their vital role in the overall comfort. They determine not only the comfort levels, but also the durability of a design, breathability, flexibility, and so many other features at the same time. High-quality footwear means it's made from high-quality materials.
Materials like leather and canvas are good for moisture and odor control because both let adequate airflow around the foot as well as pull moisture away from the skin and push it towards the outer side of the material. This prevents a build-up of sweat and odors. Heavy fabrics such as synthetics are a poor choice because they block airflow and cause the feet to sweat.
As for water and weather-resistance, rubber is one of the best choices that not only protects from the elements but also provides superior anti-slip properties. Rubber outsoles are incredibly popular in footwear of all types, and for good reason.
If you want a design that is durable, comfortable and that will breathe well, genuine leathers are the best choice. With proper care and maintenance, leather designs last for an amazingly long time.
If your budget allows, avoid products made from faux leather, because while vegan and cheap, this type of material flakes and cracks easily and will fall apart in record time (and is often not that comfortable, even after breaking in).
Color
Learn about all the different types of glitter to make sure you're choosing the right one for the effect you want to make.
While it may look like it on the surface, not all glitter is the same. There are many differences in the size, shape, and consistency of various glitters used in the making of the footwear. Continue below for a more detailed looked at the different choices there are.
Sizes/Consistency:
Ultra Fine
Extra Fine
Fine
Medium
Large
Extra Large
The ultra-fine through fine type is best used to fill in spaces between larger pieces or to outline shapes, words, or logos. These glitters are more of a dusting powder and add breathtaking shimmer. They are at their most brilliant when viewed from no further than an arm's length away.
Medium glitters are viewable from as far as across the room and are only available in select few colors. Large ones will glean from across the street and are at its most beautiful when viewed from over 10 feet away. The extra-large type comes in 1/4-inch squares and is best applied with care, usually one-by-one. It's at its peak when viewed from over 20 feet away and is best when paired with smaller sizes to fill in the gaps.
Shapes:
Glitter comes in more than one shape, which makes for varied effects when multiple kinds are mixed. Some of the best shapes include:
Circular
Hexagon
Octagon
Heart
Diamond
Moon
Star
Triangular
The most commonly found shapes used on footwear are hexagons, octagons, and circles, although any of the above-mentioned will look great on a pair of shoes. When larger pieces of shaped glitter have been used, it's common for the gaps to be filled in with a fine type for a dazzling effect.
Our Favorites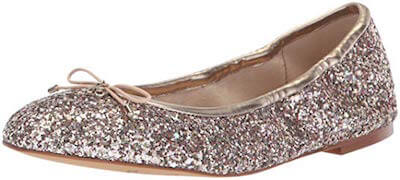 The Sam Edelman Felicia is the go-to choice around the world. Available in a huge variety of colors, they're easy to style while providing you with a combination of quality build and comfortable style. If you opt for the shiny gold version, you'll be getting flats that will easily transition from day to night time wear and will work well with almost any outfit in your closet.
Inspired by ballet flats made for dancing, the Felicia features an elastic drawstring that gives you the ability to adjust the fit. You can tighten or loosen the elastic drawstrings as much as you need, and you'll stay comfortable knowing that they won't slip off. The Felicia features a padded footbed that offers a good amount of cushioning, lessening the pain you feel in your arch, joints and back, even after spending hours on your feet.
The Sam Edelman Felicia is a great investment for those who like a flat that can be both subtle and flashy depending on what it's styled with. The rounded toe and elastic topline add some comfort to the style, and the color selection ensures that everyone can get their perfect pair of glittery flats.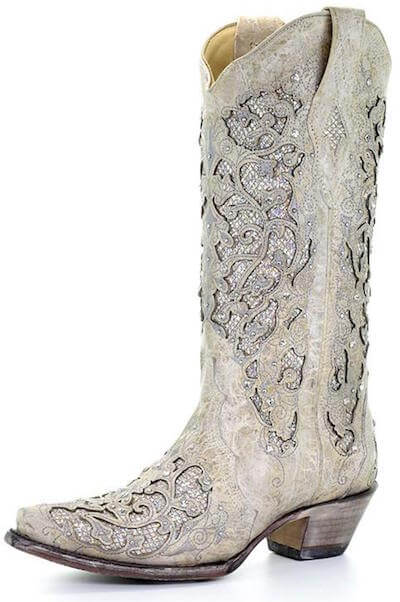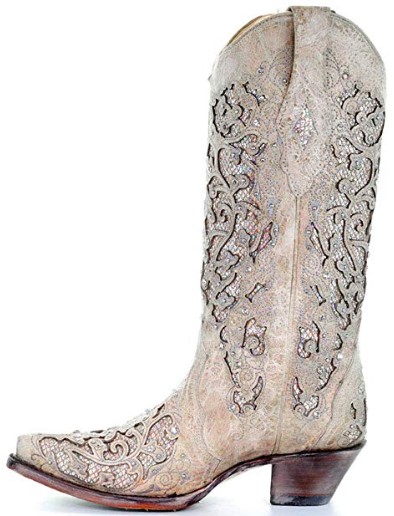 Want something unexpected? Why not opt for a pair of unique cowboy boots that are sure to draw attention. It's a pair of boots from the brand's wedding line but is actually appropriate to wear anywhere - from parties and get-togethers, even for casual wear when you want something that will highlight your unique style. The 13" shaft even makes these a good choice for when the weather turns cold!
Corral boots are made with excellent materials, and the Martina is no exception. Both the upper and the lining are constructed out of cowhide, which is a durable type of leather that'll slowly mold to your foot, giving you footwear that'll last a lifetime with some good care. Leather soles are great for anyone who likes natural cushioning and support. However, footwear with this type of outsole should not be worn in rain and snow and will need resoling every once in a while to ensure proper protection and performance.
Leather cowboy boots, especially ones that are made with quality materials, are expensive items. The Martina is no different, as it's the most expensive pair on our list. It will set you back quite a bit, but it should last for years to come. Do note that, being made with leather in the upper and sole, it will require more care than your regular pair of everyday shoes.

3

. Jessica Simpson Amella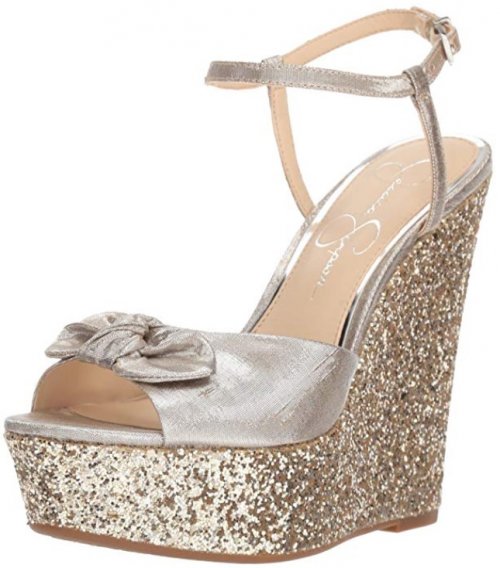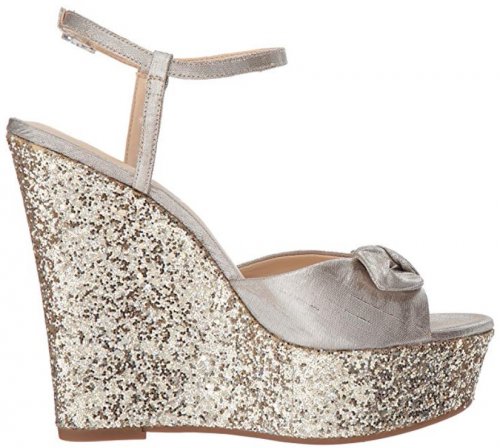 We caution you that Amella by Jessica Simpson is not for the weak of heart. This particular designer has a fun, feminine and playful aesthetic, and it is clearly outlined in the sky-high wedge with a glitter-encrusted heel and sole. The Amella is not a good office design, but it will raise the roof when it's time to party, and it will make you the star of the night.
The upper of the Amella is made from textile, with a metallic finish and a dainty strap around the ankle. This strap has a buckle closure which helps customize the fit easily. There is also a bow accent at the top, for that romantic touch. The Amella's comfort hides in its memory foam midsole which absorbs shock as you walk, as well as in the fact that, even though its heel is ridiculously high, it is also wedge in shape and has a platform in the front.
The wedge heel allows your weight to be evenly distributed along the shoe, while the 1.75-inch platform helps reduce the angle between the ball of your foot and the heel. What this all means is that the Amella from Jessica Simpson is wonderfully comfortable, despite being so high. Try out the balance on these beauties - we're sure you won't go wrong with them!

4

. Dr. Martens 1460 Pascal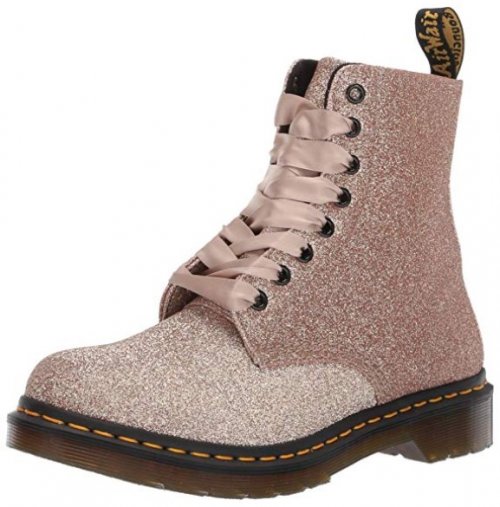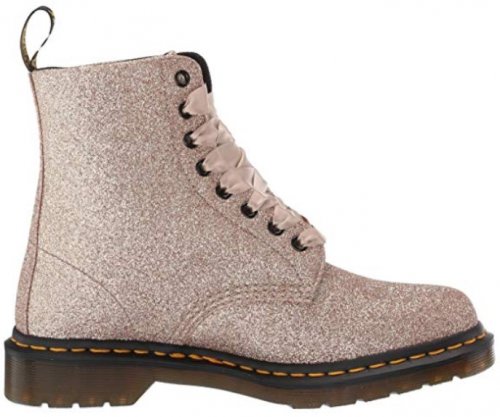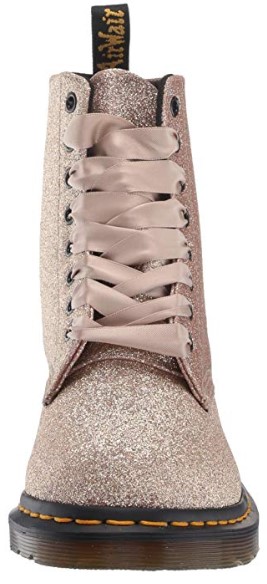 You've seen the classic 1460 style, as it's one of the most iconic pairs of boots to this date. The Pascal is the updated version which allows for a bit more fun and excitement through the use of fun colors and textures in the upper, while still retaining the features that make the original so loved. With this option, the ankle has more freedom to move, and for some, this will even mean better fit customization through the 8 lace eyelets.
The 1460 Pascal adds a bit more fun to the concept of shimmering footwear. It comes in four versions: blue, gold, silver and pink, all of which are made of PU leather that's just the right combination of comfortable and durable. Let's face it, Dr. Martens boots look badass and rough because they were originally made for workers who needed foot protection and durability. But, with the Pascal, you get two pairs of laces: one that's regular, and one made out of satin ribbon, for a soft and feminine touch to these rough boots.
Boots by Dr. Martens are for life, which means that the average price these go for is a bargain. You'll be happy to know that these are well cushioned, made with Goodyear welt construction, feature a slip-resistant sole, and with the right care will last you a lifetime. All you have to do is choose just one color.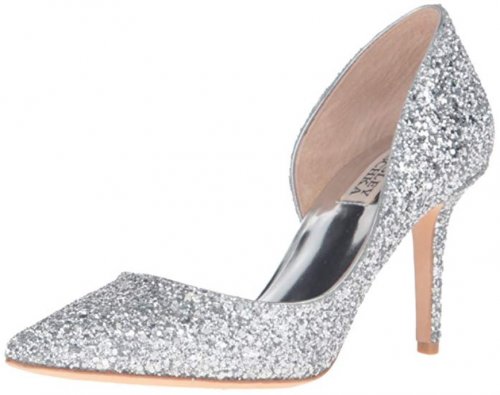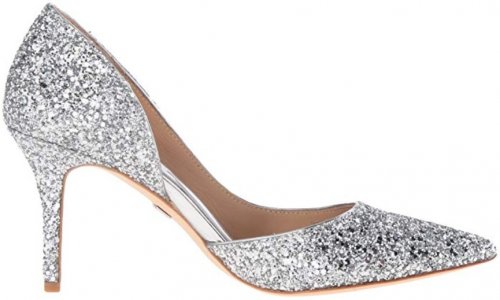 Badgley Mischka is a designing duo that takes inspiration from old-Hollywood glam and incorporates it into new and fresh silhouettes. The Daisy is a glitter wonder that will have everyone's jaw dropping. It is a sharp half-d'Orsay pump with a slip-on construction, entirely covered in sparkles which can be either silver or gold, depending on your preference. The Daisy is fierce and gorgeous, and a perfect companion for an evening event.
This design is made from synthetic materials for the upper, which may not make it the most durable option out there. However, its sole is leather, making it not only elegant and increasing its lifespan, but also amping up those comfort levels. The sole will change shape as you wear the pump and mold to the forms of your foot for an effortless type of comfort.
The heel of the Daisy is three inches high, perfect to wear for hours on end. The fact that the inner side of the upper is cut away to reveal a sliver of skin visually elongates the leg and slims down the figure. Pair the Daisy with an evening gown or a cute skirt with a romantic blouse, and wow everyone at the next event you're attending!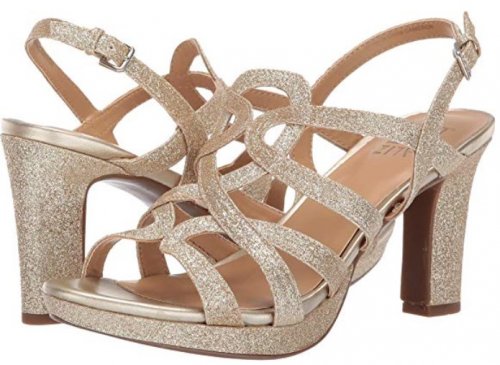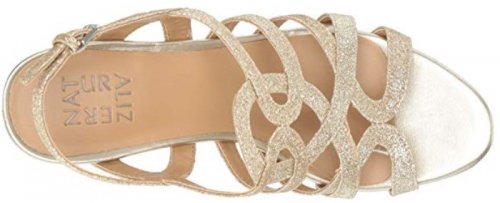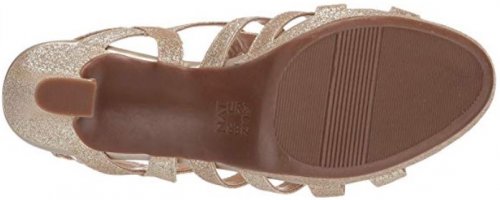 With an intricately woven upper and a dazzling finish to it, the Naturalizer Cameron is a heel worthy of any type of formal and/or party event. It will turn heads and impress, and you will feel like a true princess in these glimmering sandals. The Cameron comes in glittery gold and silver versions, so you can easily match it with your skin tone and jewelry.
The Cameron is made from synthetic materials, and its upper is intricate and strappy. There is a buckle closure at the ankle which helps you adjust the fit to how tight or loose you'd like it to be. The Cameron has a gentle lining to not cause any blisters, and it also has a non-slip outsole to make sure you don't lose your balance even on the dance floor.
The heel of the Cameron is 3.25 inches high, making it perfect for special occasions. This princess-like pair of heels will keep you comfy and light, and nothing will be able to stop you from twirling the night away no matter how long you stay on your feet.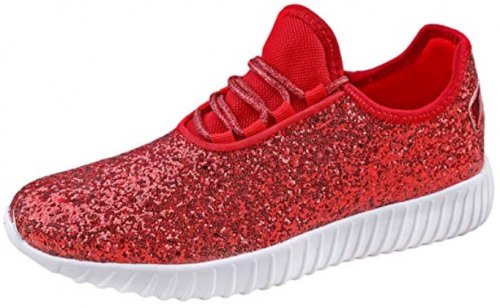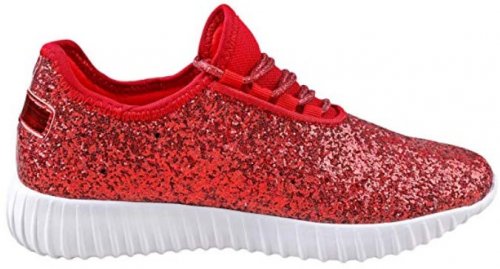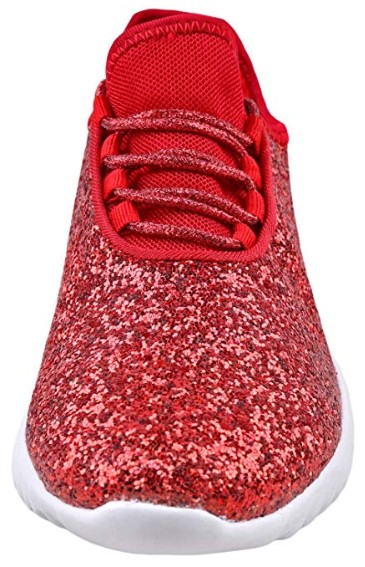 The Forever Link Remy 18 is an absolute favorite among those looking for comfortable footwear made for lots of walking and light activity. Whether you need something soft and cushioned for when you're traveling around the world, for running errands, for work or even home wear, this style by Forever Link will easily become your daily go-to shoe. It comes in eleven different colors, meaning that you can easily pair it with a variety of outfits, giving it a bit of shimmer while remaining casual and comfy.
The Forever Link Remy has a removable footbed, so in case you need custom orthotics, you will be able to easily use them with these trainers. To prevent any irritation or rubbing, the Remy features a round toe that allows your foot to rest in a natural position, avoiding the onset of any pressure points that may develop with toe boxes that are too tight. This means you'll be less likely to have metatarsal or bunion pain if you wear this type of footwear.
The Forever Link Remy is quite an inexpensive option, and it will fit almost anyone's budget. It's a great choice both for those who are after a bit more cushioning, as well as for those with foot health issues who need specific features such as the removable footbed.

8

. UGG Mini Bailey Bow Sparkle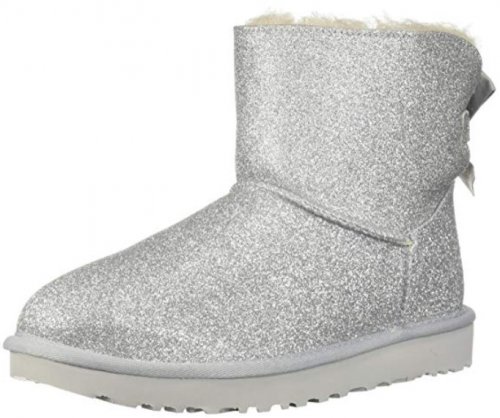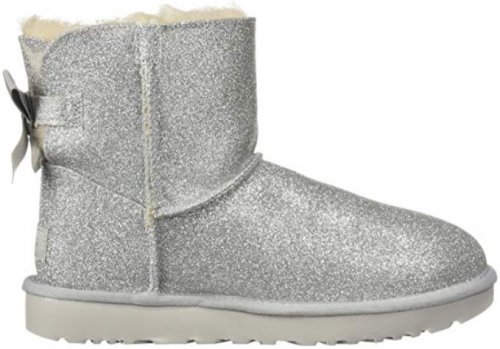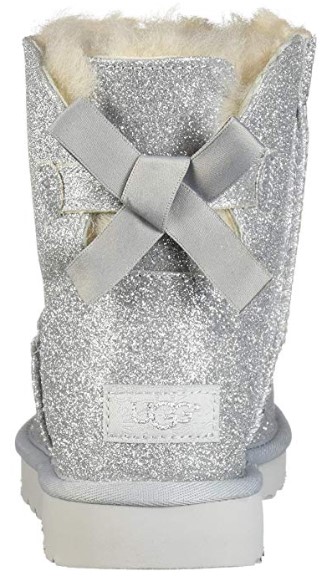 UGG boots are famous for being insanely comfortable and warmth-retaining, and the Mini Bailey Bow is no different, except this cute design comes in a sparkly version as well. For those cold autumn and winter days when you want to be cozy and still look stylish, the Mini Bailey Bow is the perfect solution with its light-reflecting upper and insulating sheepskin lining.
The Mini Bailey Bow is designed to keep you warm with its fluffy lining, and that it certainly does. It has a faux satin bow accent in the back to get you and your friends and family into the holiday spirit, as well as a lightweight outsole to keep you moving without weighing you down. The tread pattern on the outsole is made to prevent slipping and skidding, keeping you sure-footed even on uneven surfaces.
The Mini Bailey Bow by UGG is a cute addition to your wardrobe. You can wear it to holiday parties or simply pair it with your favorite jeans for a splash of sparkle. Mind you, however, these are not waterproof nor suitable for inclement weather, and you should take that into consideration when making your purchase.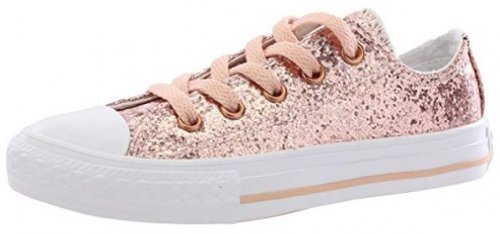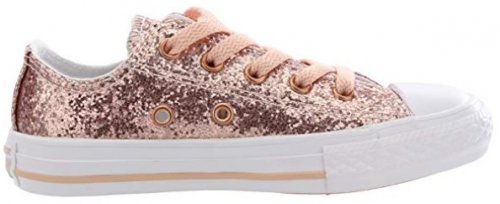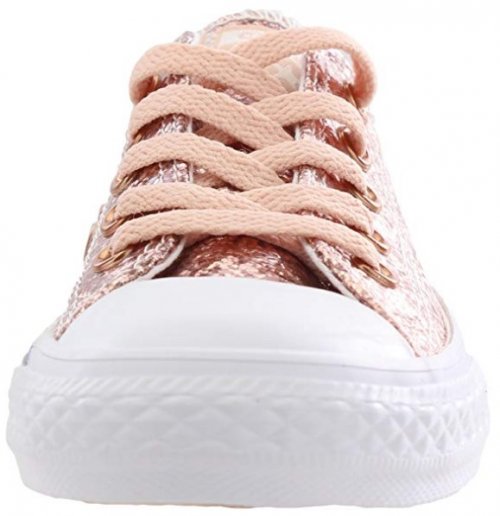 Can you think of a sneaker more iconic than the Converse Chuck Taylor All Star? These are so popular for a reason - they're easy to get, come in a huge number of color options, and you can even choose whether you want a low or a high top. Perfect for summer wear, but also popular in the colder months, the Chuck Taylor goes with any outfit and can be as casual or as elegant as you need it to be.
When you want something no-fuss, a canvas upper is definitely the best choice. This lightweight material will allow you to move in any way you need to without weighing you down, and it will breathe better than leather or synthetics, making sure that your feet are ventilated and dry throughout the day. Originally made for basketball players in 1917, the All Star features a rubber sole that works great both indoors and outdoors, providing excellent traction on a number of surfaces. It's also cushioning, making this a great choice for those days when you need to walk a bit more.
Depending on the color option you go with, you may have to pay a bit more. You should know that Converse colorways are updated every season, so what's available now may no longer be in stock six months from now. Nonetheless, they have glittery colors every year, so if that's you want, you'll surely find the right pair.

10

. Keds X Kate Spade Champion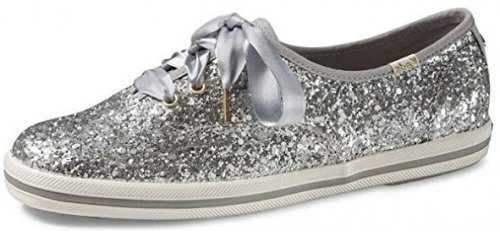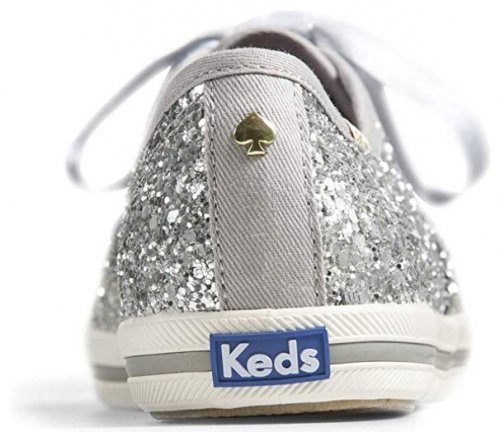 Another pair of shimmering canvas sneakers, but this time a bit more feminine. The collaboration between Keds and Kate Spade brings the New York Champion, a feminine sneaker for everyday wear that'll work absolutely amazing in summer and spring. Pair these with a skirt or dress and you'll have yourself a stylish, feminine look that'll be both elegant and comfortable.
The rubber outsole on these Keds is flexible and easy to walk in. Additionally, the insole offers a good amount of padding, so that your feet are protected from the ground, and your steps are cushioned for a more pleasant walking experience. The lining on the New York Champion is made out of a soft material that's pleasant to the touch and can be worn with or without socks. It's breathable, and won't let moisture accumulate near your feet, which means less odor.
Although Keds are usually affordable, this pair costs a bit more than expected, which is due to the designer collaboration. They're a great option for glittery shoes and will look good with any clothes. Plus, you get two pairs of laces with them - regular and ones made out of satin ribbon.

Subscribe to our Newsletter