Best Shoes To Wear For A Girls Night Out Reviewed
In a Hurry? Editors choice:
Test Winner: LifeStride Carla

You carefully pick out your outfit and you apply makeup like a queen. Of course, you have fun while doing so, until you reach - the shoes for a girls night out. Oh, but what should you put on? Should you go for high heels, to look frisky but to end up in pain halfway through the night? Flats are usually boring, and you think boots will be too warm? And how can you match them with your outfit?

If you've got questions like these or of a similar caliber, then you've come to the right place! We have compiled a list of only the best shoes for a girls night out! We've got plenty of styles covered, so you'll be good to go no matter what you choose. Read on and crown your look with a new pair of fantastic shoes for a girls night out.
Standout Picks
Criteria Used for Evaluation
Comfort
In order to make the most out of your outing, prioritize comfort over style.
A lot of girls might consider sacrificing comfort for beauty. While that may seem like a good idea since it's only for one night, try thinking of a time you wore a pretty, yet uncomfortable shoe for more than a few hours. If you wince just by trying to evoke that memory, then you know why choosing beauty over health is a bad idea!
However, even if you do decide to wear towering heels knowing you will suffer, there are still ways you can make that stunning pair friendlier!
One way you can increase the comfort is by choosing a heel style that is not a stiletto. While stilettos elongate your legs and perk up your muscles, there is almost no possible way to make them feel good, and they will always cause trouble.
If you really must have that stiletto pair, then, by all means, go for a shorter heel, or one that sits on a platform. The platform at the front softens the angle of the arch, making the heels a whole degree comfier. Walk around in your heels when you first try them on and determine whether or not the angle of the arch will fit you or hinder you.
Going back to the heel type - try choosing a block heel, or a wedge. Besides looking chunky and cool, block heels also give you more stability and balance and lower the chances of falling down and hurting yourself. They also improve arch support, lowering the pressure the balls of your feet will feel. Pair them with a good platform height and you'll be able to dance the night away.
Another thing to pay attention to are the insoles. The insoles help you feel better, as most of the time if you're buying quality footwear, it will have pads and cushions. These cushions will sit where you need them the most, helping you enjoy your well deserved night out. They are usually light, so they won't add more weight to the already complicated shoe. They breathe well, so there's no need to worry about sweaty feet. And, they are not chunky, meaning they won't cramp your feet in the already narrow pair!
If you know you have feet that are wider than average, avoid pointy toes or a narrow fit. Also, if your arches are flat, heels higher than three inches will make you feel pain. Get a shorter heel or a bigger platform.
If your feet slip around too much, they will rub along the sides and blisters will form, so the fit must be secure, and there is no better way to achieve that than by buying pumps or sandals with straps. Also, there are handy inserts as well that can solve that issue, and can make footwear even comfier!
Materials
Some of the best materials you can choose for your footwear are leather and suede.
You might not think materials are so important for footwear of this type, but you'd be wrong! We didn't mention materials in our comfort section because we feel it deserves a section for itself, so prepare to be amazed. You should always check the material a design is made out of because it will affect the way you look and feel.
So, let's talk about leather first. Leather is a natural material that comes from cattle, but sometimes it can even come from snakes or crocodiles. These varieties are a bit more expensive, but they are also super fancy. Additionally, as you already may know, leather is super durable. It will last a long time and will help you look sublime many nights to come.
However, leather is tough to break in, so you might want to stretch it out first before wearing it to an event. When you do break it in though, it will reward you with optimal comfort and a soft touch. It will also mold to the shape of your feet, helping you have a perfect fit every time you put your shoes! It breathes very well, and it protects you from water, and you will make no mistake if you buy shoes made out of this super-material!
Suede is a variety of leather we believe deserves a mention. It's made by turning regular leather upside down, revealing the plush nape underneath. This doesn't make it that different from leather, as the weight will remain the same and all the qualities will stay the same. It's tough to clean though, and it might not last that long, so take extra good care of it!
Textile is a manmade material that can usually be seen on the uppers of casual footwear. It's created by tightly woven cotton fibers that are held securely together and creating a strong upper. This material might be tightly woven, but there are still tiny holes present through which air can flow and cool you down. This way, you will be free from bacteria, odors, and sweat. Textile is very elastic, flexing as you walk and allowing to you to move freely.
Textile loves color, and it takes it on very well. You will find textile shoes colored in lively hues and erratic patterns, which can vastly improve your evening style!
Textile does not live that long though. It can tear, be punctured and rip, so you might need to replace this footwear soon. It's also prone to wrinkling, and it's a dirt magnet! The good thing is that you can wash these shoes without worries, so they can always be clean.
Style
In terms of the style, go for vibrant and bold colors and sparkly accents!
When it comes to going out, the style of your shoes is just as important as the comfort and the materials. The right kind of shoe will make you look like a diva, but the wrong type will destroy your image. Lucky for you, there is a great way to look party-ready yet tasteful!
Decadent designs and glamorous details are a great way to improve your look without going over the top, and we will list a few styles that will help you look your best.
Let's start with glimmering uppers! Metallic shoes have been in style for a while now, and it seems like they are here to stay.
Gold and silver are obviously the most popular hues, and you can match this cool or warm shade with a lot of clothing combinations since they are quite versatile colors. Gold accentuates warm hues, while silver matches cool tones the best. If you want to take it a step further though, go with metallic vibrant colors, like pink or blue!
Ah, where would our heart be if we never mentioned ballerina flats? Although they are a simple, flat shoe, they have now been updated and can look extravagant, fit for any evening occasion. Straps, ribbons, jewels, buckles and many other things are slapped onto them, making them fit for your party night!
If you struggle with heels and don't want to look silly attempting to walk straight (if you don't know how to do that in heels), choose the updated ballerina flat, and you can't go wrong!
Stilettos and pumps are the most popular choices, that is for sure. If you crave a fancy smart look, then grab a pair of these and you're good to go. Pick a pair that screams festivity - look for bold colors and flashy details, but don't go for overkill. If you want it to look simple, but still glam enough, go with pointy toes. Cool patterns and cute cutouts are the way to make them ready to party!
Sandals are always a great idea! They usually have straps around the ankles, which accentuate them and draw the eyes to your feet. They come in many varieties - the number and shape of straps can change, ribbons and bands can often hug your legs, and various details can crown their look. Sandals can be flat too, so go for whichever version you prefer!
Last but not least, we have the bootie. These are a great way to look alluring when the weather starts to turn colder. Choose extravagant styles and youthful looks! Leather is a common choice, but step out of your comfort zone and try something more fun. Unusual colors, animal prints and laces can all make them more festive, which is just what you need.
Versatility
To find a good balance between party and casual, opt for calmer, possibly metallic hues.
Since you need to consider your health and style, you should really go for a high-quality pair. But, those can be quite expensive, and there's nothing worse than indulging and ending up with a pair you can wear with only one outfit combination.
So, try to find a versatile yet premium pair! Versatility is affected by many things, but it's mostly affected by the color and the style. If you worry about having an adaptable pair of shoes, then you should carefully pick out a design that can match a lot of outfits you already have.
Bold colors truly cannot be considered versatile and should be avoided if you want something you can match up with various outfits. Quirky details and erratic patterns also can't match a lot of items, but if you choose calmer outfits you can use them quite a lot.
If you want a truly versatile pair, go for calm hues and no patterns, but, let's be real - that's not what you really want from footwear that you wear to a club. A true versatile party shoe comes in metallic hues since they go with pretty much anything!
Durability
Look for high-quality materials such as leather, and welted and stitched constructions to be certain that your shoes will last for many parties to come.
Having fun at a party is great, but it's no fun when your shoe decides to give out in the middle of the night or the day after! Finding a high-quality pair that lasts for many years feels like discovering the Holy Grail. You just know you put your money into something proper, and you'll get a pair that will be your partner for many parties to come.
The durability of a shoe can be increased in various ways, but the materials and the construction of the shoe affect it the most.
Leather is, of course, the most durable material of all, and if durability is what you want, then go with that. As we mentioned before, textile is on the other end of the scale, as it tears up quickly and you need to replace it only after a short while.
The construction of your footwear can include welting, gluing, stitching and much more in between. Shoes that are simply glued together will fall apart after one rigorous activity, and you'll end up sad and shoeless. Shoes that have welts or extra stitching will last for ages, and are something you should always strive to find!
Our Favorites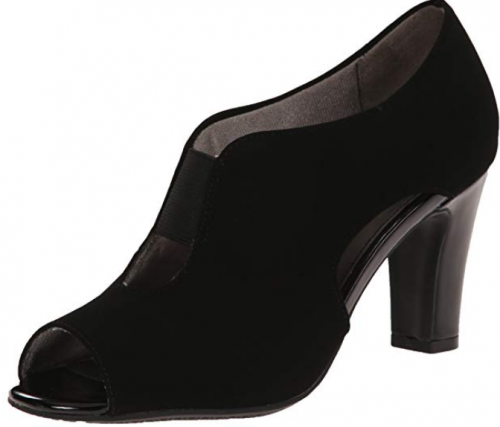 If you still can't bring yourself to wear intimidating high heels, then the Carla is something you need guarding your soles. The upper is 100% synthetic, a perfect suede look-alike without all the guilt regular leather brings. The peep toes on these let your fingers enjoy the nightlife, while you get a chance to show off your pedicure!
Trendy side cutouts let your feet breathe and promote airflow, so no matter how much you dance and sweat, you will remain moisture-free. A deep upper notch is held together with an elastic band, which will make it easy for you to slide your feet inside, and will keep you secured.
Just like every LifeStride shoe, the Carla is equipped with the Soft system. This is LifeStride's way of bringing out the maximum amount of comfort of any shoe. This technology makes these heels cozy, gives you much-needed arch support, and flexes as you walk, hitting all three points needed to achieve the ideal level of comfort.
The chunky block heel is the last component to make these the comfiest shoes you'll ever own.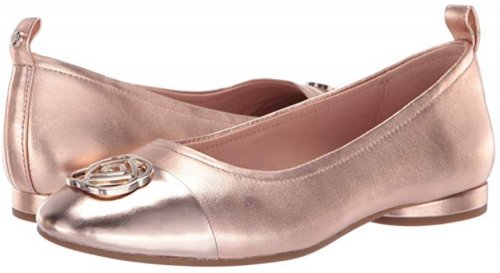 Who says that you need to wear heels if you're going out for a bit of fun? Not us! Just one look at these stunning rose gold flats from Taryn Rose and everyone will be convinced that you can easily wear them anywhere from a fancy dinner to a club. These are amazingly comfortable thanks to their high-quality materials and the 360 comfort system, and you won't believe how good your feet can feel while you're dancing all night long.
The Penelope is made from genuine leather, with a full leather lining to increase breathability and promote a healthy climate inside the design. It is outfitted with the brand's 360 comfort system, which includes an OrthoLite footbed for cushioning and moisture-wicking, as well as a Poron insert for shock absorption. All these layers of extra support and comfort make the Penelope a dream to wear.
The flexible sole makes sure that these move along with your foot, and that nothing stops you from enjoying your outing to the max. With its bold metallic color, you absolutely can't make a mistake with the Taryn Rose Penelope!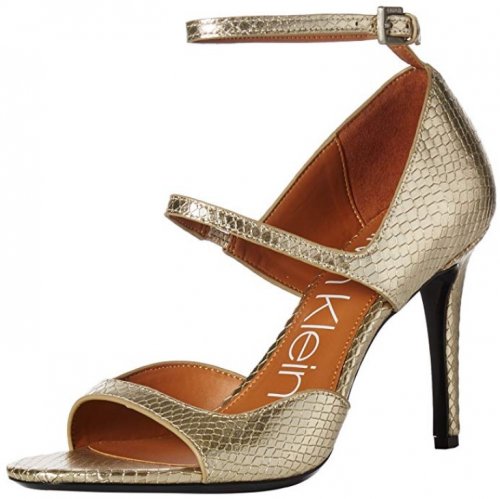 From a designer who is recognized as a fashion powerhouse and as the 'supreme master of minimalism' comes the Nadeen heel that you can't help but fall in love with. These are strappy and sassy, and they come in three colors - red, black and this irresistible snake gold that you will love pairing with all of your favorite party outfits.
The Nadeen is made from genuine leather, so you know that the quality is on point. It features three straps - over the ankle, over the instep and over the toes - that keep your foot securely in the heel. The ankle strap is adjustable thanks to a buckle closure, and the middle strap is amazingly accommodating thanks to an elastic insert. The footbed of the Nadeen is padded for extra comfort.
This pair comes with four-inch stiletto heels which may take some getting used to. However, if you wish to impress with your impeccable style and to show off your fun, flirty side, definitely keep in mind the Nadeen from Calvin Klein!

4

. Badgley Mischka Hansen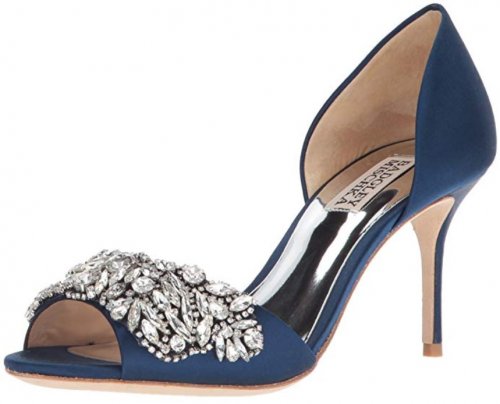 The beauty of the Badgley Mischka Hansen lies not only in its effortless elegance but also in the fact that you can easily wear this design to formal events as well as for more party-oriented nights out. The Hansen is a study in grace, with a glamorous silhouette and a bejeweled toe strap that simply mesmerizes.
This pair is made from satin, with that well-known satin sheen that makes everything that much more sophisticated. The spotlight belongs to the embellishment at the toe, comprised of clear rhinestones of all shapes and sizes. The Hansen is d'Orsay in design and it comes with a three-inch heel that guarantees all-day - and all-night - comfort.
You can wear these Badgley Mischka shoes to all of your upcoming special occasions - parties, celebrations, weddings, galas - you name it. Pair the Hansen with a short dress or a long gown and you can't go wrong next time you decide to let loose.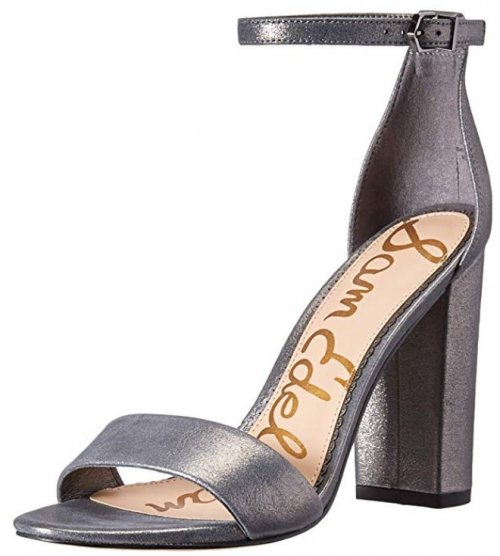 Sam Edelman has always been a designer who combined youthfulness with a worldly aesthetic, and the Yaro sandal is a perfect representation of that. These heeled sandals come in a large number of different colors and patterns to choose from, making it easy for you to find exactly what you're looking for. They're versatile and really a must-have for any warm-weather wardrobe collection.
The Yaro is made from a variety of materials, depending on what color you go for. It has an ankle strap which is adjustable thanks to a buckle closure, so you don't have to worry about having ankles that are too thick or too thin. The heel is four inches high, but it is also chunky in shape, making it stable and easier to walk in than the standard stiletto.
These Sam Edelman sandals can go with anything from a pair of boyfriend jeans for a casual chic look to a satin slip dress for party elegance. You will find endless use out of them, which is exactly what we're looking for when we're shopping for new shoes!



If Cinderella is your favorite childhood movie, and you've always loved the glass slipper charm, then look no further! The vinyl sides of the upper are completely transparent and make most of your feet visible for a complete glass experience. The visible skin will tease and flirt and these pumps will give you the courage to dance like nobody's watching.
The toes on the Cendi are pointy and have a stylish leather cap that comes in many color options. The heel counter is also made out of leather which will improve the comfort and lessen the chances of developing blisters and irritation.
Leather linings on these help your feet breathe, something you will certainly need when trapped in vinyl! Don't miss out on a proper pair of stockings either, if you don't want a portable sauna. The tiny logo is visible on the outsole, which is slightly patterned to give you traction and proper grip.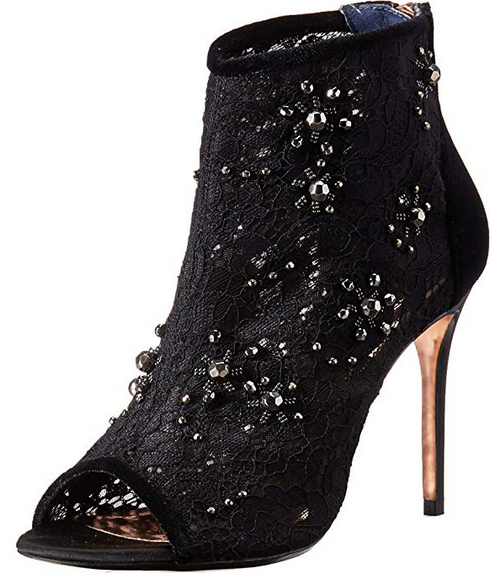 These stunning stiletto shoes make you queen of the city, leaving everyone speechless. The textile upper is adorned with sensual lace and beautiful stud flowers blooming from the intricate patterns, underlining your feminine side! At the same time, the sexy black color accentuates your wild side; you have a perfect balance of gentle and fierce with the Rowene bootie.
A zipper on the heel counter makes it easy to squeeze into the Rowena, leaving no room for struggle. The peep toes let air circulate freely, and give your skin the chance to breathe. The soles and the zipper are a rosy gold color, contrasting the black upper while bringing out its warm tones.
These glossy drop-dead-gorgeous shoes captivate even the most indifferent of hearts, and makes you feel like a million bucks!

8

. Jessica Simpson Prizma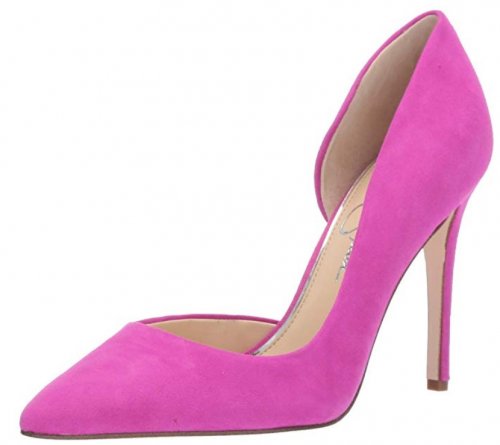 Jessica Simpson is a fashion icon known for her vivacious, sexy style, and that is clearly evident in all of her designs. The Prizma is no different, a pointy-toe pump that makes us go va-va-voom, and that definitely won't leave anyone indifferent. If you're intent on putting your best foot forward - literally - then these bold pumps are just the right choice.
The Prizma is entirely vegan, made from synthetic leathers. It comes in several color options, out of which we have singled out this hot pink as something that really catches the eye. The heel is approximately 4 inches high, however, there is a memory foam midsole which amps up the comfort levels. The little cut out in the inner side visually elongates your legs and adds a touch of interest to this classic design.
The Prizma is definitely a show-stopper. You don't wear this pair if you want to blend in. So, throw on your best glitter mini dress, apply that fierce eyeliner and show everyone what it means to party in these vibrant Jessica Simpson pumps!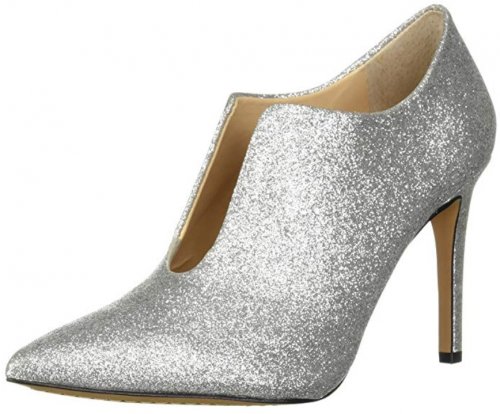 Has the weather suddenly gotten colder, and are you left stranded with nothing to wear? Have no fear, the Metseya pump is here to save the day! These gorgeous leather booties come in four sexy colors - sizzling chateau, tomato tango, alluring black, and radiant silver! No matter which shade you choose, the result will be the same; you will, without a doubt, be the raciest dancer out there.
This sophisticated pump is modernized with the notched upper, giving curious partygoers a preview of your skin. It accentuates the slim lines of your feet by combining the notch with pointy toes. Go a step further, and prop yourself up on the slim heel and feel like a runway model. The footbed is padded, light and cushy, making you feel well cared for and fresh. The soles are flexible, so there is no need to worry about arch and joint pain.
Pair the Metseya with a flirty mini dress or even a sharp jumpsuit for maximum sex appeal. There is nothing that can stop you from making the most out of your fun outing in these glimmering booties!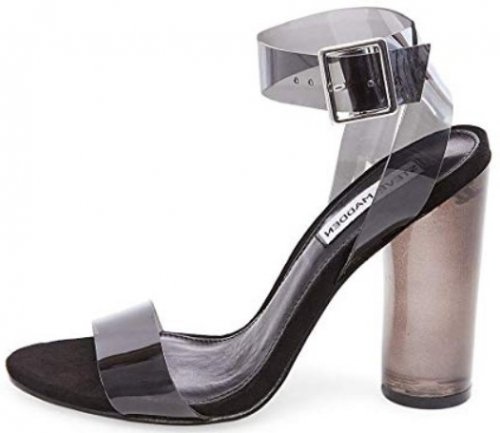 You're probably aware of the fact that clear strap heels or shoes, in general, are all the rage this season. There is no celebrity who hasn't sported them the past year, and with the Clearer from Steve Madden, we're jumping on the bandwagon. You can find these vinyl sandals in the standard clear version and also in this smoky one for extra edgy flair.
The Clearer has a standard heeled sandal design, with a buckle closure on the ankle strap that is easily adjustable. Everything about it is minimalist, and everything about it is made from man-made materials, from the plastic upper to the rubber sole. The heel of the Clearer is round and translucent for even more trendy transparency.
The only downside is that these stand at 4 inches high, which makes them a bit uncomfortable for long hours on your feet. However, if you don't expect this to pose a problem for you, you definitely shouldn't skip these one of a kind heels from Steve Madden!

Subscribe to our Newsletter