Best Leopard Print Shoes Reviewed & Rated
In a
Hurry? Editors choice: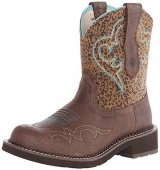 Test Winner: Ariat Fatbaby

There are precious few fashion trends that truly withstand the test of time, and leopard print is one of them. Although the modern-day look of this style can be traced to a 1960s Bohemian style boom, its history extends much further back. Ancient royalty and other members of the wealthy elite often chose leopard print accessories to make a show of their riches; that's part of the reason leopard print remains a coveted fashion look today.

If you're interested in enriching your wardrobe with a pair of the best leopard print shoes, this guide is the perfect place to start! Browse through our choices, take a look at our Criteria section, and have fun selecting a design that will fit right with your personal style. Enjoy!
Standout Picks
Criteria Used for Evaluation
Color
Print Size
Large, small, medium — leopard print shoes come in a multitude of pattern sizes and densities. Density, in this sense, is how tightly packed the spots are. The leopard print closest to nature appears to be medium in both spot size and density.
Print Shade
When it comes to leopard print shoes, the hue is everything. The print in shades of brown is the most natural, the most popular, and the easiest to accessorize.
Nevertheless, leopard print is found in hues ranging from pastel to neon. Flashy shades, such as a rainbow or ombre purple, are more likely to garner distaste. If you can't resist those ocean blue leopard print shoes, pair them with solids — it's the simplest way to go from a fashion no-no to fashion nouveau.
We ranked the designs on our list according to how well they match the natural leopard print. Off the top of the list, you will find leopard print shoes that are as faithful to the original cat pattern as possible, while on the bottom you will find more eccentric options. Which one you choose depends entirely on your personal preference and aesthetic!
Materials
It should go without saying that the material of your leopard print shoes is an important consideration. Often, to get the most genuine look of fur, leopard print shoes are made with (real and faux) suede leather or velvet. It's a given that you won't be able to find actual leopard skin footwear for sale anywhere.
If you're against animal materials of any type, you can also opt for synthetic leathers and synthetic suede. However, keep in mind that, while these are less expensive than natural options, they are not as durable, and definitely not as breathable. Your leopard print shoes will start cracking and flaking pretty quickly, and your feet could sweat quite a bit in synthetic constructions.
If you're looking at a summer design, such as a sandal or a lightweight sneaker of some kind, you can also opt for canvas or mesh materials. These are thin and breathable and provide a sock-like fit. The downside is durability, again, as lightweight materials like these show wear and tear quite quickly, and their colors tend to fade.
However, to journey back to natural leathers, leopard print shoes made of suede require more care than an option made of synthetic leathers, or canvas and mesh. When integrating this print into your wardrobe, you will want to choose designs made of fabrics you'll care for and wear. Part of successfully styling with is that the item must be impeccable — it's the focal point.
Style
While the type of shoe you end up getting, in the end, won't influence the print itself, it will contribute a great deal to how your footwear will match and influence the rest of your outfit.
Our list of leopard print shoes features everything, from ballet flats to ankle boots with high heels, to cowboy boots and sandal slides. Even pumps and wedge sneakers have made it on this list, and it is only natural that each of these pairs of leopard print shoes will project a different message.
If you're after something that will look good dressed up, forego the slides, sneakers, and slippers, and go instead with a classic silhouette that will work with either a dress, skirt or jeans.
If, however, you're after showing off your exotic style in a casual, everyday setting, then one of the more laid back leopard print shoes are the way to go. Few things will look as bold as a pair of jeans and leopard print wedge sneakers, and if you can pull the look off, then you should do so with pride.
While animal style patterns have been slowly finding their way into professional attire, there are still limits to how you can go with it, both in terms of color and overall style. Neutral colors and cuts will likely be more acceptable at the workplace than bright interpretations of the patterns and cuts like sneakers and heels. If you aren't sure as to whether these would be acceptable for the occasion, it's best to err on the side of caution.
One thing to look out for, however, is too much or too little when pairing leopard print shoes. It's safer to err on the side of caution, which is why it is best to limit the amount of print you wear to one or a couple of key items.
Comfort
Our leopard print shoes come in many styles and designs, however, we also looked at each option with comfort in mind. No matter the type of footwear that you are wearing, it's very important that you are comfortable, right? The last thing you want is to purchase a pair of shoes and find them to be painful.
When it comes to comfort, there are a few key things you need to consider:
Footbed: The footbed of your leopard print shoes should be cushioned and supportive. Look for options such as EVA or memory foam footbeds, and OrthoLite footbeds. These ensure that your feet have the shock-absorption they need and that they won't tire at the end of a long day. Additionally, you can look for contoured or molded footbeds, which fit to the shapes of your feet and provide a personalized type of comfort.
Lining: It is essential that the lining of your leopard print shoes is soft and gentle to the touch. This is especially important if you are choosing a style that you intend to wear without socks. To avoid blisters and abrasions of any kind, choose textile and plush linings, which will keep you cozy even when you're going barefoot.
Toe Box: The width of the toe box is always a concern, especially if you have wider feet. Tight toe areas can pinch and squish the toes, and there is no way you will be able to get through the entire day in such shoes. So choose leopard print shoes with ample room in the toe area, so that you can comfortably wiggle and not feel cramped as you go about your work.
Support
In our previous section, we talked about comfort in terms of cushioning, blister-prevention, and a comfy amount of space for your toes and feet. Now, we will focus a bit more on the aspect of support and why it's important.
Support comes in several different forms, but most often you will find it in terms of arch support.
Arch support is vital in keeping you comfortable if you spend extended periods of time on your feet; it protects against a few common foot-related ailments such as fallen arches and overpronation. Additionally, arch support helps you maintain a proper balance while you're walking and ensures a healthy gait and proper posture.
If you're going to wear your leopard print shoes for more than a couple of hours, you should definitely invest in a pair that comes with arch support. Make sure to match the right amount of arch support to the height of your arch - which could be non-existent, in the sense that you have flat feet; it could be a regular height arch, or it could be a high arch. To get the most out of your arch support, it is vital that you don't choose support that is too high if you have flatter feet and vice versa.
As with all of our previous criteria, we ranked the leopard print shoes on our list according to the amount of support they provide. If you feel like this is an important aspect for you, definitely choose the more supportive options at the top. If not, even the ones with little to no arch support will work well for you.
Our Favorites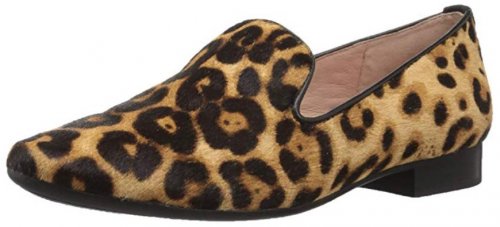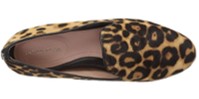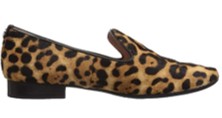 Taryn Rose is a designer with a simple motto - delivering luxury and comfort at the same time. Bryanna is a smoking slipper that embodies just that - a timeless luxury and comfort out of this world. It is chic and smart-looking, yet these shoes come with some fierce comfort technologies that will keep you on your feet without any problems.
The upper of the Bryanna is made from calf hair. The design features a leather lining and leather piping as well, for the ultimate tailored experience and a healthy climate inside the shoe. In terms of comfort, there is an OrthoLite footbed for shock absorption, cushioning and moisture-wicking, and a PORON inserts for energy return.

Finally, Bryanna comes with contoured arch support to lessen the pressure put on your arches. Its 0.2-inch stacked leather heel gives you a tiny boost in height, and with these leopard print shoes, you will definitely be ready to conquer the world.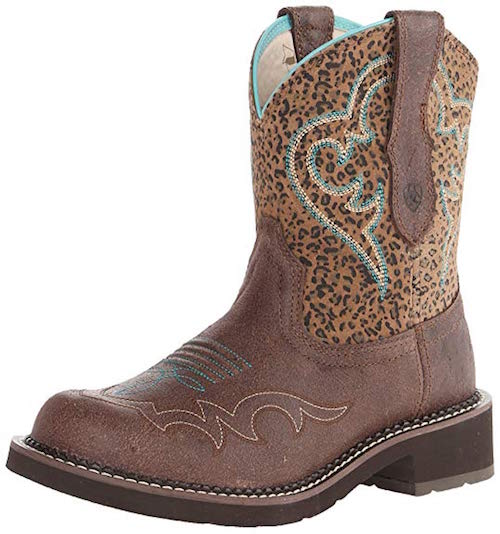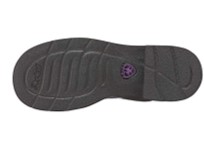 These low-length riding boots by Ariat are an excellent option for anyone who's looking for something a bit more performance-oriented, or to wear during the colder months. Featuring a mini leopard print that's embellished with turquoise blue stitching, the Fatbaby is a great casual style. It'll give you a snug fit that leaves some room for the toes to wiggle, and is sure to last several seasons thanks to the quality craftsmanship that goes into making these wonderful shoes.
Ariat is a brand that's well known for its dedication to well-made equipment. The Fatbaby is no different, featuring a genuine leather upper with four-row stitching to ensure its durability. The upper features two pull tabs so that getting it on is easy and stress-free.

With a sole that's made with a combination of premium EVA foam and blown rubber, these leopard print shoes will be a pleasure to walk in. Not only will they give you a good amount of cushioning (comparable to that found in the top of the line running shoes), but they also have an aggressive tread that gives them better traction than any other product on our top ten list.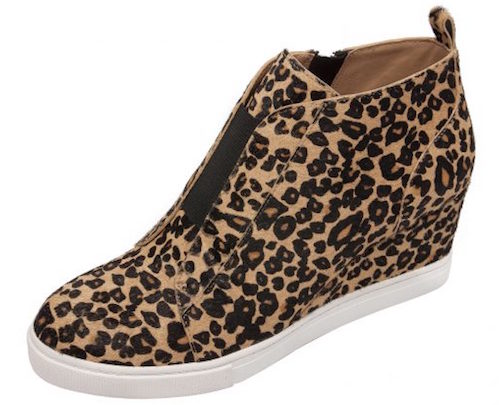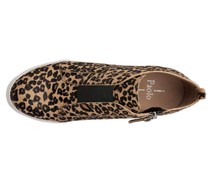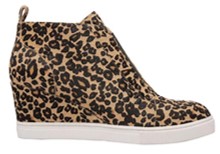 Who says sneakers are just for the gym? The Linea Paolo Felicia is a pair of handcrafted wedge sneakers that feature a beautiful mini leopard print on a luxe leather upper. With both leather lining and footbed, this pair of leopard print shoes will look amazing, whether you pair them with a casual ensemble, or decide to wear them to a wild night of dancing at the club, all while keeping your feet comfortable and ready for more action.
Giving you the best of both worlds, the Linea Paolo Felicia features a cushioned insole that will absorb any shock your feet have to withstand with hours of walking, standing or dancing. This means less fatigue in the joints and muscles, allowing you to wear these shoes for long periods, despite the 2.5" heel.

With an upper and lining that are both made of leather, the Linea Paolo Felicia is a smart choice. Not only will this bootie sneaker completely mold to the shape of your foot, but it will also give it the perfect combination of protection, warmth, and breathability, all of which will reflect on its ultimate performance when it comes to wearability.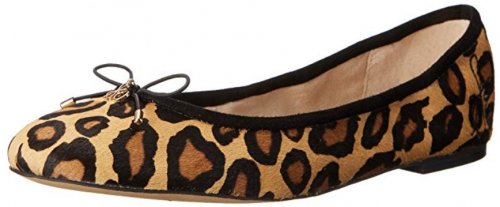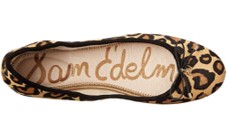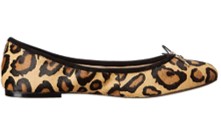 As a brand, Sam Edelman is a still a newcomer, relatively - it was launched in 2004, and is all about providing customers with quality footwear with a timeless style. The Felicia is part of the Edelman Icon collection, featuring shoes that are inspired by a well-lived life, season upon season. As such, the Sam Edelman Felicia is a perfect blend of edge and class. And with a padded leather footbed, these leopard print shoes blend in with comfort too.
The Sam Edelman Felicia ballet flat features an elastic topline for easy slip-on and off, as well as added comfort while wearing. The elasticity also helps create a snug and customized fit. And while the elastic for the Felicia may not stretch enough to accommodate wider feet normally, it is a shoe that comes in wide widths too.

The large, light brown leopard print of the Felicia ballet flat is subtly accented with gold trimming around the footbed, a complementary and dainty black bow, and a gold Sam Edelman logo charm. Whether you're looking to dress these shoes up or down, the mini stacked heel and round-toe silhouette will give you the lowkey chicness you're looking for.

5

. Kenneth Cole Side Way Low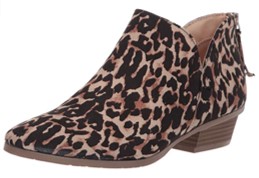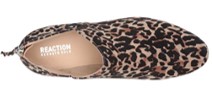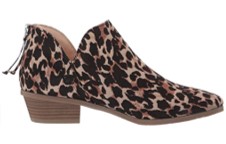 This perky little ankle bootie is great for something that's both functional and fashionable! The Side Way Low has a shorter block heel for a bit of height, and an almond toe for a little more style appeal. Available in several color options, including leopard print, uppers are crafted from suede for a softer feel. An outsole that is non-marking combined with a rubber sole allows for comfortable steps and no traces left from scuff marks upon flooring. Comfortable sidecuts allow for proper range of motion for walking, so you won't have rubbing around the ankle as well.
With the Side Way Low's softer suede uppers, it brings a leopard print to life! With texture and a great feel, the boot also allows for some comfort during movement due to the side cuts along the shaft. With a heel zip for easy in and out access, you could find this a go-to pair for business or casual attire. Lightly padded footbed on the inside adds to the comfort features, making them ideal for longer periods of wear. The almond toe also provides a bit more wiggle room for those with wider feet and adds sophistication to the boot's silhouette.

At the base, you'll find a rubber sole, with a pattern for great grip and traction on tiled floors or other slick surfaces. The block heel adds a bit of height but keeps them stable enough for walking or standing. Outsoles are non-marking, so no need to worry about scuffing the floor in this pair either! Perfect for business attire, they pair great with slacks or pantsuits, but also are suitable for more casual ensembles as well. It's one pair that is sure to be a versatile option in your footwear collection!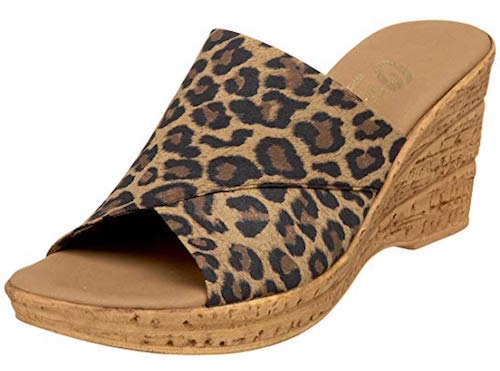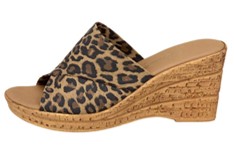 A wedge sandal is a great choice for summer wear - it's sturdy, comfortable, and looks just the right amount of sophisticated and casual. The Onex Christina is such a pair of shoes, and you'll find that you can easily wear it both for casual as well as professional use (unless, of course, you work in a very formal office). It's made with a canvas upper, making it a great option for those who prefer their footwear to be cruelty-free.
Despite being an open-toed sandal that's intended mostly for warm weather use, Christina is a supportive style that will comfortably hold your feet, no matter how long you need to walk. Featuring a medium-sized print, its wide straps will draw attention, allowing you that pop of style that'll complement most summer outfits.

One of the great things about wedge sandals is that no matter the height of the heel, they're a stable choice that doesn't put too much pressure on the ball of the foot or the arch, preventing pain that you usually feel after a full day of wearing heels. The footbed of the Christina is lightly padded for an added level of comfort, making it a great option for long hours on your feet.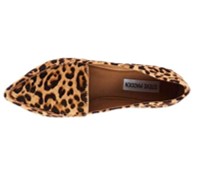 With the Steve Madden Feather, a classic ballet flat is paired with leopard print for an updated, casual appearance. It's a budget-friendly pair of shoes that are great if you're looking for something cheap that won't look bad. With a cocoa brown leopard print that is defined without going overboard, this is a flat you'll easily pair with any outfit in your closet - whether you're looking for that extra pop of style or just a regular pair of comfy flats.
The Feather has the classic styling of a ballet flat with the added flare of leopard print. You can rest assured that these flats will go with your normal style, giving it just a bump of fashion.

The best part of the Feather ballet flat is the footbed. For ultimate comfort, the footbed is lightly cushioned and made of premium latex (allergy warning!). The lining, as well as the shoe's upper, is ultrasoft faux suede. These leopard print shoes also feature a super flexible, yet not slip-resistant, rubber outsole.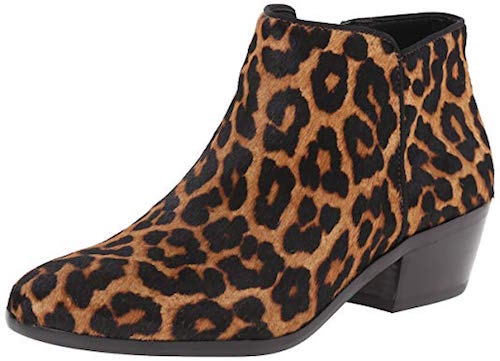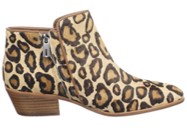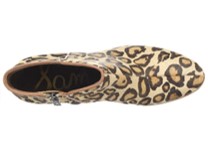 The Sam Edelman Petty is part of the brand's Iconic collection, and for good reason. This heeled ankle bootie style is one that never goes out of fashion, and is extremely versatile when it comes to pairing with your outfits - it will look just as good at the office as it will on a casual outing, or even during a night out. It comes in two types of leopard print - the classic, brown one that we're all used to, as well as a grey leopard that's a bit different than most similar items on our list, but that will work just as well with most neutral colors.
Using a dyed natural material to make the upper of the Petty, this bootie ensures two things: the first is all the benefits that come with footwear made with natural materials such as softness to the touch, breathability and a good amount of flexibility, while the other is the fact that it will look closer to real leopard fur than most canvas or suede options.

The toe of the Petty is a rounded style, enabling plenty of room for the forefoot to naturally spread out, giving you a better level of balance. The heel is a chunky one, only 1.75" high, making it easy to walk in. Furthermore, these shoes feature a zipper closure for easy on and off, as well as a synthetic sole that's appropriate for wear in most weather conditions.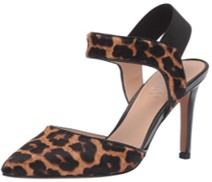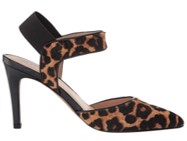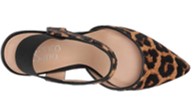 This posh looking heel from Franco Sarto blends sophistication and animal print into one smart-looking high heel. Made from leather uppers with a synthetic blend sole, these high-quality materials have been constructed with care and craftsmanship. Its unique style keeps an ankle strap closure, which is elastic to accommodate a better fit, and the modest height heel makes this pair quite comfortable for wear. Leopard print uppers make it great for pairing with several kinds of attire, and the pointed toe brings some sophistication to the entire package.
Uppers of the Lima 2 are made from rich leather material, so they're quite durable for the test of time. Synthetic soles help add more longevity to the pair, as well as a logo tread for a bit of traction on tiles or slippery floors. The modest heel height makes this pair quite comfortable for walking or standing during the day, as well as more stable than taller stilettos or platform heels. Inside you'll find a lightly padded footbed to add to the comfortable feel.

The style of the Lima 2 is unique in that the ankle strap is elastic, which allows for a stretchy, adjustable fit, without being too tight or loose. You'll feel securely fastened into this heeled sandal, even if you find yourself running for the train! Uppers have a great leopard pattern with pointed toe silhouette, giving some sophisticated style sense to the pair. Perfect for business attire, or simply a night on the town with the girls, it's a versatile pair that can suit any attire!

10

. Jessica Simpson Cambredge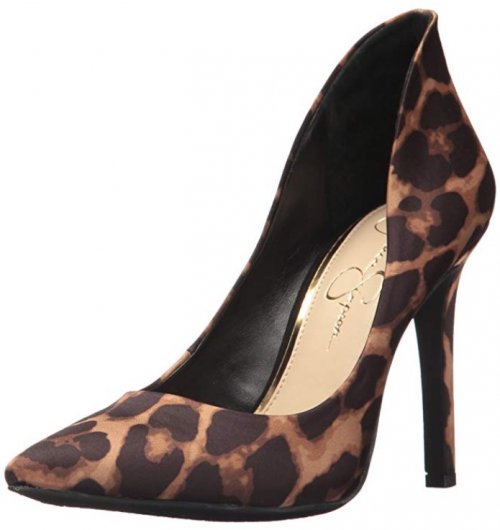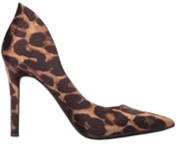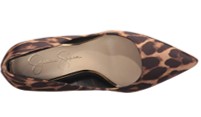 With the Jessica Simpson Cambredge, we have a heel that is extravagant, graceful, and absolutely stunning in its simplicity. The backside of this pointy-toe pump is high and contoured to follow the lines of your ankle and foot, adding a touch of elegance to an otherwise classic look. These shoes are great for amping up your style and impressing all your friends and family with your chic footwear choice.
The Cambredge is made from fabric for the upper, meaning it is incredibly lightweight and pliable. The design is slip-on, and the footbed is lightly cushioned with memory foam, something we don't see every day in heels. The sole of the Cambredge is made from rubber so that you don't accidentally slip or skid and take fall.

Admittedly, the 4.25-inch heel makes the Cambridge unsuitable for extended wears, however, it still wins all the style points in our book. If you're going somewhere where you won't be on your feet for long, then these sophisticated leopard shoes will be the perfect choice to show off your style.

Subscribe to our Newsletter