Best Ballet Flats Reviewed
In a Hurry? Editors choice:

Test Winner: Sam Edelman Felicia

Ballet flats are one of the most undeniably versatile options in shoes. One of the other great things about ballet flats - they are a fashionable and comfortable option for literally any occasion. They can be worn to work, on dates, to parties or even as bridal footwear for the bride who knows she wants to stay comfortable on her wedding day.
Whether you're looking for comfort, for
fashion
, for something that won't break the bank or all of the above, the flats on the top ten list we've compiled are sure to suit your needs. Check out the best ballet flats reviewed!
Standout Picks
Criteria Used for Evaluation
Features
No one wants stinky shoes. So, you have two options: grab any old shoe and hope they don't get stinky and then waste your time trying to clean and deodorize them or you can buy a ballet flat that comes with odor preventing technologies built-in.
Breathability
Breathable materials in these are a little harder to find, as they are dress shoes, not athletic shoes, and are not designed to maximize breathability. However, some materials found in ballet flat uppers are more breathable and can help keep your feet cool. Cool feet don't sweat as much and breathable materials let air slip through your shoes to dry your feet, cooling them down even more. With less stinky sweat filling up your shoes, the fewer odors that will develop and cling to your shoes.
Antibacterial & Antimicrobial Properties
Instead of sacrificing durability and support for more breathable, flimsier materials, some manufacturers opt to incorporate antibacterial and antimicrobial properties into their products Bacteria and fungi are what cause stinky shoe odors and shoes with antibacterial and antimicrobial properties naturally combat odors on their own.
Waterproofing
Sometimes a shoe gets utterly ruined when it's gotten wet. A little water usually won't hurt any shoe, but some shoes are more vulnerable than others. This is generally due to the materials used in the design of the upper of the shoe. Shoe designers bear this in mind when designing and constructing a shoe. If they don't use a naturally waterproofed material in the shoe, some manufacturers will waterproof the shoe. This isn't a big deal if you're not going hiking in the woods across a river- and let's be real, you're probably not doing that in your ballet flats- but if you live in a floodplain, a waterproof shoe would be best.
Size
These products will all look similar, but there is some variety in their shape and styles. Mainly these differences come in the toe box area and the upper design. A toe box that is too small will squish your feet and could cause serious medical conditions, including chronic back pain, so be sure to pick out a pair with ample room for your toes to fit comfortably. Everyone's feet will be different and some people will be fine with a narrow toe box. Others must have a wider toe box in their shoes. There are three toe box shapes that are commonly found in shoes.
Squared
A squared toe box offers the most room for your toes to spread out, but some people find this style dull and boring. If you have wide feet, though, it wouldn't be a bad idea to consider investing in a pair with a squared toe.
Rounded
A rounded toe box is a happy medium. It's generally not too wide nor too narrow. For people who have average or somewhat narrow or somewhat wide feet, rounded toe boxes would be best. If it's too tight, don't wear it.
Pointed
A pointed toe box is the narrowest and even some people with narrow feet may find this style too tight on their toes. It's possible to find some that are wider, but this style makes it harder to find a comfortable forefoot fit for people who have wide feet. It's a popular style, however, and worth looking into if you really like pointed shoes.
Support
Support and stability are even more critical in these than in some other shoes, because they are smaller and thinner. They sometimes have a ribbon or strap to wrap around your ankles and offer support, but many modern options do not. The ribbons and straps serve more to keep the shoe on your foot than they are to support your ankles.
Some ballet flats have thicker insoles that offer both support and cushioning, but many don't. It's crucial that you try these shoes on or check the reviews to confirm the amount of support offered by these shoes. Similarly, the outsoles on classics are designed to be flexible and almost nonexistent. Some modern options come with better outsoles, but many of them will not offer much by means of support.
Two areas to spend extra time investigating are the insole and outsole. Here is how they are relevant to finding a stable, supportive shoe.
Insole
The insole is of paramount importance when you are selecting a ballet flat. You must consider how much cushioning and support you need and which styles of ballet flat offer what you need. Classic options generally lack cushioning in their insoles or offer very little. More modern styled products have better insole cushioning than others. Some even have sport memory foam and latex foam insoles!
Outsole
The purpose of cushioning, aside from feeling nice when you put your foot on it, is to absorb the shock generated from walking, running and dancing.
Depending on how fast you are moving, how much you weigh, and the style of shoes you are wearing, that impact can be so intense that it leads to injury. The purpose of the outsole is to absorb as much of that shock as possible. As with the insole, classics have thin, sometimes ineffective outsoles, but more modern versions have better outsoles. Generally, outsoles in these are made of leather, synthetic materials, or rubber.
Traction
For safety purposes, you need your shoes to have good traction. Slips and falls aren't kind to our fragile human bodies and the older you are, the more likely you are to suffer a grievous injury. The outsole of some ballet shoes are so slick that they would be a safety hazard in some environments, but others come with enough traction built in that you could walk down an icy sidewalk with little difficulty in them.
Flexibility is also one area that these seem to really thrive in. They were designed to be flexible to allow the dancer to stretch and move their foot freely in proper ballet technique. However, some modern options have opted more for stability than flexibility, which is good for some people, but some flexibility is still needed. Some of these come with elastic bands or elastic top-lines to increase the flexibility of the shoe and to help it fit more comfortably.
By ensuring your shoes are both flexible and equipped with a solid grip and traction, you can be assured to perform at your best while not risking bodily injury.
Upper
A variety of materials can be found in the upper construction of this product these days. The most common are leather, suede, and cotton, but these are just a few of the materials used in the upper design of today's ballet flats. Some of these materials are less comfortable because they are more rigid. More flexible materials can be hot and hold on to odors. It's up to you to decide which material will work best for you.
Leather
Leather is the firmest material used in most ballet flats. It can be unforgiving and abrasive if the shoe doesn't fit properly. It also doesn't flex as well as other materials.
Suede
Suede is actually a type of leather. It's not as firm as standard run-of-the-mill leather, but it's also pretty unforgiving.
Cotton
This material is more flexible, but it's also warmer and has poor temperature management properties. Ballet flats with cotton uppers, however, can also be quite stylish.
Synthetic
Synthetic uppers are entirely man-made and include no animal products whatsoever. Depending on the materials used and the design of the upper, synthetic uppers can be the most flexible.
Other Materials
Manufacturers like crocs also create their own materials that they use in the uppers of their shoes. Depending on the material and the company, these materials can increase the flexibility and comfort of the shoes. However, some manufacturers prefer stability over flexibility.
Padding
Some ballet flats also have padding included in the sides of their uppers, which adds another layer of comfort and protection to your vulnerable feet. Sometimes it's padded leather, other times its lightweight foam and other materials. As mentioned earlier, leather is the least flexible.
10 Best Ballet Flats
1

. Crocs Isabella Jelly II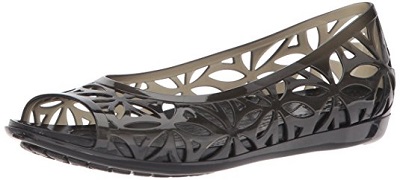 The Crocs Isabella Jelly comes in seven gorgeous colors and all boast the same dressy style: a peep toe with floral designs cut into the upper. These are also special because they are translucent, which gives the shoe an even fancier aura. This affordable flat can help you confidently stand out and you'll be comfortable while it does!
Crocs' thick patented Croslite foam cushioning offers comfort and shock absorption to maximize your comfort on any warm-weather outing. The Croslite foam makes up the footbed of this stylish shoe.
This shoe is built using synthetic materials, which means it doesn't include animal products like leather. The synthetic upper boasts a stylish floral design to make a great first impression.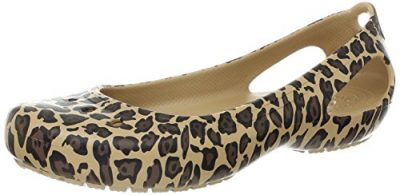 Though many people won't automatically think of the Crocs brand when they're searching for fashionable ones, Crocs have designed the Kadee leopard print one to wow even the most fashion-forward woman. It's made from that which made Crocs famous - their Croslite material to ensure all-day comfort and the leopard print design is sure to dress up (or down) any outfit.
The Kadee is made from Croslite material which is designed with a number of benefits in mind. The material is lightweight, form-fitting, ergonomic for extreme comfort, odor-resistant and anti-microbial.
The Kadee features circulation nubs along with the footbed for added comfort, but this feature also will gift the wearer a massage with every footstep.




These classic style shoes from designer Sam Edelman are as versatile as they are deliciously feminine. They can be dressed down for casual office wear or easily dressed up for fancier evening attire. The Felicia comes in 38 different color and style options so there is sure to be one design that will match every outfit in any woman's closet.
For the indecisive woman (or the one who realizes she needs more than one pair of these), this Felicia shoe comes in 38 different color options. From metallic baroque to leopard print to snakeskin to gunmetal metallic leather or sterling blue velvet, there is a texture and color option available for every outfit.
The Felicia is made of soft leather that molds to your foot soon after putting it on, ensuring that there's no uncomfortably long break-in period. The material is pliable and moves with the foot for a customized feeling fit.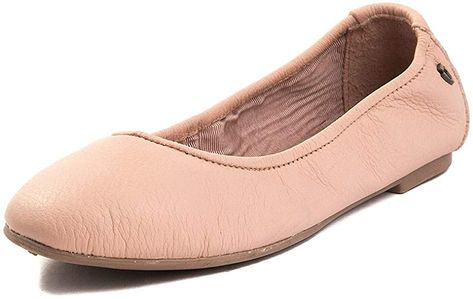 The stylish Minnetonka Anna comes in leather or genuine calf hair. This elegant option also comes in color schemes, so you're bound to find one to suit your needs and taste. This shoe type offers maximum thin and lightweight cushioning with a durable rubber outsole and a padded insole.
The padded insole helps to make these ultra-thin and flat shoes more comfortable for long daily wear. The leather or calf hair material gives you a soft and durable upper that will, along with the many color options, match any style you're going for. The elasticized topline makes sure the shoe hugs your foot to keep your foot secure and your heel from popping out.
The durable rubber outsole helps to give you a secure footing to keep you on your feet. The additional inner lining that we're used to with Minnetonka shoes, helps to keep your feet warm and cozy while you're out and about.

5

. Jessica Simpson Mandalaye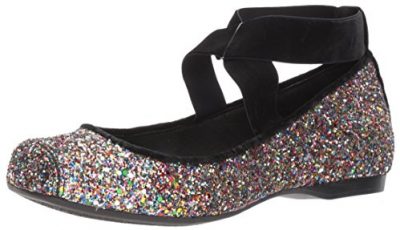 These Jessica Simpson Mandalaye are as close as one can get to owning an actual ballet slipper without going to the dance studio. They feature a crisscross elastic strap that goes around the ankles. They come in a variety of colors and textures like snakeskin or leopard print.
These offer dance-inspired details like the criss-cross elastic strap and the squared toe box, making them more comfortable for women with wider feet. They come in 18 different colors and styles including leopard print, cashmere mauve, plumbery velvet, and glitter.
These Mandalaye can attribute their high level of comfort to the cushioned and man-made footbed featured in these shoes. The sole and lining are also man-made making them extra comfortable for all-day (or all night) wear!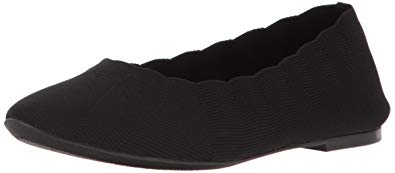 The Skechers Clea Bewitch is a stylish shoe with a slightly pointed toe. While the toe box is a little slimmer, it's still an amazing shoe. It offers traction and support while giving you flair. It 100% Sketch-knit textile with bio-dri to keep your feet cool all day long. It also comes in a range of colors.
The air-cooled memory foam insole cushions your foot to help ease some of the discomforts that often come with these. The bio-dri technology and Sketch-Knit upper materials help to keep your foot cool and dry all day long.
Traction is so important. These have a rubber outsole designed to help you keep your footing so you don't slip and fall, which could lead to serious injuries. You'll have plenty of grip on slippery surfaces, even when its a bit damp outside!

7

. Dexflex Claire Scrunch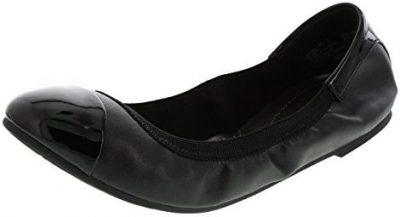 The Dexflex Comfort Claire Scrunch is a stylish option that comes in a few popular colors. It's made of stretchy and flexible materials. It boasts a firm, synthetic toe cap and it offers some protection for your vulnerable toes. This shiny synthetic toe cap is just part of the synthetic and fabric upper design of this shoe.
This options flat's dual-layer foam insole is made of memory foam and latex foam. These lightweight materials are soft and cushiony to provide you with comfort for your feet.
The topline is stretchy for a comfortable, secure fit, as well as to provide more flexibility as it bends and flexes with your foot's natural movements.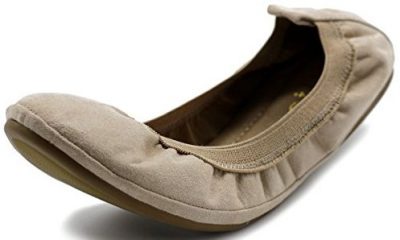 Ollio Shoes' Faux Suede Comfort Ballet Flat comes in seven stunning colors to make anyone's day a little brighter. This option, however, comes with other great perks, such as an elastic topline to help give you a secure fit and more flexibility in your step. Its faux suede upper looks and feels nice. It also sports a rounded toe.
This entire shoe is made from synthetic, man-made materials. Thus, it is perfect for any vegan looking for a product not made with animal products. They're really stylish, too!
The rounded toe on these gives your forefoot and toes more space to move and breathe. That adds to your overall comfort and prevents some serious medical problems.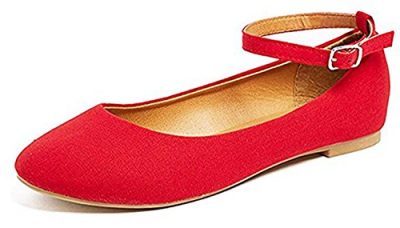 These Shop Pretty Girl brand flats practically scream 'chic'! They come in a huge variety of color and design options and are built for durability and comfort despite their incredibly low price tag. These flats are perfect for the woman who needs to have a number of shoe options as the straps are detachable and an outfit look can be changed entirely by just removing the strap!
These come in nearly 30 different styles and color options. One can choose from a single strap, a double strap or, if straps aren't your thing, you can opt for the no strap option. If bows are up to your alley, these have a few options that include a cute bow tie on the toe box. Color choices range from red to denim to rose or basket weave.
One of the cheaper options on our top ten list, these Shop Pretty Girl Chics are perfect for the woman on a budget. With the detachable ankle straps, these shoes can become a two-in-one for one low price kind of deal!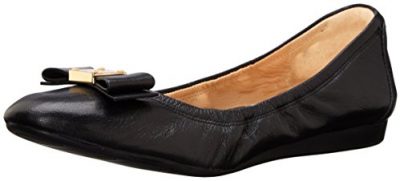 Cole Haan's Tali Bow is a trendy, lightweight shoe that offers more cushioning, flexibility, and comfort than many similar ones. It sports a rounded toe, so your toes have more room to spread out naturally. The elasticized opening improves its flexibility and fit, while the flat bow accent gives it a little flair.
The Grand.os Cushioning Technology used in these products and is a footbed and outsole that molds to your foot to provide ample cushioning. This also makes the shoe more flexible.
This elegant option has a polyurethane midsole to provide cushioning and support for your feet. It's also lightweight, so it won't detract from these shoes' lightweight feel.

Subscribe to our Newsletter