Best Paint for Shoes Reviewed & Rated
last updated:
Apr 01, 2021
Looking for a fun way to personalize a pair of shoes? Hitting up a glow in the dark party this weekend? Or maybe, you're just looking for a way to fix up those leather dress shoes you love with a scuff on the side. With a list compiled of both leather and fabric shoe paints, you're sure to find one that will meet your needs without sacrificing quality.
Scroll down to find the reviews for the best paints for shoes.
In a Hurry? The test winner after 16 hrs of research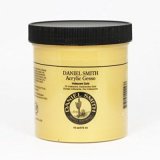 Daniel Smith Acrylic Gesso
Why is it better?
Thick Coverage
Color Options
Luxurious Look
Canvas Paint
In a
Hurry? Editors choice: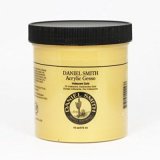 Test Winner: Daniel Smith Acrylic Gesso

14
Researched Sources
2,700
Reviews Considered
16
Hours Researching
14
Products Evaluated
Application
Color
Durability
Effectiveness
Value
By Default
10 Best Paints for Shoes
1

. Daniel Smith Acrylic Gesso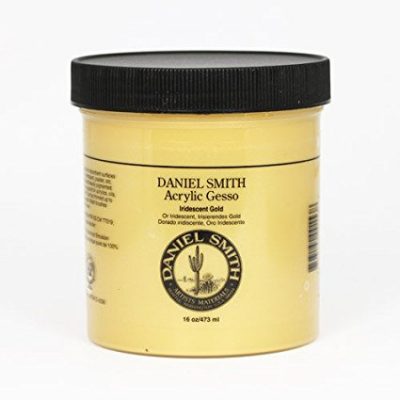 Thick Coverage
Color Options
Luxurious Look
Canvas Paint
Daniel Smith Acrylic Gesso is best suited for fabric or canvas shoes, and with its thick luxurious texture and density, it will coat evenly and plentiful. Although this acrylic gesso paint comes in a variety of colors, the metallic hues have a shimmer property that is due to Mica in the shoe paint, that can dress up an old pair of chucks, or give a kick to mesh inlays on sneakers.
This Acrylic Gesso is thick and rich, so you'll need to stir it well before use, especially if purchasing a metallic color to resuspend the Mica in the paint evenly. It coats beautifully across the canvas to keep an even coloring, and once dry, can be covered with a transparent paint to protect it better from chipping. An additional transparent coat also helps bring about an even more iridescence to the Mica in metallic colors.
The base of the paint is acrylic, but it contains no oil acids that can tend to eat away at the canvas or other cotton-like textiles. The last thing you want is to paint your shoes in a beautiful new design, only to have the shoe itself start to deteriorate! Add a layer of transparent paint to protect the color, and you'll have your refurbished shoes for quite some time!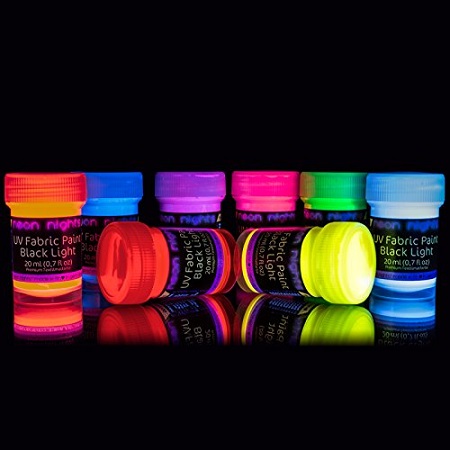 Strong Color Payoff
Resists Fading
Blacklight Sensitive
Vibrant Colors
Neon paints have become more popular in the festival and concert scenes lately, and for a good reason. In regular light neon, paint for trainers isn't remarkable, but under a blacklight, the bright colors come alive. This long-lasting shoe paint from Neon Nights has an impressive color payoff to the point where they almost look like they're glowing in standard light!
Durability is important with paint. Meaning, you don't want the color to start to wear or fade quickly. This paint is thick, opaque, and made to be long-lasting, resisting even the harshest of UV fading. It's also machine washable, so if you toss your shoes into the machine, you won't have to worry about the paint.
Color payoff refers to the coverage and vibrancy with each coat applied. Neon paints tend to be incredibly opaque, allowing for an improved color payoff. This particular paint is also ideal for dark fabrics, and are easy for beginners. With an average unit cost of just under $2 for a 20mL bottle, these are surprisingly expensive. Where these truly stand out are the vibrant range of colors and UV sensitivity. The color payoff is also impressive, meaning you won't have to use as much for a project.
3

. DecoArt SoSoft Fabric Acrylics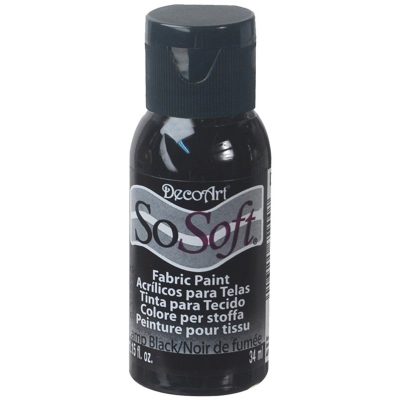 Color Does Not Run
Doesn't Become Stiff When Dry
Vibrant Colors Even After Washing
Works Well With Stencils
Does Not Require Acrylic Medium
This shoe paint offers amazing coverage, super fast dry time, and a non-toxic formula. This paint dries both permanent and soft, so it's perfect for last minute projects. Unlike a majority of fabric paints, this one also bonds to almost all surfaces, including canvas, wood, plastic, and even silk. It is long lasting, durable, and simple to work with.
This water-based paint offers a large color palette. There are 43 colors to choose from, featuring Tangerine, Bright Avocado, Santa Red, Baby Pink Deep, Antique Gold, and Mediterranean Blue. The brand also offers two metallic shades, Glorious Gold and Silver Platinum, as well as a Glimmer Glitter paint and a White Pearl one.
It is suggested that the paint goes on better as a wet to wet application, meaning you will want to wet your brush for a smoother, simpler painting experience. As a general rule, users found one coat was sufficient; two coats was the maximum needed. This is the perfect fabric shoe paint if you're looking for superior quality without breaking the bank. While it adheres to all surfaces, you'll find a use for it even after you're done with your shoes and there's still some left. DecoArt SoSoft Fabric Acrylics Paint is worth the purchase.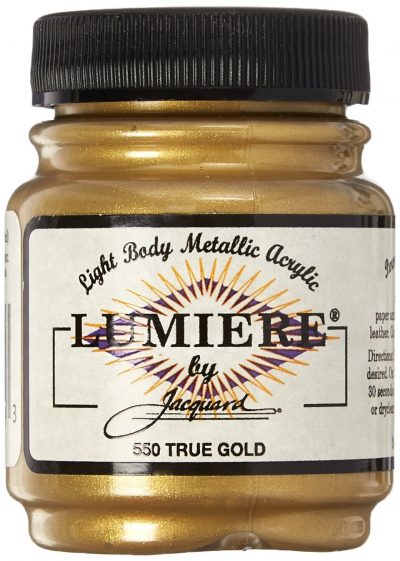 Good For Multiple Materials
Metallic Finish
Water Based
If you're unfamiliar with Lumiere paint, they are usually metallic in color, with a pearlescent quality and sheen about them. They tend not to peel, crack, or chip, especially on fabrics, textiles, and a multitude of other materials shoes are constructed from. Jacquards' Lumiere paint is weather resistant and especially work well to stick to non-porous materials like metal buckles that may adorn your shoes. Perfect for the artist at heart who wants to bump up an old pair of cowboy boots or dress shoe.
Jacquard Textile Color Fabric Paint offers a couple of different options for easy application. A brush can be used for steady strokes, or to add a stippled effect to your canvas. A stamp can be used for perfect patterns, and a sponge can be of use when creating a flawless blend.
This fabric paint can be used on natural and synthetic fibers, as well as leather and metals. This can be used to touch up scuffs and scratches on your shoes. And it comes in a wide variety of colors and shades, so you're bound to find just the one you need. Jacquard Fabric Paint is relatively cheap compared to some of the others on the list, although the product quality is up to par. They are typically sold in 2.25-ounce bottles, and with the shimmer and sheen that comes from these paints, they are ideal to add some flair to your footwear.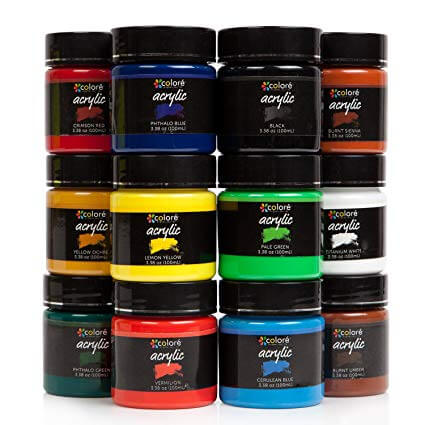 Works On A Variety Of Surfaces
Wide Selection Of Colors
Easy To Blend And Mix
Can Clog Airbrushes Easily
This shoe paint delivers consistently bold colors, an opaque finish, and lightfast pigments. Best purchased in a set, which includes 12 one ounce bottles. They are non-toxic and meet the ASTM standards, ensuring a safe, hassle-free project.
Colore Pigma Rich Shoe Paint set features acrylic paints, all of which have either an opaque, fluorescent, pearlized, matte or transparent finish. They are permanent and made with the highest quality lightfast pigments. These high-quality paints for shoes offer high coverage and are long-lasting.
These shoe paints are higher end, both in relation to quality and price. While being a bit pricier than average, they are guaranteed to impress and get the job done flawlessly and effortlessly. They are by far the most expensive on the list but are definitely worth investing in.
6

. Angelus Leather Acrylic Paint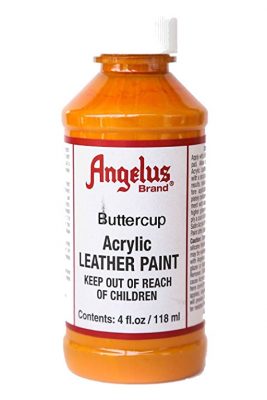 A Little Goes A Long Way
Best Used With Sealant
Remarkable Coverage
True To Color
Long Lasting
Requires Multiple Layers
Poor Packaging Design
A paint designed and made specifically for leather shoes. This has to be the most useful creation I have ever stumbled upon. Get ready to touch up those favorite leather shoes that you've been putting off fixing for months with ease and simplicity. This non-toxic leather paint for shoes comes in a very large variety of different colors and shades to ensure that you find the perfect match for your shoe.
This paint job is only a small task and is simple to execute and finish properly. For a guaranteed top notch finish, make sure that the top finish of the shoe is removed in the area you are touching up. The next step can be done one of two ways: using a high-quality artists brush, or a sponge. Watch out for any streaks left behind when using a brush. A sponge is recommended as it leaves more of an airbrush finish effect. Angelus Leather Paint can also be used alongside Angelus Acrylic Finisher and Satin Finisher to create an unrecognizable DIY paint job.
This leather paint can be used touch up scuffs, skids, and scrapes on any of your leather shoes that need a little TLC. It can also be used to completely redo an old, beat up pair of shoes you haven't looked sideways at in ages. The paint can be used on a variety of other products, including leather purses and accessories, jackets, boots, and furniture. It can be used on rubber and plastic shoe parts as well. Angelus Leather Paint comes in a one-ounce jar and is priced accordingly. This brand is known for its superior quality and they did not disappoint in this category. The product quality far exceeds the price point. These paints can also be purchased individually or in larger bundles depending on your needs.
7

. Liquitex BASICS Acrylic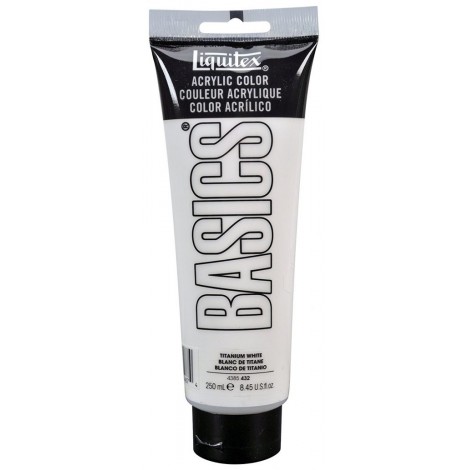 Seamless Blending
Vibrant Color
Large Color Variety
Opaque Finish
Affordable
The Liquitex BASICS is a pigmented, long-wearing acrylic paint. Designed for canvas paintings, this also serves as a fabric paint quite well. The strong acrylic has a buttery consistency to it, making blending less of a chore. It can also be mixed with other colors, glosses, and finishes smoothly.
Liquitex BASICS acrylic paint for shoes can be mixed with all other Liquitex Professional Acrylic Colors and Mediums. The buttery consistency also assists in blending the product, as it smoothly swirls together. The brand offers a wide variety of shades and finishes to guarantee seamless canvas masterpieces.
One of the most crucial things when considering and choosing a paint of any kind - how vibrant and true to color the shade is. Pigmentation is a key factor in colors, and Liquitex BASICS acrylic paints offer just this. The paint contains permanent artist pigments, ensuring the perfect shade every time. Liquitex BASICS products are very affordable, but not cheaply made. These paints can be purchased in large bundles, or individually. The quality of the product will more than likely exceed your expectations. Ideal for those newer to painting their shoes to try.
8

. Tulip Party Dimensional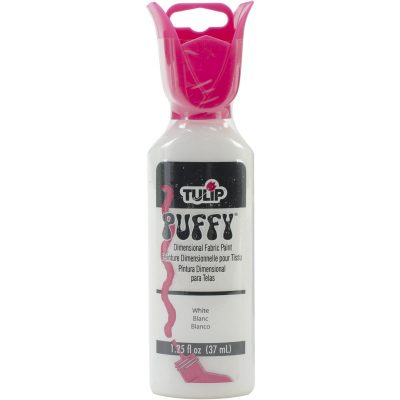 Glows In The Dark
Smooth Application
Ultra-Vibrant Colors
Fine Tip For Precision
This paint specifically designed for fabric offers 6 different brightly colored shades including white, purple, blue, green, yellow, and pink. These non-toxic paints dry permanently and get puffy when steamed or ironed. They do not crack or peel and are even washing machine safe. The small easy squeeze bottles with small tips mean hassle-free, mess-free fun, and makes it super simple to design and decorate shoes with intricate detail.
Tulip's packaging really makes this paint great for shoes, as the small tip allows easy access to edges, creases, and cracks. It also makes detail a simple, fun task. With these paints, you can turn any pair of canvas shoes into your own masterpiece.
After the fabric paint dries, it can be steamed to produce a three-dimensional effect. The paint puffs up when heated and has the ability to stay that way when desired. The fabric paint dries flexible in order to prevent it from cracking and peeling off of your shoe. Tulip Party Dimensional Fabric Paint makes customizing your favorite sneakers a breeze. This shoe paint is both affordable and durable. The performance of the product is well worth the price. Thankfully, they can be purchased individually for specific color needs, or in larger packages to ensure you meet all color requirements for your project!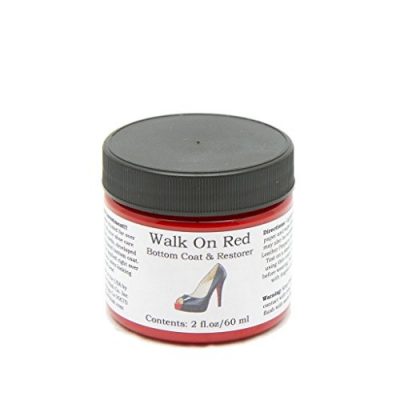 Can Be Used On Soles
Covers Scuffs
Hardening Agent
Restores Color
Limited Color Options
Expensive
Angelus is also well known for its variety of shoe polishes, but their Shoe Restorer is a specifically designed product for the bottom, or sole, of shoes. Pictured above, for example, is the red color, typically found on several highly acclaimed brand high heels, but can tend to scuff or chip over time and wear. Angelus Shoe Restorer is the ideal option for bringing back that luxe red undersole for your statement-making shoes.
Specifically designed to help cover scuff marks, chips, or scratches found on the most vulnerable part of the shoe, the sole, this product is sure to breathe new life into a well-worn pair of Louboutin's. And fear not, this paint restorer also comes in black to help with other dress shoe styles that need some tender loving care. It has a stain type of quality similar to what you may use to stain wood but specifically made for shoes.
Since this won't go atop your beloved footwear, there is an added hardening agent in the paint that helps it to maintain its color and luster after application. This helps to prevent further chips and scuffs from appearing right after you use it, and will help the color endure for extended wear. By no means expensive on our list, Angelus Walk On is a great purchase for those who are looking to refinish their statement-making soles on their favorite shoes. No need to worry about chipping or scuff marks again on red bottom shoes or black-bottom soles. A must-have for any shoe lover!
10

. Springfield Leather Acrylic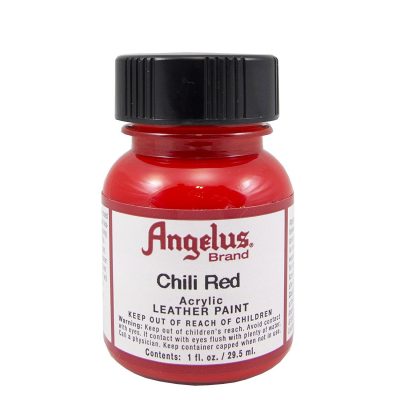 Matte Finish
Non-Cracking
Dries Quickly
Odor-Free
Visible Brush Streaks When Dry
Will Permanently Stain Surfaces
This water-based acrylic paint for shoes is excellent for touching up leather sneakers. The bottle of paint comes with a brush built into the cap for easy application. It is ideal for leather shoes and boots, tennis shoes, and other leather products. Springfield Leather Acrylic Paint does not peel, crack, dry or rub off.
Usually sold in one-ounce bottles, this little jar will go a long way. Despite needing multiple layers, this will last you a while. On average, most users needed 3 coats, while some others only needed 2. It all depends on how vibrant, solid, and bold you want your colors to show up. With a brush built into the cap, it will take you no time at all to effortlessly paint your project shoes.
While this was originally designed for leather material, the paint also works wonders on plastic and rubber. It can be used to hold together rubber materials and can be used to paint plastic as well. This paint works to restore and update shoes in a variety of ways! Springfield Leather Acrylic Paint is fairly priced, both on Angelus official website and off-brand retailers. The paint can be purchased individually or in larger bundles depending on your painting needs. The price is definitely worth the quality of the product.
Frequently Asked Questions
q:

What Kind of Paint to Use on Shoes?

a:

There are 3 types of paint you can use to paint your shoes: spray, fabric and leather paint. There are still many factors to think about before applying and choosing shoe paint. Spray or leather paints are best used for vinyl or leather shoes. If you are thinking about painting leather or vinyl shoes using more colors then leather paint is your best choice since you will have more control over the paint as opposed to using a spray. However, spray paint is a better pick if you are doing just one color on the shoes and it will dry faster. Fabric paint is used for canvas or cloth shoes.

If you want to add specific designs use paint pens to sketch it out before adding the paint. One of the favorites for DIY artists is definitely acrylic paint used on most often canvas shoes. So for all of you wondering is acrylic paint good for shoes, the answer is yes but it still goes best on canvas shoes. After learning what paint should you use on shoes scroll back to our top 10 products and pick your best paint for sneakers and shoes.
q:

Can you paint shoelaces?

a:

Kind of. Painting shoelaces will make them stiff and difficult to tie and move around flexibly as shoelaces should. Instead of opting for paint, you will likely be better off dyeing your shoelaces.
q:

Is it possible to paint the outsole of a shoe?

a:

While it is possible, it can prove to be tricky. The best way to paint shoe soles is to use spray paint. Acrylic and fabric paints will peel and chip almost instantly, but spray paint seems to last more permanently. But, be careful to cover up the rest of the shoe with plastic and tape to ensure you don't ruin them.
q:

How do I remove shoe paint?

a:

There are multiple methods for removing shoe paint from shoes. The most commonly used method requires a toothbrush, laundry detergent, nail polish remover, a cotton swab, and a clean cloth. Using a water damp cloth, carefully wipe the paint to remove as much as possible. Then go in with a toothbrush to scrub the area, followed by washing the shoe with an equal dose of warm water and laundry detergent. After letting the shoe soak for several minutes, use a cotton swab and nail polish remover or spot stain remover to go over the affected areas to ensure it is all removed. It is suggested you then wash the shoes once more to eliminate a chemical odor and let dry.

When it comes to cleaning paint off of surfaces you didn't intend to get it on (such as the table, the floor, or even yourself), the most important thing is to clean it before it fully dries. Once fully dry, acrylic paint is difficult to fully clean, if not impossible. If for whatever reason you can't clean it up immediately, keep the spot wet so the paint stays water soluble. This can easily be done by leaving a damp paper towel over the paint. For removing paint from clothes, you should clean the spot with soapy water, rub well, and rinse thoroughly. If you find the paint particularly difficult to remove, you can use a small amount of laundry detergent instead of soap. While paint removers such as ammonia and lacquer thinner do exist and can be helpful in very tough cases, these can produce irritating fumes and may not be suitable for all surfaces. If you opt for chemical paint removers, be sure to read the instructions carefully and use in a well-ventilated area.

Of course, the easiest thing to do is take steps to avoid unfortunate stains altogether. You should lay down a tarp or some newspaper prior to painting, and if you're concerned about getting paint on your clothes you can either wear an apron or clothes you don't mind getting dirty.
Subscribe to our Newsletter