Best Shoes With Red Bottoms Reviewed
In a Hurry? Editors choice: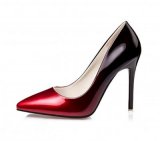 Test Winner: No.66 Town Stiletto

Throughout history shoes with red bottoms have been synonymous with statements of power and aristocracy. The color red dangles an alluring air of mischievous elegance over the world of footwear. From Louboutin to Yves Saint Laurent, to Nike and Cole Haan, it seems that everyone's making their own version of red bottom shoes. We've gathered the best of the best red bottom shoes, including stilettos, sneakers, boots, and chukkas that'll set you apart in a crowd, all while keeping you comfortable, ensuring great durability and being suitable for a number of occasions.
Standout Picks
Criteria Used for Evaluation
Style
The style of a shoe is a way for us to express ourselves and to communicate who we are through our style. Shoes with red bottoms are another unique way to project our inner personality to the world through our choice of apparel.  There are many types of shoes available that feature a red underside including:
Basketball: Basketball shoes are a style of footwear that often offers models with red bottoms. Possibly the most widely known brand who manufacture red sole basketball shoes is Adidas, and of course, Air Jordan.
High Heels: The first thing that comes to mind when you hear think about red outsoles is the king of red soles, Christian Louboutin. Louboutin is well-known for his signature heels which rock a vibrant red sole and was recently involved in a massive lawsuit against Yves Saint Laurent over the rights to manufacture high heels with red bottoms.
Running Shoes: Adidas is front and center once again, only this time it's for running shoes with a red sole.  Although there are others who have dabbled in the red bottom running shoe market, none have quite as vast a selection as Adidas.
Flats: Both for women and men, a good pair of ballet flats, oxfords, or even chukkas can be a great choice for more dressed up occasions, but without the discomfort that comes with high heels. Numerous manufacturers will make such footwear, but our favorite is definitely Cole Haan who combines stylish brogue uppers with athletic outsoles that make you feel like you're walking on clouds.
We have included red bottoms shoes from each of the styles above on our list to capture the broad spectrum of choices when it comes to shoes with red bottoms.
Materials
Materials are a big part of a shoe's construction, especially when it comes to the sole. If the sole is made from less than quality materials, it won't last very long, and before you know it, you'll find that your favorite red bottom shoes are in need of a new sole. Some of the best materials to look for when selecting a shoe based off of the durability of the sole are:
PU (polyurethane) 
Rubber
TPR (thermoplastic rubber)
Plastic
Leather
Polyurethane is a sturdy and long-lasting material for a shoe's outsole. This material will last for years if you use it regularly, however, if your red bottoms shoes are only for special occasions once and a while, they PU material will fall apart quickly after just a couple of wears.
Rubber is one of the most widely used materials for the manufacturing of footwear in-part, because of it's superior grip on all types of surfaces, as well as it's waterproofing abilities. Rubber is durable and lightweight which is why is often chosen for the production of a shoe outsole. Thermoplastic rubber is a mix of polymers, usually rubber and plastic, that is incredibly stretchy and retains its shape very well.
Leathers are a widely used material for crafting shoes and are often used to construct the upper part of the red bottoms shoes build. Leather material is weather-resistant, breathable, and long-wearing while also acting to wick moisture away from the foot keeping your feet cool and dry.
Comfort
The comfort level a shoe offers is a very vital aspect that can be the cause or the preventative regarding foot pain, blisters, leg and foot fatigue, and a whole bunch of other related problems. There are certain aspects to look for in a shoe that will make it much more comfortable, but these aspects vary based on the style of shoe being considered. The following are styles of shoes and what comfort-related elements to look for in each:
Athletic Shoes: There are variations of basketball shoes that each offers a unique feel, the three main choices are: high-top, mid-top, and low-top. High-tops are the most popular style, and they provide the best ankle support which can help to prevent injuries from occurring. Look for a high-top that's well-cushioned for more comfortable wear. Mid-tops come up to the ankle and are less supportive of the ankle overall, while low-tops sit below the ankle offering the least support.
Heels (high-heels, stilettos, & pumps): When it comes to a pair of heels there are very few options for improving the level of comfort they provide. A padded footbed is the most effective tool for creating more comfortable wear and can be purchased separately from the shoe. Another factor to consider is the height of the heel itself because the higher the heel, the more uncomfortable you're going to be. Consider wearing a .5-inch shorter heel than you usually would, even just a small difference in height can make a significant change in the feel of a shoe.
Running Shoes: A shoe that's made to run in requires additional support and a cushioned footbed that will absorb shock to lessen the physical discomforts associated with running. Look for a shoe with features such as a contoured footbed, EVA cushioned insole, shock-absorption, and moisture-wicking materials. These properties will all bring you more enjoyment while you wear your shoes.
Brand
When it comes to shoes with red bottoms, there are specific brands that stand out above the rest. Take Louboutin, for example, whose sky-high heels with cherry red soles have taken the world of fashion by storm. Since 1993 Christin Louboutin has been making shoes with red bottoms after finding inspiration from a girl who was painting her nails with red nail polish. Since then, Louboutin has gone on to become an industry leader and celebrity go-to for posh high heels and has built an empire of his brand securing his place in the fashion 'hall-of-fame.'
Adidas is another brand which often designs athletic styled shoes that feature the coveted red sole, with shoes like the Swift, and Prophere gaining considerable notoriety. Adidas has even partnered with superstar Pharrell Williams to create the Pharrell Adidas which features all-over red including the soles. Another fashion powerhouse, Air Jordan, tends to incorporate the red bottom look with many of their signature styles including the Air Jordan 5.
Versatility
WalkJogRun recognizes that when people think of shoes with red bottoms they think designer shoes Usually people buy designer shoes with a specific purpose or event in mind, while others may purchase a designer shoe for no specific function.
Whether you're purchasing a designer shoe or sneaker for school, we recommend that you consider the purposes of the shoe before you buy it. If you're purchasing the shoes for a formal function, for example, are you going to be able to wear it for other functions as well? Can it be dressed down or dressed up a little? For example, if you're purchasing a white shoe for your wedding, can it be dyed later to suit other occasions? The more versatility you can get out of your shoes, the more life you will get and the more value for the investment.
Consider the season as well. Will the shoe be appropriate only in winter or only in summer? Or is it great for all seasons? Is it water-resistant to spring rain? Is it protective enough for winter? Breathable enough for summer?
Does the shoe require special care to make it last? Can the suede or leather be treated and conditioned with standard shoe sprays? Will the colors run or spot when wet?
The more you consider the details, the happier you will end up!
Top 10 Shoes with Red Bottoms
1

. Christian Louboutin So Kate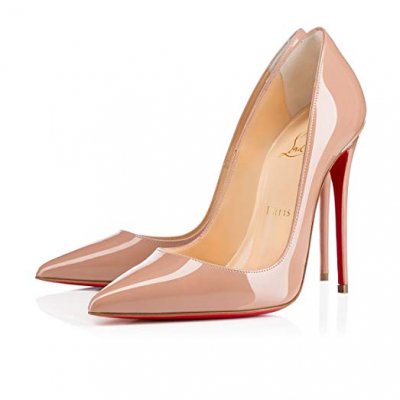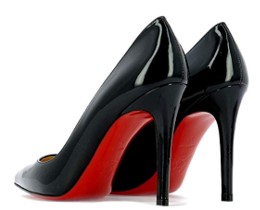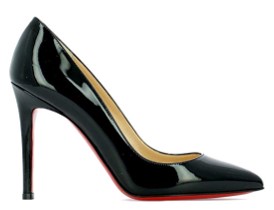 No list about red bottom shoes is complete without a pair of Christian Louboutin's. The So Kate red bottom heels are a staple for your closet, as their sleek patent leather shine and bold red sole kick up the prowess of any outfit, add a bit of power to business attire and bump up the sexy for an evening out. And who better to bring that all together in one pair of stilettos than Christian Louboutin!
Plunging arch makes this the classic kind of skyscraper high heel design, a true classic in footwear. Ample heel cup helps to keep you inside the So Kate, and a pointed toe gives it demanding attention. Stiletto heel raises 120mm for dramatic drop and pleasing foot point, sure to catch the eye of any admirer or shoe lover. Shiny patent uppers round off the look of these red bottom heels, in nude colors to more sophisticated patterns.
Recently winning a legal battle to patent the stunning red sole design, Christian Louboutin's claim to the iconic red sole is now legendary. With plenty of shades of red out there adorning high heels, there's only one shade a pair of Louboutin's need to draw attention to their iconic footwear, plunging arches, and stiletto grace. One look at the So Kate red bottoms shoes and those around you will know just what designer you are strutting your stuff in.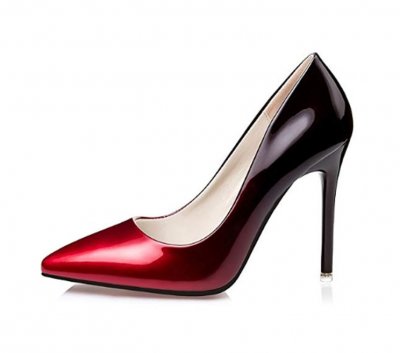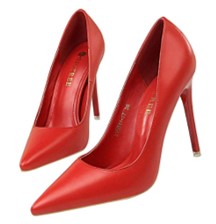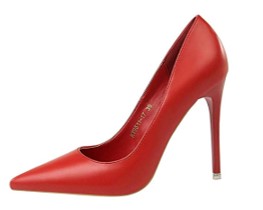 Another staple red bottom heels, but a bit more comfortable than our number 4 or 6 picks, the No.66 Town Stiletto red bottoms are an Ombre style upper with 3.5-inch heel, making it a bit shorter and more comfortable to wear. Red sole can be found at the base of the forefoot but not the heel itself, and the rubber sole helps keep these red bottoms slip-resistant. Pointed toe gives it that edgy appeal but still keeps it sexy with stiletto grace.
If you've been searching for that perfect pair of Ombre colored heels with red bottoms, look no further! From pink to white, red to black, or white to black, Ombre flair helps ring in the party with the No.66 Town Stiletto. Perfect for a pair of party heels or wedding shoes, they are sure to get compliments with their unique and colorful design. Uppers of these red bottom heels are designed from synthetic material, making them an animal-friendly product.
The No.66 Town Stiletto red bottom heels have a subtly pointed toe, keeping a slightly wider toe box, which makes them easier to wear for longer periods of time without pain. A slight quarter inch platform helps add stability for walking, while rubber sole helps make them non-slip. Red sole graces the bottom of the forefoot, while the heel remains the color of the upper portion of the Ombre color fade. Unique in its look and style, it makes a quirky fun pair of red bottom heels to keep in your collection.

3

. Cole Haan 2.ZERØGRAND Stitchlite Chukka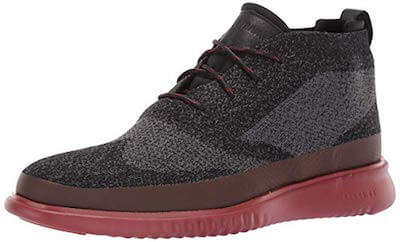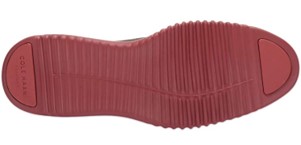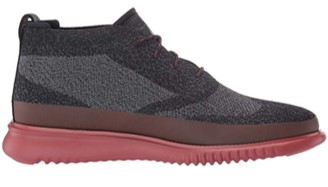 One of the most impressive pairs of red bottom boots on this list, the Cole Haan 2.ZERØGRAND is a waterproof pair of chukkas made in the brand's own stitchlite material. Perfect for fall and spring wear, it combines a stylish boot design with the comfort of athletic red bottom boots and performance features that you can only get from a top brand such as this.
The upper of this red bottom boot is made with a stitched, wool-like material that's highly breathable and lightweight, yet won't allow you to get wet in unexpected rain. Though it features extra padding to increase comfort, it's not entirely suitable for extremely low temperatures but is a great autumn/spring shoe nonetheless.
The first pair of Cole Haan red bottom shoes that combined an Oxford upper with an athletic outsole forever changed the industry, and this model continues in that direction. It makes use of some of the best shock absorption and energy return you can get out of any chukka, making it not just a stylish, but a comfortable option as well.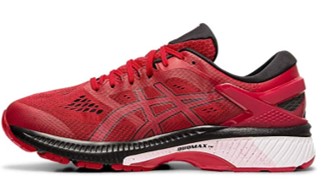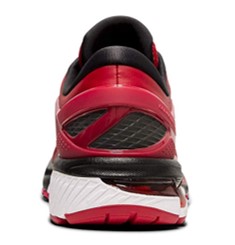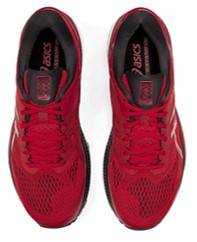 The best ASICS red bottoms sneakers and running shoes in the world (and one of the best overall), the GEL-Kayano 26 builds on a quarter of a century worth of experience and innovation, bringing runners a pair of neutral road runners that are not just one of the top-performing pieces of athletic equipment available, but also come in a design that'll let you show off a bright red outsole made for athletes who know about good footwear.
If you find that you require red bottoms sneakers with more arch support than you get out of regular shoes, then this is an excellent choice. Not only does it employ a Dynamic DuoMax support system, but it combines it with the brand's own extra lightweight Flytefoam midsole, as well as GEL cushioning in the forefoot and rearfoot areas. This means you'll absolutely love wearing these, and not just during your morning jog.
A jacquard mesh upper that makes use of stretch is exactly what you need for the best possible fit. Not only will this red bottoms sneaker fit like a glove, but it's also extremely breathable and lightweight - perfect for hot summer months, while the Meta Clutch technology gives you a secure, locked-in feel throughout the day.

5

. Christian Louboutin Et Voici Et Voila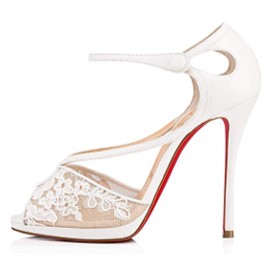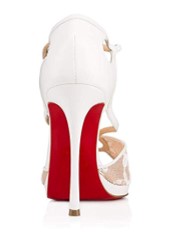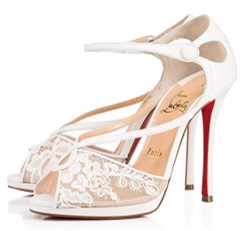 Another fabulous option from Christian Luoboutin, the Et Voici Et Voila is a dainty lace peep-toe pump with the classic red bottom you'd expect from the designer. It has a skyscraper high heel that raises 120mm, constructed with only the finest materials of lace and leather. With a show-stopping silhouette, straps wrap around the foot to accentuate its shape, and cut out ankle detail adds some accent to its style. Ankle strap helps to secure the foot inside, leaving you to enjoy the evening festivities and respond to onlookers' comments!
This pair can be worn for bridal events, as well as formal events with its sexy silhouette and high rise heel. Crafted from leather, both the straps and sole are durable for wear, though we'd recommend saving this one for posh events. Open peep-toes let you show off freshly pedicured toes, while a feminine touch is added with lace covered forefoot detail. Leather straps wind around the top and sides of the foot to accentuate its shape to the ankle at top.
The heel of the Et Voici Et Voila is a lengthy 120mm, giving a leg-lengthening aspect to the shoe. Heels are wrapped in leather with a detailed cut out that add to the design, creating an elegant appeal and look. Ankle closure helps secure the foot inside and is hidden with small button detail. Classic Louboutin red dons the soles of the shoe, letting them stand out as brands telltale stamp of designer fashion. It's one pair well worth the price, even if worn only a few times!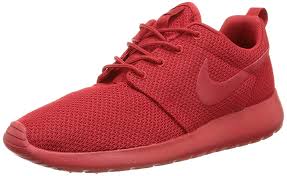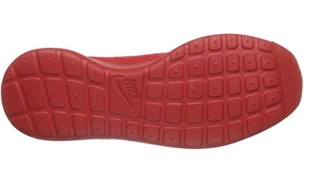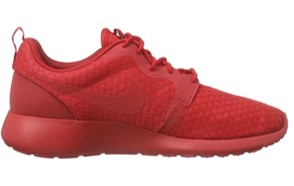 These Nike shoes are ideal for walking, running, travel, and exercise. They feature a lightweight and airy mesh upper and expand with the foot as you step down. The Roshe Ones offer a non-slip rubber outsole that allows for free range of motion. These red bottoms sneakers are comfortable and stylish with stable arch-support thanks to its supportive insole.
These red bottoms sneakers are ultra-comfortable and offer a well-cushioned insole that provides solid arch-support. They feature a breathable mesh upper and expand with the shape of your foot as you step down.
The Nike Roshe One red bottom sneakers are ideal for wear with outdoor or indoor activities and are the perfect red bottoms shoes for running and walking. Travel and move with ease in this comfortable and lightweight shoe. With the reputation of Nike, you know that when you buy these shoes, even with a more expensive price tag, that you're getting quality and durability that will last you as long as you want to wear these red bottom shoes.

7

. Christian Louboutin Mule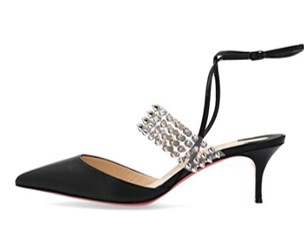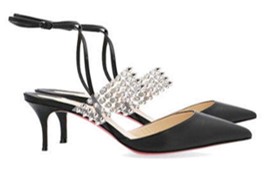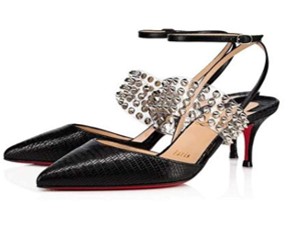 If skyscraper heels just aren't your thing, this designer has more than just a few options to suit you! The Mule from Christian Louboutin is a kitten heel height of 60mm, making more stable wear for several kinds of formal events. Classic red bottoms signify the brand's designer fashion and craftsmanship, while this particular sandal glows with jewelled embellishments to light up the night. A pointed toe brings sophisticated style to the mule, while a feminine tie ankle closure adds some security for fit and wear.
Crafted from PVC Leather, uppers are softer than typical leather and will have some flexibility for fit. Pointed toes give it a sophisticated feel, while the stiletto heel only raises slightly to help make it quite wearable, even when walking during the evening. Leather soles are stained classic Louboutin red, signifying the brands quality craftsmanship and classic call of fashion. Leather sole and footbed give it durability for wear as well as a rich on-foot feel.
A forefoot strap wraps the top of the foot with sparkle and shine, using quality crystals to catch the light. Attached to this are tie closures which wrap up and around the ankle for a more secure fit, but also give this pair a dainty feminine feel and look. It's a pair suited for more formal occasions, where you'd expect to be on your feet for some of the evenings, but could also be paired with jeans for a posh casual look as well. Worth every penny, these designer shoes with red soles are a classic to add to your collection!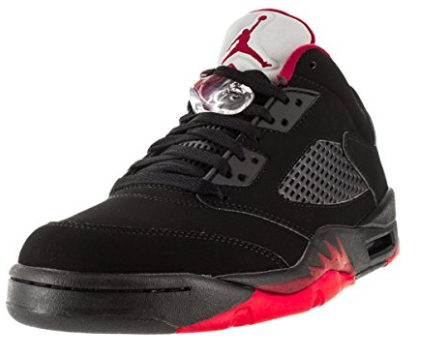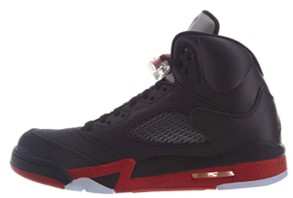 These low-top red bottom sneakers feature an upper made from fabric and leather materials, along with breathable mesh side panels. The Air Jordan 5 sees the first emergence of the translucent air unit sole at the back of a Jordan sneaker and is a stylish ride. The Air Jordan 5 boasts a padded collar and tongue for additional comfort and support, along with a traditional lace closure and plastic eyestays.
The Air Jordan 5 Retro is the first Air Jordan basketball sneaker to feature a visible air unit along the back of the outsole. An air unit is a cushioning that provides added bounce to every step and utilizes a pocket cushion filled with air to produce excellent padding.
These Jordan red bottom sneakers feature a padded tongue and collar which provides additional comfort and support, as well as, an air cushion unit in the outsole. A traditional lace closure system makes for easy on and wear, while a breathable mesh side panel allows for proper airflow.

9

. Top Moda MVE Stacked Block Heel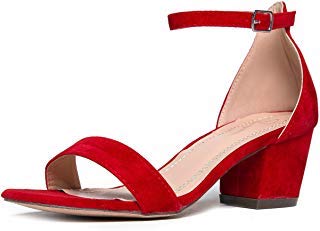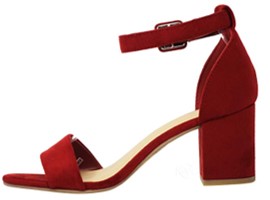 Going back to some red bottom heels we have the Top Moda MVE Stacked Block Heel. Coming in many colors, including red (with red bottoms) you'll have the option to choose from a few different styles to match your outfit. With a manageable red bottom heel, you won't feel uneasy on your feet while still having a slight lift in your height.
With an easy on and off back zipper, you'll have no trouble putting these red bottom shoes on for your night out. You'll also have a cushioned insole that will help to comfort your feet throughout your wear. The peep toe and strappy look will add a little sass to your outfit without being over the top.
Made from man-made materials these red bottom shoes for women are vegan-friendly and also very durable. You can rest assured that your shoes won't be falling apart any time soon and that you can get plenty of wears out of these budget-friendly options.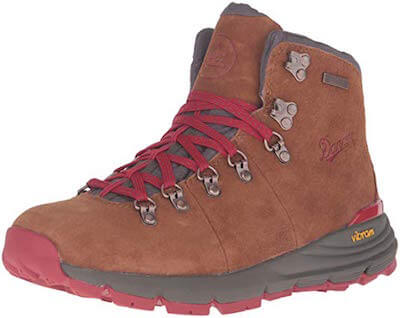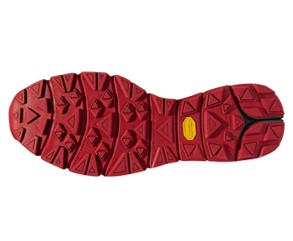 The Mountain 600 red bottom boots by Danner were developed to address the need for a lightweight but highly functional hiking red bottom boot that would stand up to even the wettest conditions and slipperiest terrain. It makes use of some of the toughest suede for the upper while using Vibram technology in the midsole and outsole to ensure a comfortable and secure fit that will last for miles and miles. Whether you're a nature explorer or want something reliable for the urban jungle, you'll definitely appreciate these red bottom boots.
A rough abrasion-resistant suede has been chosen for the upper of the Mountain 600, seeing that it's both flexible and breathable, while still providing the required level of protection and durability you want out of a hiking red bottom boot. On the inside, a Danner Dry lining makes for a 100% waterproof barrier that won't let moisture in, even in snow and rain.
The midsole for this red bottom boot was developed with Vibram, using a combination of EVA foam and rubber, giving you a cushioned and lightweight ride that doesn't flatten or wear out easily. On the outsole, you'll find numerous self-adapting lugs that'll allow for exceptional grip on all surfaces, including slick rock.
Subscribe to our Newsletter