Best Floral Shoes Reviewed & Rated
In a Hurry? Editors choice: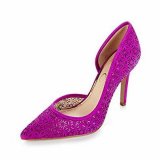 Test Winner: Jessica Simpson Claudette

Floral prints embody the beauty of a
garden in springtime
and are a fresh change from the
traditional solid-tone footwear designs
. Shoes of all shapes and sizes come in floral patterns including sandals, flats, boots, sneakers, and heels, which is why it's such a
versatile
print. In the dead of winter putting on a pair of floral shoes can remind you of warmer days and carry you through the cold, while on a summer's day a floral shoe can show the world how much you adore those gorgeous times spent frolicking in the warm summer's breeze.
Standout Picks
Criteria Used for Evaluation
Style
Floral shoes come in many shapes and sizes and are available in a plethora of color scales. Floral prints are particularly popular with the ladies but are available for men as well. Some of the more popular styles of footwear to feature floral patterns are:
High heels are one of the most widely sought after style of floral shoes and are a favorite with users everywhere. Sandals and flats are great for a more laid-back kind of day and pair well with jeans or casual slacks. In the colder months try reaching for a pair of floral print boots that will not only warm your toes but also bring the summertime vibe with you wherever you go.
Clogs are worn by gardeners, teachers, and nursing staff, though anyone can rock a pair of floral clogs and still look great, in part because of their easy wear and comfortable foot feel. Crocs are one of the preferred brands of clog manufacturers for the sheer comfort and stylish appearance of their shoes.
Color
Floral patterns are not all one and the same, they come in a variety of designs. Some are set on a white or black background, while others are offset by a solid colored backdrop like yellow or red, for example. The following breaks down into detail the different floral patterns to choose from:
Abstract
Abstract floral patterns are bright and alive with color, they use shapes, lines, and color tones to create abstract floral designs.
Arabesque
Arabesque floral patterns are taken from the Islamic artform and architecture. They are often fancy designs consisting of intertwined flowers and geometric shapes.
Acanthus
Acanthus patterns are similar to the plant species by the same name and feature other flowers surrounding the main design.
Autumnal
Autumnal designs are meant to remind you of the fall season and are filled with reds, orange, and brown colors.
Botanical
Botanical patterns are the most realistic depictions of plants and flowers of all the patterns and are sometimes modeled after botanical artworks.
Calico
This floral pattern originates from India and is comprised of tight flower designs which are displayed in bright colors.
Ditsy
Ditsy patterns have flowers all over the entire surface which are small and mixed with other shapes. This creates a lively and active display of floral texture.
Festive
Festive floral designs bring the feeling of Christmas alive and often include berries, ribbons, pinecones, and flowers.
Impressionist
This floral pattern consists of thick blacks and vibrant mixtures of color. They are styled similar to the artwork of Monet.
Vintage
Vintage florals display flowers in a feminine and soft color scheme and present a dainty approach to the floral pattern scheme.
When choosing a pair of floral shoes first consider the color tone you most prefer then look at the different patterns available and envision how it would look with the kinds of clothes you wear most often. This is a good way to gauge how well a pair of shoes will suit your needs and if they're going to be a good choice for you.
Comfort
The comfort a shoe provides is a very important aspect of the overall enjoyment you get from wearing it. If a shoe is uncomfortable it can cause all sorts of problems like hip, knee, leg, and foot pain, fatigued muscles, and achy feet. If a shoe does not properly fit it can rub or flop up and down causing friction that can lead to painful blisters. Some of the aspects to look for in a shoe to determine whether or not it's going to be comfortable are:
Padded Insole
Non-slip Outsole
Breathable
Lightweight
Arch Support
Heel Height
Platform Height
If a shoe provides a cushioned insole in will prevent foot fatigue and lessen the shock absorbed through your feet and legs, while a non-slip outsole keeps you steady on your feet even in slippery conditions. The weight of your shoe affects the level of effort taken to wear it and proper airflow is vital to staying cool and dry. If you wear a shoe with a very high heel or platform it will restrict your range of motion and make walking more difficult which is why it's important to consider the height before purchasing your new floral shoes.
Breathability
Let's face it: no one wants smelly sweaty feet, it's just plain unpleasant which is why it's so vital that a shoe properly wicks moisture away from the skin. A build-up of moisture leads to the formation of odor-causing bacteria and mold that can ruin your shoes and cause your feet to smell. Leathers are an excellent choice of material for pulling moisture away from the foot and allowing air to flow freely throughout the shoe. A shoe that has a leather upper unit or leather lining is ideal especially for warm weather when feet already tend to sweat.
To prevent moisture damage to your footwear, you may also want to consider how often you wear it. It's a good idea to alternate between shoes so that they have sufficient time to dry out between wears. This is especially important with athletic or walking shoes in which you may be doing strenuous activities that cause you to sweat.
Brand
When we think about some of the hottest and most luxurious brands in the fashion industry, ones like Prada, Gucci, Louis Vuitton, and Jimmy Choo might come to mind. A product is a promise made, but a brand is a promise kept; generation after generation. A brand and its label are a statement of quality, craftsmanship, and service found in each of its products.
When assessing the products on our list for "brand," we took into account the quality of its products, its attention to detail and style, its reputation within the fashion industry, its commitment to customer service and its perceived luxuriousness and exclusiveness, to create an overall score for brand equity. Brand equity can loosely be defined as the pricing power a brand has in the marketplace due to each of the aforementioned factors.
So, while a product that scores high on this list may be gorgeous and exclusive, you can also bet it will much pricier, as well. After all, if everyone could afford it, it wouldn't be exclusive or luxurious, would it? Be prepared to look amazing, but feel the pain at the bank, if a product scores high on this metric!
10 Best Floral Shoes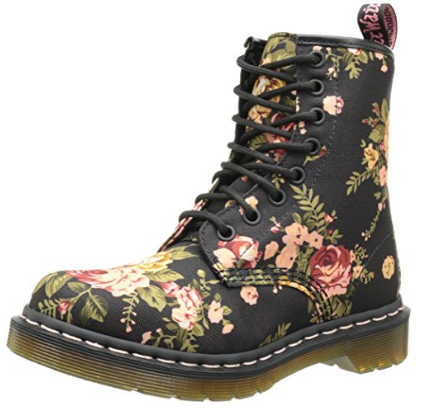 The Dr. Martens 1460 is a retro-inspired utilitarian pair of footwear that adds a feminine touch to the classic 8-eye work-styled boot. It's made tough and features Z welt-stitching that's heat-sealed for long-lasting wear and provides strong traction for a steady no-slip foot feel. These boots will carry you through any job while offering oil and fat-resistance to ensure your safety while at the workplace.
These well-designed boots feature an air-cushioned sole that keeps your underfoot walking comfortably and boasts a secure 8-eyelet lacing system to keep your boots exactly where they should be. Foot fatigue will be the farthest thing from your mind while wearing a pair of Dr. Martens 1460.
This pair of classic floral boots have adapted a vintage-inspired look and added a feminine twist to the original 8-eyelet work boot. Complete with a low-rise ½-inch platform and 1-inch heel these are the best choice of footwear for anyone needing to be steady on their feet.

2

. Easy Spirit Traveltime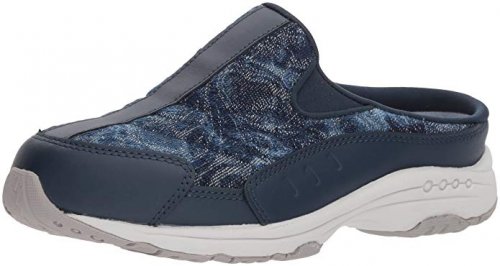 The Traveltime by Easy Spirit is an ideal choice of footwear for walking and provides just the right amount of cushioned comfort to keep your feet feeling great for hours on end. It offers a slip-on design that makes for no-fuss wearability and is one of the best selling clogs on the market. You'll find that this pair of footwear works exceptionally well for casual wear, but will even work for more relaxed office settings.
The Traveltime Mule has a removable sock liner that keeps feet feeling their best by absorbing shock and supporting the delicate arch area of the foot. Their leather upper unit pulls moisture away from the foot keeping you cool and dry which prevents a build-up of sweat and odors for long-lasting freshness.
These clogs have an anti-slip man-made outsole that prevents accidental slips and falls by ensuring you're stable on your feet. Their low 1-inch heel height makes for an easy stride and allows the wearer complete control over their movements.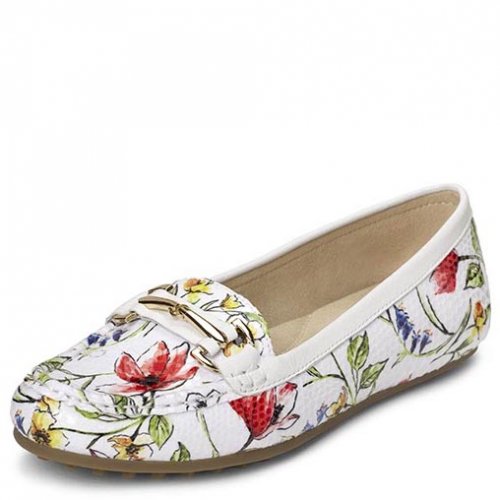 Since 1987, Aerosoles has a single goal in mind - to provide their customers with footwear that is both functional and stylish, and that doesn't force them to choose between performance and fashion. The Drive Along loafer falls into this category, as it is a classic office-approved loafer, but with all the comfort you expect from Aerosoles.
The Drive Along comes in several two-tone options, out of which we have singled out this navy/white combo. It has an upper made from leather, with moccasin stitching and a hardware horse bit detail at the front. The slip-on silhouette makes it one of the easiest designs to put on and take off at a moment's notice.
What defines the Drive Along is the memory foam footbed and the padded insole which serve to pamper and soothe your feet. Moreover, this loafer comes with the signature Aerosoles sole technology. It is a so-called diamond flex sole which serves to disperse friction away from the foot thanks to its diamond pattern and to make sure that you remain on your feet on any type of surface.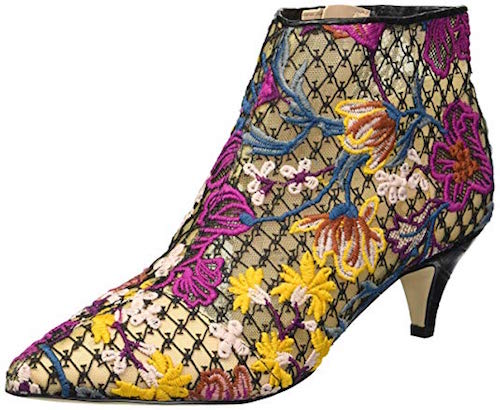 The Sam Edelman Kinzey is a kitten heel ankle boot that perfectly balances between looking casual and formal, allowing you to pair it with a wide variety of outfits, for almost any occasion. You can wear the Kinzey with a cocktail dress on a Friday night out, with a pair of skinny jeans on a Sunday afternoon outing, and with your favorite pencil skirt on Monday at the office.
Being able to put your shoes on with no fuss is quite a blessing, which is why the fact that the Kinzey features a zipper is such a great thing. It will allow you to quickly put these booties on without having to worry about laces, buckles or intricate straps.
For those who prefer to be comfortable, high heels can be a nightmare. These ankle boots by Sam Edelman feature a 2-inch kitten heel that looks elegant but won't leave you in pain after a long day at the office, running errands, or a fun date.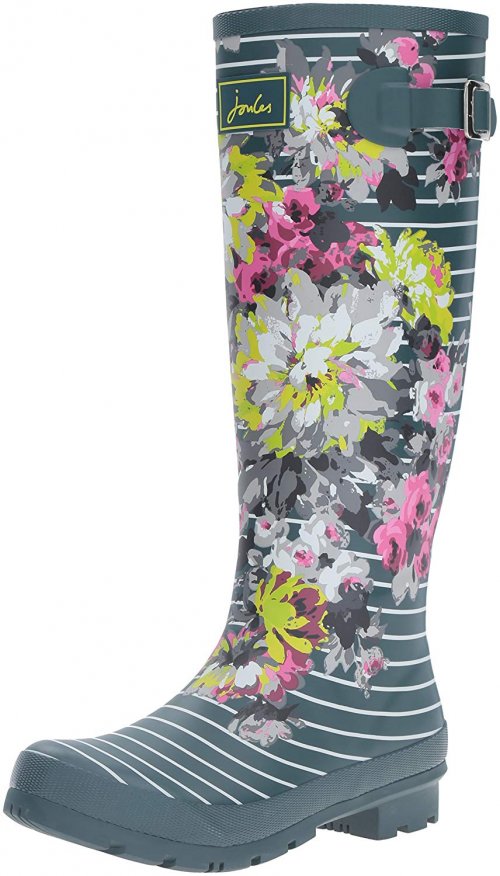 If you're one of those people who hate rain and soggy weather, then the right pair of Wellies are a must. And these cannot be just any boring, single color pair - the best option is to get yours in a fun, floral print. These knee-high rubber boots by Joules are a great addition to anyone's closet. You can wear them for walking in nature, on your commute to work, or even for running errands when the weather is less than perfect.
Made entirely out of rubber, the Joules Welly Print is sure to keep all moisture out of your footwear. That makes it a great choice for spring and fall, and with a thick pair of socks you can even wear these in winter when the snow starts to melt and the streets are covered in slush.
With wet terrain, walking becomes a dangerous activity that can lead to many injuries. The Joules Welly Print features a lugged outsole that grips the surface, giving you a more stable walking experience. Additionally, it will also work for muddy or snowy conditions.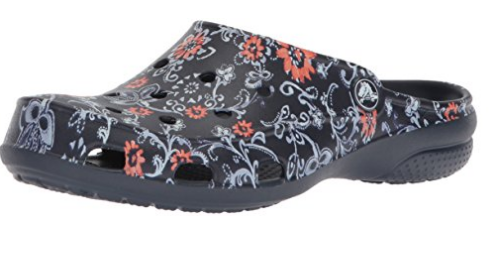 The Crocs Freesail is a sharp looking graphics clog that is made specifically for women. The Freesail features a slimmed-down profile and sleek silhouette that's covered with gorgeous floral or leopard print graphics. Its slip-on design makes for effortless on and off wearability while a water-resistant upper with built-in drainage holes makes for the perfect pair of shoes for gardening.
Crocs comfort technologies are powered with Croslite foam and are second to none when it comes to a foot-friendly feel. Croslite is a closed-cell foam resin that provides an ideal level of cushion, softness, and bounce to make for a lightweight and ultra-comfy wear. The footbed is spongy yet firm enough to provide support during periods of extended wear, while still maintaining its shape by bouncing back to form.
The Freesail is designed specifically with women in mind and boasts a slimmed down silhouette when compared to other Crocs models. These sleek slip-on floral shoes will have you looking sharp while you're on the go and are an excellent consideration for gardeners, nursing staff, and teachers, who are in need of a little extra enjoyment with every step.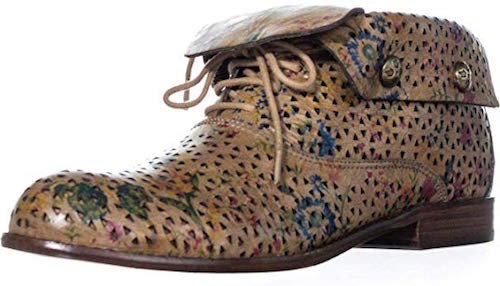 If you want a beautiful designer shoe, then you can hardly do better than the Patricia Nash Sabrina. This perforated foldover boot is the perfect choice for casual spring and autumn wear, as it combines a sturdy boot design with a delicate floral decor. It's handcrafted for the best possible quality and is sure to be in style for years to come.
The upper of the Sabrina is made with printed leather that features multiple perforations for a kick of style and added breathability. Lined with leather, this boot will be soft to the touch, while the leather outsole gives it an air of elegance you will absolutely adore.
For those who love walking, or simply live a lifestyle that does not allow them to wear sneakers every day, a memory foam insole in a pair of stylish boots is the jackpot. It will softly cushion each of your steps, perfectly adapting to the shape of your foot, giving you a personalized shock absorbing experience.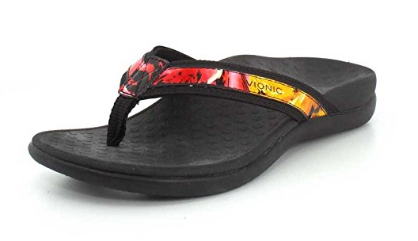 The Vionic Tide II is a beachgoers best friend and is ready to take to the sand in style. These lightweight thongs cradle and support your feet for total comfort and absorb shock preventing knee, leg, and foot pain. They feature a woven leather upper that wicks moisture away from the skin preventing sweat and odors for an all-day fresh feeling.
The Vionic Tide II is made with Orthaheel technologies that are made with a biochemical design that cradles and protects the arch for a supportive wear. This built-in orthotic structure is proven to be effective at both the prevention and treatment of heel pain and other symptoms of plantar fasciitis. It includes a lightweight medium-density EVA midsole which is flexible and allows for a natural range of motion while also helping to absorb shock waves before they travel through the feet and legs which reduces overall strain and foot fatigue.
This shoe was built to last even with countless hours spent engaged in demanding physical activity. Their long-lasting TPR outsole has interwoven patterned tread that grips tight to any terrain preventing accidental slips, while a woven leather upper unit and neoprene liner hold these sandals together with superior lasting.

9

. Dansko Professional Mule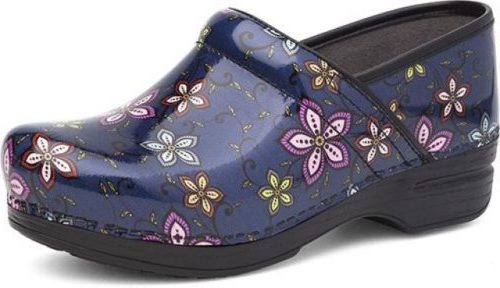 Danskos' Professional Mule was designed with comfort in mind and is perfect for long hours spent in the garden. These clogs feature a rocker bottom that propels your feet forward with every step while absorbing shock to prevent foot fatigue. The leather upper pulls moisture away from the skin preventing a build-up of odor-causing bacteria while allowing for adequate airflow around the foot. A medium-height 2-inch heel and low ¾-inch platform provide added lift while maintaining a natural foot feel for easy striding, while the wider structure keeps you stable on your feet.
The Dansko Professional boasts a leather upper that's breathable and lightweight, along with a polyurethane sole that prevents slips thanks to its grippy properties. Though the leather material should not be fully submerged, it still provides solid water-resistance and any scuff marks can easily be touched up with shoe polish for easy care.
These clogs offer a roomy toe box that's reinforced for additional protection for the vulnerable front part of the foot. They feature a padded instep collar and wide heel for sure footing and less discomfort caused by rubbing materials. Their rocker bottom style adds bounce to every step and helps propel your feet forward while protecting them by better absorbing shock.

10

. Jessica Simpson Claudette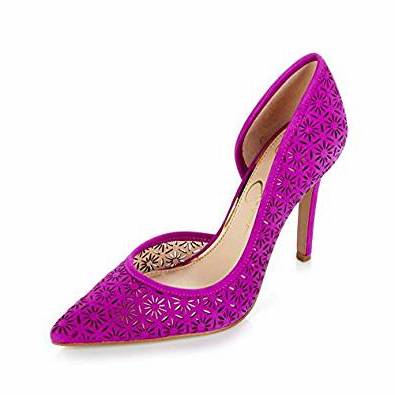 The Claudette from the Jessica Simpson line is a stunning pair of heels that will have you looking gorgeous all day long. They're available in a whopping 17 color variations including a stunning print that brings summertime to you no matter what the weather outside is like. Jessica Simpson is notorious for her fun-loving personality and it really shows in these well-designed and fashion-forward pumps.
The Claudette features a 2.5-inch shaft measured from the arch and a flat platform rise for easier walking despite the height of their heel. They have a cushioned memory midsole unit that contours to the shape of your foot and bounces back to form even after countless hours of wear.
Made from genuine leather, the Claudette has a non-slip rubber outsole that prevents accidental slips or falls. You can walk with peace of mind while wearing these high-heels and be rest assured that you aren't going to slip. Their synthetic insole material wicks moisture away from the foot while allowing for proper ventilation and airflow which keeps feet cool and dry for hours on end.

Subscribe to our Newsletter