Best Summer Shoes For Women and Men Reviewed
In a Hurry? Editors choice: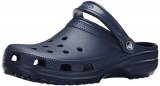 Test Winner: Crocs Classic Clog

Oh, wonderful summer! Pool parties, graduations, the beach, adventures, and activities—the fun doesn't stop until the leaves change color. With so many different events and functions, this season requires a diverse selection of shoes in your wardrobe.
Running sandals
, flats, runners and more, we're here with our top 10 shoes for summer.
Important factors to consider when buying the best summer shoes are breathability, comfort, and function. Whether you are wearing your
shoes by the pool
or taking long hikes in the sun, it is important that your
shoe keeps you cool
and comfortable. It is also important that your shoe is suited to the type of summer activity you are taking part in, which is why so many people own more than one great pair.
Standout Picks
Criteria Used for Evaluation
Breathability
Did you know that quality summertime shoes are good for your health? Lightweight flats and sandals allow for better airflow to the sensitive skin on our feet. That's why the best models need to breathe. Proper airflow keeps the feet cool and dry while promoting blood flow and improving circulation.
The level of breathability a shoe can offer is largely dependent on the materials used to manufacture it. But how do you know which materials to look for and which ones to avoid?
Choosing The Right Materials:
Leather: It may sound like a poor choice for hot weather, but in reality, leather is a breathable material. With that in mind, choosing a pair with just a leather upper may not be the best option, what you want to look for is a pair which is lined with leather. When used to line footwear leather allows air to flow while absorbing excess moisture and perspiration.
Fabrics: Perhaps the most widely used materials for hot weather shoes, the fabrics to look for are cotton, linen, and viscose, as they are all breathable materials with excellent moisture-absorbing properties.
Materials to Avoid: Synthetics, like polyester and acrylic, are commonly used materials, but they fail to absorb moisture and can cause shoes to feel hot and become smelly. Manufacturers often use these materials to cut costs.
Style
When summer begins, the desire to see-and-be-seen takes hold. Suddenly looking stylish and trendy is more urgent than ever before, maybe it's because of the tremendous choice of apparel the weather allows. Wearing a fashionable pair of footwear can make-or-break an outfit in an instant.
So, how can you tell what's hot and what's not? While at risk of sounding cliche, the best place to look for trend-setting clues, is to the stars. Hollywood is an endless inspiration when it comes to piecing together glamorous, sexy, or casually chic attire.
There are a few select brands that never go out of style, like Birkenstock, Adidas, Teva, Vans, and Keen. These brands will always have a summer shoe, which is fashionably stylish and a comfortable wear.
Support
Finding the best footwear which offers proper arch support can be a drag. Many of the models designed for warmer weather are made with next-to-nothing in the way of support. That's why it is so important that you take the time to find a pair that is going to support both your heel and arch. Shoes which are designed to cradle and support your specific type of foot arch will prevent pain, arch collapse, and fatigue.
What Type Of Arch Do You Have?
Flat Foot/Low Arch: A low arch, or flat foot, is characterized by a low arch that typically rolls inwards excessively. Low arches can better absorb shock as the muscles and tendons are more relaxed and the foot is supple. However, low arches are more at risk for knee pain and of developing plantar fasciitis.
Average Arch: This type of arch has a 'normal' height and rolls slightly inward to absorb shock. An average arch is less likely to experience discomfort, or develop certain issues related to the foot.
High Arch: With a high arch, the foot rolls slightly outwards which causes the muscles and tendons to be tight and rigid. This means the foot does not absorb shock particularly well, causing problems in the foot and Achilles tendon.
Different levels of support will be needed depending on the arch of your foot. For example, a low arch would be best suited to shoes which offer stable support, whereas, a high arch requires a cushioned shoe which does not have any added stability devices.
Midsole
The footbed of a shoe is the part that runs underneath the foot and is often referred to as the insole. There are many types of insoles available which have different beneficial purposes, though a pair of shoes will usually have one of the following two types of insole style: cushioned arch support or no-arch support (flat). Each type of insole style will also have many variants to better suit different consumer needs. When choosing between the two styles it is best to first determine what type of arch you have and then select the most appropriate. (For more on arch support and to see what type of arch you have, see the 'Support' section below)
Different Types Of Insoles:
Cushioned Arch Supports: They offer flexible arch support and are made completely of cushioned padding. This type of insole is made with an emphasis on the cushion but does provide some support. These are perfect if you plan to be on your feet all day long, walking, or engaging in other types of outdoor summer activities. The extra cushion will minimize fatigue and prevent foot pain. This type of insole is often sold separately from the shoe.
Flat Cushioned Insoles: They offer no support and are designed solely to line the bottom of your shoe. These are the standard insole used in many shoes and should not be worn for long periods of walking. Spending hours in a pair of shoes with a flat cushioned insole will result in tired, achy feet.
Orthotic Insoles: Available for individuals that suffer from various physical conditions affecting the legs, feet, and back, they are also advisable for anyone who finds their muscles and joints becoming painful or stiff at the end of the day. Orthotics work by correcting the alignment of your feet, while cushioning them from the pressure of walking. Various orthotic insoles are available for different problems associated with the feet.
Brand
The brand is not always an essential factor, but with sneakers, there are brands which stand out from the rest. Some of the biggest names in the sneaker business are:
Reebok
Vans
Converse
Adidas
Nike
These names stand behind high-quality products that are tried and true having withstood heavy user testing and have proven staying power making them an excellent place to start looking in your quest to find the ideal pair of sneakers. User reviews and experience is something to be considered because if a large number of people have had either a good or a bad experience chances are that you may have a similar one.
10 Comfortable Summer Shoes for Men and Women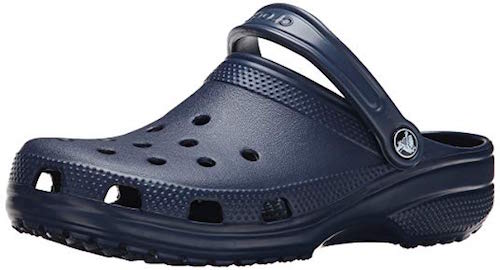 Crocs are a classic hot weather sandal: appropriate for anything from throwing them on to putter around the garden to the perfect beach day. Although being somewhat unfashionable Crocs redeem themselves by being extremely comfortable and durable. For an inexpensive pair, Crocs are very well made from a synthetic material called Croslite, which makes them water friendly, and very lightweight. Crocs are also the perfect slip-ons for schlepping around the house. They come in a huge color selection, and sizes for all ages.
The wider footbed supplies a roomy fit for maximum comfort, especially perfect for people with wide feet, bunions, or other foot problems. The backstrap is convertible so you can choose a snug secure fit or a looser slip-on fit. Crocs supply a good grip so even on the slippery poolside you will be sturdy.
The ventilation holes provide great air circulation keeping your feet cool all day. As well the ventilation holes help drain water or debris making them the perfect beach model. The slip-on style features an open heel also allowing more air into your shoe. The roomier fit will keep your foot from feeling cramped and hot. Crocs are very inexpensive, and they will last quite literally a lifetime. Just make sure you don't expose them to extreme conditions like leaving them next to a campfire. Other than that, Crocs take the cake because they are the most affordable and durable pair on this list.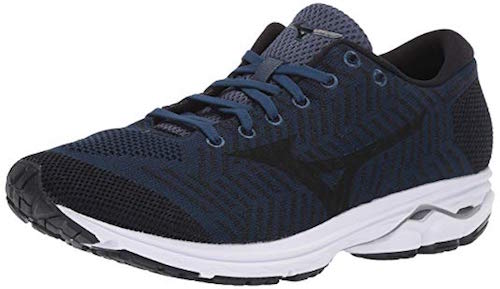 The brand's highest rated running shoe, now made in a knit upper for increased breathability, a customized fit, and everything you can wish for in terms of comfort. Regardless of whether you're a runner or are just looking for a pair of athletic footwear you can wear on athletic occasions, the Waveknit R2 (otherwise known as the Wave Rider 22 Knit) is an excellent choice. It's ideal for road conditions, for those with a normal arch.
While mesh is a popular choice for hot weather conditions, a lot of manufacturers are coming up with their versions of knit shoe uppers, seeing that these provide the same amount of air flow and moisture management without sacrificing looks, support and durability. The Waveknit material used in these is lightweight on the top of the foot, dense at the sides and toe, has stretch fibers interwoven to ensure the perfect fit, plus it looks rather stylish.
As for the performance features found in this shoe, you get a lot, as you'd expect from Mizuno. The outsole uses solid rubber for the ultimate grip. The midsole combines U4ic and U4icX foam which is lightweight and offers excellent energy return, while a TPU Wave Plate ensures shock absorption, preventing force from causing you fatigue and/or muscle and joint pain. Additionally, the premium anatomical sockliner ensures a natural amount of support, following the lines of the arch. As for price, this isn't the most expensive model listed, but it isn't the cheapest either. Overall, it's a good investment for a variety of uses.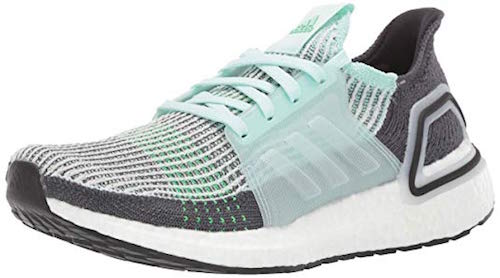 These have been an absolute hit ever since Kanye was first seen wearing them in 2015. Since then, the Ultraboost has received a stylistic update, maintaining all the features that made it such a popular choice among those looking for a stylish running sneaker. It comes in several color choices, from fairly simple whites and blacks, to more colorful knits that will upgrade any casual outfit.
The best part about the Ultraboost 19 is the Boost sole, made from TPU pellets that work together to disperse and absorb shock during the impact phase. Because the 2019 version of the sneaker features a higher number of these pellets, the sneaker is more responsive, offering users a higher level of energy return for a more efficient toe off. If, however, you don't care about running performance and are looking for a casual model, you will be happy to know that this is a pair of sneakers ideal for long walks, travel, and work.
The upper is not thinner than previous versions, with a more efficient knit material being used. The Ultraboost 19 has a sock-like bootie with minimal material used, and this translates to breathability, a flexible fit that conforms to the shape of your foot, and less weight. There is still a cage that holds the laces, and it ensures the lateral support you need, but you'll find that this product feels absolutely great, even without wearing socks. As for the price point, you can expect to pay top dollar for this model, but the comfort is truly worth it.




Teva Tirra's 'Slide' are athletic women's sandals which sport hook-and-loop webbing straps, along with a stretchy slide strap for the perfect fit. A rubber outsole and low heel height make the Slide a great choice for outdoor enthusiasts. Comes complete with an anatomic footbed and ShocPad™ heel cushioning and is manufactured with a Microban anti-odor treatment.
The ShocPad™ heel cushion technology is actually a blended EVA unit built into the heel that will transfer the shock of impact through the footbed and away from the heel. This leads to a greater spring with every push-off from the forefoot, as well as a lower level of fatigue after having spent hours walking.
The Microban Anti-Odor treatment is effective, using antimicrobial technology to capture odor-causing bacteria eliminating the smell before it even starts. What this means is that your feet won't get smelly, even if you participate in athletic activities that cause sweating, or if you happen to get these wet during your adventures. While the Teva Tirra Slide is slightly higher priced than similar options, it is well worth the splurge! This sandal absorbs shock from the heel and keeps feet feeling great all day long, thanks to their EVA cushioned footbed. These sandals are one of the best products for outdoor activities and will keep you looking stylish while on the go.




The Teva Olowahu Flip-Flop is a take on the traditional flip-flop design. A sturdy double strap is more secure than the traditional single strap flip-flops. Also featuring a comfortable footbed this flip-flop is a good choice to start your summer off.
The squishy footbed forms to the arch of your foot making it the most comfortable fit for your specific arch. The two straps provide a more secure fit so your foot will not slip around causing those uncomfortable blisters associated with traditional flip-flops.
Cross-strapping ensures a secure and comfortable fit, perfect for fun activities that require you to move, walk or even cover challenging terrain. The straps also make the flip-flop uniquely stylish. Teva makes quality footwear for its outdoor-loving consumers. These flip-flops will last years to come if worn as normal flip flops but have a slightly shorter lifespan if you wear them out adventuring. They are well worth the extra couple dollars instead of getting cheap flip-flops that only last one season.

A sandal that is completely different than what we'd all come to expect from this brand, the Uneek truly stays true to its name. It's a casual pair of footwear, ideal for those looking for a great fit, who want a look that's stylish, but with all the benefits of an athletic shoe. It's available both in adult and children's sizes, so you can get a pair for the whole family, with lots of fun colors to choose from.
The upper of the Uneek is made from bungee cords woven into a shape that covers the entire foot, yet still allows for some of the best flexibility you can get. This design offers a great amount of breathability, seeing that there are lots of openings to let fresh air into the sandal, aiding moisture management which is key in summer footwear. Another benefit of the model is the fact that it's treated with anti-odor chemicals that won't allow you to get smelly feet.
The footbed of the Uneek is metatomical, which means a good amount of arch support and a stabilizing heel cup that ensures proper alignment. The outsole is razor siped, which means excellent traction on all surfaces, even slick rocks and tile, which makes this a great choice for a beach shoe as well. As for cost association, the Uneek falls right in the middle of this list, making it a good alternative to hot weather hiking and water shoes.
7

. Jessica Simpson Mandalaye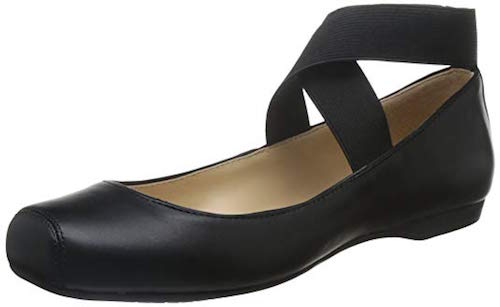 Relax in comfort with Jessica Simpsons Mandalaye, one of the best flats for women you can buy. They are casual yet stylish and feature a crisscross elastic strap for superior staying power. The Mandalaye is a fun and flirty choice which sports a low 0.25" heel and is manufactured in the USA.
Nothing fits better with a flowy dress than a pair of slip-on shoes. Easy on-off wearability makes transitioning from the city to beach a breeze. Plus, these look professional enough to be worn to work, making this one of the most versatile products on our list.
The Mandaleye comes in a variety of uppers, from leather to textile, so you can choose the version that suits your style the best. But, the best thing about this pair of flats is definitely the cushioned sole that helps absorb shock, conforming to your foot. If you plan on doing a lot of walking, or have to stand at work, this is definitely a winner model. The Mandalaye is considerably lower priced than similar styles of footwear but is equally as stylish.




Bobs are a cute slip-on flat you can wear as a casual shoe or for going out. They come in a huge variety of looks, from sensible single-color options, to those with cute prints that will show off your unique sense of style. Additionally, they're made by a reputable brand, which means that you can count on your pair of Bobs on providing comfort, as well as lasting for a considerable period of time, without actually costing a fortune.
Bobs have a memory foam sole so your foot will be as comfy as a bug in a rug. The fabric also has some elasticity so they can stretch to fit your foot in the most comfortable way. Plus, you will benefit from a foam outsole that works well on most surfaces, providing an additional level of shock absorption.
Bobs has so many options to choose from: lots of solid color options to different patterns and fabrics, you will look super chic all season long. Bobs also look good paired with any outfit so you can slip them on while you run out the door to a casual picnic or to a garden party. Cheaper than other products available in this list, Bobs can tend to have a lower durability due to the foam sole. A single pair may only last you a single season if worn every daily. The nice thing about them being inexpensive is you can buy multiple pairs in different styles or use them as an inexpensive formal option.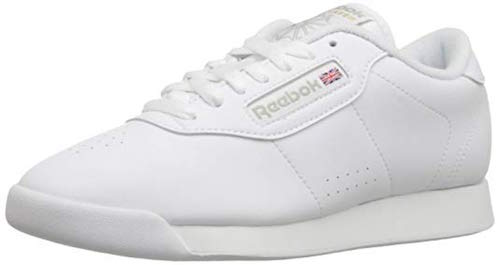 Reebok's Princess is as supportive as it is stylish. This trendy minimalist lace-up sneaker has a rubber sole and EVA lightweight cushioning. Made from premium synthetic leather and boasts perforated accents with an inset logo on the side. A padded foam sockliner adds additional cushion, making the Princess perfect for all types of activities.
Premium synthetic leather offers the same stylish look as the real thing, only you can rest assured that no animals were harmed in its making. It is soft, breathable, and low-cost, enabling retailers to charge less for shoes made from real leather.
EVA is made up of thousands of tiny bubbles joined together that hold air. When these bubbles are compressed, they provide superior cushion and shock absorption while feeling completely weightless. Having a midsole that uses this material has become an industry standard, and you can rely on it feeling great underfoot. Princess sneakers are an average cost option which offers total lightweight comfort. Their premium synthetic leather upper and rubber outsole design make them long-lasting, while the EVA cushioned footbed make it feel like you're walking on air.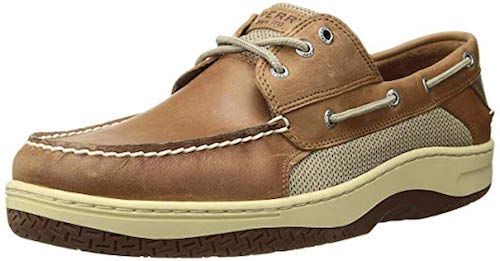 Sperry's boat shoes are the perfect casual shoe that can be dressed up for all sorts of summer events. Imagine hanging out on the boat all day then showing up to dinner in the same footwear, sounds crazy but with these, you will fit in anywhere.
Boat shoes are a fashion statement whether it is as a casual everyday shoe to a going out fancier look you are going for you will have footwear that is as versatile as it is fashionable. Available in a multitude of colors to choose from you can match it to your wardrobe.
This model features an outsole with Razor-Cut Wave Siping: small wavy slits in the outsole combine with larger, deeper waves to repel water away from the sole to give superior grip. Wet, or dry, these shoes guarantee you won't slip. On the more expensive side, Sperry's boat shoes are made out of quality leather with rust resistant eyelets and featuring genuine hand-sewn tru-moc construction, meaning you are paying for a quality made model.

Subscribe to our Newsletter