Best Bejeweled Shoes Reviewed For Sparkle And Shine
In a Hurry? Editors choice: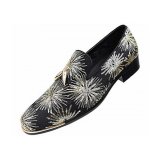 Test Winner: Amali Embroidered Slipper

When picking out an outfit for any occasion, whether it be casual or formal, it's crucial to consider the footwear. Many people will put all of their efforts into the dress or the suit and end up not putting enough effort into the type of shoes worn with the attire. This is a big mistake that could ruin your whole outfit and experience.
Not only are the right shoes crucial for ensuring comfort and minimizing foot fatigue, but they also add the final finishing touch to the look. You have to make sure their
style and color
are fitting for the occasion and for your overall appearance. For something that will make a statement, make you stand out from the crowd, and highlight your outfit even more, you need a pair of sparkling shoes.
Standout Picks
Criteria Used for Evaluation
Versatility
When paired with a neutral-coloured outfit, bejeweled shoes add a touch of originality to the mix and ensure you don't melt into just another brick in the wall. If you're really feeling it, you can pair them with patterned or colourful clothing as well for an all-out, eccentric appearance. These shoes aren't only for special occasions, either – depending on their styles, they can be worn in just about any type of occasion, including for everyday street wear.
Bejeweled footwear is a great way to add a unique twist to your outfits. No matter what outfit they are paired with, they give your overall look a more glamorous or handsome vibe that will never go out of style. In casual occasions, they make you seem like you put a little more effort into your attire, while for formal occasions they add a look of extravagance and luxury. They will make you stand out in a crowd, and are sure to earn you plenty of compliments. With a pair of your own, footwear will cease to be just for practicality and will become a fashion item instead!
Materials
Footwear can be bejeweled in a variety of different ways, using a variety of different materials and methods. These differences result in nuances in their looks that render them more suitable for certain occasions. Besides that, they have technical differences, too, and being knowledgeable on all your options ensures you buy a pair of shoes that's crafted in the way you want it to be.
Rhinestones are one of the most common embellishments that can be found not only on footwear, but also on clothing and accessories. There's a reason for it – they look nice, add a touch of glamour, and are nice and inexpensive at the same time.To begin at the beginning, rhinestones are essentially synthetic gemstones made to imitate real gemstones. They are usually made from glass crystal or acrylic, and they come in a large selection of colours. The obvious advantage with rhinestones is that they are much cheaper than real gemstones, allowing typical people to wear them and glam up their outfits on a regular basis.
However, many think that rhinestones just don't have the same luxurious quality or clear brilliance, which is true to some degree. But when it comes to footwear, it's not likely that anybody will stare long and hard enough to notice the difference anyhow. Besides, using rhinestones means they can cover the entirety of the shoe without making their cost sky-high, and this lets you achieve that glamorous sparkle without selling your house for it.
Style
Shoes embellished with rhinestones generally have a formal look to them. For example, rhinestone heels are great for big days like weddings, graduations, and ceremonies, etc. If they are used on a casual shoe style such as fashion sneakers, they are also suitable for casual street wear but will retain their air of modesty and elegance.
Another way to make a pair of footwear sparkle and shine is by using glitter. Nowadays, glitter can be seen in all kinds of places, from kids' arts and crafts to make-up salons. The way they sparkle just has a way of attracting us to them, no matter how old we become. In fact, there's a reason behind this. Anthropologists have found that the hunter-gatherers from way back used to associate shiny things with spiritual powers. Some suspect this impulse comes from our need to stay hydrated, as it would attract us to the shimmer of water in nature. Regardless, nowadays glitter's a great way to satisfy all our cravings for sparkling things.
Glitter is made by applying colour to a copolymer sheet and cutting it up into even pieces. The pieces vary in size, which determines how well they sparkly. Fine glitter gives off a more even, brilliant shine compared to chunkier glitter, and therefore have a more glamorous and luxurious look. However, they do have a downside as well. Because it is so fine, it's easier for it to rub off with wear and stick to your clothes or skin. It's also very difficult to get it off of you because of the static electricity that makes them cling on. If you prioritize the quality of their sparkle, then choose the former. If you're scared the glitter with go everywhere, opt for the latter instead.
Upper
Recently, embroidered clothing has been coming back into style. Embroidered footwear has been getting a bit of attention as well. This type of adornment is great because it keeps the uppers nice and smooth while also adding more patterns and colours to the look. Sometimes, an entire scene can be created with embroidery, which gives the item an entirely unique design. As well, embroidery provides a look of elegance while retaining their modesty. They dazzled up an item without making them seem too eye-catching or "out-there."
The result is a pair of footwear that can be worn for both formal events and casual occasions depending on their style.Gold thread is often used to add an accent to a pattern or design in order to make it stand out more. This gold thread will shimmer slightly as you walk under the light, highlighting the rest of the design on the shoe and subtlely making you stand out from a crowd. The downside of embroidery is that, if a thread comes loose, it could ruin their whole look. A missing thread might make a pattern appear incomplete or make your two shoes asymmetrical. If there is a very elaborate and colourful design then this might go unnoticed, but when the embroidery is a key aspect of their aesthetic design, you don't want this to happen.
Accessories
Sequins are plastic beads shaped like disks that are used for decoration and sowed onto clothing, footwear, and accessories through a hole in their centre. They are perfect for those seeking a classier style, as the earliest use of sequins dates back to as early as 2500BC. In spite of this, they are still in fashion nowadays simply because of the glamorous finishing touch they can add to an item.
Sequins have a classier look compared to rhinestones and can give off a vintage, old-fashioned vibe. When walking under lights both dim and bright, the sequins on your footwear will catch the light and reflect it, resulting in a glamorous sparkle with every stride.However, there is a downside as well. Because sequins are sewn on, the surface of the shoe will not be smooth. If you wear the shoes often or get them scuffed, the sequins could get caught and torn off, leaving an empty spot amidst the sequins.
Depending on the colour of the material beneath, this can be very noticeable and it's not at all something you'd want to have happened. Yet at the same time, sequins can also be more durable than glitter because they are sewn rather than glued on. It all depends on the quality of their construction.
Top 10 Picks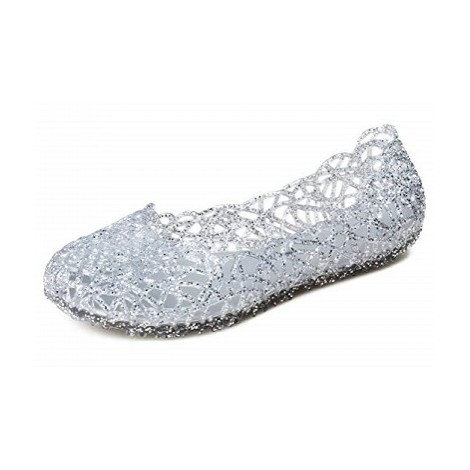 The first pair of footwear we've chosen is the Bird Nest flats by Kunsto. A glance at the image is sure to remind everybody of Cinderella's classy glass slipper from the fairy tales. After all, who wouldn't feel magical when wearing these? Though these are jelly flats, the shiny "birds nest" design of the upper give them a look of glamour and elegance nonetheless. The way the outline of the toes peeks out from the upper just adds to their delicate appearance. In terms of technicalities, they've got anti-slip soles that prevent slips and falls on smooth floors, and are slip-on, saving you time and effort before heading out the door in the mornings. There are three colour options offered - silver, black, and gold - all of which can easily be paired with a semi-formal outfit to add that final touch of brilliance.
Comfortable
Though they glitter like glass slippers, they are actually just jelly flats. The uppers are made of malleable PVC that renders them super flexible, allowing the foot all the movement it takes to walk comfortably.
Durable
Because this flat is one-step forming, the outsole is connected to the upper. As a result, it is impossible for the sole to fall apart. The overall flat is thus made more wear-resistant and longer-lasting.
Cost and Value
Despite being super elegant, these are, after all, just jelly flats. As a result, they don't cost very much and are the perfect budget-friendly option for a semi-formal occasion.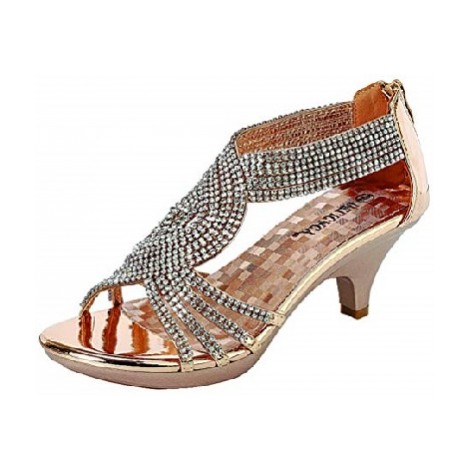 Low heels are often looked down upon (pun unintended) because many don't think they can be as glamorous or fashionable as stilettoes. However, this model proves them wrong, as the embellished straps make up for their low heels and result in a beautiful shoe nonetheless. The straps form a sort of curved pattern in the middle of the foot, creating an eye-catching yet uncomplicated appearance. Not only that, they strap the foot securely in place to ensure comfort when walking in them. The low height of the heels renders them suitable for all-day occasions when you know you'll need to walk or stand for long periods of time, but still need to dress up appropriately. Overall, they are a great pair of practical heels that offer both style and comfort at the same time.
Peep Toe
Often, heeled footwear is uncomfortable because when standing and walking, the foot tends to slide forward and the toes get squished. However, that won't happen with this pair because of their peep toe design. Besides, you'll get to show off your new pedicure!
Color Options
To add some extra spice to your outfit, it's always nice to match the footwear with any jewelry you're wearing. Thanks to the wide variety of colour options available, you'll be able to find the right pair to do so. Options include silver, rose gold, and different hues of black.
Cost and Value
Floating somewhere in the middle of our price range for this list, we think they are of good value. The simplicity of their design means they can be worn with nearly everything, from casual Friday night outfits to semi-formal occasions like graduations, dinner parties, and more.

3

. Forever Glitter Slip-on Sandals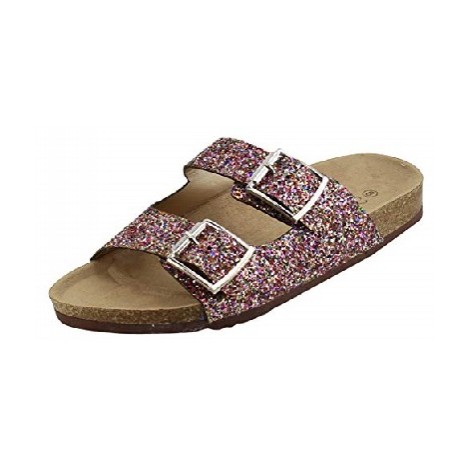 This next pair brings a twist to the traditional slip-on sandal design. Rather than following the conventional path of a rugged look, the brand Forever has chosen to glam it up instead. The straps have a beautiful glitter design that makes them look dressy and stylish despite their simple construction. The buckled straps ensure that you can adjust the size according to your needs, and the synthetic sole keeps them nice and lightweight. To top it all off, they are quite inexpensive, making them the perfect go-to footwear for lazy days and travelling.
Convenient
When you're busy, you've got to have convenient options ready for those rushed mornings and hurried afternoons. You can slip these right on and be good to go. Plus, the glitter makes it seem like you put in a bit of effort into your appearance, too. What a bonus!
Comfortable
The footbeds are made according to the natural curves of the foot, striving for the optimal fit and alignment. Arch support is provided, and the straps are adjustable to ensure you get your best fit. However, do remember that these run a bit small in size, so we recommend you order half a size up.
Cost and Value
These are one of the least expensive items we've got. Despite their low cost, customers say that the glitter has a high-quality look and does not shed easily.

4

. Gentle Shoes Sequined Loafers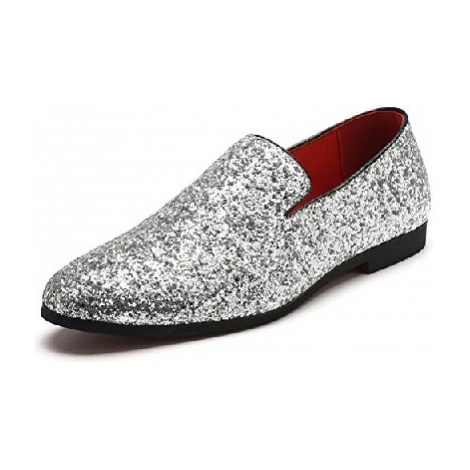 For the men out there who are looking for sequined footwear, we've got your back. Our number four is a pair of men's loafers that's sure to glam you up for the night and make you stand out from the crowd. The slight heel makes them seem more handsome and formal as opposed to loafers without heels. Made from microfiber, friction is reduced and the risk of getting blisters is minimized. The color options of black, silver, and gold are all suitable for outfits of all shades and style, so regardless of if you're wearing a patterned suit or a plain white blouse with black dress pants, these can add the perfect finishing touch.
Cushioning
Comfort at every stride is provided by the PU cushioned footbed. By supporting the foot with each step, fatigue is minimized when you're out and about on a long day, ensuring you stay energized and feeling good.
Eye-catching
Men's apparel can often be restrictive because most styles are uniform in colour, or in dark tones. Challenge the norm with this eye-catching pair of loafers. The glitter will show off the eccentric side of your personality and make you pop out from a crowd.
Cost and Value
Though these fall in the middle of the price spectrum, they're on the cheaper end for men's shoes. Many eye-catching and unique men's footwear are designer and super pricey, but thankfully this pair provides a more budget-friendly option.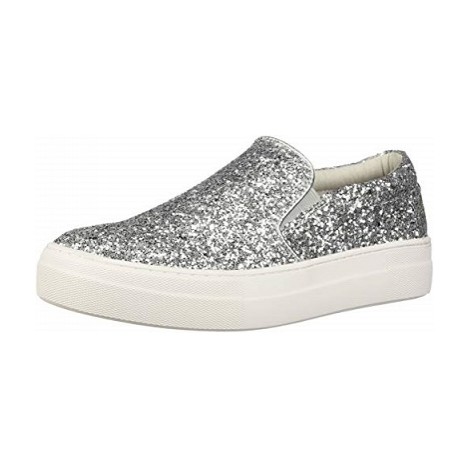 Everyone needs a pair of fashion sneakers. On days when you want to stay comfy but also don't want to sacrifice style, they come to the rescue. This particular pair by Steve Madden has lots of great features. Because they are made completely from synthetic materials, they are nice and light in weight, allowing you to walk around all day without adding extra bulk. The glitter adds an eccentric touch to the minimalist design, resulting in a simple yet super fashionable fashion sneaker. The plain white outsole balances out the look and makes them suitable for everyday occasions like shopping, as well as fancier ones like going to a party. Plus, if you like this version, you'll be glad to hear that the same model is also offered in suede, camo, and patent snakeskin.
Slip-on
Rather than having straps, laces, or even zippers, these only have elastic gores. This saves you lots of time and effort when putting them on. Plus, it keeps their look nice and minimalist.
Platform
All short people can relate to wearing heels to achieve that extra few inches of height. However, heels are uncomfortable, so turning to thick-soled footwear can do the trick. The platforms on these sneakers measure 1 1/4 inches, creating a leg-lengthening effect without becoming uncomfortable.
Cost and Value
Unfortunately, these sneakers are one of the more expensive items we have. At first glance, you may not think they're worth the money because they are only sneakers, but you have to keep in mind that Steve Madden is a brand with a great reputation for their high quality. And after all, you can't get high quality without paying a high price, too.

6

. Amali Embroidered Slipper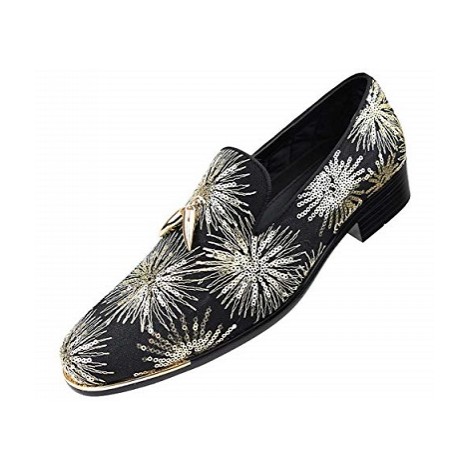 Amali is a brand that offers stylish men's shoes that won't make you pay a fortune - though it'll seem like you did. Sequins, glitter, and embroidery come together to transform the plain dress shoe into a handsome finishing touch to a formal outfit. The glimmering patterns are sewn onto a dark backdrop to really make them pop. The squared toe makes them look more masculine while also providing room for the toes to stay comfortable. The slip-on design makes them convenient, and the synthetic materials keep the uppers light and flexible.
Snug Fit
The insole is lightly cushioned to cradle and support the foot with every stride. As well, the quilted fabric lining hugs the foot and provides additional comfort.
Luxurious
Many different patterns are offered with this model, all of which have a unique and elegant feel to them. The sequins are combined with beautiful, intricate embroidered patterns, resulting in a handsome and luxurious appearance.
Cost and Value
Though these dress shoes definitely aren't cheap, they cost much less than designer ones with a similar construction. This provides you with an expensive look without you having to actually pay the price. What's not to love?

7

. HI&HANN Long Rivet Loafers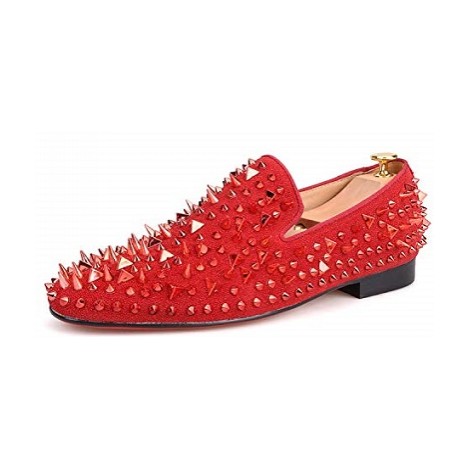 For men that prefer a sharper (literally!) look as opposed to sequins and embroidery, these loafers are sure to be the perfect choice. The entirety of the upper is covered in small spikes, resulting in a unique and handsome appearance that's perfect for semi-formal occasions in which you want to make a statement and stand out from the crowd. When walking, light will hit them and make them glitter and shine. Made with a quilted lining, the inside of the loafer is very comfortable as well as breathable. The overall shoe is also made to be lightweight and flexible so that you can walk around and enjoy your evening with nothing weighing you down. All in all, they're great for expressing yourself and adding a unique, eye-catching final touch to any attire.
Colour Options
Three colours are available for this model: red, black, and multi. The colour of the spokes varies slightly, too, so that each version has a distinct feel. Choose the most fitting one for the occasion or event in mind.
Handmade
To have quality, the product must be made with care. Every loafer of this model is handmade to provide optimal quality and guarantee satisfaction.
Cost and Value
These loafers are much pricier than all the other pairs we've chosen. We know it can be hard to invest so much of your hard-earned money into a pair of footwear, but trust us when we say their quality and style are worth every penny.

8

. Meeshine Rhinestone Flats


Flats are one of the must-haves of a woman's wardrobe. They're comfortable, elegant, and super convenient on warm days. These rhinestone flats by Meeshine ensure you step out there with extra glam thanks to their bejeweled design. On the toe is a beautiful rhinestone butterfly embellishment that sparkles under light and really makes the shoe pop. The opening is high enough so that no "toe cleavage" is shown. Furthermore, microfiber and TPR rubber is used in their construction to ensure maximum flexibility, while a lightly cushioned footbed allows them to retain their structural support. The comfort they provide allows you to wear them on the go, such as when in a hurry or going on a plane. This way, you can stay comfortable while also looking glamorous at the same time. It's a win-win!
Flexible
Like all high quality ballet flats, these are nice and flexible. When walking around, you won't be feeling any stiffness in the uppers or the soles to restrict your foot from its natural movements. The outsoles are made of ultra-flexible TPR in the traditional ballet style design.
Slip-on
The collar is elastic, allowing these flats to be slipped right on without having to fiddle with straps, laces, or zippers.
Cost and Value
In terms of their cost, these flats fall on the slightly cheaper end of our price range, but because they shoe, they seem much more expensive and luxurious than they really are. They are the perfect budget-friendly option for formal and semi-formal occasions.

9

. Bolano Glitter Smoking Slipper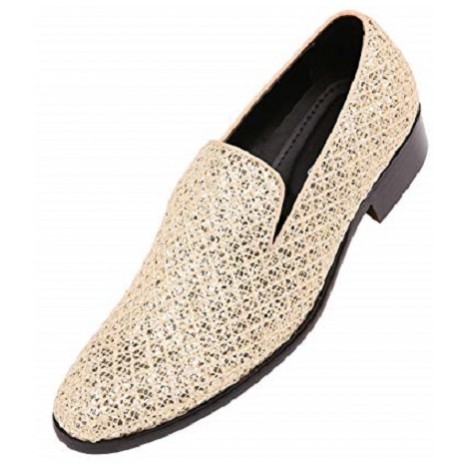 These dress shoes by Bolano have a more subtle shimmer, but it's still enough to dazzle up the wearer. A glitter lattice pattern covers the entire upper and gives the whole slipper a handsome, dream-like feel. Even in dim lights, the glitter will catch the light and sparkle. Despite being embellished, they also have quite a minimalist design thanks to their slip-on design, so they can be worn with both patterned and uniform-colour outfits. The insole is lightly cushioned and the toe roomy enough to provide adequate comfort. Overall, these are great for men who want to try something different but don't want to throw themselves out there all at once.
Slip-on
Style doesn't have to be inconvenient. With no laces to tie up, these can simply be slipped on before the big event. This allows you to focus on more important things rather than having to sit down and put your shoes on properly.
Color Options
Black, gold, silver, and rose are all colours that are offered. Because they are all fairly neutral tones, the glitter is made subtle and the overall slipper is more versatile. No matter what the colour of your outfit is, a pair of these dress shoes is sure to make a dazzling finishing touch.
Cost and Value
Compared to most men's dress shoes, these are fairly inexpensive. Many shoes of a similar style by designer brands are much pricier, so these are definitely a bang for your buck.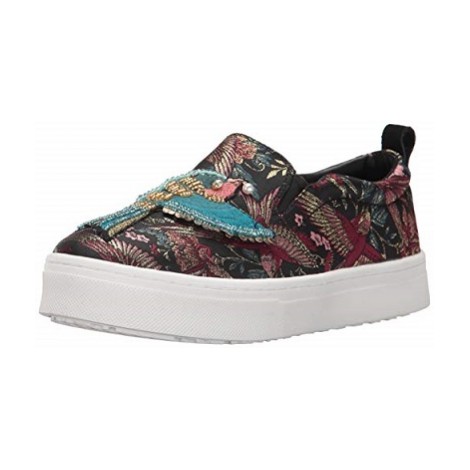 Our tenth and final pair is a pair of gorgeous fashion sneakers by the brand Sam Edelman. This brand is well-known for their stylish, high-quality footwear, and this particular model can proudly showcase the fact. A beautiful, intricate design of birds and foliage can be found on their fabric uppers, giving them a look of luxury and glamour despite their sneaker construction. The elastic gores make them convenient and slip-on, while the thick rubber outsole provides protection against what's underfoot while also adding to the style. The rounded toe gives the toes enough room to move around and stay comfortable even after a long day. Pair them with slacks and a blouse for a cute semi-formal look, or with ripped jeans and an oversized t-shirt for a more casual style.
Details
Patterns are fashionable, but the intricate and detailed design on the uppers here take it up to the next level. In the very centre is an embroidered bird with outstretched wings and a single pearl in its mouth. On the rest of the shoe are designs of foliage. Since all the details are lined with gold thread on a dark backdrop, they pop out and can be seen in their full glory.
Platform
The outsoles measure around 1 1/4 inches tall. Not only does this give you a bit of a boost in height, the perfect whiteness of the outsoles balances with the intricately designed uppers to bring unity to the overall look.
Cost and Value
Despite being fairly casual shoes, they are worth quite a lot of money. But when you think about it, it may be better this way. Casual footwear is worn more often and is put to better use, so it's much more worth it to spend a lot on casual footwear rather than formal, special-occasion ones.

Subscribe to our Newsletter