Best Slide Sandals Reviewed & Rated
In a Hurry? Editors choice:

Test Winner: Teva Tirra

Not all sandals are born equal. From lightweight flip-flops to heavy-duty
hiking sandals
, the sheer variety of designs can be overwhelming. Ever been annoyed by thin rubber digging into your skin or feeling restricted by a multitude of straps? Enter the slide sandal; unparalleled in its ability to walk the line between casual comfort and sporty chic. Whether you plan to hit the gym, beach or the street, you can always count on a good pair of slides to not only match your outfit but also cater to your active lifestyle. Often low profile, neutral and minimally designed, slide sandals are ready to accompany you through anything, from hot summer days to late night practice.
Standout Picks
Criteria Used for Evaluation
10 Best Slide Sandals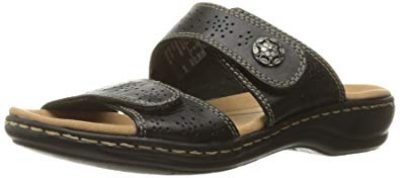 Once again, Clarks hits our list with the Leisa Lacole. A dual strap slide style foot apparel made from leather uppers, and cushioned with classic Clarks technology and design, it will have you ready to go long into the evening hours. With a slight heel to elevate the foot a little, it adds some pizzazz to your step, and the adjustable hook and loop closures will guarantee a perfect fit for your foot. The closure is hidden with a button detail, and perforations in the strap help to add even more ventilation to keep you cool and dry.
Ideal for casual or evening wear, the Leisa Lacole's design allows you to wear these from afternoon BBQ's well into the evening hours of dancing in town. Its rich leather look upgrades typical slide sandal fashion, and with several color options, you'll be able to pair with any outfit. Perforations in the upper straps add some design detail, and a button detail gives the hook and loop closure a hidden appeal.
Typical of Clarks brand shoes, the Leisa Lacole packs all of Clarks well-known technology for comfortable footwear into a slide sandal. Ortholite footbed adds a plush feel to each step and helps reduce foot fatigue during wear. Soft comfort technology helps to cushion the foot, and with a soft footbed feel, will have you going all day long. Synthetic soles help add stability and wave pattern design give the tread traction.




For almost 40 years Teva has been a leader in the outdoor industry, providing high quality, high functioning shoes for every situation. Teva is committed to innovation, performance and the ability to keep you going comfortably through life's adventures, indoors and out. Their Tirra slide footwear is proof that they stand good to their word of keeping it natural, comfortable, affordable, and possessing the ability to exceed your expectations in every purchase.
The Teva Tirra slide foot apparel offer an EVA midsole and a cushioned shock pad to keep your feet, joints, and legs feeling great. Absorbing shock takes the stress off of your knees, ankles, and feet. Not only does this insole absorb extra shock it also fights against odor and bacteria. The addition of a Microban treated lining will keep your feet protected against, the difficult to deal with, fungal and bacterial growth. So, not only will your feet feel great with less shock, but they will also be healthier and smell better.
Many materials are used to make the sole of this model, and they are not all created equal. The convenience of slide footwear is obvious but keeping them on your feet and keeping your feet under you are important. The rubber sole of the Teva Tirra not only gives you better traction but also better grip. Rubber will provide grip on a variety of surfaces ensuring you stay safely on two feet.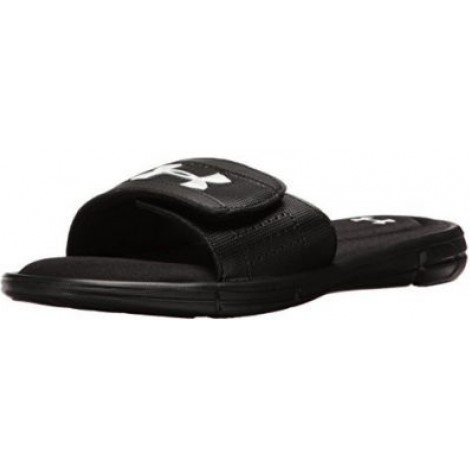 Under Armour may seem like an underdog to many consumers, but don't be fooled. The Ignite IVs are slides not to be taken lightly. That being said, they are truly lightweight, as well as form-fitting, durable and grippy. The athletic wear giants have outdone themselves with this model by putting user needs first and designing smart.
Hot summer days can be unbearable. With the Ignite Vs, not anymore. HeatGear fabric wicks sweat and keeps feet cool. Consider your beach day comfort restored. Walking around in sandals that weigh a ton or slide around on smooth surfaces can be a deal breaker. The lightweight EVA material in the Ignite Vs provides traction while not compromising on portability.
For their fair price, these slides are a great pair to have in the arsenal for any active or outdoors loving person that values pragmatism, durability, and comfort above all else.

4

. Skechers On the Go 400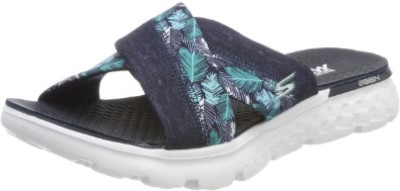 Skechers offers high-quality footwear in many categories, and naturally, they provide excellent slide sandals. The Skechers On the Go 400 will keep your feet comfortable with superior technologies like the 5Gen midsole, Goga Max insole, and GOimpulse sensors. A thicker sole helps to absorb more impact keeping your feet, ankles, and legs feeling better than ever. Super lightweight and great for those casual nights on the beach, this summer the Skechers On the Go 400 will be your favorite.
The 5Gen Midsole is the fifth generation of this type of technology. What does five generations give you? Great experience that leaves you with greatly responsive slide sandals. The comfort and responsiveness are not often found in other similar models. The fifth generation offers greater energy return to keep you going happily through all of life's adventures. In addition to greater energy return, they have also made these lighter than ever before.
This type of foot apparel isn't known for being supportive, comfortable yes, but not supportive. Skechers On the Go 400 are something a little bit different. Their Goga Max insole offers great support, keeping your feet more comfortable, for more miles. In addition to keeping you supported, they are also awesome at absorbing shock. Keeping shock away from your feet and joints keep you and your feet happy throughout those long days.

5

. Nike Benassi Solarsoft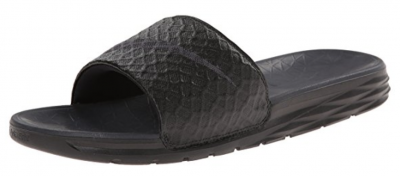 The Nike Benassi slide has been around since what feels like forever and has managed to maintain its allure. The Solarsoft installation of the Benassi slide takes the model one step further by introducing a modern design chock full of new technical features that ameliorate the wearer's experience. The Solarsofts contain all the lore of the traditional Benassis, but with a fresh new twist.
Taking geometry present in nature and applying it to footwear technology has always been a clever strategy. Here, Nike does just that by creating an entire exterior material patterned like a fractal that both enhances comfort and style. Appeasing the arch of the wearer is a major tipping point in many designs. The Solarsofts nail it with their midsole cushion, which adapts to different foot arches.
For an upgraded model of the classic Benassis, the Solarsofts have great value, coming up at a price comparable to the other athletic fit slides on this list, while still having unique features.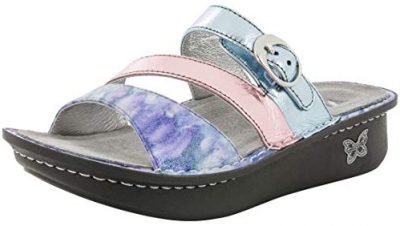 The Alegria Colette is an embellished slide, with a strappy design and buckle adornment to help adjust the fit to where you desire. With a variety of colors and textures to choose from, you'll find them suitable for not just casual wear, but some dressier occasions as well. A slight wedge gives a little bit of height, and with a rocker outsole, you can step in comfort and style into the evening.
Leather straps cross this slide over a small 0.75-inch wedge platform, which gives it richer look than some and makes it great to pair with dresses or skirts. Uppers are hand sewn, and the outsole is a Polyurethane rocker construction, with slip resistance to keep you stable and with traction on slippery or wet surfaces. Similar to Birkenstocks, the insole is made from polyurethane, memory foam, and cork, and is removable if desired.
Available in many color options, patterns, and textures, this sandal steps up the slide with its fancier design elements. Contrast stitching against the outsole compliments the colored uppers that range from metallic colors to blue patter, whites, blacks, and neutrals. Plus with options for a bit of sparkle, they keep true to fashionable trends for summer footwear this year.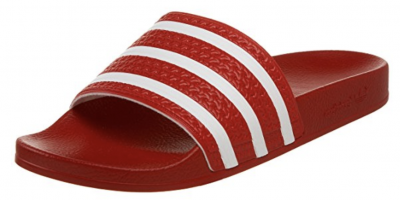 Instantly recognizable. Legacy bearing. Precisely designed. It's hard to find words with which to describe these iconic sporty slides. Available in a plethora of bold colors, the Adilette slide has been a staple for lounging athletes and casual hikers alike since 1972. Water resistant, durable, comfortable and bold, Adidas has truly hit the nail on the head with the Adilette.
Making sandals usable for different foot shapes and arches can be challenging. The Adilette slides bypass this issue with ease by implementing a well-designed footbed that contours and molds to almost all foot shapes. Footwear that takes ages to dry is a pain point for all users, from on-the-go athletes to beach lovers. The synthetic material in these slides wicks moisture to make way for more comfort.
For their fair price point and recognizable brand name, the Adidas Adilette slides do not compromise on quality, opting instead for durability, simple style, and practical usability.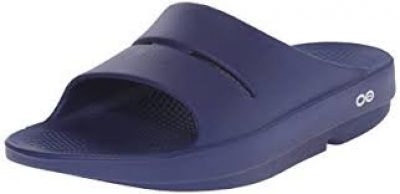 If you've not yet tried one of OOFOS many styles of sandals, start with the Ooahh Slide. Unparalleled in comfort and cushion, the Ooahh Slide certainly lives up to its namesake. Designed for after sport training, beach, pool, or casual wear in general, OOfoam helps pad and cushion your foot by absorbing up to almost 40% more so than other similar models. This slide will conform to your foot over time, cradling your unique foot shape in utter comfort.
Proprietary technology from OOFOS, its closed cell foam construction allows for 37% more shock absorption than other footwear, helping you soothe tired feet and comfortable walk after a hard workout. They're ideal for wearing to the pool or beach as they are made from synthetic material, and won't hold water or wetness. A grippy tread helps keep you stable on wet surfaces.
Unlike some open footwear, the OOFOS Ooahh slide cradles the foot in an anatomical design, to help hold tight the foot when walking. Over time it conforms to the shape of the foot, while still helping to absorb impact through it superior cushioning. This design helps relieve back pain, leg, hip, and knee pain, and you'll notice a difference immediately compared to other models.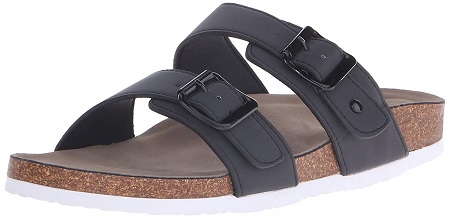 A subsidiary of Steve Madden, Madden Girl is a brand dedicated to high fashion at mid-range prices. The Brando slip-on is designed with a 0.75" heel for lift and a 0.5" platform for comfort. A textured outsole provides traction and ensures stable footing, while the padded footbed adds extra comfort and cushioning. These sandals are available in eight color options, and sizes range from a US 6-10, including half sizes.
Traction is important with any shoe but is especially so when it comes to slide sandals. Not only does this traction give you stable footing, but it can also help keep your foot from sliding around in the shoe as you walk, which can be uncomfortable and a nuisance to deal with. The Brando sports a textured outsole that is designed to give you stable footing on a wide range of surfaces, from the boardwalk to the beach.
While not necessarily a feature of the shoe, we like it when shoes come in a wide range of color options. This makes them more versatile as you can choose the right color you need to pair with your wardrobe, and can tailor to a wide range of interests. The Brando is available in eight colorways, from basic black to glittery black.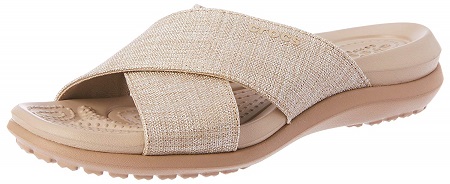 Since their inception in 2002, Crocs has become so much more than their signature foam clogs. The brand has expanded into other areas of the shoe industry with much success. The Capri sandal is a good example of this; a Croslite cushioning system is augmented with a micro-suede liner for extra comfort, while the X-shaped bands offer a secure and fashionable fit. This shoe comes in three color options, and side range from a US 4-11, with some sizes coming in wider options.
What is Croslite, anyways? This lightweight material is a signature technology of Crocs and is prominent in every shoe they make. This closed-cell material is neither plastic nor rubber but is a resin-like material. Because of its closed-cell nature, it doesn't absorb odors and sweat as foam insoles would. They also have anti-microbial properties and strong shock absorption. According to the US Ergonomics Lab, Croslite foam reduces fatigue up to 62% more than standing barefoot. Impressive.
With the exception of perhaps hiking sandals, sandals as a whole are typically considered a fashion item. The X-shaped band on the Capri works double duty; it provides a secure and comfortable fit while looking stylish. This versatile design goes well with anything, from jeans to sundresses. It also gives the shoes a more secure fit, which is important for slide sandals since there is nothing on the back to keep your foot in the shoe.

Subscribe to our Newsletter