Best Sanita Clogs Reviewed
In a Hurry? Editors choice: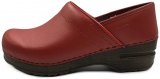 Test Winner: Izabella

Sanita has been in the business of making clogs since 1907. With those many years of experience in creating this type of footwear - clogs - it's safe to say you're going to get some of the best quality available on the market.

Sanita clogs can offer a variety of benefits to you depending on your specific needs. For example, you might be someone who needs a shoe that can give you comfort on long workdays. Or you are looking for footwear that you can easily put on and off while working around your house or backyard. No matter the test you put your clogs to, Sanita will provide you with superior quality and impressive durability. Take a look at the best Sanita clogs, available!

Standout Picks
Criteria Used for Evaluation
Features
In Sanita footwear, you can find plenty of comfort and style features that will make your wearing experience a breeze.
Lots of experience through years of crafting and revolutionizing clogs have helped create some of the best quality footwear of this kind.
The materials used in these clogs, such as patent leather, give them an attractive style that can rival any design on the market. The fact that some of the options also come in nice bright colors greatly adds to this brand's appeal. Whether you want your shoe to stand out, or just need a simple professional design in plain black or white, they could very well prove to be the best choice for you.
Beyond style, these clogs have the added benefit of providing you with useful comfort features. From anatomically shaped footbeds, rocker bottom outsoles, to a roomy toe box, you can be assured your feet will feel good with each step you take.
In addition, they have great traction features such as slip-resistant and skid-resistant soles. With numerous ASTM and APMA approvals, you can have the confidence they will give you a high level of quality in any one of the designs that you may choose as your next purchase.
Whether you're working a 12-hour shift throughout the week, or you happen to be walking around running errands all day, it's critical for your footwear to give you coolness in your feet.
A good feature that can definitely provide you with that type of comfort is the leather lining. What leather lining is designed to do is allow for airflow to come into the design. The airflow causes the moisture inside to evaporate more easily, making your feet feel less sweaty as you're going about the business of your day.
Support
Support is reflected in rocker-bottom soles and anatomically shaped footbeds.
Foot support is very important in any footwear you purchase so you can take your steps without putting unnecessary strain or pressure on your feet. They deliver this through numerous different features.
The rocking motion sole is one of the best options you can find, and luckily for you, almost all of these clogs feature this type of sole.
The rocking motion sole is designed to give your feet natural motion from the heel of the foot to the toe. It's helpful for the strain on the feet, particularly for people who suffer from midfoot arthritis or ankle arthritis. You also get the benefit of reduced force on the heel with this feature. Additionally, it minimizes the stress on your joints and even your back, making for a much easier time walking around, without pain at the end of the day.
An anatomically shaped footbed is also a great thing to have in your footwear. The soles are designed to conform to the natural shape of your foot, giving you a great amount of support through the centering of your heels with each step you take.
Other footbeds that work in a fashion similar to these are EVA footbeds found mostly in athletic footwear. EVA footbeds are also anatomically shaped, specifically in the arch part of the foot, providing excellent support and preventing pain, especially for people suffering from flat feet related pain.
You may also appreciate the fact that this footwear carries the seal of approval of the American Podiatric Medical Association, which means that their benefits are proven to give wearers some much-needed relief.
Comfort
For maximum comfort, look for PU flexible outsoles, padded insteps, and roomy toe boxes.
With feet that get achy or sore throughout a long day, it makes a difference that comfort is a part of any the clog that you consider purchasing.
One way you can find that comfort in these shoes is by looking out for the PU flexible outsole feature. The PU flexible outsole, where PU stands for polyurethane, provides your feet with excellent shock absorption, making the steps you take more comfortable. The lessening of the shock to your feet will help to alleviate aches and soreness that come with walking around or standing for extensive periods of time.
The padded instep feature in some of these clogs can also be a great source of comfort on your feet. The instep feature is approved by podiatrists seeing that it can prevent unnecessary pressure that you might feel with other footwear. You might see this feature also referred to as padded insoles or as a padded instep strap. Whichever variation of the name you see, it means you'll be getting a nice massaging effect on your feet when you wear those shoes.
Another aspect of getting that comfort is making sure your toes are comfortable. It can be very uncomfortable to deal with tightness in your toes. Finding a roomy toe box feature in this footwear can assist with that. The roomy toe box gives your toes all the room they need to stretch out fully inside and feel good.
Finally, something else you might consider searching for in your choice is a shoe with a leather sock feature, which provides better breathability and padding than other materials.
Traction
To make sure you have superior traction, look for PU outsoles, as well as those approved by the SATRA and APMA.
A great design from this brand isn't truly great without having some amazing outsoles that give you excellent traction and grip even on the most difficult of surfaces. Particularly, if your work environment requires you to walk on surfaces that may get wet or oily, the outsoles on your footwear are a lifesaver.
Before making your purchase, you should check whether the pair of these shoes that you're considering features a polyurethane outsole. This type of outsole is designed to resist the slipperiest of surfaces, helping to keep you standing upright, walking, and most importantly not falling to the ground. The polyurethane material also offers skid resistance that will come in great for any quick changes of direction you have to make in your steps when you're on the move.
Another type of outsole you should be seeking out is a smart step outsole. It has been SATRA and APMA approved to meet the best standards in slip resistance.
SATRA is a company that's spent over 40 years researching and testing the effectiveness of materials used on products, such as whether it provides good slip resistance. APMA is the American Podiatric Medical Association – a group of foot doctors who test products to determine whether they meet the highest standards in providing comfort and support.
So the combination of approval from one group that knows about effective materials and one group that knows about foot health on the smart step feature means you can be assured that you'll be getting the best traction walking around in your footwear.
One other organizational standard you should pay attention to is if a shoe meets ASTM standards. ASTM is an organization that has been testing materials for efficiency in things such as traction. A mark of approval from them on a design you're looking at is definitely a solid endorsement.
Lastly, on materials, a material you might see that some clogs feature is a rubber outsole, which will give you great resistance as well.
Style
Even though it's not the most stylish, this footwear still offers a multitude of colors and prints for anyone's aesthetic.
Let's be fair: if you're looking for this brand of footwear, you're probably not looking for the trendiest, most fashion-forward choices. Not that these are unattractive, but the brand isn't too concerned about following the latest fashion crazes as it is concerned about providing the best support and comfort to their consumers.
And that's fine. We expect this brand of footwear to be comfortable and to keep us on our feet for extended periods of time without causing any type of pain, pinching or fatigue, and that's what it does.
However, we also have to mention style for the briefest of moments.
Because most of this brand's footwear is focused on the one style - that of the Professional Clog - the way to mix things up a bit would be to opt for an unconventional color or pattern.
They offers practically endless variations of prints and hues to meet every customer's personal taste and wardrobe needs. There are animal prints, floral prints, any color imaginable, as well as those with an ombre effect, glittery, polished and shiny, matte, you name it.
Even if these designs are not the most elegant in the world, you can still show off your personality by choosing a color and a pattern that speaks to your heart. Don't be afraid to experiment with all the different choices!
Top 10 Sanita Clogs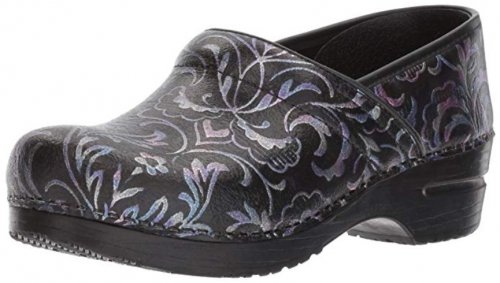 The Priscilla puts a classic spin on the professional clog look by having embossed metallic details on the upper. If you're looking for that colorful flair but don't wish to be too flashy, then this subdued pattern with gentle lilac, pink and blue colors overlaying the black will be just the right choice. Along with a lovely design, the Priscilla comes with all the standard comfort features.
These features include a padded instep so that nothing rubs you the wrong way as you walk, a microfiber insole which is gentle on your skin and an anatomically correct footbed to support you where you need it the most. Apart from that, the rocker bottom outsole will definitely reduce the pain and fatigue at the end of the day.
This entire design is approved by the APMA as aiding in improving foot health. Whether you're working as someone who is always on their feet, or just need a comfy pair of shoes for your house chores, you certainly won't be disappointed by the Priscilla and its metallic gleam!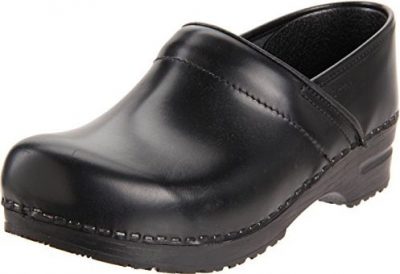 The first thing you might notice about the Pro. Cabrio is it has a nice leather look to it. There are seven different colors of this shoe that you can pick your favorite out of. In addition to looking nice on the outside, it provides some helpful features for walking around all day. The Cabrio features a roomy toe box, a padded insole, and a slip-resistant outsole.
As most of us know, tightness in the toe part can be painful to deal with. The roomy toe box will give your toes the space they need to feel comfortable and wiggly. A good fit in this area will ensure that you don't develop conditions such as corns, calluses or blisters, and it can help in preventing hammer-toes or even bunion inflammation.
Walking on wet surfaces in the wrong shoes can be dangerous. The slip-resistant outsole on the Cabrio will make it easier for you to walk on any surface that may be wet or oily, making these clogs perfect for use in hospitals and kitchens. These shoes sell at about the average price of most of the others on this list. It's a good buy particularly if you really desire something to keep your toes comfortable.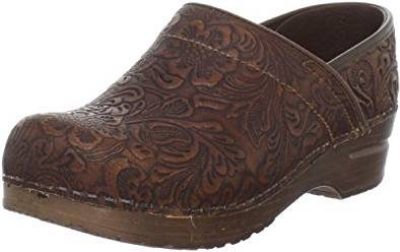 The flowery design on the Gwenore is very eye-catching; definitely an attractive looking shoe that can get the attention of friends and family alike. The Gwenore features a lot of things that you'll be thankful for in your walks. It features an anatomically shaped comfort footbed, a PU flexible outsole, and a rocker bottom outsole. The design also has an embossed leather upper.
Anatomically shaped basically means that the footbed fits the natural shape of your feet. As a result, you get more support and comfort standing and walking in these shoes. With each step you take, your feet absorb shock, which can take a physical toll over the course of walking all day. The PU flexible outsole provides great shock absorption to reduce the amount of stress you put on your feet, ankles, knees, hips, and back. You will notice the difference after the first day of wearing these clogs.
The Gwenore is a bit more pricey compared to other options on this list. If you're in the mood to indulge a little in a stylish option that provides great comfort, this would be a worthy choice.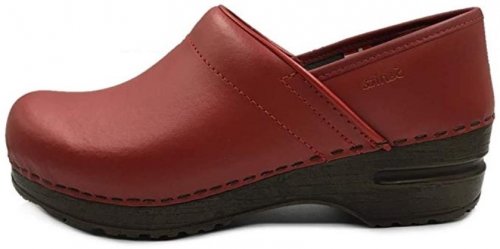 Izabella is a series of clogs designed to have striking, vibrant colors. In our picture we have selected the red one, but you can find it in any other color you want - green, blue, yellow, you name it! Its leather upper is reinforced for durability and wear and tear resistance, and you won't have any reason to doubt that these are from Sanita, as they are effortlessly comfortable.
These APMA-approved clogs come with a genuine leather upper that's been coated with PU. This PU coating enables the Izabella to last longer than its counterparts, to be resistant to water, oils, and staining, making it a perfect work design. With its anatomical footbed and rocker bottom, when you take these off at the end of the day your feet won't be protesting in pain as they usually do.
The Izabella is part of the Professional Collection, and this is a great choice if your workplace requires you to be constantly on the move. Choose a color that best matches your uniform, if you're wearing one, and start the next shift with a smile on your face, confident that your feet will be just as happy by the time you clock out!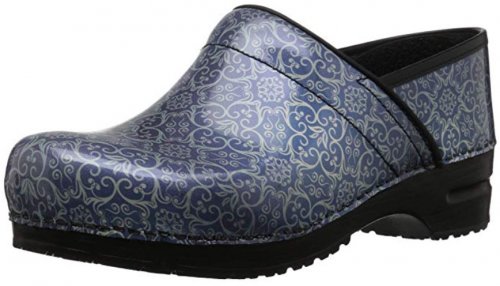 In our abundance of matte leather styles, here we have a clog that shines bright with its patent leather upper. The Damask is certainly an eye-catcher, a design that is anything but boring thanks to its glossy finish and intricate damask floral pattern. If you want to enjoy your comfort but don't appreciate their more plain designs, then consider the Damask and its beauty!
The patent leather of the upper is polished to shine to add a touch of elegance to your work look. We love the damask detailing - from which this design got its name, obviously - and feel like it definitely suits an environment without a strict dress (and color) code. The Damask comes with a contoured footbed and a PU outsole with a rocker bottom that makes every step you take light and carefree.
Like most other options on our list, the Damask is also approved by the APMA. If you are suffering from any foot-related ailments, such as flat feet, plantar fasciitis or bunions, you will definitely appreciate all the support and clinical comfort that this gorgeous design offers.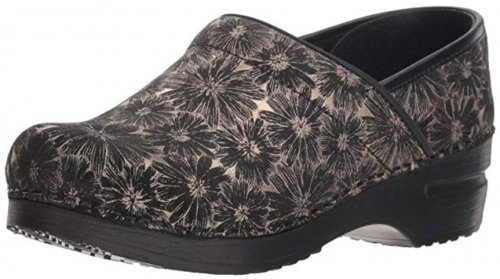 For bringing a little summer into your workday, there is Daisy. This romantic design bears a floral daisy print on its upper, but one which is subtle and doesn't stand out too much. If you're a fan of flowers and would like some on your clogs without drawing too much attention your way, Daisy is a clear choice. These shoes also come with an anatomically correct footbed, an insole that won't cause any blisters, and a rocker bottom.
We shouldn't be surprised that Daisy is also approved by the APMA, as it is part of the standard Professional Collection. Its footbed will keep you supported in all the right places, not letting your arches overpronate or collapse. The instep is padded for more comfort, and the rocker bottom outsole provides that much-needed energy return on your every step.

Daisy is a design that will put a smile on anyone's face. If you're working long hours and need something to cheer you up - or to cheer up your coworkers, customers and/or patients - then a cute floral patterned option like this one may just be the right thing.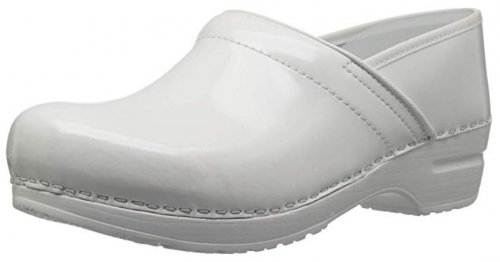 If you work in an environment that requires clean, white uniforms and footwear - say a hospital, for example - then you will appreciate the pristineness that the Celina brings to a look. This is a classic clog with all the right comfort and support features - APMA approved, of course - but it is also made from polished leather and comes in a spotless white color for all of your dress code needs.
The leather of the Celina is patent, meaning it is glossy and reflective. The instep is padded so that you feel cushioned with each step you take, and the footbed is the classic one that won't disappoint. The Celina has an approximately 2.5-inch high heel that keeps you elevated but doesn't put any additional pressure on the front of the foot. Its rocker bottom keeps you going even when all you can think about is that break time.
The Celina is a versatile color choice, as white goes well with anything. If you're a doctor or a nurse who wants to match their uniform and/or white coat, then you will find that the Celina is the obvious selection. It is as comfortable as all Sanita footwear, and it will absolutely not let you down.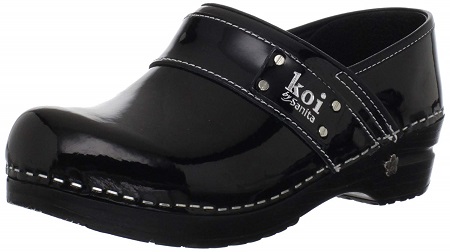 Another clog approved by the APMA, Lindsey is the perfect balance of support and style. An anatomically shaped footbed is designed to provide strong support and comfort especially for those with high arches, while the patent leather upper gives them a shiny and sophisticated look. These clogs are available in four colorways, so you can find one that suits your style without any problems.
What is an "anatomically shaped footbed," anyways? It refers to an insole that is designed using biomechanics to emulate the foot's natural shape. This allows the insole to better conform to your foot, giving you support where you need it most. They also provide exceptional support for those with high arches, though this support may feel excessive for those with flat feet.
Rocker-style outsoles are an uncommon choice, especially in clogs. However, this outsole type does have major benefits. A rocker outsole works to guide your foot into a proper gait from toe-off to strike, which can alleviate pain and discomfort in some areas of the foot. This also works well for those with pronation issues, as it guides your feet gently.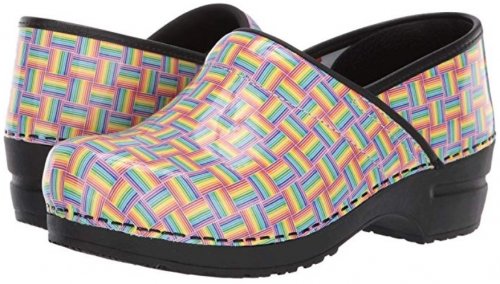 Being of such a bright, multicolor pattern, Edie is not a part of the Professional Collection, as few workplaces would allow such a bold print during work hours. However, that doesn't stop us from including this amazing option into your list, and doesn't stop you from getting it, if you're captivated by its rainbow weave pattern!
The Edie comes with all the features we've grown accustomed to from Sanita: a leather upper that will conform to the shape of your feet over time, providing you with a personalized type of comfort; a padded instep that amps up the cushioning levels and a footbed that hugs your arches in that pain-relieving way. Additionally, the Edie also has a rocker bottom outsole for maximum ease during walking.
We understand that this pattern is not for everyone, as not everyone would want to wear such vivid colors when out and about. However, if you're in the mood for spicing up your look, for showing off your fun, playful personality, then don't skip the Edie!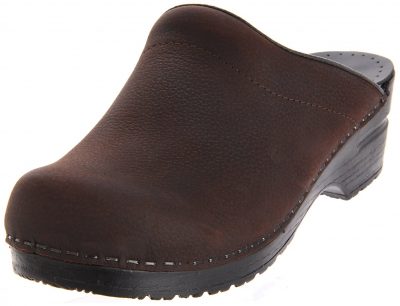 The Sonja is an open back clog that provides you with added breathability and a cooler experience during the hot summer months, without sacrificing stability and support. You will find that these are a great choice for both casual and professional use, thanks to the simple but elegant upper that comes in three different colors - black, brown and antique brown. What is more, the upper is padded, so that it does not irritate the skin on the top of the foot, where you will carry most of the weight of these shoes.
The upper of these shoes is made out of oiled leather, and has been accepted by the European Committee of Standardization as water-resistant, wicking moisture away from the foot, and allowing you to stay dry even after hours of walking. In addition, the footbed is also lined with leather which is breathable and won't allow for the overgrowth of bacteria that produce odor.
The footbed of these shoes is anatomically correct, allowing you to have a clog that will hug your arches and promote a correct posture. This means that your alignment will improve, taking unnecessary stress off your ankles, knees, hips, and back. An added plus is the roomy toe box that is a great choice even for those with sensitivity or bunion issues.

Subscribe to our Newsletter