Best Sandal Brands Reviewed & Rated
Breezy sandals always
keep the spirit of summer fun alive
! Whether you're spending a vacation on the beach,
hiking mountains
, or just relaxing at home, a cool, breathable sandal is the key. The perfect sandal brand should be both affordable and stylish while also supporting your activities and lifestyle with unparalleled comfort. If you're having trouble finding the perfect pair of sandals for you, give our comprehensive list a rundown. Whether you're in the market for an athletic model, an everyday model, or just shopping around, this list will have the perfect fit for you.
Standout Picks
Criteria Used for Evaluation
Comfort
The first thing you should consider before investing in a pair of summer footwear is how it feels on your feet. Considering the fact that our feet will often swell in heat, it's crucial that you go with a style that's not only comfortable, but that'll also allow for easy adjustments in case you've spent the entire day walking and need a bit more room to soothe your aching feet.
The best way to ensure that a pair feels good is to go with materials that feel good to you. Some people will prefer natural leather which takes a bit more time to break in, but will mold to the feet perfectly, while others may opt for a synthetic material that's easy to maintain and keep clean. If you're athletically inclined and expect to walk a lot, then you may even want to go with a mesh model that'll allow better air flow and will dry faster.
No matter what type of sandal you go with, it's crucial that you choose the correct size and width, ensuring that your flat foot is supported, and securely held by the model. To increase the comfortability factor, you may want to consider getting something with a padded footbed, or even with a softer collar to ensure you can wear it without any socks on.
Another factor to consider is the closure system. While buckles are secure and durable, they may prove to be less than perfect when they start to cut into your foot. The best models will allow multiple points of adjustment, and may even feature hook and loop straps that are easier and faster to adjust, plus, are slightly softer than other systems, thus eliminating any pressure points.
If you have sensitive skin, tend to sweat a lot, or are expecting to be near water, then definitely consider investing in a pair with padded straps, as this should greatly improve your wearing experience. Preventing the straps of the sandals from cutting into your feet, causing rubbing or blistering, the padding will ensure that your feet are protected at all times.
Breathability
You'd expect that an open summer style would be naturally breathable, but you'd be surprised how often this isn't true. Manufacturers who use synthetic materials will often disregard the fact that they lock moisture in, which can prove to be a big mistake, especially with sandals with which you are likely to go sock-free.
In addition to a number of cutouts on your next pair of summer shoes, you should also consider how they are made in terms of breathability. Ideally, you want to purchase a pair that'll allow fresh air to enter the shoe, and hot and wet air to escape, leaving you with dry feet that won't become irritated or won't start to slip inside the shoe. Additionally, you should keep in mind that wet feet often lead to the development of odors and fungal growth, which you definitely want to avoid.
A number of models listed above feature a mesh, suede or moisture wicking lining, and these are great options, especially for those who are more athletically inclined. These materials will help with temperature and moisture management, and should keep you dry throughout the day.
If, however, you go with a synthetic materials, such as that found in Crocs, you should make sure that there are plenty of ventilation ports so as to provide a breathable environment for your foot. You'll also benefit from some sort of anti-bacterial or odor-resistant treatment, just to ensure that your summer footwear lasts longer, and doesn't develop any smells.
Features
Though summer footwear is often minimal, you should still consider how healthy it is for you to stand and walk in it for prolonged periods of time. If you're after something you can wear on a daily basis, then it would be highly recommended to invest in a pair that provides adequate support, as well as a level of shock absorption.
Supportive sandals are becoming more and more easy to find, and you'll find that a number of manufacturers have started to pay more and more attention to this aspect. To ensure proper support, you should stay away from completely flat models, and, instead, look for those that hug your arch, provide a deeper heel cup, and allow for your toes to splay.
Not only will this prevent pain at the end of the day, but it'll actually help your foot with its natural shock absorption, stopping you from feeling fatigued, and allowing you to spend more time walking and enjoying the beautiful weather. This is especially important if you suffer from pronation issues (be it over or underpronation), as a supportive pair of footwear will help properly align your feet, stopping knee, hip and back pain from occurring.
In terms of shock absorption, how much you need will depend on how you plan on spending your time. If you plan on only wearing your new sandals for running around, then you'll do just well with a regular EVA foam or rubber outsole, as these will do an adequate job of preventing shock from traveling up your legs. If, however, you're an avid hiker, you'll want to get as much as possible, in the entire sole, including the forefoot and heel.
Plenty of items listed above feature innovative shock absorption systems, including air bubbles, foam elements, as well as specially developed materials. These can often bring the price up, but you'll find that they're a good investment if you're after something you'll be able to wear for longer periods of time.
Water Capacity
Summer activities often include time spent next to bodies of water - be it the pool, beach, lake, or just a surprise shower. If you know that you may happen to get wet, you definitely need to consider this aspect before purchasing. Some models will do extremely well with all other criteria listed, but will simply not be suitable for use near water, which would damage, warp, or negate their shock absorbing abilities.
If you need something you won't have to worry about, you should consider purchasing a model that is either made with synthetic materials that are hydrophobic (don't get wet), or those which dry quickly without retaining moisture.
Mesh is a popular choice with quick drying properties, bu there are plenty of alternatives, including woven nylon and newly developed knit materials.
You'll find that a number of products will even feature drainage ports in the upper and sole, to ensure faster water elimination. These will often be suitable for walking through water, such as while hiking, when you need to cross a creek. These would be a great choice for beach holidays, so if you're headed to the seaside or the pool, make sure to bring a models such as this.
Outsole
The final consideration you should make before making a purchase is the part of the sandal which will be protecting the bottom of your feet. What will work best greatly depends on how you plan on using your newly purchased shoes, so make sure you've made that consideration before clicking on the checkout button.
First and foremost, you want the outsole of the sandals to be fairly flexible, allowing you to naturally move, without holding you back. Nonetheless, too much flexibility may prove to be counterproductive, as it may lower the level of protection you will receive from the surface underfoot, which can be especially important if you're planning on walking over rugged terrain such as trails or rocks.
Secondly, you want your footwear to be able to grip the surface underfoot adequately, preventing any slips that would end up with you being injured. If you only plan on walking on pavement, regular rubber or foam will do just well. But, if you have to go over highly polished hardwood or tile floors, you'll want something with a bit more grip - and a traction pattern should definitely be your choice.
For those who plan on being near water, a razor sieped or non-slip outsole is crucial, as wet surfaces require more aggressive traction patterns to prevent slippage. A number of the models listed above will do really well near water, but there are also those which will simply be inadequate for this type of use. If you're unsure what would work best for you, it's safer to go with a rubber outsole that'll provide more grip, than to find that you're feeling insecure in your newly purchased footwear.
Top 10 Best Sandals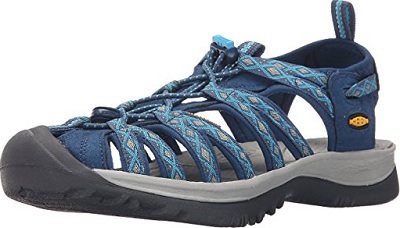 The KEEN Whisper Sandal is an all-terrain and weather-resistant footwear for those biking, mountain climbing, and all-around outdoor shoe types. Water-resistant rubber outsoles and a webbing upper make it perfect for any aquatic or wet spots you might find yourself in. The water-resistant mesh lining beads off moisture; keeping the shoe dry and ready for anything. Strategic openings in the KEEN Whisper allows the foot to breathe and cool off for those long, hot treks through the wilderness. And to top it all off, the metatomical footbed provides all-day support while correcting your posture for long-lasting relief. So, if you're in the market for an all-around outdoor sandal, give the KEEN shoes a test run.
A staple for any outdoor shoe, the KEEN Whisper is equipped with water-resistant technology to handle all terrains. The mesh lining not only keeps the shoe, pleasantly, dry but allows for a breathable circulation of air to the foot. Feel confident on any trail knowing you can conquer surprise showers and spontaneous rivers. The KEEN Whisper Sandal gives you the breathability and comfort you need for all-day activity.
The term, metatomical, is a fusion of 'metatarsal' and 'anatomical,' meaning that the KEEN Whisper is, perfectly, designed around the metatarsal joints. This footwear places special emphasis on the metatarsal joints and the issues that come with this area of the foot. If you suffer from Metatarsalgia or Capsulitis, the KEEN Whisper can relieve your foot pain while not holding you back from your daily and outdoor activity.
The Teva Tirra Athletic is specially designed for aquatic and athletic usage. The elevated, rubber outsole provides great comfort while, also, giving great traction on both land and sea. The water-resistant footbed, also, cradles the foot and molds to the natural contours of your foot for all-day comfort. Multiple, adjustable straps give the Teva Tirra Athletic Sandal the customizability to fit all foot types. With excellent arch and heel support, this athletic sandal can benefit active people of all ages. Whether you're just getting started in the outdoors, or you're a seasoned hiker, the Teva Tirra Athletic will fit all your needs and then some.
A 1.5-inch heel height elevates your foot and corrects your posture to take off unneeded weight from your heels and arches. For long hikes, biking on rough terrain, or trudging through high water, you need excellent support. The Teva Tirra Athletic provides this support for any and all outdoor activities while maintaining its shape and use, as a long-lasting shoe that can stand up to anything.
The Teva Tirra Athletic provides unparalleled support and comfort. With an elevated heel, the Teva Tirra Athletic supports your heel and corrects your posture. The rubber footbed cradles your foot while maintaining its water-resistant properties. With great arch and heel support, the Teva Tirra Athletic makes for the perfect athletic sandal for all foot types. No matter your age or foot type, it gives you all-day comfort for all-day activity.



It's no wonder that Clarks Breeze Sea is one the best-rated sandals on the market. Known for their lasting comfort and great styles, nearly all Clark shoes are designed to cradle the foot in plush; yet, ample support. The ergonomic footbed molds to the natural contours of your foot while the adjustable thong strap customizes the shoe to every individual. And for those looking for balance and arch support, the 3-centimeter elevated heel optimizes this sandal for all day use. While your feet marvel in all day comfort, your summer style will reach new levels of empowerment with this twist of casual summer wear. The Clarks Breeze Sea comes in dozens of prints to fit everyone.
Concerned with fit; despite those uncomfortable plastic toe posts? Well, the adjustable thong strap demolishes all those concerns. Made of flexible, plush fabric, Clarks Breeze Sea Flip-Flop gives you control over the fit of your footwear. For those long days, let out the strap to allow those swollen, overworked feet to breathe. For relaxed days, tighten them up for no slipping or painful rubbing at the beach.
You can look great and feel great in the Clarks Sea Breeze. Offering a wide variety of prints and styles, this foot apparel will cater to all tastes and fashions. Go for a bold coral if you're feeling daring; maybe, a neutral black or pewter for that sophistically, understated look. But no matter your style, the Clarks Sea Breeze will add some summer fun to your wardrobe.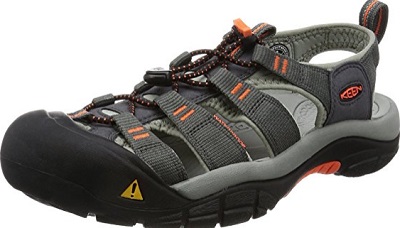 The KEEN Newport H2 Sandal is an all-around outdoor sports sandal. With excellent traction and a water-resistant upper, it can withstand most terrain types. The secure-fitted lace ensures stable footsteps without painful blisters. Coupled with a stability shank, the footwear guides your feet with balance and security, for even the most difficult activities. And with a low-maintenance polyester webbing, cleaning your favorite pair of sports sandals is just as easy as slipping them on. Enjoy the summer, the outdoors, and all your outings in the sturdy, KEEN Newport H2.
Any footwear claiming to conquer any and all terrains needs excellent traction for the most unpredictable circumstances. Due to the multi-directional lug pattern, the bottom of this sandal grips the ground to keep you upright and slip-free. Rock, dirt, gravel, river bed, and uneven mountain trails are all traversable and enjoyable thanks to the KEEN Newport H2's ingenuity in traction technology.
Along with the KEEN Newport H2's excellent traction, its security and stability are unparalleled. The fit-lace capture system keeps your foot in place by molding to your body; yet, keeps the area blister-free. Because the webbing is made of breathable polyester, the material clings and secures the foot while providing comfort. The stability, much like the fitted lace, secures your footfalls and propagates a healthier, more natural gait for strenuous activity.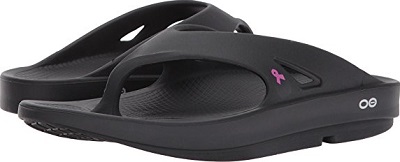 These are great for lowering your fatigue levels. Moreover, they aid in speeding up recovery times post-workout. Made with OOfoam cushioning, this pair of footwear is ready to bring you comfort, support, and the feeling of a day with feet less stressed. These are perfect for wearing around the house, at a gym after a workout, or the beachside.
They are made for post-workout recovery; that is, they are made to raise your recovery rate via comfortability and support. As such, they are perfect for wearing after a workout.
OOfoam cushioning is shock-absorbent. Furthermore, this reduces load-rate in your ankles, knees, and hips. This, in turn, allows you to perform with lesser fatigue throughout the day.




The Vionic Tide II is a specially designed sandal for activity and superb comfort. Orthaheel technology cradles and soothes the heel for all-day comfort, relieving your feet of past pains and aches. The shock-absorbing midsoles take the brunt of your footfalls, leaving your feet relaxed and ready for all-day activity. And the naturally, contouring footbed closes off the experience by molding to your feet and toes for maximum comfort. Though this shoe is not specially designed for certain orthopedic ailments, the Vionic Tide II caters to many foot types in need of comfort and luxury. So, if you're looking for a comfortable sandal just for relaxing around the house, look no further, than the Vionic Tide II.
The shock absorption is one of the best features of the Vionic Tide II. With a specially engineered midsole, this sandal takes the impact of jogging and running; so, your feet can relax while they work. If you're out on the town, enjoying a nice day at home, or taking a brisk stroll around the neighborhood, know that the Vionic Tide II will keep your feet happy and pain-free for years to come.
Nearly, every feature of this foot apparel keeps the customer's comfort at the level of utmost importance. The ultra-plush toe post eliminates those pesky blisters that plastic toe posts are famous for. The naturally, contouring footbed creates a perfect match for every foot type, and the Orthaheel technology relieves stress pain from the heel for a truly, comfortable and pain-free experience for all wearers.

The Sanuk Yoga Slip is the paragon of comfort. Made with a real yoga mat and a knit upper, this sandal will make every step feel like heaven. As the yoga mat footbed takes the impact of each step, the knit upper soothes your ankles for all-day comfort. Though they aren't ideal for mountain climbing or extreme use, it's perfect for everyday casual wear. Relax at the beach, go shopping; maybe, spend a day around town and sightsee. Because these sandals are machine washable, you can move worry-free, as you tackle all life has to throw at you. After a long day, just pop these in the washing machine and pull them out looking as perfect as the day you bought them.
As the best feature of any shoe, we just have to talk about the convenience of machine washing. If the weather turned on you and the ground spontaneously became mud, just pop them in the machine. Don't waste precious time washing them by hand or worrying about the longevity of your new shoes. Just follow the machine wash instructions and treat yourself to easy, pain-free, and low-maintenance footwear.
Have you ever thought how comfortable a yoga mat feels under the balls of your feet? Sanuk did, and they put that marvel of human ingenuity into a footbed. Every step in the Sanuk Yoga Slip fills your arches and heels with good vibes and comfort, making every stride as calming as a good bit of yoga. Not only is this sandal the epitome of comfort, but the soft and moldable yoga mat footbed conforms to your own foot. As the footwear molds to the contours of your arches and heels, you gain a perfectly fitting shoe.
The Teva Olowahu is another classic on our list with some truly, innovative features. The, naturally, conforming footbed follows the contours of your feet and fits them perfectly in a few uses. The multi-strap upper provides great security and prevents unsightly blisters on the top of your foot, not to mention, the straps are made of a super-soft and washable fabric for comfort and ease. In addition, the grooved outsole and platform heel give the wearer not only great support and traction but an elevated sense of style. So, while the Teva Olowahu might just seem like typical, run-of-the-mill footwear, believe me when I saw it, it's so much more than that.
A sandal needs to stand the test of time, and the Teva Olowahu was made just for that. The sandal is sturdy and durable for everyday use while maintaining its supple texture for all-day, everyday support. And while the platform is, also, great for arch support, the style is casual enough for everyday wear and some much-needed fun in the sun.
While a platform heel might seem like a strictly aesthetic choice, the raised heel, actually, promotes stability. Every footfall is cushioned by two inches of the supportive footbed, making your footfalls comfortable and easy on your ankles. Your aches will sing praise for all this comfort, and your back will thank you, as well, for a non-wobbly shoe. The stability and security that come with the Teva Olowahu will set your mind at ease and leave your mind to ponder how to squeeze those last moments of summer fun, instead.



The Havaiana Top Fashion is a dress-up or dress-down, all-around versatile sandal that captures the essence of summer. With bohemian floral tones for an elegant look, the Top Fashion is truly one of Havaiana's best flip-flops. They are made of 100% soft, durable synthetic rubber and feature a cushioned insole and slip-resistant outsole.
Made in Brazil since 1962, Havaiana has been making quality flip-flops for everyone. Their commitment to quality is the reason they have stayed around so long, and the Top Fashion is a perfect example of the craftsmanship they put into each product they make. The rice pattern sole of the Top Fashion is a patented technology that boosts the grip and traction offered by each of Havaiana's flip-flops. This means fewer slips and falls!
Finally, the sandal thong of the Top Fashion is made from high-quality plastic that won't chaff or irritate your skin, even after wearing them all day. One of our favorites on this list, the bohemian-inspired Top Fashion flip-flop from Havaiana is one to scoop up before summer is over.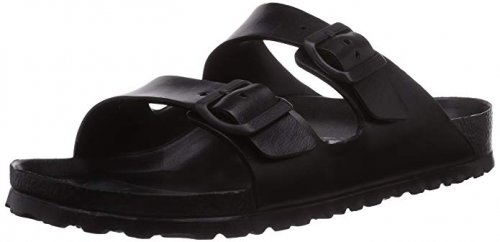 Diverging from the traditional cork sandal that Birkenstock became famous for, we have the Arizona EVA. EVA is a lightweight, elastic material that is known for its durability and comfort. In addition, this polymer is waterproof, easy-to-clean and easy to wash. Made for both guys and girls, it's a great buy if you want a Birkenstock, but aren't wild about cork sandals.
The Arizona EVA has a moldable footbed that will contour to the unique shape of the wearer's foot over time. Paired with the EVA sole, this makes the Arizona one of the most comfortable and supportive sandals on our list. They feature a one-piece construction, meaning they look slim and clean, never bulky.
With dozens of colors and a unisex offering, the you're bound to find an Arizona EVA that meets your tastes and needs for comfort, support and versatility. Add in the fact that the EVA found in the Arizona is odor-resistant, and you have a sandal that's set for summer and beyond.

Subscribe to our Newsletter