Best Silver Shoes Reviewed & Rated
In a Hurry? Editors choice: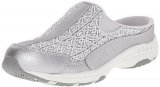 Test Winner: Easy Spirit Traveltime

Silver is associated with
glamour
, gracefulness, but also modernity and sleekness, and it is no wonder that there is an abundance of this color in today's fashion world.
Designers
aim to draw attention, to awe and inspire, and what better way to do that than to add a touch of silver? Everyone flocks to this color because it goes well with everything, and it adds a splash of opulence to even the simplest of outfits.
Below, you will find a list of the highest rated footwear that can be found in this color option, as well as a list of criteria that will guide you through the shopping process, ensuring you are ultimately happy with your purchase.
Standout Picks
Criteria Used for Evaluation
Color
As we have mentioned before, and as you may have noticed while scrolling through our top picks, there are different variations of the color silver. Some are more subdued, more appropriate for a work setting or an important event. Others are more flashy, outrageous, something you'd wear to get noticed and be the center of attention. Let's mention some of the most common variations of silver:
Pale Silver: A serene, misty version of silver which evokes images of winter mornings and snow.
Silver Pink: Popularized by interior designers, this variation of silver can now also be found in fashion, makeup, jewelry, you name it.
Silver Sand: A silver inspired by fine white sand used in gardening. This sand consists of quartz particles which haven't been altered by iron oxides. Iron oxides are the ones which color sand into yellows and browns.
Silver Chalice: The color of wine goblets, symbols of ceremony and ritual, as well as wealth and opulence.
Roman Silver: A blue-gray tone of silver that is widely popular in Australia and New Zealand.
Old Silver: Formulated to resemble tarnished silver, and first recorded as a color name in 1905.
Sonic Silver: Nothing to do with the game character Sonic, this color was created by Crayola nearly 20 years ago.
Style
In this modern era, life is busy and hectic. It doesn't matter how old you are, or what walk of life you come from – it's one event to the next, packed schedules with barely any room to breathe. Dull days at the office, cocktails with coworkers, soccer practice with kids, birthday parties, studying at the library, date nights – the list is endless. And for each one of those occasions you need a suitable pair of shoes.
This is why we have aimed for a varied selection in our list of silver shoes, so that no matter where you go or what you set out to do, there is a pair of great silver shoes just for you. Here are some of the shoe styles we considered:
Pumps:
In British English known as 'court shoes', pumps have a low-cut front, the vamp and no fastening. Today, they are usually worn by women, though in historic times they were quite the rage among upper-class gentlemen.
Pumps are heeled, and heel heights vary greatly. It is commonly believed that low heels are more comfortable, more suitable for business wear, suits or uniforms, and that stiletto heels are better for social gatherings, both formal and informal in nature. However, this is not the case nowadays, as shoe companies have truly outdone themselves to add maximum comfort to the luxury of high heels, and there are no rules to wearing pumps. Indeed, in beauty pageants, contestants even wear pumps with swimsuits, because it improves their posture.
It may take some time to adjust to wearing these, especially if the heel is high. But with a little bit of practice, anyone can learn how to walk in pumps. Remember to stand up straight, keep your chin up and take small steps. You might be surprised how much confidence and poise a pair of good pumps can bring you.
Sandals:
An open type of footwear. As they leave most of the foot exposed, they are irreplaceable in places with warm climates or during warmer parts of the year. We certainly can't imagine a summer without a comfortable, trendy pair of sandals, though this is not only about that. Keeping your foot dry and cool, they greatly reduce the risk of developing athlete's foot and other infections.
A sandal's sole may be made of a vast variety of materials, and the straps can also come in countless varieties. Some sandals have heels, others can be flat.
In line with that, there also different names for different types of sandals:
Clogs: heavy sandals, typically with thick, wooden soles.
Flip-flops: cheap and thin, best for the beach and poolside.
Gladiator sandals: with criss-crossed straps going the toes and instep and fastening around the ankle.
High-heeled sandals: allowing the wearer to have open toes in a less casual and more formal setting.
Hiking or trekking sandals: with robust rubber soles and foam insoles, designed for trekking or hiking in tropical climates.
Sports sandals and many more.
Boots:
What is specific about boots is that they completely cover the foot and the ankle, sometimes even going higher. Some boots reach the lower calf, some extend further up the leg, to the knee or even the hip. Traditionally, boots were made of leather or rubber, but modern boots are made out of a variety of materials.
They are mainly worn for their practicality – protecting the foot and leg from water, mud, cold weather, hazards. They provide additional ankle support with added traction, and may even have hobnails on the outsole for a better grip.
That is not to say that boots don't have a place in the fashion world. Ever since Nancy Sinatra sang "These Boots Are Made For Walking" in the 60s, these shoes have become a staple accessory in autumn and winter, and sometimes even summer, if made out of lightweight, breathable materials.
Sneakers:
Trainers, kicks, running shoes… Sneakers have been primarily designed for sports and physical exercise, but have since transitioned into everyday wear and become so popular that we don't actually know a person who doesn't own a pair of sneakers. Do you?
The term "sneakers" refers to the type of shoe with a flexible sole made of rubber or synthetic materials, and an upper made of leather or, again, synthetic materials. As with all shoe styles, there are endless versions: high-tops over the ankle, low-tops, mid-cut, slip-ons etc.
Though mostly for casual outfits, sneakers have wiggled their way onto red carpets as well. Many celebrities – especially men – successfully pair them with their impeccable formal suits for a more laid-back, effortlessly chic look.
Oxfords:
The oxford shoe is distinguished by its closed lacing system. Closed lacing simply means that the laces attach underneath the vamp, whereas other dress shoes have their laces attached via the top. Typically, oxfords are plain shoes made of leather, but newer styles have blossomed into wider varieties that are suitable for nearly any occasion.
Oxfords are suitable for everyone, regardless of age or gender, and are bound to add class and elegance to any outfit.
Features
Aside from the style of the shoe, we also looked at all the aspects which make a great shoe. Footwear can look amazing all it wants, but it needs to be comfortable, pain- and blister-free, it needs to allow your foot to breathe and not cause unpleasant odors, and it needs to be durable. Otherwise, why waste money on it?
Comfort
Ultimately, what we all look for when choosing a new pair of shoes is if they are comfortable enough. If our feet would endure an entire day of business meetings, exercise, sightseeing, dancing, or any other activity in them. Because if not, we can already picture it – limping, discreetly slipping them off when no one's looking, massaging our feet during downtime, just waiting for the moment we get home and discard them entirely.
There are three key things when it comes to shoe comfort: the padding, the sole and the fit.
Padding: Look for a padded lining, enough to prevent your foot from rubbing, but without constricting the sides of the feet. Foam insoles are also good, preferably ones made out of memory foam, which mold to the shape of your foot.
Sole: Shoes with a flat base are ideal, as they allow your weight to evenly distribute from heel to toe when you walk. Also go for a firmer sole, like one made out of rubber, which will provide you with stability.
Fit: Though it is difficult in this era of online shopping, if you can, you should always try the shoes on before you purchase them. Choosing the right size is essential, so make sure there is enough room in the shoe so you can – slightly – wiggle your toes. If not, they are too tight for you and will start hurting eventually.
Breathability
Why is this important? Well, if the material of your shoe is breathable, it will keep your foot dry and cool, pushing out humidity and heat through special ventilation gaps. If it's not breathable, the heat and humidity are locked inside and will cause your feet – and the shoe itself – to release unpleasant smells. Breathable shoes are especially important in sports, and in high-temperature climates, where it is expected that your feet will sweat.
Flexibility
If your shoes aren't flexible enough, they will cause tightness and pain not only in your feet but in your shins as well. Flexible shoes promote the natural way of walking, just like you would if you were barefoot, but still providing you with support and stability. How to tell if the shoe is flexible enough:
Twist it: Take the opposite sides of the shoe and twist them. You should find there is only a bit of movement. If it twists a lot, it might be too flexible.
Bend it: Bend the shoe in half and take note of where the most bend occurs. For walking, the shoe should bend further forward, near the toe area. For running shoes, you should notice a bend in the center. If it bends in half without much force, you shouldn't be wearing it for walks longer than an hour at a time.
Poke it: Laying the shoe down flat, poke the toe down and take note of the heel. If it raises up, then your shoe will effectively support the natural shape of your foot and aid in your gait.
Durability
Unfortunately, there are countless of factors which go into determining whether a shoe is durable or not. Some of them depend on the shoe itself – on the quality of its construction and materials – but most depend on the person wearing the shoe. On their weight and gait, foot size, shape and volume, and activities they engage in.
Also, there are outside influences to consider – the weather, the surface the shoe is used on, whether it's cared for properly or not. What can you do to increase the durability of your shoe? Keep in mind that when you're not running or walking, you are still wearing your shoe down. If you are sitting, you may flex your foot so your toes are pushing against the floor, you may be scraping your foot against the desk or the floor every time you turn.
If your shoe is tight, you are still putting pressure on the seams and weak points.If the shoes are designed for a specific purpose, try not to use them for anything else. Running shoes used for aerobics or tennis or anything similar will fall apart relatively quickly.
Even if your shoe is safely stored in your closet, the quality of its materials can still deteriorate. Especially if it contains foam padding, which breaks down over time, regardless of if you use it or not.
Lastly, take care of your shoes. Keep them dry, do not kick them off – always try to untie them and loosen the laces before you take them off. Buy products specially formulated to protect the materials of your shoes from abrasions and weather influences, and clean them regularly.
Top 10 Silver Shoes
1

. Easy Spirit Traveltime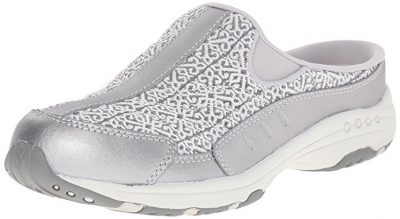 Easy Spirit is a brand which doesn't want their consumers to compromise comfort over style. Enter the Easy Spirit Traveltime, a stylish clog which is easy to slip on and off, perfect for walking and light activity. It features the Easy Support System - layers of the sole designed solely to support your foot - and a removable sock liner for maximum comfort.
This unique Easy Spirit technology is comprised of heel to toe reinforcement in the footbed, lightweight layers, flexible foundations and a construction focusing on nothing but comfort. You will not wish for another pair of clogs ever again!
What is special about the Easy Spirit Traveltime is its removable sock liner. It absorbs shock and provides superior arch support for activities that stretch from morning to evening. Comfort guaranteed, just slip them on and don't worry about anything. Compared to other models on our list, the Easy Spirit Traveltime belongs in the mid-to-high range of cost. It is maybe not the most pleasing to the eye - though the version pictured here is quite cute - but if you are looking for ultimate comfort and expect to spend a lot of time on your feet, the Traveltime won't let you down.

2

. Cole Haan Pinch Weekender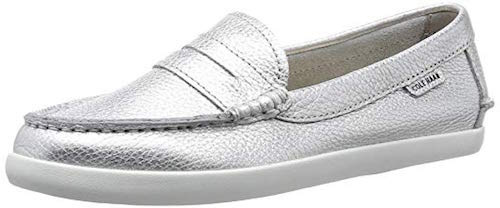 Nothing beats a classic penny loafer when it comes to versatility. The Pinch Weekender by Cole Haan is a modern take on the classic silhouette, and is definitely a pair of footwear you should have in your arsenal. Not only is this model ideal for a variety of occasions, from casual to formal, it also features all the technology that makes Cole Haan a go to brand for comfort with style.
The upper of the Pinch Weekender is made with a metallic leather upper that comes in several color options, in this case, the argento being the one we're interested in. The slip on design makes it a functional shoe to wear when you're in a hurry, while the round toe provides plenty of room in the forefoot for all day wear. The insole is lined with breathable textile, so you can choose to wear these either barefoot or with no-show socks, whichever you prefer.
As for the sole unit, it has everything we love about Cole Haan. From the rubber outsole that utilizes a herringbone pattern to maximize traction, to the flexible construction, as well as the cushioning Grand.OS technology that absorbs shock, this loafer is a definite winner. The associated cost is average, which doesn't make it the cheapest item on this list, but it's still one of the best investments.

3

. Sperry Seaside Perforated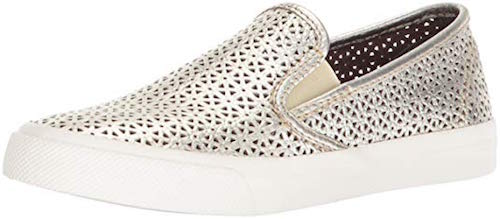 Nothing beats a fun summer sneaker when it comes to casual wear. Extra points have to be rewarded when said sneaker is made by a reputable brand, with quality materials, comfort-oriented technology, and are even suitable to be worn around water. The Sperry Seaside Perforated is one such shoe, and if you're after the ultimate pair of summer footwear, it is definitely highly recommended.
It is made with a perforated leather upper that promotes breathability. The laceless design allows for easy on and off, while an elastic gusset ensures a snug but comfortable fit. On the inside, it's lined with Dri-Lex, a moisture wicking material that keeps your feet dry, thus preventing bad odors.
As for the outsole, it uses rubber and is Razor-Siped, so you get amazing traction on all types of surfaces, including wet ones. It's the same type of outsole used on the brand's boat shoes, so you can rest assured you'll be safe wearing these. You will also benefit from a memory foam footbed that perfectly molds to the shape of your foot, wrapping it in unparalleled comfort. Even the price is great, as this model ranks below average, so if you're looking for something you can wear every day, the Seaside is highly recommended.




If you need a pair of flip-flops for the summer - whether you're staying in the city and need to cool off at the pool, or hitting the beach - then look no further. The Clarks Flip Flop is here in all its open-toed, silver glory to not only make you forget all the other, flat-soled flip-flops on the market but to make your feet look chic and stylish at the same time.
EVA is a type of a synthetic foam designed to provide cushioning to footwear. What it brings to the Clarks Flip Flop is ultimate comfort - a shoe with a footbed which molds to your foot, with arch support, specially designed to alleviate problems related to plantar fasciitis, or flat feet.
Unlike some other sandals and flip flops out there, the Clarks Flip Flop is not bulky or clunky and is very flattering in style. In color silver it is more than fitting for a fun, exciting summer, and you can be certain it will pair well with your swimsuits, dresses and light summer clothes. The Clarks Flip Flop is not your average flip-flop, and its price reflects that. Nevertheless, it is still far from the high-cost range and absolutely worth the investment, especially when you take into consideration the quality of its materials, the comfort of its sole and its snazzy design.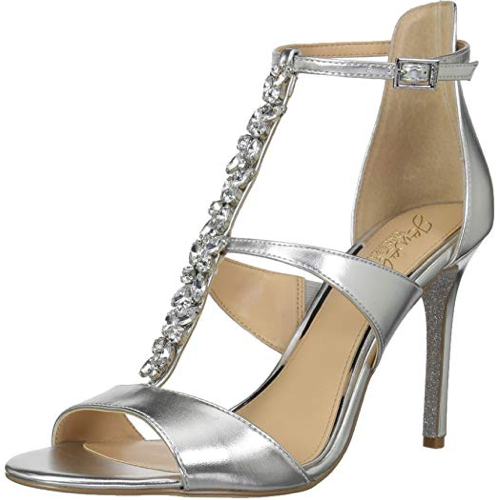 An elegant pair of sandals, the Mica by Badgley Mischka is the perfect choice if you're after an evening shoe for special occasions. The design is quite simple, with an open toe, a T-strap that features the distinctive Badgley Mischka crystal embellishments, an adjustable ankle strap, and an additional strap at the instep that is there for decorative and functional purposes, giving you a secure fit in which you can dance all night.
Depending on the color you decide to go with, you can purchase the Mica in either a satin upper, or a metallic leather one (and there's plenty of color choices with this sandal). The lining is made from soft leather that feels comfortable to the touch and that facilitates air flow.
As for the sole, you get a lightly padded insole that helps keep your feet pain free. The 3.75 inch stiletto heel is quite high, which makes the insole a great feature. The outsole is synthetic, allowing you to wear it on all surfaces, plus it has a light traction pattern that will prevent you from slipping. With a cost association that falls around average, and considering the fact that it can be found on sale, this is a great investment if you're in need of a shoe for special occasions.

6

. Dr. Martens 1460 Pascal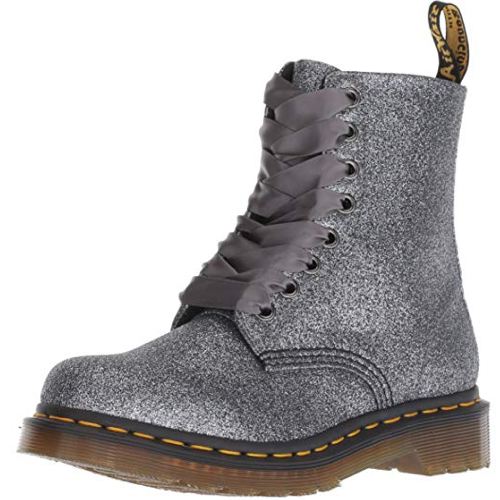 The thing about Dr. Martens boots is that they were made for the working man, but have nowadays become a fashion staple, giving users quality, durable footwear with numerous options for showing their personal sense of style. If you're after a light colored metallic shoe, you can very well go with the 1460 Pascal, as it offers several versions of the color, from glittery, to snakeskin prints, to reflective solids.
This 8-eye boot is the ideal cold weather shoe for a number of people. While not all color options handle rain and snow as well as the original, you do get the benefits of a durable, protective upper. Plus, you can choose whether you want your footwear to be made from natural materials such as leather, or if you prefer to go with the vegan option that utilizes synthetics.
The sole unit is one that's made this model so popular in the first place - air cushioned, the rubber outsole is shock absorbing, abrasion and slip resistant, and utterly comfortable for long days on your feet. Do keep in mind that the 1460 will require a breaking in period when you should probably only wear it for a couple of hours at a time, but once it's been completely broken in, it will feel like a second skin. A huge bonus of going with the Pascal is the price, as it is often available on sale, so you get a quality product, at a price that's below average.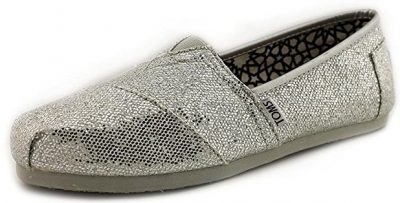 TOMS Classics are unique in their appearance due to their slip-on design, clean lines and lightweight fabrics in vibrant colors - including, you guessed it, silver. They are unparalleled when it comes to comfort and ridiculously easy to get into - and out of. It is also worth reminding that they are vegan and each pair you buy from TOMS helps a child in need get their own pair of shoes.
The molded footbed is probably something you'd notice right away in TOMS Classics. The suede insole and the latex insert at the arch of the foot provide the support your feet desperately need to be comfortable and pain-free all day long.
Their multipurpose style allows you to bring your TOMS Classics anywhere: on trips, on long walks around the town, on bike rides, even as a replacement to your heels after a long night of partying. Thanks to the elastic "V" in the upper, you can slip them on in mere seconds and be on your way! With everything they represent - simplicity, efficiency, and comfort, TOMS Classics are one of the ultimate favorites for casual footwear. Price-wise they are in the middle range, and it is no wonder why everyone is just dying to get their hands on these.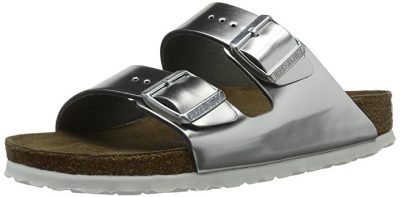 A brand that has been around roughly 240 years brings the epithet 'timeless' to a whole other level. The Birkenstock may not look the most fashion-forward - even with the silver color, admittedly - but there is a reason it has withstood the test of time, and that is the Original Birkenstock Footbed, where all comfort begins.
This unique feature of the Birkenstock enables the body's weight to distribute evenly across the entire foot, providing your arches and your soles with optimal support. In short, the shoe molds to your foot as you break it in, and your feet curiously feel rested and refreshed even after a whole day walking around in these.
Nothing but the best of the best for the Birkenstock. This shoe sports a sole made out of a special combination of cork and latex for flexibility and suede leather lining which creates a healthy climate around the foot. All carefully chosen and crafted for your maximum enjoyment. If you look at them as a pair of sandals, their price is quite steep. However, the Birkenstock is so much more than a sandal. It is a synonym for comfort, longevity, and informal design, and getting yourself a silver pair of these won't be a mistake. Just remember to endure the slow break-in period, and you will never want another sandal again!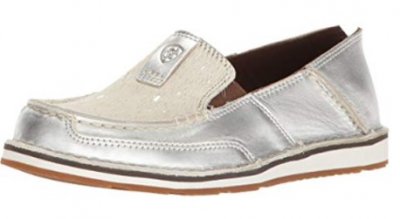 The Ariat Cruise Slip-on is a curious little pair, combining the shimmer of silver with a textured tongue to create a unique but pleasing look. Slip on design make these comfortable and easy for wearing, while comfort features and technology line the inside. Detail elements that include a slit heel and side stretch elastic panels make these less likely to irritate your feet, and more apt to give you the best possible fit.
The uppers of the Ariat Cruiser Slip-on are created from a fabric silver material that glimmers and shines in the light, creating a metallic beauty in a more casual style. To top off and contrast textures slightly, the tongues is crafted from hair, pleasantly contrasting the smooth shine of the silver. Combines, it gives the Cruiser a sophistication that make it versatile to wear to more polished venues, and still be comfortable.
Compared to other slip on style footwear, the Ariat Cruiser utilizes a few tricks in design as well as technology to keep you striding without irritation, and with ample support and cushioning. At the heel is a small cut out for the Achilles to help prevent blistering when walking, along with side elastic panel that stretch to give a firm, yet flexible fit. EVA midsole help to create good stability and support, and wider toe box allows for roominess. Somewhat pricier compared to other brands with a similar slip-on style of flats, the Ariat Cruiser Slip-on is worth the investment simply for its unique look and detailed comfort elements. Sure to be a go-to in your footwear collection for everyday use, or dressing up your outfits, it's versatile and functional. A great option if you're in the market for something a bit different for a causal shoe!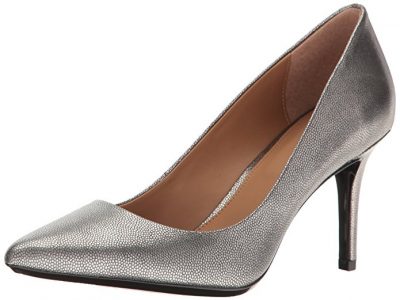 Known worldwide as the "supreme master of minimalism", Calvin Klein is a leading lifestyle brand famous for its minimalist and functional aesthetics. It is no surprise then that the Calvin Klein Pump is the epitome of their design practice. Made out of birch leather, this silver shoe is modern, sophisticated and timeless in style, and bound to represent a much-needed addition to your shoe closet.
Thanks to the added gel pod comfort features, and to the 3-inch heel, the Calvin Klein Pump is one of the most comfortable high heeled shoes you'll ever wear. Slip them on without dreading the pain and numbness in your feet and toes. With these shoes, you'll be ready to dance your way to the break of dawn!
A great pump goes well with every style and every occasion - except maybe camping, okay, fair enough. But the Calvin Klein Pump is indeed a great pump. Throw it on with your business suit for a touch of sophisticated glam for your meeting, or combine it with a playful mini dress for a night out with your friends. You can't go wrong with a classic design like this. With a big name like Calvin Klein in its title, it's understandable that this shoe is a bit pricey. However, it is also made out of high-quality leather that is both soft and durable, it is exceptional in its comfort, and you will most definitely be the star of the event with these trendy silver shoes.

Subscribe to our Newsletter