Best Crocodile Shoes Reviewed & Rated for a Snappy Style
In a Hurry? Editors choice: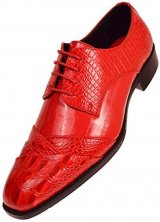 Test Winner: Bolano Cap Toe

A croc pattern adds a certain amount of class to any kind of outfit, and we can choose from a huge variety of styles. This type of leather will always be in style – it has been around for centuries, and it's here to stay. It's easy to tan, to polish and to dye. They say crocodile leather is timeless, and we do believe that this pattern is indeed a luxury.


In regards to this topic, there are many options that you can choose from. If you are having trouble deciding what kind of crocodile shoe you might desire, we are here to help. Look through our carefully researched list to find out which style should hug your feet next!
Standout Picks
Criteria Used for Evaluation
Upper
The croco pattern looks attractive, and a lot of people are smitten by it. The demand is high, and so faux leather has started appearing, which is great because it's more sustainable and it doesn't involve animal cruelty. But, it is important to know that there is one more pattern very similar to the croco one, but which is definitely not the same, and that is alligator skin. How can you be sure which one you will end up choosing?

Crocodile skin is considered a bit less luxurious than alligator skin. It is less exotic and exciting. But that means that it's also cheaper, and it's still out of the ordinary, so it may be a better choice for some people. The best kind of leather you can get is American alligator, followed by saltwater crocodile, freshwater crocodile, and caiman. So, we will share some pointers with you on how to differentiate between a croco pattern and an alligator one:

Umbilical Scar: Both of the animals have umbilical scars, but their pattern is different. When it comes to alligators, the umbilical scar is a long webbed pattern that sits between rectangular patches of leather. In crocodiles, this pattern is much less visible, which almost makes the aspect individual to alligator skin.
Back Horns: Crocodiles all have small horns, or bumps, on the back of their skin. The way they are set up is unique to every animal. Alligators have 2 rows of 2 horns each, while crocodiles have two rows with 4 and 2 horns each.
Tile Pattern: Differentiating between these can be a complicated task, but to the trained eye the differences are easily distinguished – alligators have less uniform patterns and more scarring. You can see small, uneven lines on the skin even if the leather has been buffed. Crocodiles have an exclusive character that will always give them away – the remains of hair follicles that used to be there.
We hope that after reading this it will be easier to hone onto the exact pattern that you want to have!
Materials
Genuine leather is the ideal material for making mostly anything, be it bags, footwear, bracelets, wallets, and even furniture. Leather has been around for a very long time – giving man plenty of time to research it, work out how it behaves, and isolate its best qualities and figure out how to use them. Leather is naturally durable, breathable and provides a comfy environment.

To top all that off, leather, compared to other materials, wears well. When it becomes old and rugged, it gets the certain kind of appeal only softened, used up leather gets. It becomes gorgeous, aging like fine wine. Leather also speaks to all of our senses – what is the first thing you do when you encounter genuine leather? You smell it, of course! Smelling quality leather has got to be one of the most satisfying sensations our nose can experience. Sliding your fingers over it can give you goosebumps – it's smooth, soft, and it just calls you in to try it out.

Leather has a particular sound, as well, the skin singing with every stroke you make.
If genuine leather makes you excited just like it makes us, buying leather footwear is one of the best ways you can treat yourself!

All of that being said, if you are not a fan of genuine leather for any reason - be it that you feel it is too expensive, or that you are perhaps a vegan - there are options on our list which are made out of synthetics.

Bear in mind, however, that faux leather is not as durable, as comfortable, or as breathable as its genuine counterpart. If you're after high quality and a long shoe lifespan, then genuine leather is the way to go. But if you don't mind switching up your designs every once in a while, then maybe synthetic leather is not a bad option. As soon as one design becomes unwearable, you'll be ready to move on to the next one!
Style
As you very well gleaned from our guide - there is no one particular footwear style that is suited for this exotic pattern. Rather, you can find any style you wish - from summer sandals to rugged work boots to polished dress designs. All of them look great with the croco texture, and you can choose to wear them all if you'd like, wherever you want to.

To make your decision a bit easier, however, we decided to sort all of the items on our list into two main categories: casual and dress footwear.

Casual, as its very name says, is for casual events. When you're off work, lounging around with your kids or enjoying a relaxed summer stroll around the city, these options are what you wear to feel comfortable and to let your feet breathe. There aren't many of those listed here, unfortunately, as we can only single out the breezy Vionic Amber and the Ariat Workhog. The former is a great choice for warm weather and the latter is that perfectly stylish work boot, or if you want to impress with your western-style look.

On the other side of the coin, there is dress footwear, more appropriate for a work setting, a formal event, or anywhere where you need to look impeccably put together. These are options that you wear with a pantsuit, a tuxedo, a fun and flirty dress or a pencil skirt and a smart button-up shirt. They are stylish and maybe even sexy, but they are also office-approved. Though of course, if you're going to work you might want to avoid the flashiness of a bright color, such as the one on the Bolano Cap Toe.

Style, as all things fashion, is highly individual. What you prefer and like might not be what your friend does, and that's perfectly fine! This is why it is important to listen to yourself, and choose the design that appeals to you the most. That way you definitely won't make a mistake when settling on a design.
Comfort
When you're hunting for the best-looking design out there, it is easy to lose sight of another important aspect in choosing footwear of this type - its comfort. You need to be able to walk for as long as you want in your new fancy shoes, and you can't exactly do that if the design is too tight, if it's pinching you somewhere or if your feet are exhausted at the end of the day.

We sorted our selection according to their comfort levels, and here we will explain a bit more about what makes a particular design comfortable or not.

Technology: There is quite a number of items here that come with a special comfort technology of some kind. Think of the Ariat Workhog, the Vionic Amber, the Clarks options. All of them offer some new, something never-before-seen, something that comes only with their brand and no one else has.
We're not going to lie, comfort systems like these are a sweet bonus. They're engineered to provide maximum comfort, and customers tend to love them.
However, we need to emphasize that just because a design doesn't have a comfort technology built into it does not make it inferior in any way. These are a nice bonus, yes, but not every technology works for every person, either. You need to make sure that what you're getting will definitely help you in the long run, before you commit to a high-tech design.
Materials: We talked quite a bit about material types in our Materials section, so here we will only expand on it in terms of comfort.
Genuine leather has that marvelous ability to mold to the wearer's foot, and provide a customized type of comfort. It is soft and malleable, and you will become addicted to the gentle way it hugs your foot.
When it comes to faux leather, this is where you need to be a bit more careful. Faux leather tends to be more stiff than natural one, and sometimes it doesn't even loosen up even after breaking the design in. So be vigilant when selecting an option; make sure you're feeling as comfortable as possible on the first wear, since even the slightest discomfort will be a certified nightmare later on.
Footbed: Finally, the footbed is that part of a design which comes in direct contact with your sole. It should be cushioned, but not too soft, and it should provide adequate support on all sides, especially under the arch. Good arch support helps you cover longer distances and reduces foot fatigue in the long run.
A footbed can also be contoured for extra support and comfort, and designs such as those are very hard to part from at the end of the day.
Durability
As we are known to say on this website, durability is hinged on a multitude of factors. These include, but are not limited to - the quality of the materials of a design, the methods used in its construction, how often you wear the design, in what conditions, how well you take care of it, and so on and so forth. Some of these factors you can influence, but some are just the way the shoe is, and there isn't much you can do to improve its durability.

In regards to the material quality, we have mentioned this several times in this section, but we need to reiterate it here as well: genuine leather is of a much higher quality than synthetic leather. Consequently, genuine leather will last much longer than faux leather - up to a decade even, if it is properly maintained. Genuine leather does require cleaning and conditioning, but that is very little effort and time to invest in a design that will last you years.

Methods of construction are also something you can't directly influence, as that is up to the manufacturers themselves. Generally speaking though, if a design is stitched - if there is obvious stitching in place where the upper connects to the sole - it is likely that it will last longer than one that is only glued together. Glue dissolves sooner or later, while stitches remain intact for longer.

Lastly, we always advise that you don't hold yourself back from wearing your new favorite shoes as much as you'd like. Yes, the more you wear it, the more it is at risk of getting scuffed or torn, but there is really no point in giving money for a design that will only sit pretty in your wardrobe.

So go out there and wow everyone with your sharp style and brand new croco patterned footwear!
Our Favorites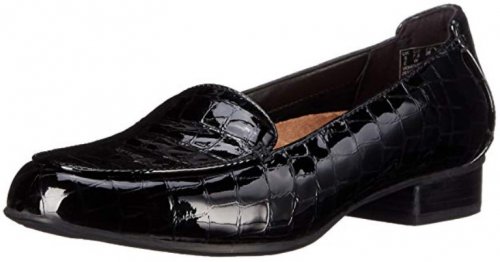 Clarks has made a name for itself by selling the ideal stylish, modern comfort design. And the Keesha Luca loafer is no exception! It's made completely out of leather, providing the wearer with comfort and enough air flow. A small, one-inch block heel is at the back, making the loafers appear more professional. To show just how serious they are about comfort, Clarks honored the loafers with the Cushion Plus comfort technology, blessing your feet with toasty comfort. They have a shiny finish, complete with tiles made to look like the ones that can be found on crocodile skin!
Loafers are the staple slip-on design. When one thinks of the easiness of putting on footwear, loafers, or slippers, are one of the first things that come to mind. They also combine casual with business looks, so versatility is a big plus for the loafers!

Cushioned footbeds are what make sore, tired feet happy! Thanks to added comfort of the Comfort Plus technology, you will be able to spend an entire day on your feet. Cushioning is present in the most troubled areas, which are the heels and the ball of your feet! So never stress again about sad, swollen feet!

Clarks is a popular, great brand that creates stylish comfort footwear. The Keesha Luca loafer represents supreme comfort in combination with elegant style and we think that you'll absolutely love taking these beauties out for a fashionable time!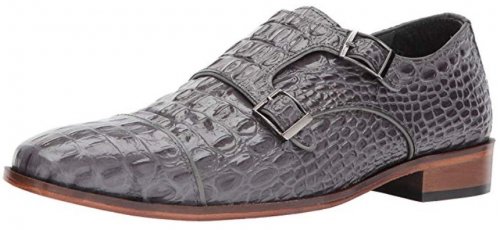 Stacy Adams is a company that makes footwear fit for the most exquisite of parties, and it has been doing that for over 100 years. The Golato embodies just that - the ideal sharp design and sublime comfort and flexibility. These genuine leather oxfords are garnished with crocodilian tiles, ensuring that you always look your best. The traditional lacing was ditched, and a monk strap was added instead. The soles are leather as well, featuring memory foam for cushioning, and edge etching details.
The Golato is often described as the most advanced dress design. It does not have lacing, buckles, or straps. It is less formal than traditional oxfords, but again very handsome and business-appropriate. Advance your style and be the most handsome version of yourself for your next big upcoming event!

Genuine leather is one of the best kinds of materials one can use to create footwear. It provides comfort, and durability to the design, as long as you take good care of it. Breathability is also a plus, providing you with all the air you need. And lastly, genuine leather protects you from water, provided you don't go around splashing in puddles like when you were little!

The Golato is not an innovative design, but it is full of sumptuous details and exquisite materials, giving these oxfords just enough value!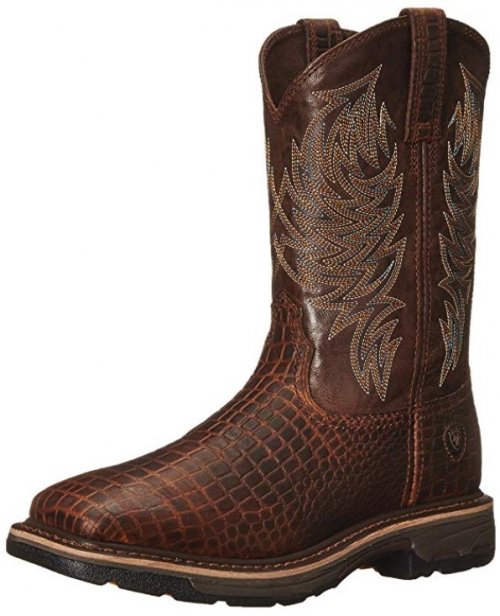 Yeehaw! Hold on to your hats, we're going for a ride! These western-style work boots are completely made of premium full-grain leather. Their soles feature duratread, a unique design featured only in Ariat designs - it gives this boot flexibility and protection from the harsh outdoors. ATS or Advanced Torque Stability technology is a new innovation from Ariat - it promotes good posture, cushions your feet and reduces fatigue. The toes on the Workhog are a wide square type. The lining is mesh, giving your feet much needed ventilation. The outsoles are rubber, so they are oil- and slip-resistant!
Duratread combines wear-resistance with comfort and flexibility. A new kind of rubber is used, outlasting traditional types. The rubber is extremely flexible, made to mold to your foot's shape. Duratread is also resistant to all kinds of oils, acids, and it's also slip-proof!

The ATS technology is an exclusive gem that supports and cushions your every step. It includes a moisture-proof footbed, ensuring that you stay dry and cool for the whole day. The cushions are the gel kind, absorbing shock on every step and greatly reducing the impact while you walk. And, the cushion can be inserted in a variety of different designs, so anyone with a compatible fit can enjoy this ingenious innovation!

The Ariat Workhog has not one, but two unique technologies that come with it. If you want to try out an innovative, stylish work boot, give these bad boys a spin!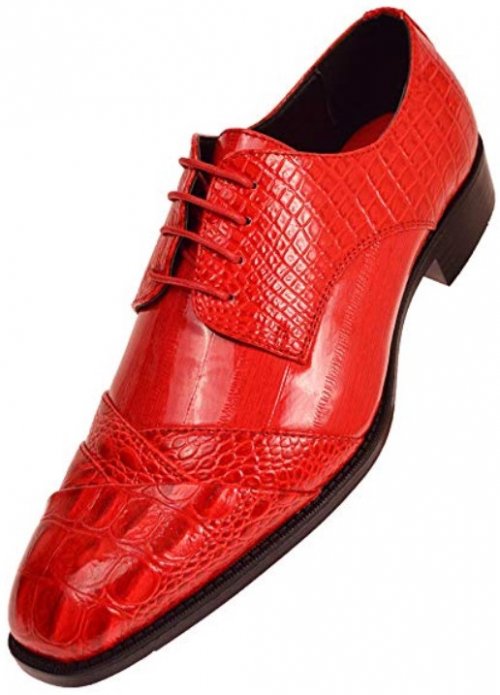 Dazzle the crowd with these vibrant oxfords from Bolano! You have three very exotic pattern choices - eel, crocodile or lizard, each with a unique set of benefits just to make you stand out from the crowd. The toes are the cap kind, and on top of the narrow shape are blocks of fabric overlapping each other, making the toes just a little bit chunkier while also adding more protection. The middle is smooth, without a pattern, only to be abruptly broken by the vamp that features more tiles and ridge details. These come in an amazing array of intensely vivid colors, giving you many options to choose from!
The overlapping material is a very unique detail that makes these oxfords stand out - usually, this type of footwear is smooth, without exaggerated details. The waterfall of materials hugging each other give these exquisite shoes a sexy, raunchy feel, and the vibrant colors only add to this look!

Having footwear that can be seen from miles away can be a turn-off for some people. But for many, this is just what they need to be an eyecatcher at the upcoming event! If you decide to get an outfit with subtle, calmer colors, go crazy with the color of your dress footwear - it will add life to your look, and a wild side to your serious tone!

Footwear as exquisite as the Bolano Cap Toe could be expected to come at a much higher price, but these are affordable and great for anyone looking for a cheap fancy style!



Crocodiles and anacondas don't share their homes in the wild, but they sure do on these cap toes! The Stacy Adams Rivello is made from genuine leather, with printed patterns on it, which interchange quite amusingly so, giving the eye a lot to process. The vamp has small, slim laces, with blind eyelets. The insoles have a memory foam insert, for footbeds that remember the shape of your feet as long as you need them to. The toes are narrow, and a short heel is present, solving many issues for people with high insteps!
A memory foam insert can make a world of difference for busy bees all over the globe. No matter if you stand in one place the whole day, or walk around without taking a second to breathe, they will follow your tempo, and you will love the spongy, cushy comfort they offer!

Having an oxford design with just one exotic type of leather on it is already exciting enough, but three, at the same time! Wowzers, talk about opulence! Anacondas, eels, and crocodiles would never get along in real life, but in the universe of footwear, they are the best match one could have made!

Who could have thought that such distinct, well-defined cap toes come with an affordable price tag? Surely not us! If you are as surprised as we are, waste no second and take your chance to grab these and put them on your feet!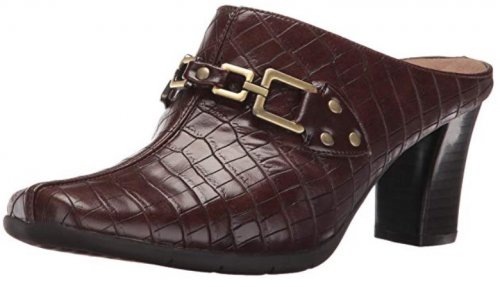 When one thinks of the word mule, it is not the most attractive of styles that comes to mind. However, Aerosoles completely reinvented the traditional mule silhouette with this flirty, sassy Matrimony heel! Made out of synthetic leather, the Matrimony comes with 2.5 inches in height and a versatile brown croco pattern. The metal bit across the instep adds a touch of bling, and we are especially taken by its easy slip-on silhouette.
The Matrimony has a double padded memory foam insole. This probably makes it the most comfortable heel in existence, and you won't have any problems wearing the mule for as long as you want to! Not only that, but there is a suede sock interior, for that soft, plush comfort you can't get anywhere else.

The Matrimony comes with a diamond pattern sole, which is a must-have if you prefer to keep your balance and not skid or slip and accidentally injure yourself. The heel is blocky in shape, and together with the diamond pattern, it makes this design one of the most stable ones on this list!

There is nothing more amazing than the easy trendiness of the Aerosoles Matrimony. It is ridiculously easy to slip into and wear, it offers both a boost in height and a boost in confidence, and there is no outfit that won't look good with a pair of these stylish mules!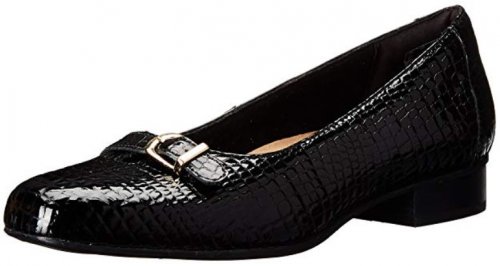 These shiny leather pumps are just what you need to get through your boring, long work day. The soles on the Keesha Raine are rubber, giving you slip-protection and an optimal amount of grip. The heels measure one inch approximately, and they give you that little click in your step that could be enough to push you to strive forward. Cushion Plus technology is present in the footbeds, making your feet happy any place, any time. And the footbed is removable - no need to throw the whole pump out if it goes bad!
If this pump was smooth, without any details, it would be lifeless, mundane. The buckle adds charm and energy to the Keesha Raine, and in turn makes a happy, cheerful wearer! These pumps are overflowing with subdued tones, giving them the ideal style for any occasion you may have coming up.

Is the footbed in your new shoes bothering you? Is there an uncomfortable stitch, a weird color, or unpleasant odors? Stains from your sweaty feet? Well, just grab your favorite pair of footbeds, take these out, replace them and voila! Your footwear is back to normal in no time!

Clarks has a great reputation and many innovations that come with their products. But the Keesha Raine is more than that - it is a stylish, versatile option that looks equally good at a business meeting as it does on a fancy night out. You will love every second of wearing these lovely pumps!

8

. Liberty Footwear Oxford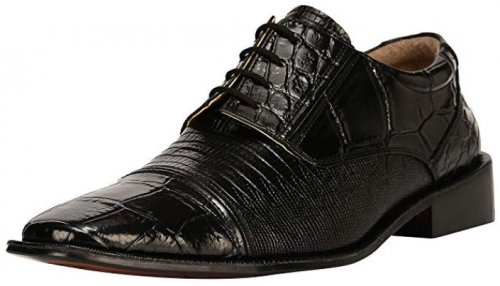 These sublime Oxfords are made completely out of synthetic leather, just for your comfort and style. They feature an exquisite crocodile-printed design which makes them stand out even in the largest of crowds. The soles are rubber, with an enhanced grip and added comfort. The short heel makes sure your ankle has enough support while you power through your day. Four little eyelets and slim laces contrast the shiny finish of the whole design!
One-inch heels are always a better option than going completely flat. They are a way to make sure you will not suffer from ankle and muscle pain, and also a way to make sure you won't experience all the drawbacks of poor arch support! Also, they make footwear appear more serious and mature, making them perfect for business and other serious events.

Rubber soles provide your step with optimal grip - you need not fear the rain anymore, water is no longer your enemy. Stride with grace through any kind of water and oil you can imagine, and be amazed at with how much ease you conquer these obstacles.

Featuring an extravagant design and many other pros, be sure to not skip out on adding the Liberty Footwear Oxford to the front row of your dresser!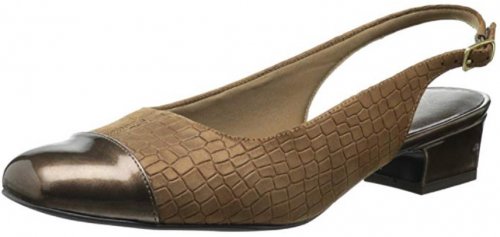 A company that handcrafts their footwear surely has to have one of the most refined items out there, right? The Trotters Dea pump was made using 100% manmade materials - no living being harmed in the process! It has a cap toe, so your fragile toes will be well protected! It is a slingback in design, with an adjustable strap on the back and an open heel counter. A low block heel adds to the overall casual, business look these pumps bring. The instep is cushioned, so say goodbye to sore feet!
Block heels are making quite a comeback, decorating the feet of many runway models. They provide more stability than regular or stiletto heels, due to the fact that they have a larger surface area that comes in contact with the ground. Also, they improve our arch support, relieving us from unnecessary joint pain!

Cap toes, besides looking elegant, add extra protection to our delicate feet. The added golden shine on these is a great example of different materials and colors breaking the monotony of a design! These would look much more plain if it weren't for the lustrous golden cap toe!

The Trotters Dea is dainty, open, and it has a lot to offer, not least of which is fluffy comfort and sublime style! You will love taking these pumps out to the office or for a fun dinner date with your significant other.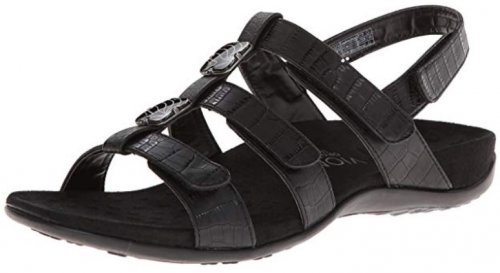 The Vionic Amber is one of the most comfortable sandals your feet will have the honor of sliding in. They are synthetic, and the top of the material is garnished with shiny details, making them look like they were made out of genuine leather. The soles are rubber, and they feature a small heel and a 0.5 inches platform. The midsole is the EVA kind, and the footbed is covered with microfiber. Of course, the Amber comes with Orthaheel Technology, which promotes natural foot alignment. Three straps make the upper, which is entirely adjustable, so don't worry about your feet swelling up in the evening!
EVA stands for ethyl vinyl acetate, and that is a manmade type of material that is essentially foam. EVA is a great material - it's soft, flexible, crack resistant and UV-resistant! It's also eco-friendly, making it the perfect choice for midsoles such as the one on the Amber!

As we already mentioned, the Orthaheel technology promotes the natural alignment of our feet. A deep heel cup hugs your arches and gives them all the stability and support they need. An innovative biomechanical footbed creates the optimal environment for your delicate feet - giving them all the support and comfort they might need during long, hard-working days!

The Vionic Amber will be by your side for a long while, and you'll walk on clouds the whole time! There is no other option on this list that is as comfortable and as practical as this versatile sandal! Don't hesitate to give it a chance!

Subscribe to our Newsletter