Best Dress Pants To Wear With Oxfords Reviewed
In a Hurry? Editors choice: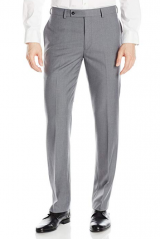 Test Winner: Calvin Klein X Performance

Did you know that Oxfords are considered to be the most elegant of all men's dress shoes? Thus, it comes as no surprise that finding the right pair of dress pants to wear with Oxfords can be a challenge! Which is why some men shy away from this style of footwear, or worse, run the risk of showing up to work looking like a hot mess.

So how's a man to know which pair of pants were made to couple with a smooth pair of balmorals? If you're longing to know the answer check out our guide to the ten best dress pants to wear with Oxfords! We've included a descriptive review of each pair, along with a detailed breakdown of the criteria we used to narrow products down and fill the top spots.
Standout Picks
Criteria Used for Evaluation
Materials
The material that your dress pants are made out of can have a huge impact on the overall look and feel. Some materials just aren't cool, both literally and figuratively! If the fabric traps heat inside and blocks airflow it's going to get pretty warm in those dress pants awfully fast. This can cause excessive sweating and can make for a long uncomfortable day at the office. Your pants should breathe and circulate air next to your skin to help regulate your body temperature and prevent overheating. Some of the best dress pants to wear with Oxfords are 100% wool, cotton, and even chino, seeing that they provide excellent airflow.
 
You'll also want to consider insulation for those colder days when you need a little something extra to help shield you from the nasty weather outside. Corduroy trousers are an in-demand style this season and offer better insulation. Corduroy is made from twisting either a wool or cotton material to form parallel lines (or 'wales').
 
If you find that you crave a little old-school vibe every now and then, twill chinos offer a cool style that's reminiscent of times gone by but modernized enough to propel you steps ahead of the rest. Chino is made from hefty cotton and woven to form a unique surface with diagonal ridges, and makes for an excellent material when choosing dress pants to wear with Oxfords.
 
You also want to consider the color of your trousers because some materials just won't look good in certain shades. Chino pants look amazing in beige, cream, navy, and even grey, but browns are one to avoid. For wool, black is all-the-rage right now! Cotton pairs look pretty great in almost every color, though for the office it's best to stick with your traditional shades like blues, black, navy, beige, and so forth.
 
Remember, just because they're dressy shoes doesn't mean you can't throw in a pair of denim pants! Not every occasion that calls for a pair of dress pants is going to involve the office! Sometimes you're headed out for a date night or just to hang out with friends at a pricey restaurant or lounge. These kinds of occasions call for a more casual pair of dress pants to wear with Oxfords, and denim is totally okay. Just remember to keep your colors in check so you don't end up looking mismatched. Generally, brown or black balmorals will look best with dark pieces of denim like black or even indigo. Whereas, tan shoes will look incredible with light blue jeans.
Features
The best dress pants to wear with Oxfords need to offer more than just a sleek fit! They should also have certain design features that make life that much easier. Let's have a look at a few of these aspects;
Pockets: This might sound like a no-brainer, but not every pocket is alike. In fact, a lot of the dress pants to wear with Oxfords out there have pockets that are improperly designed and can ruin your whole look. So what makes for the right kind of pocket? First off, the pocket needs to be the proper size and shape to carry your day-to-day items like your keys, wallet, and cell phone. The trick here is that carrying these items shouldn't add the dreaded pocket bulge, instead, your trousers should still look nice and smooth.
Fit: A man's pair of dress pants should ideally, aline with the natural structure of his body. Dress pants to wear with Oxfords should fit wider at the waist and then taper downwards towards the ankles. But you certainly don't want to wear a pair that's too tight which can get pretty uncomfortable.
Belt Loops: Some dress pants come with belt loops while others won't. Now, this is a matter of personal preference though the difference in fit should be noted. Pairs made to wear without a belt will generally fit larger so that the pants can almost hang off of the wearer which is best for those who like wearing suspenders. For belts, you want to look for pants with a nice tailored fit and of course, belt loops. There are various sizes of loops through most men prefer a slim loop.
Style
Dress pants to wear with Oxfords come in several different styles that are distinguishable through certain design aspects which differ from the rest. Let's break down those aspects further;
Pleated or Flat?
So, in case you didn't know, dress pants to wear with Oxfords come with either a pleated or a flat front. The pleated style looks amazing if you have a larger structure and tend to carry weight on the lower regions like the thighs! A few pleats give off a classy feel but can look a little overwhelming on a man whose very slim. Pants with a flat front offer a modernized design that is an ideal choice for men with a slender frame, though they may not feel particularly comfy for a man whose build is more burly.
Zip-Up or Button Down?
While this doesn't make a huge difference in the style of a man's pants, some men prefer one over the other. The type of closure is important for obvious (personal) reasons and should be considered before making a final purchasing decision.
Cuffs or No Cuffs?
When choosing dress pants to wear with Oxfords, you'll have to choose between cuffs or no cuffs. What you decide will depend on your personal preferences. Cuffs are a tall man's best friend! They flatter a longer appearance whereas, shorter men will appear taller without a cuff. If you've chosen a pair with a flat front then cuffs would be unnecessary. Don't worry if the pair you love has (or doesn't have) a cuff because a tailor can easily alter any pair.
Wide or Slim-Fit?
Men should consider the fact that different styles look better on certain body types. A man whose larger (whether it's having a bigger belly or a muscular upper torso) should opt for a wide-leg pair of dress pants to wear with Oxfords which will better balance the upper and lower extremities for a smooth finish. Whereas, a man with a slim build will look much better in a pair of slim-fits.
With Or Without Lining?
Some styles of men's dress pants to wear with Oxfords (often ones made from wool) will have added lining that runs from the waist down to the knee. This lining helps to shield your skin from the fabric of the pants themselves, which is especially good for scratchy materials like wool.
Fit
The dress pants of today shouldn't fit the way they used to back in the day! Today's working man needs an updated style and an in the now kind of vibe if he's going to succeed with his passionate endeavors. So just how should a professional man's pair of dress pants to wear with Oxfords fit exactly?
 
First off, let's talk about the hem and where exactly it's supposed to land. Gone are the days of looking cool in a pair of bell bottoms! If your pants are too long nowadays you're guilty of breaking the cardinal sin of looking fashionable and your whole look will be destroyed by one little detail. So instead, try opting for a pair of trousers that have practically no break at the bottom. This means that the hem should sit just at the tip of your shoes, showing lots of socks when you sit down.
 
For your legs, you want a pant that fits nice and slim but not so slim that it clings to every curve. You can always have your pants altered once you purchase them to help with the fit but whatever you do, don't wear super tight or too loose trousers!
 
When it comes to the waist, you want a pair that sits comfortably right at the hip, or even slightly higher. What you don't want is a pair that rests below the hips! This just looks unprofessional and downright unkempt.
Comfort
Your comfort is ultimately the most important aspect of any pair of dress pants to wear with Oxfords . If you're uncomfortable it can affect your performance in a big way and can make a long day at work seem even longer! So when you're purchasing your next pair of trousers take a moment to consider how comfortable they're going to be. Certain aspects can help to make a pair that much more enjoyable like lining, breathability, and whether or not they're flexible enough for you to move freely in.
 
When it comes to the lining, pants made from normally uncomfortable materials will often be lined with silk or another soft material. This helps to make it that much more enjoyable to wear them. Wool pants will often be silk lined because wool is typically a scratchy material so the lining protects your legs.
 
As for airflow, this is a crucial factor that will determine whether or not a pair is comfortable. Dress pants to wear with Oxfords made from 100% wool or cotton will be the most breathable, though chino pairs aren't too bad either. Just be sure that the pair you choose isn't going to smother you because then you'll start to excessively sweat and that's never a pretty sight!
Top 10 Dress Pants to Wear With Oxfords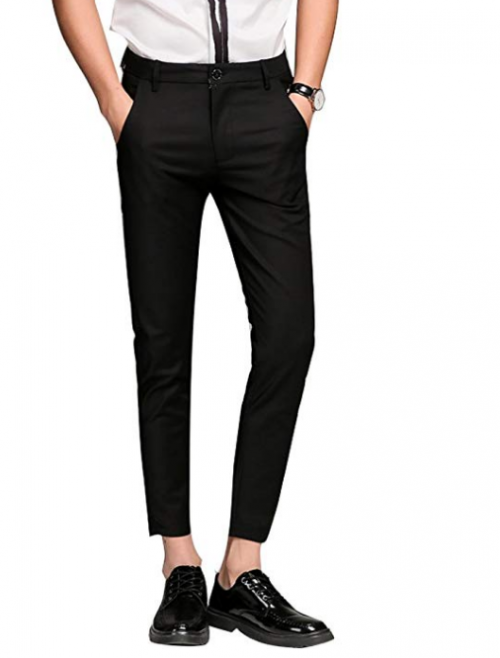 Plaid&Plain's Cropped trousers are a trending pair of dress pants to wear with Oxfords that have come straight out of hipsters paradise. They offer a 26-inch inseam and a slim fit through the seat and thighs that are a perfectly in-demand style. Their slim and tapered fit is an ideal choice for men with the lean structure and their flat front design ensures you look the part no matter the occasion. Choose from one of five distinctive colorways including gray, red, black, apricot, and blue so you'll have no problem matching these with nearly anything in your wardrobe.
Made from a comforting blend of 58.9% cotton, 38.4% chinlon, and 2.7% spandex, these trousers will have you comfortable while you're on the move. Their zipper closure makes for effortless on-off wearability that appeals to men who don't have time to spare.
 
Their cropped style makes this one of the hottest pairs of dress pants to wear with Oxfords at the moment so you can go ahead and wear your favorite shoes with a pair of bold and colorful socks to add some statement to your attire. This is the ideal choice of business casual pants that can easily transition from the office to the after party without having to ever change your outfit.

2

. Calvin Klein X Performance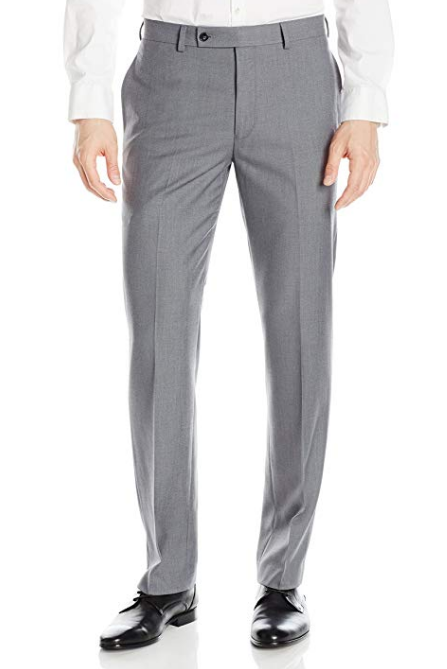 Calvin Klein's X Performance pants fit slim for a polished finish. A flat front makes these an incredible choice of dress pants to wear with Oxfords while their deep side pockets allow for discreet carrying. These trousers are a great pair for the office and will pull any outfit together in a professional way. Men love the comforting feel and durable design that the X Performance delivers and can't get enough of this pairs' stylish vibe.
Calvin Klein is a lifestyle brand that's known around the world for their moving fashion that's both bold and daring. With over 9.1 billion in global retail sales to date, this brand knows their stuff when it comes to designing looks that sell. You can have peace of mind while wearing a pair of these pants knowing that they were designed but one of the industry leaders.
These dress pants to wear with Oxfords have a button closure that allows for easy on-off wearability so you can get ready and go in less time. Men like the smooth feel against their skin and the sheer lightweight structure that this option delivers. Go ahead and switch from the office to the afterparty with little effort thanks to their easy-going style that looks good at practically any occasion.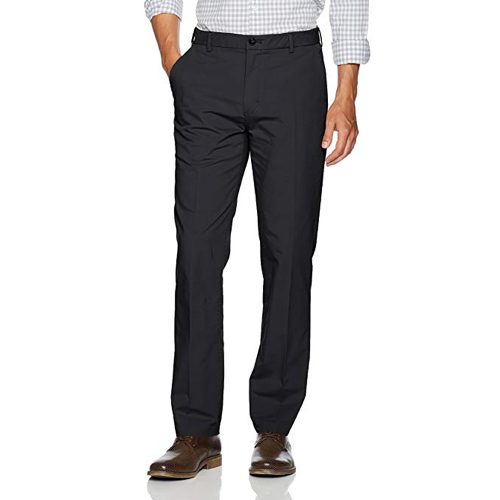 If you're looking for ultimate comfort in dress pants to wear with Oxfords, you should definitely check out this model by Van Heusen. Their Flex line includes all types of clothing, from trousers, to polos to shirts, made with a simple idea behind them: allowing the wearer to move freely while looking dapper. You can purchase these trousers in several classic color options, from khaki to black, and you can even choose from different shades of the same color for the most stylish look.
The first thing you'll notice about these dress pants is that they have a composition of 76% cotton, 22% polyester and and 2% elastane. This makes for a pair that doesn't only feel great, but offers the added benefits of free movement and machine washability. Additionally, these won't require ironing, which is a huge plus in anyone's book.
The waistband of these trousers is expandable, allowing for a whole half inch of added space, and it contains a shirt gripper feature that will prevent your shirts from getting untucked, no matter what type of movement you do. This is another pair of dress pants to wear with Oxfords made for those who don't made making a slightly larger initial investment, as long as the product delivers. And based on customer experiences, it definitely does.

4

. Dockers Signature Slim Fit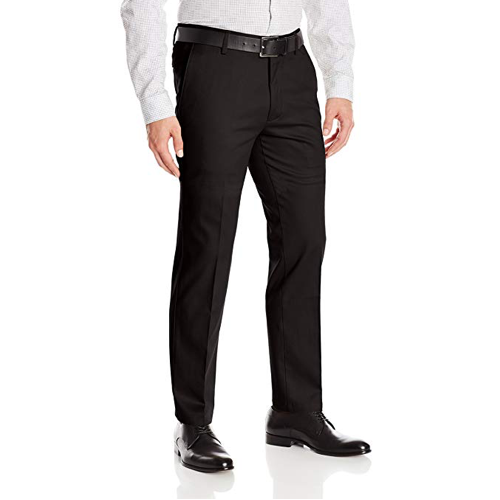 If you're after the best dress pants to wear with Oxfords, you should definitely check out the Signature Slim Fit model by Dockers. Pair of trousers will easily become a staple item in your wardrobe, mainly thanks to its comfort, functionality and versatility. It comes in numerous color options, so you'll easily pair them with your favorite blazer or dress shirt, and you'll likely find them a great model to wear when traveling or during your off time as well.
How you use these dress pants will greatly depend on the color option you decide to go with. It comes in a few classic options, including black, grey, navy and khaki, all of which can be as casual or as dressed up as you need. You'll find that the best dress pants to wear with Oxfords are those that follow the silhouette of the body, which these do with success, thanks to the slim fit through the waist and sear.
In terms of comfort and fit, this model sits slightly below the waist and has a Flex Comfort waistband that lets you move freely. The Materials used are 98% cotton and 2% elastane, for a slightly stretchy feel, and you'll find that the wrinkle free technology makes these easy to wear on any occasion. Other features include double welt button-through back pockets as well as a shirt gripper. In terms of cost association, these trousers rank average compared with other dress pants to wear with Oxfords.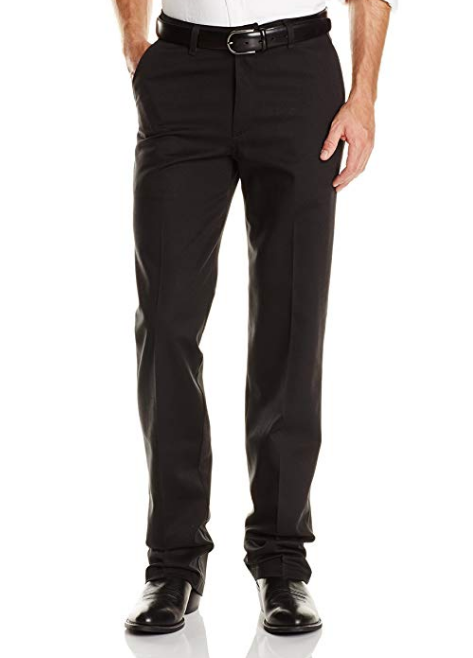 Wrangler's Riata is a cool looking pair of casual dress pants to wear with Oxfords. Their classic flat front styling and high rise make this a must-have for men who crave an effortlessly chic design. A zipper fly and button closure system make for effortless on-off wearability, while dual back pockets make it easy to carry all your personal effects. The Riata comes is several colorways ranging from khaki to black making them an easy pair to match with nearly any outfit.
Wrangler is an old-school American company that holds true to its Western-inspired heritage. Their first pair of jeans was made back in 1947 and they've since worked hard to earn a solid reputation. Despite their classic style, this company has managed to transcend their designs into the stylish side of today's trends and their looks never seem to be out of fashion.
 
The Riata is super low-maintenance thanks to its machine washable material so you can through them in on a gentle cycle and forget about drycleaning only garments. For a look that's flawless these dress pants to wear with Oxfords will look best with a darker pair of footwear.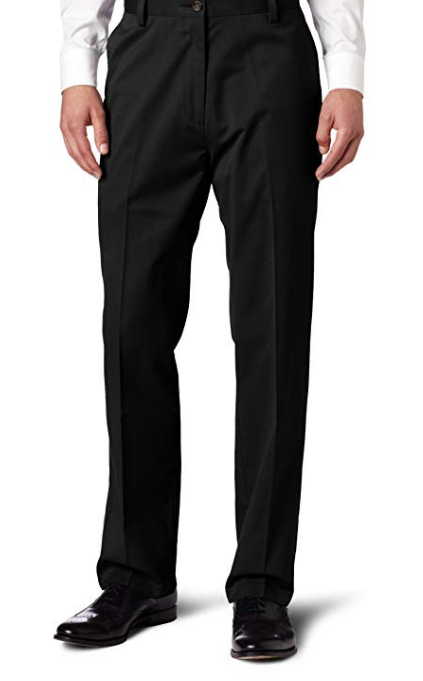 Dockers' khaki D3 offers a classic fit and is known for being one of the best pairs of dress pants to wear with Oxfords! This pair is made from a breathable blend of 60% cotton and 40% polyester that allows for just the right amount of airflow to keep you cool and comfortable by preventing a buildup of sweat and odor-causing bacteria. They're machine washable for easy care and deliver a comfortable and versatile style that will let you transition from the office to the after party without having to change.
Dockers is a brand specializing in khaki garments who have the top brand of business casual clothing for men since their founding in 1986. This brand retails their clothing for an affordable price and always keeps up the latest fashion trends so you can rest assured knowing that you'll look your best while wearing a pair of their pants.
 
The D3's waistband sits perfectly above the hips for a professional appearance while it's zip fly and button closure system makes for a comfortable and no-fuss kind of wear. A straight leg and roomy fit in both the thigh and seat areas make this option looks super modern so you can rely on these being the best dress pants to wear with Oxfords.

7

. Lee Performance Series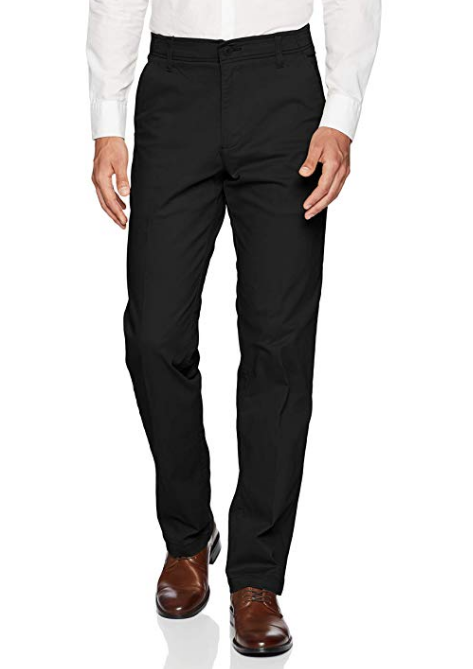 Lee's Performance Series Extreme is an ultra comfortable line of khaki pants! They're professional enough to wear while you're at work and functional enough for all-day enjoyment. Effortlessly transition from the office to your favorite after-hours past time in a pair of these dress pants to wear with Oxfords, without having to change your attire for an easy-going option that men adore!
Made from 98% cotton and 2% spandex, this option is both breathable and lightweight. The Performance Series Extreme delivers a flexible waistband that sits fashionably above the hips for a polished look. A zip fly closure allows for the kind of easy on-off wearability that men crave and won't slow you down while you're on the move.
 
These pants couldn't be any easier to care for thanks to their machine washable fabric which means there's no dry cleaning required! Lee is notorious for their stylish work-to-play designs that provide a smooth and tailored finish. The Performance Series has an in-demand hem that sits perfectly at the top of your shoes making these the ideal choice of dress pants to wear with Oxfords.

8

. Kenneth Cole Reaction Straight-Fit Stretch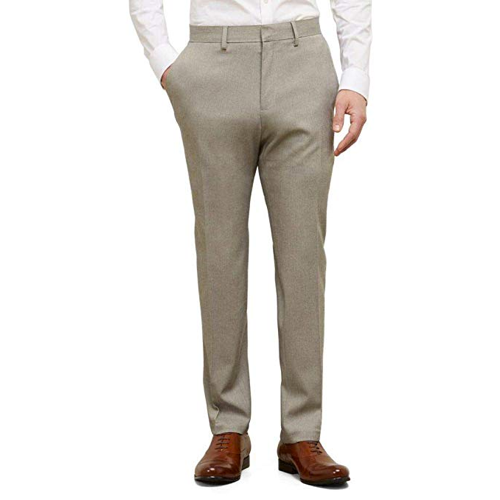 If you're after a great pair of dress pants to wear with Oxfords, and want to get something that's both comfortable and fashionable, you definitely won't go wrong with this pair by Kenneth Cole Reaction. Made to be combined with blazers from the same line, these pants will be perfect for work, parties, formal events and occasions when you want to look your absolute best. The cut is straight for a modern look.
These trousers can be purchased in four classic colors - black, navy, dark grey and oatmeal. While the darker versions will look great anywhere, anytime, the light oatmeal is a particular favorite of ours, thanks to the fact that it will fit right in for summer events. The material used to construct this model is polyester which is popular because of is cost efficiency and easy maintenance - you can even machine wash these dress pants, and they won't lose shape or change color.
You will find that the biggest benefit of these trousers is the way in which the material was designed. It has a special stretch memory feature that allows for extra give in key areas, without becoming too baggy in others. The four pockets and zipper and hook closure complete the package, giving you one of the definite best dress pants to wear with Oxfords. As for price, they cost slightly more than the average model listed.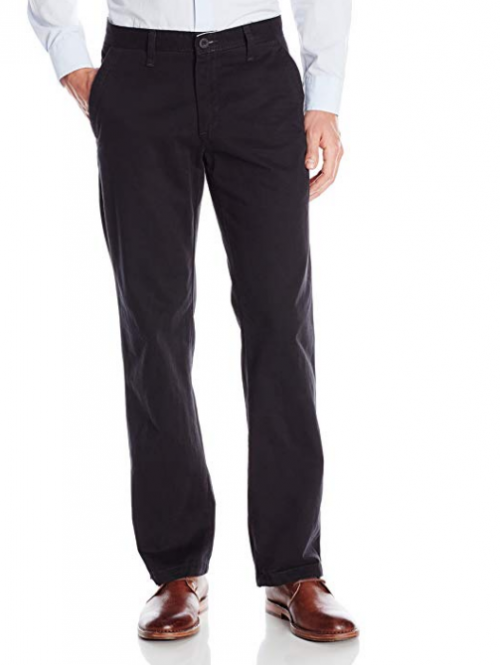 Lee's Weekend Chino pants offer a trending flat front and slim leg fit that's ultra-smooth. Made from 100% cotton, this pair of dress pants to wear with Oxfords is both breathable and lightweight for the kind of all-day comfort that men on the go require. Look your best in a pair of these professionally-chic dress pants that come in a range of colorways including black, true khaki, and walnut just to name a few.
Founded in 1912, Lee has grown to be a trusted brand for workwear that caters to the professional man with a sense of style. Over the decades, Lee has managed to transcend the classic functionality of their designs into the latest trendsetting looks and hasn't compromised the quality of their products one bit. This is a brand that men have come to know and trust over the generations and with good reason!
This pair of dress pants to wear with Oxfords boasts the perfect cuff line that sits right at the top of your shoes for a polished look. A zip fly and button closure system allows for easy on-off wearability that men love so you can get ready to go faster. Their straight leg and flat front are perfectly in style and make this option a great choice for a professional gentleman.
 



ZLZ's Slim Fit jeans offer a comforting stretch feel that won't leave you feeling smothered, even after hours of wear. This pair is made for the stylish man thanks to its skinny leg build and multiple color variations including navy blue, khaki, black, and light blue. ZLZ's hot looking jeans are the perfect pair of stylish dress pants to wear with Oxfords and will have you looking as sharp as ever.
Made from a comforting blend of 70% cotton, 28% polyester, and 2% spandex, this choice is excellent at absorbing excess moisture while allowing for plenty of airflow around the skin. A super-soft next-to-skin feel and lightweight structure overall, make these a great choice for dressy dinner occasions and can easily transition from day to night side without ever having to change your attire.
 
These dress pants to wear with Oxfords are well-made with durable stitching, reinforced buttons, and a secure zipper so you won't have to worry about any mishaps while you're on the move. Their elasticized fabric ensures you stay completely comfortable all throughout the day which is men just can't get enough of these hot looking trousers.

Subscribe to our Newsletter