Best Silver Evening Shoes That Dazzle Reviewed
In a
Hurry? Editors choice: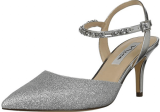 Test Winner: NINA Tonya

Sure, parties and celebrations during the day can be fun, but the bright hours are usually reserved for our jobs and other not so exciting activities. We all know the real fun begins when the night starts to fall. If you only have a rough idea of what you would like to wear for your evening event, or you simply haven't made a choice at all and are completely lost, this carefully researched list of silver evening shoes is just for you.

It will bring you some of the best silver evening shoes you can find today on the market, and we are sure that soon enough one of them will bedazzle your feet!
Standout Picks
Criteria Used for Evaluation
Materials
When it comes to the materials used to create footwear, the right choice can mean a world of difference. Casual shoes are mostly made out of leather or textile, depending on what you need them for. The same goes for work footwear, and rubber is usually used for outsoles.
Silver evening shoes are a different story because the type of material can add to the luxurious look of the shoe.
Satin is a good choice because it has that soft sheen and feels like silk to the touch, giving you a very luxurious look. Stiff and silk satin is used for shoe-making because they are the lightest options.
A lot of satin lovers are concerned about cleaning satin, as it does get dirty quite easily, and it is delicate.
You should not wash satin in hot water! It will shrink and leave your evening shoes all wrinkled up. You should instead dampen a cloth with cold water and blot the stains, but make sure to brush away any dirt beforehand, because you risk rubbing it in the material. If cold water doesn't work, add a small amount of hand soap and rub it in small circles. Rinse with a cloth soaked in cold water, and dry it with a hand towel. Voila, your satin is clean!

Leather also appears a few times on our list, including suede. Suede is just upturned leather with a small strip missing, revealing its soft luxurious texture. Leather is very durable, stretchy and has plenty of airflow, and that makes it a very popular choice for silver evening shoes.
Comfort
Having comfortable silver evening shoes can really save your feet and make it easier to dance and stand around the whole night! You can be care- and pain-free the whole evening and just relax and enjoy yourself.

One way the shoes on our list are cushioned is through using 4mm of cushioning. This amount of cushioning is just right - it makes it easier to stand in high heels, alleviating the burning and stabbing sensations you feel after wearing them for a period of time. It also helps because it's not too bulky, and it softens the blow of each of your heel strikes.

Padded footbeds can also be seen on some of the silver evening shoes. These footbeds have pads on pressure points, usually resembling your foot, so you get the support and comfort you need. They also help with arch support, and that reduces ankle and arch pain and is also very helpful for people with flat feet.

Memory foam is another comfort factor to consider. Memory foam, like the name suggests, returns to its original shape as soon as you lift your feet from it, so worrying about it being used up or changing shape is unnecessary. It's also very light and breathes quite well, so you won't feel tired and your feet won't suffocate when the evening is over!
Style
The style of our shoes can affect the way our outfit looks, completing it or making it look dingy. So it's very important to choose the evening shoes that complement the wardrobe you have on! Silver evening shoes come in a wide variety of styles, ranging from simple ballet flats to intricate stilettos.

Pointy toes appear quite often in evening shoes. They add an elegant note and make an ideal statement piece. They are also very versatile, and you can wear them with cocktail dresses or with casual pants, depending on where you're headed.

Sandals with ankle straps are also a good option. The ankle straps allow you to adjust them however you like, tightening them closer to your legs or loosening them up if you tend to get swollen. The ankle straps can also have plenty of details, like rhinestones or crystals, which make your skin and legs look slim and graceful!

Peep toes are also a great feature in silver evening shoes. They are very characteristic - as opposed to open toes, they only have a small opening where two or three toes can be seen. This makes them airy, and also shows off your toes and pedicure, even allowing you to combine your nail color with your outfit!

The heel height can also vary. Ranging from kitten heels to towering stilettos, they are a perfect way to spice up your outfit.
Kitten heels are a great option if your feet tend to tire quickly, or if you do not tolerate the pain that higher heels can often bring. They might be short, but they look as elegant as regular heels!
High heels and stilettos are the epitome of high fashion. They tighten our muscles and make us appear graceful and sensual. But, they are not so kind to our joints and feet, and they can cause plenty of problems. So be careful when you wear them, and always bring back-up shoes!
Color
Obviously, the color of the shoes is the aspect we concentrated the most on. The silver color is one of the best choices for evening shoes because it is elegant and can bring out the best in any outfit. Its versatility makes it a perfect partner for any kind of gala outfit, but it can work with casual options too.

The shade of silver can vary a lot, and that is very visible on our list. It can be almost white, with just the shine giving it away and making it look silver. Or it can be almost charcoal, dark, looking almost black.
Many sparkling details can be added into the uppers, making them glimmer even more, resembling true silver. Combined with silver details, like rhinestones, buckles or heels, they can be the best silver evening shoe pick you can make!
We have ranked the items in our guide according to how intense their silver color is, and how well they showcase it. If you're interested in choosing the loudest, most pow-wow pieces, then sort the silver evening shoes by this criterion and choose off the top!
Accessories
As we mentioned earlier, the accessories (and the color) are what make a dress shoe become an evening shoe. These can greatly improve the look, making your silver evening shoes extravagant and royal, fit for the prettiest of queens. But, you should be careful, because sometimes they can be overdone!

The cluster of rhinestones at the heel counter of the Kiara pumps is just what makes them the star of the evening. Varying sizes and shapes decorate the heel counter, making you appear slimmer and more opulent. Be careful not to choose a dress with as many details as the shoe has - you don't want to overdo it!

Ruched vamps and studs on adjustable straps make silver evening shoes look just as good as rhinestones do. The straps, besides being functional, also make you look prettier and refined, with the small stones glistening around your ankles. If, however, you don't like to see stones at all, a ruched vamp can be the choice for you. The bunched up material makes them look positively regal, and that is just what an evening shoe should be!
Another way to sort the items on our list would be by the number of accessories they carry with them. Sometimes it's a simple rhinestone decoration, while other times it is a whole set of sparkles lining the straps. If you wish for a truly bedazzled option, one that turns heads and garners compliments - make sure to choose the one with the most accessories!
Our Favorites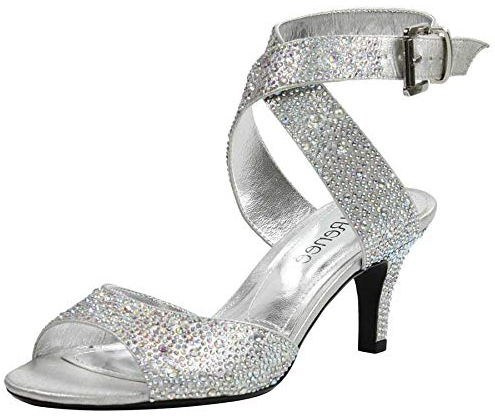 J. Renee has a passion for creating designer shoes with an affordable price, allowing everyone to have a taste of the sublime. The Soncino recreates that to a tee, bringing high fashion to your doorstep. The rich suede upper of these silver evening shoes is embellished with a huge number of rhinestones of varying sizes, their brilliance illuminating every step you take.
The thick wrap-around strap with an adjustable buckle is a great way to pull the shoe closer to your feet. The way they wrap around your ankles imitates ballerina flats, known for their grace and elegance, and the way their straps elongate the legs and make them look leaner. Kitten heels give you grace and provide enough stability so you can dance without stopping.
The linings of the Soncino are smooth and synthetic, caressing the skin of your feet and bringing you cushy comfort. Speaking of cushy comfort, the cushions are memory foam, which has the ability to retain its original shape no matter how much you try to wear it down. So be sure the fit and comfort of these silver evening shoes will remain the same throughout a long period of time!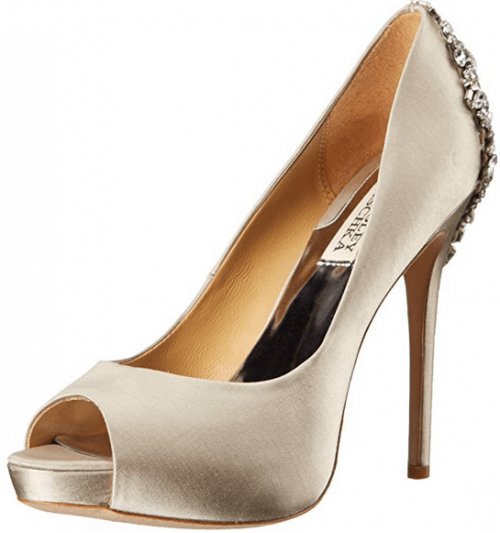 This American fashion house was made by two designers, Mark Badgley and James Mischka. They create beautiful formal shoes inspired by old Hollywood glamour. They have had many fashion-conscious celebrities, like Mary Kate and Ashley Olsen, as their spokespersons. So you know the quality they offer will be top notch, including that of these stunning silver evening shoes.
The Kiara silver evening shoes just breathe glamour and high fashion; it is very apparent that the brand made it with catwalks on their minds! The upper is a lovely silver shimmering satin, with a warm undertone. Satin is extravagant, has a luxurious look, and is the best choice for evening shoes! It might be a bit hard to clean it, but the payoff will be great!
The stunningly high stiletto heel will bring your style to new heights, asserting you as the star of the evening. And the illuminating cluster of silver royal rhinestones will only make that easier for you! The rhinestones are a great way to break the monotonous upper, and our eyes like to see variety wherever they look - after all, variety is the spice of life! Moreover, peep toe silhouettes are a great way to show off your pedicure, and an even better way to bring a breath of fresh air (literally) to your feet!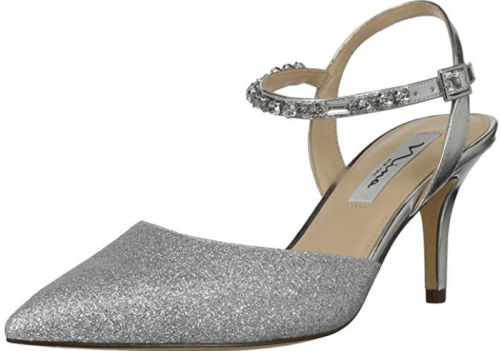 NINA shoes were created by Stanley Silverstein, an American entrepreneur who named the company after his daughter, Nina. Their design for the ballerina flat won them an award in 1962, so they have been making history for a long while. The Tonya is a perfect example of how elegant and refined silver evening shoes with kitten heels can be!
The satin upper sparkles with every step you take, enhancing your beauty. The pointed toe silhouette makes the Tonya more prominent and eye-catching and makes for a great versatile detail.
An adjustable buckle graces your ankles, makes it easy to improve the fit, and grabs attention with the little rhinestones embellishing it. The footbed is fixed and lightly padded. This means that it won't wiggle around, creating discomfort and blisters. And speaking of blisters, the padding of these silver evening shoes will make sure they never show up, while also protecting you from pain! Tiny kitten heels add height and sophistication, but also keep pain and fatigue away from your feet!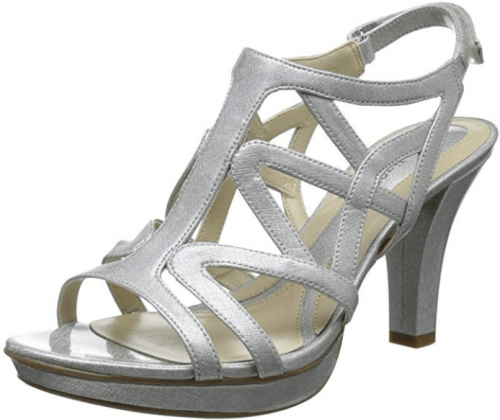 Naturalizer is a company synonymous with comfort. Naturalizer captures the femininity of our times, gracing your every step. The Danya sandal modernizes a graceful look with trendy cutouts, making them the ideal silver evening shoes for warm summer months.
The faux leather upper brings all the qualities leather has, but without the weight and tightness. The Danya's silver color might not be so bright, but it will surely match anything that is hanging in your dresser. The intricate, strappy vamp design with laser cutouts adds mystery and flirtiness, electrifying every step you take.
The cutouts also make it easy for your feet to breathe. Enough airflow ensures that your skin dries, helping the fight against sweat, bacteria that produce bad odors, and infections. A heel sling strap with velcro closure secures your feet and keeps them locked tight in place, without sliding around and slipping. The N5 contoured and cushioned footbed absorbs the shock when you walk on such pointy heels and alleviates any kind of pain. The outsoles on these silver evening shoes are non-slip, so there is no need to worry about falling down and injuring yourself!

5

. Blue Betsey Johnson Elsa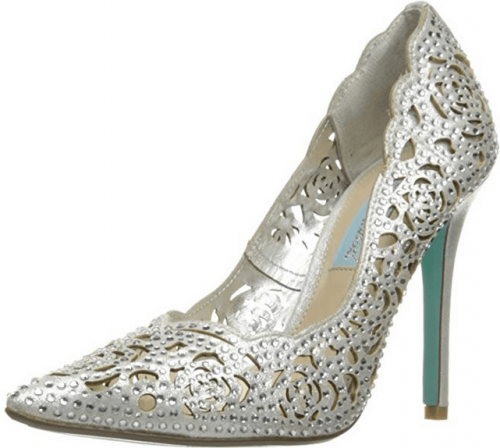 Betsey Johnson is the first female designer we have on our list, and she is best known for her feminine and whimsical footwear. Plenty of her pairs are considered to be over the top, with too many decorations, but then again, that is just what makes a dress shoe become an evening shoe! The Elsa pumps are silver evening shoes we imagine any punk fan would wear to their wedding if their choice of color was silver!
The manmade upper is dusted with a sea of rhinestone accents, glimmering as your shoes peek from underneath your clothes. Surely, one of the first details you notice about them are the cutouts, and if you look closely, you will realize they are roses! Roses have always been associated with beauty and grace, and be sure that is just what you will be if you give these a chance.
They might be a pointed closed toe pump, but don't worry about your feet suffocating, as the cutouts give the air plenty of opportunities to course through them and cool down your skin. Four-inch stiletto heels give a certain kind of sex appeal and make sure that you will be the center of attention wherever you show up. As the name suggests, the Elsa is part of the something old, something new, something borrowed and something blue tradition done at many weddings. The blue outsoles make them the ideal choice for the blue item, combining silver evening shoes with tradition!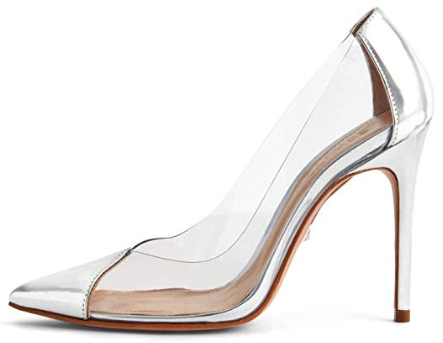 Schutz is a high-end fashion brand which comes from Brazil, backed up by the name of a world-renowned designer, Alexandre Birman. The Cendi pumps are silver evening shoes that are a reflection of his unorthodox style, of his desire to always seek out to wow and impress and make his creations the center of attention.
Transparent heels and shoes, in general, are on trend this season, and the Cendi perfectly fits into that. This stiletto heel has clear vinyl inserts, with silver patent leather at the front and the back for a touch of high-quality comfort. The heel of the Cendi is 4.3 inches high, making it suitable for special occasions, but unfortunately not for all-day wear.
If you want to join the ranks of celebrities such as Kate Middleton and Kim Kardashian, who both incorporate clear heels into their outfits - albeit in different ways - you shouldn't hesitate to go after the Cendi. They are relatively inexpensive silver evening shoes made from high-quality materials that will surely make you the star of any event.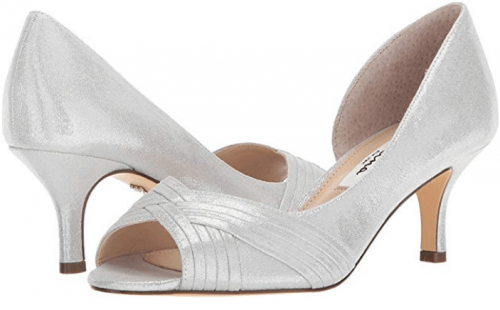 One more exhilarating pair of silver evening shoes from NINA footwear! The Contesa will defeat all of your competitors, paving the way for the most elegant of appearances. The suedette upper shimmers in silver, making any outfit you have luxurious. Suedette is a material made out of cotton or rayon, that closely resembles suede. Contrary to suede, it is manmade, much more flexible and not as warm, so you get to enjoy an improved version of the popular leather!
These lovely silver heels have a slip-on construction, which means that you need not waste time on adjusting buckles and tightening straps; putting them on and taking them off is easy breezy! A woven detail around the open toes defines them as an evening shoe, bringing their style to a whole new dimension.
The peep toes open way for your fingers to feel the air, and for your nail polish to sparkle. The insoles and linings are also synthetic and cushioned, so you won't feel the strain if you dance too much. Only the inner side of the Contesa silver evening shoes is open, surprising curious eyes with a flash of soft skin!

8

. Jeffrey Campbell Lindsay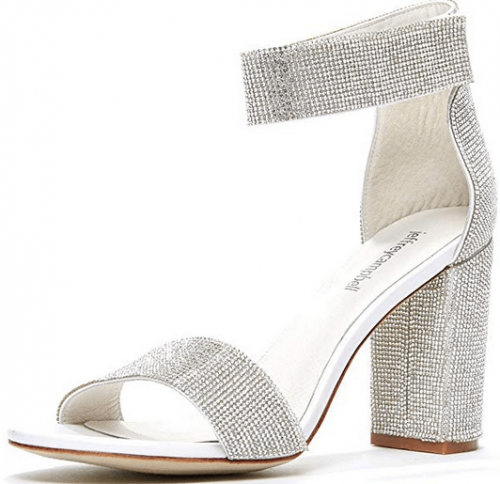 This independent company paves new ways for contemporary style. Their accessible prices mean that everyone can get a little taste of their boundary-pushing styles! The Lindsay sandal raises chunky silver evening shoes to a new, grand level!
The upper, linings and insoles are all leather. This will make them a little bit heavier and tougher to break in, but leather has many advantages. It has the ability to perfectly mold to the shape of your foot, so you get the optimal fit every time you put them on. It also flexes with every step you take, and has great durability, being that it's all natural.
The hook-and-loop strap closure of the Lindsay is completely adjustable - you can tighten and loosen it as much as you like, and you won't have to rely on buckles, which don't have that much adjustability. The strap is also very thick and chunky, giving a sassy tone to this exquisite pair of silver evening shoes. A block heel supports your arches, and gives you all the stability and balance in the world!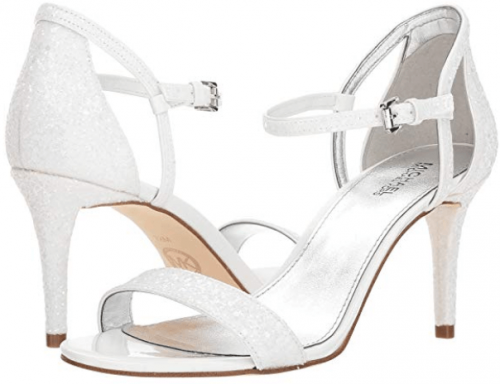 Michael Kors has always been a name that drew attention, and all for a good reason. Besides shoes, he also designs watches, jewelry, and other accessories, dressing you from head to toe. The Simone silver evening shoes bring the sass, the flirt, and the sophistication right to your feet!
The upper of the Simone is synthetic, meaning it is light, flexible, and durable, and also a little bit cheaper than natural materials. A dash of glitter brings out their chic spirit, and makes your true colors sparkle and shine! A thin ankle strap with a buckle closure makes sure your feet never slip down, and also serves as a way to slim down your legs. The toes and sides of these silver evening shoes are open, meaning you can show off your skin and pedicure! The wrapped heel gives you height, grace and completes the silver look.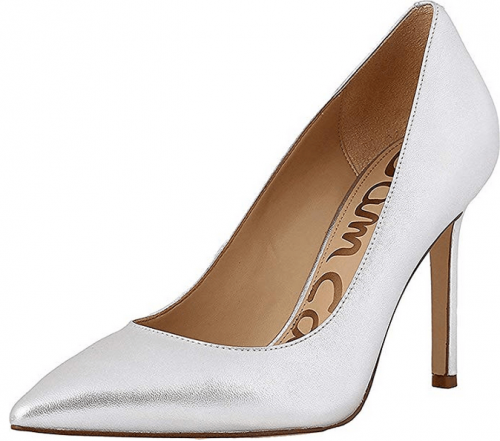 With Sam Edelman's wisdom gained from traveling all around the globe, his love for everlasting style, and his 30 years of experience in footwear, the Sam Edelman line was given the breath of life. The Hazel is here to make you look your absolute best with its sharp lines and a design that is quite simple for a pair of silver evening shoes.
The upper is made out of sheep leather, meant to last a long time and to provide you comfort throughout your evening. It has a soft silver glimmer, not too extravagant, but just right to bring the best out of your clothes. The thin four-inch heel will bring grace to your gait and will tighten your muscles while you walk, making you look like the dictionary definition of grand. Pointy toes will never go out of style, and that is just what the Hazel heels bring to the table - a timeless pair of silver evening shoes.
The back of the heel has a logo charm, so everyone knows who made this sharp pair. To show their concern for your comfort and joy, the brand has included 4mm of cushioning, ensuring you never feel that stabbing pain again.

Subscribe to our Newsletter