Best Cheap Designer Shoes For High Style On A Low Budget Reviewed
In a Hurry? Editors choice: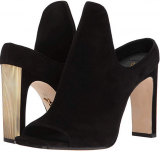 Test Winner: Donna Karan Sutton

Open the gate for cheap designer shoes, made with fabulous style! Just because you have a limited budget does not mean that you can't purchase an amazing, high-quality designer pair of shoes that you will want to show off everywhere.

While designer styles usually come with steep prices, there are exceptions - models which are available for less, and which you can easily snatch just for yourself! Take a look at our comprehensive list of best cheap designer shoes, and treat yourself to a new pair of flashy, extravagant shoes at a fraction of the cost! Enjoy!
Standout Picks
Criteria Used for Evaluation
Materials
It should be apparent that the choice of materials for creating cheap designer shoes is important. Materials can completely change the style and look of a shoe, making it go from zero to a hundred in a blink of an eye.

Leather is always the most popular choice among many designers, and that is for a very good reason. Leather is a natural material that usually comes from cows or sheep, but also more exotic options, like snake or crocodile. These have unique patterns that make them even more valuable.
For one, leather is very durable. Its purpose is to protect the animal from the harsh outdoors, so it only makes sense that it will last for a long time.

Leather also has great elasticity, after you break it in of course. It will be stiff and constricting, but after a day or two it will soften up and be the most comfortable experience you will ever go through. It can breathe with every step you take, ensuring that your feet get enough air and don't sweat too much.

Suede graces many cheap designer shoes, and when you take just one look at it you will know why. It has a soft feel and an opulent finish, making the shoes look like they were made for the runway.
Suede is also a type of leather. If you turn regular leather upside down and cut a short strip away, the luxurious texture will start to appear. Suede is lighter than leather and more flexible, but it's a bit tougher to care for it, as it gets dirty easily. But if you take the proper steps, it will last a long time!

Calf hair is a rare occurrence. It's also called pony hair, which is a common way to refer to cowhide, where the animals har resides, which is where it got its name from. Calf hair is made out of the upper side of leather, compared to other materials, where the underside is used. The hair is cut very short and is usually bleached and then colored to get the pattern or hue you desire. This makes it more expensive than regular leather, so you should keep that in mind.
Satin graces many cheap designer shoes and is praised for its silky feel and extravagant look. Satin is manmade, woven in a specific way to get that high luster. The only drawback is the fact that it is hard to take care of it because it attracts dirt like crazy. With its delicate construction, you should be very careful when you clean it!
Finally, cotton is the best choice for casual cheap designer shoes, like sneakers or loafers. Cotton is manmade, loosely woven to allow enough air to pass through. It has great coloring properties, opening the way for designers to use their creativity to the max. It's also highly flexible, bending with every step you take.
But it's not so durable, and it's easy to rip holes in it just by wearing it. It also gets dirty very easily, but you can always wash it in the washing machine, so that part is at least easy!
Comfort
Comfortable cheap designer shoes are something everyone should strive to have, and one should not risk their health for beauty! Uncomfortable shoes bring a lot of troubles with them. You can get blisters, infections, corns, and even bunions, which require surgery to be fixed! You arches and joints can suffer, and your knees and back as well.

One way to increase the comfort of cheap designer shoes, especially heels, is to add a padded footbed. Padded footbeds usually have pads, as the name suggests, in all the right points - where the pressure is most likely to build while you walk, like in your heels and the balls of your feet. The pads will alleviate the burning and stabbing sensations you experience while you walk, saving you from pain later on.

The lining of the shoe also plays a role in comfort because our skin likes to be caressed by a gentle touch all around. Some designer brands use microfiber linings. This type of lining is not only comfortable, but it also absorbs sweat and wicks away moisture, so you will end up sweat- and odor- free!

When it comes to sneakers that borrow their style from skating shoes, the soles play a major role. Vulcanized soles are praised for their comfort. They are very flexible, durable, and require a minimal, close to none, amount of time of breaking in!
Style
Various styles go along with different kinds of outfits, which is why it's important to always have many different options available. The style of cheap designer shoes can completely change your look, bringing it to new heights or ruining it completely, so be careful when you choose!

Casual sandals are a great choice for everyday occasions during warmer months. They are characterized by strappy uppers, a minimum or no amount of details, and wedges or heels, or they can even be flat. If they have higher heels, however, as some sandals on our list do, they will be a better option for more formal events, especially if they have embellishments like rhinestones - this transforms them to evening shoes, reserved for the fanciest of events!

Ballet flats are a type of footwear that borrowed their look from shoes ballerinas use for dancing. Ballet is a graceful dance, said to improve the beauty and grace of the people who practice it. So it's only logical that the shoes they use are dainty and feminine, which is what some people wish to bring into their everyday lives. Ballet flats are usually a casual type, sometimes even sporty, and can feature a micro heel or be completely flat.

Mules are a style of shoe that has no straps around the heels to secure them in. Mules have first appeared during Ancient Rome and were used as house slippers. Their appearance in public happened later in time and has been seen on many fashion runways in our time.

Sneakers are definitely the fan favorite for casual footwear. They are super comfy, light, and adjustable. Add a few accessories, and they can even be formal wear! They are most commonly used by athletic people that enjoy many different kinds of sports due to their comfort and flexibility. But nowadays, even heels are added to sneakers, so they are a very versatile style!

Pumps make an appearance on our list numerous times as well. They are characterized by the presence of heels, giving them a posh look. Pumps are a great idea for formal wear and remain one of the most popular designer shoe choices today.
Value
The price of cheap designer shoes will always be higher than usual, due to the amount of effort and care that goes into creating them. But the price of design shoes does not dictate their value, because sometimes the price can be very high, and the quality low.

Cheap designer shoes do not have a hefty price tag like the name suggests, but they sure have plenty of value! The same materials, accessories, and innovations go into creating them, the very same used to create high-end footwear.

When you want to spend your money on luxurious items, sometimes it's better to forget what recent trends dictate, and just go for the classic options that will be around for a long time. You will be able to wear them whenever you like, and they will be cheap, considering they are not the most popular choice of footwear for the season. But their value will be greater since you will be able to wear them time after time!
If you're curious which items hold the most value in our guide, don't hesitate to sort them according to this criterion in our list! Choose off the top for the best cheap designer shoes that are no lesser in quality than their more expensive counterparts.
Accessories
The accessories are usually what sets apart regular shoes from the designer kind.
The designer logo is something that you can usually spot right away, and it adds to the lavish looks of designer footwear. It can be bright, shiny, embroidered or anything else in between, and its main purpose is to make the brand name clear.

One might not think that heels can be an accessory, but if you take a closer look at shoes that grace the catwalks, you will understand what we are trying to say. Wrapped and stacked heels are great options for cheap designer shoes, and they can even be decorated and colored in interesting ways, increasing the value of the product.

Leopard prints are something people usually think of when someone mentions extravagant items. Because leopard fur is so pricey and rare, its value is immense, and that is where the connection lies. So, many designers use leopard prints when they make their items, hoping that the shoes will end up looking even posher!

A frequent detail for many dressy and evening shoes are rhinestones or gems. Rhinestones give shine and sparkle with every step you take, attracting the attention of everyone in the room. Gems shine even more and add to the value of the cheap designer shoes. They can be small, big, single or appear in clusters, but if a shoe overdoes it, it can end up looking tacky and kitsch!
Our Favorites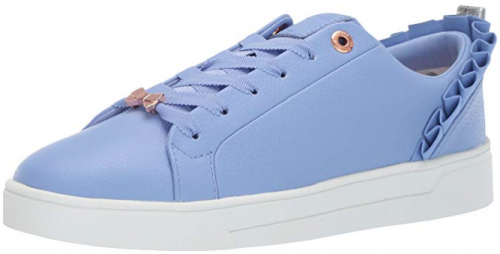 Ted Baker started off as an expert on shirts, believe it or not. Since then, this designer has expanded his business into every other fashion department, quickly gaining a reputation as a 'No Ordinary Designer Label'. As you can see by the adorable silhouette of the Astrias cheap designer shoes, Ted Baker focuses on high-quality materials, great attention to detail, and wonderfully whimsical shoes.
The Astrias is a sight for sore eyes - or a relief for sore feet - because it is essentially a trainer. This means you can wear it in pretty much all of your casual outings. The Astrias is made from genuine suede and leather, and it comes in several lively color and pattern options. Its quirkiness lies in the ruffle accent at the back and the metallic bow at the front, amping up the cuteness levels.
The Astrias may be more of a choice for the younger population, however, if you are after that irresistibly feminine look, there is no reason you shouldn't treat yourself. These cheap designer shoes come from a world-renowned fashion name, at a low cost, and are amazingly comfortable to wear for as long as you'd like!



So we may be cheating a little with this one. Fred Perry technically wasn't a designer, but a tennis player; nevertheless, his apparel and shoes garnered worldwide attention and are considered a luxurious option when it comes to athletic style. The Spencer sneaker is a fine example of that style - refined, sleek and unassumingly elegant cheap designer shoes you will love to wear.
The Spencer is made from genuine leather, tennis-white. Its sole is chunky, made from rubber for that superior slip-resistance. There are perforations along the side to enhance breathability and make sure that your feet stay dry and cool in this sophisticated design. The collar of the Spencer is padded for comfort, and there is the iconic brand logo in the side, a laurel wreath that was once upon a time the symbol of Wimbledon.
The Fred Perry Spencer is an elite sneaker. It is made from premium materials, and its extravagance lies in its minimalist silhouette. You may not have any affinity towards tennis, but you will love pairing these cheap designer shoes with all of your favorite casual outfits.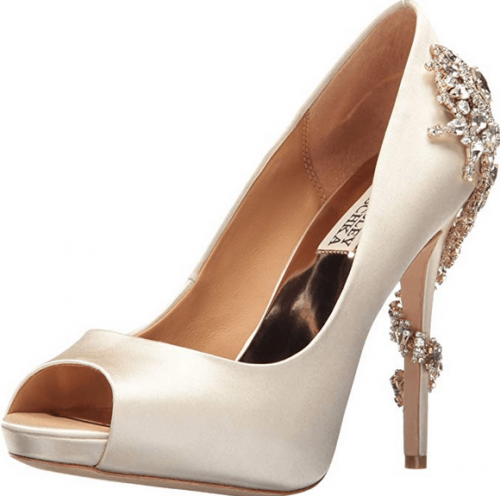 Badgley Mischka is well-known as a company that creates extravagant wedding shoes, adorned with crystals and other eye-grabbing details. They have been hailed by Vogue as one of the top 10 designers today, so you know the cheap designer shoes you will get are genuinely sublime.
The Royal pump will make you feel like a queen when your wedding day arrives, lifting your style to new heights. The upper is made out of satin, while the soles and linings are leather, giving you comfort, air, and flexing with your foot. The peep-toes make it possible for your pedicure to shine through, and giving an opening through which air can circulate, cooling you down and wicking moisture away.
Surely, the most eye-catching detail is the high stiletto heel with shimmering crystals wrapped around its whole length. The snake-like rhinestones end at the side of the upper, shining in unison with the satin. All of these details make the Royal the ideal cheap designer shoes for a wedding or any similar formal event!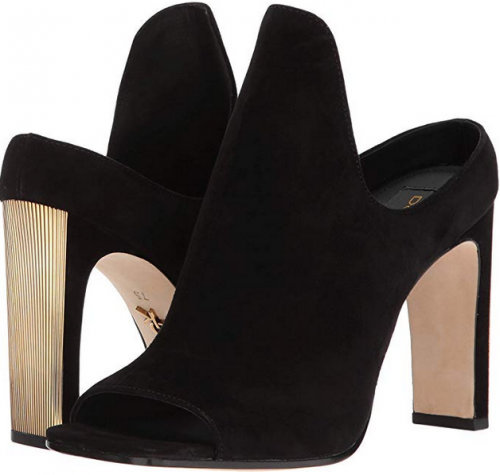 Donna Karan is one of the most renowned fashion houses of today. After she left college, she worked for Anne Klein, eventually becoming the head of their team. She left the company in 1984, to create her own fashion line, and became known for a line called Essentials, a very versatile style that could be mixed and matched however one desired. Donna Karan has since stepped down from her CEO position to focus on a different line, but her cheap designer shoes remain popular today, and they are also known as DKNY.
The Sutton mules are a great design if you want everyone's eyes to be on you, wherever you appear. Their upper is suede, in neutral colors that can be matched with anything you have in your closet. Their sharp lines are what makes them so unique, and the slip-on construction makes it easy for you to put on these gems. A small heel tab makes sure your feet don't try to escape out of them.
The toes on the Sutton are open, so you can show off your cute nail polish to everyone around. The big block heel gives you height and makes sure you don't lose your balance and end up injuring yourself! The little logo on the outsoles of these cheap designer shoes shines and makes it apparent that a brilliant mind gave them life.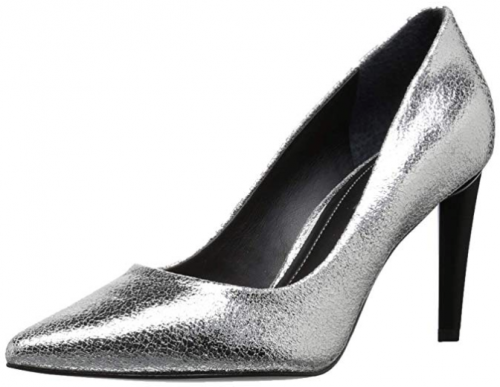 There isn't a person in the world who hasn't at least heard of Kendall and Kylie Jenner. The model/fashion icon sisters are also designers, with their creations - both shoes and apparel - embodying everything they stand for: confidence, style, trends and being in charge. The Myra pump is definitely a reflection of all of that, a pair of cheap designer shoes with a sharp silhouette and bold color choice.
That is not to say that Myra doesn't come in more subdued or more versatile color choices - you can also find it in black and nude, should you wish for something less eye-catching than the silver one in our picture. The Myra is made from genuine suede, with a sculpted heel approximately 3.5 inches high and a flexible sole. This sole is what makes it comfortable enough to wear practically anywhere.
The Myra is a classic shape that we all need in our wardrobe. It is perfect to wear with both pants and dresses, and it won't let you down no matter where you decide to go. For a relatively low price, you get cheap designer shoes which you won't want to take off. That's what we call a great deal.

6

. Comme Des Garcons Converse Play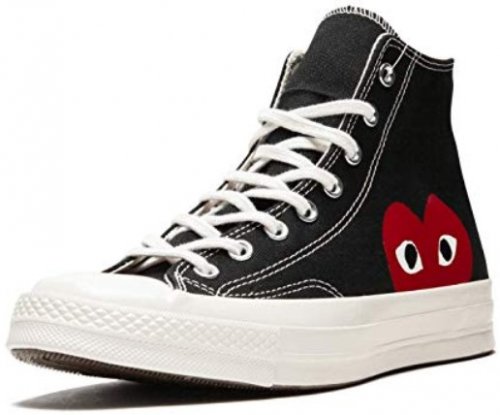 Comme Des Garcons has paved the way for the creation of trendy womenswear ever since they first hit the fashion scene. Their cheap designer shoes challenge today's norms, combining the impossible to create the outstanding. Their collaboration with Converse has improved the iconic sneaker, if it was even possible to improve it even more!
The Hidden Heart flirts with curious onlookers, inviting them to take a closer look, but also warning them to keep a safe distance. These sneakers have everything a regular Converse sneaker sports. The textile upper makes them a great partner for outdoor activities, as it flexes easily and has proper airflow.
The first thing one may notice is the sweet little heart playing peekaboo. This quirky twist is a way to infuse a breath of fresh air into the iconic sneaker, inviting everyone to give them a try. The Ortholite footbed makes sure you always have top-notch comfort, as it never loses its form. The recognizable rubber outsole pattern keeps you safe from falling down, and the stitching decorations hold these cheap designer shoes tight without making it possible for them to break apart.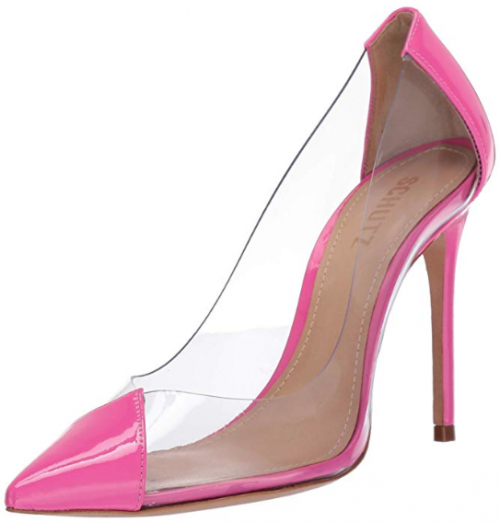 Behind the brand name of Schutz stands a world-famous designer who has dedicated his entire career to crafting shoes that stun and wow the crowds - Alexandre Birman. His shoes are worn by pretty much any celebrity who carefully curates their wardrobe, from Blake Lively to Kate Middleton. The Schutz Cendi is a pair of trend-setting cheap designer shoes with transparent inserts that will catapult you to the top of any best-dressed list.
The Cendi has an upper that is a combination of clear vinyl and patent leather which comes in a large variety of vibrant, eye-catching colors. We included this hot pink version in our picture because we couldn't take our eyes off of it. The Cendi has a stiletto heel of 4.3 inches in height, which may require some getting used to. The pointy toe and clear sides offer unparalleled elegance and a leg-lengthening effect like you wouldn't believe.
Clear vinyl footwear is all the rage this season, and for good reason: it is new, it is unexpected, and it matches well with pretty much any outfit combination you can think of! Given its brand name, the Cendi are surprisingly cheap designer shoes, and thus you shouldn't hesitate to grab these beauties as soon as you can!



Calvin Klein is a designer hailed as 'the supreme master of minimalism', who emphasizes sophistication and class and takes pride in his simple, yet effortlessly fashionable cheap designer shoes. The Gella is a pump that leaves us in awe of its grace, of the elegant way its straps wrap around the foot for maximum elegance.
It is made from faux leather, making it vegan and cheap in price. The Gella has a pointy toe for a fierce effect, and a strap that curves around the foot and keeps you secure inside the pump. There is an elastic insert in the upper for a stretchy, accommodating fit. The footbed of the Gella is padded for bonus comfort, and the heel is only three inches, making it suitable for hours of wear.
The Calvin Klein Gella is a pump that you can pair with jeans and a blouse for a relaxed, chic look, or even with a pencil skirt and a crisp button up when you mean business. If you're looking for cheap designer shoes that are a little different than the norm, but still not flashy, the Gella is a perfect choice.

9

. Polo Ralph Lauren Faxon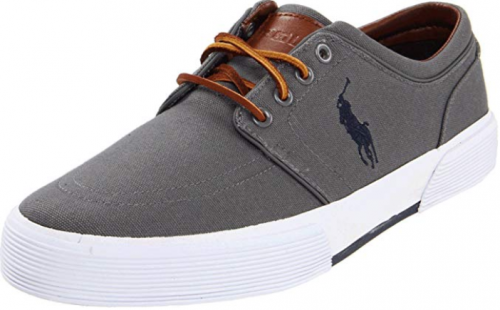 Polo Ralph Lauren is surely one of the most recognizable brands on the planet today. It started in 1967 with men's ties, and Lauren persuaded the CEO to let him create his own line. Polo shirts started happening, and they introduced the famous emblem appearing on their cuff. And the rest is history! Today Polo Ralph Lauren creates many different accessories and cheap designer shoes with sharp style.
The Faxon low sneaker is a perfect example of how sharp and trendy sneakers can be. The upper is either suede or canvas, depending on what color and pattern you choose. It features their signature logo in a color that perfectly matches its surrounding. Four eyelets grace the vamp.
The laces serve only as a detail, as there is no way to really tighten or loosen them, but they are a sublime detail, made out of leather. The footbed is cushioned, keeping your feet safe from annoying pain and cramps. The tongue also features their logo, a leather square with Polo written on it. These skate-inspired cheap designer shoes have a rubber outsole, with a logo and pattern meant to keep you upright even when the surface you are walking on is completely slick!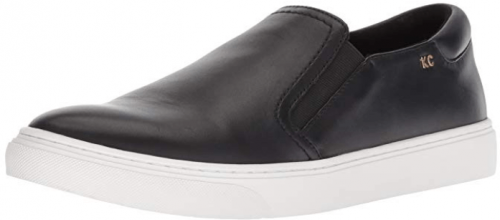 Kenneth Cole Productions was created in 1982, by a designer with the same name. Interestingly, this is a company that started out of a truck. Kenneth Cole wanted to showcase his cheap designer shoes at a fashion show, but could not afford a hotel room, so he instead opted out for a truck that he parked near the building where the fashion show was. He also applied for a permit to create a movie, in order to be able to park the truck legally, decorated the vehicle to look like it came out of a motion picture, and with that gathered enough attention to sell forty thousand pairs of shoes in just two and a half days! Talk about a genius mind!
The Mara slip-on sneaker is what every casual outfit dreams of. The upper is leather, colored in many different vibrant hues and with intricate patterns so that everyone has a choice. A small golden strip decorates the heel counter and reflects light just enough to attract attention. They are a low top design, perfect for hot sunny weather and flirty outfits.
A small logo is embroidered on the side - not so visible, but it reminds you of the tough road these cheap designer shoes traveled to be right where they are now. The double goring ensures you get a snug fit, as it widens with every step you take, allowing your feet to move naturally. A microfiber lining fights away nasty bacteria that produce odors and scares away pesky sweat, so you'll without a doubt be dry and fresh!

Subscribe to our Newsletter