Best Work Flats For Professionals Reviewed & Rated
In a Hurry? Editors choice: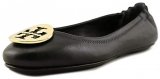 Test Winner: Tory Burch Minnie

Work shoes are one of those shoes we have all shopped for, which is an example of just how necessary they all. While modest heels give that professional appearance, they also can cause some serious leg and foot pain. The compromise? The best work flats you can find that ooze sophistication, without skimping on design elements that will feel amazing on your feet. And the most beautiful part of their design is that now, you won't need to trade the beauty for comfort, once you can have both of them in one pair. Transitioning from day to night is an added bonus for these contemporary staples. Plus, there is no one who doesn't love a great pair of shoes that helps them walk the walk with ease.
Standout Picks
Criteria Used for Evaluation
Support
Any style of work flats you plan to wear for long periods of time comfortably requires plenty of support for certain points on your foot. Specifically, with shoes without a heel, they can often be lacking in arch support, so when searching for the best choices careful attention was paid to the arch of the foot. Arch support helps soothe conditions such as Planters Fasciitis, as well as helping to keep lower back pain and strain in check.
Another support we are looking for is the ball of the foot. Though most of these options have a tiny bit of heel to give you balance, it nowhere compares to the pain higher heels can cause. Still, this article is about work footwear, which means less pain doesn't matter, we want no pain. Many of these options contain specific shock absorbing padding on the ball of the foot, which reduces impact with every step.
Lastly, consider heel support as well. Many of these shoes have contoured footbeds, and one even has a reverse heel. No matter what design makes you comfortable, maintaining comfort for the whole foot will create a more confident gate. If your treat is treated well, your whole body thanks you. Standing for long hours, or using public transit to commute to work, shouldn't cause unbearable foot pain. Your back and legs will thank you if you provide your foot with the care it needs.
Style
Some of these styles have a bit of flair in their color selection; a paisley print here, gold brocade there. However, the overarching aesthetic theme of every option is having a traditionally "professional" look. You want to be looking out for nude colors, basic blacks, and textural details rather than outrageous color combinations. Leather dominates this list due to its slightly muted sheen, and its longevity. Leather work flats, when properly maintained, can be your staple work attire for years. Modest and classic silhouettes give the wearer a boost in their personal appearance, while also making it possible to have interchangeable footwear options that will go with anyone corporate or corporate casual clothing.
Flexibility
It doesn't matter if you go to an office, drive a cab, or travel as a consultant. All these professions have one thing in common, and that is that you're going to need a shoe that flexes as much as you. Some of these are so flexible you could half fold them and throw them in our purse to change into at the office, or keep on you in the event of speech that requires you to wear heels. Others are perfect options to bring to the airport and slip on and off when going through customs. The goal is to have a good pair of work flats that move with you, both on your feet and in your hand. Slotted soles adorn many of these beautiful work shoes, keeping the outsole close to your foot sole, and making you a bit more spry in your steps.
Materials
While it may not be the most crucial aspect in determining what type of footwear you want to buy, knowing how materials affect a design is useful information. Materials are the ones which determine many characteristics of a shoe, such as its flexibility, breathability, durability, comfort, resistance to wear and tear, slip-resistance and so on and so forth.
In our guide, we have designs largely out of two main groups of materials: genuine and synthetic leathers.
Genuine leathers we see in options such as the Frye Carson, the Clarks Un.Loop, the Tory Burch Minnie, and others. We mentioned before how natural leather materials are very high in quality. They promote proper air flow in and out of a design, making it breathable, and they also have this wonderful ability to conform to the shape of the foot over time, providing a tailored type of comfort. Finally, natural materials are quite durable.
However, genuine leather designs can be expensive, and they are obviously not animal-friendly. In case you are looking for a relatively cheap design, or a vegan option, you can always go for synthetic leather.
Be careful, however, that synthetic leather is not as breathable or as comfortable (or as durable) as natural leather. It can often be stiff and rigid and may even cause some blisters over the course of the wear. To make sure that you are getting the most comfortable design possible, do try the shoe on before you commit to a purchase, if you can.
Again, material types are not a prerequisite to buying a good pair of shoes. But knowing what to expect is always a good thing, and if you want to invest your money in a high-quality option, then you definitely know where to go.
Durability
For the last category in our Criteria section, we talk a little bit about durability. This is important since we all like to have products that last for a long time to come. Let's be real, no one wants to come home with a pair of work flats they love, to put them on maybe twice and watch them fall apart in record time. That is not quality footwear, and no one needs that in their life.
So how do you determine the durability of a shoe? How can you know how long it will last before you buy it?
Well, in short, you can't know for sure. However, there are some aspects of the design you can look at, which will help you make a decent estimate of the lifespan of the shoe. These aspects are the quality of the materials and the quality of the construction.
In our previous section, Materials, we talked about the differences between genuine and synthetic leathers. So here's one more: genuine leather is infinitely more durable than synthetic leather. It does require some care in the form of cleaning and conditioning, but it isn't prone to flaking, creasing and cracking nearly as much as synthetic leather is.
In terms of construction, look for flaws that might be apparent right off the bat: a tiny hole between the sole and the upper, a seam which doesn't look complete, any part that might be sticking out or digging in or which looks unfinished. All of these will attribute to your design not lasting as long as it otherwise would.
When it comes to durability, one thing is important: do not, under any circumstances, hold yourself back from wearing your favorite shoes. Yes, you want them to last as long as possible, but that does not mean they should be sitting in your wardrobe. Simply go out there, show them off the world, and when they fall apart sooner or later, you'll be happy knowing you made so many great memories while wearing them!
10 Best Flats For Work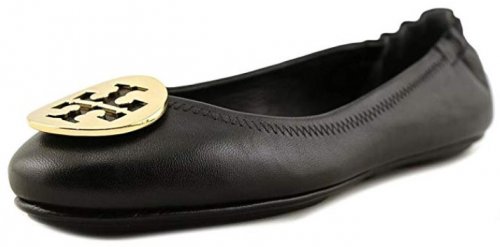 Tory Burch is a designer with a distinct vision, one that includes the spirit of New York, vintage tunics from flea markets, vibrant interior designs, and even sportswear. This designer takes inspiration from literally everywhere, and one of its products is the travel-friendly, amazingly fashionable Minnie flat. This genuine leather option is chic and comfortable, and easy to pack for any type of adventure!
The Tory Burch Minnie has a soft napa leather upper that won't dig into your skin or cause you any blisters. It comes in several classic color choices, such as black, tan and navy, and there is a striking gold-toned medallion decoration at the front. This medallion is what gives the Minnie that touch of expensive class. The Minnie is not only easy on the eyes, but it is also easy on the feet. It comes with layered foam cushioning and a stitch-and-turn construction, meaning that the seams are refined and not posing a nuisance. The rubber outsole is slip-resistant and flexible.

A particular delight is a fact that you can fold up the Minnie in your tote or handbag and take it with you anywhere! The versatility of this option is beautiful. You don't only have to wear it to the office, but you can also take it with you to a lunch date with your friends, and even to a casual dinner with your significant other. You will look stylish and cute all throughout!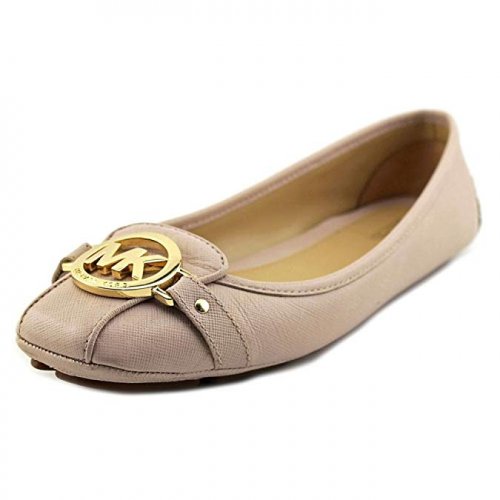 Michael Kors makes a name for itself by being both timeless and modern. How they strike this balance, we may never know, but what we do know is how many accolades they receive from the industry. The high-end brand designs and creates new classics for every business person on the go. Heavy on sophistication and fashion, Kors also has many humanitarian endeavors, and inclusive company policies which display the brand's interest in the people who love them.
The Fulton is comfortable as all get out, and with the classic MK embellishment, you can show off your shoes while enjoying their ease of wear. This super flexible moccasin style delivers a relaxed look that's appropriate for the workplace. Available in both gold and silver accents with multiple uppers, you can shop the pair that best expresses your fashion sense. Many of us have to commute, and this leads us to scuff up plenty of pairs of our favorite shoes. The Fulton has a reinforced heel panel, protecting the shoe's integrity while driving long periods. This is a great option for solo travelers to add to throw on before a long commute.

Kors is known globally as an upscale footwear and clothing manufacturer and their shoes are generally in the higher price range. Their full leather and durable construction will ensure they will hold up for years to come. These simple Kors have become a style favorite of many for a reason, and you will soon find out why when you give them a try.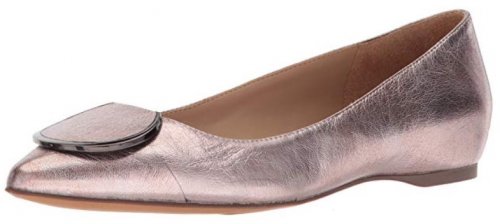 Wow everyone in your surroundings by the lilac metallic shine of the Naturalizer Stella. In case your workplace won't approve of such bold colors, there are also black and beige options for a more toned down look. However, the Stella is a study in class and elegance, largely thanks to its elongated, pointy-toe silhouette, and the buckle decoration on the front.
The Stella is made from premium leather, for a polished, expensive look. It has a slip-on fit, and even a wedge that is hidden inside, about one inch high. This makes the Stella different than other work flats in this guide, as it technically does have a small, invisible heel, which also makes it more comfortable to wear for longer periods of time. As most Naturalizer Footwear, the Stella also comes with the N5 Contour technology. This is a comfort system which includes extreme shock absorption, a moisture-wicking lining, a stable heel cup for security, flexible outsoles for a more natural gait, and lightweight but durable materials in general.

The Naturalizer Stella is that sharp, fierce design that you pair with your pressed pantsuit, or with a pencil skirt and a crisp white button up. You stride into that meeting and all eyes are on you and you are ready to take over the world!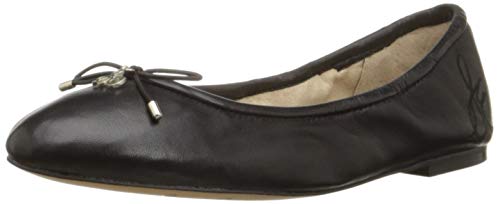 In 2004, Sam Edelman burst onto the scene. With over 30 years of experience, its creator brings elements of travel and city life into his designs. Traveling the world led way to a plethora of different cultural and aesthetic inspirations. With flagship stores in two of the greatest shopping locations in the world, Sam Edelman is a force within the industry to be reckoned with.
This darling Felicia has a soft leather bow detail, with a delicate charm dangling from it. The most traditional ballet style on the list, these accent details add a bit of flair to the timeless classic. The round toe and slight heel come together with its soft, flexible leather, creating truly a picturesque design. Just like a real ballet slipper! The Felicia offers binding around the opening to fit snugly onto your feet during wear. With a flexible construction and a sole with that soft, broken in feeling, this is a great option to throw in your bag to change into at your desk or swap out your shoes on a business trip. The integrity won't be affected by tossing them in a bag and just going, which is necessary for those who travel.

The Felicia is a product that everyone who tries them swears by. They have a padded footbed, soft lining and upper, flexible sole, and adorable little gold accents. With the monotone thread embroidered Sam Edelman logo on the heel, you can show pride in this great designer without compromising style.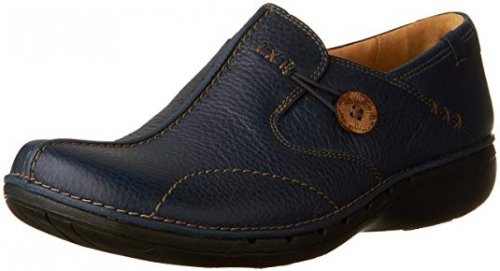 A part of Clarks Unstructured line, the un.loop is a long time favorite of many in the workforce. The Unstructured Collection are lined in lambskin, with features far beyond the barebone crepe rubber sole boots Clarks are known for. With a full leather upper and a solid, contoured sole, you can wear the Un.loop all day and almost forget you have anything on. Clarks and their rich history lends almost 200 years of shoemaking to this impeccable design.
The lambskin lining alone is pretty luxurious, but add in their removable vegetable tanned insole, and you will be living your best life. This insole has a combination of curved foam pieces and leather, with perforation for breathability and comfort. There is arch support to the insert, and some padding, so you can wear it as is, or if you have more specific foot needs, replace it with a more specialized insert. This insert is also easy to clean! Touting that a shoe is breathable or ventilated due to materials or construction is one thing, but having actual performance tech to air it out is something else entirely. The Un.loop has physical vents, relatively unnoticeable, all around the base of it. Coupled with the soft lambskin lining, this creates a pair of unforgettable slip-ons that can keep your feet dry and fresh all day long.

Groundbreaking technology that offers long wear comfort is music to the ears, combined with its down to earth appearance and amazing support. A shoe of this quality comes at a price, but the longevity of something like this really ends up paying for itself a million times over. Fans of this style repeatedly come back for another pair, and once you try them on, it isn't hard to see why.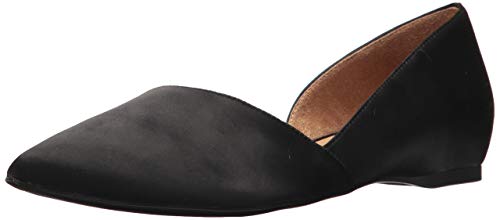 A brand synonymous with amazing wearability, Naturalizer is dedicated to "standing for pioneers who live with purpose." Every pair just right to accompany you on your quest to changing the world. They broke ground in 1927, as the very first company designing footwear specifically for the feet of women. Now, they wish to hone their skills and create designs that are gorgeous from the inside out.
The Naturalizer Samantha is a d'Orsay design. While there is nothing wrong with the rounded toe and full coverage of the basic flat, a sleek update makes this a perfect pair to wear during your workday and after hours. Slightly suggestive and flirty, a little bit of skin goes a long way when pairing them with sleek cigarette pants or a pencil skirt. Naturalizer has one thing in mind when making footwear: how they can optimize the performance of their shoes. On the Samantha, they have included their patented N5 technology. Latex foam is placed in critical areas, such as the full length of your foot, with added padding at the ball of the foot and your insoles "strike contact". This absorbs shock and creates an even distribution of both your weight and pressure points.

This Samantha is stacked with amazing features, and it doesn't break the bank either. Their synthetic porous lining and materials keep you cool, their N5 technology keeps you comfortable, and their sleek upper keeps you fashionable. It is truly a triple threat, which feels like a sneaker but without the bulk. Not to mention the heel and toe are balanced, for greater stability and confidence while you walk.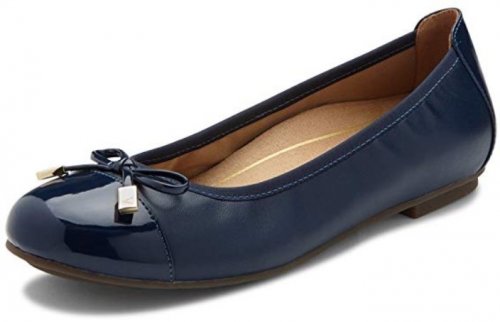 Vionic is a brand renowned for its high-quality supportive footwear, one which keeps you comfy and stable no matter where you go. And quite conveniently, they have a perfect option for the workplace - the elegant, cap-toe Vionic Minna! This design is that sleek, polished option that we can wear everywhere and feel ready to take on the challenges of our day. It comes in several color options, and we are particularly wild for the leopard print one!
The Minna has an upper made from genuine leather. The toe cap and a dainty bow at the front add sophistication, just enough to make it fun but not to be too over the top. This design comes with a microfiber-covered EVA orthotic insert that is both flexible and removable. Arch support like you haven't experienced until now! The Vionic Minna is outfitted with the Orthaheel Technology, which is biomechanically engineered to cradle your arches. It supports the natural alignment of your body from the ground up and balances your gait. The TPR outsole is there to make sure that you don't slip or skid on any type of surface.

The Vionic Minna is a staple design. It's that one that we choose when we want to be comfortable but classy at the same time, and it is easily paired to dozens of outfits, be they skirts or pants. You can't go wrong with the Vionic Minna!

8

. Skechers Bobs Wonderlove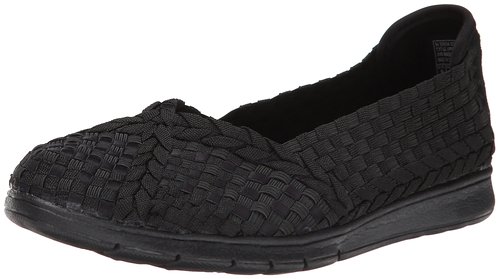 One of the things to love about Bobs is their commitment to charity. Skechers has been a long known brand, who recently revamped their style to include stylish, contemporary athleisure wear. It was because of this that when they came out with a charitable sales concept, I was all ears. Bobs has pledged to provide three million dollars in funding to Best Friends Animal Society, a no-kill organization. If that wasn't sweet enough, with the help of non-profit partnerships, they have provided 15 million pairs of Bobs to those in need. This slip-on boasts a flexible, soft interior, plenty of support, and a great message to boot.
Every part of this shoe is intended to move with you. The ultra-flexible sole is well padded with memory foam, every step feels like walking on air. As someone who has owned multiple Skechers at work, I can confidently say that this style will not disappoint. Skechers will make it feel like you are walking on a cloud, whether you have had them on for a couple of hours or the whole day. With an upper that molds to your fit and moves with you, this braided fabric is not only fashionable but also functional. With a slight rise on the heel, they are super easy to pull on and off, and all their give makes it even more of a breeze. The braided overlay is made of the same material as the allover weave, which is a mixture of elastic and textile fabrics.
For a flat that feels like a sneaker and looks like a work of art, you normally wouldn't be surprised to see an excessive price tag. These are moderately priced, but feature amenities like that of a performance shoe. They have memory soles, flexible gripped outsole, shock-absorbent foam midsole, beautifully textured weave, and are an ode to your humanitarian efforts.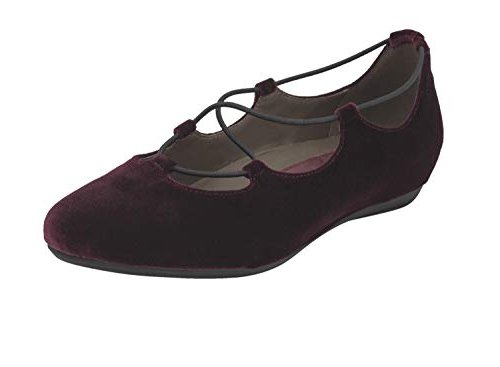 Earthies are a line of shoes created by the Earth brand. This brand hit the scene in the 1970's on Earth Day, and they have been a frontrunner to the "casual revolution" ever since. Earth wants to provide sustainable footwear for every student, worker, and human being on earth. Ann Kalso, the founder of Earth, dedicated her life to yoga and overall wellness, hence the desire to provide a practical pair of shoes fit for the demands of everyday life.
This delicate elastic feature may look flimsy, but it helps secure your foot into the flat and keep you aligned where you need to be. Not only does this add style to the overall simple upper, but it provides function and security while you walk as well. Perfect for a commuter or someone who uses public transit. The Earth brand developed a unique shoe feature that they still include in their pieces today. Inspired by the bare footprints of native Brazilians, Ann noticed their heel dug deeper than the rest of their foot in the sand. She figured this was the natural distribution of weight and pressure when we walk, and that a shoe should be designed adhering to the same principle. The padded footbed delicately hugs every curve of your feet, and the reverse heel gives you a natural, balanced gait that will improve posture the more you wear them.
In the mid-price range, these delicate velvet slip-ons offer security for your feet in a style you will love. Available in an array of shades and textures, the reverse heel alone will have you grateful to have found these hidden gems. With a cushioned sole, slight rubber heel, and trendy materials, this flat would make a great shoe to bring you into fall or winter, or even wear to the office holiday party!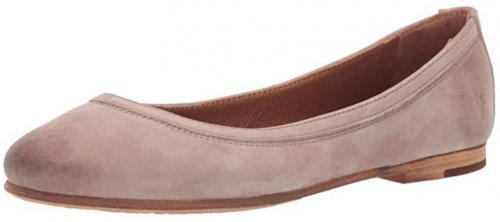 A classic flat if we have ever seen one, the Frye Carson relies on high-quality materials and graceful simplicity to deliver a style that you need for a long day at the office. The Carson is ridiculously easy to wear and even easier to look at because who doesn't like a cute, versatile flat that can we can wear for both work and play?
The Carson is entirely made from leather, upper to the outsole. It's not just any leather, but Italian leather, and one which has been vegetable-dyed. This is the oldest, most artisanal tanning method that currently exists. Of course, the benefits of leather are countless: this is a material that is breathable, promoting a healthy climate for your feet and preventing infections and bad odors; it is also comfortable, as it takes on the shape of your foot over time, and it is amazingly durable as well. There is nothing this flat can't pull off!

Finally, the Carson comes in a myriad of different color choices. Some of them are more chic, some of them come with a distressed urban flair that goes well with ripped skinny jeans and a casual tee. Whether you need it for business or for leisure time, the Frye Carson will not let you down!

Subscribe to our Newsletter