Skechers For Work Women's Soft Stride-Softie Lace-Up Review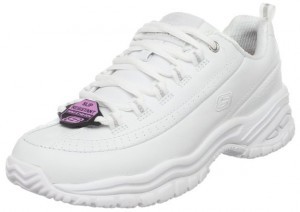 The Skechers for Work Women's Soft Stride-Softie Lace-Ups are a combo of amazing style, comfy support and a tough attitude. These shoes are for professionals in the field who mean business. Most professional shoes for nurses are boring and plain, and not many of them have laces. This is something that many nurses want. These shoes come with a full lace-up panel on the top and a comfortable padded collar and tongue. There's even a handy pull tab at the back of the heel for ease in getting the shoes on and off.
There's a lot more that can be said about these amazing shoes. Check out this all-inclusive review that includes information on sizing, material, heel and platform height, comfort and arches and safety features. You'll get the bullet points of the best and worst reviews as well. These are coming from other nurses who have actually purchased and worn the shoes themselves. Finally, learn about the best conditions for wearing these shoes, how to properly care for them and where you can go to purchase them online.  [table id=10 /]
Specs
1. Sizing
All of Skechers work shoes for women are sold in US sizes, so you don't need to worry about converting your regular US shoe size to its European equivalent. In addition, you've got your choice of medium width or wide width for these Skechers. Other nurses who have purchased this shoe recommend buying three pairs to begin with. Purchase your regular size, a pair that is one size bigger and a pair that is one size smaller. When ordering online, it's best to have a span of sizes to choose from to find the perfect fit.
2. Material
These Skechers shoes are made of a flexible, soft leather upper. Rest assured that you won't need to be constantly cleaning these shoes as the leather is scuff and stain-resistant. The sole is a durable manmade rubber that has great traction for slippery hospital and office floors. The cushioning is a natural cotton blend that has a tough, athletic cushion for all day support.
3. Heel and Platform Height
The heels of these shoes measure 1" with a platform of 1/2" or a smidgeon more. Having a thick and durable heel is important when you're wearing the same shoes all day long. Some nurses work double 12 hour shifts at a time, so having ample height and padding makes a big difference.
4. Comfort and Arches
These shoes are extremely comfortable and well-padded. In addition, they have great arch support for those with, especially high arches. Those with flatter arches are cautioned against purchasing these shoes unless they have their own inserts. The padded tongue and heel make all-day wear no problem at all. There is also a contoured PU insole that is completely removable.
5. Safety Features
These shoes are made with support in mind, so the soles are soft and cushioned but still cradle and support the foot with each step. In addition, the bottoms of Skechers shoes are always resistant to slips or falls. The rubber outsoles are OSHA compliant slip-resistant. They are covered with a durable thread that can stand up to prolonged wear for long nursing shifts day in and day out. Many nurses wrote that they have owned these shoes for years without noticing breakdown on the tread.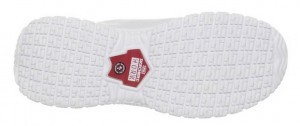 Pros and Cons
1. Pros
Nurses love these shoes because they are sturdy and long-lasting. The shoes were especially favored by active ER nurses and EMTs who are always on the go both indoors and outdoors. Nurses also love these shoes because they are lace-up. This is rare for nurses shoes, but it's nice for adjustability. Nurses often experience swollen feet after a few hours on the job, so to be able to loosen the laces and broaden the shoe is a nice feature. Finally, nurses and other professionals find these shoes super comfortable. The toe box has ample room, and the soles are durable and flexible.
2. Cons
The main concern with these shoes was that they were too heavy. Nurses shoes tend to be lightweight so that each step is light and easy, but some shoes that boast better durability will run a little heavier. The sole of these shoes is thick and substantial. Next, a few of the nurses mentioned that the stitches on the leather lining were loosening up. Finally, some reviewers were unhappy with the price. Nurses shoes do run a little more expensive than regular shoes.
Best Conditions for the Skechers for Work Women's Soft Stride-Softie Lace-Up
These shoes are one of the rare nurses shoes that are made for both indoor and outdoor wear. There is a thick, rugged sole that gives both durability and traction to the shoes and makes them perfect for most terrains. Several emergency room nurses and EMT workers liked these shoes particularly well for that reason. They said that they needed to go from outside to inside often throughout the day, and they needed a shoe that could stand up to both locales. While nurses and other healthcare works like dental hygienists and physical therapists were the biggest buyers of these shoes, they are also recommended for those professionals who are constantly on their feet. These might include food service works like cooks, servers and bartenders.
How to Care for the Skechers for Work Women's Soft Stride-Softie Lace-Up
The Skechers company recommends caring for your Soft Strides often. The first thing you should do when you get the shoes is put a weather spray on them. The leather is stain-resistant, but it's always good to keep the leather looking new for as long as possible. To keep your shoes in great condition, take the time to clean your shoes once per month with a damp rag or sponge. You can use a leather cleaner over the whole shoe and a mild soap with warm water on tough to clean stains. These shoes are water-resistant, but you should still make sure not to soak the shoes in water when you clean them. Dig out any dirt that's stuck in the treads with a butter knife.
Locating Your Pair of Skechers for Work Women's Soft Stride-Softie Lace-Up Shoes
If you have read this review and become interested in purchasing your own pair of Skechers for Work Women's Soft Stride-Softie Lace-Ups, you'll be smart to use an online site like Amazon. This site has the biggest array of options for style, fit, color, design and material. You'll be able to read hundreds of reviews for yourself as well.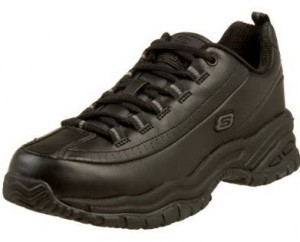 It's a good idea to order your normal shoe size and a bracket of shoe sizes around it. Keep the tags on, and try on the shoes in a clean and dirt-free environment as soon as you get them. Walk around on indoor floors with each pair, and take note of any discomforts you experience. Loosen and adjust the laces if you need to. With most of Amazon's return policies, you can choose your favorite pair and send the rest back. Take your time when choosing your nurses shoes, and all the extra energy you put in will be worth it. Remember, these are important shoes that you will be wearing for most of your work week.
Subscribe to our Newsletter