Best Recycled Shoes Reviewed & Rated
In a Hurry? Editors choice: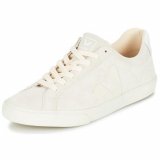 Test Winner: Veja Esplar Low Logo

When you are looking for a pair of shoes, do you ever think to yourself, "What is this made of?" Chances are, like many other consumers, you don't. Now, that's not a bad thing! However, for the sake of today's buying guide, we want you to consider for a minute, the possibilities of what a shoe can be made of. Most name-brand shoes are typically constructed from either synthetic materials, leather, or even rubber. In that past 10 years, more and more manufacturers are beginning to join the
eco-friendly
movement through constructing their footwear in a brand-new manner: recycled materials. We wanted to ensure that, no matter what product you decide on it, it would possess the highest level of quality,
durability
, and comfortability. Now, let's not waste any time!
Standout Picks
Criteria Used for Evaluation
Materials
Let's talk about materials. Now, if you are new to footwear or have no idea what type of materials, matters, don't worry. Just like in today's buying guide, we are going to teach and help you out a bit. So, for beginners, manufacturers have access to a wealth of different materials to use to create their footwear. In this, when looking at any product, we can assume, as consumers, that the product was designed intentionally the way it is being presented.
For informational purposes, some of the types of materials that we can expect to see are:
PVC
Leather
Rubber
Tire (Rubber)
Textile
Canvas
Synthetic
The list above is comprised of the most common choices that manufacturers use. Now, these materials speak volumes about the quality of the shoe. In other words, depending on the material, it can help to reveal a bit more regarding the quality, value, durability, and comfortability of the product.
For example: if a shoe is made from leather or rubber materials, consumers can anticipate that the product has an increased level of durability in comparison to a product that was made from plastic or textile.
For today's buying guide, we carefully noted what type of recycled materials that manufacturers were using to ensure that, no matter what product we shared, it was designed to be the best.
Comfort
Naturally, one of the most important facets of any footwear is comfortability. Let me ask when you are purchasing a pair of shoes if they lack comfort or prick your toes as you are walking around, are you really going to keep them, even if they are stylish? Of course not! Comfort is a vital aspect, which is why it's towards the top of our list of criteria.
Now, to gauge comfortability, it requires a deeper level of insight into the design of the shoe. To measure the comfort, we needed to know precisely what the midsole/insole was made from, how the outsole was shaped and designed, and what the upper looks like.
When it comes to this specific market for footwear, we learned that brands have three different ways of providing comfort:
Padded footbeds
Cushioning insoles
EVA Technology
Outsole
Throughout today's buying guide, we have referenced the outsole quite a bit. Reason being, it was one of the primary criteria that we looked at when evaluating and assessing each brand and footwear. Now, the outsole, for those who are unaware, refers to the bottom part of the shoe. This part of the product is the "glue," metaphorically, that holds everything together. So, if a brand cheapens out in this area, the footwear will be cheap.
The goal is to find products or purchase footwear that come with a quality outsole. In this, you can be assured that the product will last for many, many walking miles. In efforts to highlight the best products on the market, we carefully studied the outsole of each product, ensuring that they were made from the best possible materials, featured unique traction properties, and boosted durability.
Due to our research, we can conclude that the best types of materials for the outsole is rubber recycled from tires, as this material typically offers the highest degree of durability and traction. In addition to this, many brands focused on including different traction properties, such as non-slip technology or lugs, to help keep consumers walking longer, safer.
Versatility
Another criteria and feature that played an important role in highlighting the top 10 for today was versatility. In developing today's list, we wanted to ensure that each product had a higher-degree of functionality and usability in comparison to other footwear on the market. In other words, whether you wanted to go for a nice walk outside on the trail, shop around an outdoor mall, or head to work – your choice or preference of shoe could rise to any occasion.
With that being said, in order to ensure the best versatility, we carefully studied the designs of the shoe or sandals. We looked at the outsole (for durability), the midsole (for comfortability), and the upper (for fit and stability). Typically, versatile shoes have a balance between each of these features, which you will see in each of the products today!
Value
The single most important criteria, aside from the footwear itself, is understanding the price tag. Typically, most consumers look at the price tag as a dollar amount that is owed before you can wear the product. However, the price tag is much, much more. This number reveals a wealth about the product and company.
Now, you might be asking, how? Well, let us break it down for you.
About the Product:
The price can teach a consumer a lot about the product. While we would like to believe that the higher the price tag, the higher the quality – this is not always the case. With that being said, the price can reveal whether or not the product is worth the dollar and pennies. To figure this out, we needed to have an understanding of what other brands were charging and what the average cost was for a pair of recycled shoes. From here, we were able to draw conclusions about the product, based upon the median/average prices for the market.
About the Company
Now, a price tag can also reveal whether or not a company is greedy or considerate. If a company is charging a higher price than the value – or the average price of the market, they are either a designer brand or greedy. In this case, if they are not a name brand – we highly advise skipping that item.
Do keep in mind, the goal is to always purchase a product that has a price that matches the value and the company. If you are able to find a product that has more value than the price tag, that is great too; however, you never want to get a product where the price is higher than the value. In that case, not only does the consumer lose money, they might find themselves having to purchase another footwear in the very near future.
10 Best Recycled Shoes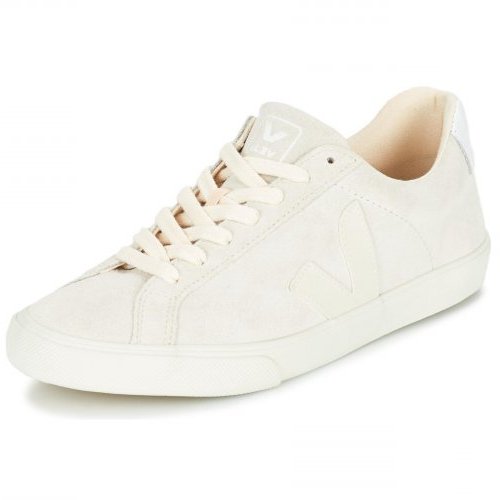 At the top of the market, there is no better product than the Veja Esplar Low Logo shoe. This item is literally the pinnacle of the recycled footwear industry. Not only does this item offer the best and most fashionable appeal – it's incredibly high-quality. This is a great product for the consumer who is seeking to own the very best of the best.
Stylish and Fashionable
The first highlight that we want to share with consumers is all about style and fashion. This item speaks volumes thanks to it's subtle and minimalist design. With the brand logo embedded onto the heel tab, friends and family will know what brand you represent as you walk ahead of the competition.
Materials
So, naturally, what makes this item such a valuable choice is the materials that the brand used to make it. The entire item is made from eco-friendly materials. Each part of the shoe, including the upper, outsole, and insole boast durability and comfort, which is another reason behind the higher price tag.
Cost and Value
So, in short, this item is the most expensive on the market today. Now, it's important to note that this is no ordinary footwear. This is the pinnacle of the industry or the metaphorical Mercedes-Benz. Designed from the best possible materials, this item boasts durability, comfortability, and fashion. What else could a consumer need?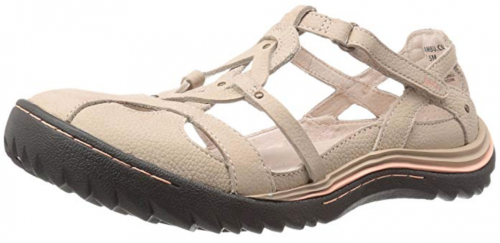 If there is a brand in the industry that understands the recycling market – it's Jambu. With the creation of the Spain Flat, this brand has captured the entire industry by storm, making it one of the most popular choices in the game today. The best part about this product is not only is it high-quality, there are numerous different colors to pick from!
Six Different Designs
In efforts to stand aside from the rest of the items on today's list (and the market), this brand decided to create their highly-valuable footwear in over 6 different colors. With colors ranging from black to red to denim, consumers can pick a design and color that matches their outfits and personality.
Memory Foam
If you are looking for new footwear that's comfortable, look no further. This item is constructed with memory foam for the insoles – which is both comfortable and strong enough to withstand many walking miles.
Cost and Value
When it comes to the cost of this item, we can say that it's priced quite relative to many of the other items on our list today. While it's not costliest – it's not the cheapest. What really makes this product unique is that the maker of the product is well-known for making this type of footwear. If you are seeking quality and a trust-worthy design, this is a great option.

3

. Timberland Groveton LTT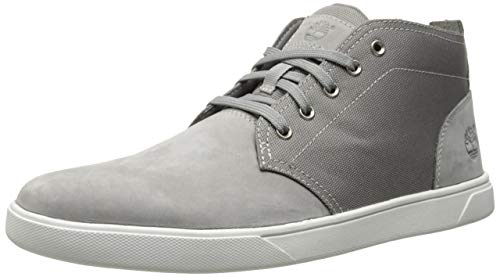 In the middle of the competition, Timberland makes a good argument for the title with their product, the Groveton LTT. This is a Chukka boot/sneaker that is designed with the company's famed, quality outsole and 100% recycled materials. With over 13 different choices, this is a great choice for the consumer looking for a fashion statement type of product.
100% Recycled Materials
This entire footwear is made from 100% recycled materials. The interior is made from pet lining materials, which is known to help provide the shoe wearer with comfort and proper ventilation. Additionally, the upper is made from Cordura canvas, which is great in quality.
Quality Outsole
What really sells this product is the outsole. The manufacturer crafted the bottom part of this shoe with high-quality rubber and a patented grip that helps boost durability and traction to the surface, regardless of what the weather is like. So, if you need a pair of boots or shoes for the winter or summer, this pair can rise to any occasion.
Cost and Value
As far as cost is considered, the specific footwear is considered one of the most expensive choices. Now, this can be directly associated with the name-brand and the quality they infuse into all of their footwear. Investing money into this product is an investment in pure shoe wear value.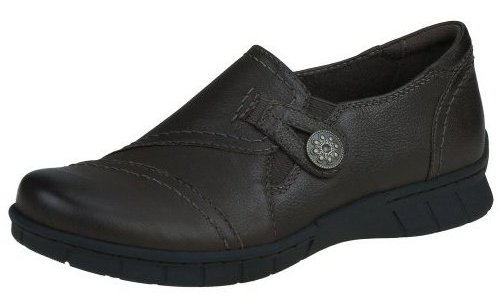 One product on the market today that has many consumers talking is the Earth Origins Norah Slip-On shoe. Known as one of the most reputable brands to make recycled footwear, this product boasts some of the best features and designs. With that being said, let's take a look at two product features and what makes this so special.
Easy to Wear
One reason why consumers enjoy this product is that it's easy to wear. The way that the manufacturer designed this footwear is with a slip-on design so that it's easy to put your feet and take them out.
Breathable
Have you ever worn a pair of shoes and, after an hour or two of walking, your feet are sweaty? This is often a problem when shoes lack ventilation. Fear not! With these, the entire product is breathable, thanks to the fabric lining.
Cost and Value
Let's talk about costs – as we know that's an important facet of the decision. This item is considered a higher-priced choice. Now, before you are quick to deem this out of question – it's important to know that this brand is a top-caliber maker. You can be assured that this product will last for many walking miles without any discomfort.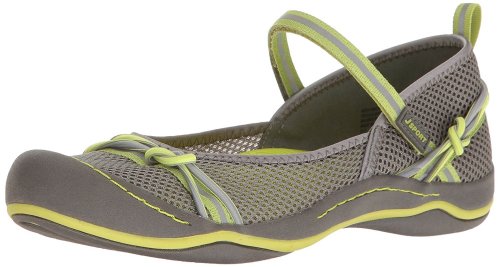 The JSport by Jambu is another great option that consumers can pick from that has been constructed from purely recycled materials. Now, this item is not your regular walking shoe. With four different color choices, this is a product that can rise to meet any need, including walking in the rain, long walks on the beach, or even working in the garden. This multi-purpose sports footwear is one of the best we have to share today!
Non-Marking
Have you ever owned a pair of shoes that, after walking around, there are marks all over the floor? This can be quite an inconvenience, especially if you own tile or marble floors. This brand designed the product with a fully recycled outsole, which happens to boast non-marking properties. Partner this with a crazy amount of durability and you have a great shoe!
Comfortable
What really captured our attention with this item was the way the footbed was designed. To our surprise, this product has been praised by nearly any previous consumer for its comfort and long-term use. The footbed is designed so that consumers can walk all-day without fret or worrying about discomfort.
Cost and Value
As far as cost is concerned, this footwear is one of the most cost-friendly choices on our list today. In this, if you consider the value and features that this product offers, it's a deal that consumers shouldn't pass up. If you are an active consumer, looking for some active footwear that is also environmentally friendly, look no further!

6

. Ahimsa William Vegan Oxford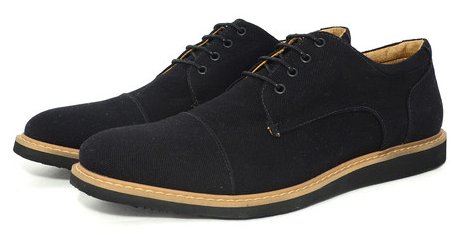 As we start to close our buying guide today, we can't forget to share with you the Ahimsa William Vegan Oxford shoe. This particular footwear is designed with some of the classiest styles, lines, and materials. As one of the first footwear to be composed of cork materials, this product is worthy of any consumer's attention that desires an environmentally-friendly product, that's also stylish and comfortable.
Cork Materials
If there is one part about this product that drives the sales, it's the fact that it's made from cork materials. The entire footbed has the cork material for proper cushioning, providing consumers with true, environmentally-friendly comfort.
Animal Friendly Design
Our favorite part with this footwear is the fact that the entire product is 100% animal-friendly. There were no animals used to make this item, making it a great choice for those seeking an eco-friendly shoe, or vegans.
Cost and Value
The costliest products in this niche are those that are carefully constructed from recycled materials – but also have some other great, notable features. This specific footwear boasts of comfort and durability. In addition to this, since the brand focused on efficiency and sustainability, consumers can be assured that this product will last for many months.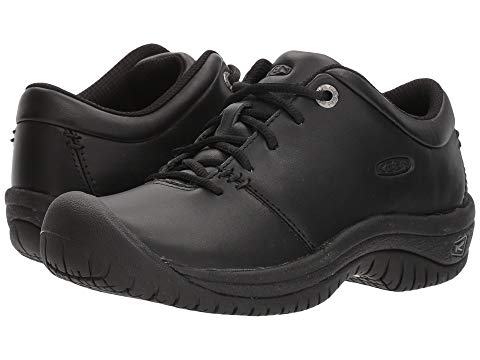 For the final product of today's buying guide, we are excited to share the KEEN Utility PTC Oxford shoe. For those who might not know, this brand is one of the most reputable makers in the shoe industry, and this shoe is a testament to their quality and dedication to manufacturing the best possible products.
Toe Protection
There are not many brands that focus on protecting the consumer's foot like this one. Here, the footwear is constructed with KEEN Toe Protection to ensure that the entire toe box and foot is protected from debris and wear and tear.
KEEN.Cush
In efforts to boost comfort in their product, the manufacturer utilized a blend of recycled materials to create something known as KEEN. Cush. This is a mix of PU leather, memory foam padding, and cork materials. When you blend these, it provides the consumer with the precise amount of cushioning to ensure no discomfort.
Cost and Value
If there is any product that can compete for the highest price tag, it's this one. Given the amount of value and quality this brand put into it, it makes sense that this would be higher-priced footwear. In truth, this has the most comfort and protection we have seen on our buying guide – and, depending on sizing, the highest price tag as well. This is great for the consumer that needs a reliable and stable product that can last for countless miles.

8

. Indosole Pantai Travel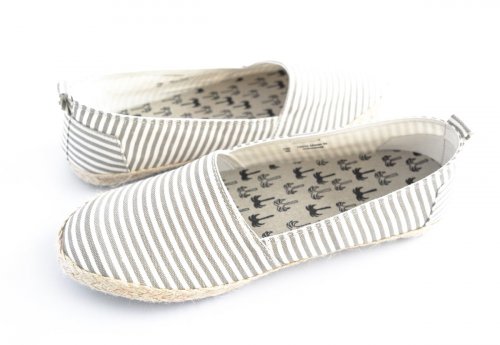 If there is one product that can challenge the number one spot, it's the Indosole Pantai Travel shoe. This product is easily one of the most valuable and popular choices in the industry. Reason being, not only are they eco-friendly and made from recycled materials, they are very comfortable and durable.
Comfortable Footbed
The first feature that makes this product such a valuable choose is the footbed. The manufacturer carefully designed this footwear with EVA foam, which is great for support, comfort, and durability. Users can walk in these shoes all day without noticing any significant discomfort.
Re-Purposed Materials
In addition to the comfort infused into the shoe, the brand made this entire product from 100% re-purposed materials, making it a great, eco-friendly choice. This item is made from tire sole materials and is completely handcrafted. In other words, users can be assured that this product is durable and properly constructed.
Cost and Value
So, you might be wondering how much a product like this might be selling for, right? Well, to the surprise of many consumers, this is not as costly as other items on our list today. It's quite relative and affordable. If you are looking to purchase high-quality footwear from a lesser known brand, this is the go-to choice.




When it comes to the recycled market, there are so many different products and brands. However, there comes a time when one particular brand sticks out and stands aside from many other competitors. The ECOALF Unisex Flip Flop is one of these examples. This brand is a European-based brand, known for manufacturing some of the highest-quality footwear while putting planet Earth first.
100% Recycled Materials
This product was constructed with planet Earth in mind. The entire footwear is constructed from 100% recycled materials so that no animals or damage would be done to nature. Now, what we enjoy about this product is that the materials the brand chose are known to be very high-quality and durable, assuring consumers that these will last for quite some time.
Quality and Comfort
When purchasing a pair of footwear, you are often looking for comfort and quality, right? I mean, no one wants a shoe or sandal that breaks after a few uses. Well, this brand carefully infused comfort into the footbed of their product by using quality materials and foam. A few walks in these and you'll see why this brand is such a notable company.
Cost and Value
Considering all of the products that we have scanned and reviewed, this item is actually the most affordable. The brand itself though can be costly. With that being said, we highly advise sticking with products such as this, to start off. It's high-quality, simple, and quite stylish! If you are looking for a sporty design that offers some degree of comfort, here you go!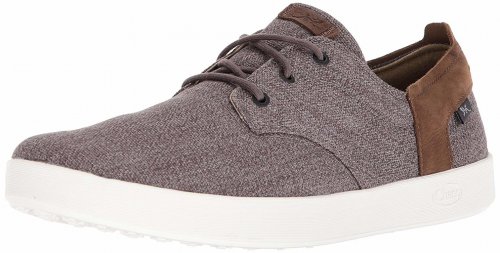 Are you ready to learn about a brand and footwear that currently on the rise? The Chaco Davis Lace Loafer has been proclaimed by previous consumers as one of the best products not only in the recycled market but the entire shoe industry. Made from some of the best materials and featuring some of the best properties, this is a shoe can't pass up.
Special Footbed
Let's take a minute and talk about comfort. In order to provide consumers with an enjoyable experience, brands need to design the footbed with extra padding and cushioning. This company chose to make their footbed not only padded but also removable. So, if you are unhappy with the current level of comfort, you can adjust it by selecting your own footbed or insole.
ChacoGrip
So, what really makes this shoe special, beyond the footbed, is the outsole. The brand carefully constructed the bottom of the shoe with something known as ChacoGrip. This is a patented property and material to boost traction and durability. In addition to this, this material is non-marking.
Cost and Value
In comparison to many other products on the market, this specific footwear is priced a bit higher than what one might expect. In this, it's important to note that this brand is quite reputable and the amount of value that they infused into the footbed and outsole pushes this product closer to securing a higher spot on the list. This is a great product for consumers that are willing to spend a bit extra for better quality and features.

Subscribe to our Newsletter