Best Saltwater Sandals Reviewed & Rated
In a Hurry? Editors choice: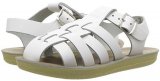 Test Winner: Sailor

During World War II, the first pair of Saltwater sandals was constructed, using leftovers from soldiers' boots. A British immigrant named Walter Hoy created the first pair for his little girl Margery. Who would have known such a humble creation would have become an international sensation.


This wear is made to withstand salt water and is specially treated to go from wet to dry climates with no change in the feel of the material. It is notable that this footwear does not fall apart or produce an unpleasant odor when traversing through various environments. Saltwater is still family owned and every family member is involved in the day to day tasks, as well as the overseeing of the company. Their simple and well-constructed footwear is a novelty in a world of glue and synthetics.
Standout Picks
Criteria Used for Evaluation
Style
Let's face it - no matter how old we are, no matter where we go or what we're doing, we want to look good. We want to wear footwear that is fashionable, cute, that is the color or a pattern that we like, and that makes us smile when we look down at our feet. Of course, if it matches our outfit at the same time, even better!

Now, what your toddler considers cute or fashionable might greatly differ from your personal tastes. This is why it is important that you ask them if they like the design you want to buy for them, and if not, what they prefer instead. After all, they will be the ones wearing the new shoes, not you.

Consider the color - if you want to go for something neutral and classic, such as white, black, brown or navy, or if your little one likes bold hues, such as bright red, gold metallic and similar. Color coordination is not that important when you're young, and if your child wants to wear all the colors of the rainbow, let them! It's all about having fun and finding their own sense of style.

While style has a mostly artsy connotation, it also comes with a certain note of seriousness. Namely, the choice between an open-toe design and a closed-toe one is not merely about aesthetic.

If your kid is going to explore uncharted terrain, if they are unsteady on their feet and prone to bumping into things, then you may want to invest in a closed-toe option, to keep their toes safe. Later, when they get the hang of walking, feel free to let those toes wiggle free in open-toe sandals!

In the end, what matters the most is that both you and your child are happy. So look through all of the available options and choose the one you like best together. You won't regret it!
Comfort
Having stylish footwear is all fun and games, but what happens if that design is not comfortable? No one wants to waste money on a shoe that gives them blisters, makes their feet hurt and otherwise sours their walking experience, and the same goes for both you and your kid. So what can you look for, to make sure that you are getting the most out of your options, comfort-wise?

Footbed: Little feet are not fully developed yet, and thus they don't need a lot in terms of arch support or contouring. What they do need, however, is cushioning. Extra padding in the footbed helps them feel more comfortable, like they're walking on clouds, and makes them excited to walk around even more!
Definitely make sure that the footbed is not too soft, however, as young feet do need a little bit of security as well.
In case you are scouting for a design for yourself, then both cushioning and contours are a good idea, to make your feet feel comfy and cradled and to stave off foot fatigue!
Midsole: The midsole is important for a children's design. This is what absorbs shock whenever your little one takes a step forward, and what protects their joints from added strain. Similarly to the footbed, the midsole shouldn't be too firm or rigid, but it should also not be too soft. There should be ample support and impact absorption so that young legs don't suffer, long term.
The same goes for you - if you want to make the most out of your footwear, definitely look for cushy, shock-absorbing midsoles, such as those made from EVA or urethane.
Materials: Finally, while we will expand more on the materials used in the construction of this type of footwear in the next section, here we will take a moment to examine this through the comfort lens.
Materials of a design are what comes in direct contact with your skin. You want a material that is soft and moldable, able to take on the shape of your foot, but also one that provides good support at the same time. An ideal option here is genuine leather or suede, which is coincidentally, the exact material that all items on our list are made of!
While these may require some breaking in, you can be sure that they won't give you or your kid any blisters or abrasions any time soon.
Materials
All throughout this guide we have repeatedly stated that Saltwater creates their footwear out of only the best materials possible. Here, we are going to outline just why that is so.

First and foremost, they use almost exclusively genuine leather for their constructions, which is the highest quality footwear material available. Leather is extremely comfortable (see above), breathable, as it allows for a proper air flow in and out of a design, and it is also incredibly durable, especially if layered thickly.

However, this is where it gets even more exciting - while regular leather is not waterproof or water-friendly, Saltwater makes sure that theirs is, by using special pre-treating agents in the production. Thanks to this, you take your leather footwear to the beach, to the pool and anywhere in between, and you won't have to worry about accidentally damaging your footwear.

Not only is this leather soft, supple, comfortable, durable and breathable, but it is also water friendly and quick-drying! We honestly can't think of any brand that produces designs of a better quality than this one.

The downsides of leather - because there are always downsides to anything - are that it is expensive than synthetic choices (hence the higher cost of these items), and that it is, obviously, not animal-friendly.

If you wish for something that will last you years, or that can be passed down from your older kid to the younger one, and that doesn't lose its comfort levels along the way, then there's no better choice than genuine leather and suede.
Durability
In the previous section we talked more about the material type of these designs, and here we have to mention how materials definitely influence the durability of a shoe. Thankfully, the amazing quality of these materials ensures that, at least in that regard, these options are pretty long lasting. Or at least lasting long enough for your kid to outgrow their sandals.

The other important factor in terms of durability is construction, and the way the design is put together. Here, we make a distinction between two key ways of putting a shoe together, and we will explain more about each one:

Stitching: As we mentioned in our introduction, Saltwater shoes had their humble beginnings way back in the 1940s. During WWII the mastermind of this brand created his first pair of shoes out of the scraps of soldiers boots for his daughter. This design is a staple of the company even today - you've seen it in The Original.
The secret to constructing a long lasting design is the stitching. The stitching has to go through to the outsole to give a very sturdy design that can last for years without any noticeable change to the quality. Fortunately, many options from our list are constructing using just that method.
Adhesive: Many of the Sun-San line footwear has an adhesive to hold the item together or for attaching the outsole to the midsole. These products are still very durable, only not as long-lasting as the shoes that come with stitching through the outsole.
One major difference is that those that use adhesive will actually have a more cushioned midsole that surrounds the bottom of the foot to offer a supple soft feel and protection against rocks or sharp objects. They still offer the quality and the longevity this company is known for.
Fit
Leather is a material that stretches to fit the foot perfectly over time.

At first, a design can feel tight and cause blistering. Something that will help with stretching a shoe out faster and make it more comfortable is soaking it first. After you soak the shoe, you can walk with it around the house and it should stretch out and not feel tight anymore. If you have a higher instep it might be better to have a strap across the top of the foot that has an adjustable buckle.

Some sizes in our guide may run narrow. If the foot is wider, it may be necessary to order a size up or measure the foot to ensure the perfect fit. If ankles are thicker, although the ankle straps are adjustable, they may be too short for chubby toddler ankles. Below, we'll go over the most important things to think about in regards to sizing:

Leather stretches so a tight fit at first may be okay
To stretch the leather you can soak the shoe in water and walk around in it
Keep in mind that some styles may run narrow
If ankles are thicker or chunky, make sure to measure the ankle width before purchasing
If feet are thicker, an adjustable closure may be best
Always remember to measure feet to get the perfect fit
These tips will help ensure that you buy a perfect design on the first try and there is no time wasted dealing with annoying returns or exchanges. The footwear on our list is well crafted and if you manage to find the right size, it will last for years before breaking down or showing any signs of wear and tear.
Our Favorites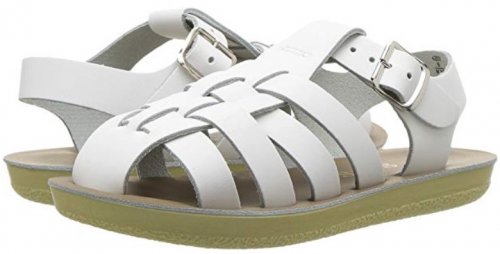 The Sailor belongs in the closed-toe sandal assortment, making it perfect for little ones who are prone to bumping into things and stubbing their toes. It is of similar design as most other items on our list - simple and minimalist, made from high-quality leather and with a woven pattern that keeps the upper together. The adjustable ankle strap provides all the customization your kid will need to conquer the next summer adventure!
Unlike some options here, which come with fit issues, the Sailor is specifically built to have a wider footbed, and thus to accommodate chubby toddler feet. It has a cushioned lightweight sole, and ample protection against hard furniture and other obstacles one could find themselves in front of during their exploring.

The genuine leather on the Sailor is scuff-resistant - which is very important if you're not yet 100% sure of your steps! - and it is also water friendly, which is rare for leather footwear. Indeed, this is what makes Saltwater options stand out, and why the Sailor is that go-to design to take your kid from a fun time at a pool to a fun dinner with family!

If you are looking for something that can be worn every day, and which will withstand somewhat rougher conditions, then the Sailor is that perfect choice. It will keep your little one comfortable, protected and secure, and we can't think of a more well-rounded design than this one. Go for it!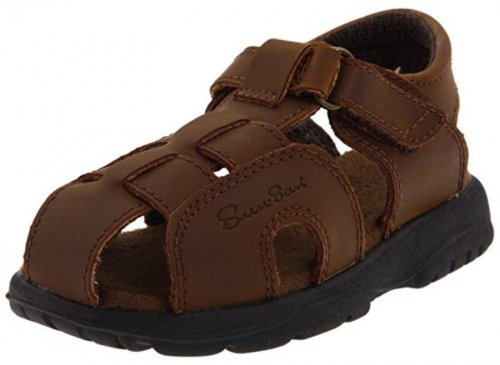 Now here is a true fisherman sandal design! The Shark 2 is fierce and uncompromising, and it comes with all the features necessary to make your child's walking experience a legendary one. It is made from premium leather that remains soft and supple in both dry and wet conditions, and it has that rugged, outdoorsy look that is simply adorable for the youngest ones! Take your kid on an exciting walk outside in their new, fabulous shoes!
The Shark 2 has a protective closed-toe silhouette, as well as a soft fabric lining and a suede insole. Suede is a plush fabric that is wonderfully soft to the touch, and it will make sensitive little feet so happy. The wide fit of the Shark 2 will work even for the pudgiest of feet, and you won't have to worry about squeezing anything inside!

What we're especially in love with on the Shark 2 is its closure. While almost all other items here have a buckle closure - which is tricky to maneuver for a toddler and even trickier to deal with when you are the one putting shoes on the toddler - this is a hook-and-loop strap! What refreshing simplicity! Thanks to the velcro fastening, getting in and out of these is a piece of cake!

The Shark 2 is everything you will ever need out of a cool, functional toddler design. It is water friendly, it is comfortable, has ample room for wide feeties, and also has a protective quality! Truly, we are hard-pressed to find a flaw in this design, and we are sure that you won't be able to, either.



This timeless item was the first Saltwater design, created in 1944. It has stood the test of time and has become increasingly popular ever since. The weaving on this option is a beautiful accent. The genuine leather uppers are scuff resistant. The ankle strap securely keeps the foot in place. The bottoms are created to be slip resistant for extra security. The hand stitching ensures attention to detail. The fitted leather soles are soft and, after a short break-in, will mold to the feet easily.
The Original is handmade, and its leather uppers and lining are fitted for maximum comfort. The leather is treated for wear in the water and quick drying. These will definitely not show signs of wear for years after purchasing. They can be machine washed for easy cleaning but it is not recommended to put them in the dryer. The rubber sole is molded and hand stitched for extra comfort and extra grip on diverse terrain.

The Original certainly comes in handy on hot days. It can be worn in and out of the water for a less fussy experience. This option is quick-drying, breathable and comfortable. It's like it was created to be perfect for beach weather.

The tested longevity of The Original is a great reason to make this purchase. Its materials are high quality and the stitching is secure, which is important because this determines the durability of a design. The Original is simple, convenient, and will last you years.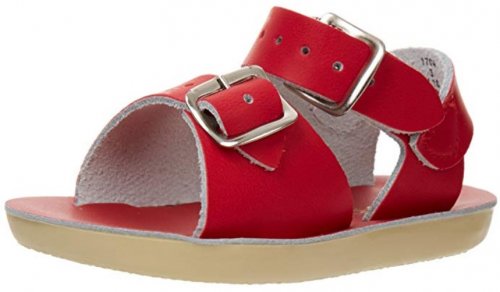 The fabulous Surfer has adorable buckles for a firm fit that will keep rocks and shells out from under feet. The buckles are brass to keep rust at bay. The colors are lovely and vibrant. Going from sea to land won't be a problem for anyone with no time to dry in between. These are quick-drying and won't cause any discomfort. If a wash is needed, a quick hose down or a rinse in the ocean will suffice and after a long day of grime, a wash in the washing machine will keep these looking good as new.
An impressive architectural element on the Surfer is the adjustable brass buckles. These not only add remarkable flair to an ensemble but they are also adjustable for the most comfortable fit. The buckles will be able to handle sudden weather changes and varied environments easily. Aside from their durable nature, they are very secure and will remain lovely for years.

The choice of materials for the Surfer is quite impressive. The breathable uppers and footbed last for years and the materials themselves are specially treated for wet/dry wear without cracking. They are also resistant to marks and scratches, and the Surfer comes with a leather lining, which is a smart choice for a comfy fit that feet can sink into.

The Surfer will handle abuse well and the brass buckling is resistant to rust and wearing out. The midsole holds its form for a long time as well. If you are looking for something that can take abuse and is resistant to scuffing, then this is the design for you, as it can handle almost anything life throws at it. The Surfer is also very versatile in any kind of situation.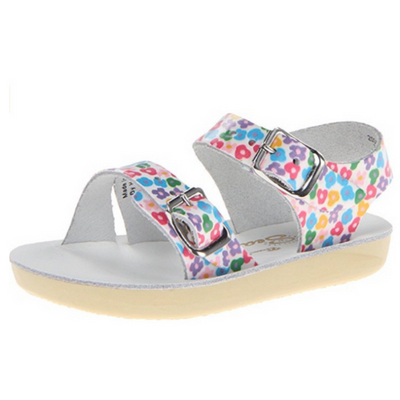 The Sea Wees is comfy for little toes everywhere. The toe area offers great flexibility, which will make walking easier. The footbed is built for stability, with a grippy outsole for no slipping. The ankle strap also holds for extra stability and no unexpected tumbling. These are easy to clean and fast drying for wet/dry wear. The Sea Wees is wonderful for twinning with the little ones and standing up to sand, dirt, rough terrain and hot days.
The urethane material in the midsole is very light. This type of midsole stands up to wear and tear easily. The urethane is resistant to cracking, heat, abrasions, and provides superior cushioning and flexibility. This creates a constructive force that surrounds the foot in a unique way.

Many elements of this design come together to create a perfect fit. The straps are genuine leather and the strap over the top of the foot is adjustable. The ankle strap will help with an extra secure feel. The leather lining allows for extra airflow and easy relief. The light nature of this design will gift the wearer with extra-long standing power for long days.

The Sea Wees happens to be a very secure design. Its straps are adjustable for a customized fit, and the thick midsole creates an ultimate experience for a cushioned and supported feel. The flexible bottoms allow the foot to have a natural range of motion and heel to toe flexion.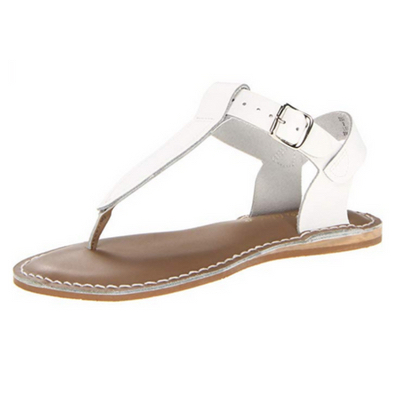 The T-Thong goes from casual to dressy in a snap. This easy warm-weather design was created for a breezy look and long-term use, lasting through summers of galavanting with friends, of parties, skirts, shorts, jeans, and other outfits. The ankle strap ensures that your footwear will stay in place. The lining is created from a specially treated hide that is breathable and molds to the foot to keep sweat at bay and to provide a revitalizing stride.
Channel your inner goddess with sandals whose origin can be traced back to ancient Rome. Although Romans were excellent shoemakers, modern elements make this design more durable than ever in casual and semi-formal environments. The T-Thong is a minimalist design and is wonderfully crafted for regular use.

The outsole of a shoe is an important aspect. The material used in the footbed and the outsole of the T-Thong, although thin, allow for elasticity. The decision to use a component that is resistant to cracking and wearing out delivers an item that is dependable. Even rain won't ruin this design, or its unassuming but resilient construction.

The simple and straightforward T-Thong is sublime and fashionable. Its magic is in the materials, and the stitching that goes through the bottom of the shoe. This allows for long-lasting wear. This is the strongest stitching for a durability that won't quit.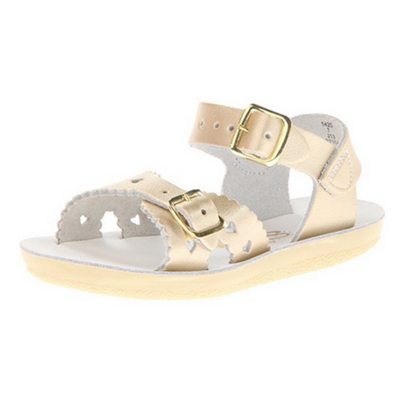 Staying up on the latest trends even for little toes is a top priority for fashionistas everywhere. The Sweetheart is renowned as being the top choice for celebrities. The cute heart-shaped cutouts look adorable on little feet. This design is wonderfully dependable as well, lasting through even the harshest of environments, while at the same time surrounding the foot with comfortable padding and an airy feel. They can last both through seafaring adventures and long family dinners.
The adorable Sweetheart not only has an appealing look but the double buckle closures, over the top of the foot and the ankle, allow for an adjustable fit. The outsole is rubber and has great grip ability to conquer any jungle gym and even daring dashes across freshly mopped floors.

The Sweetheart has no issues when moving from wet to dry environments. The stitching holds for very long and just the fact that the design is stitched speaks volumes of its durability. You don't have to worry about this option falling apart any time soon, no matter where your little one is wearing it.

The attention to detail on the Sweetheart is impressive. The heart cutouts offer a very feminine touch. These also have a wide variety of colors available, from neutral to bright. They will match almost anything your heart desires for a unique outfit. The option to wear them in or out of water is very welcoming and the leather-lined footbed and uppers stretch over time to create a perfectly balanced shoe.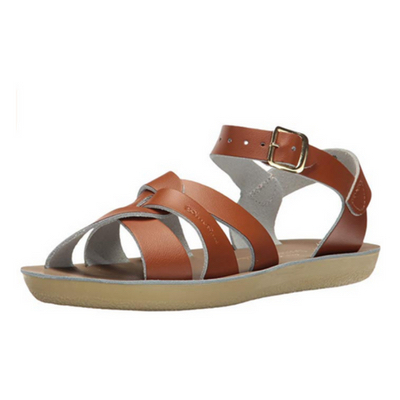 The Swimmer Flat offers extra room for chubby feet. It comes in three colors and is super stylish for a fashion-forward approach. It is fairly priced for its quality and longevity. The style is adorable and the weave pattern is very reliable. Leather is a material that will mold to the foot over time for the perfect fit.
Since this is a design for the little ones, fast-growing feet is definitely something to consider when shopping for footwear. You want to make the most out of your purchase, but you also don't want to have to squeeze little toes into footwear that has become too small for them. The Swimmer Flat offers a bit of extra room, and the fabrics come with a little give, which makes this option perfect for longer wear.

Soft skin on the bottom of the foot can be susceptible to cuts and scrapes much more than tougher skin. Protective footwear can be a major game changer. Secure strapping on the Swimmer Flat will keep the foot firmly in place and thicker cushioning will allow for a breezy feel. This will offer superior relief and protection.

The coloring of the Swimmer Flat has a hue that won't fade. The brown hue can go with a variety of everyday attire and is very sleek looking. The sandal is easy to strap on and is cozy without being oppressive. These are very well made and with a superior construction; thick enough in the midsole to add support that forms to the shape of the foot and light to keep foot fatigue at bay.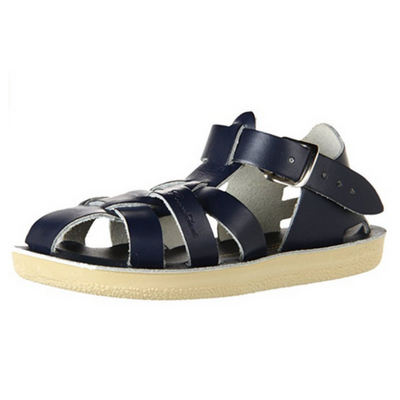 Warm weather footwear that protects toes is required at times. This classic fisherman sandal with weaved leather straps on the upper is an artful conception. These are water friendly and are quick drying. They are created to stand up to the grimiest of circumstances and are easy to clean. This design has been time-tested and comes with the airflow and cushioning that leaves feet feeling refreshed and energetic.
The world is full of dirt, sand, oil, water and other elements that can destroy your shoes. This is why footwear that is resistant to the elements is a necessity for everyday wear. On the Sharks, even the buckles are composed to resist corrosion. The leather is fashioned to withstand wet conditions and makes for easy cleaning.

The Sharks is crafted for long-term use. Even the footbed is thick for extra cushioning and was made to gently hug the foot. The leather straps and weaving provide extra protection. The upper is created in a way which increases airflow to prevent sweaty feet. The lining of the footbed delivers extra ventilation for hot feet.

Traditional sneakers can be very hot in warmer weather. This makes it imperative that footwear for running and playing provides protection for toes. The weaving of the Sharks around the foot safeguards against harm from scraping and cuts that could happen to more active kids. The thick midsole acts as a buffer for rocks and sharp objects without sacrificing flex for easy walking.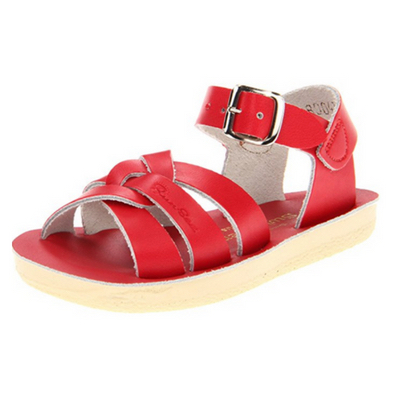 This is an adorable design reminiscent of sunflower patterns against a white backdrop. The feature on the upper adds a feminine touch. This shoe is styled for casual or formal wear. It was designed to be secure fitting and to keep the foot in place. The softness of the Swimmer is unmatched.
The natural leather upper of the Swimmer holds color very well. This creates a more bright and aesthetically pleasing design. Most colored leathers will fade over time. These, however, these have the uncanny ability to hold the color long term. The fact that the leather is treated may be a major reason for this fact. Treated leather will even hold up when worn in water and will stay vibrant throughout.

Feet can get easily tired, especially for younger ones who are prone to jumping, climbing and running all day long. It's important to equip them with footwear that is contoured and lightweight to keep tiredness at bay. The material that allows for such a light feel is the urethane sole.

Wearing footwear that is unbalanced and not made for feet long term use can be detrimental to the alignment of the body. This is why when choosing a design one must remain diligent to choose lightweight footwear that keeps toes feeling comfortable and refreshed.

The Swimmer can last years with only minimal care. It is incredibly easy to clean up, with just a quick wash in warm water. The thick padding offers an air-like feel that maintains its integrity over time easily. The Swimmer looks great on feet and will be something that others will compliment often.

Subscribe to our Newsletter