Best Fisherman Sandals For Nature Enthusiasts Reviewed & Rated
In a Hurry? Editors choice: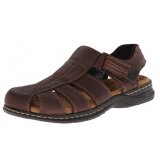 Test Winner: Dr. Scholls Gaston

When you read the title I bet you thought of your dad on a Sunday morning, drinking his coffee in a pair of men's fisherman sandals?! But did you ever think there might be more to this style of footwear? These summer shoes have existed for centuries and are worn by both men and women of numerous cultures and ethnic backgrounds.

This style of footwear is made for those leisurely days spent in the sun. They were called this because of their open-upper style that allowed water to drain freely from the shoe instead of collecting. These pairs are notorious for being super comfortable to wear and are strappy by design. They're recognizable by their distinct look which consists of a centered strap running from the toes all the way up the foot. This strap branches out at certain points to connect with side straps.
Standout Picks
Criteria Used for Evaluation
Versatility
Now that you've seen the many styles available you're, hopefully, able to choose your ideal ones with ease. This is a classic design that's been around for ages. Whether you're just searching for a casual pair of shoes for grocery shopping or a dressier pair for summer parties on the sand. The great thing about these fisherman sandals is that they're versatile and low-maintenance, which is everyone's ideal combination. They're also comforting and are made to increase your enjoyment with every step you take. These pairs are usually made from leather or synthetics which makes them super breathable and good for pulling moisture away from the skin.
The great thing about the evolution of this kind of shoe is that it's now designed for more specific activities too. There are styles that are geared towards hikers and avid walkers which offer additional benefits and safety features that were never seen with this type of shoe before. What was once a stereotypical lounge shoe has become something so much more! There are even pairs which were designed for women and children, instead of just for men like there once were. The continual growth of any one style of footwear is an amazing process that not every design will get to achieve. It proves that a shoe is worth wearing if it's been around for as long as this one has.
Materials
This is a style of footwear that is usually made from specific materials. The most common are leather, though there are many synthetics that are used today. What makes leather fisherman sandals such a great choice is its breathability and sheer comfort. The leather actually draws excess moisture away from the skin preventing a build-up of sweat and odor-causing bacteria. This keeps your feet feeling fresh and dry all throughout the day. In terms of colors, these styles have traditionally been seen in mostly black and browns, but today they're available in almost every color you could think award-winning.
Most of these pairs have a hook-and-loop closure system, also known as, Velcro. Velcro works by utilizing two strips of material which hook onto each other. One side is covered with small hooks, the other with loops that latch onto each other. This type of closure is extremely easy to manage and make for effortless wearability. Some of this style of footwear has a heel strap which simply pulls over the heel and has no specific closure system. This kind of strap works with the use of a hidden elastic that keeps the strap tight to your heel.
Style
While these pairs have mainly been worn for casual wear, today, there are other design variations available. There are pairs specifically make for outdoor activities like walking and hiking. The pairs made for hiking will be made more sturdy and offer more support from their straps. This style of footwear is comforting for any occasion, but are particularly enjoyable for long walking adventures. They're ideal for small trips to the store, as well as, long journeys along the trails, making these the ultimate in versatile footwear.
If you're planning on purchasing a pair that's made specifically for walking look for certain aspects that will make them more comforting. Things like a padded footbed and adjustable straps are key features for any walker. This will prevent foot fatigue, as well as, keep the delicate arch area well protected from the hazards of the trail.
A good lug patterned outsole is ideal because it will provide proper grip on the loose trail debris like rocks and sticks. This will also provide grip on uneven and slippery surfaces which will prevent any unnecessary injuries from occurring. Safety should always be a top priority when you're hiking on or off the trail.
Comfort
The comfort a pair has to offer is very important to the enjoyment you get from wearing it overall. If a shoe is uncomfortable it can cause all sorts of aches and pains and can lead to rubbing which causes blisters. Once you develop a blister it can be weeks before you're fully healed.
A cushioned footbed is imperative to protect the delicate underside of the foot. If your shoe doesn't have proper cushion the sole of your foot is vulnerable to the hazardous terrain beneath you. Cushioning acts as a pillow-like barrier that keeps you walking comfortably. EVA is an excellent material for the footbed because it provides a supple cushioning.
The sole need to provide a firm structure in order to properly support the arch of the foot. Without adequate support, the arch is at risk of collapse and once that happens you'll be in a great deal of pain. The outsole needs to protect your feet from the ground beneath you, as well as, provide weather-resistance. Rubber is the best material for the outsole because it's waterproof and will keep you well shielded from the elements.
Features
Moisture Control
If your feet sweat excessively inside of your shoe it can lead to a build-up of sweat and odor-causing bacteria. Sweaty feet are uncomfortable and can rub inside of a shoe which will eventually lead to blisters and sore spots. The leather is an excellent material for controlling moisture because it actually pulls the excess away from the skin and pushes towards the outer material. It's also very good for allowing air to flow freely around the skin, keeping you cool when the weather is warmer.
Straps
When it comes to straps it's important that they not rub or cause any friction. Repeated rubbing can lead to painful blisters that could take a week to fully heal. You should be able to comfortably fit your index finger in between your skin and the strap. This indicates that the strap fits appropriately.
Air Flow
Having adequate airflow around the foot is imperative to your feeling comfortable in the warmer weather. The design of this style of shoe is ideal because of its open-concept upper and strappy design. Though if the straps are made from the wrong materials it can actually make your warmer than you should be. As we've discussed, leather is one of the best choices of material to promote airflow around the skin. Along with leather, a mesh is also excellent for breathability. Be sure that your pair doesn't have a heavy fabric upper or straps because this will only worsen the breathability and can lead to overheating. If your feet are too hot it causes excessive sweating and can cause your skin to rub against the shoe. Once this happens it won't be long before a painful blister develops. Blisters can take weeks to fully heal.
Traction
Having a good grip on the surface beneath you is imperative! Without it, you could slip and injure yourself which is why having a pair of footwear with some kind of tread is essential. Look for options with rubber outsoles because rubber provides the best grip, even on wet or slippery surfaces.
Top 10 Fisherman Sandals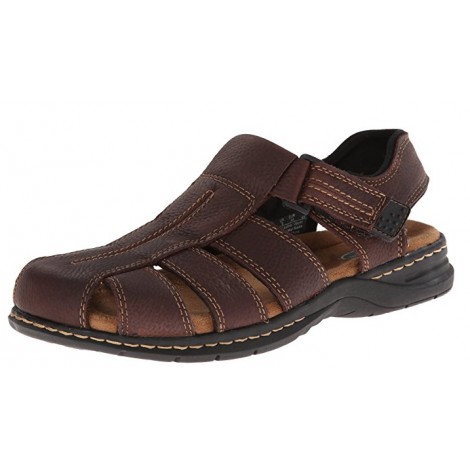 The Gaston from Dr. Scholl's is a comforting pair that boasts a supple leather upper and non-slip rubber outsole. These summer shoes fit perfectly thanks to their adjustable instep strap and hook-and-loop closures. A neoprene lining pulls moisture away and keeps your feet free of excess sweat so you can feel dry and cool.
Customizable Fit
The Gaston offers an adjustable instep strap that lets you adjust the entire area of the fit. Its hook-and-loop closure puts you in control and lets you adjust them to fit your feet perfectly. The Gaston is the ideal choice for warm summer days or simply for lounging around the yard.
Design
The Gaston features a rounded toe which makes for easier strides and prevents tripping. It also minimizes the size of the foot and gives the illusion of a smaller structure. Their non-slip outsole keeps you steady on your feet even on wet and slippery terrain so you can walk with ease.
Cost and Value
While this pair costs a bit more than others featured on the list it's an excellent value for the price. The Gaston is made with careful details and offers a completely custom fit. Your feet will thank you for this comforting ride!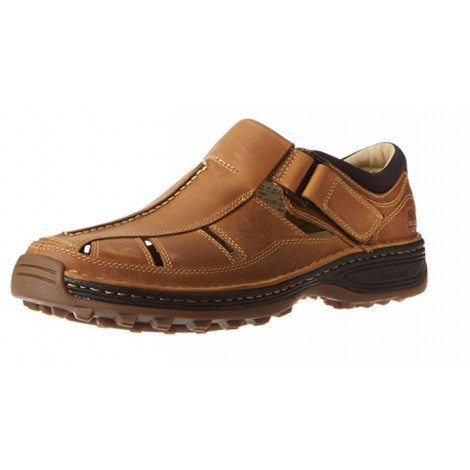 This pair is both stylish and trendy while still offering a casual feel. This modern take on a classic style hits a home run for both comfort and wearability. Its classy appearance tops world-class features such as climate control lining, Comfort System technologies, and a supportive nylon shank for proper shock absorption.
Orthotic Insert
The Altamont features a removable multi-density orthotic insert. It offers excellent cushioning and support for whole-foot enjoyability. This replaces the need for separate orthotic inserts or orthopedic shoes and it's designed to improve the overall health of your feet.
Climate-Control Lining
These Timberlands are ready to handle the hot weather thanks to their built-in climate control lining. It provides a long-lasting and ultra comforting experience that is perfect for keeping feet cool when the weather is scorching.
Cost and Value
This pair costs a bit more than others on the list but its a worthwhile investment. Your feet will feel the best they have in years thanks to its built-in orthotic support and super-cushioned insole. Beat the summer heat with the Altamont which includes a climate-controlled lining.



The Burke 2 from Northside is an athletic pair that's perfect for hiking both on and off the trail. It's tough neoprene upper can withstand any terrain so you can roam freely. A multi-directional rubber sole provides superior traction on any terrain, including wet and slippery ones. This athletic option is ideal for the adventurer at heart and will keep you walking comfortably for hours on end.
EVA Midsole
The Burks 2 offers an EVA midsole that's super lightweight and provides the perfect kind of cushion. EVA is a man-made foam resin material that's notorious for its supple cushioning that's still firm enough to support the delicate underside of the foot. Improper support can lead to a collapse of the arch which is extremely painful.
Neoprene Upper
A tough-as-nails neoprene upper unit offers a lightweight and breathable design. Its built-in air mesh lets air circulate freely around your foot preventing a buildup of sweat and odor-causing bacteria. Feel as fresh as possible thanks to Burke's open upper construction and breathable materials.
Cost and Value
These fisherman shoes are very inexpensive and offer great value for their price. Designed with performance-enhancing features, this pair is made to provide complete whole-foot comfort. There bungee lacing system saves you time and hassle for effortless on-off wear. Whether you're planning on hiking, walking, or biking this is the pair that will carry your feet where you need to go.

4

. Skechers Relaxed Fit 360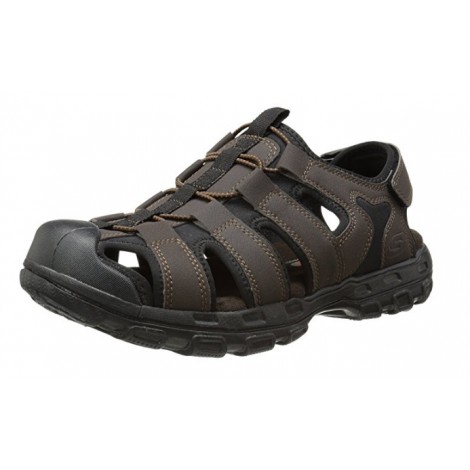 These Skechers summer shoes are very stylish in design! They're manufactured by one of the biggest names in footwear and certainly live up to the expectations. The Relaxed Fit 360 offers a protective toe cap and ghillie-styled laces, along with a pull-on tongue loop. These features make for effortless on-off wear, while a hook and loop closure at the rear allows for a completely customized fit.
Adjustability
This pair offers a unique adjustable design that puts you in complete control off of it. A hook and loop closure system makes for effortless adjustment and allows for complete whole-foot customization.
Protective Toe Cap
These Skechers sandals offer extra protection in the delicate toe area. They feature a safety toe cap that encloses the sensitive area around the toes inside of a secure structure. This is the ideal design for hikers or anyone wanting to walk off-trail because your feet will be safe from any potential hazards along the way.
Cost and Value
These are relatively well-priced options. They offer incredible style and comfort, along with an athletic performance-geared structure. Skechers is a household name that is synonymous with quality craftsmanship and detailed footwear, their shoes Make for effortless wear and deliver time after time.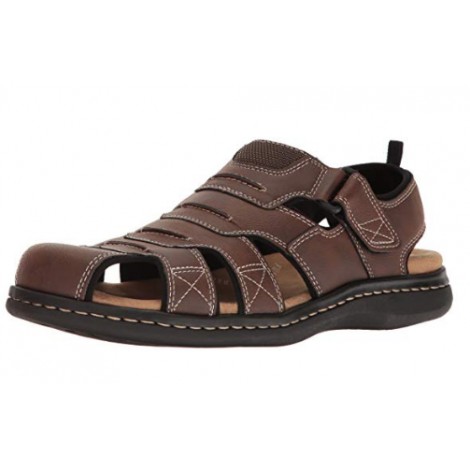 This Dockers pair is an updated twist on a classic style of footwear. It's made from synthetic materials that are lightweight and breathable for comforting wear. It's memory foam contours to the shape of your foot cradling every curve, while its flexible construction lets you move the way you want to.
Memory Foam
Memory foam is a unique material that molds to the shape of your foot when you step down. Its heat activated and retains the impression for ages to come. This makes for a customized kind of feet that will feel like this shoe was made for your feet only.
Distressed Upper
This pair has some character to it! It features a distressed and tumbled upper look that is unique in appearance. You'll look sharp in a pair of these whether you're headed on for a Sunday sail, or a casual stroll around the neighborhood.
Cost and Value
This Dockers shoe is quite affordable! You can look your best for fewer thanks to these stylish summer shoes that were made for walking. Their comforting design and memory foam footbed will have you feeling as good as you look.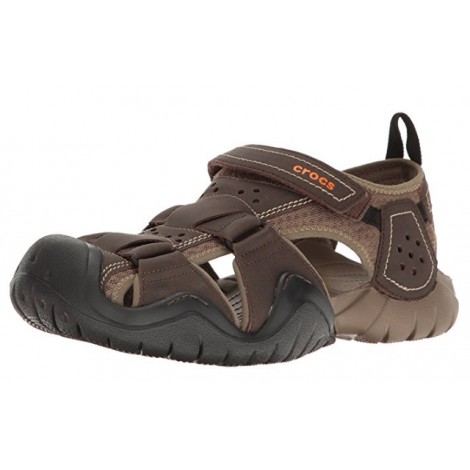 This pair offers classic Crocs comfort with an added bit of character thanks to its leather straps. They feature a comforting footbed that massages your feet with every step. This pair is fast-drying and water-friendly, so go ahead and hit the surf in style! Side drainage holes allow for adequate airflow around the foot and double as drainage holes.
Croslite Foam
Croslite is a unique foam resin material that provides a supple underfoot feel. It's made to provide support while still keeping your feet well-padded. Croslite is part of the Iconic Crocs comfort and is their creation that's both innovative and award-winning.
Drainage Ports
The Swiftwater offers side ventilation pockets that double as drainage holes. These ventilation holes allow air to flow freely around the skin keeping your foot cool and dry all day long. This pair is perfect for water-related activities so you can transition from surf to city streets with ease.
Cost and Value
Swiftwater is relatively inexpensive though it does cost a bit more than some pairs on the list. Anyone who enjoys the outdoors will benefit from this comforting and athletic-style summer shoe.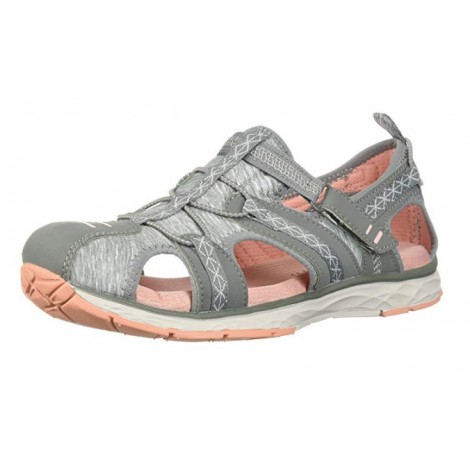 The Archie from Dr. Scholl's is made from a lightweight and breathable fabric that keeps you cool and comfortable. It's memory foam footbed and EVA midsole are both comforting and flexible. An easy hook and loop fastener and rear pull tab make for effortless on-off wear, while their super cute design is perfect for those long sunny days spent on the go.
Stretch Cord
The Archie features front bungee stretch cording that allows for a perfect fit and prevents any flopping or sliding off. These are ideal for the athlete at heart thanks for their secure form-fitting design and comforting structure.
EVA Sole
EVA is a lightweight man-made foam resin material that acts as a supple cushion and is perfect for footwear. You will love walking in a pair of these thanks to their airy and lightweight feel that pushes back with every step.
Cost and Value
This pair is very inexpensive and is accessible to individuals from any walk of life. They provide excellent value for their price and are made to keep your feet feeling great while you're on the move.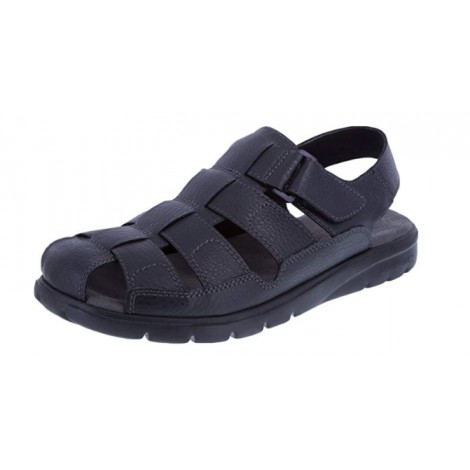 The Tuscan by Dexter is a comfy and low-maintenance pair of summer shoes. They're ideal for those casual days off spent lounging around the house or out in the yard. This pair is also very comfortable for walking thanks to its memory foam footbed and lightweight structure. A tumbled upper and supple lining give this shoe a distinct appearance that's all its own.
Memory Foam Footbed
Memory foam is a comforting material that conforms to the contours of your foot. Once it shapes to your foot it retains the imprint to offer a customized fit every time you wear them. This is an enjoyable pair to wear and it will keep your feet feeling their best for hours on end, even with long walks or light outdoor activities.
Hook & Loop
Velcro, the most commonly known hook-and-loop closure, makes for effortless on-off wearability. It works by utilizing two strips, one with tiny hooks, the other with tiny loops. They interconnect with each other with ease for no-fuss wear.
Cost and Value
The Tuscan is very inexpensive and offers great value for the price! They are designed with comfort-enhancing features and were made using quality craftsmanship. These are the ideal shoes for outdoor activities or casual days spent in the garden.



The Swing Sky is a leather pair that's professional in appearance, yet casual in design. They feature a full-grain, high quality upper and a supple structure. A cushioned insole keeps you walking comfortably for unparalleled enjoyment. Go ahead and wear these wherever you may choose to roam because they'll look good no matter the occasion.
Rounded Toe
The Swing's rounded toe minimizes the appearance of the foot making for a smaller looking structure. A rounded toe offers more security while you walk and prevent unnecessary trips or falls that can occur with a square or pointed-toe. This shoe is designed for a casual yet chic look and is perfect for wear around the house or while you're out on the town.
Adjustability
These shoes offer an adjustable hook and loop heel strap. This allows for complete customization and provides one-of-a-kind wear that is unique to the structure of your foot. You'll enjoy the made-for-you feel this pair offers and you'll love how they put you in control every time you wear them.
Cost and Value
While these Clarks might cost a bit more than others on the list, they're certainly worth the expense! Clarks is notorious for crafting quality footwear that puts your comfort first and that's exactly what the Swing Sky is all about. Anyone looking for a shoe that is comforting while you're on your feet will love this pair of casual summer footwear.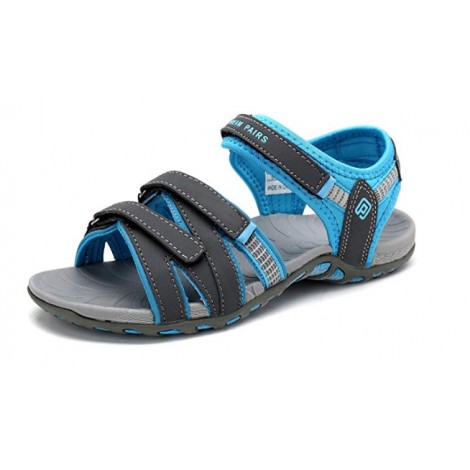 These dreams are made for the adventurer at heart and feature a durable rubber outsole that prevents accidental slips or false. They have a lower one-inch heel and supple EVA cushioning that makes for the perfect foot feel no matter the terrain. This shoe offers an Updated Take on a classic style and is ideal for those who enjoy the outdoors.
Rubber Outsole
Rubber is an excellent material for wear on any terrain, including wet and slippery ones. It offers complete waterproofing and a non-slip structure that keeps you secure on your feet. So go ahead and venture off-trail because these shoes are ready to transition from city street to nature retreat with little-to-no effort.
Breathable Materials
This Dream Pairs shoe is made from synthetic materials that are both lightweight and flexible while allowing for adequate airflow around the foot. This prevents a buildup of sweat and odor-causing bacteria keeping you cool and comfortable for hours on end.
Cost and Value
This summer shoe is very reasonably priced and offers great value! Its flexible and comforting style mixed with a Supple EVA cushioning and non-slip rubber outsole make this shoe the best choice for those who love the great outdoors.

Subscribe to our Newsletter