Best Wide Width Sandals For Wide Feet Reviewed and Rated
In a Hurry? Editors choice: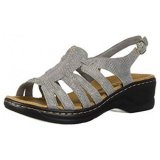 Test Winner: Clarks Lexi Marigold

If your
feet are wider
than standard measures, you go looking for new shoes with legitimate hesitation. Besides looking for an appropriate size, a style that suits you, and the comfort you need, you are also left to wonder whether or not they have shoes that will accommodate your wide feet. How exactly do you choose a proper wide width sandal? This is where we come in! We have gathered a list of the best wide width
sandals
you can get in today's market. You have a lot of choices – if you need some for an upcoming event, we have it covered! Or, do you just need some for everyday use, or even for trekking? We thought about that too! So sit tight and read on to find out just which pair is right for you!
Standout Picks
Criteria Used for Evaluation
Fit
What are exactly the benefits of wearing wider shoes? Why don't we just get a bigger pair – it has more room, right? Well, not exactly, there are many benefits to getting a wider instead of a bigger pair, and we will elaborate some of those for you. For starters, as you already may know, shoes come in different sizes – narrow, medium, wide and extra wide. If you have been blessed with wider feet, and are not getting yourself the proper size, you might not be doing yourself a favor. Wearing the right kind of sizing for you is essential to get through the day, for any kind of activity you have planned. How can you make sure that the footwear you just got isn't in fact too small, that it just needs to be broken in instead of being sized up? Here are some pointers to help guide you along the way:
Check the widest part of the shoe: If there is a small bump visible there, you might need to upgrade your pair to a bigger size. That means that your toes are being squeezed tight inside, and they do not enjoy that – you might develop blisters or even corns!
The formation of bunions: A bunion is a bump that your big toe creates when it's cramped inside an inadequate shoe. It can be sensitive to pressure, and if you do nothing about it, you may even need surgery to correct it! So if you notice one of these bad boys forming, it's a surefire way to know you need to rethink your size!
Hammertoes: It might sound like a dance move, but believe us it's not. This is a condition where your toes start to get a claw-like appearance, which happens when they are squished for a long period of time. If you really want to wear those narrow or pointy-toed shoes, please do choose to wear them for short bursts of time!
After you go through all of this, we are sure you will realize how important having the right fit is. It's not only important for your health, but for your looks as well. Think about it – how many times have you seen people struggling to walk, their gaits altered by ill-fitting shoes? If you wish to avoid all of that, make sure to measure your feet and check a shoe size chart before rushing off to spoil yourself with another pair!
Comfort
Is comfort really that important in a shoe? Will it be so bad to sacrifice your poor little feet in the name of beauty and extravagance? Maybe not for a little while, but if you decide to do just that on a daily basis, you're in for a world of trouble. It is not enough to have pretty, cute shoes – they must also be a welcoming environment for your legs. Uncomfortable shoes can bring a numerous amount of problems – bunions, corns, calluses, sore feet and thickening of your problem areas. Besides that, it can also affect your mental health – you know you feel anxious and irritable when you feel pain, how well do you think you'll feel after caging yourself into something that will bring you pain every step of the way? It also affects the way you walk, is it worth to have ravenous shoes if you end up limping and hopping just to get around your office?
Maybe opting out of that pointy toe shoe will do you good in the long run. You might be sad that your outfit is not complete, but that sadness will follow you only through one day. The sadness of having ill health because of shoes will be much greater and longer lasting. Imagine this – most often, lower back pain is caused by uncomfortable shoes! And your knees and leg muscles suffer as well – so change up your routine and choose a better fit, or get a more expensive pair, perhaps even handmade to your measures.
Adding the appropriate bedding and insoles can also do wonders for you. Walking on clouds will relax even the most irritable minds – knowing that your every step is good for you will surely make you relaxed and overjoyed to be alive. Always walk around the store before purchasing – make sure they have enough room for your feet, and if they feel tight, ask the salesperson to try on a wider size – maybe that's what you need! So be sure to have adequate footwear, it will do you wonders!
Materials
Having shoes made from quality materials is key to a durable, everlasting and comfortable shoe. It may be better to pay more for a better shoe, but sometimes, we can't afford that, or some of the properties of that particular material are not what we are looking for right now. In that name, we have gathered a few qualities of the materials most often used today. Most commonly used materials are leather, textiles, synthetics, rubber, and foam:
Leather: This super sturdy material is a very common shoe ingredient. It's sturdy, yet flexible, elastic, but it resists any kind of tearing and abrasions you put it through. It both insulates your feet and keeps a steady supply of fresh air. It also molds perfectly to the wearer's foot – the only drawback is the longer break-in period. Other drawbacks include the fact that leather is very expensive, so it may not be available to anyone. It's also heavy, and vulnerable to water damage, so you will need extra cash to get a spray or ointment to protect it. And, it can get very hot, and you can imagine how uncomfortable that can be. It is also made from animals, which can stir up some controversy.
Textile: This is also one of the more common materials used. It comes in a huge variety of colors and can be altered in many ways. The most common textiles used are cotton, polyester, wool, and nylon, When buying a textile shoe, all of that must be taken into account because those materials offer different levels of breathability, durability, support and many other things. Textile is cheap, which makes these shoes affordable to many people.
Synthetics: Also known as PU leathers, or simply PU. They are made from two layers – a surface on the outside that sticks to a layer made from polyester fibers. They are most commonly used to create sports apparel. A variety of colors and textures offer the buyer a lot of choices. They are also very cheap but compared to leather and textile, they are not very durable and tend to fall apart the quickest.
Rubber: Mostly used to make the soles. It is the most popular material used to create the outsole of sports shoes. It is not so environmentally friendly, which is a minus, but a greener type is being created, and we hope it will see the light of day soon enough.
Foam: Provides support in most of the uppers made today, whatever they are made from. It has two forms: open and closed cell. All of the foam today is created from plastic. The difference in open and closed cell foams can be deduced just by looking at their names – the open type is more permeable, allowing both gs and liquids to pass through, while the closed type does not offer that.
There are much more different materials used to create shoes today, but they are not as common so we may have missed some on this list. Depending on your needs, the occasion you need them for and the duration of usage, you will need different types of materials. Nevertheless, you now know what kind of materials are used and just what for they are used, and that in turn may make shopping for your new pair much easier. We hope you find just what you are looking for!
Durability
Finally, let's take a moment to consider the durability of a design. This is determined by such things as the quality of the materials (see above), the construction techniques used, how often the design is worn, in what conditions and so on.
You can rest assured that only the finest, most carefully honed methods are used in the making of these options. The attention to detail is like no other we've seen, and all the connections will withstand the test of time, providing you with a design that you will be able to wear for years to come.
In terms of materials, we mentioned how leather and PVC are durable. Leather might require some care over time, such as cleaning and conditioning to maintain its suppleness, but overall, it is a small effort to put in to have your shoes look as good as new season after season. PVC, on the other hand, is easy to wipe clean with only a damp cloth, and requires no conditioning. It is strong, resilient material that not even water can harm, and the jelly options we've introduced are virtually indestructible.
While durability is important, especially when it comes to a somewhat pricey brand like this one, it is also important that you don't hold back from wearing your shoes just because you're afraid they'll break down quicker. All footwear has an expiration date, and there's pretty much nothing we can do about it.
So wear the heck out of your Jack Rogers sandals! Slip them on, show off your toes, and take on your day with a smile in your new favorite shoes!
Value
Really, value and durability go hand in hand. You don't want to get an affordable shoe and have to sacrifice the durability of the shoe. Conversely, you don't want to sacrifice the durability just to get something affordable. It pays to plan in advance sometimes. If you need to, make a budget and set aside money for weeks or months in order to purchase the shoes you need without having to worry about the cost.
However, if that is not an option as you need the shoes right now, you can rest assured the shoes on our list are highly rated for durability across the board. You will have to determine what is an appropriate amount for your budget personally. We do take into high accord the price range of shoes when making our list. We strive to bring shoes that can easily fit into almost any budget.
10 Best Wide Width Sandals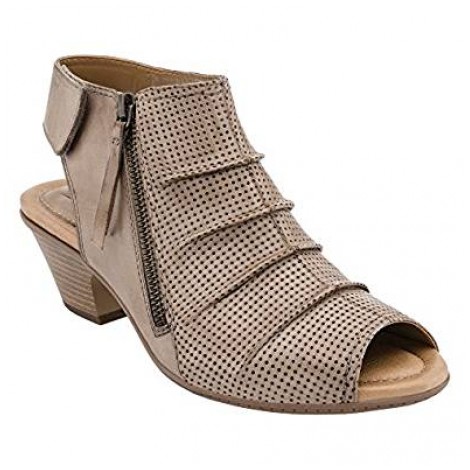 An ankle bootie made just for people with wide feet! A welcome surprise, these fashionable sandals a combination of leather and synthetic materials - the upper and the lining are both types of leather, and the insole is synthetic. They sport a zipper and an adjustable hook and loop closure, providing an easier slip on. The toes are open, ensuring your toes get to bathe in the sunlight as well. Ruching and perforated details can spruce up any kind of outfit you dared to wear!
Features a zipper
High arches unite - we want zippers! Zippers provide the possibility of actually fitting the foot inside; we know how troublesome is to find an alluring pair just to find out that they are too tight, and that there is no way for you to put them on. Fret not, you will be able to give these booties a spin!
Peep toes
Sometimes, we don't want our feet to be completely confined, locked in our tight pair. Peep toes offer our feet more wiggle room, and more breathability, and of course, we get to show off our beautiful nail color!
Cost and Value
These sandals have a lot to give - the intricate details, the comfort, the easier slip on and the open toes. So, do not be discouraged to see a higher price, it's all for a good cause!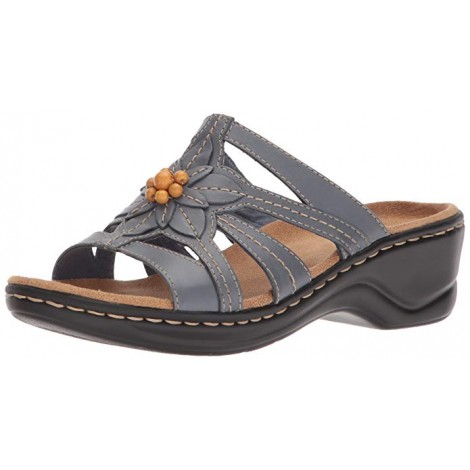 If you need sandals that can be worn for most of the day, as an everyday shoe, look no further. The Lexi Myrtle is the kind of shoe you need! They are leather, which comes in a variety of colors. The soles are rubber so that you won't slide around in them. They are very open, which promotes airflow. The heel is around 2 inches high, and the platform is 0.75 inches high. It has a strappy leather upper with a floral applique and a beaded cluster. The soles are flexible and durable, so they'll last you a long time!
Floral applique
This extra detail is just enough to give these shoes an elegant feel. Without it, it would have been just a regular, everyday slipper - but with this detail added, the monotony of the leather straps is broken apart, and you have a more fun and flirty sandal!
Leather material
The importance of the material from which shoes are made is well known - which is why leather is so highly regarded. It's flexible, durable, and it ensures your feet get the air they need! The upkeep might be a little bit harder, and it could be pricier, but it's all for a good reason!
Cost and Value
This is the priciest item on the list - but it's in first place for a reason! WZith so many positive qualities, we understand just why is it like that -, and after you try these on, we are sure you will understand too!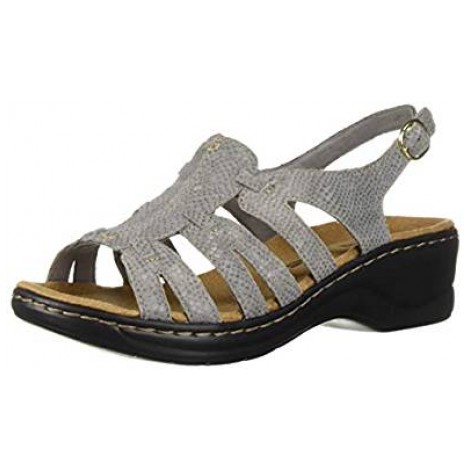 Is your summer footwear giving you trouble just when you look at it? Do you have sad memories about your favorite pair of sandals giving you blisters, or your flip-flops breaking apart while you were walking on sand? This is where these come in! Providing optimum comfort with great security, these are a guardian angel to your feet. They are leather, which comes in a huge variety of colors. The footbed is ortholite, and it has to cushion soft technology. The outsoles are a light-weight EVA type, and the straps add extra security to your feet.
Variety of colors
As many have said before, variety is the spice of life. Does your outfit need a splash of color, or do you need a neutral, everyday kind? Lexi has you covered! They even come with different kinds of leather, both smooth and not, for even more choices!
EVA outsoles
As opposed to a rubber outsole, EVA outsoles bring much more to the table - added shock absorption, more flexibility, and better odor control. They might be more expensive, but the added benefits even it out!
Cost and Value
Clarks shoes are known for their unmatched quality - which is why the price that comes with them is expected. These are not an exception - they are pricey, but provide great assets and technologies, which is why you shouldn't miss out on having a pair!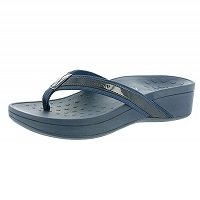 A classic flip-flop with added comfort and width! The heels measure at 1.9 inches, just right for your feet to not fall flat on the ground. They have a dual-density midsole, for optimal comfort! The uppers are a combination of textile and leather with a padded neoprene upper liner! A molded EVA footbed ensures you get just the right fit.
Short heel
Short heels are always better than completely flat shoes - they offer much more arch support and while you walk all of your muscle groups are involved! Just the right amount of height to give the vibe of elegance in combination with an everyday shoe.
Neoprene rubber
Neoprene is a family of synthetic rubbers - in case you were wondering just what that is. It is mostly used for orthopedic braces, and that's just what these sandals offer! The perfect snug fit between your toes, no dangers of losing them somewhere along the way!
Cost and Value
One of the cheapest items on the list! Considering all the great qualities they offer, they are a steal! Great for feet and wallets alike.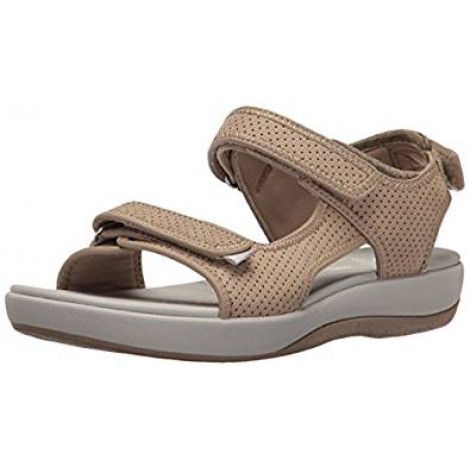 Do you like to trek away summer mornings, does the thought of mountain climbing make your blood rush through your veins? Well, we have found the perfect sandals to match your vigor! They are made from textile, and the soles are rubber. Being cloudsteppers, they are very light and comfortable; you won't even know you have them on you! The straps are adjustable, which is great for when your feet swell up after an all-day walk. And, they have 3 points of adjustability, ensuring a great fit!
Cloudsteppers
Equipped with the cushion soft technology, these offer comfort 24 hours of the day. And being so lightweight, you might even think you are going barefoot. They will take you to new heights, and make sure you do not struggle to get there!
Textile material
Compared to leather options, textile-based footwear may not be as durable - but it's much easier to clean it, and it offers a great amount of flexibility and breathability! The break-in period is much shorter and kinder to your feet, and you won't feel like you are caged in.
Cost and Value
This is the most affordable Clarks item on this list - unexpected, just look at how much they have to offer! Paradise for both your feet and your bank account!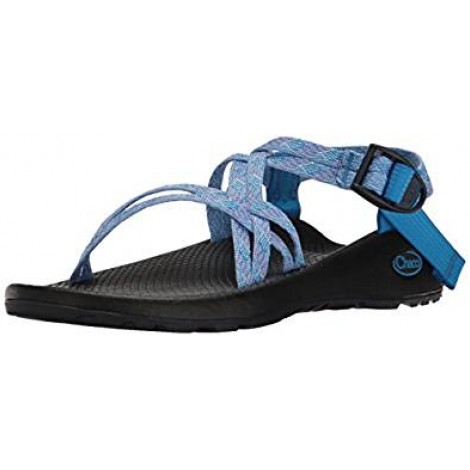 A timeless, yet modern pair, fit for your any need and desire. This dependable sandal comes with jacquard webbing - functional and fashionable. The soles are rubber, and the footbed is a LUVSEAT - contoured arch support! The midsoles are PU, which don't break apart after a long time using them. The outsoles have ChacoGrip, their way of making sure you don't lose your balance. The straps are adjustable, and the buckle is durable, so you'll always be able to adjust them to your feet!
LUVSEAT footbed
We know how important arch support is, and the makers of these sandals knew that as well, which is why this special footbed was brought to life. It's built into every pair of Chaco footwear, a unique way to express concern and care for the shoe-wearers arch and foot health!
PU midsoles
PU or polyurethane compounds do not break down or compress with wear, as opposed to disposable foam. Chaco made sure your feet will have a long-term relationship with these sandals, with no need to change them for a new pair every year or so!
Cost and Value
As one might expect, these are pricey. When you think about all the technologies that are unique and signature to this brand, you should realize that shelling out a bit extra should be no problem at all.

7

. Skechers Young at Heart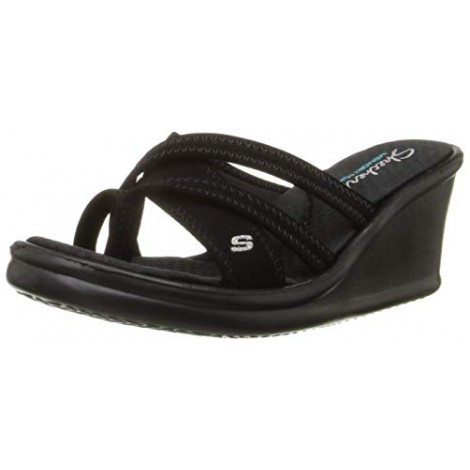 This wedge thong sandal will jumpstart anyone's heart! If you are feeling older, or if your life is dragging you down, slip on a pair to feel exuberant again. They have a synthetic upper with stitching details to make them pop. The heel measures 2.5 inches, and the platform adds an additional 0.75 inches to that height. Also, the heels have a rubber outsole, creating just the right amount of traction. The insoles are memory foam, walking on clouds is guaranteed!
Wedge
What are you to do if you want a little bit of added height, but just don't want to deal with all the discomfort high heels bring? Get wedges, of course, you can never go wrong with that! They're stable, give great arch support, and of course, they are fashionable. Everyone should have at least one pair of wedges in their closet!
Memory foam insole
Comfort is one of the most important aspects of footwear, and we are all familiar with the reasons for that. Skechers went a step further here and added memory foam as an insole - they will "remember" the shape of your foot, providing optimal comfort and no sore feet!
Cost and Value
This pair comes at a low cost - and considering the materials used, it is no surprise, the only expensive part of this wedge is the memory foam. And that is also one of the best aspects of the sandal! If you want the beauty of the wedge and the comfort of a regular flat, then these are just right for you!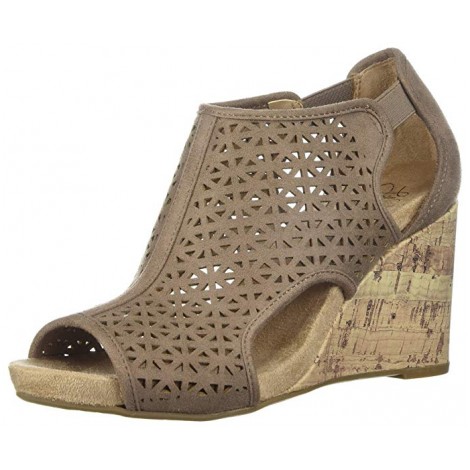 Have our prayers been answered? A cute, sassy dress shoe complete with a wide fit? It cannot be! Oh, but it can, and that's where these sandals come in! The material is textile, and it has gorgeous perforations which add a bold note and extra air. Lifestride gave them a soft system, their way of making our feet feel cozy and pleasant. The upper has an elastic where the ankles should be, making sure you get them on easily and that your feet have enough wiggle room.
Gored straps
Just a leather or textile shoe can be bland and boring - nothing to make it pop, to stand out from the crown. Gored straps were a perfect solution to that! The skin peeking through the perforations add a bit of mystery and intrigue to these cute wedges.
Elastic sides
Do you struggle to pull your foot through a shoe's tight opening? It's very important to be able to easily put on, and of course, take off your shoes, which is just what this elastic hopes to achieve. It ensures that you have no struggles getting in or out of this spectacular pair of dress sandals!
Cost and Value
Drumroll please - this is the cheapest item on our list! And look at the great style and the wide width they bring with them; we were caught off guard when we learned they are super affordable. What a steal!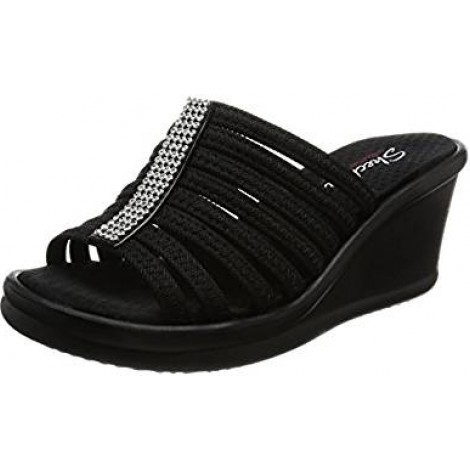 These just scream high fashion - look at the way the upper connects, that beautiful bridge with lustrous rhinestones! The uppers are made out of numerous straps with captivating stitching details. The platform and heel measure around 3 inches together and the insoles are memory foam, providing great support. Bio-dri was added to them for odor control, and it also inhibits the growth of bacteria and other harmful organisms!
Multi-strap upper
Having just one strap doesn't look like it will hold your foot in place firmly, right? This is why these sandalsmanye so much straps - the creators didn't want you to injure yourself while wearing everyday sandals! They add maximum security to your foot, while also giving them enough air and wiggle room.
Rhinestone details
Everyone likes to sparkle! It adds a certain amount of flirtatiousness and friskiness to our everyday lives - just enough to remind us that we can be young and carefree forever. If you want to spruce up your modern, stressful life with a little bit of light, add these to your everyday summer wear.
Cost and Value
Having a medium price is one of the great qualities these shoes have to offer as well - bedryes having bio-dri, memory foam insoles and great support. Honestly, it's shocking they aren't a bit pricier!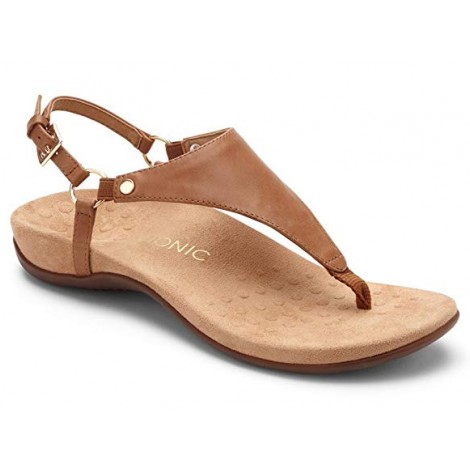 A combination of gracefulness and comfort is never a bad idea - and this is just what Vionic did with these shoes. They are made from leather and even offer a snake leather option. The footbed is an EVA type, wrapped in microfiber. The outsole is a durable rubber kind. They are branded with an APMA seal of acceptance, which is only given to shoe brands that promote great foot health!
Buckle detailing
How much do you hate when you buy a great pair only to find out your foot slides around them as if it wanted to squeeze away to freedom? The extra security an ankle strap adds is always welcome. And if it's adjustable, it's even better! You will never lose your grace or your step with these hugging your feet!
APMA seal
You have to be a special kind of sandal to have the honor of sporting this kind of seal - after a rigorous examination, it is only given to shoes and other related products that are proven to be good for the health. Products which have the seal are also available over the counter, so don't be surprised to see this pair in a local pharmacy!
Cost and Value
A medium priced item is always welcome in our lives. And when it comes with great pros and a sassy look, no one can be happier! So go ahead and treat your dresser with this stylish pair.

Subscribe to our Newsletter