10 Best Rockabilly Shoes Reviewed For A Sassy Flair
In a Hurry? Editors choice: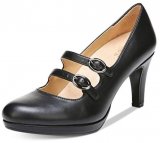 Test Winner: Naturalizer Prudence

Retro is in and more popular than ever. Many brands are catering to those like you who love to look back at the past and pick out the most interesting styles. Usually what you get is that vintage look with a modern update for a more comfortable fit. You will also love that many of the styles go well with modern outfits and can be dressed up or down as much as you like.
Whether you are rocking the rockabilly style for a themed party, work, play, or just for everyday wear, there is certainly a
retro design
with your name on it out there. So sit back, relax, and browse through these cute, irresistible designs with us!
Standout Picks
Criteria Used for Evaluation
Versatility
Rockabilly includes many cuts, colors, and look variations. We wanted to focus on models which had very specific stylistic characteristics and which captured certain retro-old school features.
Category
Choosing the right rockabilly footwear has a lot to do with the event and functionality expected from the item. We zeroed in on T-strap heels, Mary Jane pumps, and oxfords which could be dressed up or down. These types are the most popular for retro-themed weddings and parties, and for vintage lovers who relish adding this to their everyday clothing.
Cuts
The cut of your rockabilly design is a huge indicator of the time frame it was popular in. It also determines how versatile and compatible it is with different looks. Items on this list are placed between the roaring 1920s and the 1950s. These are the more favored years among the rockabilly community. The cuts also provide a degree of moderns appeal as well and can be worn in formal, thematic, work, and casual settings.
Colors
Reds, black, polka dots, fun patterns, and two-toned patterns are all reminiscent of vintage items. For us, it was also important that the shoes have several color options which could either have a modern or retro feel. We also tried to include items which featured patent leather, as this is a material of the highest quality.
Versatility
Some of you are looking for shoes with the intention of only wearing them for a special rockabilly themed event. However, wouldn't it be nice to be able to wear your new footwear with other outfits? In our list, you will find designs which can meet that challenge without any problems. This means you can interchange jeans, skirts, gowns, and anything in between with these babies!
Comfort
No matter what you wear, nothing is worse than not being able to focus on anything but your suffering feet. Footwear's comfort ties directly into its value and functionality. A design can be in your budget and look wonderful, but may not be a good investment because it can not be worn for long.
This is why we looked into features that would provide you with a comfortable fit.
Toe Box Shape and Width: The toe box determines how much toe room you have, which plays a big role in how easy it is to get through a day in your shoes. We looked for models which had a wide or rounded toe box to avoid toes being pinched. Many of the styles featured already possessed this criterion, but some had been upgraded by the designers to meet this need for more toe room.
Width and Stretching Capability: Obviously, all shoes cater to certain widths, and some materials are easier to break in than others. We looked for footwear which would break in rather easily if needed. There are also some models where stretching sprays actually work quite well. It was imperative to have designs which worked with your feet and provided ample width or at least could be broken in.
Heel Height: Heels can make any outfit look great, not to mention that they compliment and visually elongate the legs. Truth be told, many people who purchase rockabilly footwear want a manageable heel length. For this reason, we capped the height at three inches. Flats, platforms, and minimal heels are also included. Practicality is key. There is no reason for anyone to have to wobble their way through any event using this guide.
Style
The most popular vintage and retro shoes are Mary Janes, saddle oxfords, pumps, and retro sneakers. Mary Janes, oxfords, and pumps are best suited for formal, semi-formal, or dressy casual environments. Retro sneakers are best suited for athletic or casual environments.
Formal/Semi-Formal Wear
Mary Janes
Mary Janes were and are still popular. They tend to have low heels and are characterized by a strap over the instep. Vintage style Mary Janes come with trims and aesthetic perforations to imitate brogue detailing. Most of them are two-tone, as these were used as early as the 1920s and considered quite fashionable through the 1970s. Mary Janes are great casual shoes that can also be used for formal wear.
Pumps
Pumps are still popular today, but they were a staple of the 1950s-1970s. The most common and most popular type of pump was the kitten heel. Kitten heels are low height heels that are thicker than standard high heels tend to be. Pumps are generally used for formal occasions.
Oxfords
Oxfords are typically made of leather and have unique detailing and trims that give them a more distinct look. These shoes are characterized by three to four eyelets for lacing. While Oxfords are still a popular look for men, they were most popular for men and women back in the 1950s. Oxfords can be used casually as well as formally. A special modern twist can be found today, as there are even oxford heels to meet all your sassy needs!
Informal/Casual Wear
Sneakers
Most retro sneakers are made of leather, suede, or nubuck. Some of the most popular retro sneakers are fashioned after 1980s style sneakers. Today, however, there are many alternatives to real leather and animal products that can be used in shoes. It is possible to buy a retro-style sneaker that is made entirely with synthetic, or man-made, materials. These shoes are great for more or less any environment.
Durability
A shoe that lasts for about six months to a year of normal use is durable and has a decent lifespan. Durability reduces the frequency with which you have to purchase a new pair of shoes and reduces the risk for your footwear ripping, tearing, or otherwise falling apart.
Shoes with uppers which are made of genuine leather or nubuck are especially durable. However, these require much more maintenance than shoes with synthetic uppers and can sometimes fall victim to water damage.
Suede shoes are firm and supportive, but they are the most fragile of the three genuine leather materials. Their style and texture may make them worth the reduced durability, depending on your needs.
If you're looking for a durable design, one that you will be able to wear season after season, definitely opt for natural leather materials.
Faux leather, or synthetics, are not as long-lasting. They can split, crack or flake easily, and they are usually not nearly as breathable or as comfortable as their genuine counterparts. However, faux leather is less expensive, and also animal-friendly, so choose the best type of materials according to your needs and requirements.
Value
Value includes much more than just price; you want to make sure that you are getting your money's worth, if not more. There are several considerations that should be examined when purchasing your rockabilly model.
Price: Rockabilly shoes can almost be considered collector items and can get costly. Some of the prices are style dependent, which means certain styles are on the higher end than others. For this guide, it was very important that the footwear is affordable and representative of several different budget ranges.
Quality: Is it really worth it to buy an inexpensive model that is going to fall apart after one wear? You really want to make sure the construction is solid and the materials are of high quality, whether they are genuine leather or synthetic materials. You don't want sneakers which are notorious for the sole coming off or the buckle breaking. We want you to be confident in your purchase.
Wearability: Believe it or not, designs can get complicated. You want to make sure you are not going to get frustrated with the lacing, straps, and buckles. You will find that we chose designs which are easy to put on, and several of them have updated or pseudo buckle systems which make life much easier.
If you're interested in the designs with the highest value, sort the shoes by this category and choose off the top of the list!
Our Favorites
1

. Predictions Saddle Oxford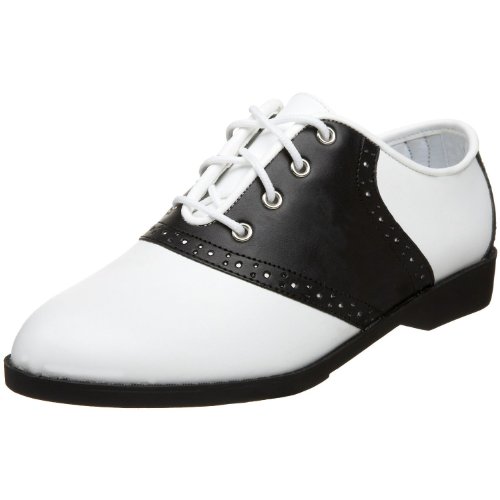 What do Buster Browns, the Mickey Mouse Club, saddle footwear, poodle skirts, and the American bandstand all have in common? You guessed it, the 1950s. The Predictions Saddle Oxford definitely takes you back to those times. However, a few upgrades allow you to leave the aching feet in the past where they belong. Don't let the word costume fool you either. These are finding a permanent place everyday wardrobe due to their great wearability and nice style.
This 1950s saddle oxford is definitely more comfortable than the originals. You will notice it is very walker-friendly with a soft lining and padded footrest. The upper and the rubber sole are constructed to move with your foot. A rounded toe box gives room for toes while the adjustable lacing provides a snug fit. This also makes them good for casual walks and extended standing.

In reality, the way you wear this saddle oxford is really only limited by your imagination. Although the color schemes are limited, you still have enough variety to complete your desired look.

This very affordable Buster Brown look-alike is constructed with high-quality materials. Overlays and stitching techniques make it very durable, and you can't forget about the exceptional comfort fit. If you are looking for a high-quality 1950s oxford to wear with your Pink Ladies jacket, this is probably one you might want to look into.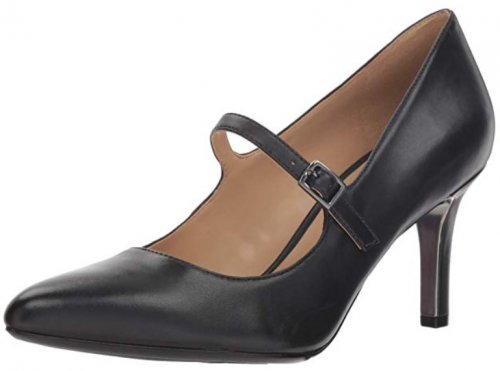 Naturalizer is a brand famous for its stylish, comfort-rich footwear, and the vintage Naiya heel is the perfect example of that. This Mary Jane pump has a slim silhouette that will find its place in an office meeting, a fancy restaurant and a vintage-themed event and be equally appropriate in all! It is outfitted with the brand's signature N5 Contour technology for maximum comfort, and its low heel will keep you pain-free all day and all night long.
The Naiya has an upper made from genuine leather or suede, depending on the color you choose. It has a pointed toe front for elegance, and a delicate strap across the instep, which you can adjust with a small buckle closure. The N5 Contour technology we mentioned includes dual-density cushioning, a deep heel cup for stability, and specially molded arch support, which is something you don't see in heels very often.

Thanks to its three-inch heel and non-slip rubber outsole, the Naiya will keep you on your feet no matter what surface you're walking on. If you're looking for maximum versatility, a design that you can wear anywhere and still be rockabilly, then this one is for you!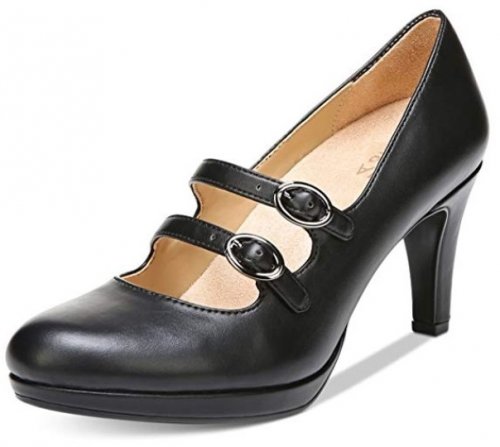 Another Naturalizer design to add to our arsenal, the Prudence is cute and quirky, and a perfect choice should you require a vintage design on quick notice. It is made from fabric or faux leather, and it comes with two straps across the instep for a '50s aesthetic. Naturalizer wouldn't be true to their brand if they didn't equip this romantic, feminine pump with a few of the best comfort features they produce.
The Prudence comes in many different color options, from classic ones like the black to more outrageous designs, such as a snake print. The dual straps across the foot are adjustable thanks to their silver-toned buckles, and the inside of the pump is lined with textile for a chafe-free ride. In terms of comfort, there is a cushioned insole and a low, three-inch heel for all-day wearability.

On top of it all, the Prudence comes with a traction outsole to prevent you from slipping and skidding across any type of surface. With all of these outstanding features and its undeniable rockabilly design, what's not to love about this simple, fashionable Naturalizer pump?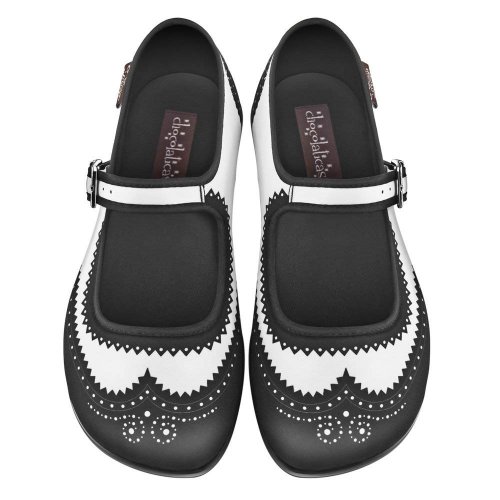 Since its inception in 2004, Hot Chocolate has been known for designing vintage styles coupled with creativity and individuality. Founders Pablo Martinez and Carolina Aguerrevere love to reach back in time and use inspiration from designs which made them happy and duplicate that experience for you. What is more reminiscent of the good old days than Mary Janes? With Hot Chocolate's Habana flats you not only get the nostalgic feel-good experience but also a few tweaks for better functionality.
Despite the low price, these are flats that deliver what they promise. You get a high-quality skid-resistant rubber sole. After miles of walking, the heel will not show advanced wear and tear as with some everyday designs. The upper is a durable fabric which allows Hot Chocolate to offer you vibrant and rich prints and patterns.

The Hot Chocolate Habana is hailed as a very comfortable walking design. Part of this has to do with the flat heel which adds to the vintage feel and comfort. The adjustable strap buckle not only completes the look but it is quite functional and puts you in control of how snug you want your fit. Added cushioning through a plush insole also helps make this classy piece of footwear comfortable for walking and dancing.

The one feature which sells the Habana, outside of the quirky-vintage-classy appeal, is that it is so comfortable that it can be your everyday pair for walking. Although it is a little pricier than the other models, you will find it's a worthy investment when you consider its benefits.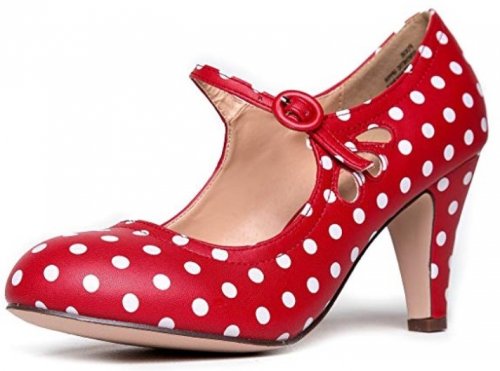 J. Adams is renowned for allowing you to create the world you want through clothes, accessories, and footwear. It's no surprise that they would design a Mary Jane pump to appeal to rockabilly enthusiasts. This trendy pump is classic, stylish and quite popular with those who want a blast of the past along with just enough contemporary touches to have something which meets today's fashion and practical needs. It really satisfies the need for "fun" in you.
The Pixie comes in a wide array of colors so your fashion options are countless. The vintage appearance coupled with a modern touch up make this a nice choice to either dress up or dress down an outfit. These Mary Janes are not only cute but ultra comfortable. First, you have a padded footbed to cushion each step. J. Adams also designed a rounded toe for more toe splay, and they feature a wider heel for more stability. You'll notice that the adjustable straps give you that customized level of snugness.

With the J. Adams Pixie, you get a fashionable design with a nice vintage feel, that is super comfortable for a heel. You also get a durable shoe that can be stretched if needed. You are sure to get a lot of wear out of this heel, not only in terms of longevity but in the number of times you will want to show it off as well.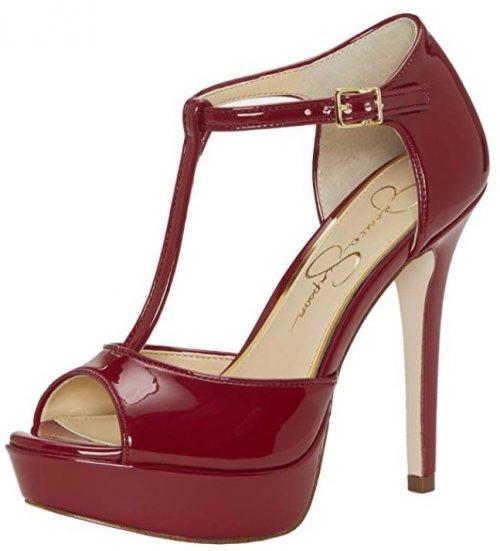 Jessica Simpson is a designer known for her fun flirty style, and she always likes to play with different silhouettes and aesthetics. The Bansi peep-toe pump is her take on the classic rockabilly design, with a modern twist. The twist comes in the form of a platform heel of about one inch in height, as well as a stiletto of 4.5 inches to match. Don't fret - thanks to the added height in the front, the Bansi is as easy to wear as a 3.5-inch heel.
This option is made from synthetic leather, with a polished patent finish for that vintage vibe. It has a T-strap to keep you secure inside the pump, as well as for added rockabilly flair. The ankle strap is adjustable through the buckle closure on the side. This option comes in several different colors, from red and black to nude and even to a floral print if you're feeling playful!

The Bansi is not a conventional choice, given its height and sex appeal. However, it is reminiscent of the retro styles, and it will fit very well with A-line dresses from the '50s. You can rock it to a vintage themed party and to a night out at the club without any problems!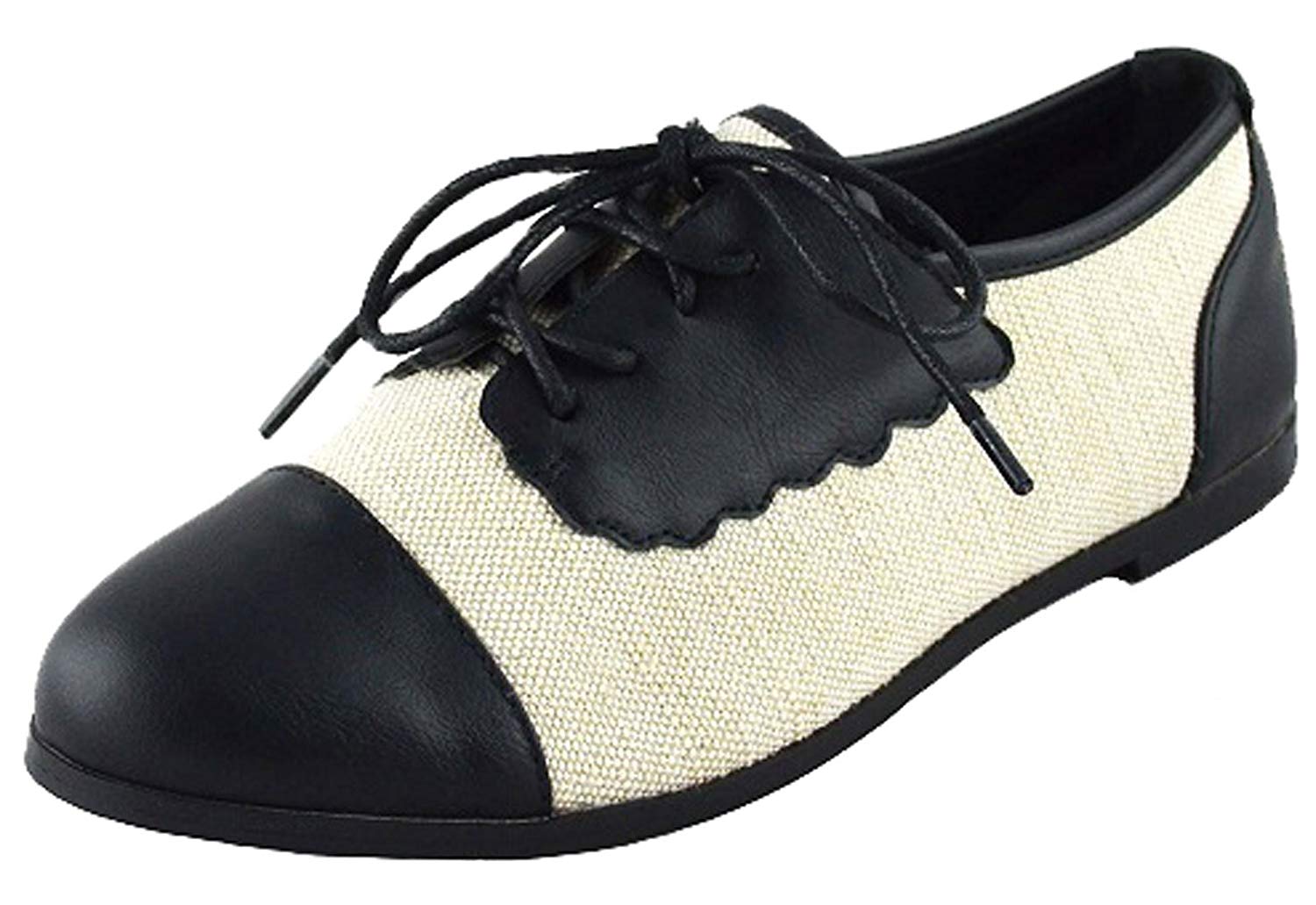 Inspired by the Dolly and ballet flats, these oxfords are one of the top choices for walking shoes in the rockabilly world. Just a glance at them takes you back to the 1950s when life was simple. That is the heart of this piece - simplicity. You will find that the simple design packs a powerful punch when it comes to complimenting several styles. It could easily become your everyday go-to flat.
The Chase & Chloe Dora 5 is constructed with a flat heel to make walking and hanging out a comfortable experience. For the most part, the upper and midsole are constructed to give you hours of wear. The synthetic leather and linen construction of the upper not only make this a stylish shoe but create a strong fit to lock in your feet.

The Dora 5 is very affordable to the point of being priced for you to be able to purchase several pairs. The look is really retro, but when worn with a cool outfit or a pair of jeans, it actually dresses it up and makes it quite stylish. They are also very comfortable for all-day wear, which makes them an investment to consider.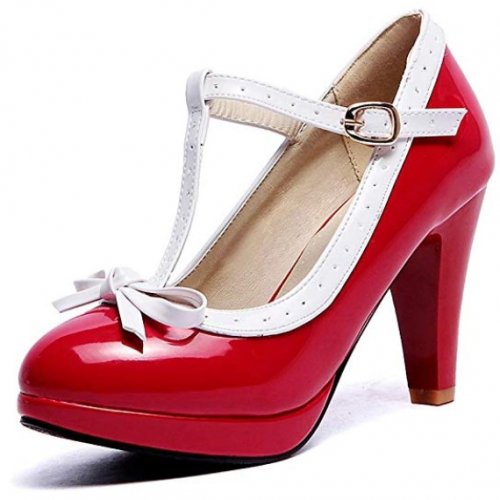 Nothing screams the 1940s like patent leather, T-straps, and bows! These patent leather cuties are great for your pin-up themed retro-Hollywood parties and vintage 1940s fashion. What's even better is these will also do great for work and those pair of skinny jeans you are dying to wear. The T-Strap is also awesome for those looking for retro a heel which will be merciful on the feet for a couple of hours.
The Lucksender T-strap has a rubber sole to help you keep your grip. The buckle design is ingenious in that it slips in place. You may not be too excited to stand in this three-inch heel all day, but for a couple of hours, you will have a comfortable fit. This high heel pump is very classy in appearance. It can be worn with jeans, skirts, and dresses for any event. For sure, it does not have to be one of those designs you wear one time and stash in the closet.

This patent leather jewel is priced to be very affordable and in line with most models featured on this list. The upper is an authentic fine grain leather which has been treated to give you that glossy finish. You also have the benefits of durable construction, fashion appeal, and a couple of hours of comfort in these retro heels.

9

. Chase & Chloe Kimmy 36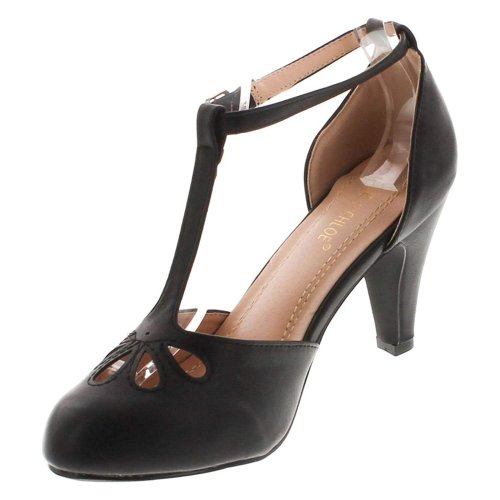 The Chase & Chloe Kimmy 36 is a signature '50s heel. If you are looking for a character model for performances then this is the one to bring to the forefront. Of course, you do not have to limit them for that use only because they give you a lot of opportunities to think outside the box and experiment with different styles and outfits. Teardrop cutouts and T-straps make this look very delicate, but it is quite sturdy and able to withstand all the walking and even dancing your feet might encounter.
These '50s ballroom shoes are designed to give you a high degree of stability and comfort. They offer ample arch support and toe box room to move with ease. The heel is designed with enough cushion for all-day wear at work or just for casual wear without getting blisters. You also have a very sturdy heel construction so you won't have to do a balancing act all day. An adjustable strap helps put you in control of how tight or loose the heel feels.

The Chase & Chloe Kimmy 36 is made with high-quality materials and a solid construction. It really does offer a solid and flattering base for wider feet.

The wonderful thing about these is that there are tons of styles to choose from. Overall, what you are paying for is a comfortable, fashionable, durable heel you can wear with a wide variety of outfits, including your favorite skinny jeans.

10

. Chase & Chloe Kimmy 21


Have a wedding, a party, or an office job to attend? The Chase & Chloe Kimmy 21 dress pump might be a good candidate. It is a standard retro shoe which is an easy match with any outfit. It is also built for extended standing and extensive walking. With this, you get a compliment to your style, not something that will steal the show. Basically, it works with your unique personality to complete your look with style, comfort, and reasonable pricing.
The Chase & Chloe Kimmy 21 has a wide toe box to give you more room for toe splay. If you have wider feet, this shoe is ideal for you. The heel and insole will also allow you to stand and walk for several hours. You may want to use the Kimmy 21 for a themed party since this pump carries a roaring twenties feel. This is partly due to the prominent T-strap. However, don't let this limit you! You can easily wear them with both casual and dressy outfits because they are very versatile. Jeans and dresses alike will look fantastic with these popular pumps.

The Kimmy 21 is a sturdy shoe which offers many creative fashion opportunities. You also have a sturdy heel and cushioning to make this a good option for longer events. If you have wider feet, this is a design you will want to possibly give a try.

Subscribe to our Newsletter