10 Best Mary Jane Shoes Reviewed For The Cutest Style
In a Hurry? Editors choice:
Test Winner: J. Adams Wedges

Ah, the infamous Mary Jane shoe. Also commonly referred to as "bar shoes" or "doll shoes, the Mary Jane style is recognized for its signature strap at the top of the foot. In its early days, the Marys Jane style was also recognized for generally being a closed toed shoe which was often low cut and made out of leather or leather type material. Towards the beginning of the fashion trend, the shoe was also generally known for having very low heels and a thin insole. Today though, the Mary Jane style is often made with different materials,
heel heights
, and styles, and is most recognizable for maintaining its single strap either at the top of the foot or at the ankle.
Standout Picks
Criteria Used for Evaluation
Comfort
One of the most important characteristics of any design is its comfort level. It's necessary to have a comfortable fit not only to be able to wear it longer but also because an uncomfortable fit can lead to future foot pain and problems. Wearing uncomfortable pairs can begin to shorten and tighten your Achilles tendon, which is the group of tissue which runs up the back of the ankle. This can cause a series of different problems, some of which can permanently injure or alter the foot.
Just some of the possible complications from poor fit:
Ingrown Toenails: Shoes that squeeze the foot too tight can lead to ingrown toenails, which means that the toenails begin to grow under the skin instead of out.
Bunions: Another problem that stems from uncomfortable heels is bunions. A bunion is a bony mass that appears on the joint of the big toe when it is pushed against your other toes.
Corns: Corns are thick patches of hardened dead skin which appear around the toes as a result of too much foot pressure.
"Pump Bump": A "pump bump" is a bump that appears on the back of the heel due to the swelling of the Achilles heel which is caused by wearing a bad fit.
Hammertoes: Hammertoes is another complication that can arise from wearing uncomfortable or too tight heels. Named because the toes begin to look like small hammers, this is a condition where the toes start to curl up and bend.
Style
While comfort is definitely an important part of any pair, the overall aesthetic is very important as well. The appearance of a style may, in fact, be one of its most important qualities. Most people aren't likely to purchase something unless it is attractive enough to wear out, especially when it comes to heels. The level of attractiveness and wearability was considered for each item mentioned on this list, using the following characteristics of attractiveness.
Versatility: One of the key characteristics of a great design is being versatile enough to be worn with a variety of outfits. Usually, this will be something that isn't too fancy or too plain.
Color Options: Another important aspect of overall attractiveness is the color options. The colors available are important because even if the style is attractive, it won't be quite as wearable if you aren't able to get a color that will match with what your wardrobe.
Heel Size: The size of one's heel is also an important aesthetic trait. It's important to have a wide selection of heel choices because everyone has a different preference when it comes to heel size, from those that prefer flats to those who prefer five-inch stilettos.
Trendiness: Another thing that comes into account when assessing the attractiveness of a pair of heels is making sure they're on trend. This is important when it comes to matching with today's trendy outfits, and will prevent the embarrassing moment of accidentally wearing outdated styles.
Different Styles: While picking the top choices for this list, it was important to make sure that there were many different styles included. This was to provide a large selection of designs that fall under the Mary Jane look and provide many options.
These are just some of the factors considered when assessing the attractiveness of each pair, which ensure that any of the heels on this list are all stylish as well as beautiful.
Durability
Another very important consideration that should go into choosing a new pair is their durability. Durability is essentially their ability to withstand wear or pressure, and therefore their ability to last. This is important because nobody wants to purchase a product that will break or start to tear too soon. This also will help save money, because you will be able to keep them longer and purchase new pairs less. These are some of the qualifications to look for when seeking out a durable heel:
Having one that fits true to its size. This is important, because generally if it runs too small, your foot will not accurately fit.
Check the stitching and construction. Some design reinforcements that will create a more durable shoe include reinforcing rivets, double stitching, and sealed seams with gussets.
Look for options built with durable materials. Some of the most durable materials include leather, rubber, Polyurethane rubber, and canvas.
Though it might be something that is often overlooked, especially in high heeled pairs, durability is super important when it comes to choosing. This way, you'll be able to keep your favorite heels for much longer, and wear them for many events to come!
Versatility
Believe it or not, Mary Janes have actually been a style staple for both women and men since the early nineteen hundreds. The popular shoe actually gained its name from the Buster Brown comic strips which were created by Richard Felton Outcault, and premiered in the New York Herald back in 1902. They were affectionately named after the main character, a little girl named Mary Jane, whose character was based on Outcault's young daughter. The Buster Brown comic brought attention to the already budding shoe style with its popularity, as the main character continued to sport the shoe style consistently throughout the run of the comic.
From then, the shoe continued to make its way through history, becoming one of the most popular styles of the shoe on the market. This design really did work for everyone, from Shirley Temple wearing them in her famous "Baby Take a Bow" video, to John F. Kennedy wearing them at his salute to the casket of his deceased father, all the way to well-known sixties model Twiggy wearing them down the runway. Even later, in the nineties, the Mary Jane also became popular with the grunge and punk scenes, often seen being paired with items such as plaid skirts and high stockings. No matter what the event, the type of person, or time period was, they continued to pop up in all different scenarios and all different walks of life.
The Mary Jane has continued on as one of the most beloved and popular shoes, as its signature strap had a beautifully simple aesthetic as well as a practical use to help keep one's foot in place to prevent injury or embarrassment. Still, over one hundred years later, they have maintained their popularity, and are now often combined with many other popular styles to create endless wardrobe options.
Midsole
The midsole is designed to provide cushioning and shock absorption to the shoe, nestling the foot in comfort. Whereas running shoes tend to have thick midsoles, flats and thinner shoes not designed for high-impact activities often have thinner midsoles.
The reason for this is simple: you need more shock absorption and vibration dampening during high-intensity movements or activities to maintain comfort and prevent foot injury than you otherwise would with a regular shoe, flat or sandal. Midsoles are often made from EVA (ethyl vinyl acetate), a synthetic plastic also used to make insertable orthotics. A firmer type of EVA for the midsole will make the shoe heavier, but more durable; whereas a softer type of EVA, like those found in running shoes, improve shock absorption, but wear much quicker.
Podiatrists tend to prefer firmer midsoles for those suffering with orthopedic conditions, such as plantar fasciitis. A higher score on the "midsole" criteria means that the midsole is of a firmer nature. Whether or not this is beneficial for you depends on your foot type and orthopedic issues!
Top 10 Picks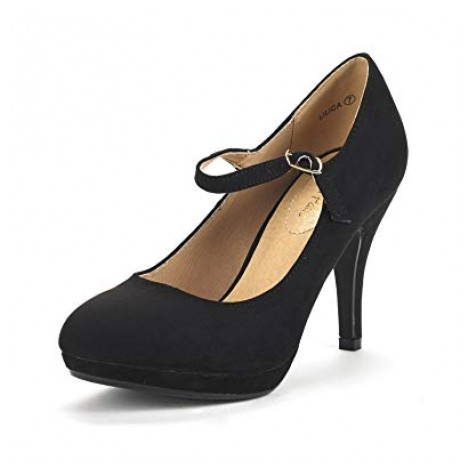 These Mary Jane stilettos come to us from the company Dream Pairs. Dream Pairs is a company who dedicates their business to creating cute and comfortable shoes that won't cost you a fortune. This pair of stilettos embodies the classic Mary Jane style with a durable and fashionable single buckled strap at the top of the foot. This signature strap is combined with a daring twist of four inch tall stiletto heels, as well as a half inch platform. Together, these design styles create a beautiful stiletto that's both elegant and bold.
Multipurpose Use- Featuring an elegantly simple design, these Mary Janes can be worn just about anywhere. Whether you're pairing them with a classic pantsuit to wear at the office or pairing them with a cute miniskirt for a night out on the town, these shoes really go with anything!
TPR Rubber Sole- Still getting used to walking in heels? No worries! These Mary Jane stilettos are built with a TPR rubber insole, which will help prevent your foot from sliding. This technology will help to prevent falls, injury, and unnecessary embarrassment for even the clumsiest of shoe wearers.
Cost and Value- No longer do you need to pay an arm and a leg for beautiful stilettos, because this pair is super affordable. Ranking as the best value on our list with its inexpensive price tag, now you'll have extra money to spend on new outfits to match your gorgeous new Mary Janes!

2

. Hot Chocolate Design Flats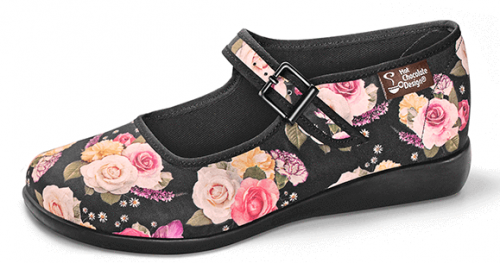 Another great take on the design are these flats by Hot Chocolate Design. Hot Chocolate Design is known for creating bold and artistic footwear and accessories, and these are no exception! This Hot Chocolate Design creation is also available in so many different options, which will leave only one big concern- which pairs to start with?!
Beautifully Bold
Hot Chocolate Design put out a very vibrantly colored and bold option with these. They even feature a beautiful floral design which is very trendy right now. The shoe also has an asymmetrical design, which means the floral pattern is slightly different on every pair. This asymmetry is very aesthetically pleasing and makes the shoe even more interesting and bold.
Many Designs to Choose From
Do you love the style, but aren't really into the floral pattern? Thankfully, Hot Chocolate Design offers a seemingly endless list of different options to choose from. From vintage blue with red cherries to rainbow and unicorn patterns that will inspire the inner Lisa Frank fan in all of us, to a pair that feature bacon and eggs (yes, you read that right!). You're certain to find a pattern that will suit you best and show off your unique personality!
Cost and Value
While these shoes are super cute and unique, they fall a bit closer to the more expensive side, but definitely not by an outrageous amount. With how original and bold this Hot Chocolate Design creation is, the price tag is still very fair for their value.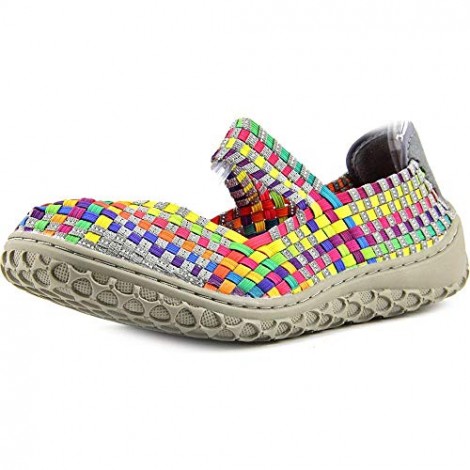 Another version of the style also comes in the form of flats. This time, though, they come from the better known company of Corky's. Corky's is most well known for their amazing comfort and great style which definitely shows with these woven flats. Featuring a beautiful multicolored design made with weaved leather material that is both stretchy and breathable, these shoes are comfortable and super fun to wear.
Great for Active Lifestyles
These woven flats by Corky's are perfect for the shoe lover that lives a more active lifestyle. They work so well with active lifestyles because they feature a stretchable woven material that moves with you, a conveniently placed strap to hold your foot in place, and a rubber outsole which helps to maintain traction and keep you from slipping. Whether your job involves a lot of running around, or if you just enjoy taking long walks, these shoes are perfect.
Helps Spare Aching Feet
One of the great features of these woven flats is that they feature a low arch. A low arch is perfect for those with flat feet or a lack of curve in their feet (or really, just anyone that has feet) because it provides the necessary amount of stability and support. Having a low arch is also great because it helps to absorb shock which prevents both pain and injury in the foot. This is especially great for anyone that spends a lot of time on their feet, as they'll spare you unnecessary foot pain. This gives you the ability to do the things you love- in style!
Cost and Value
While these do fall closer to the higher side of the average price range in this list, the reasons why are self-explanatory. They is made with a great material and is designed specifically with the health of the foot in mind. With those benefits, I'd say these flats are a great deal.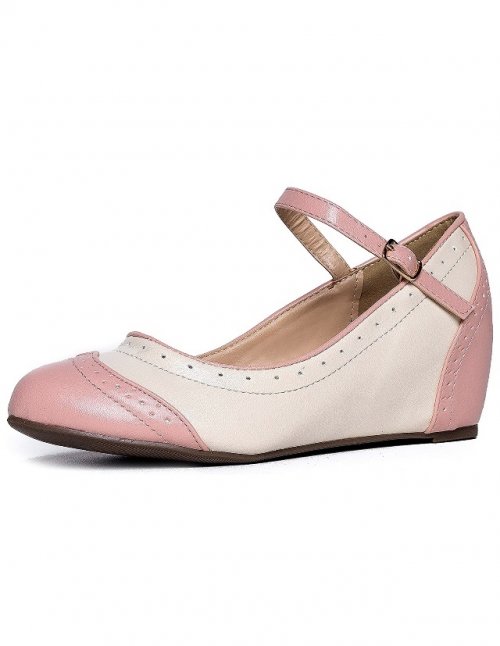 Another great twist on the classic style in question comes in the form of another well-loved shoe, the wedge! J. Adams crafted a combination that's truly a match made in stylistic heaven. They incorporate that signature strap we love, along with a short wedge heel, all into one adorable vintage package. The wedge is especially great for things like attending outdoor weddings, where you may want to wear a heel but you don't want to have to worry about the heel sinking into the grass as you walk.
Great Beginner Heels
These wedges are the perfect beginner option for anyone trying to get used to wearing heels, as they offer more stability, making it a bit easier to balance. The height on these isn't too extreme, at about two and a half inches, which will keep you closer to the ground and make you feel more secure. The signature strap will also help to keep your foot in place which will help prevent hazardous falls.
Vintage Looking Design
This J. Adams design is absolutely adorable with its vintage-inspired design. They feature a beautiful Oxford twist, with the two-toned shoe which has pink on the toe and the heel of the shoe. The rounded toe area along with the short kitten wedge heel creates an awesome retro look that'll have you feeling pretty in pink.
Cost and Value
Overall, these wedges are very cute while also being inexpensive and wallet-friendly. Definitely great shoes for anyone looking to get a cute pair of wedges for a steal.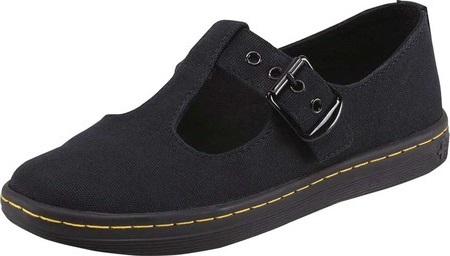 The next pick on the list comes from a brand that has already created quite a name for themselves within the footwear industry. That name is, of course, Dr. Martens (or as most would say, Doc Martens). These flats definitely live up to their company's reputation and are unbelievably supportive. They're also perfect for anyone who loves both the Dr. Martens brand as well as the Mary Jane Style, as they feature the signature Dr. Martens look.
Comfort and Support
These flats use the signature Dr. Martens twenty-two soles, or as they refer to them, 'bouncing soles' which provide an abundance of support and shock resistance to help protect you from soreness and injury. Not only do these awesome flats help protect your feet with their great support they also offer great abrasion and slip resistance. This feature helps to aid you on even the slipperiest of floors.
Signature Dr. Martens Aesthetic
This design replicates the classic Dr. Martens look, between the signature yellow stitching, the grooved sides, and the yellow loop on the heel. This well-known look is combined with the famous T-strap, which in these flats go across the top of the foot and connect in the center with the base of the shoe. This creates two open sections and making this a semi-open option. Overall, the whole look has a slightly edgier aesthetic, which makes sense because Dr. Martens shoes are often known as being worn in the harder music scene. Still, though, they're tame enough to be able to wear with just about any outfit
Cost and Value
These do fall a bit on the higher price range of this list, but with good reason. Dr. Martens has a very solid and long-lasting reputation within the industry of creating attractive, comfortable, and long lasting shoes. You definitely get what you pay for and more when it comes to these.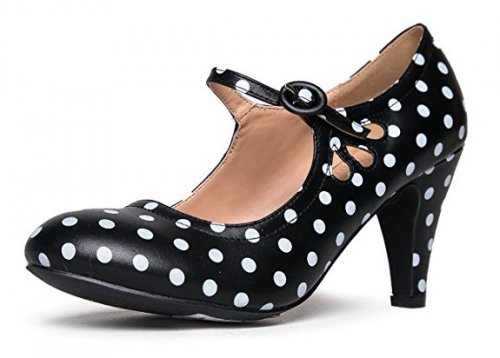 These polka dot pumps by J. Adams are absolutely adorable. They rock a cute rounded toe as well as a cute scalloped design on the side of each shoe. Those features mixed together with a chunky three-inch heel and a cute polka dot design give it a totally retro feel. The signature Mary Jane strap not only pulls the whole vintage looking shoe together it also helps keep your feet safely inside of your shoes.
Comfortable
These are amazingly comfortable to walk in. They feature a generously cushioned footbed as well as a padded insole, which will make you feel like you're walking on air. The shoe's low standing chunky heel also adds to the overall comfort, as it gives you more support than an average heel.
So Many Options
One of the greatest thing about these polka dot beauties is that they come in so many different colors. There are twenty-two different colors to choose from, so you can grab a pair to match every outfit in your closet!
Cost and Value
The cost of this design is about the average price you would expect to pay. They fall around the middle price range of our list.

7

. ElegantPark Closed Toe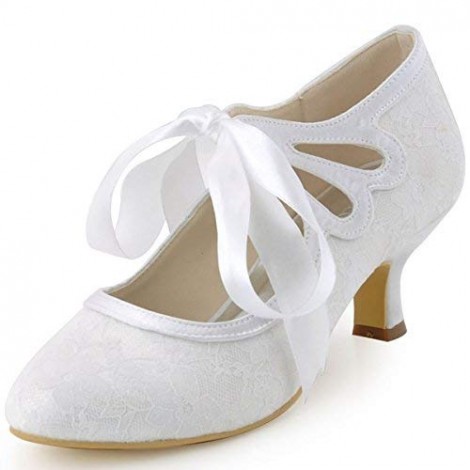 This elegant closed toe style is the perfect pick for anyone who loves the Mary Jane style but is also looking for a formal pair that can be worn to weddings, proms and more. ElegantPark is a well-known name within the formal shoewear industry. They are known for creating comfortable and attractive dress shoes for any formal occasion. They also feature a beautiful lace design and scalloped side, while the signature Mary Jane strap is decorated with a lovely tied bow. These shoes are so beautiful you might just need to find a wedding to crash (or at least a friend that needs a plus one!).
Formal Shoe
From the elegant lace design to the eye-catching bow, these are perfect to wear with any formal attire. They aren't too simple... But they are also not too over the top. This aesthetic makes it so these are the perfect accessory for just about occasion. ElegantPark offers these with or without the scalloped design and also offers a variety of colors. They definitely give you plenty of options!
Low Heel
Another great feature is that they come equipped with a short two-inch heel. This is perfect for those who are looking for a cute pair to wear but don't want too much extra height... or risk having an embarrassing tripping incident while attending a formal event.
Cost and Value
These come at an affordable price tag, especially considering that they are fancier than most of the options on the list. They are a little bit more expensive than some options mentioned on this list, but they certainly won't break the bank.

8

. City Classified High Heel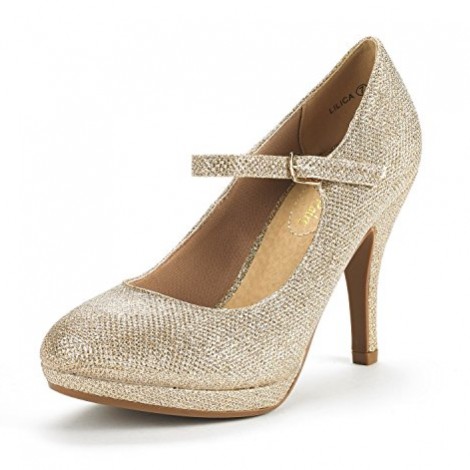 Are you looking for something that's a little bit more glamorous than the rest? Well, if so, look no further than this style by City Classified. These feature a glittery gold design that gives off a gorgeous shimmery glow. This beautiful design when complimented with the signature T-strap ankle strap gives off a look of Hollywood glamour. Its four-inch high heels along with the half inch platform also offer a generous boost of height, which adds to their dramatically gorgeous look. On top of that, City Classified also offers six different color options, so you can get it in any of your favorite colors.
Breathable Material
Theseare made from a breathable and lightweight man-made material. This man-made material allows your foot to breathe, which helps provide comfort throughout the night. This also helps to prevent any embarrassing foot sweat or odor, that way you can enjoy your night without worry.
Eye Catching
This gorgeous style is sure to capture the attention of anyone in the room. From their beautiful glittery color to their flashy platform, it's almost impossible not to look on at these in awe. Plus, they'll help elongate your legs and make them look great!
Cost and Value
On top of being a beautiful pair, they are also very budget friendly for most anyone. Falling at the lower end of our median price range on this list, you won't have to worry about breaking the bank for beauty!

9

. Hot Chocolate Design Pumps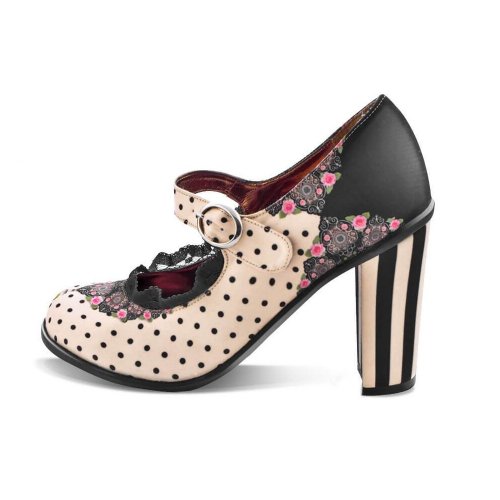 Hot Chocolate Design just keeps hitting the nail on the head when it comes to the Mary Jane. Much like its flat counterpart, these are beautifully bold. This time though, they come in the form of some gorgeous four-inch high heeled pumps that feature an almost old-timey burlesque feel. On top of their beautiful burlesque appearance, these also feature a cushioned inner sole, as well as offering arch support. This means you can wear your gorgeous pumps without the pain!
Unique Style
These pumps are a lovely light pink color and feature an overlay of polka dots that cover their majority. It also has a very pretty geometrical pattern on the front and back parts of the shoes, adding gorgeous decoration to the already attractive shoe. On top of those features, the heel of the shoe is striped black and white, while the inner part of the shoe has a trim of black lace. All of these contrasting design pieces make this shoe very visually interesting, making them a great accent piece and conversation starter.
Supportive Heel
These pumps feature a four-inch-tall high heel, which gives a great height boost. You won't have to worry about wobbling around on these shoes, though, as they also offer a very chunky heel. This wide, chunky heel is great because it gives more support than the average heel and helps prevent from wobbling or falling. The chunk heel is also very aesthetically pleasing.
Cost and Value
While these are absolutely gorgeous, they will require a bit more budgeting than many of the other shoes on this list. These shoes land of the higher end of this list's price range, but its unique design definitely makes it worth the cost.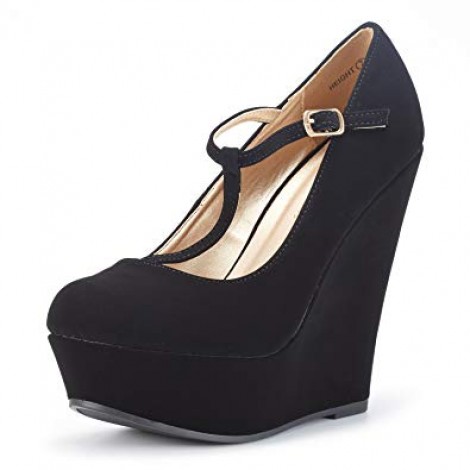 For our last shoe, I present you with yet another beauty from the geniuses over at Dream Pairs, this time it comes in the form of daring Mary Jane wedge. This really is the perfect shoe for any true high heel lover, because it is so freaking gorgeous! These Mary Janes are beautifully designed with a tall wedge heel, along with the signature Mary Jane strap. This strap meets in the middle with one single strap that goes from top to bottom, creating an intriguing "T" strap. Overall, the design of this shoe is attractive and daring, and is sure to draw plenty of compliments.
Dramatic Height Boost
This dramatic Mary Jane is definitely the tallest shoe on our list, with a heel measuring five and a quarter inches, as well as a platform of one and a half inches, to give even us short girls an amazing boost of height. Though this heel does give you a lot of height, the wedge heel offers great support so you won't have to worry about falling over while wearing them.
Many Color Options
Love the dramatic height and look of this shoe but don't need another black pair of heels? Well, thankfully, Dream Pairs provides us with many more color options to choose from! Just some of this shoe's beautiful color choices include a bright fuschia, a sexy red lace, and an eye-catching yellow. This means you'll have limitless style combinations with this beautiful shoe!
Cost and Value
Another great feature of these gorgeous Mary Jane wedges is how affordable they are! This pair definitely falls in the lower price range of shoes on this list, which makes it a great value in addition to a great shoe. What more could you ask for?

Subscribe to our Newsletter