Best Shoes for Bunions Reviewed
In a Hurry? Editors choice: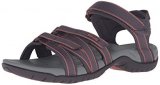 Test Winner: Teva Tirra

When you are trying to find
good shoes for bunions
that don't irritate your bunions, it can be a challenge. Look for models with a lower heel, plenty of room in the toe box, and that have
good support
throughout.
A pair with leather or textile upper that stretches will give your toes the room they need without pinching. Even with these guidelines, there are designs out there that have personality and pizzazz.
To help you find the shoes that best fit your specific needs, we've put together a list of the highest-rated pairs of footwear suitable for those with
bunion issues
. These will be perfect for your
sore feet
, and you won't need to scour the internet to find ones that work for you.
Standout Picks
Criteria Used for Evaluation
Fit
While bunion prevention is the way to go, if you already have bunions, you are looking for ways to prevent pain in the forefoot. When looking for shoes that will not hurt your bunions, look for
Wide toe boxes: Shoes that have a pointed toe or are too narrow at the toe will pinch your bunions. If the toe box is rounded or square, give the shoes a try. Toe boxes with a pointy or V-shaped toe box will likely pinch your toes and irritate your bunion.
Low or no heel height: High heels make your foot slide to the front of the shoe. When this happens, your toes are squeezed together which aggravates your bunions. To keep this from happening, stick with shoes that are not more than 2 inches high.
Padded insoles: Padded insoles provide cushion to your feet which helps to prevent pain. Look for shoes that have either a good amount of cushion in the forefoot or have a molded insole that allows your toes to lay side by side without compression.
Straps that avoid the edge of the toe: If a shoe has thin straps near on or your bunion, you are going to feet pressure and pain in that area. Choose shoes with wider straps to avoid this problem. Be careful though that your strappy sandals don't push the toes together.
Stretchy upper: To pamper your bunions, your shoes should have uppers made of stretchy material. Soft leather or fabric materials have some give and will stretch to form to your foot. Stay away from 'man-made' uppers that look like leather, because synthetics are less likely to stretch.
Adjustable closures: Shoes that have adjustable straps or laces may help you tighten or loosen the fit as needed for your feet.
Snug, not tight fit: Shoes with supportive features are a must if you have bunions. When shopping for shoes, look for extra cushioning and features that keep your foot snug inside the shoe. When your feet slide inside your shoe, you risk rubbing and irritating your bunions.
Solid heel boxes: What do your heels have to do with bunions? The less your heel is able to move inside the shoe, the less the rest of your foot will move. A flexible heel box means your foot is insecure and can rub against the sides and front of the shoe.
Arch support: Arch support is important if you have bunions because your foot will be cradled in a more natural position that prevents your foot from "flattening" forward.
Use
A lot of the options listed above are more geared towards casual or athletic use, which is a common problem for anyone suffering from foot problems. Because this type of sandals allows for a higher level of adjustability, it's generally more suitable for wear by individuals with bunion issues, but you may find that you need something more versatile to wear on dressy or professional occasions.
If that's the case, our best piece of advice would be to pay close attention to the width of the footwear you're choosing, as well as to try and go with a style that will accommodate your bunions. You can opt for a softer leather upper that'll mold to the feet, or even go with canvas that's more comfortable in touch with sensitive and inflamed skin.
If you have the possibility, you may also want to use a comfortable pair of shoes on your commute, then change into more appropriate footwear once you're at the office/the event you're attending. Another good piece of advice we can give is to plan your day and footwear according to your activities. This way, you won't be stuck walking all over town in painful, unsupportive shoes with nothing to change into.
Style
If you suffer from pain in the front of your foot which makes the big or small toe joint inflamed, sensitive and overall uncomfortable, you need to be prepared to shop for the right type of shoe to stop the condition progressing. While it goes without saying that heels and pointed toes are a bad idea, there are several types of footwear that still look great, which can help minimize discomfort.
Flats: A stylish pair of flats is something everyone should have in their closet. Whether you go with ballet flats or a pair of oxfords, you can easily find these styles designed in a way to prevent putting pressure on the forefoot area. When purchasing a new pair, always look for models which are sufficiently wide, ideally with a supportive insole and an adjustable closure.
Sandals: Sandals are ideal for the summer months, not just because they're open and breathable, but also because they often include a multitude of adjustable straps you can use to get the perfect fit. Nonetheless, when shopping, look for ones that don't rub your skin (ideally, the straps will be padded with soft materials), and that are adjustable in the forefoot area.
Sneakers: Whether you wear these as casual footwear, or only save them for workouts, sneakers are always a great investment. In addition to the fact that they often have great shock absorbing systems and supportive soles, they also tend to be made from canvas, mesh or leather materials which are soft and flexible, allowing for a pain-free experience. Especially convenient are newer models made with stretchy knits and meshes that adapt perfectly to the shape of your foot, without requiring any breaking in whatsoever.
Moccasins: A type of flat inspired by traditional Native American footwear, the moccasin is usually made with a soft suede upper that is highly recommended to anyone with sensitivity issues. This type of material is very easy to break in and stretch out in key areas, while still being durable and protective enough to ensure you get a product that will last.
Formal Shoes: Those who need to dress up, whether for work or special occasions, will want to invest in a pair of formal footwear that won't look out of place when paired with a suit. In these cases, it's crucial that you look for models which are wide enough, ideally with a rounded toe, and with a closure system that allows for a higher level of adjustability. Overall, Derby shoes and loafers will tend to be more comfortable than Oxfords in which the lacing system tends to be limited.
Heels: Although not recommended, you can go with a small heel that's around 1 or 2 inches high, and that is chunky, so as to allow you to put your body weight on the back of your foot. Stay away from pointed toes, going with round ones instead, and look for models that come in a wide width. Also, try to invest in a pair made with quality, flexible materials that can adjust to your foot without creating painful pressure.
Materials
The quality of any pair of footwear is determined not by the brand or design, but by the materials used in the production process. Not surprisingly, comfort, functionality, durability, and even maintenance are highly influenced by this factor. If you happen to suffer from inflammation, you will find that shoes which put pressure on the affected area cause pain, and may even make the condition worse. One simple way to prevent this is to opt for models made out of one of the following materials.
Leather: The most common choice when it comes to footwear, leather is used because it is durable and stylish, while still being soft and breathable enough to be comfortably worn for prolonged periods of time. Nonetheless, make sure the leather pair of your choice isn't too hard, and doesn't have rough seams which could irritate your skin.
Suede: Another type of leather, suede is brushed and is a softer type of material. It's ideal seeing that it is softer and more flexible, while still retaining a high level of durability. The downside of it, however, is that it isn't water friendly, and will require special care.
Mesh: Most often used in athletic footwear, mesh is a breathable synthetic material that is very soft and flexible, making it a good choice for those who find conventional footwear too painful or irritating. It's best used in summer footwear, but can also be found in the lining portion of a variety of other types of shoes.
Knit: A relatively new type of material, knits use natural and synthetic fibres to make up a shoe upper that is supportive, flexible and breathable. The last couple of years have seen stretch fibres being added to knits, making this a great choice for anyone suffering from bunion pain.
Synthetics: Usually, synthetic materials lack flexibility and breathability, making them a poor choice. However, some manufacturers (such as Crocs) have managed to come up with compounds which are actually a great choice for those with bunion pain, seeing that they are soft, allow natural motion, don't develop odors and are easy to keep clean.
Value
A key criterion when shopping for any product, is the value it offers compared to the price you have to pay for it. With footwear, this can get a little complicated, seeing that a large sum doesn't always translate to a product that will meet all your needs. There are, however, a few things you can keep in mind while shopping, that will help with the use you get out of your newest pair.
Durability: Try to invest in models which are made with quality materials that won't break down after a few uses. To make sure you're getting the best bang for your buck, you can check out online reviews of the product you like, which are likely to list any durability issues you should keep in mind.
Brand: Though it's never a guarantee, the brand behind the shoe can give you a good idea of what to expect. Some manufacturers are known for their stylish designs, others put emphasis on comfort, while some boast a long lifespan that comes at a price that's not too much above average.
Versatility: Whereas some pairs of footwear are made to only serve a single purpose, others are designed in a way that will allow you to use them on multiple occasions. So, a stylish pair of sneakers may not only be appropriate for travel, leisure and athletic use, but can also be paired with more formal outfits for a fashionable look.
10 Best Shoes for Bunions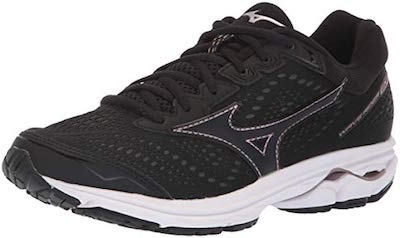 Those who lead an athletic lifestyle, or who are looking for a comfortable pair of running footwear will likely appreciate the superior comfort, fit and performance offered by the 22nd version of Mizuno's Wave Rider series. This neutral road runner is the perfect choice for daily runs, casual wear, and might even work well for some gym workouts (although it lacks the stability for heavy lifting) and they are good shoes for bunions. It comes in a number of colorways, from vibrant blues and violets to more classic black and gray.
What makes this model appropriate for use by those suffering from sensitivity in the toe joints is the double layer mesh upper that is highly breathable, flexible enough to allow a good fit without any pressure points, but with well thought out synthetic overlays that still ensure proper support of the feet. The lace system allows for a good amount of adjustability, and the collar and tongue use plenty of padding to make this a pair you can even wear barefoot.
Other technology included in the Wave Rider 22 includes Mizuno's unique shock absorption system that uses a TPU wave plate that helps absorb and disperse force upon impact. It's nestled in U4ic and U4icX foam which offer excellent rebound, while the outsole uses X10 carbon rubber which offers great grip on varied surfaces, while maintaining excellent durability. Seeing that this is a flagship model by Mizuno, the price, which is slightly above average, is understandable, and well-worth the investment for most runners.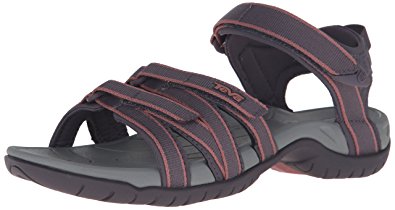 These athletic outdoor shoes for bunions are a favorite for comfort and style. With a heel of 1.5 ", the Tirra is not too tall but still gives you a little height boost. The adjustable velcro straps give you the freedom to adjust the fit for your needs. They have grippy lugs for outdoor traction, so when you are looking for a comfy outdoor shoe.
Take this footwear on your next walk or casual event and keep your feet super comfortable. The Tirra has a cushioned footbed to absorb shock when you walk. And the rubber sole adds to your comfort with every step. The Teva Tirra sandals have cushy arch support and a molded midsole for the support you need. Plus the three adjustable straps let you adjust the fit around your ankle and across the top of your foot.
This shoe is in the low to medium range for this list. The Tirra is a great value for the price when you are looking for comfort, support and a good selection of colors.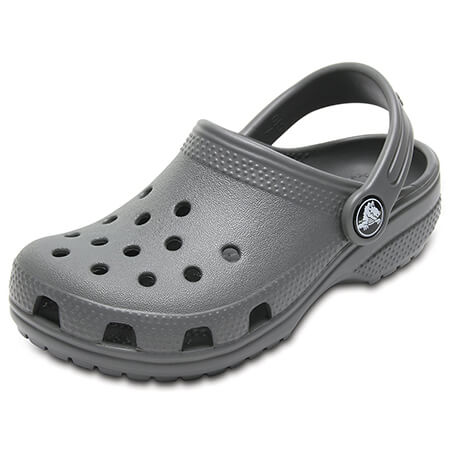 This comfortable boat model gives you the room and cushion you're looking for the help with you're aching feet. These slip-ons are stylish (for some) and come in plenty of color options to not only help your feet but to help express your style.
Crocs are comfortable and flexible. They are made from "Crostile" material. This material compresses to absorb shock and fits your feet while being soft, lightweight, and waterproof.
Again, the comfort and support of these shoes for bunions are surprising. From the look, they don't seem like much, but they will conform to your feet and absorb shock as you walk to cushion your bunions. This shoe is on the lower end of the price range for this review. If you are looking for extra support and cushioning to absorb shock during your walk or daily activities, and fit your perfect price point, these may be the shoes for you.

4

. Saucony ProGrid Integrity ST2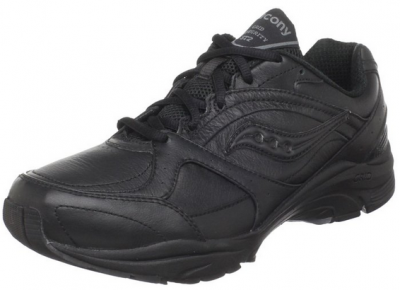 This athletic shoe is big on comfort with lots of cozy features, including a stretchy forefoot and extra room in the front of the shoe. This gives your toes some extra room to move as you walk. The ProGrid Integrity is known for its cushioning and comfort to let you enjoy your walk or keep you going during daily activities.
The extra space in the front keeps your toes from being constricted as you walk. And the padded collar and tongue add to the comfortable fit of the ProGrid Integrity. A molded, compressed midsole provides responsive return while you are on your feet.
The compressed midsole of the ProGrid Integrity is made of lightweight EVA material to avoid extra weight. Plus the durable sole does not have a stability lip, so that also reduces the weight of this shoe. The ProGrid Integrity ST2 is on the lower end of the price range for this review. With all of the comfort features plus its lightweight properties, these shoes for bunions are a good value for the price.

This show is made for outdoor recreation but has features that most say are comfortable for their bunions. It has a rounded toe with a rubber toe cap for protection, and a wider toe box that Keen is known for. The durable, EVA footbed molds to the shape of your foot to give you a comfortable fit. The polyester upper stretches to conform and move with your foot.
The Whisper has a cushioned footbed to absorb shock and is built to give you great arch support. The bungee style lacing system lets you adjust the fit as needed for your foot.
When you are looking for a fun, outdoor shoe, the Keen Whisper has bright colors and neutrals to choose from. Some also have patterns and detailing to give you even more choices. The durability of the Whisper makes this a good value for the price. If you are looking for a sporty shoe with comfort and a good fit, give this shoe a try.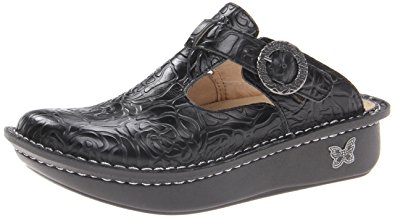 This casual clog comes in fun colors and prints to jazz up your shoe collection. The roomy, square toe box gives you plenty of room for your toes to spread out. The buckle on this Alegria Clog lets you adjust the fit across the top of your foot for comfort.
Alegria's patented footbed is made of memory foam, soft cork, and polyurethane and has a leather lining to top it off. This design combined with a rocker outsole hugs your foot to reduce stress on your back, legs, and hips.
In addition to the classic blacks and browns, this Classic Clog offers many different colors, patterns, and embossings for a little variety in your shoe wardrobe. And the dressy buckle adds a little more interest to this clog. This clog is one of the higher priced items on this top 10 list. When you need something very comfortable and durable along with some color and pattern choices, this clog is a good value.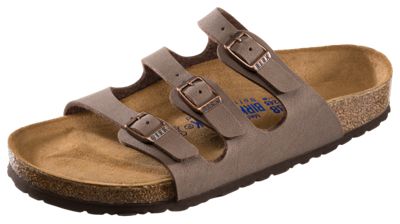 This 3-strap sandal comes in many colors and finishes. With a wider toe box and a leather upper, this sandal gives your toes plenty of room. A raised toe bar helps your foot naturally grip as you walk for stability. The suede-lined, cork footbed will take the shape of your foot for custom support and comfort.
Birkenstock is known for their contoured footbed that is created for your comfort. The soft footbed is made of suede, form, jute, and cork. Jute allows moisture wicking and keeps your feet dry, and over time, the cork forms to the shape of your foot so you get a custom footbed.
Three straps on The Florida let you adjust the fit to give you snug control. The footbed has a raised toe bar to naturally grip as you walk. And the deep heel cup cradles your foot and provides extra cushioning and protection. On the higher end of the price range for this top 10, the Birkenstock Florida is known for durability. When you need something that will last and gives you a custom fit footbed, this sandal is a good value.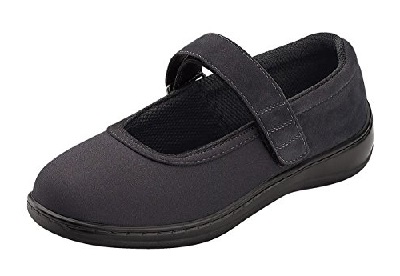 This shoe is specifically designed for bunion relief and orthotic support. It features a premium orthotic insole with great arch support and heel cushioning, and Easy Gait system and an extra deep design. Its Mary Jane style makes it look like a typical shoe rather than an orthotic as well and is appropriate for any venue.
The non-binding upper has a deep depth design and a wide toe box that takes the pressure off your bunions and hammer toes. It also has a seam-free lining which is padded for extra comfort and to eliminate pressure points.
Every detail of this shoe was designed with your comfort in mind. From the arch support to the padded lining, the lightweight, air-cushioned sole to the width of the toe box. The entire shoe is designed to give you the comfort and painless fit that will help you move through your day. These shoes are in the upper range of prices. However, it is designed to relieve pressure and pain in your bunions and to otherwise provide extraordinary comfort and functionality. It is a durable shoe that will help relieve pain wherever it is in your foot.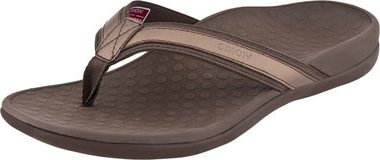 This great sandal for bunions has style and comfort rolled into one. The EVA midsole to reduces stress on your knees, ankles, and feet. To reduce friction against your skin, the toe most is made of a woven material and the strap has a foam lining. This low-heeled sandal gives you all day comfort with Orthaheel technology to form to your foot.
These flip-flops come in several stylish colors and a few fun patterns too. Wear them with shorts or cropped pants. The Tide II sandal is even dressy enough to wear with casual skirts and dresses.
The Tide II has a comfortable footbed and heel cups to cradle your feet while you walk. These heel cups also support and stabilize your foot to help give you a natural stride. These shoes for bunions are on the low end of the price range for this top 10 list. The Vionic Tide II is a good value for the money when you need cushioning support and some variety in your shoe wardrobe.

10

. Hot Chocolate Mary Jane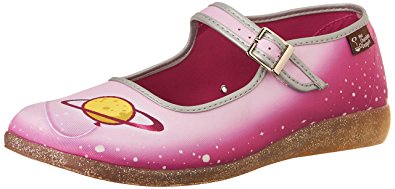 If you are looking for some really fun shoes for bunions, check out the Hot Chocolate line. They have a wide toe box and a low heel for just a little lift without being too high. The cushioned upper and fabric inner gives you a comfortable fit. And the higher shaft and strap keep these mary jane's securely on your feet. Check out the whole product line for a variety of colors and designs.
For a comfortable model, this line has many colors and designs to brighten up your shoe wardrobe. You will find a few designs with a fresh look on traditional designs, but mostly you will see unique patterns and bright colors.
The low heel works with casual or semi-casual dress. And you get additional support with the ankle strap and higher sides. This item is in the medium price range for this top 10 review and most of the Hot Chocolate mary jane's fall into the same price range. You may need to spend extra money on an insert for cushioning. If you find a design that works with several items in your wardrobe, these shoes for bunions are a good value.

Subscribe to our Newsletter