Best FitFlop Shoes Reviewed & Rated
In a
Hurry? Editors choice:

Test Winner: Surfer

Just a few years ago, in 2007, FitFlop's creator, Marcia Kilgore, had a revolutionary idea. She contemplated how to create shoes that would tone the person's legs as they walked. Then, she partnered with Dr. David Cook and Darren James, both biomechanical engineers to help with the science behind this style.

Thus, FitFlop shoes were born. Essentially, these were exactly as the name states; a wardrobe staple to help you get fit. However, no one expected the benefits of wearing an elevated anatomical style. FitFlop shoes can help you with more than just losing a few pounds or inches, and with this list, we are here to help you choose just the right design for yourself. Enjoy!
Standout Picks
Criteria Used for Evaluation
Materials
Overall, you can expect FitFlop shoes to be highly breathable. Most of their styles have hardly any material composition, so therefore the air that flows around your foot is not hindered. This will keep your foot cool and comfortable all day.
In terms of material, FitFlop shoes prefer to use leather or a leather blend. However, on occasion, you will find a synthetic material that is used in the upper and/or sole portion.
Leather is mostly used for the straps of the upper and the footbed. It is very strong and durable, and as it ages, it becomes very soft and flexible. This adds to the overall comfort of FitFlop shoes. The straps will feel great against your skin, and they won't cause any blisters or lacerations.
Aside from comfort, other benefits of leather are that it is breathable and that it is quite durable. If you choose a genuine leather design, you can be sure that you will be able to enjoy it season after season.
Synthetic leather options, while being lower in price and animal-friendly, are not as comfortable and not as durable, so pay attention to that when you're considering the materials of your future FitFlop shoes.
Support
Everyone knows that footwear support is paramount. You simply cannot wear just anything and expect your foot to be completely comfortable no matter how much time you spend on your feet.
In FitFlop shoes, support is going to come from the sole since there are no sidewalls to keep your foot contained. Proper sole support depends on the type of foam used, its density, and the arch support that it offers. In this case, you will also have an insole or midsole. Typically, high-density foam is used for the construction of the sole.
The main benefit of a foam material is that it absorbs shock as you walk. Whenever your heel strikes the ground, there is a force which travels up your leg, to all of your joints. Over time, this compound stress can lead to damage. This is where supportive, impact-absorbing footwear comes into play; it disperses the shock throughout the foam midsole instead, protecting your joints and muscles from the impact force of your very step.
Fit
When you put your FitFlop shoes on, you want your foot to slide in with ease. It should not need to be "wiggled" into the design. On the other hand, you don't want your foot to slide side to side or back and forth once it is on. This would be a sign of your FitFlop shoes being too big.
Having a proper and exact fit can be challenging. Some designs will stretch over time so you might think you should purchase one that is smaller in size. This is not a good idea because if a design does stretch it loses its overall shape and support. You will want a product that fits correctly and comfortably right out of the box.
In order to make sure that your FitFlop shoes fit you perfectly, here are a few things to keep in mind:
The straps should fit you snugly, but should not be digging into your skin or causing any pain.
Your toes should not be hanging over the edge of the footbed.
Similarly, your heel should not be poking out from the back of the design.
When you're walking, your foot should not be sliding around inside the shoe.
Your shoe should not be slipping off, nor should it be so constricting as to cut off your blood flow.
The most important thing regarding the fit is that you feel comfortable inside your FitFlop shoes. If anything seems even remotely off during your first try, chances are it will only get worse the longer you wear the design. Be vigilant, and consider how you and your feet feel before you commit to your purchase.
Water Resistance
Generally speaking, FitFlop shoes will not be a good choice for very cold climates. Since they are mostly open, they do not offer any protection or heat retention. However, when considering how they handle wet conditions such as rain, they pass with flying colors.
FitFlop shoes are made from materials that are don't retain water and dry quickly. The only caveat you might face when wearing these and getting them wet is that the footbed can become slick.
Also important to consider is how the material will handle the rain. Genuine leather, which is used in most FitFlop shoes, is quite durable. It has well been established as a material that can handle tough weather situations, and you shouldn't worry how your footwear will react to unfavorable weather conditions.
The only downside to FitFlop shoes is that, as we already mentioned, they are not suitable for cold weather. If you live in a climate that does not get very warm even on the hottest summer days, you might not find as much use from these compared to someone that lives in a 4-season kind of climate.
Flexibility
How much is too much flexibility? It is a fine line you must walk between too stiff and too flexible in a product.
If you decide to get a pair of FitFlop shoes that is too flexible, it more than likely will not last long. This is a result of it not being strong enough to meet the demands of your foot and weight. The constant flexing of the sole and the upper puts wear and tear on the design.
Additionally, you can't feel secure when you are wearing footwear that is too flexible. If the design is flimsy and not supportive, chances are you could fall or slip out of the shoes, thus injuring yourself.
Conversely, should footwear be too stiff and rigid it will not contour and form to your foot. It has to mold to your foot somewhat as you walk and stand. Otherwise, you are not getting the proper gait encouragement and support throughout. When you are walking, the goal of the footwear is to "roll-through" from heel to toe just as your foot does. An item that is too stiff cannot do this task.
If you are curious which FitFlop shoes on our list hit that sweet spot right between flexible and flimsy, then make sure to sort the items according to this criterion. Choose off the top, and you'll be good to go!
Our Favorites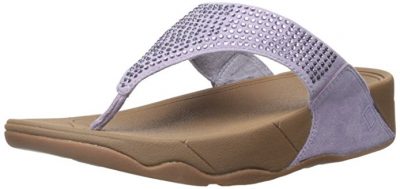 The Rokkit from FitFlop shoes has straps that are made from very soft suede. If you have ever felt suede you know how great it feels against your skin. It is also very durable and flexible so it moves with your feet easily. Otherwise, this upper has cute rhinestone studded embellishments across the straps that give it a blingy look without being too over the top.
The footbed and sole of the Rokkit work together seamlessly to relive the pressure points on your feet. Instead of certain spots being subjected to pressure, the sole takes the energy and absorbs it. The rubber in the sole composition is going to give you a responsive and easy step. It also helps keep your footing on terrain or surfaces that can be worrisome, like wet floors or sand. You can walk with confidence because of the sole and tread pattern on these FitFlop shoes.
Surprisingly, the Rokkit is affordable for almost every budget. The slide can easily be worn every day or at least several times a week. It is also dressy enough to be worn off the beach as well, so you can most certainly wear it with dresses, jeans, shorts, and many other outfit combinations.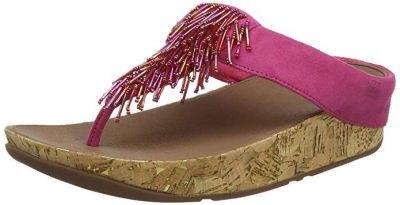 These FitFlop shoes are a sassy take on the original. They have a bit of flair that will keep you looking ever-fashionable. The strap that goes from the toe to over the foot has a very cute beaded and fringe detail. That is the ultimate accessory to give your feet a boost. The Cha Cha can also be worn for outdoor weddings or social events because it is a bit fancier than some of the other options in this category.
The footbed of the Cha Cha has a built-in arch contour that you can feel supporting your foot the moment you slide these on. The arch is vital in overall foot health so supporting it prevents long-term issues. The upper of this style has a nice and supple leather-liner. The straps and the footbed are soft against the skin, and the leather protects your skin as well as adds durability to the design.
With the Cha Cha, you can get an incredibly affordable pair of dressier wedge platforms at a very accommodating price. These FitFlop shoes have leather throughout, which makes them a prime choice if you're looking for something sassy, comfortable, and made of high-quality materials.




As the name implies with the Surfer, you would expect these to have a laid-back beach style. Indeed, they are cute and have a very wide, foot-hugging webbing straps. They allow for fast dry should they get wet and they feel excellent against your skin. Finally, the straps might be different, but everything else is true to the brand design, even down to the textured footbed and EVA midsole.
The Surfer is the only one with this mesh-like strap. This is a benefit if you find yourself in constant wet conditions, and need footwear that dries fast. Mesh is breathable and lightweight and will keep you comfy and dry throughout your adventures. The toe thong portion of the strap is the same material as the strap; thus giving it a uniform appearance throughout. The mesh will be soft between your toes and hopefully be a good deterrent against chaffing or blisters.
This pair of FitFlop shoes is the lowest priced in the category but has all of the benefits found in the others. For this reason, the Surfer is our best value in the category. These make a great choice for durability and versatility and are going to withstand most of the weather conditions you throw at them.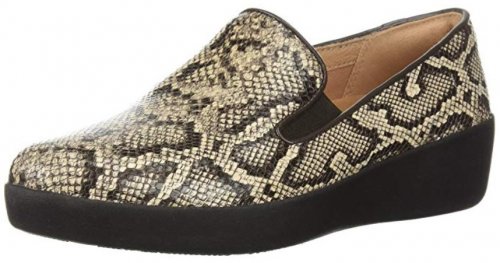 If you're looking for that ultimate supportive footwear, then look no further than the Superskate from FitFlop shoes. These simple, sensible slip-ons come with the APMA Seal of Acceptance, making them certified in promoting good foot health. They feature an elastic fit and Supercomff cushioning that feels like you're wearing your favorite sneakers, but looking fashionable and cute at the same time.
The upper of the Superskate is made from real leather, and it features cotton lining and a leather footbed for breathability. The footbed is anatomically shaped, and the Supercomff cushioning has to be experienced to be believed. It is soft at the forefoot while firm at the heel, promoting a natural, well-balanced gait. Additionally, the ergonomically contoured arch provides superior support.
The outsole of the Superskate comes with hard-wearing pods that increase its durability. This simple, yet technologically-backed design is just what you need if you wish to treat your feet to something comfy and refreshing. It will make you feel light and carefree, and you will love wearing them to all of your casual - or even work - outings!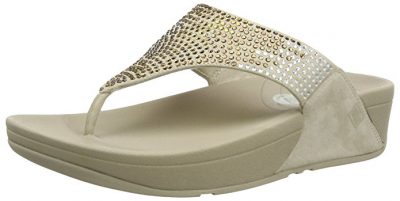 The Flare has just enough pizazz to keep you looking sharp and fashionable without looking like you have too much going on your feet. There is a nice studded detail going across the top of the strap that will let you look a bit fancier for events such as a garden party or a date night. You will still have the same great benefits of wearing FitFlop shoes, only you will look trendsetting while doing it.
If you want to keep your skin protected while wearing straps, you most definitely want a pair of shoes that has a lining. The Flare is lined with a super-soft microfiber material that will sit nicely against your skin. Rubber is a material that is not only durable but it provides good stability as well. The rubber sole of the Flare is nicely treaded so you can walk confidently on slick surfaces and tricky terrain. The grip is strong, but you should always be aware of your surroundings.
The Flare is a great buy and very versatile. This style can be worn for so many different occasions, so you won't have to worry about when you will wear them again. These FitFlop shoes are durable and have a good rubber outsole so, even in spring and summer showers, you can still rock your footwear.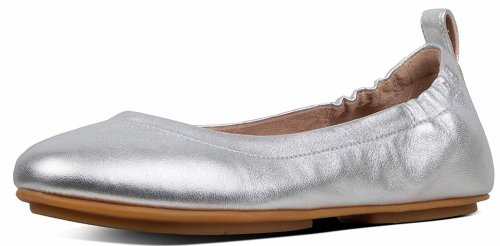 In a sea of flip flops and open-toed summer sandals, here is something a little less casual, a little cuter and a little more business-appropriate. The Allegro is that ballet flat that we all need in our wardrobe. It comes with a featherlight construction, an anatomical type of support, and it features FitFlop's Dynamicush technology for maximum comfort throughout the day.
The upper of the Allegro is made from genuine leather. It comes in several different color options, out of which we have singled out the lovely silver metallic from our picture. It has an elastic top line for an accommodating fit, and a Dynamicush system in the forefoot. This technology improves cushioning and reduces impact for a bouncy feeling as you walk.
On the outside, the Allegro from FitFlop shoes looks like your average, run-of-the-mill ballet flat. However, the support and comfort it provides are out of this world, and if you are looking for something clean and versatile, you won't go wrong with these lovely flats.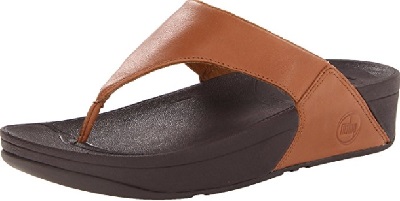 The Lulu is the most popular style in our category. The reason is simple - because the style is simple. These FitFlop shoes have a single tone toe strap and no embellishments to distract from the minimalist upper. They will make a perfect complement to many outfits and events. You will be walking around in style at the church, beach, or wherever you should journey. The style of them makes you fit in perfectly.
The straps of the Lulu will be soft against your skin thanks to microfiber that is applied to the backing of the straps. They will sit comfortably against your skin and prevent chaffing and friction. Thanks to a thick sole that makes FitFlop shoes immediately recognizable, you will also gain a little over an inch to your overall height. Plus, the Lulu is seamless so you can be taller without looking like you made any effort.
FitFlop tries to design their footwear for money-conscious individuals. That being said, these FitFlop shoes are not the most or least expensive in our group. They are very simple in their styling and will look great no matter where you decide to wear them.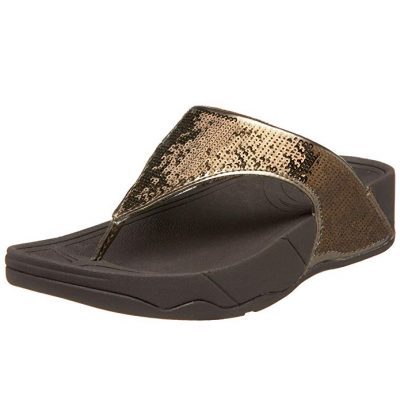 The Electra makes you want to reach out and stroke the blingy sequins that make up the upper. They suck in the light and then reflect it back out so they look electrifying. This style is very contemporary and most definitely has a dressy flair. You can sport these FitFlop shoes on days at work and out with the girls for a fun evening. It is easy to look fashionable while toning your legs with this style.
The midsole of the Electra is made from a triple density EVA foam. EVA foam is an industry standard for comfort and stability while adding to the durability of the sole. It is lightweight as well so it does not add bulk to the design. The sole of the Electra is designed to absorb the shock of your every step before the negative energy has a chance to transfer into your feet.
The Electra from FitFlop shoes is very durable and you will find many reasons to wear it. They could become a design you sport every day if you so choose. They are also a great way to stay comfortable while looking dressy, so no need to wear stiff high heels to an event when these are a great substitute.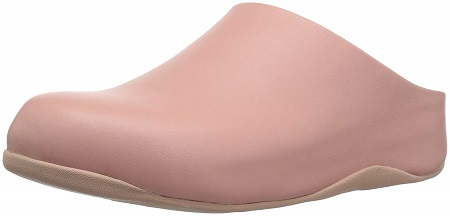 The Shuv is a different design than the rest of the FitFlop shoes on our list. Rather than a sandal, the Shuv is a leather clog. This unique style offers a comfortable leather lining, an ergonomic insole, and comes in five color options, including the lovely pink from our picture.
Microwobbleboard is a type of midsole used in the majority of FitFlop shoes. Created by a pair of British biomechanics- the study of how life moves- this triple-density midsole is designed out of a special EVA foam. It works to support your feet evenly, preventing certain parts of your feet from taking more pressure than the others. A clog is only as comfortable as its lining, and the Shuv is comfortable. Leather is one of the most durable materials used in the making of shoes, so this type of lining will stay in good condition for much longer.
While prices will vary based on the size and color you choose, the Shuv is priced similarly to the other shoes on this list. While they are not the only one to feature a microwobbleboard midsole, these are the only clog style on our list, making them an uncommon find.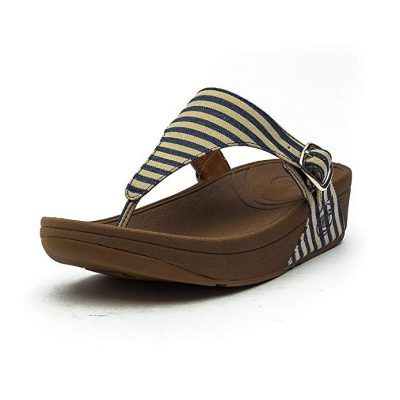 Unlike most other options which have a leather upper, the Skinny comes with a fabric one. The fabric has cute prints that will be fashionable with everything. However, it is also lined with leather. This gives a soft feel but also reinforces the straps as the fabric has a tendency to be floppy if not lined.
Being able to adjust your footwear is a great feature of the Skinny. Some people need more room and some need less. This style allows you to make the shoe fit exactly to your liking. Synthetic is a commonly used material for a sole. It is very durable and does not compromise the integrity of the design just because it is not the typical rubber used in most of the others.

These cute wedges are a great buy and great for many different events. They are versatile enough to become an everyday staple piece. Lastly, the adjustable strap is not something seen on many other FitFlop shoes. Therefore, if you need one that can be adjusted to your foot, this is the best option.

Subscribe to our Newsletter