Best Jeweled Sandals Reviewed & Rated For A Hint Of Glam
In a Hurry? Editors choice: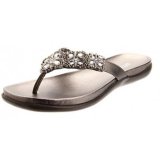 Test Winner: Kenneth Cole Glam-Athon

Do you fall in love with things that
sparkle and shine
? Sandals designed with gemstone detailing add a
bedazzled touch
to any outfit and are the perfect way to bring some excitement into your wardrobe. Bejeweled footwear goes back to the Roman bishops who wore papal slippers so those who stood before them could kneel and kiss their shining feet. In today's society gemstone detailing is an ever-popular trend.
With the many styles available it can be tough knowing which pair will add the perfect amount of dazzle to your favorite outfit, which is why we've written this guide to ten of the best choices available.
Standout Picks
Criteria Used for Evaluation
Style
There are many different styles of summer footwear that feature stunning jewel embellishments. Some of the most popular are flip-flops, thongs, and strappy gladiator designs.
Flip-flops and thongs often feature t-straps which can easily display a gorgeous arrangement of gemstones and makes for an alluring appearance.
Gladiator styles have the option to extend the embellishments further up the straps and can even extend up the lower leg depending on the height of the straps. This type of shoe often extends up the calf which leaves room for a more detailed design and even more gemstone accents.
Open-concept high-heels are popular for the warm summer months because they're super-classy while still offering the airy concept that is ideal for wear on hot and humid days. There are different heel heights to choose from with some of the more popular being kitten and wedge styles. These kinds provide an easier walking experience because their structure allows for a more natural footfall and lessens the strain placed on the arch of the foot as opposed to higher pairs that have a thin heel structure.
Upper
Summer shoes can prove difficult to manage, in part, because of their lack of adequate closures to keep them securely in place. Many options have straps that attach to a buckle or hook-and-loop fastener which keeps them looking stylish while also providing a secure fit. Some slip-on designs have no closures but offer features like elastic straps that tighten around the structure of your foot for a secure stay-put fit.
Keep in mind that shoes without a fastening system will require you to continually grip with the toes in order to keep your footwear in place. This can eventually lead to foot fatigue and pain in the toes if worn for extended periods of time and is often the reason people opt for strappy designs as opposed to slip-on. However, if your slip-on is designed with aspects that help keep them in place they can be just as comfy as any strappy pair.
Comfort
Making sure your feet are properly supported is crucial to how enjoyable a shoe will be to wear. A cushioned footbed will protect the delicate underside of the foot and prevent shock waves from traveling through the feet and up the legs. This will effectively reduce pain and fatigue at the end of the day and will lessen the instances of arch problems. Plantar Fasciitis is a painful inflammatory condition that affects the connective tissues in the foot and causes uncomfortable symptoms which may be lifelong. Wearing shoes that have the right amount of cushion and arch support can prevent, as well as, lessen the symptoms of this condition which is why these aspects are so important. The pairs on this list were chosen, in part, for their extra comforting footbed designs and ample support in order to properly care for your arch and heel area.
Another crucial aspect to your overall comfort is moisture control. If your feet are sweaty inside of your footwear this can be very uncomfortable and can lead to rubbing and blisters. Sweaty feet tend to slide around and can easily rub repeatedly against certain areas of the shoe material which causes friction that eventually leads to painful blisters that can take weeks to fully heal. A build-up of sweat will also contribute to the growth of odor-causing bacteria that will make your shoes smell and can actually ruin your footwear.
As far as comfort is concerned, a shoe needs to be roomy enough to prevent any pressure points where your feet press against the shoe itself. If you have wider feet it's vital that you choose a pair with extra-width to allow your feet the room they need to move. Whereas, if a shoe is too wide it cause it's own set of problems including flopping which raises the chance of tripping and possibly injuring yourself. It's really all about what feels best for you because no two people have the exact same foot structure, so just make sure that you're remembering to think about these aspects while deciding on a pair. If you take the time to think things through thoroughly it will save you all sorts of problems down the road.
Brand
While branding isn't always important it is worthwhile to consider the name behind the pair! Some brands are famous for crafting high-quality pairs that are long-lasting and made from premium materials. Whereas, some brands have a bad reputation for manufacturing poor-quality items that tend to fall apart easily.
Some of the best names in this type of footwear are Kenneth Cole, Kate Spade, Badgley Mischka (who you can always turn to if you need beautiful jeweled shoes), and many more. Even comfort-oriented brands will sometimes introduce models that feature rhinestones or crystals, such as was the case with Converse in 2018.
It's always a good idea to do some research before you buy a pair and see the kind of reviews this brand usually gets. The styles chosen above all have great reviews, and all issues have been listed in the cons section, but it's still a good idea to check for yourself in case there are any fit or performance issues that may affect you particularly.
Durability
Having a shoe that's constructed with high-quality materials and careful craftsmanship will make a world of difference with the enjoyment you get from wearing it. The best materials for footwear are leathers, rubber, and lightweight fabrics. A leather material will keep your feet drier in wet conditions, as well as, wick moisture away from your skin preventing overheating and sweating. Rubber is an excellent option for the outsole of a shoe as it's waterproof and provides a solid grip on almost any surface and fabrics can provide a light comforting feel, so long as their not too heavy or thick.
A well-made shoe will last you for a long time which means that paying a little extra for a quality pair is a worthwhile investment. If you're having to replace cheaper, more poorly made, footwear every few months it will end up costing you more in the long run then if you have simply invested in a better pair from the start.
Top 10 Jeweled Sandals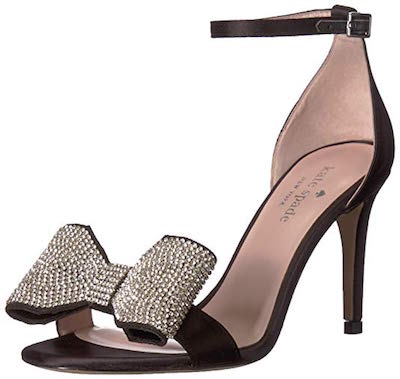 There doesn't get any better than Kate Spade for those looking for some girly and fun designs that are made with high quality materials and attention to detail. The Gweneth is a great shoe, both in terms of construction, as well as looks. Featuring jeweled oversized bow at the toe, it's sure to get you noticed, but it won't be too much even when worn to a nightclub, paired with your favorite pair of skinny jeans.
Leather Sole
While it may not be the most durable material for outsoles, leather surely is high end. Not only does it feel superior compared to stiff rubbers, but it'll also mold to your foot, supporting you just where you need it, while still providing some cushioning.
3.5 Inch Heel
This is the perfect heel height for those who want to show off their calves and ankles, without being too uncomfortable. The thin heel is elegant and sophisticated, without sacrificing sexiness.
Cost and Value
Designer footwear will cost you, and the same goes for this model by Kate Spade. If you're after something truly unique, then definitely go with the Gweneth that'll draw everyone's attention to your beautiful shoes. Go with black for nights on the town, or ivory for that elegant wedding look.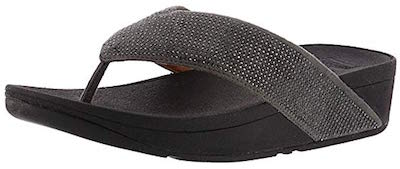 The Ritzy by FitFlop is a an entire line of their highest rated products, featuring some crystal and metallic embellishments, making them a bit more fashionable, and suitable to pair with cute outfits for going out. The best thing about this brand, however, aren't the simple looks, but the technology that goes into their products, ensuring foot health even through long hours of wear.
Microwobbleboard
If you're on your feet for long periods of time - whether at work or you just like taking long walks - a properly cushioned shoe is a must, as it'll prevent fatigue and joint pain. This model features three types of cushioning at the heel, arch and toe, providing you with the benefits of an athletic shoe packaged in a sandal.
Leather Lining
The upper of this model is made with microsuede, but is lined with genuine leather, providing proper airflow and plenty of breathability you're sure to appreciate on hot summer days.
Cost and Value
You may think that paying almost $100 is too much for a pair of flip flops, but those with foot health issues won't think twice about making this investment. With proper arch support, plenty of cushioning, a non-slip rubber outsole, as well as a stylish upper, this is one of the best shoes you can buy this summer.

3

. Badgley Mischka Henderson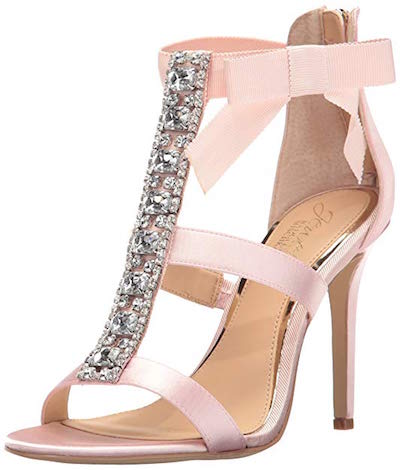 A T-strap evening shoe, this is the ideal choice for any type of special celebration. The glamorous pink satin will look great with a number of color choices, as well as dresses and skirts of varying heights. In addition to the embellished strap, this model also features a bow at the ankle for a subtle style boost.
Zipper Closure
These are easy to put on, without having to deal with flimsy buckles. Just slip your foot in at the back, and do the zipper up - you'll be ready to go in no time. Additionally, the zipper detail gives a bit of edge to this otherwise delicate model.
Synthetic Sole
With the Henderson, you'll get all the benefits of an openly designed upper made with soft satin, while your feet will be protected by the synthetic sole that won't deteriorate even on less than perfect surfaces (such as those found outdoors).
Cost and Value
Though definitely more expensive than most models listed here, the Henderson is the type of shoe you would invest in for special occasions such as weddings and formal events. You'll definitely be able to combine it with a number of outfits, so you don't have to worry about it sitting in the back of your closet.

4

. Kenneth Cole Glam-Athon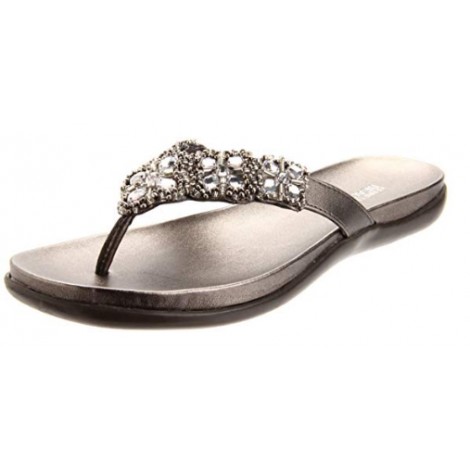 Kenneth Cole offers the best in modernized looks that are delicate by design and offer effortless wearability. This is a socially aware brand that fights for what people stand for and is fully involved with causes all over the globe. The Glam-Athon is a beautiful flip-flop that boasts a slip-on structure and gemstone detailing for a luxurious finish.
Thermoplastic Rubber
The Glam-Athon features a molded thermoplastic rubber outsole that offers an incredible grip on any surface, even wet and slippery ones. This material is lightweight and super-flexible so you can move freely without being weighed down or restricted.
Molded Footbed
An ultra-comfy molded footbed sets the stage for a comforting ride! This specially shaped resting place is molded to cradle the contours of your foot providing the ideal mixture of support and cushion. Your feet will thank you when the days are done and painful arches will soon become a thing of past.
Cost and Value
You might expect this glammed-up pair to cost a pretty penny but in reality, it's an affordable option of summer footwear. This is a great choice for ladies looking to add some glamour to their wardrobe and are the perfect accessory for dressy occasions and special events like a wedding or parties.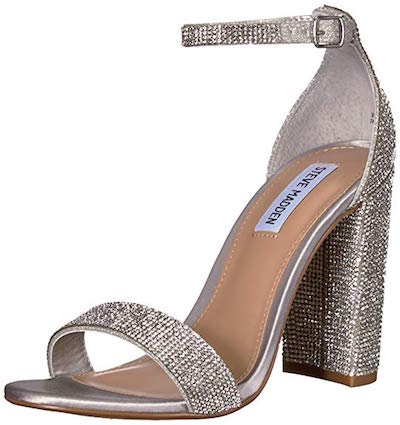 If you're after something that will look just as great with an elegant floor-length gown as it will with a pair of jeans, the Steve Madden Carrson is an excellent choice. This summer sandal can be purchased in one of two versions - either fully covered in rhinestones, or with a blush suede upper that features an embellished toe strap.
Block Heel
Those who have ever worn a pair of high heels for more than a couple of hours know how important a good design can be. This model features a chunky block heel that'll provide plentiful support, as well as stability, so you can walk and dance without having to worry about losing your footing.
Adjustable Strap
The strap at the ankle can be fully adjusted using a buckle, allowing you to get the perfect fit. It will keep the shoe safely on your feet, preventing heel slippage at the back of the shoe.
Cost and Value
This is an averagely priced pair of evening sandals, making it a great choice for those who do not want to spend too much money, but are still looking for a quality product. It comes in a few color options, so you can choose the version that suits your needs best.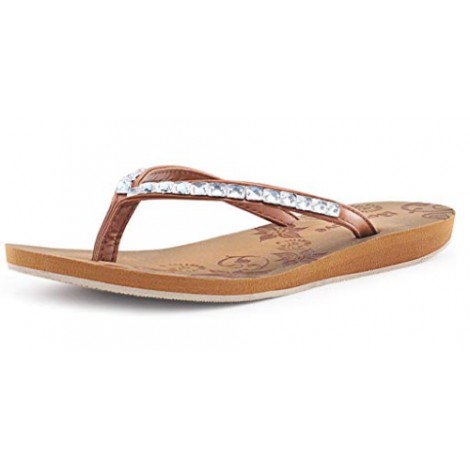 These casual flip-flops feature an attractive jewel embellished t-strap and a floral print footbed. This is a great choice for both casual and dressy occasions thanks to their laid-back style and gorgeous accents. A delicate slender upper and contoured footbed keep you walking comfortably so you can wear these for hours on end without worrying about tired and achy feet.
Moisture-Wicking
This pairs floral-topped footbed pulls moisture away from the skin for an all-day dry feeling and prevents a build-up of sweat. When feet sweat odor-causing bacteria starts to grow and can quickly ruin your favorite pair of footwear which is why moisture-control is so important.
Triple-Layered EVA
If you're looking for a shoe that's comfortable then look no further! This pair has triple-layered EVA cushioning that protects your feet from the shock waves absorbed with every step and keeps you feeling your best for hours on end. Forget about achy feet at the end of the day thanks to this pairs super-cushioned footbed that protects the delicate arch area of the foot and provides adequate support to eliminate fatigue.
Cost and Value
While these cost a bit more than other options on the list they're certainly a great investment. These are more than just your average pair of flip-flops! This shoe offers superior cushioning and stable support along with a stunning gemstone design that will leave you wanting more time after time.

7

. Dream Pairs String Thong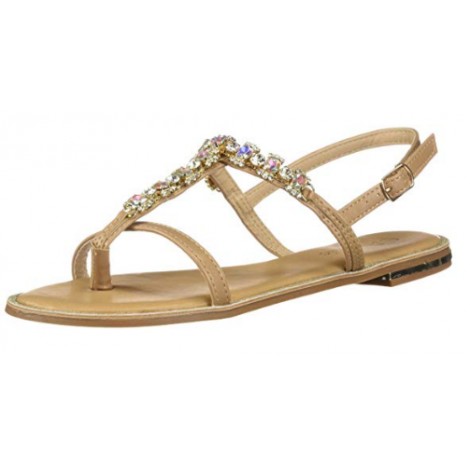 This stunning thong offers a comforting structure and breathtaking appearance! Its unique design mirrors ancient Egyptian style for an original look that's sure to inspire. The String Thong is available in over 20 color and style variations including a white glitter, fantasia_5 black, coral glitter, and yellow glitter, just to name a few.
Design Features
The String Thong comes with multiple design variations including rhinestones, gemstones, and glitters, with each offering a gorgeous silhouette. These sultry summer shoes are made to impress and feature a padded footbed for supple support. Their low ¼ -inch platform allows you to stride naturally while their synthetic outsole provides non-slip grip on most surfaces.
Adjustable Straps
The String Thong offers an ankle strap design with an adjustable buckle closure for a secure wear. Buckle closures are extremely customizable and allow the wearer total control over the fit. This pair will stay firmly planted on your feet for a no-worries wear.
Cost and Value
This dainty shoe is fit for a queen but costs less than you would imagine. These flip-flops are very affordable and offer an incredible design and comforting wear. For anyone who's in search of a budget-friendly design that will keep their feet feeling good even after hours of wear, then these are a great choice to consider.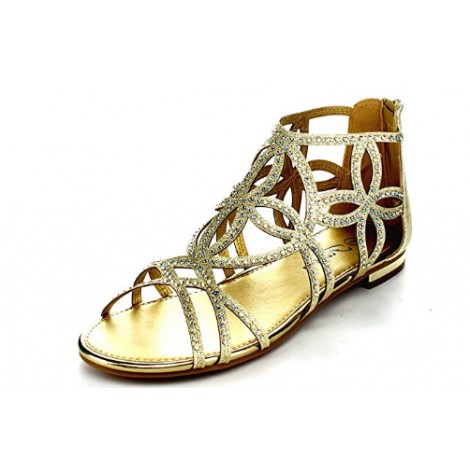 Forever Link is a brand that hails from California and is notorious for their hot designs. They make styles that range from heels to flats, including exceptional summer footwear. The Tory_63 is a stunning pair that's available in four colors: silver, white, gold, and black. Their floral patterned design features jewel embellishments for a luminescent look that lights up the room.
Structure
This pair offers a low-rise heel and flat platform that makes walking easier and lessens the strain placed on the feet. Their padded insole protects the underside of the foot and cushions the arch area to eliminate pain and fatigue. These shoes are made for women on the go and offer a classic style that's perfect for dressy or casual occasions.
Secure Fitting
The Tory_63 has a rear zipper closure that helps to keep them securely in place. This also makes for easy on and off wear thanks to the expansive opening which contracts with the closing of the zipper. You'll love the no-fuss design these shoes offer along with their versatile structure.
Cost and Value
While they're at the high end of the pricing for the footwear on this list, they're certainly a great pair of summer shoes! The Tory_63 is made to dazzle and provides a luxurious foot feel that will keep you on your feet for longer.

9

. Liyuandian Bling Rhinestone


This blinged-out pair of summer footwear features jewel details along the t-strap and around the ankle cuff. They're a stunning addition to any outfit and will be the ideal choice for weddings, family get-togethers, date nights, and more. You'll love the way these look and feel thanks to their comforting foot feel and beautiful appearance.
Materials
This pair boasts a faux leather footbed and toe post, along with dazzling rhinestone and pearl accents. The outsole is made from non-slip rubber that is water-resistant making these a versatile choice that's ready for any occasion.
Comfort
These Liyuandian Bling Rhinestone shoes are super-comfy thanks to their padded footbed that cushions the underside of the foot. Their low structure and rear zipper closure make for an easy wear and allow for total comfort while you're on the move.
Cost and Value
Another reasonably priced option on the list! This pair is very affordable and delivers a chic style that never gets old, along with complete all-over comfort. They're easy to wear and even easier to walk in, what more could a girl ask for?!

10

. SheSole Rhinestone Dress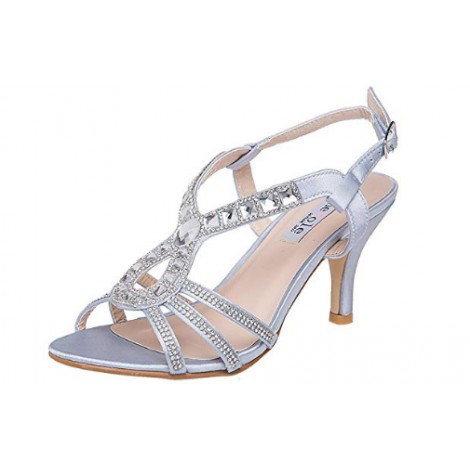 These strappy shoes offer a 3.1-inch heel that's good for walking in and a soft satin upper unit that's embellished with glimmering crystal rhinestones. This pair is the perfect choice for special occasions, dressy get-togethers, weddings, and more. They're available in two colors: white and silver, so you can match them easily to almost any outfit
Comfort
A lightly padded footbed provides additional cushion and comfort while still allowing for a dainty silhouette. You'll enjoy how this pair offers extra padding without any excess bulkiness Their 3.1-inch heel and flat platform makes for a natural feeling that lets you walk with ease.
Design
This is a gorgeous choice of footwear that features sparkling crystal stone accents for a luminescent flair. An open-toe design lets your pedicure peek through while their strappy structure is ideal for a secure fit.
Cost and Value
These may look expensive but they're totally not! This is an affordable option that's perfect for shoppers on a budget and is beautiful enough to wear for weddings, birthdays, and other special occasions.

Subscribe to our Newsletter