Best Havaianas Reviewed
Summer is approaching, and if you're anything like us, you're already fantasizing about those long, hot days, afternoons spent in the sunshine, fresh air and maybe even a splash of the sea. Or maybe you're more into gardening, backyard fun, and barbecues with your friends and family.
If any of these activities bring a smile to your face, then you're definitely in the right place.
Flip flops
are a best-loved model of summer sandals for a reason, and if you ask anyone in Brazil, Havaianas are the only way to go. Check out our list of the top ten Havaianas currently on the market!
Standout Picks
Criteria Used for Evaluation
Top 10 Havaianas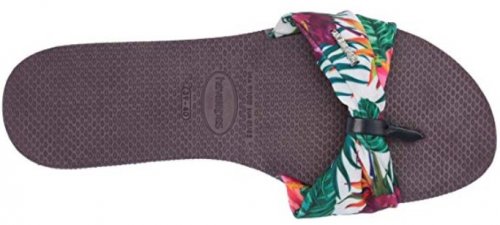 Among all of these flip-flops and thong-style designs, we bring you something that is a little different and a little more sophisticated. With an apt name of St. Tropez, this option is meant for a stylish walk by the sea, with tropical floral patterns to bring attention to your flawless pedicure and accentuate your fun, colorful swimsuit. The St. Tropez is the ultimate choice in resort-style that you shouldn't pass on.
The straps of this sandal are made from soft fabric that won't leave any dents or lacerations on your skin. They come in a multitude of prints and stripes from which you can easily find one that you like. The footbed of the You St. Tropez is made from dual-density foam, meaning that it is super shock-absorbing and more than comfortable to wear all day long.
The traditional rice pattern on the footbed means you don't have to worry about losing your footing or somehow taking a fall and injuring yourself in these. If you're tired of the same ol' simple designs, take a chance with the St. Tropez and enrich your wardrobe with this glam yet super cute style!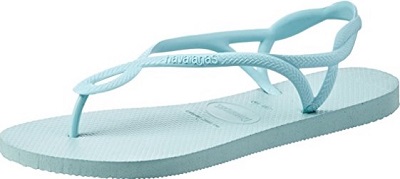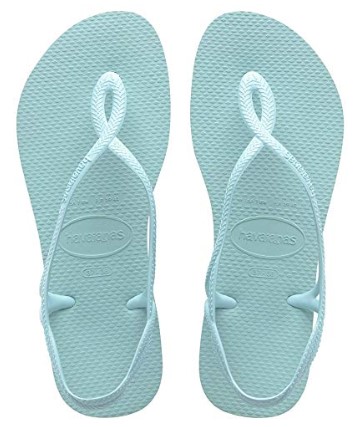 These are both supportive and aesthetically pleasing. They're an excellent choice for those who prefer a bit more security than the regular pair of flip flops but still like a slim, stylish look. They will pair well with a wide range of outfits and do come in a lot of color options. With a one-inch platform, stylistic beauty, a rice pattern outsole, and man-made construction, the Luna can be a great choice for you.
These sandals have a beautiful, stylistic approach to them. The straps in the upper are simple, yet very good looking, and they come in a wide option of colors, ranging from neutral to loud, allowing you to personalize your look. Comfort, comfort, and more comfort are what you get with this particular design. The one-inch platform helps to ensure both comfort and longevity, making this pair of sandals a great choice. Moreover, used in conjunction with the rice pattern outsole, these are created to give you an element of safety found in their anti-slip makeup.
Even though they may cost a tad bit more than most footwear options by this company, these are still incredibly cheap when compared to similar footwear. They are of high quality, provide adequate support over the top of the foot, and look absolutely stunning.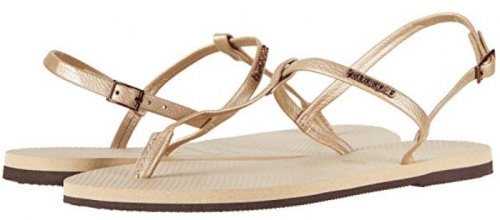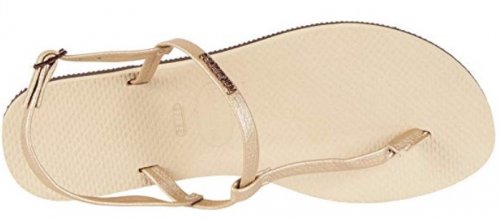 The You Riviera is a style we've already seen in the Freedom SL, with only a couple of adjustments. This cute option comes in many different metallic colors to bling up your summer, and we love how its strap is adjustable and how the outsole has a lug pattern, as opposed to most other options on this list. The Riviera is perfect for some cool sunglasses, a flowy sundress, and a cocktail in hand as you watch the sunset over the horizon.
The straps of the You Riviera are made from synthetic materials, meant to not cause any friction. They have a buckle closure at the back so you can easily adjust the fit to your liking. The footbed is cushioned and also textured for comfort and traction, and the outsole features micro lugs in it. These lugs increase the traction on the ground, so you're safe from slipping or skidding even on wet surfaces.
Come rain or shine, the You Riviera will keep you stylish and steady. It is a sandal meant to be worn all summer long, regardless of whether you're staying in the city or heading to the beach. Every outing will be fun and carefree with the Riviera on your feet!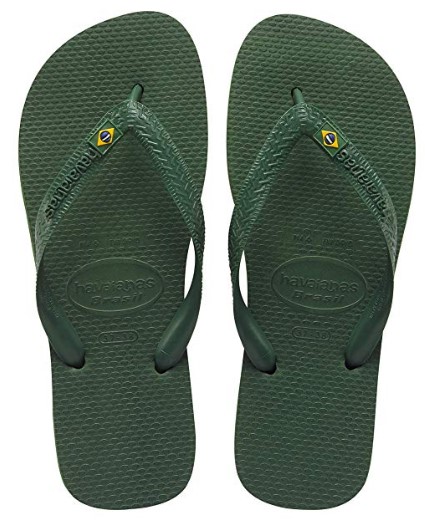 A classic among summer footwear, these flip flops are made for evening walks down the sandy beach during the sunset. They also look stylish with the Brazilian flag embossed in the sole and logo printed on the straps. This sandal has a sole made out of rubber that is soft, plush, and comfortable. It is a perfect companion for your next summer vacation!
These flip flops have that look which so many other brands have tried to copy. With the Brazilian flag proudly shown on your footwear, you can add a splash of style to an otherwise understated look that goes with any outfit. Featuring a rice pattern in the footbed, these flip flops offer great comfort and stability to anyone who chooses them as their go-to sandal. Furthermore, it will put a stop to your feet sliding inside your footwear, even if you get them completely soaked.
These classic flip flops are another piece by the brand which is budget-friendly and which will easily become a part of anyone's closet. Whether you prefer a dark shade of green or a bright yellow, you will find your perfect model of Brazil-inspired sandals.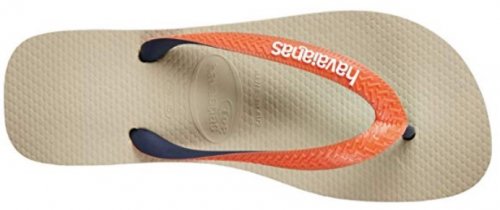 The classic design from this brand comes in a men-specific silhouette, specially made in Brazil. These thong-style sandals are easy to wear on the beach with your friends, and even on a casual date night out with your significant other when all you want to do is kick back, relax and enjoy the warm summer air.
The rubber straps on the Top Mix feature contrast coloring in several different combinations so that you don't have any problems finding what you like. They're water-resistant and easy on the skin. This design features the signature sole from the brand, made from a mix of EVA and rubber. The footbed part is cushioned for comfort and rice-textured so that you don't slip or skid in your flip-flops, while the rubber component ensures maximum durability.
The Top Mix is able to withstand anything from water, sand, and wind to direct exposure to sunlight. It won't lose its shape, its colors won't fade, and you get a super comfy, super relaxed flip-flop that you won't want to get out of this upcoming summer season!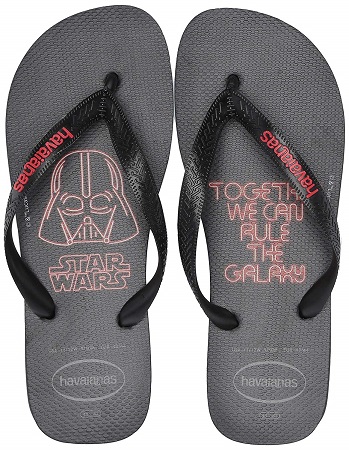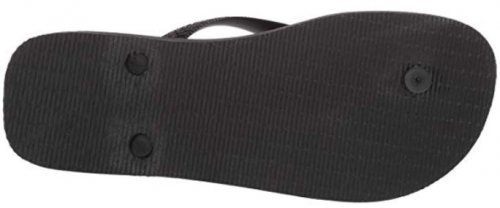 This variation of the original Slim sports a Star Wars design with everyone's favorite bad guy, Darth Vader himself. Not only him, but you can also choose between Yoda, R2-D2, and a vast selection of droids. They have all of the same features as the original Slim, including a strong outsole and overall minimal design. The Force will definitely be with you with these sandals, and if you're a fan of the franchise, you'll definitely want to show these off come warmer weather.
It's important for any design to have a high-quality outsole. This is especially true in the case of sandals and flip-flops, as they often have a much thinner outsole than sneakers or dress footwear does. The outsole on the Slim is made to exemplify this need for strength. Its durable design will help protect your feet from anything on the ground beneath you - including hot sand or pavement - and will last a long time.
Any sandal worth its salt is going to feature an anti-slip sole of some kind. This is especially important if you are going to a beach or pool, where water can create some slippery situations. The outsole on the Slim is designed with anti-slip rubber and a crosshatch traction pattern, providing the stable footing you need with the freedom of movement you've come to know and love from flip-flops.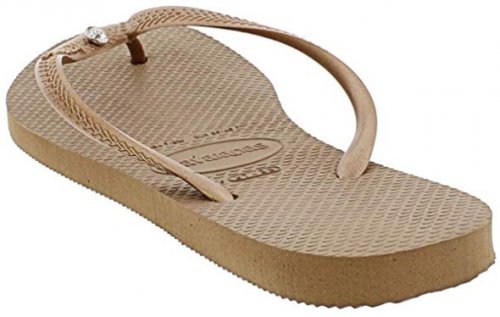 The Slim Crystal Glamour is a beautiful sandal. It has an element of sophistication while, simultaneously, holding dear the look of simplicity, all thanks to the crystal accent embedded into the straps. Not overly loud in a fashion sense, this pair of sandals will look good with most outfits. Moreover, with a 1-inch platform height, a rice pattern outsole, and multiple colors to choose from, you are certain to enjoy these wondrous sandals.
The rice pattern outsole helps to ensure safety; that is, you will find it easier to transition through wet surfaces, as this pattern promotes an anti-slip environment. Safety and security; these are elements that the brand deems important.
A higher platform than usual does two things at once. On one hand, it offers you some elevation for a more sophisticated look, while on the other, it gives you an additional amount of cushioning and protection from the surface underfoot.
The cost associated with this pair of sandals is a bit higher than most of the items on this list. Nonetheless, for the added few dollars you are getting a pair that will not only be the sun, water, and nature-friendly but even more, it will look sophisticated even on less casual occasions.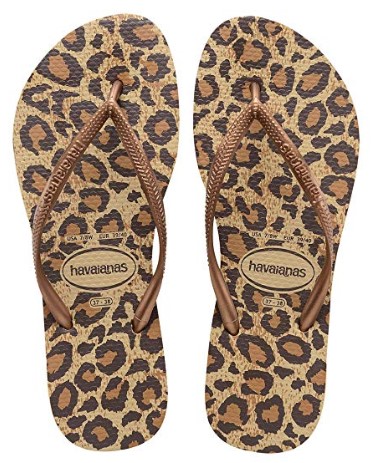 Cows, cheetahs, and leopards oh, my! Animal print is the direction this pair of flip flops has taken and it's an excellent choice for bringing out your wild side. With a 0.25-inch platform, you can sport beautiful aesthetics while, simultaneously, enjoying the feel of what it means to be closer to the ground. Moreover, with the rice pattern design of the outsole, you can have peace-of-mind when transitioning from dry to wet surfaces, as an anti-slip environment is ready for the task.
These sandals are made with various animal prints, ranging from cows to cheetahs. Depending on the style and color you choose, the corresponding likeness to an animal is printed on the sole. The 0.25-inch platform created for this pair is great for those who love the feel of the ground. Furthermore, these sandals are aesthetically pleasing to the eye and there is a pair to match nearly any wardrobe.
Ranking high on this list when it comes to price, these flip flops are a fun alternative to the simpler styles the brand has to offer. They are also a good option for those who appreciate a good feel of the surface underfoot or those who value lighter weight and more flexibility.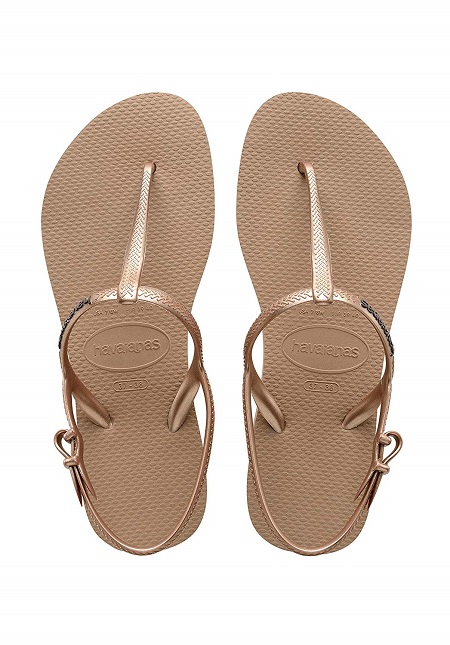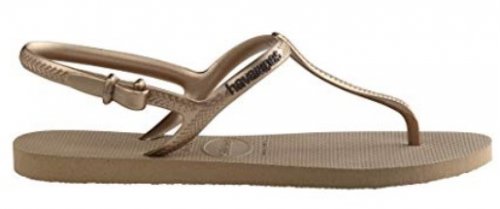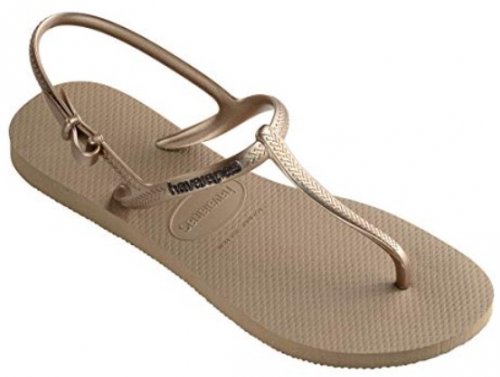 Featuring a Romanesque design, the Freedom sandal puts style at the forefront while offering quality and comfort you've come to expect from Havaianas. An ankle strap provides a secure and customized fit, while the rubber materials used are super durable and won't lose their shape. The Freedom is offered in a wide range of colors, from basic black to a classy rose gold that's all the rage as of late.
Textured soles are a staple of these sandals and for good reason. This texturing promotes comfort as well as traction, preventing your foot from sliding around inside the sandal. This is especially important in wet environments, such as at the poolside or the beach.
Durability and flip-flops don't always seem to go together, but they are also not mutually exclusive. The rubber used in the Freedom's outsole is made to be durable yet soft, giving you a good deal of cushioning while protecting your feet from anything on the ground beneath you. It also holds its shape remarkably well, further promoting durability, especially in the long-term.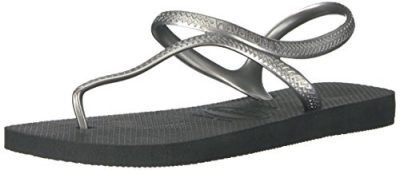 Not the casual beach sandal, the Flash Urban is a more fashionable choice for those who prefer an urban environment. Wearing these, you'll fit in just as well at a pool party as on the busy streets. Available in a number of street-inspired colors, these sandals are great for everyone looking for a look that's a bit more edgy, but just as comfortable and dependable as the rest of this brand's footwear.
Polyvinyl chloride is well-known and widely used for its water-resistant properties. Thanks to it being the main material used in the making of the Flash Urban, you can rest assured that you'll be comfortable wherever your path may take you. The thing that will make you stand out in the crowd is the unique design of these sandals that are available in a number of metallic colors. With straps that secure them to the whole of your foot but that look minimalistic, you can enjoy the easy-to-pair looks as well as the safety they offer.
Compared to other footwear made by this brand, Flash Urban is an expensive pair of sandals. Nonetheless, you'll definitely enjoy wearing it if you're after a look that will stand out thanks to its unique design and high level of comfort.

Subscribe to our Newsletter