Best Closed-Toe Sandals Reviewed For Safe Summer Comfort
In a Hurry? Editors choice: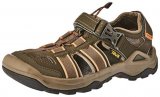 Test Winner: Teva Omnium 2

There is hardly anything more refreshing than freeing your feet in the summertime, which is why everyone loves sandals. However, there are instances where you might not want your toes to be exposed. Maybe you're an adventurer, someone who loves trekking, going long distances on trails far from urban, where you need suitable footwear to protect you from the elements. Which is where closed-toe sandals come into play!

They still offer all the breathability and comfort of a regular sandal – they feature cut-outs or even keep most of the foot exposed – but they also provide support and protection for any type of long-distance wandering. We sincerely hope that you will find that perfect pair of closed-toe sandals in this guide and that you won't let anything stop you from taking on new adventures with a spring in your step!
Standout Picks
Criteria Used for Evaluation
Protection
To take advantage of all that your closed-toe sandals have to offer, it would be best to first understand why they are popular, and why in some situations they work better than other types of footwear.
Bad Weather
While we all love sunshine and clear skies on our vacations, sometimes it happens that we're caught in a downpour. This is especially frequent in more tropical regions, so if you're looking to travel somewhere more exotic, it is best to arm yourself with suitable footwear.
Regular flip-flops and other open-toe designs don't protect you from the elements. In bad weather, your feet will get wet and muddy in record time, and you might even risk catching a cold. Similarly, boots and sneakers, while admittedly very protective, can cause you to overheat. Confining footwear in hot temperatures encourages bacteria and fungi growth, which can lead to bad odors and possible infections.
Closed-toe sandals also have higher soles, which elevate your feet and keep them out of reach of mud and dirt on the trails you might be exploring.
Hot Climate
We have already mentioned that closed-toe sandals provide just as much breathability as other summer footwear. They have cut-outs in the vamp and are made out of light materials which promote proper air flow, allowing your feet to enjoy the fresh summer air. In these shoes, you won't have to worry about sweating, and they will still keep your feet safe from sand, dust and other elements flip-flops can't fight against.
Rough Terrain
There is a reason these are also called hiking, or trekking sandals. Their sturdy construction makes them perfect for outdoor adventures, crossing rivers, for conquering hills and mountain rocks.
This footwear has solid, treaded outsoles designed for good grip and traction, which will prevent you from slipping, skidding or otherwise losing your footing on the rough ground. Most often, they are waterproof, and they have a durable, abrasion and wear-and-tear resistant design which won't easily snap off.
Style
We will be the first to admit that closed-toe sandals are not made for the runways. They don't follow the current fashion trends, and even their color choices seem to be lacking, especially when it comes to styles for men that are borderline active wear.
Black, brown and gray are the norm, with an occasional splash of green, or maybe pink. No cute details, no sparkles or glitter to balance out the practical design.
Nevertheless, the purpose of this footwear is not for it to look aesthetically pleasing. These sandals are there to give us support and keep our feet safe as we conquer new terrains, as well as to save us from the woes of having sweaty, smelly feet after a whole day of moving around.
When you're venturing out into the great outdoors, you choose your clothes based on their functionality rather than style, so the criteria for footwear is largely the same as well.
However, if you're still determined to get the most stylish option available, don't hesitate to sort our selection according to this criterion. Choose off the top and you're bound to earn yourself a fashionable closed-toe design!
Comfort
As you're expected to make the most out of your trekking footwear, and probably to use it for long hikes on different types of ground – it is essential that these sandals are comfortable.
Comfort comes, first and foremost, in the form of cushioning. Look for molded footbeds, for padded insoles, memory foam, and other shock-absorbing materials. When you're expected to be on your feet for most of the day, especially if it involves physically demanding activities, you need footwear which will distribute your weight evenly inside the shoe.
The most important thing is that you don't feel pressure in your heel and that your feet, ankles, knees and even lower back aren't experiencing any cramping or pain.
Flexibility plays an important role in footwear comfort. You should go for shoes which roll with your foot as you move, which have soles that aren't too rigid. The best option would be those which flex in the forefoot area.
Before you settle on a purchase, you should check that your shoe fits well. Your toes, or any other part of your foot, shouldn't be hanging off the edge, and the straps of the sandal should be comfortable. They shouldn't be so loose that your foot is slipping out – as you may risk losing your shoe in the middle of a hike – but they also shouldn't be too constricting and painfully digging into your skin.
Lastly, try to avoid heavy, bulky models. They tend to put a lot of stress not only on your feet but also on your shins, and they aren't ideal for all-day activity.
Support
Whether you're going fishing, mountain climbing, or are just looking for comfortable, reliable footwear for traversing around the city – you want your footwear to be durable. You want it to last for at least one season – preferably several – without losing its cushioning and support or having its straps fall apart.
Footwear which has solid connections, which isn't simply glued but sewn together as well, and which has been tried and tested for extreme levels of use should be at the top of your list. Check for any irregularities in construction, any threads that are already peeking out or flaws that might look like the life of your shoe won't be as long as you'd like it to be.
You also want your shoe to support you every step of the way, no matter what you decide to do. The quality of the sole becomes important here because it needs to withstand any type of ground. The sole needs to have deep tread, to be flexible so that your foot can easily move, but also rigid enough that it provides a good grip.
Most soles are made out of rubber and rubber-like materials which ensure that you don't stumble, fall or injure yourself even when you're balancing on rocks or taking on gravelly mountain trails.
Overall, the shoe should be stable and secure regardless of what you intend to do in it. The sole should be lightweight but not flimsy, the straps should allow for a good fit, and a pattern on the bottom should give you an easy, smooth ride.
Durability
Who wants to pay a lot of money for sandals that don't last?
While it may seem like common sense to purchase a pair of durable shoes, how can you test them out? Short of putting together a YouTube video where you might film yourself dropping the sandals off the side of a skyscraper to test their hardiness; or walking across the desert for the sake of science, it's quite difficult to work out how durable your hiking shoes are.
The more established brands such as those on our list are generally very good – they've been around a long time and have put a lot of money into their design and technology.
However, even if you go with a less known manufacturer, you can get a pretty good idea of the quality of the make by looking at the following features:
Toe Bumpers – Add protection and durability to your sandal.
Tough Outsole – Not only adds traction but helps keep the shoe intact.
Quality Uppers or Straps – Many synthetics, leather, and nylons in hiking gear now come with water resistance to keep your shoes going for a longer lifespan.
Cushioning – EVA footbeds are made to help give you cushioning, but also to last over time so that cushioning doesn't fade
Abrasion Resistant – Some sandals have uppers designed to prevent abrasions from tearing at the material and slowly damaging the sandal over time.
Replaceable Parts – Many companies that design hiking gear know that parts can break simply due to the environment they're used in. In that regard, they've begun to invest in making replaceable parts so you can simply fix your sandal instead of throwing it away.
Our Favorites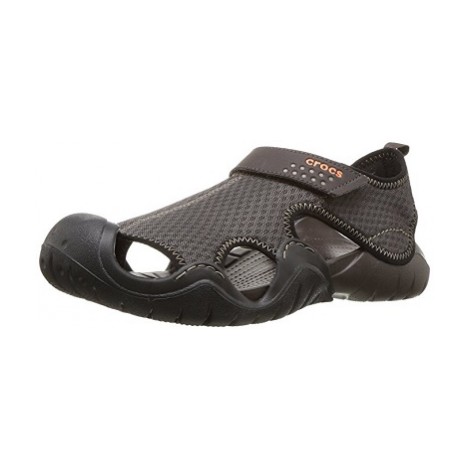 This is a design a little more specialized - the Crocs Swiftwater is the perfect footwear for water sports. Whether you're going fishing, paddleboarding, or scouring the shore for water creatures and shells, these shoes will make sure that you are comfortable and protected. They are made out of a mesh material which dries very fast, have a Croslite footbed for that iconic Crocs comfort, and a hook-and-loop closure so that you can easily adjust the fit. Of course, for added protection, there is the rounded toe bumper which keeps you safe from rocky beaches and muddy river beds.
Croslite is a technology unique to the Crocs brand. This is a resin-type material which has a perfect mix of softness, rebound, and cushion. It enables the Crocs Swiftwater to be incredibly lightweight while also unbelievably comfortable. The outsole of the Crocs Swiftwater has what is known as a herringbone pattern. This groove design ensures that you will remain on your feet even when trudging around on wet, slippery ground near water.

The Crocs Swiftwater is a delightfully inexpensive design. We are nothing short of impressed by its quality, the technologies that come with it, and its functionality. If you are someone who spends a lot of time traipsing the shallows, this shoe may just become irreplaceable to you.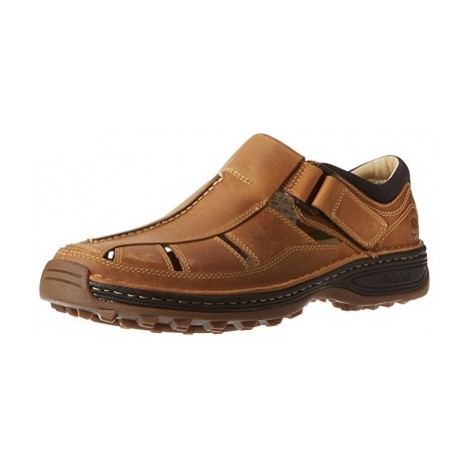 It looks like a regular, smart casual shoe, but it isn't - the Timberland Altamont is a design which represents the perfect blend of summer, fresh air, and relaxed chic. This leather-made sandal has a hook-and-loop closure which can be adjusted for a customized fit and sports Timberland's trademark Smart Comfort Plus Technology with an EVA footbed. On the bottom, there's a rubber lug outsole which provides ultimate traction. With the polished Altamont, you can enjoy long treks, a day out on your boat, or a fun family outing in the sun.
The last of the Timberland Altamont is contoured for increased comfort and minimal break-in period. The Smart Comfort Plus Technology comes with a 5mm memory foam layer on top of a dual-density EVA Smart Comfort insole. This ensures that the force of the impact of each step is evenly spread out in the shoe. Timberland is all about quality and durability. The outsole of the Altamont design is no exception, as it is built to last through various types of terrain, with deep treads which ensure a good grip and superior traction.

There is no way around it - the Timberland Altamont is one of the most expensive models on this list. With the high-quality materials it is made of - the genuine leather and the rubber - as well as the technology it offers, it is no wonder. We still feel that it would be a good investment, as this comfortable lifestyle sandal will surely last you for a long time.

3

. Earth Shoes Marietta Capella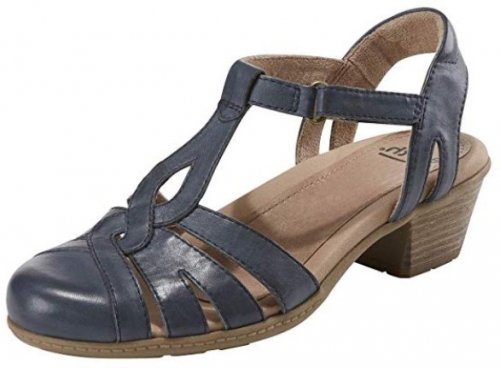 In our sea of sporty, hiking, trekking, and generally performance-driven sandals, we have an option that is far from that. The Earth Shoes Marietta Capella is a feminine, fashionable design that keeps you cute and comfortable all summer long. In case you didn't have time for that pedicure - don't sweat! The Capella perfectly matches your flirty summer outfits without exposing your toes. It is effortless and fabulous and you will love taking it out for a stroll!
The Capella looks pretty, but it also comes with some premium comfort technologies. The footbed is made from dual-density cushioning from heel to toe, with what is called Earth Powerpath, a system that promotes a natural, well-balanced gait. The upper of the Capella is made from genuine leather with soft leather lining, while there is reinforced support in the arch area to help fight off foot fatigue. Thanks to the hook-and-loop closure around the ankle, you will be able to easily adjust the fit of this lovely sandal.

We're in love with the Earth Shoes Marietta Capella! It is refreshing to see a heel so versatile and so down to earth, yet so amazingly comfortable. It may not be your first choice for an outdoor adventure, but it definitely is a great one for a fun time out with your friends and family.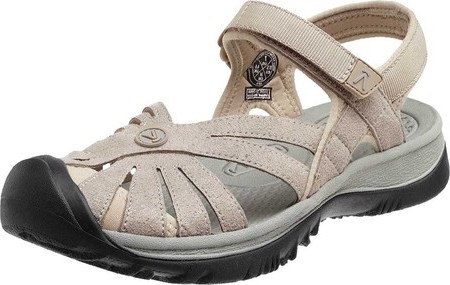 The KEEN Rose is a lightweight sandal that offers great protection and comfort. This shoe keeps most of your foot exposed, while still falling into the 'closed-toe' category. It has a rubber sole that is very hard-wearing to eliminate shock and a metatomical EVA footbed that will provide you with all the necessary comfort. This shoe comes with an adjustable hook and loop strap. It has multiple color options and, while not trendy per se, we do hope that you will be able to find the one which suits your style the best.
The Rose comes with a hook and loop closure which allows you to carefully examine how the shoe fits and modify the tightness of the straps depending on the type of activity you're engaging in. The outsole of the Rose is non-marking and has multi-directional traction. It's made of rubber and is thick enough to absorb impact no matter what you do, be it running or jumping or twirling or dancing in the rain. It is slip-resistant and skid-proof, and it will make sure that you stay on your feet no matter what.

Priced in the middle of the pack, the Keen Rose is a great option that won't exactly break the bank but might still require a little bit of thought. However, Keen is a great brand that offers a durable, machine washable option that will protect your feet while out on the trail.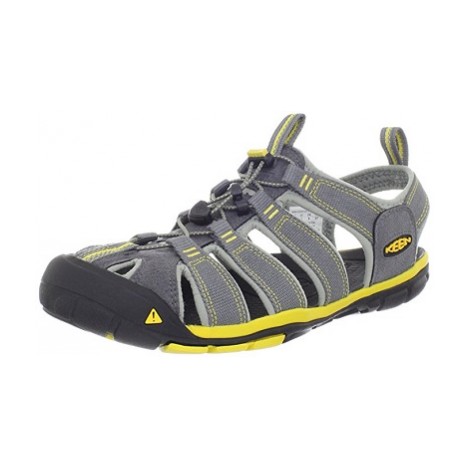 You will hardly get a level of support this high on a shoe this easy to wear. With the CNX Technology, the KEEN Clearwater is the lightest shoe yet, and we are in awe of its protective properties. It sports an upper made of polyester and a mesh lining treated with Aegis microbe shield to prevent bacterial growth. It has a non-marking rubber outsole, a secure bungee lace system and a patented toe-guard for when you're exploring unknown terrain. A rear pull-on loop allows for quick and simple entry, and if you needed one more thing to love about this sandal, there is also the fact that it is completely machine washable.
KEEN posed a challenge for themselves, to make one of the lightest footwear collections possible. The Clearwater belongs in this line, as each shoe weighs only 10 oz, while at the same time not losing any of its protection. "Addition by subtraction," as KEEN calls it. The support the Clearwater provides is multifold. First, there is the contoured arch for midfoot support, then the metatarsal ridge for underfoot support, and lastly the shoe also has multi-directional grooves which add natural flexibility and improved grip.

The KEEN Clearwater is a reasonably priced design. It is the lightest option on this list, but one which still bears all the features of a supportive sandal - contoured arch support, secure straps, and a lacing system, as well as a tough, protective upper. A good deal for a good price, we feel!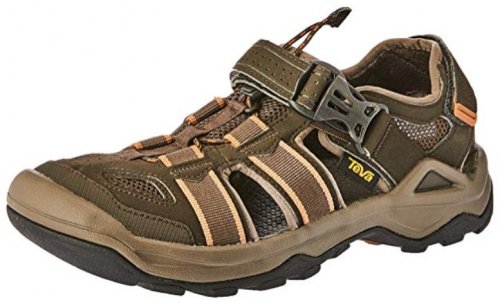 An improvement on its predecessor, the Omnium 2 from Teva is adventure-approved. It is a hybrid design that you can take out both in wet and dry environments. Thanks to its quick-drying upper, your feet won't have to suffer for long, and it also delivers outstanding traction on slippery ground.
The Omnium 2 comes with a hook-and-loop closure that you can use to quickly get in and out of the design, as well as to adjust the fit to your liking. Additionally, there are elastic panels which accommodate the shape of your foot for a stretchy feeling. In terms of comfort, you will find an EVA midsole and cushioning, as well as a nylon shank for stability. The Omnium 2 is treated with Microban, a technology that prevents bad odors and has antimicrobial properties.

We are having a hard time finding a flaw in the Teva Omnium 2. It offers a great fit, cushioning that will last, and it even comes with all the necessary features to keep your feet healthy. This is exactly what you need on your next trail hike, complete with a durable and rugged outsole!



From a brand which is famous for its protective outdoor footwear, the KEEN Newport H2 is a show-stopper. It is a classic water shoe design, with all the breathability of a sandal and the toe protection you need. The sole of the Newport H2 delivers traction on any terrain, and with this option you will be ready for hiking, walking and adventuring in both wet and dry conditions.
The Newport H2 has an upper made from polyester webbing that is easily washable. The lining is quick-drying so that you have no problems wading through streams. For comfort, there is an EVA midsole and a metatomical EVA footbed to keep you supported. A lace capture system ensures that perfect fit. The outsole of the Newport H2 is non-marking with razor siping that improves your contact with the ground.

This PVC-free option is not only packed with high-performance features, but it is also designed to protect you from any type of terrain. Your toes will be safe and wiggling, and you will be able to explore the beauty of nature without a care in the world. Treat yourself to the Newport H2 as soon as you can!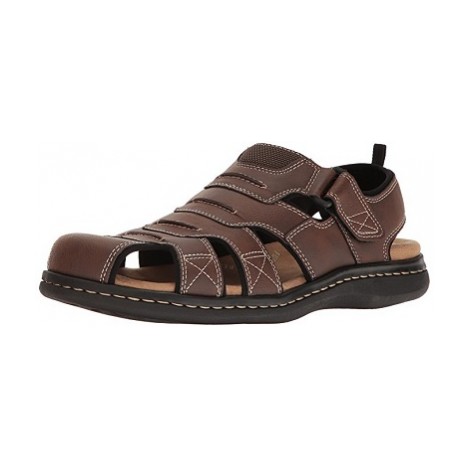 The Dockers Searose is undoubtedly an elegant closed-toe sandal. It comes with a tumbled synthetic leather upper with a velcro hook-and-loop strap. A memory foam insole is there to provide comfort, while the outsole is made out of durable rubber. While you may want to choose a different type of footwear for your more intense outdoor activities, the Searose is a perfect fisherman sandal option for a relaxed weekend stroll or a day out with friends.
The memory foam insole of the Dockers Searose molds to the shape of your foot, providing you with comfort customized for your feet only. Additionally, the fusion footbed adds an extra layer of cushioning for all-day wearability. You will love the roomy fit of the Searose. The straps of this shoe won't cut into your skin nor will you feel too constricted as you move around. Furthermore, the velcro closure allows you to adjust the opening to the width which works for you.

We are stunned by the low price of the Dockers Searose. It is a given that this design is not suitable for extreme outdoor adventures - however, if you are looking for a smart casual sandal that will allow your feet to breathe but still cover them almost entirely, then this one is perfect for you.

9

. ECCO Biom Delta Offroad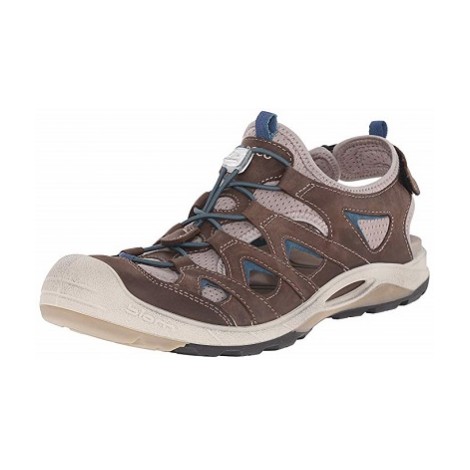 From exploring the city to simple trail hiking, the ECCO Biom Delta helps you do it all. This high-quality design is constructed out of yak nubuck leather specially made in ECCO tanneries. The material is lightweight, breathable and abrasion-resistant. The design has a PU toe cap which provides protection in off-road environments, a rubber outsole with solid grip and much-needed traction when taking on unexplored terrain. To top it all off, this sporty sandal boasts the Fluidform Technology as well as the Biom Natural Motion Technology. The final cherry on top is a lace system for a speedy fit.
ECCO Fluidform Technology consists of a PU midsole which gently cradles the foot. Think of it as a soft hug which ensures a lightweight feeling, as well as flexible comfort as the ECCO Biom Delta bends with your foot while you move. The Biom Natural Motion is an advanced technology provides you with a natural feeling as you go about your day. It is almost like stepping around barefoot, but with all the support of an anatomically shaped last with a reduced seam construction which ensures the natural movement of your foot.

After everything we learned about the ECCO Delta, it isn't so strange that this is quite an expensive design. Nevertheless, it is a strong, reliable shoe which will protect you and keep you comfortable and sweat-free on all of your journeys, rendering its slightly higher cost insignificant in the long run.

10

. New Balance Appalachian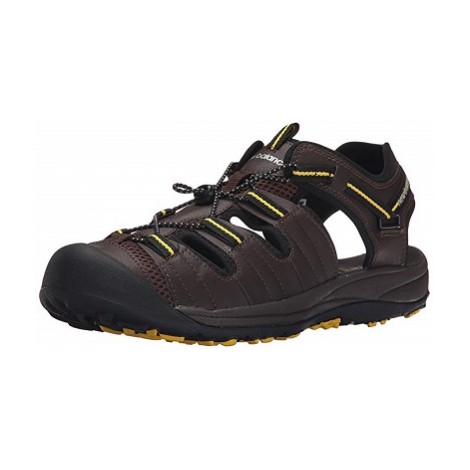 The New Balance Appalachian is here to support you whenever you go out onto the trail. This design is rugged and practical in appearance with its synthetic mesh and textile upper and a strong bungee toggle closure. The backstrap of the shoe is fixed, while the toe area is reinforced with a rubber toe bumper. Comfort comes in the form of an EVA footbed, and the outsole is made out of Ndurance rubber. The lining is Lycra, a trademarked invention from a company called Invista. With all of these features, the New Balance Appalachian will quickly become your go-to closed-toe sandal.
Ndurance rubber is a type of rubber compound which ensures maximum wear and tear resistance in areas which are not safe for other types of footwear. The New Balance Appalachian Ndurance outsole will provide you with maximum security and safety in your trekking. Lycra is a stretchy fiber which provides comfort and flexibility to any type of material and product. The New Balance Appalachian is no different, and you will definitely enjoy its gentle feel and comfortable fit against your skin.

Given all the features that come with it, we are surprised by how the New Balance Appalachian is not expensive at all. In fact, with the comfort and safety technologies that it offers, this design is at a surprisingly reasonable price, and we feel one of the best deals in this guide.

Subscribe to our Newsletter