Best Toddler Shoes for the Beach Reviewed & Rated
In a
Hurry? Editors choice: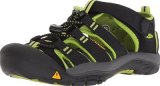 Test Winner: Keen Newport H2

There are just so many things to pack when you are preparing to go for a
vacation
with your little ones, but there is one thing you should not forget about, and that's beach footwear. Whether you're going to a tropical beach with the finest sand, a vacation complex with splash pools and playgrounds, or just to the local rocky beach, you need to make sure your toddler's feet are protected from rocks, hot sand, and anything else they may step on. In addition, pool sides can be slippery, and it is crucial that they have
plenty of traction
beneath their feet, which will help eliminate slips and falls and ensure a happy outing.
Standout Picks
Criteria Used for Evaluation
Materials
The upper material used to make beach shoes should be the first thing you look at, as this is where the shoes will be getting their water-friendly properties. You want a pair of footwear that will dry quickly so that your child is not running around with wet feet all day after having splashed in the water. The best materials for this will resemble mesh or neoprene and will be made out of synthetic fibers. Some makers use rubber which is another excellent option, as long as it allows for water accumulated in the shoe to be easily drained. Beach shoes with cut-out designs are an excellent choice because the extra airflow will provide a quicker drying time, as well as much needed breathability that can prevent the overgrowth of bacteria and formation of odors.
Secondly, the upper should be flexible enough so that it allows a good fit. Small children have chubby, sensitive feet, and constricting them can easily lead to painful blisters which you should avoid, especially if you are on holiday at the seaside. A flexible upper will provide a better experience while putting them on and will adapt to your little one's feet to ensure they aren't feeling any discomfort while exploring the world.
Another great feature to have is UPF protection that will provide safety from the sun's damaging rays that can cause painful burns or even allergic reactions on sensitive skin. If you know that your toddler is sensitive to the sun, it is best to provide them with a pair of shoes that covers more skin, so as to make sure they stay safe throughout the day.
Finally, if you know that your child is going to be getting wet and spending a lot of time in shoes, you need to think about bacteria and odor control. Moist footwear can lead to the overgrowth of bacteria that can not only result in smelly feet but can damage the skin or aid the development of conditions, such as yeast overgrowth. It is crucial that your child does not spend a long time in wet shoes, and that the ones you choose for them are breathable and allow good airflow. In addition, you can look for models which have been treated with anti-bacterial treatments that can help prevent the problems we mentioned.
Outsole
The outsoles need to do a lot of work, most of which is of a protective nature. A good outsole will be sturdy enough not to be punctured by items your child may step on, and it should stand the test of salty and chemically treated water which can cause problems with footgear that have been inadequately glued.
The first thing you need for the soles is for them to be non-slip, which can make a huge difference in their experience. Toddlers and little children are not only new to walking and running, but they tend to be clumsy and you need to be able to relax; knowing that the shoes they are wearing are not a safety hazard. Surfaces around swimming pools and fountains can be especially dangerous, with just one missed step leading to serious injury; so, you have to be certain that your child has a good pair of shoes that won't have them skimming around like they are walking on ice.
Secondly, the sole will be the part which protects them from hot sand, rocks, and pebbles, which can sometimes even be sharp; anything found in grass or on the surface underfoot, twigs, and even sea urchins if you plan on visiting wild beaches. This means that a soft, flimsy outsole is out of the question if you know your child will be doing a lot of walking, or if you plan on visiting more than just the local swimming pool. Furthermore, children's motion control is still low, so you need to be sure the outsole is protecting all parts of their feet, including their sensitive little toes. Many companies offer water shoes with raised toe bumpers which are a great choice, as they will provide a higher level of protection your kids will love. Even more, when choosing the next pair of beach footwear for your kid, make sure that you consider the heat the outsole can take, especially if you are going to be walking on hot sand and concrete during the summer months.
Versatility
When thinking about a pair of these, you need them to be as practical and versatile as possible. Toddlers are not exactly known for their patience, and it is almost impossible to expect of them to change shoes every time they want to do a different activity. That's why the pair you choose for your child needs to be versatile enough so that your little one is unbothered and happy. While some shoes may be excellent for swimming, you may find that they do not offer the protective features your child needs. Others that do well with rough surfaces may get too heavy when wet. Before making a purchase, think about the use you want to get out of your kid's water shoes – will you be using them at a swimming pool, or at the beach, or maybe you want something to last you all summer and that can be worn every day? Do you go on lots of walks, and if yes, what sort of surfaces do you mostly walk on? These are all things you need to consider, and ideally, you will be able to opt for a shoe that will tick all the boxes for you and your child.
Ease of Use
This criterion could have been the first one on our list, as we know that getting a pair of shoes on a child can be an absolute nightmare. Not only will they often be distracted, but even when they are fully concentrated on putting on their shoes, you may find that you are the one who has to do all the work. That's why choosing a pair that is easily put on and removed is crucial, so that you actually get to use them.
Hook-and-loop closures are a well-known favorite among parents and kids, as they make this process much easier. You can choose a pair of shoes that either has a top or a back hook-and-loop closure, and this will allow you to easily get them on but, also, to adjust the fit as much as you need to. Some have more than one hook-and-loop closure, such as the Teva Tide, so you can rest assured there won't be a hassle to put on and off, even after they have gotten wet.
Other types may offer stretchy fabric at the ankle and a pull tab that will ease the process of putting them on, but this may be a bit more complicated, especially once they are wet.
Comfort
Toddlers are picky about what they wear and this, also, applies to their shoes. Some even go as far as to prefer not having any footwear on them when out and about. Of course, for safety reasons, this is impossible. So, it is your task as a parent to ensure your child is feeling as good as possible in the footwear you have chosen for them.
The level of comfort a pair will provide depends on the materials used; as well as, the type of construction. If possible, choose the shoes with the softest materials, without any stitching on the inside that could cause sore sports for your little one's sensitive feet.
Furthermore, toddlers with wide feet can prove to be more difficult to fit, due to the fact that their feet can't get into regular shoes. One thing you may be able to do is to go one size up, but this option is not an ideal solution. Instead, you can purchase shoes that are made out of softer materials that will stretch and adapt to your child's feet more easily. Crocs are, also, a great option, as they make several types of fits; all of which are well suited for wide and chubby feet.
Another thing to consider is the construction and flexibility of the soles. A more flexible pair will have softer soles and will help your child develop their motor skills better than a chunky pair. However, the softer a pair of outsoles, the bigger the risk of your child hurting themselves in the case they step on a sharp or hard object. This is why it is best to consider the type of use you want to get out your kid's next pair; then, make your selection, accordingly.
Value
Despite being small and using very little material, children's shoes tend to be quite expensive. With the rate at which your child grows out their shoes, it is very important to consider the price of your chosen item. A perfect pair will offer high quality and a wide versatility of use at a low price. However, this is very difficult to come by, so you need to look at 'price-to-use' ratios instead. If you want a pair of shoes that you will only use for one week while you're on holiday, there's no need to splurge and spend a large amount of money on a pair of beach shoes.
If, however, you live in a place that requires your child to wear water-friendly summer shoes on a daily basis, you may want to invest a bit more to ensure that your chosen footwear, actually, makes it through the end of the season. Some parents will opt for sizing up, in order to allow for some growth, which is always a good idea, as this way you know that you won't have to be buying a new pair of shoes every couple of months. Some makers have even taken growth into consideration, making footwear which will facilitate some growth without becoming uncomfortable and hurt your little one's feet.
Our Favorites
Now, this is a design that is made to protect those little toes! In addition, it comes equipped with a removable, anatomical footbed, and an EVA midsole that provides decent cushioning. There is a one-inch high heel, and the rubber outsole gives nice traction. Polyester webbing helps to ensure a quick dry time. The Keen Newport H2 is ready for the beach!
The outsole on this design helps to ensure your kid gains decent traction when traversing multi-surface terrain types. This means your little one will be a bit more secure in their steps. With points taken to emphasize the importance of support, the removable footbed centers around the big toe area (the first metatarsal joint), with an anatomical design throughout the footbed.

The Keen Newport H2 is an amazing option not only because of its quick-drying and water-draining features but also because, thanks to its closed-toe silhouette, it protects your child's feet like no other! Its closure is easy to use, and it is an all-around outstanding choice for summer fun!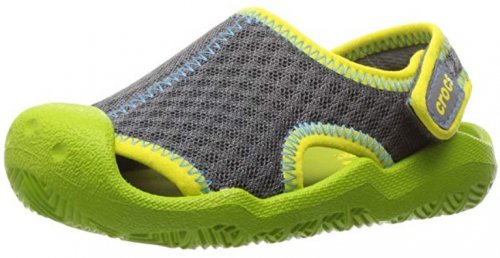 Crocs are famous for their classic clog, that's true, but another bestseller in the world of children's footwear is the Swiftwater. This amphibian design has it all - a breathable upper, a durable, protective outsole and toe bumper, an adjustable closure, a roomy fit and the well-known and well-loved Dual Crocs Comfort! A truly inspiring design that will leave your kid wanting for nothing!
The Swiftwater has a mesh upper for breathability and gentle comfort, and an adjustable strap in the back for a secure fit. The outsole reaches over the toes for a toe bumper that prevents bumps and stubs, and there are holes in the sides which help with draining away water. The Dual Crocs Comfort system includes deeply cushioned footbeds with Croslite foam for support, meaning that comfort levels on this design are out of this world.

The Crocs Swiftwater is one of a kind. It is a combination of soft and supportive, comfortable and protective, and we couldn't be more taken by it. It comes in several different color options, and your little one is bound to find one they like. Don't miss out on all the fun and games in the amazing Crocs Swiftwater!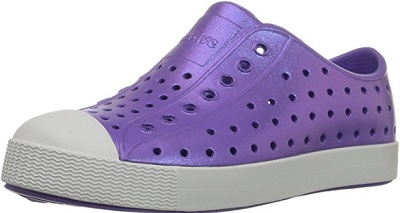 An EVA construction on the Native Jefferson creates a stable and sturdy environment. In addition, this design is breathable and has a cushioned footbed to keep those feet cool and comfortable. The shaft height is 3.5 inches and the heel height is 2.5 inches. This gives a nice distance from warmer surfaces, such as hot sand and asphalt. Finally, there are many colors to choose from, so there is something for nearly any beach wardrobe.
The EVA upper gives strength to the Jefferson and, also, creates an environment conducive to easier cleanup. This is the best of both worlds! After we add in the breathability factor as well, this design is most definitely ready for the beach. Comfort is every bit as important as practicality, and the footbed of the Jefferson has cushioning to help bring up those comfort levels.

With high-quality construction, unique materials, and an urban design, the Native Jefferson is definitely something to consider. It is a great option to add to your little one's footwear collection.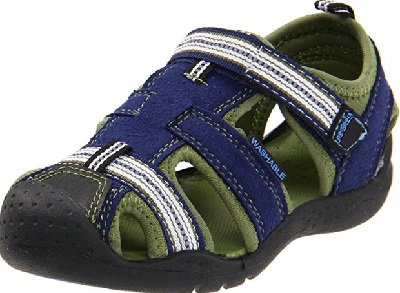 The Pediped Sahara Flex is approved by the American Podiatric Medical Association for promoting healthy foot development, so it is, definitely, an excellent choice for your kid's next pair of vacation footwear. It does well in all circumstances, whether they are city, playground or beach use, and is extremely easy to care for, as you can simply pop it in the washing machine once it gets too dirty. Wearing these sandals, your little one will feel just as good as when walking barefoot, while reaping the benefits of a protective outsole and toe bumper to keep them safe from rocks and hot sand.
These closed-toe sandals are not only lightweight but they are, also, eco-friendly, having been made with vegan-friendly materials that do not damage the environment in the production process. They feature a quick-to-dry EVA foam footbed, that will serve your little one well in both water and sand. Our favorite thing about the Sahara Flex is the fact that you can just pop them in the washing machine on a gentle cycle with regular detergent (skip the bleach). Once they are done in the washer, just leave them to air dry with the Velcro straps open and away from the sun. Your little one will love the clean and fresh footwear.

As they are pediatrician recommended, by purchasing the Pediped Sahara Flex, you are making sure your child's foot development isn't hindered in any way. And all the while, you still get a pair of shoes that will dry quickly and that you can easily wash.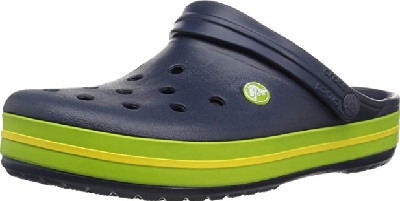 The Crocs Crocband Clog is a stylish update that still retains all the benefits of the classic clog, with an added stripe that is there for aesthetic purposes. Being made out of the same soft material as the classic clog, your kid will love these if they've got wide or chubby feet. In addition, they feature the Crocs relaxed fit that provides plenty of wiggle space for the toes without feeling too loose. These clogs will do well at the beach or on the playground, and the best part is that you can hose them off, and they'll dry super quickly, so your toddler can wear them to continue on to their next adventure.
One of the things about Crocs is that you have to know how to size them. People will often think they run too big, but that's actually not true. These were made to provide the foot with plenty of space - your toes and sides of the feet should barely touch the design. Some parents use the strap that will bring the shoe's size down a bit until that is too tight. Once your toddler has outgrown them, however, just flip the strap to the front and they will still fit for a full size as a slipper.

Being made out of a synthetic material, these are excellent for the beach. But another advantage of the make is the fact that they feature a Croslite foam footbed that is not only ergonomically designed for maximum arch support but, also offers plenty of cushioning; so, your little one can comfortably wear these clogs all day long.

A pair of Crocs Crocband Clogs will provide you with an easy, practical, and comfortable style for your child. They are durable and can be worn even if your child's feet have grown; so, you can ensure that you have a pair of footwear that you can use all summer long.

The Hurricane XLT 2 is a widely popular design from Teva, one that comes in versions for men, women, and kids. It is not the most fashionable of styles, but it is sturdy, reliable, and holds up well against water, sunshine, and sand, which is all that we really want out of this type of footwear. The Hurricane XLT 2 comes in many color and pattern choices so that your little one can easily choose a design they like best!
The Teva Hurricane XLT 2 has an upper made from polyester webbing that is quick-drying and durable in summer conditions. There is a hook-and-loop closure which helps get the fit of the sandal right and is very easy to maneuver. In terms of comfort, the Hurricane XLT 2 has an EVA foam footbed for all-day comfort, and its rubber outsole provides amazing traction, so you can be sure that your kid won't lose their balance even on tricky terrain.

This option is that easy, straightforward one when you're not sure what to get. There are no confusing technologies, no complex straps or closures - just a solid, durable design that will keep your kid comfy and dry, and that won't stop them from using the most out of their summer days. What a great deal!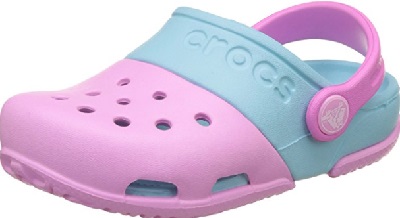 These colorful clogs by Crocs are sure to make your little one happy during the summer days spent at the beach. They are not only comfy with a roomy fit and plenty of cushioning, but they are, also, extremely easy to put on and even easier to wash. They are breathable and will do an excellent job in water, as the synthetic material is easy to dry, will quickly let out all water from the design, and won't let any rocks or twigs hurt your child's feet. You'll probably be tempted to get a pair of these for yourself, as well.
These are made out of Crocs' own fully-molded Croslite material that was made to ergonomically adjust to your child's foot. This means that your toddler will get a customized fit that will hug their feet perfectly, providing support and cushioning where it is most needed. The fact that they fit loosely means that they will be great for all feet widths and shapes. These clogs do well in all types of water, and one of the main reasons for this is the fact that they weigh only ounces. If by any chance, your toddler loses these in the ocean, you'll easily find them, as they will just float to the surface.

The Crocs Electro II will last plenty of time and will prove to be a great companion; not only for days at the seaside but even more for everyday indoor and outdoor use.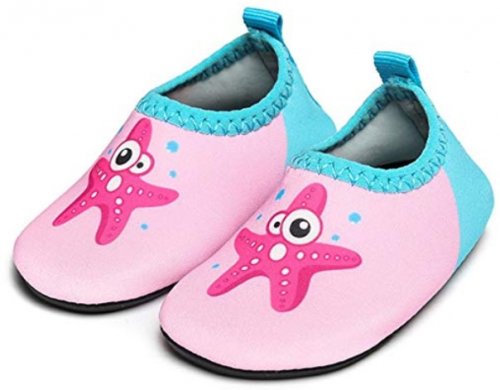 Water shoes are always a great option when hitting the beach! They are protective and quick-drying, and they are great for little ones who are playing both on the sand and in the shallows. The Jiasuqi Aqua Sock is a design which comes in dozens of patterns and colors, from vibrant prints to fun cartoon characters, and your kid will have an amazing time picking out their favorite!
The Aqua Sock is made from an ultra-thin material that is incredibly stretchy for a fit that feels - you guessed it - like a sock. The entrance of the design is smooth so that it doesn't scratch the skin, and the entire construction is also breathable to allow for maximum comfort in hot summer days. On the bottom, there is a rubber outsole that is lightweight, slip-resistant, and that protects little feet from sharp, hazardous objects.

The Jiasuqi Aqua Sock is a great choice for building sandcastles, burying siblings in the sand, splashing in the water, running, playing catch, and even swimming! It is comfy, it is safe, and it will bring a smile on your kid's face every time they look down at their hilariously patterned footwear!

While we have our fair share of closed-toe footwear on this list, when we think summer and sand, we also think sandals and open toes that are free to wiggle in the fresh air. The Chaco ZX/1 Ecotread is a sandal that is not only easy to wear but is also incredibly comfortable and supportive, thanks to all the latest innovations that Chaco has installed in it. Inspired by a classic basket weave, this design is colorful, bright, and a great addition to any kid's wardrobe.
The ZX/1 Ecotread has a strappy upper made from polyester jacquard webbing and a special system which allows for a secure fit that takes on the shape of little feet. It is adjustable and incredibly durable. The platform footbed is contoured and delivers arch support and proper body alignment. On the bottom, there is a rubber outsole with small lugs that mean your kid won't slip or skid any time soon. The entire design is animal-friendly, and thus perfect for those who seek vegan products.

At first glance, you may think that the Chaco ZX/1 Ecotread is difficult to fit onto little feet, but rest assured that its closure system makes it easier than it seems. This sandal is versatile, as it can take on both the beach and hot city streets, and will keep your kid equally comfy throughout. What more could we possibly want?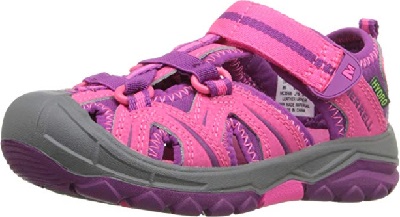 This pair of beach sandals is made by one of the best producers of walking and trekking gear; so, you are sure to be getting a high-quality product for your little one. They are an excellent choice if you need a pair for the beach that will be getting a lot of use, as the footbed is treated with anti-odor techniques to prevent smelly feet. In addition, they are breathable, protective, and have a leather upper with a quick dry lining that will keep your kids dry, even after splashing in the water.
As all other gear by Merrell, these sandals are performance-oriented and built to take a beating. The upper is protective with a raised bumper toe guard to ensure your little one's toes remain scrape-free, regardless of what they are doing; while the outsole features the M-Select GRIP durable traction that will do well on all surfaces. Not only will the cutouts on these allow for any water to drain quickly, but they will dry fast due to the lining which is made out of quick-drying textile. In addition, they feature a hook-and-loop closure which both you and your child will love, as they will be easy to put on and off when you're taking off for your next adventure.

The cost of the Merrell Hydro is quite high compared to other items on this list, but if you are looking for a sturdy summer design that will do well at any type of beach, then the investment is well worth it.

Subscribe to our Newsletter