Best Kids Tennis Shoes Reviewed & Rated
In a Hurry? Editors choice: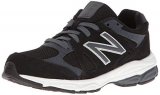 Test Winner: New Balance KJ888

We can all agree that purchasing shoes for our children can be incredibly exciting. Now, let's say that your little one decides to sign-up for some extracurriculars and is interested in becoming a tennis star. Chances are, you probably don't have a pair of kids tennis shoes already that are really designed to help support your child on the court. In this, coaches and trainers most often will always recommend starting off the support by purchasing appropriate gear. This will keep the child comfortable and in control, without slipping or falling.

Standout Picks
Criteria Used for Evaluation
Materials
The first criterion that we want to share with our readers today is all about materials. Now, it's safe to say that we all understand the importance of quality materials. We also all understand that quality materials mean that a product is going to last longer. In this, this was exactly what we were looking for when picking out the best kids tennis shoes today. With that being said, in the footwear industry, there are so many different materials that manufacturers can make a shoe from. So, it's essentially our responsibility, as a consumer, to know what type of materials to look out for.
Leather: Traditional footwear was always made from leather, and this is with good reason: it's highly breathable, molds to the foot, is resistant to abrasion and will last quite a while. High-quality tennis shoes are still often made with leather, though you'll find that synthetic versions of the material are just as popular. Leather is ideal for kids because it's easy to clean, and won't show signs of wear as quickly as textile would.
Mesh: You'll find mesh in almost every model listed above. Why? It's quite simple! This is a synthetic textile that offers excellent breathability, wicks moisture away from the foot, and keeps your child comfortable even when participating in strenuous activities.
Rubber: Rubber is most often used in the sole portion of your footwear, and it's a popular option for a number of reasons. It is lightweight and flexible, it's durable, and it offers some shock-absorption which is crucial when engaging in physical activity.
You can, of course, look for other materials as well. The available options are completely unlimited, and you'll find that every foot does best with different compounds. When shopping, a great piece of advice to follow is to look for footwear that feels right on the foot - not just in terms of size and width, but footwear that also allows your child to freely move, all while protecting their still growing feet.
Comfort
You'll find that a number of factors go into making a pair of footwear comfortable. You'll want to buy the right size and width when shopping for kids tennis shoes, but you may also want to pay close attention to factors such as shock-absorption, weight, breathability, closure, and many more.
Shock-absorption:
You'll find that jumping, running, quick stops and starts all tend to take their toll on the feet. This is why most athletic footwear is made with some sort of shock-absorption incorporated into the design. Some of the models listed above have foam midsoles that disperse shock generated on impact. Others feature GEL inserts that help prevent the force from impacting the musculoskeletal system. You can also increase shock-absorption through adding a high-quality pair of insoles to your footwear. Proper shock-absorption can help protect the tendons, prevent injury, and stave off fatigue, so it's the first thing on your list of features you should be looking for.
Weight: A key indicator as to whether or not a shoe can be considered viable for tennis is whether or not it's heavy or light. Reason being, no one wants to wear a heavy shoe when playing a sport, whether it's for tennis or running. Now, this is something we looked at right away when assessing shoes. This information is always easy to find and, if you are interested, all you need to do is visit the product description section. In there, manufacturers will share both the packaging weight and shoe weight.
Breathability: Typically, tennis is played outdoors, unless specified otherwise. In this, since it is a sport, it requires frequent movement, which can make a child sweat. Now, many people don't often think about sweat in the shoe, until after it starts to get smelly. Given our experience with shoes – we know that parents would appreciate a tennis shoe that is ventilated and made from perforated materials to help keep the interior part of the shoe dry and cool. So, this is precisely what we looked for – which nearly every single shoe on our list today has.
Closure: Most kids tennis shoes will utilize a classic lace-up closure, nut there's a case to be made for velcro straps as well. Small children may have trouble with laces, and even older ones may need to make quick adjustments to the fit of their shoes while playing. Ideally, you will want to purchase a pair of footwear with a secure closure system, but a velcro strap on the top of the foot, such as in the New Balance Hook and Loop 696v3 can make for a great feature.
Stability
One of the most important factors you need to consider when shopping for tennis shoes, regardless of whether it's for adults or children, is the stability said shoes will offer. If used for playing actual tennis, you need to keep in mind that this sport includes a multitude of lateral movements, quick stops, and turns. It also requires the foot to be firmly held by a supportive pair of footwear in order to minimize the chance of ankle sprains or other injuries that can be painful and may take a long time to heal.
You will find that the list above features different types of kids tennis shoes, so before making a purchase, you need to consider ho they will be used.
Running shoes: These are sneakers primarily made for running and activities that include forward movement. Usually, they're highly cushioned (especially in the heel), and are made with lightweight, breathable materials that allow for great moisture management and temperature control. If you're looking for something to be worn on an everyday basis to school, gym class, playdates, etc., running shoes are an overall good choice.
Tennis shoes: Made specifically for tennis and other racquet sports, these will focus on lateral stability with plenty of overlays on the sides of the foot. They will also feature a more durable outsole, and include a wider platform that is to protect the foot from sprains and injuries.
Indoor court shoes: Usually made for basketball, volleyball or handball, these will focus on providing adequate surface grip, and will usually be non-marking. They're a great choice for those who want a bit more stability, but without sacrificing cushioning. Keep in mind that these might weigh a bit more than running or tennis models, especially those made for basketball.
Fashion sneakers: Finally, there are sneakers and shoe models that were inspired by athletic footwear, but that have been adopted for everyday wear thanks to their fashionable looks. These can have a number of features, and the amount of impact protection, support and stability will depend on the exact model you choose. If what you need is a school shoe that will feel comfortable on the playground, fashion sneakers will do quite nicely.
Outsole
One of the key things to keep in mind when shopping for kids tennis shoes is the outsole and the type of performance it will offer. Seeing that most of the models above are made with a specific physical activity in mind, the outsoles will greatly differ in the type of grip and traction they provide.
First and foremost, you will want to invest in a pair of footwear with a great rubber sole. While foam may seem like a good choice, it's actually not that durable, and won't offer the same performance as classic rubbers do. Choose between natural gum rubber, abrasion-resistant compounds, or even high-tech materials such as Continental rubber or Vibram. These will all do well at preventing slips and falls, even on less than ideal surfaces (wet pavement, dusty indoor courts, school hallways).
Another thing you will want to pay close attention to is the traction pattern found on the bottom of the shoe. For classic tennis shoes, basketball, and other court sneakers, you can look for a herringbone pattern which is an effective, grippy design that's been used for years due to its effectiveness. If, however, you're shopping for everyday wear and playground fun, you can consider traditional patterns as well, such as those found on running footwear.
Value
This is the section that we are most excited to share with all of you; the cost and value. Reason being, we want to teach everyone how important it is to look and assess based on these two concepts.
Now, if you look carefully, in today's buying guide, we talked a lot about cost and value when referring to each product. This was a mere summary of our thoughts when looking at the cost and value. What we did was simply look at the entire field of shoes for kids and look at what the average prices were across the board.
Prior to even picking the first product, we knew what companies were charging, what the lowest in the market was, and how that related to the value of the shoe. We highly suggest that consumers do this when evaluating different products, even if they are not shoes.
10 Best Kids Tennis Shoes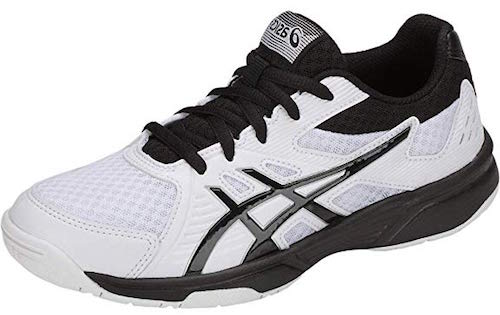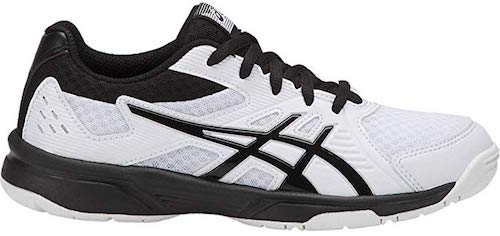 Another product from our friends at Asics, the Upcourt 3 features all of the same features as its predecessor; a breathable mesh design, lightweight construction, and the brand's own Rearfoot gel technology. While color options are limited, the basic white and black style will likely be okay for most teams. Make sure you ask your child's coach or trainer for details.
Rearfoot gel cushioning is a trademark of Asics and is Found in many of their products. Gel inserts are placed strategically throughout the midsole- in the case of the Upcourt 3, these are concentrated in the rear foot section- to handle the shock on Impact. The forces on your feet upon heel strike can be anywhere from triple to five times your body weight, so cushioning is important when it comes to reducing fatigue and the chance of injury.
The lighter a shoe, the easier it is to move in them. Heavier kids tennis shoes aren't typically a good choice for tennis as they weight your feet down and Require you exert more energy to transition between stances while playing. The Asics Upcourt 3 shoes weigh seven ounces per shoe (assuming size 9M), making them some of the lightest shoes on our list.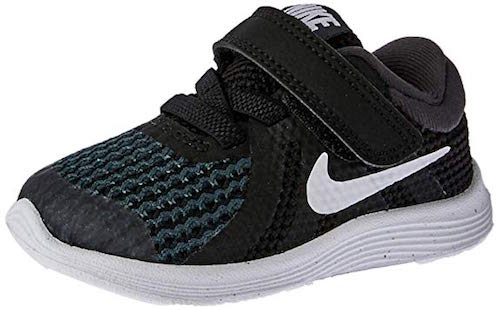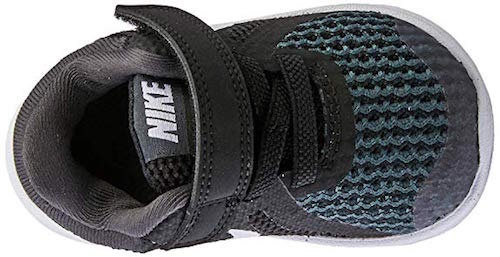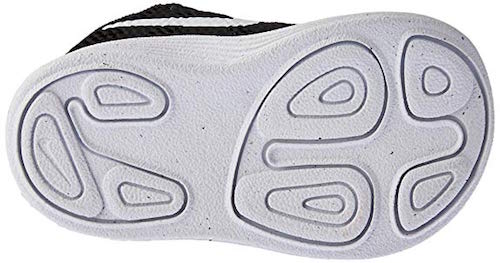 Named after the winged Greek goddess of victory, Nike is a household name around the world when it comes to athletic wear. Building off of its predecessor, the Revolution 4 shoe delivers everything your child could want in a tennis shoe and more. Let's go into more detail on why the Revolution 4 is such a wonderful shoe, and how it, like the goddess, will carry your child to victory.
In addition to traditional laces, the Revolution 4 shoes feature a Velcro hook-and-loop closure. This allows for a more secure lockdown on your child's feet than laces alone, with an adjustable fit. This is a feature new to the Revolution series, and one not commonly seen in tennis shoes in general.
When it comes to tennis, traction can make or break a game. It's important to have a solid grip on the ground, and this is almost entirely managed through the outsole. Featuring a strong rubber outsole, the Nike Revolution 4 is made to deliver the kind of traction that can decide the outcome of a game.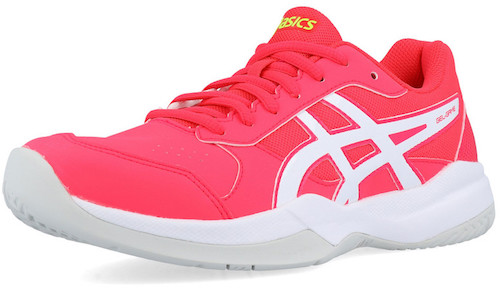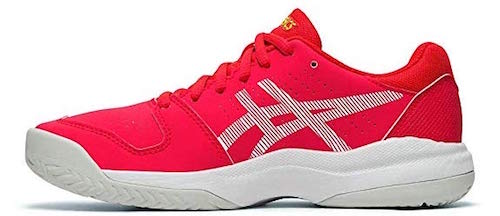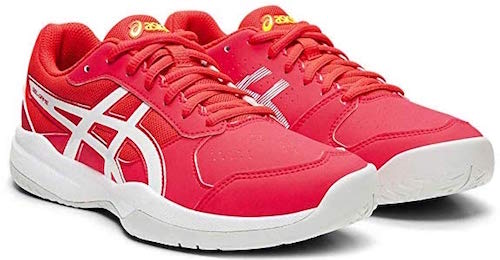 These grade school shoes by ASICS are an excellent choice for those looking for sneakers made specifically for tennis. They're an amazing purchase for most parents, seeing that they're highly versatile and can be used both for athletic activities, lessons, and everyday wear. Furthermore, they feature a great deal of the tech which makes ASICS a favorite choice among athletes, ensuring that your child performs at their best, all while keeping comfortable.
The upper of the GEL-Game 7 is made with a synthetic material combined with mesh and perforations in key areas to maximize breathability. Coupled with the moisture-wicking removable sockliner, you'll find that these sneakers won't allow for odor-causing bacteria to grow, thus ensuring a healthier setting for your child's foot. The GEL-Game 7 can be purchased in two color options, red and white, and is an overall stylish shoe that won't look out of place even when worn to school.
The midsole of the GEL-Game 7 is made with EVA foam which is lightweight and shock-absorbing, but the real magic happens in the forefoot which uses a GEL cushion to help lessen the force of impact. The sole is stable, preventing ankle sprains and similar injuries, and the traction pattern on the bottom of these shoes is inspired by the classic herringbone pattern, which means it will work equally well on indoors and outdoors courts.
The price of the ASICS GEL-Game 7 is around average compared to the other sneakers listed here, and what makes it such a good choice is that it's made specifically for tennis, but can be used for other sports as well.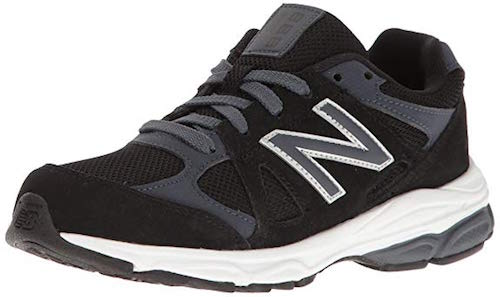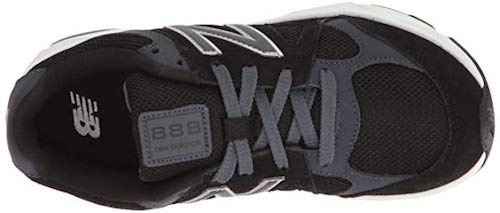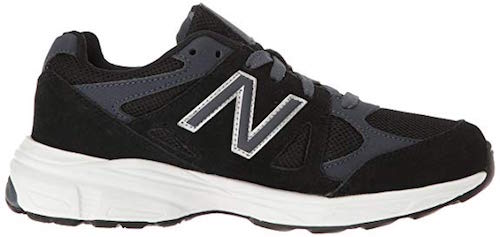 In the footwear game, there are a few different companies that are considered the industry-leaders; New Balance is one of them. With that being said, the KJ888 is a great piece of footwear and worthy of any parent's attention seeking quality kids tennis shoes for their child. With some great colors and designs, quality materials, this brand lives up to its reputation, and more.
Let's talk about the midsole of this shoe. This manufacturer has always been known to create and design some great midsole technology. However, we were taken aback by the inclusion of Abzorb materials in the midsole. This piece of innovation is designed to help boost a child's comfort in the heel region, so they can play for longer without any discomfort.
The exterior portion of the shoe is made from suede materials, which is quite unique when it comes to kids' tennis shoes. However, if you are familiar with shoe materials, suede is quite durable. Additionally, the manufacturer continued their expertise in material quality by creating the upper, an important part of the shoe, from mesh materials to promote breathability. Lastly, the bottom portion of the shoe is made from a stronger rubber, which is meant to help with durability.

5

. New Balance Hook and Loop 696v3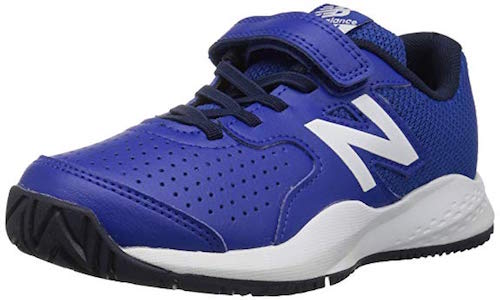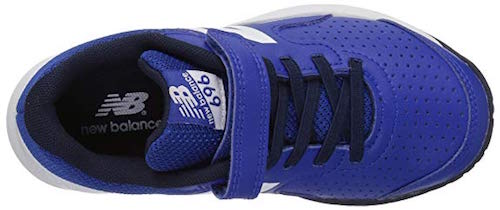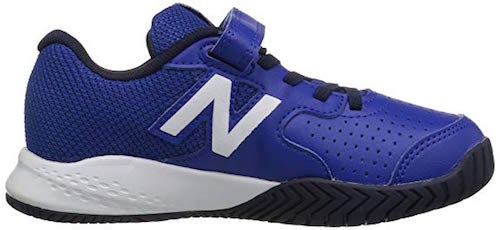 This is another pair of kids' tennis shoes actually designed to be used while playing tennis. Which doesn't mean they won't be a great choice for school or weekends. It just means that they have all the qualities a great pair of athletic sneakers should. One of the things that makes the 696v3 such a popular choice is the fact that there are two width options, so even those with wider feet can enjoy all the performance features this model offers.
The upper of the New Balance 696v3 uses a combination of mesh and synthetic leather. The toe area has a number of perforations meant to increase breathability, while the heel is covered in textile, allowing hot and moist air to escape the foot chamber, leaving the feet dry and cool. There is a classic lacing system coupled with a hook and loop strap, and these allow for the perfect fit to be found, ensuring proper lock-in and comfortable wearing experience.
The New Balance 696v3 utilizes a lightweight midsole made with NB's Endurance material, which is a durable foam that helps absorb shock without compromising support. The outsole is ideal for both indoor and outdoor courts, and won't cause problems in gym class or school either, seeing that it's non-marking. It utilizes a herringbone pattern which is a favorite among tennis players for a reason - it's highly grippy, doesn't pick up dirt and debris, and is durable.
The cost association of the New Balance Hook and Loop 696v3 is slightly higher than the other models listed in this guide, but if you're after a performance-oriented pair of sneakers for your kid, it's definitely a product you should consider.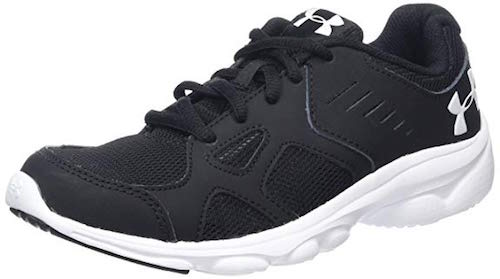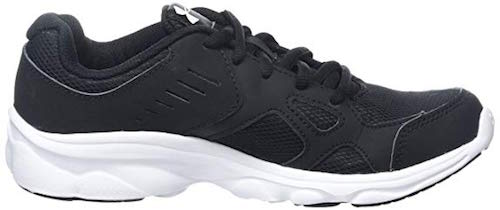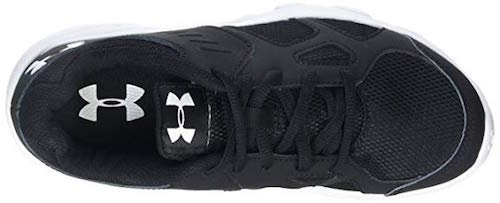 We are very excited to bring to you the Under Armour Pace tennis shoes. They are intentionally designed to improve the performance of a child when playing sports. With a quality closure system, EVA Insole, and breathable mesh upper, parents will have no problem getting these shoes to help their little ones and kids will love how they look and feel.
After assessing this product, we can say that one of the best parts is the padded tongue and mesh upper. This entire part of the shoe was so cleverly designed that parents will find assurance in the memory-foam and limited moisture build-up. This means that the shoe won't smell and can last longer than other standard tennis shoes.
No parent wants to purchase a pair of tennis shoes for their child and, after the first week, the shoes break or rip, right? Well, this brand really took their time to create a durable product, which can be seen by the different types of mesh materials and fabrics that they chose to use. Additionally, the outsole is made from a stronger rubber and is non-marking. Can it get any better?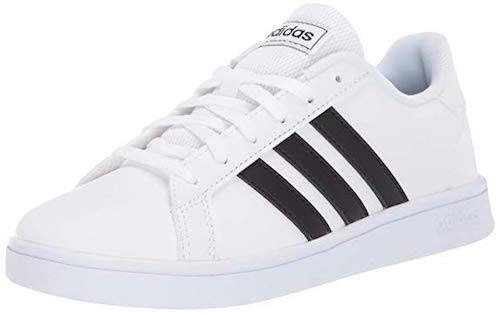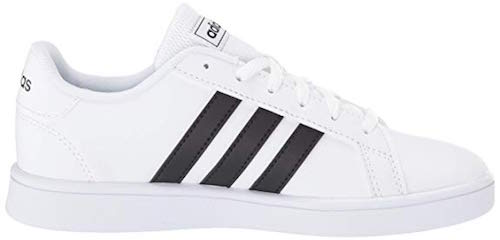 These classic court shoes are the ideal choice for anyone who wants to get the best of two worlds - excellent athletic performance coupled with a stylish, minimalistic look. The Adidas Grand Court is a pair of footwear that can be purchased for any child, ranging from infant and toddler sizes all the way to adult versions. You can choose between a classic lace-up and a hook and loop closure and can opt for one of the two simple color options, based either on white or black.
The upper of the Adidas Grand Court is made with a synthetic leather upper which has a number of benefits. First and foremost, it's very durable and won't show signs of wear with use. Secondly, it's easy to care for, seeing that all it needs is a wipe with a damp cloth. Lastly, it's quite comfortable to wear, and even has temperature regulating properties, making it a great choice for colder weather. The tongue is made with mesh to encourage airflow and moisture management, and the lining is textile as well.
These sneakers utilize a lightweight EVA foam sockliner which does a great job at protecting feet from impact, without creating any unnecessary bulk. The platform is wide and stable, and the rubber outsole features a honeycomb traction pattern that's effective and won't wear out fast.
In terms of cost association, these sneakers are quite affordable, especially considering the fact that they are ideal for school days, as well as their stylish appearance and durable construction.

8

. Asics GEL-Resolution 7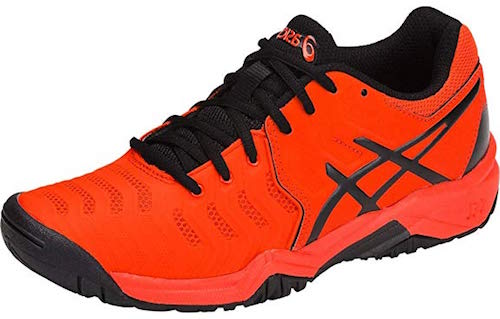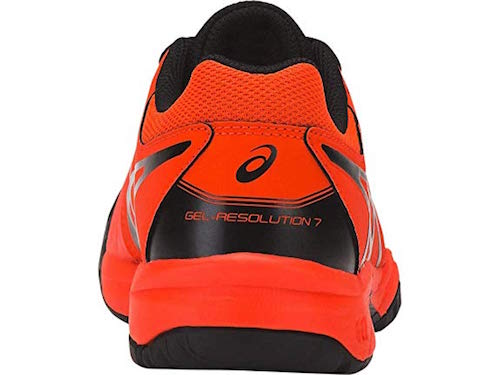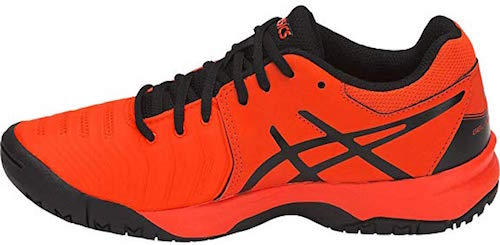 You'll see Asics show up a few times on this list, as well as other buying guides we have done. This shouldn't be a surprise, as Asics is one of the best athletics brands, and is often highly recommended by coaches and trainers. With the rearfoot cushioning system that Asics products are known for and a reinforced toe section for extra durability, the Resolution 7 tennis shoes for kids will play as hard as your child.
A staple of Asics shoes, the Resolution 7 feature their signature rearfoot gel cushioning system. It provides the right amount of shock absorption to properly handle even hard impacts while allowing for a smooth and quick transition into another stance. This can help reduce fatigue and the chance for injury, as well as provide the support your child needs.
There's no denying that kids play hard, especially when it comes to sports. Asics outfitted the Resolution 7s with a strongly reinforced toe section. This along with the cushioning system will reduce the chance for injury, and the extra reinforcement makes these shoes very durable. Asics also provides a 6-month warranty on their outsoles, as these are typically the first part of a shoe to show wear and tear.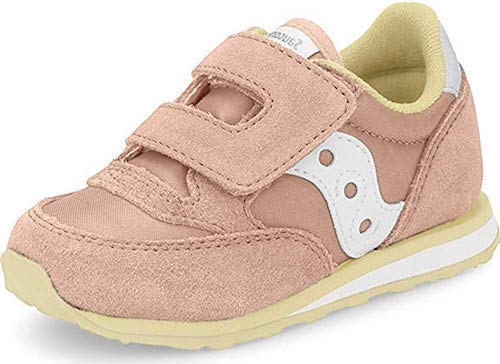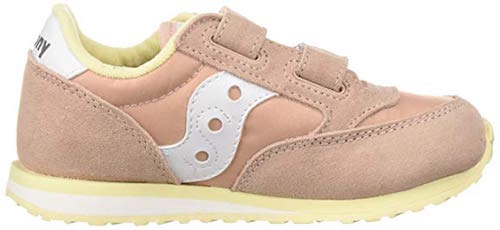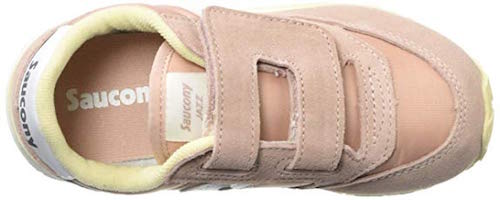 While not as well-known as Nike or Adidas, Saucony is one of the most respected names when it comes to athletic shoes. A surprising amount of research was put into the Baby Jazz shoes; Saucony spent years studying the biomechanics of top athletes in order to bring the best products to market. With an easy hook-and-loop closure and an EVA midsole, the Saucony Baby Jazz will allow both you and your child to worry less about gear, and focus more on the game.
A slightly less common closure in tennis shoes, Velcro hook-and-loop closures have become very popular, especially for children. This kind of closure allows them to easily be put on and taken off, especially for kids, whose fine motor skills are still developing. It also allows for a highly customizable fit and solid lockdown, without the potential for coming undone like traditional laces.
We talk about EVA soles a lot, as they are one of the most common midsole types in tennis and athletic footwear. The midsole is sandwiched between the outsole and insole- hence the name- and works to both protect feet from sharp objects and ensure proper energy return. EVA is often more durable than other midsole types and is a more eco-friendly choice as it doesn't use chlorine in the production process.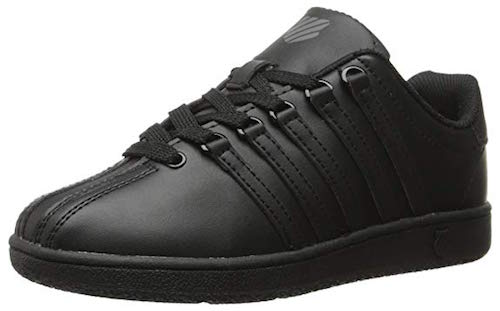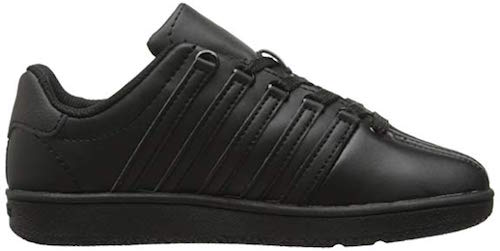 Chances are, you are quite familiar with the K-Swiss brand. This is not necessarily a new footwear maker; however, they have been in the game long enough to have the reputation worthy of your attention. This classy shoe is great for children as young as an infant and as old as 12-years old. If you are looking for a tennis shoe in that age range, this might just be for you!
What really sells this shoe, aside from its numerous unique innovative features, is the fact that the design is very classy. Whether you are looking for a tennis shoe for sports or casual wear for your child, this product will help them stand out from the crowd. The best part, it's offered in 4 different stylish colors.
Let's take a minute and talk about comfortability. As a parent, you want to make sure your child is comfortable while wearing these shoes, right? Well, in efforts to provide some additional means of comfort, the brand focused on infusing EVA foam in the sock-liner part of the shoe. What does that mean? Well, whether running or walking, the shoe will provide the support and comfort to keep a child comfy and secure.

Subscribe to our Newsletter