Best Nike Toddler Shoes Reviewed & Rated
In a Hurry? Editors choice: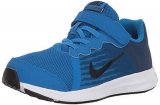 Test Winner: Downshifter 8

It's safe to say that nothing is more adorable than a
small child
running around with some cute duds on their feet. Few things are more likely to make every adult around coo their hearts out. One brand in particular that has captured the hearts of consumers is the sneaker designer we're featuring today: Nike. Chances are you have probably already seen children toddling around with a stylish pair of these iconic kicks; it's adorable! However, it's really important that you look at several different factors while figuring out the perfect pair for your family. Firstly, you must ensure that they are stable and safe.
Standout Picks
Criteria Used for Evaluation
Materials
When shopping for footwear for your children, you will want to make sure you're getting high-quality materials that will feel comfortable, offer a good amount of protection, but that won't require too much breaking in. Toddlers and little kids have especially sensitive feet that become irritated quickly, which means that you really need to be ensuring you're investing in something that will be gentle on their skin.
Generally, Nike toddler shoes are made with great options that work for a number of people. You can choose between genuine leather and synthetics, as well as textiles and other lightweight choices that work better during the warmer months. On the whole, there are several options available for purchase.
Leather: This is a classic choice for any type of footwear, and if what you're after is durability and comfort, it definitely works great. Leather can be either smooth finished or suede, and what makes it the ideal choice is the fact that it's highly resistant to wear. This means that if your tyke tends to go through footwear too quickly, you may want to purchase an option made with this material. It will stand up to rough wear, all while providing a comfortable, customized fit, as well as ensuring a good amount of breathability (especially if perforations are to be found).
Textile: Another popular option for sneakers, textile is a good choice for those who want to prioritize flexibility and airflow. It's the best choice for summer sneakers. In addition to being breathable, textile also makes footwear incredibly lightweight, preventing fatigue, and being easier to break-in.
Mesh: Today, mesh is used both in the upper and the lining of shoes. Its main purpose is ensuring proper airflow, as well as moisture management, wicking sweat away from the foot and keeping the skin cool and dry. This results in a healthier foot, as well as in a lower likelihood of odor development.
Rubber: Most of the models listed above have a rubber outsole, which has really shown to be the best choice when it comes to shoes. It's lightweight, has mild shock-absorbing properties, and most importantly, ensures a great amount of grip on all surfaces. Additionally, rubber will work well outdoors as well as indoors, and shouldn't be as susceptible to abrasion from concrete like leather or foam would.
Ease of Use
One of the things bothering parents the most, when it comes to children's footwear, is the fact that toddlers and babies have a tendency to take their shoes off as soon as they become bored or unhappy with them. Add to this the fact that they don't have as much muscle control as adults, and you find yourself spending copious amounts of time trying to put a pair of sneakers on an uncooperative toddler, only to find they have thrown them off 30 minutes later.
What you will want to pay close attention to in terms of use is the closure system. Overall, there are two popular choices available, and both have advantages and disadvantages, so it is best to go through them, ensuring you're purchasing the best possible option for you.
Laces: This traditional closure system has been around for ages, and it's no surprise, considering the benefits it offers. It is a secure closure system that properly supports the foot, keeping the shoes on. It is also unlikely to come undone if tied properly and can go a whole day without you having to make any adjustments. The downside of laces, however, is that your child will probably not know how to tie them, making it necessary for you to help them get dressed. Additionally, they are not as easy to adjust on the go and can be too long or too short, creating additional problems.
Hook and Loop: More commonly known as Velcro, hook and loop closures are extremely popular in children's footwear. They are easy to adjust, even when on the move, and give your child the chance to get dressed by themselves, without having to rely on your help. But, hook and loop closures have two main disadvantages. The first one is that they are considerably less durable than laces, and will lose their grip with use. Secondly, they're not a good choice for kids who like to take their shoes off, seeing that they're easy to undo, and don't require too much motor skill.
There are, of course, alternatives as well. Some footwear options come with elastic gores, and some sandals may even include buckles. When shopping for your child, it is crucial that you consider what works best - you may find that a pair of shoes is 100% comfortable, but if the closure system doesn't work for you, it's highly unlikely that you will use them often.
Style
Nike toddler shoes aren't very versatile when it comes to style. They are mainly sneakers made for casual everyday use. However, you will find that this brand pays extra attention to their products being fashionable, and you'll be hard-pressed to find models by other manufacturers as stylish as a pair of Nikes.
Depending on your own taste, as well as the preferences of your child, you'll find you have a huge variety of options to choose from. From leather, classic styles such as the Air Max 90, to more contemporary designs in bright colors and prints, you and your little one can choose something they will love wearing, and that will work in a number of settings, including school and playdates.
You can also choose between styles depending on the weather or other factors. Leather sneakers, for example, will work better in colder climates where a bit more temperature control and rain protection are required. If, however, you are planning on a visit to the beach, a pair of sandals or water shoes such as the Sunray Protect 2 are higher on our list of recommendations.
No matter what look you decide to go for in the end, it is highly recommended that you look at fit first, and then choose colors. Toddlers' feet are sensitive and are still forming, so you want to invest in footwear that is going to offer them the protection and support they require, without compromising comfort.
Breathability
Little children still don't have a fully developed temperature management system like adults do, which means that they will heat up and cool down more quickly. This is why properly ventilated footwear is crucial. Little feet that have been running around will inevitably become hot, and airflow is extremely important for two reasons. For one, it will cool down your child, allowing them to remain at a comfortable temperature. Secondly, it will prevent moisture build-up.
It's not uncommon for toddlers to have sweaty, stinky feet, which are the direct result of bacterial growth. Odor causing bacteria grow in moist, warm environments, which means that a pair of shoes is their perfect home. Breathable footwear, especially with moisture-wicking linings such as mesh, will deter the growth of this bacteria.
You'll also find that breathable, well-ventilated footwear is easier to keep clean. You can even wash some of the sneakers listed above, and some are even water-friendly. Nonetheless, keep in mind that leather materials should not be submerged in water, especially if you want to avoid cracking, stiffness, and even mildew.
Outsole
Another important factor you should pay attention to when shopping for Nike toddler shoes is the outsole used. You probably already know that different surfaces require different outsoles, so it's crucial that you consider the way in which your child will be using the footwear before making a choice.
Most of the models listed above feature a rubber outsole. As already mentioned, rubber is highly efficient at providing traction, and some of the products listed even have specialized traction patterns made to grip surfaces such as concrete, hardwood, or even wet tile.
Because toddlers are still learning how to walk properly, you will also want to look for an outsole shaped in a way that will ensure their proper development. For one, you will want to invest in a pair of shoes with a stable platform that allows the child to feel the ground below. Secondly, you'll want the sole to be flexible enough so that their foot can move in its full range, making use of each muscle, developing their motor skills.
Most adults prefer to wear footwear with plenty of cushioning and support, but keep in mind that these should not be overdone in toddlers' footwear. Most doctors will agree that the best way to develop their feet is to walk barefoot, which is what you will want to mimic in sneakers and shoes as well, especially for babies who are still learning how to properly move around. If, however, your child requires custom orthotics prescribed by a physician or podiatrist, you will want to invest in a pair of footwear with removable insoles that can be easily replaced for the most efficient amount of support.
10 Best Nike Toddler Shoes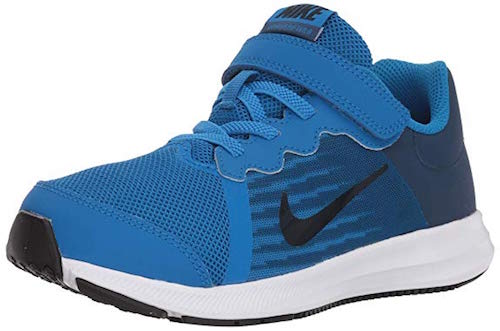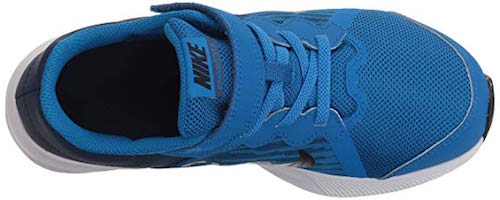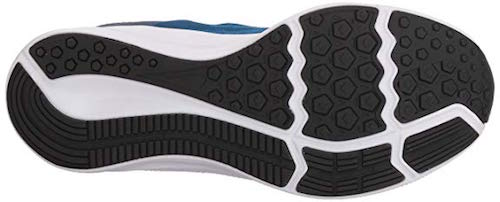 Building upon the success and features of its predecessor, the Downshifter 8 are one of Nike's best shoes. These are a jack-of-all-trades that compromises on nothing, bringing you the best of durability, comfort, weight, and visual appeal.
Another impressive technology from the researchers are Nike, Phylon is a lightweight and low-profile midsole. It's made using EVA foam pellets- EVA foam is the most common midsole material- that have been compressed and molded in a specific way. These can be shaped in any manner, allowing them to shape to the unique contours of your child's feet.
Children are very particular when it comes to comfort, and have no problem voicing their concerns if something doesn't meet their expectations. The padded collar and tongue on the Downshifter 8 provide a comfortable fit in an area often overlooked by other companies, so even the most finicky of kids will enjoy this shoe.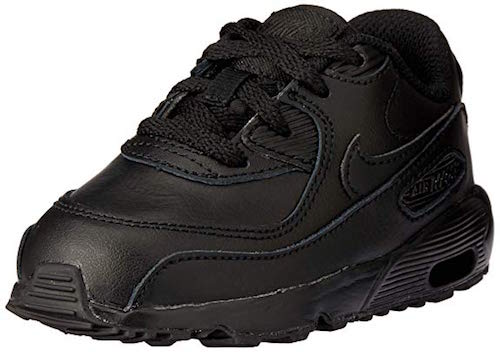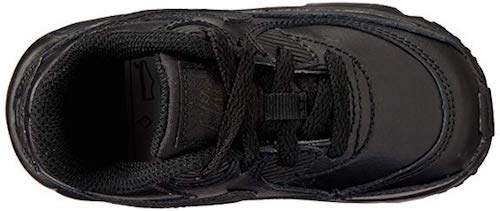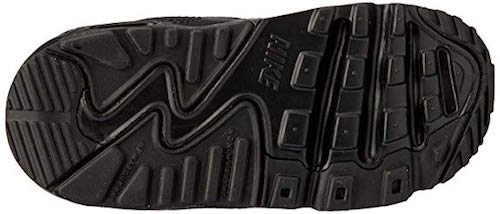 This classic was originally designed for running, but its stylish look and extreme comfort made it a go-to everyday style for any Nike fan. Today, the Air Max 90 can even be purchased in children's and infant sizes. In terms of color options, there are the classic all-white and all-black choices, but you can also opt for something a bit more colorful, or even create a unique colorway of your own.
Our favorite Air Max 90s are the ones made with a leather upper. This is simply because the material is so durable and comfortable to wear, all while offering added protection to little feet. If you decide to go with leather, you'll find that it works best for colder months when a bit more temperature control is required. Plus, it will need breaking in, but it will mold to your child's foot, ensuring it has plenty of space all around.
The inside of the Air Max 90 is lined with mesh for maximum breathability. Even little feet get to benefit from the Air cushion in the heel, and the rubber outsole grips surface well, allowing for uninterrupted exploration. The one downside to this model is the lace-up closure, which may not be every parent's favorite, but it will keep the shoes securely on your child's feet, so if they tend to take velcro off, this may be a good alternative.
Seeing that the Air Max 90 is a classic design with plenty of tradition behind it, it comes as no surprise that it features quite a hefty price tag. Nonetheless, if you want to invest in something high-quality, with a great look and that's surely comfortable, these sneakers are the way to go.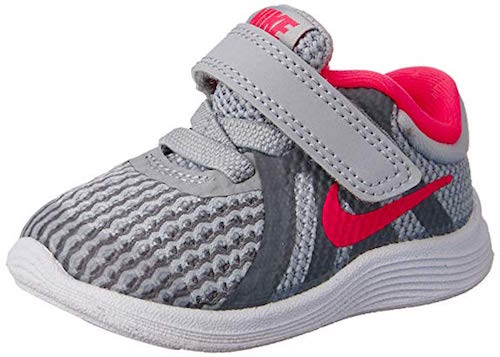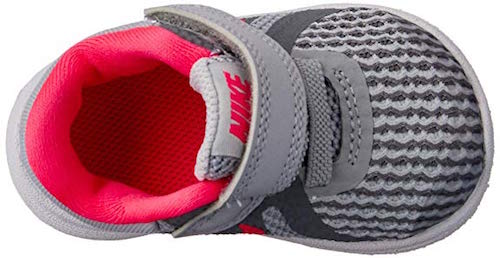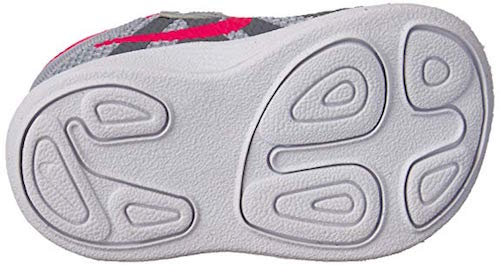 Named for the winged Greek goddess of victory, Nike is one of the most recognizable athletics brands around the world. Building on the success of its predecessor, the Revolution 4 toddler shoes have everything you'd ask for in a children's shoe. A mesh upper provides temperature management which is important for little ones, and the Velcro closure gives it an extra secure fit.
Foam is the most common midsole material, and for good reason. Foam is lightweight, efficient with energy return, and flexible. This lightweight flexibility allows it to comfortably shape to your child's feet without being bulky or cumbersome. Energy return, like shock absorption, is important as they both work to reduce fatigue.
Kids have a lot of energy, and it's adorable watching them run around and play. Of course, this energy generates heat, which can be a problem if their shoes lack proper ventilation. Sweaty feet can quickly become uncomfortable, and the last thing you want in your house is smelly shoes. Like most Nike shoes, the Revolution 4 has a mesh upper to accommodate for proper temperature management, keeping your child's feet cool and dry.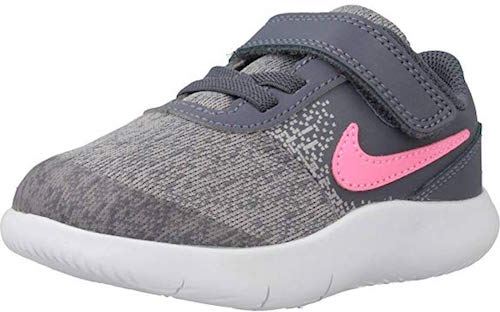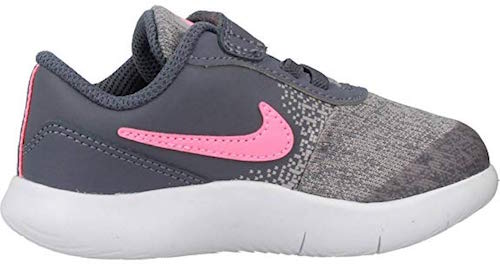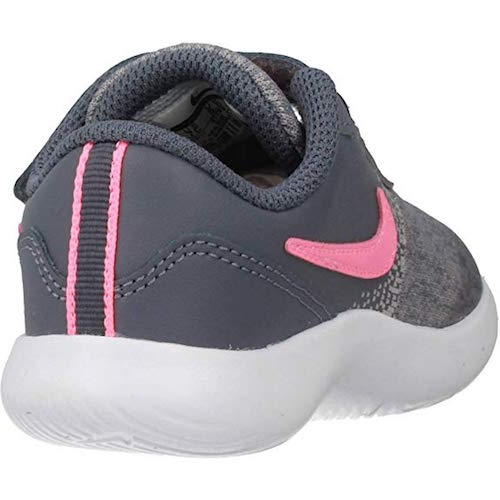 Each year, brands release new versions of their models updated with more recent technology, innovations, and colors or designs. As you might imagine, when the Flex Contact came out this year, footwear gurus and parents alike were excited. These sneakers are fashionable, stylish, and offer some great, valuable features that are only offered by this brand. Let's take a look!
When you first look at this sneaker, you will notice that the upper region of the product appears to have a perforated material. It is actually made of a higher-quality mesh and has those little holes to help promote breathability throughout the entire model. If you are new to purchasing children's footwear, this is very useful as it can minimize any build-up of sweat or moisture in the shoe, which can lead to hot spots or rashes.
At a young age, learning to tie up laces can be quite a challenge and take little ones quite a while to get down pat. During that transition, parents will need a pair of quality sneakers to keep their child running around and comfortable. These are designed with a simple hook-and-loop system, making it easy to put-on and take-off.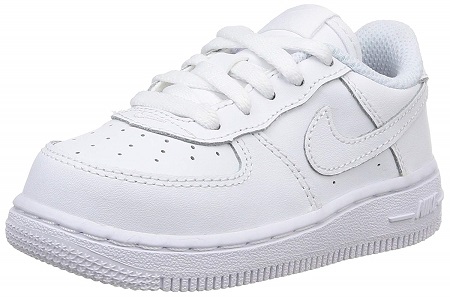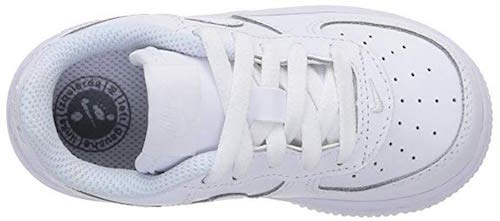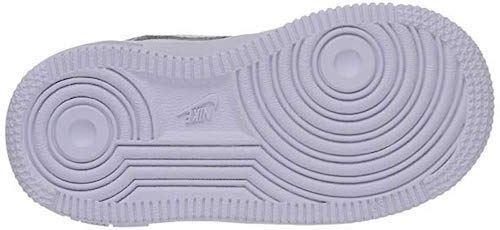 While unrelated to the plane that the President uses, Nike's AIR Force One shoes are a classic and a force to be reckoned with. Originally designed as a basketball shoe, these have become a staple of modern fashion and everyday wear. The toddler's version is a softer take on this classic, bringing all of the lightweight comforts of the original and making it more flexible to accommodate developing feet.
"Air in a box" was the slogan for the AF1 campaign ads when they were first released in 1982. These were the first basketball shoe with an air pocket in the heel for extra support. In fact, Nike went all out with these shoes, signing six NBA players to wear them on the court. While the Air Force One was discontinued in 1984, Nike brought them back two years later because of the overwhelming demand. Even today the AF1 is one of Nike's Most iconic products. Fun fact: in 2007, Kanye West, Nas, Rakim, and KRS-One collaborated on an official song for the AF1, aptly titled "Classic (Better Than I've Ever Been)." Talk about star appeal!
While the original AF1 was designed for the basketball court, the toddler's version is designed for the playground. The toddler version of this shoe features the same iconic design and air pockets in the heel section, with a softer construction overall to better accommodate developing feet. The rubber outsole provides solid traction, while the interior is soft and well-cushioned for a comfortable fit.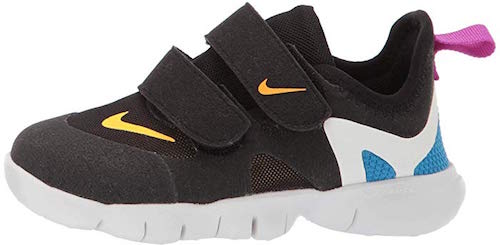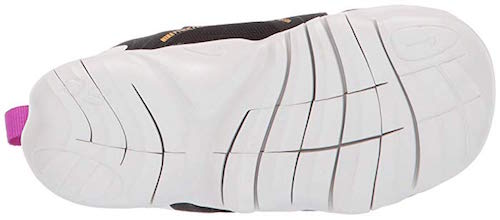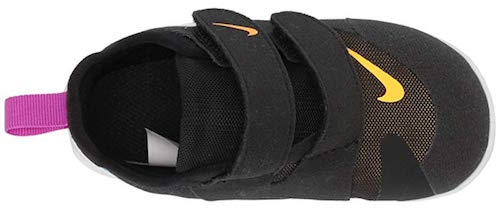 This is another pair of running footwear that was adapted for little children. The Free RN 5.0 is the latest addition to the Free Run line, and it is completely focused on comfort, flexibility, and a lightweight wearing experience. It comes in 6 color options, so you can easily choose the one that will fit your little one best - from simple blacks and whites to pinks, blues and reds.
The main benefit of the Free RN 5.0 is the fact that it's made to be easily put on and off. It features a hook and loop closure on the top of the foot, and the foot entrance is roomy enough to remove any difficulty on busy mornings when you need to be out the door as fast as possible. Another benefit of this closure system is that children can learn to put their shoes on on their won, encouraging independence and developing their fine motor skills.
The synthetic upper of this model is very durable, and even more importantly, easy to clean. There are no prominent stitches that would rub sensitive feet, and breathability panels ensure proper airflow even for more active tykes. The rubber sole encourages natural movement, without limiting the foot, all while gripping surfaces well. This model is ideal for spring and summer where you want a protective sneaker style, but still, prefer something lightweight and breathable.
The price of the Free RN 5.0 ranks average for Nike children's styles, which makes it a great option for those looking for a pair of sneakers that'll work well in any situation.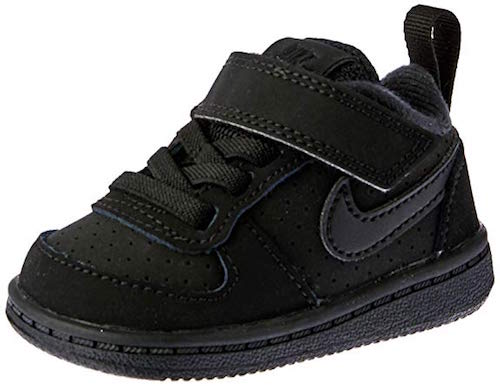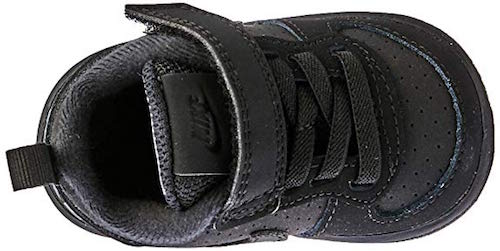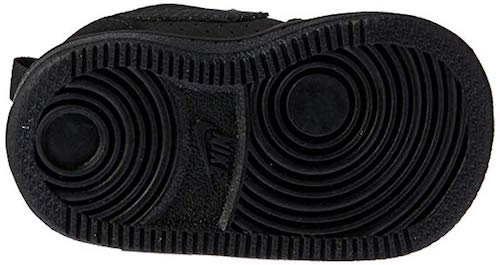 This design was inspired by basketball shoes such as the Air Force One, bringing the look and comfort levels to everyday models that can be worn to school, the playground or any extracurricular activities. The Cour Borough is a simple pair of footwear, and it doesn't come in too many color options, with the main one being all black, for a polished, put-together look.
The upper for the Cour Borough is made with synthetic suede which has perforations in the toe area for increased breathability. What this ensures is a long-wearing product that won't deteriorate due to rough play and use, that'll be easy to care for and will look great from the first wear until the last. The closure system includes both laces and a hook and loop strap, which ensures maximum security, and which is ideal for those children who have a tendency to lose or intentionally take off their shoes.
The rubber outsole of the Court Borough has a circular traction pattern that has been shown as extremely effective on many a basketball court, which means that you can rest assured your child will have the surface grip they need. It works equally well indoors and outdoors, and will even provide traction on highly polished and wet surfaces.
As for cost association, this model goes for a price that's quite affordable, making it one of the more budget-friendly options on our list.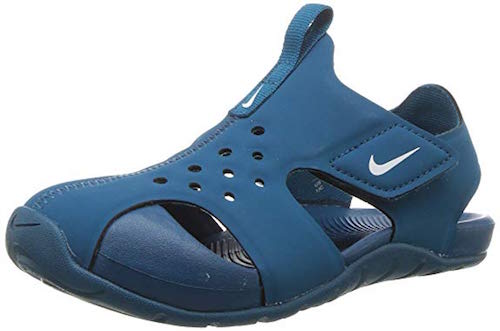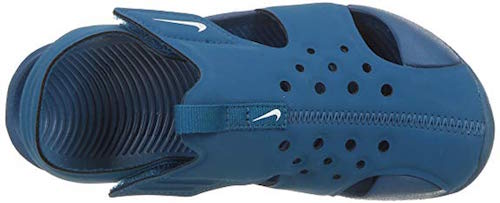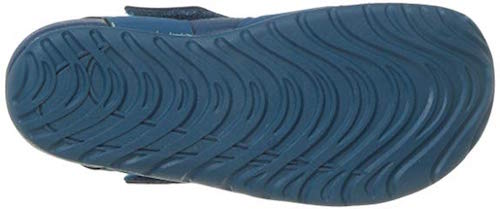 These summer beach shoes are the ideal choice for hot days, whether in the garden, at the park, on a hike or a sandy shore. Made to be worn near water, the Sunray Protect 2 works just as well for infants as it does for little and big children. It comes in several color options, and it will definitely become your child's new favorite summer shoe, seeing that it's easy to put on, and feels great on the feet.
These summer beach shoes are the ideal choice for hot days, whether in the garden, at the park, on a hike or a sandy shore. Made to be worn near water, the Sunray Protect 2 works just as well for infants as it does for little and big children. It comes in several color options, and it will definitely become your child's new favorite summer shoe, seeing that it's easy to put on, and feels great on the feet.
The materials used in the Sunray Protect 2 are water-friendly synthetics that offer a good balance between comfort and durability. There are plenty of perforations and openings, and these serve a dual purpose. For one, they allow water drainage and moisture management. Secondly, they let fresh air into the foot chamber, ensuring a dry wearing experience that will prevent sweaty feet and bad odors.
The closure is hook and loop for easy on and off, along with a pull tab on the front of the sandal. You'll also find that the protective toe area works well to prevent bumps and scrapes, and the rubber sole works well on a multitude of surfaces. The inside of the sandal has a non-slip insole that prevents the foot from moving around, ensuring proper support and minimizing the likelihood of blisters and rubbing.
In terms of cost, this is another affordable option by Nike and is a great purchase for anyone looking for a great style that will work for summer.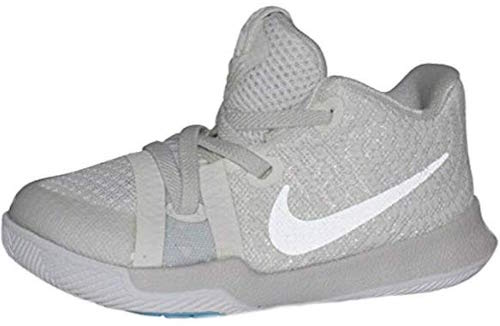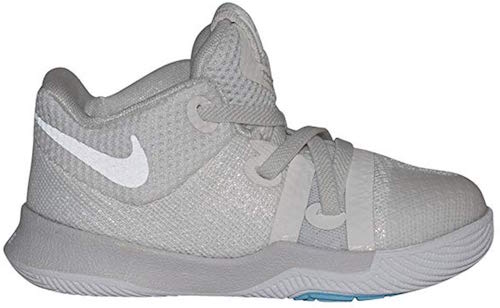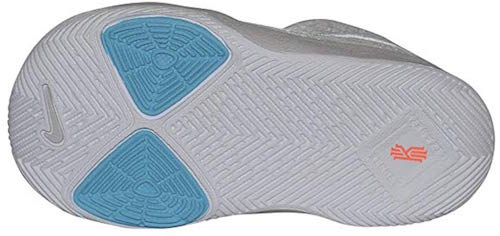 Coming in an impressive amount of size and color options, the Kyrie 3 is truly a shoe for every child. Built with control and comfort in mind, these sneakers are designed with advanced features like Flywire cables for solid lockdown and independent suspension pods for extra traction.
Flywire technology first became available in Nike shoes in 2008 but was initially pioneered by the founder of Adidas in 1949. The goal of these cables is to maximize support while minimizing the impact on the weight of the shoe. The initial research done by Nike involved using a last (a foot-shaped object used for the designing of shoes) and marking key points of support. These areas of support were then made using long stitches, as opposed to entire panels. Flywire technology first made its debut at the 2008 Beijing Olympics and has since become a staple of many Nike shoes.
The Zoom Air technology first made its debut over 20 years ago, and to this day is still a highly sought-after feature in Nike shoes. It involves using tight tensile fibers that respond to your feet upon impact. The high tension allows these fibers to snap back very quickly- we're talking a response time of mere milliseconds- improving energy return and cushioning.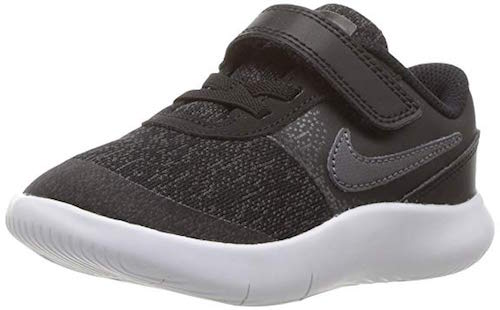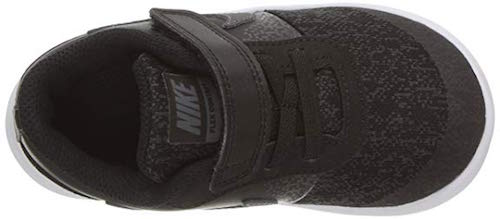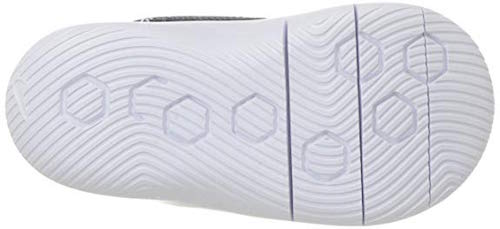 If there is any sneaker that can compete with the number one product on today's list, it's the Tanjun Anthracite University sneaker. This product is not only adorable and stylish, it's insanely comfortable. This is typically the go-to sneaker for many parents as it offers their children everything they need to stay in control, stable, and comfortable.
Let's talk about one of the most important factors: the style. This shoe, as you can see from the above picture, it's stylish, adorable, and cute. This is the type of sneaker that, when walking on the street, friends and family members will coo over how adorable these little sneakers look. They model the adult version, making it easy to match the whole family.
Whether you are getting a pair from this brand for sports or maybe even school, it's important to get a pair that is made from mesh materials. The reason being that the mesh material is great for ventilation, allowing the interior part of the sneaker to stay dry and cool while playing or walking outside. Additionally, this could help reduce any odors in shoes as well.

Subscribe to our Newsletter